December 20, 2009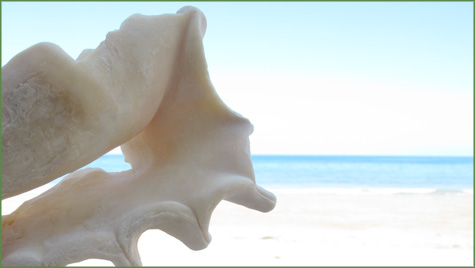 We've made it here safely… after 40 hours of traveling by plane, train and automobile (okay, no train involved) we have reached our starting location of Port Douglas, Australia — directly across from the Great Barrier Reef. I'm one suitcase short (actually, the only one that I brought…) but have made do while the airline sorts out their 'accident'. The accents of the agents at the desk keep me from losing my temper and only make me smile… despite the lack of clothing that I now have.
After a bit of touring the marshy wetlands of the upper territory, including a fantastic trip into Daintree forest, I'm using this day to relax, sort through local markets and recover. Hope you enjoy a few photos from the rainforest journey

.
Yes, that's a crocodile. And there are quite a few up here in this neck of the woods. Thankfully I didn't encounter this fellow sunning on the beach as I had been warned I might, but he was hiding in the shadows here on our boat trip up the Daintree river. Read more »
Tags:
Australia
Posted in
Travel Adventures
|
Comment »
December 18, 2009

This week my guest blog interview is inspired by everything handmade… and it's wonderful! Take a journey with me to visit Disney of Ruffles and Stuff and her beautiful DIY world.
As we approach the holidays and our wallets become a bit barer (and our New Year's resolutions a bit stronger!) I thought it would be the perfect opportunity to introduce you to a very lovely lady that embodies all things crafty and (most importantly!) pretty. A personal resolution of mine is to cut back on the 'purchasing' and up the 'repurposing' for home decor — and Ruffles and Stuff is the PERFECT blog to meet such requirements.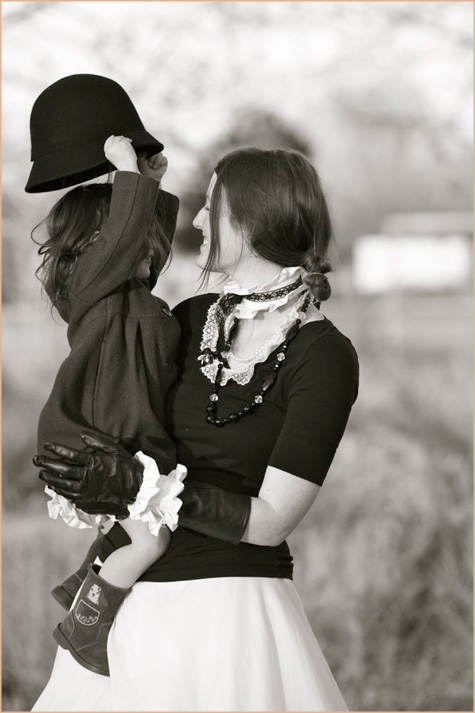 What's most exciting is that all images in today's interview are projects handmade by Disney herself! She covers the gamut of delicate slippers (see below) to framed flowers and ruffled lampshades (after the jump). Disney also designs and creates beautiful clothing (see Chanel-inspired cuffs above) for herself and her two year-old-daughter.
Disney shares that her two greatest joys in life are rain and coffee (she's a Washington native) and that "other than reading Dr. Seuss and scraping play-dough off of the floor, my favorite thing to do in my spare time is craft!"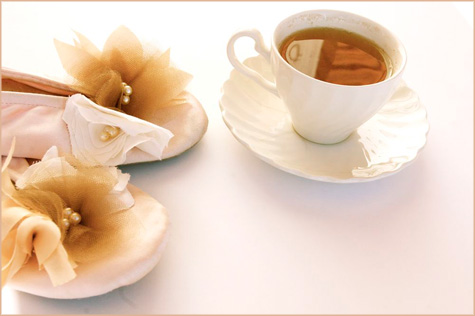 I love that her living room walls are black and that she offers step-by-step directions on making your own bib necklace… and you must read her answers to the four PDB questions (and check out pictures of her home makeover and projects) after the jump! Read more »
Tags:
Bedroom
,
Crafty Solutions
,
Decorating
,
Dining Room
,
DIY
,
Fabric
,
Guest Blog
,
Guest Interview
,
Home
,
Living Room
,
Paint
Posted in
Crafty Solutions
,
Guest Blog
,
Home
,
Interview
|
7 Comments »
December 17, 2009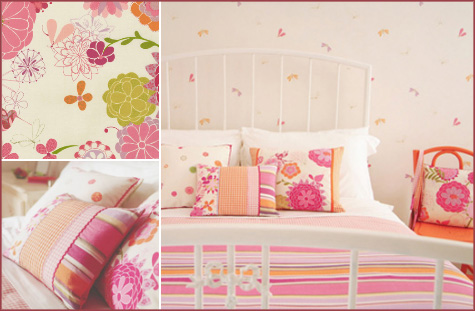 There's something about this fabric line that is so lovely and sweet — whether you use it to reupolhster an old chair, make pillows for the guest room or a little girl's dress — it's a simple, whimsical print that for me evokes day dreaming of far off lands.
The dark fuchsia below is my favorite. Check out the entire Harlequin line at Tree House Interiors.

Tags:
Accessories
,
By Color
,
Decorating
,
Fabric
,
Home
,
Orange
,
Pink
Posted in
Favorite Fabric
,
Home
|
Comment »