April 8, 2013
While maybe a little overdone, I've been kind of loving 'letter art' for a while. We have our initials on the bookcase in the dining room and even a 'LIV' set in Liv's room that I don't think I've shared just yet.
When placing an order recently with Land of Nod for a cool new desk lamp, I fell for a free shipping coupon and had to spend $15 ish more on the site to qualify. So at $4 each, I threw four of these letters in for good measure (which with a free shipping discount makes them a steal at like $2 each, right?

).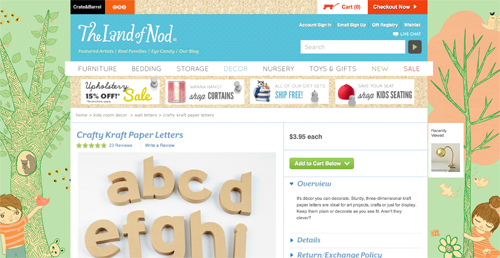 They were made out of brown craft paper, 8-10″ tall and very light weight. I thought they might be fun to cover in paint or fabric or wallpaper and hang on a wall or bookcase in the house.
For now, my 'HOME' letter art calls the bookcases in the living room home: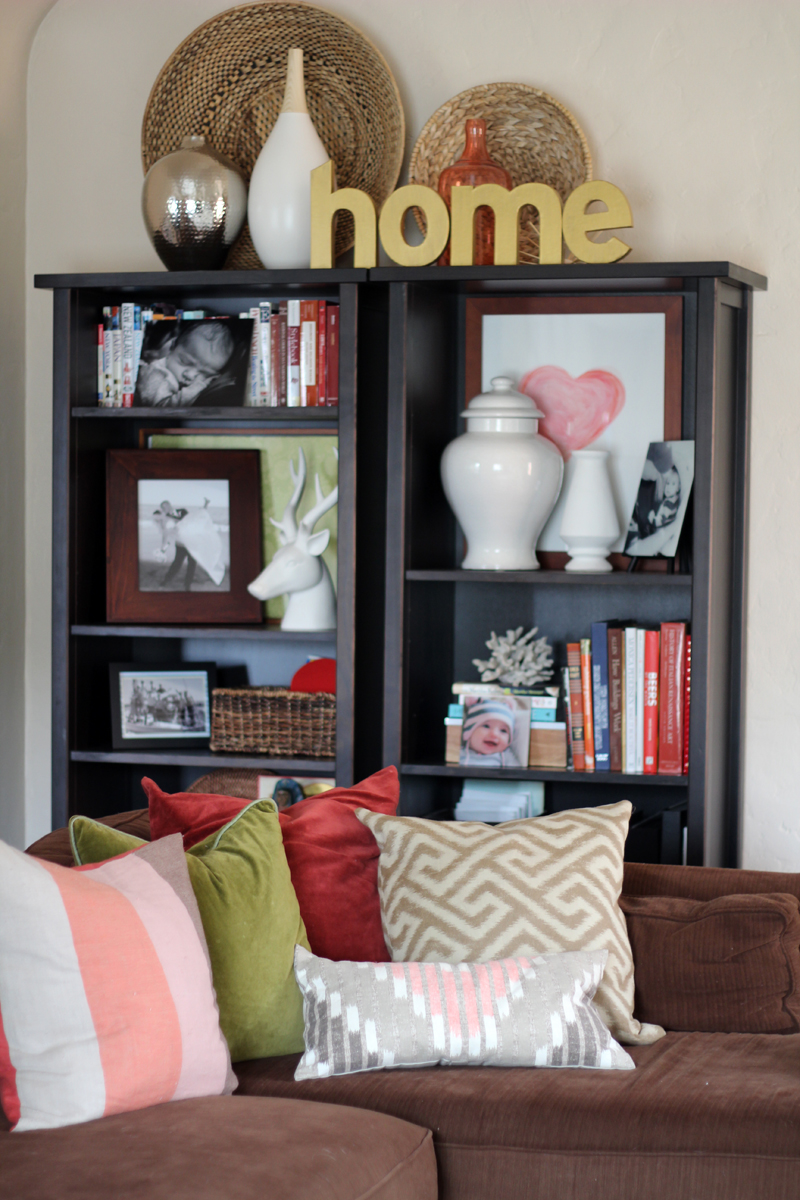 But that might change soon. They feel a little big for this space? Would love to shrink them down about an inch on each side.
I thought about spray painting these guys for a super quick gold application but ended up sponging gold craft paint (left over from our Easter project) late one night, thinking that I might like a more burnished rather than solid effect (and the sponge would allow me to give that textured look). The result is definitely a solid gold (I nixed the burnished look after a few minutes), but I love how they've turned out.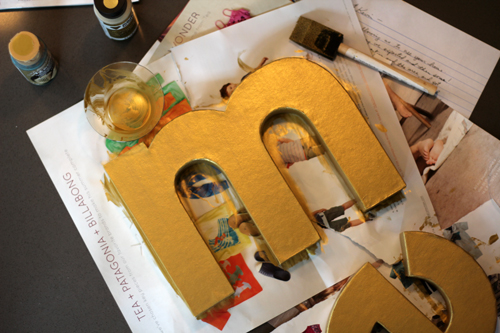 I have a few gold paint containers in my stash but this metallic gold by Folk Art continues to be my favorite: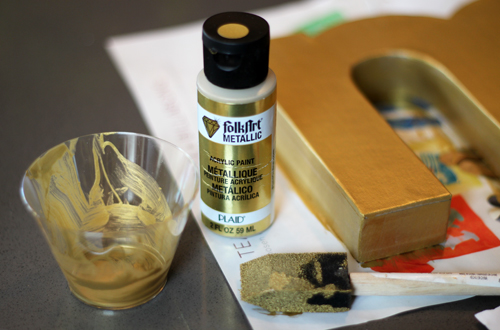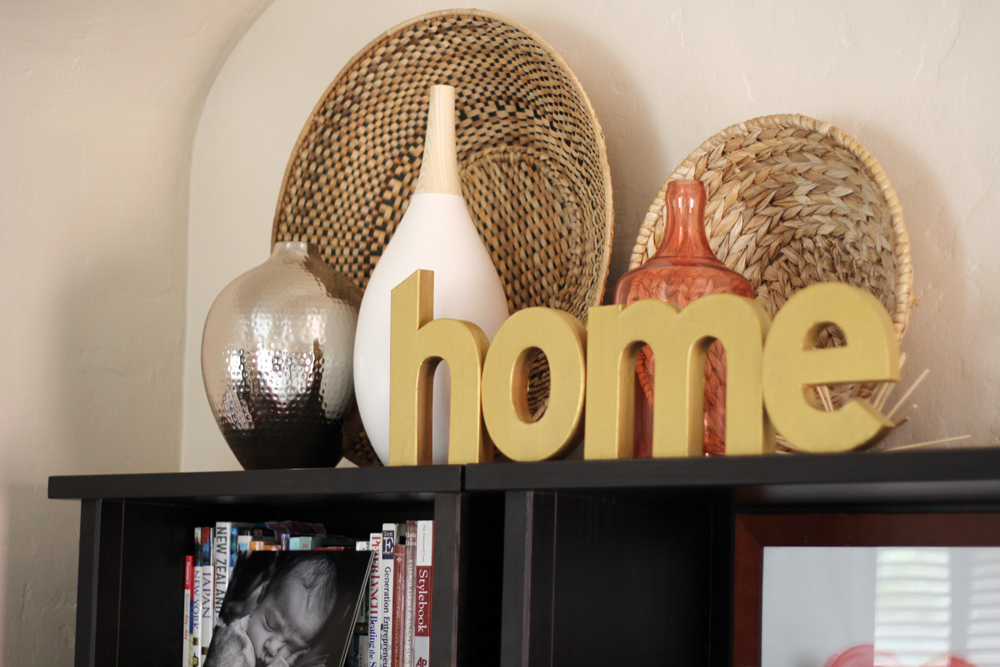 While the letters might not stay here, I do love the addition of gold and pink to the space!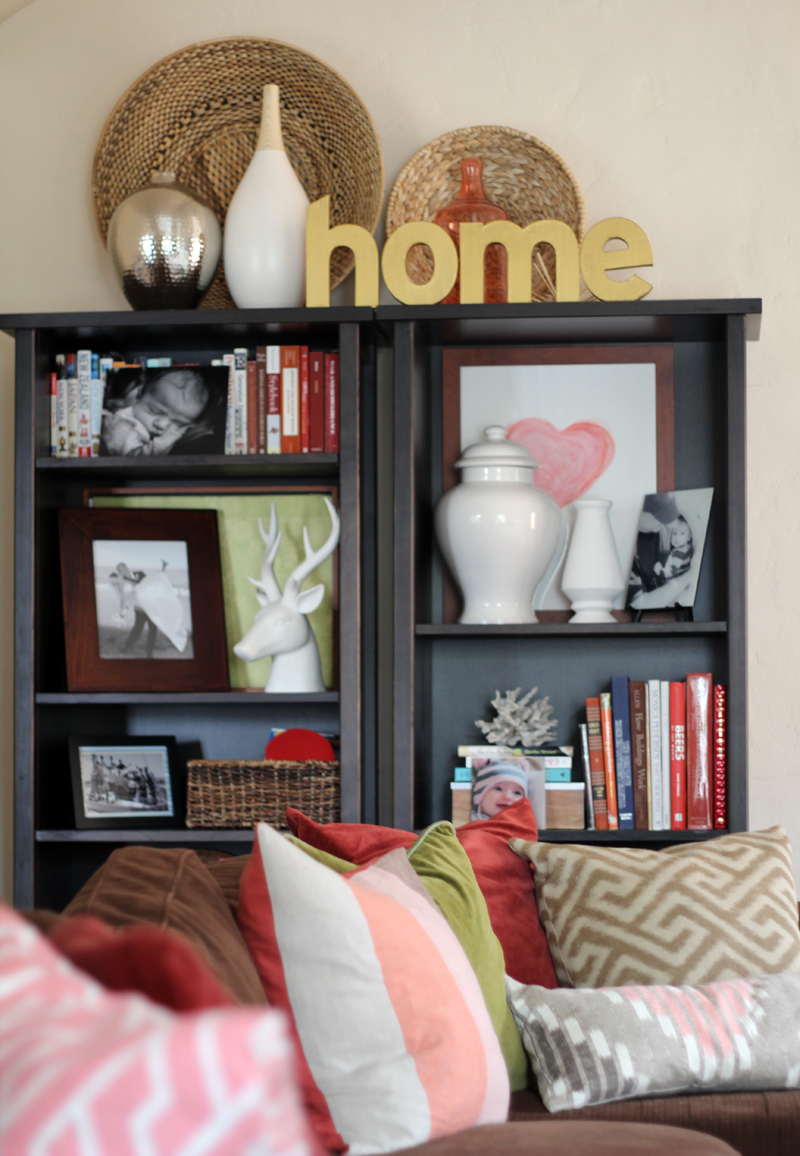 Now the heart art ties in with the new Spring pillows (still debating pillows over here

) which ties in with that cool new glass coral vase (West Elm's sale bin) up on the shelf.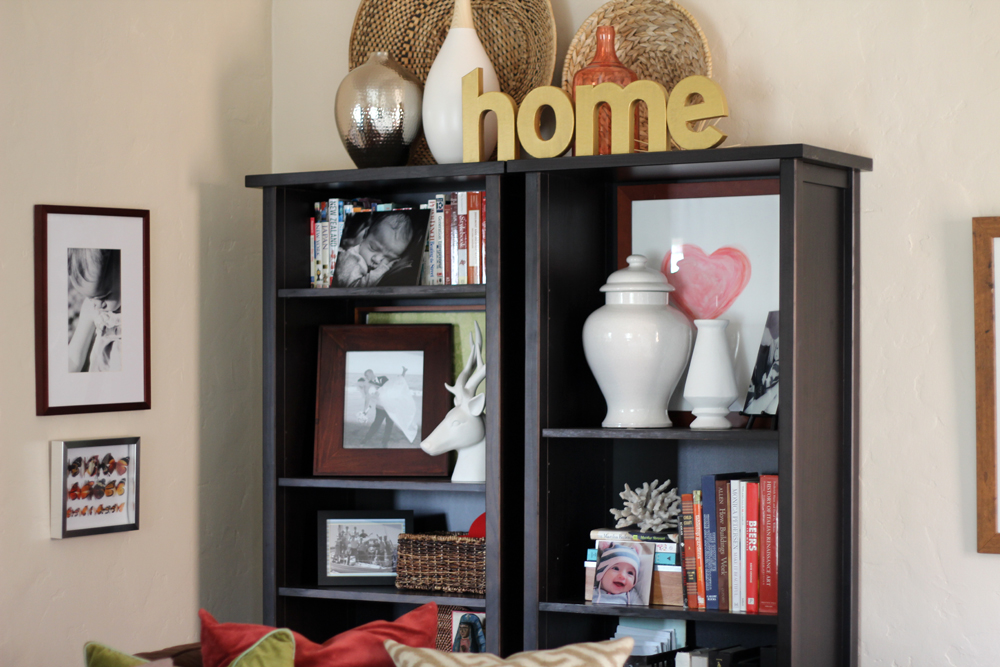 My plan B was to set the letters up on top of the kitchen cabinets. Might be fun to add a splash of gold?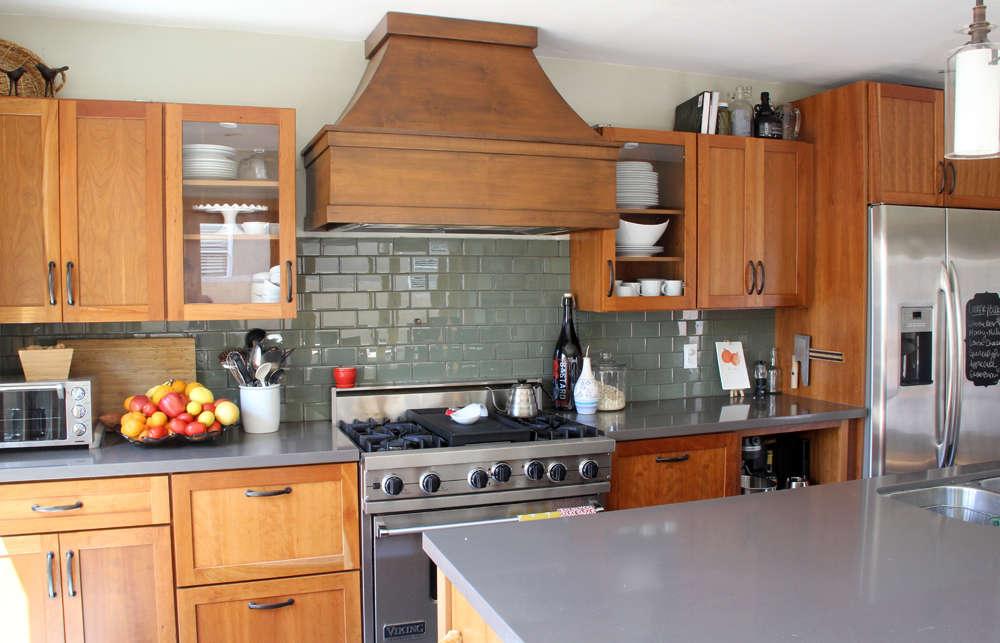 What do you think, has letter art become cliche? Overused to the moon and back? or does it still make for a fun and crafty addition?
PS The entire living room makeover is chronicled right here.
Tags:
Accessories
,
Crafty Solutions
,
Decorating
,
DIY
,
Gold
,
Home
,
Living Room
,
Paint
,
Tutorial
Posted in
Crafty Solutions
,
DIY
,
Home
,
Our Living Room
,
Renovating Adventures
|
3 Comments »
April 5, 2013

I have a special guest to introduce to you all today. Erin from House of Earnest is popping over to share her answers to PDB's Friday Guest Interview questions and I know you'll love her inspiration and answers!
Through House of Earnest, Erin chronicles her favorite home decor, entertaining ideas and crafty solutions. She's so talented – what I'm drawn to most is her unique spin on the everyday and the beautiful way she captures it all with the photos she shares. Take these gold + avocado seed place settings, for example. How beautiful! Or these gold foil confetti tumblers that I'm dying to try, these incredibly unique crated photos, or the lacquered animal bookends that Erin reveals in the the new 5th question addition that I've added to this series (after 3 years of hosting this little Friday special with just four great questions on inspiration and trends – I'm introducing a new favorite DIY-related Q&A addition, and you must check out Erin's answer).
Or how about this beautiful summery brunch? See… so talented.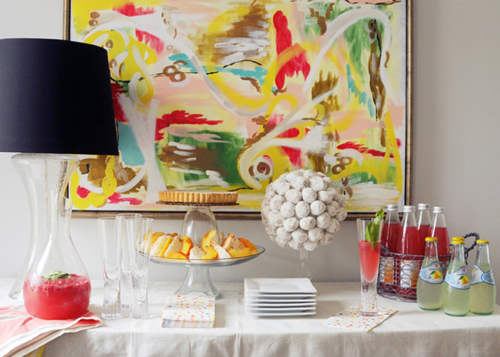 Erin was recently named as one of the "Best Up-And-Coming" blogs by a panel at Altitude Design Summit, she writes for Etsy twice a month and has been featured over at design*sponge and HGTV.com. Thank you for joining us today, Erin! Come check out all of her answers and inspirational photos after the jump. Read more »
Tags:
Decorating
,
Guest Blog
,
Guest Interview
,
Parties & Entertaining
Posted in
DIY
,
Guest Blog
,
Interview
|
Comment »
April 4, 2013
I have a horrible little secret. We hoard paint cans over here as if they were going out of style. Every size, shape, color – even long after that little label from the paint store begins to wear off from old age and we can no longer read the brand, sheen or color composite – still we hoard. Our paint cabinet overfloweth.
When Color-Glide Pro reached out to me regarding their new brushless paint sample tubes (that you fill and label yourself to keep on hand for little touch up projects) a little light in my head went off and I began dreaming of a certain over flowing cabinet suddenly becoming empty and clean. I screen product reviews here pretty thoroughly and I often don't take on a project that I don't think will fit in line with how we work on home projects or ones that won't jive well with the blog. BUT this particular sample landed in my inbox with perfect timing. I've been imagining a product just like this and if they hadn't invented this genius of a little squirt tube, I would have been on it like a fly to honey. It's that smart.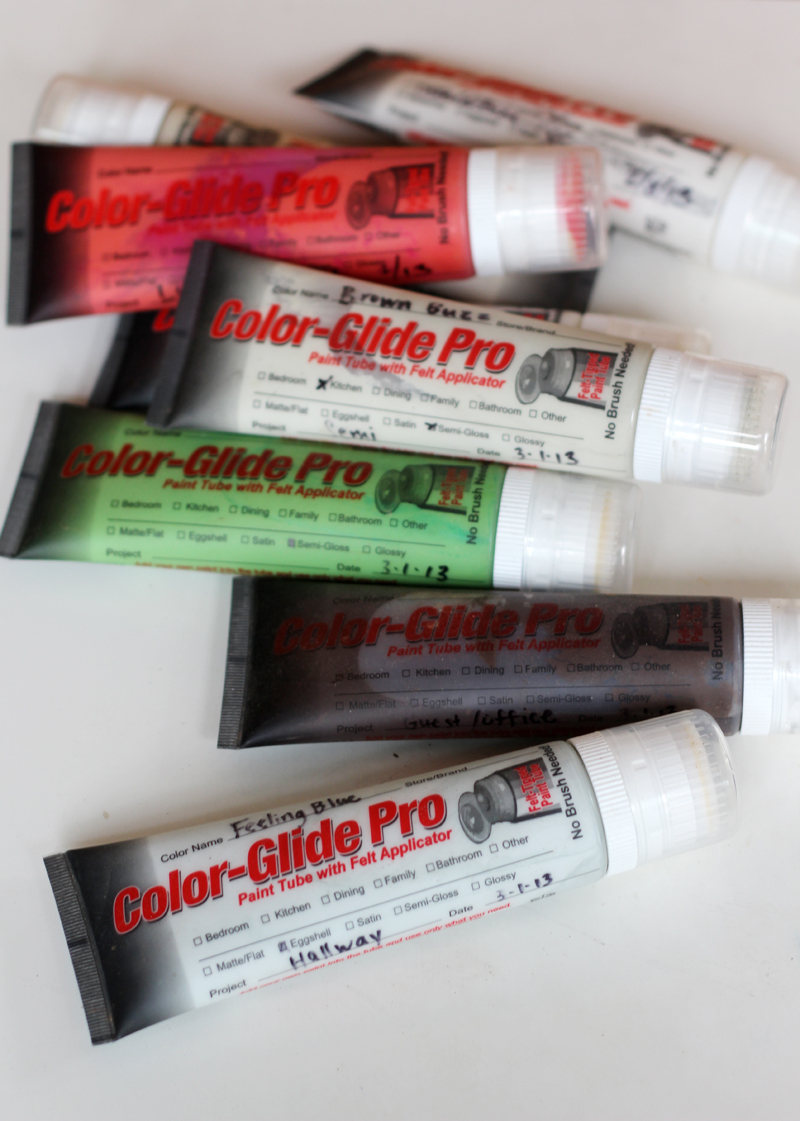 Here is just a wee selection of paint that a friend and I drug out of our garage a little while back to sort.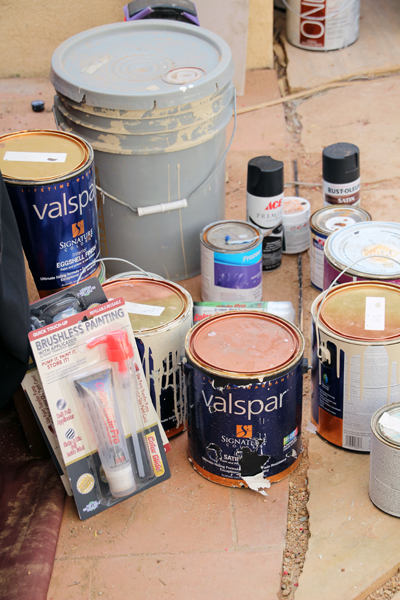 Then we opened up all of those cans, made notes on which paint belonged to which rooms (with lots of swatch testing going back and forth since the labels were all practically gone) and used the 10 or so pump + tubes that come with each Color-Glide Pro applicator to reorganize.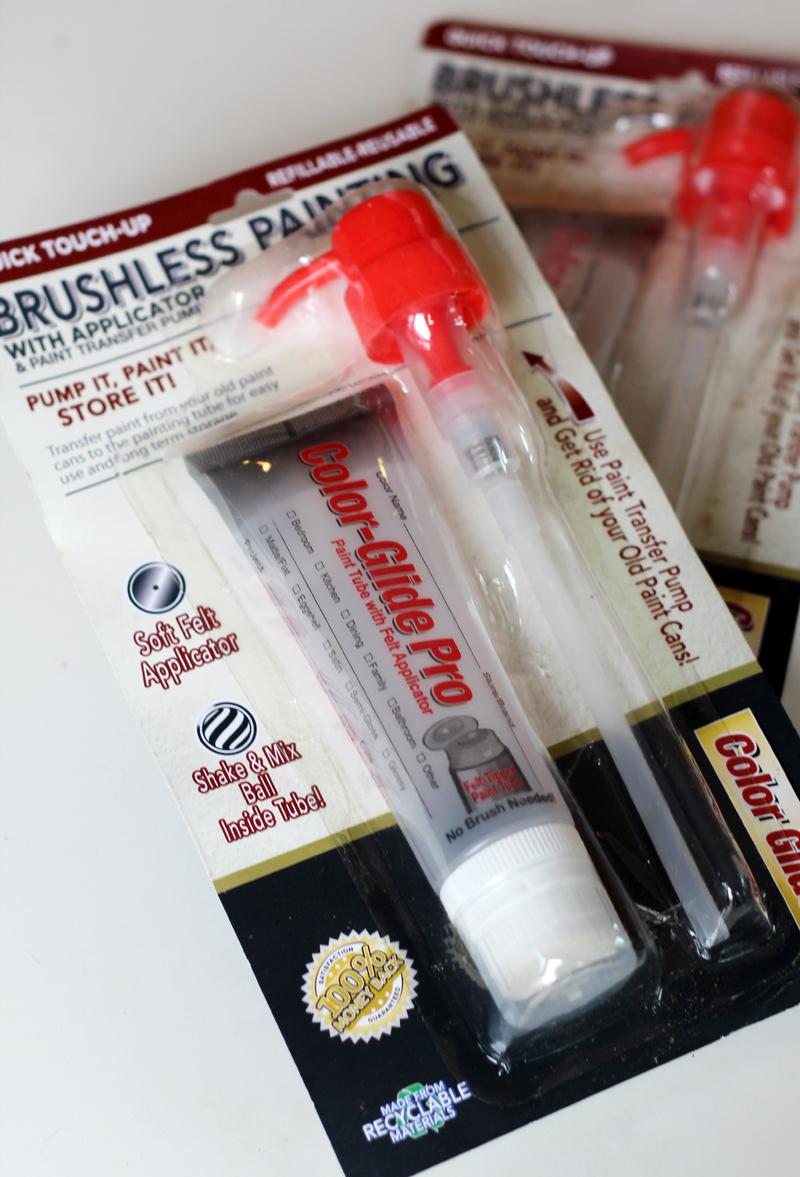 I loved that each tube had its own pump. You set the pump into the open can of paint and fill, fill, fill.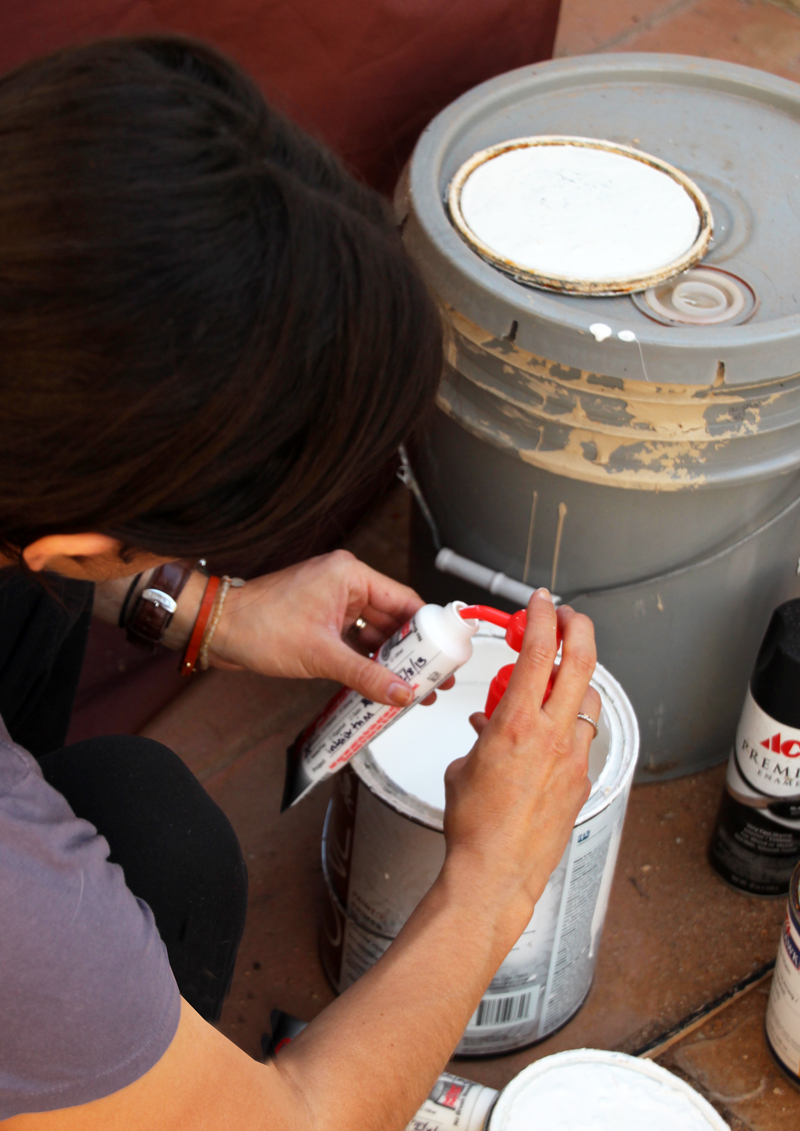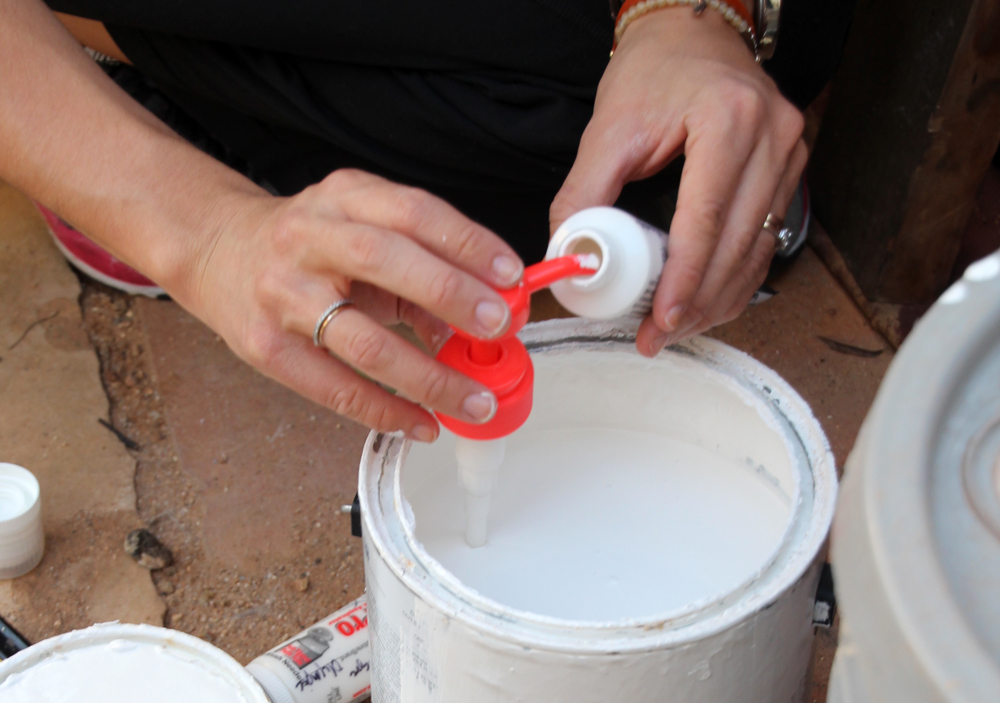 The tube is easily recycled afterwards (there would be no way for multiple colors to share the same tube, I thought about it but cleaning would be a mess).
The outside of the tube allows you to label the color name, brand or store, which room the paint is for, the sheen and any other details you'd like to add with a sharpie.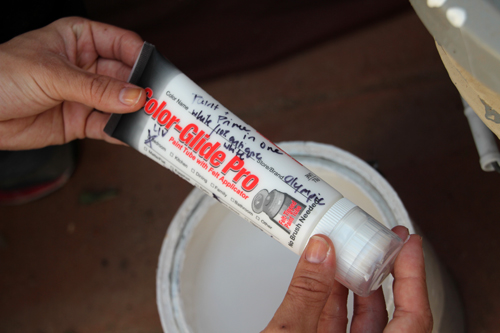 The best part? When it comes time to actually put the now nicely organized paint samples to use. We recently repaired two big plaster spots in our kitchen just a day or so before an appraiser was set to conduct a house tour (for a refinance that we're in the middle of) and just hours before his arrival I quickly repainted the large blemishes using the brushless applicators in the Color-Glide Pro tubes.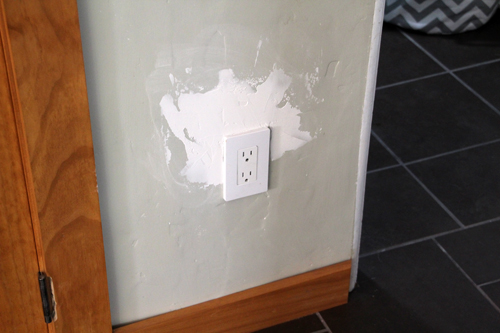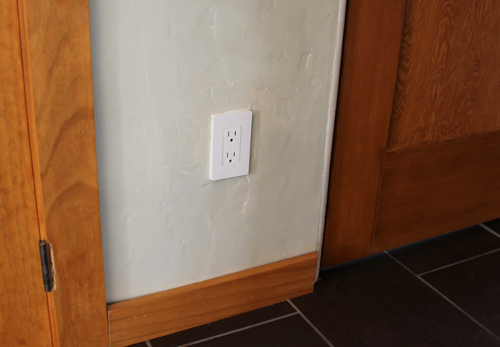 Here's an in-progress shot (though the paint is still wet in each photo and the texture of the walls makes it appear a little crazy). The end of the tube has a little felt applicator that you gently squeeze paint out onto (kind of like the automatic dish soap dispenser scrubber – do you use that too? – in your kitchen sink). No need for brushes or tape or cleaning of any kind, just shape the tube (there's a little ball inside to mix everything up) squeeze a bit of paint out onto the felt applicator and rub onto your patch area. When finished, wipe off the felt and pop the plastic lid back on. The plastic lip on the applicator acts as a little barrier between raised surfaces and the paint so I didn't actually tape off the light switches below, even though I was able to get a perfectly smooth line right along the edge.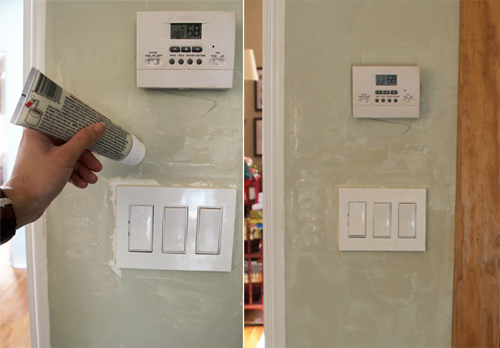 Finished! The three different types of trim in the below picture are driving me crazy, but for now the paint looks awesome. Except maybe for where the wall meets ceiling, looks like I have a couple of spots to patch up now that the ceiling has been replastered as well…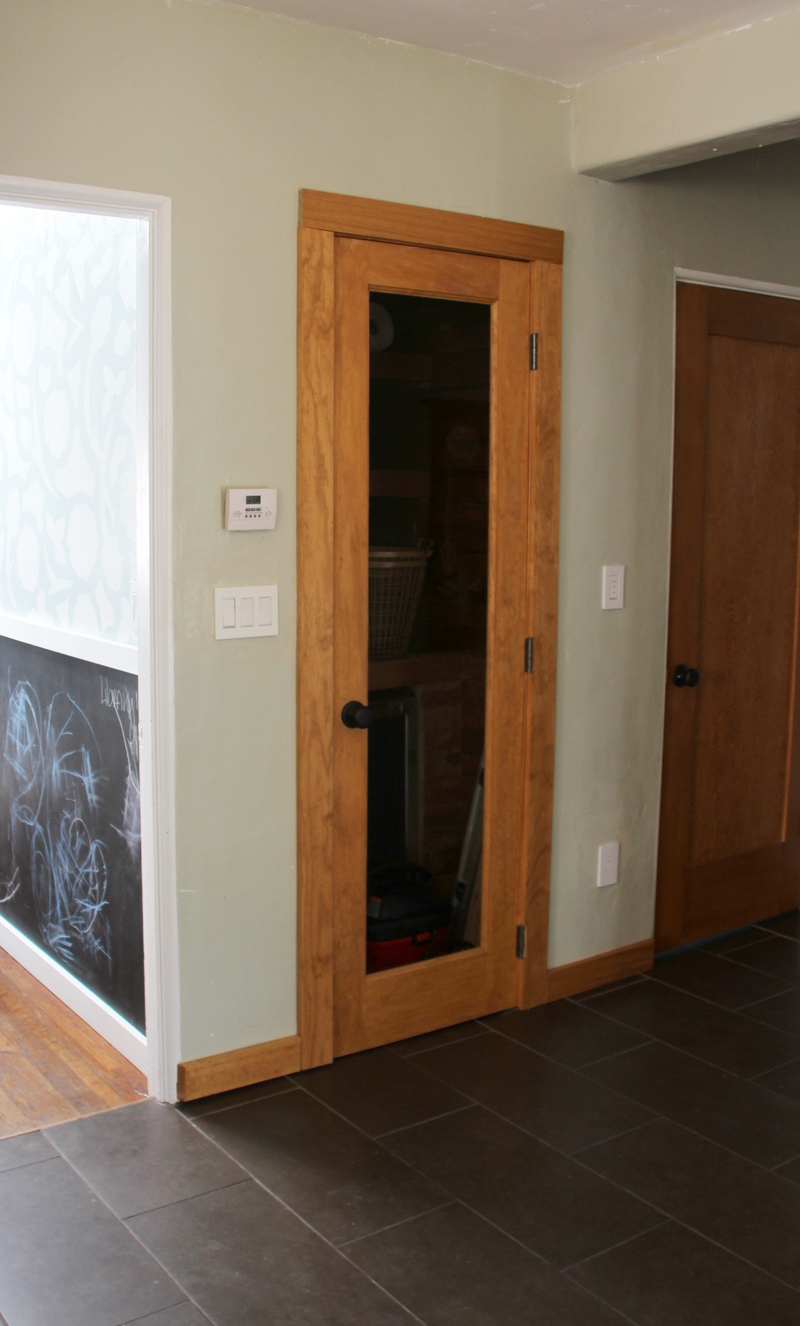 I must confess that my paint cabinet in the garage still overfloweth – I had a hard time parting with near full gallons or quarts of paint that I *hope* to use on a future project. But now at the very front of my cabinet sit my paint tubes, ready and waiting for repairs in the house!
It's nice to know that if we're patching a hole where a picture frame used to hang in the dining room or replacing trim in the office, I can run out to the garage and grab the correct tube and quickly finish the project – sans all of the paint supplies and clean up that it used to involve (and therefore was always relegated to last on the to-do list).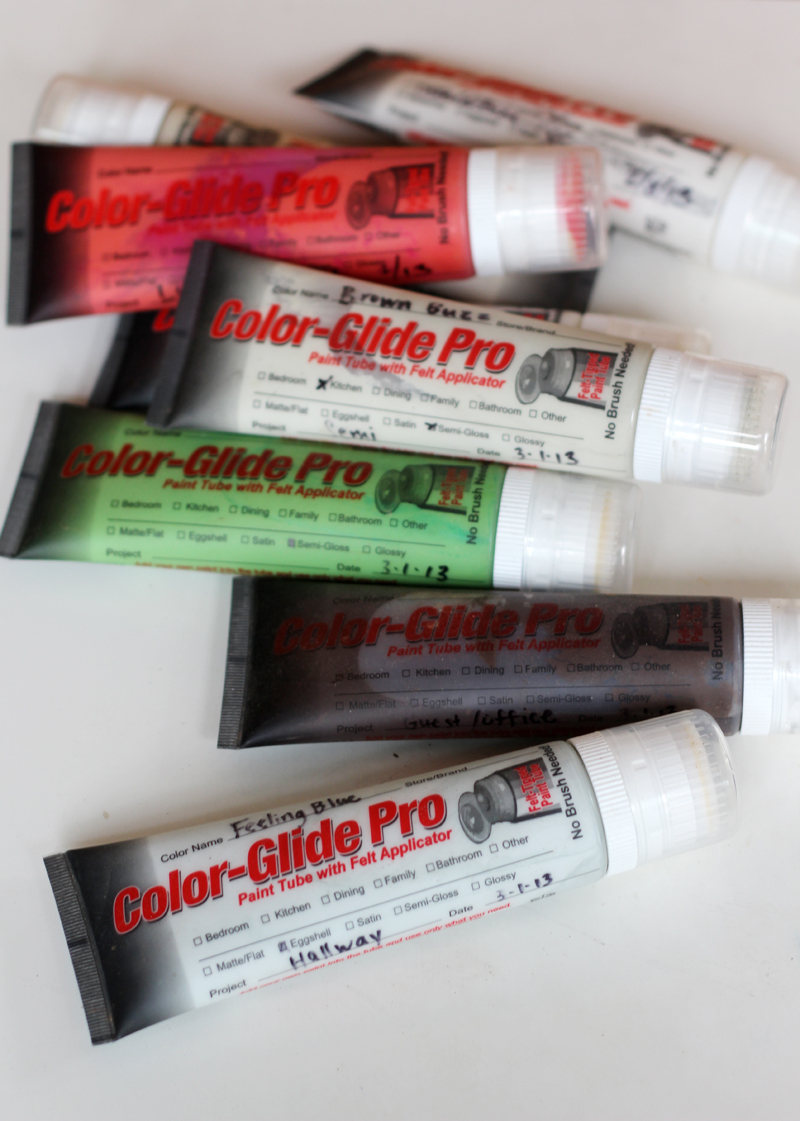 Thank you to the folks over at Color-Glide Pro for suppling the brushless paint tube applicators for me to try out. Here's a link to their website for more information and a plethora of application videos. You can also find a pack of four sample tubes available on Amazon with Prime shipping.
Tags:
Paint
Posted in
Crafty Solutions
,
DIY
,
Home
,
Product Review
,
Tips & Ideas
|
3 Comments »