October 9, 2012
While we were away we celebrated Kevin's birthday! I actually haven't gotten around to finishing his present, but I do have his Father's Day present to share (four months later…). I originally hadn't planned on posting about this project (part of my effort to show Kevin that I hadn't made the piece for the blog – but for him! But I think it's kind of cool and four months of not posting about it is enough time for me.)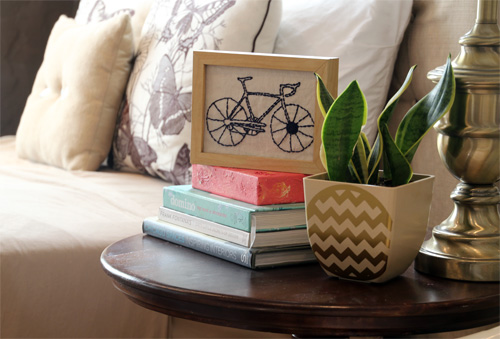 It's an embroidered bicycle that I then framed and had on display on our mantel for a while. Kevin and his family are big bikers, and I was hoping to hand make something that was special to him personally. He and Olivia LOVE to bike (she is thrilled every time she sees one go by, and constantly asks to go for a ride in her iBert) and I thought that something with bicycles might be fitting for Father's Day. (I also traced her little hand on a card – something that I think will be neat to do every year just to watch how she grows!)
Kevin is really terrible to buy gifts for. I mean, really terrible. He doesn't need anything, doesn't really get excited  about anything and in general is hard to impress. I worked on this project during the evenings when he was in class for a few weeks in the spring, when he opened it he thought it was cool and thoughtful and that was enough for me.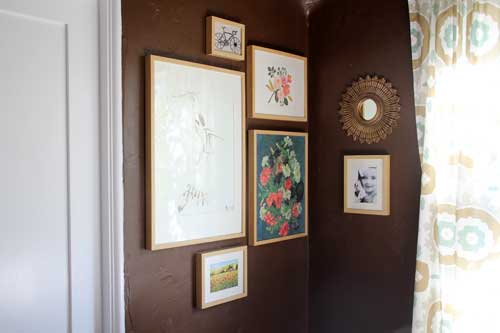 Now the embroidered bike sits at the top of the wall collage in the office/guestroom. This is a nice spot for it, perhaps a permanent one.
Sadly, I don't have photos documenting the progress (goes along with the whole I-made-this-just-for-you part of the gift), but this is an excellent tutorial on how to embroider just about anything. I actually found a generic picture of a bicycle online and printed it out to the proper size, lined it up with an off white fabric scrap I had on hand and reminded myself on how to make a basic embroidery stitch. I didn't use an embroidery hoop but I will next time. Lesson learned.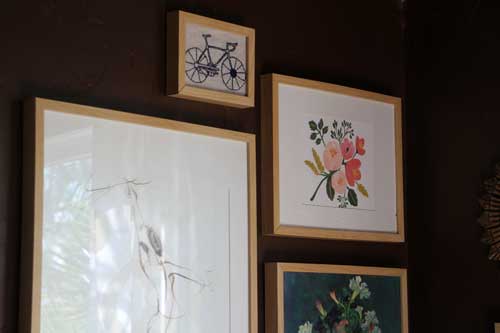 It's a little folksy, a little artsy, and by no means perfect. But that's what I kind of what I like about it!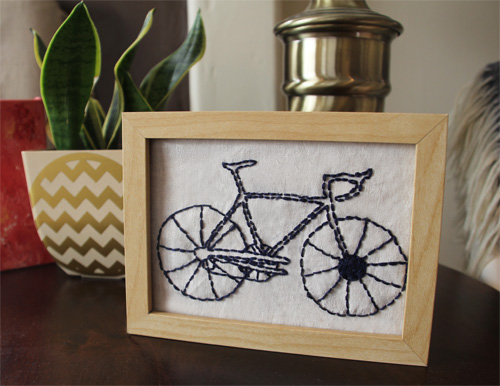 Maybe a quick ironing pre-framing would have helped with a few of those wrinkles…
More office/guestroom posts found here.
Tags:
Accessories
,
Crafty Solutions
,
Decorating
,
Embroidery
,
Father's Day
,
Home
,
Office
,
Tutorial
Posted in
Crafty Solutions
,
DIY
,
Home
,
Our Guestroom/Office
,
Renovating Adventures
|
2 Comments »
September 21, 2012

Happy Friday! I'm back with another awesome Friday Guest Blog Interview. It's actually a two in one, because we're featuring SPACEStv (that awesome new home and design YouTube channel that was just released) and Janet of Living in a Nutshell, a super stylish blogger with a fantastic little episode on SPACES, a new book and a lovely blog.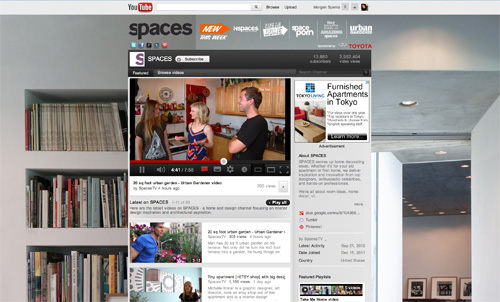 Have you heard of SPACEtv? A new YouTube channel that serves up home decorating ideas of all sizes – and it's instantly available in cute little 5-15 minute chunks of delicious decorating morsels. I'm really loving discovering all of the various series! And if you're like me and live sans cable, then this is an excellent HGTV alternative (plus, you can skip all of those pesky ads). A few of my favorites have been this inspirational Brooklyn loft crash, this roof deck on Urban Gardener, and of course, Janet's eclectic How to Decorate a Small Apartment episode. So much goodness.
Janet is taking a few moments to answer our usual 4 design questions about her favorite trends, tips and design ideas. Janet is the voice behind Living in a Nutshell and her new book of the same title. How brilliant is that mix of color in the cover photo?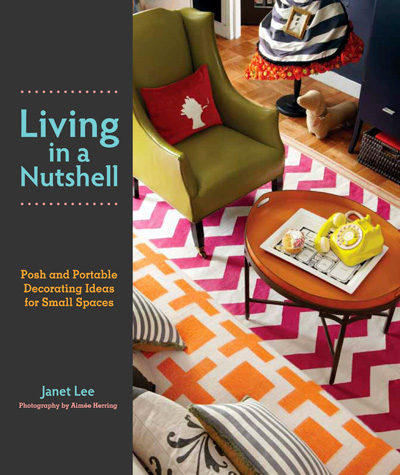 I was immediately intrigued to learn more about Janet's style after watching her SPACES episode and checking out stills of her pint-sized NY apartment (including that above living room). Jump on out to the interview for a closer look. Read more »
Tags:
Decorating
,
DIY
,
Guest Blog
,
Guest Interview
,
Home
,
Small Spaces
Posted in
Guest Blog
,
Home
,
Interview
|
Comment »
August 29, 2012
Sometimes it's the little projects that take the longest to complete… our hallway light dilemma or the dining room curtains, for example (the former still in progress, the latter finally crossed off after much deliberation). You're ready to tackle your new project with much gusto, thinking it will be an easy fix or decision – but then you run into all of the little hurdles that keep it from completion and the project sits. For a long while. Patiently waiting its turn. This particular wall collage project is one just like these and one that has been nudging me for months!
There's a narrow wall to the right of the guestroom door at the far end of our office (if you were lying in bed you'd be looking at it) where I attempted a little art gallery a while back.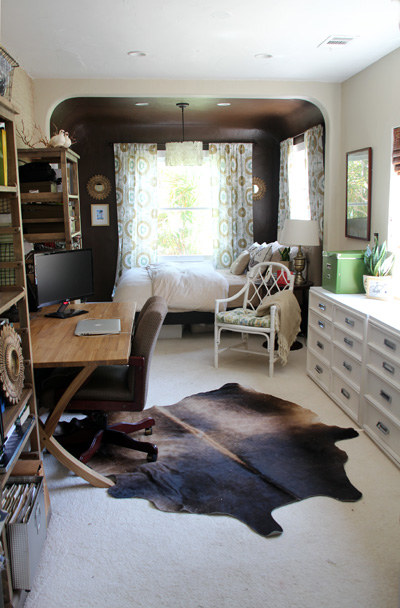 If we step forward through the office to the little guestroom nook of this room you'll see my newly transformed wall collage there on the left. Art framed, frames hung!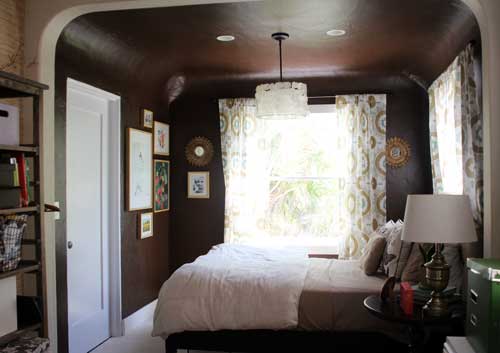 I'd still like to add another photo under the sunburst mirror on the right to help balance the wall out. Love those little starburst mirrors I picked up at Ballard Designs a while back.
The previous collage was not working, too many random frames, mats, colors… the entire wall needed grounding in the form of  some sort of consistency throughout. Something that would tie the entire collage together…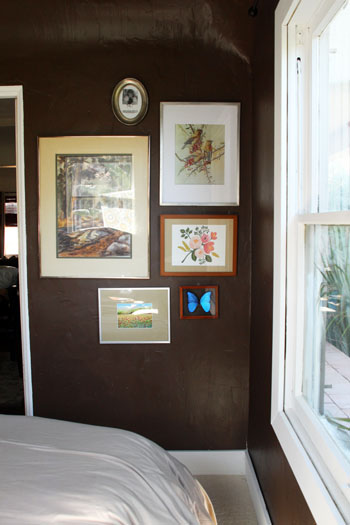 When Anna mentioned matching mats I thought it was a great idea! I had always planned on switching out the off white mats to white all around, but the mention of that idea again started to get the wheels turning.
This image is what inspired me most next: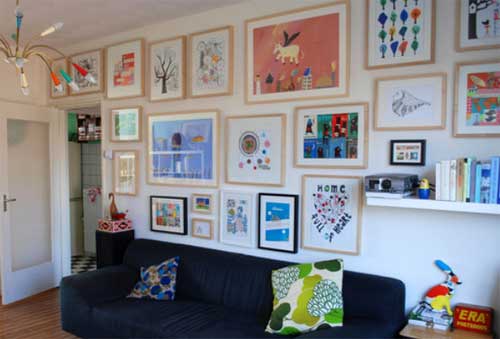 I had decided that birch frames were the way to go (had tried silver and brown and white – not working as well with the dark brown walls) but couldn't find great birch frames! Searched everywhere. Then the homeowner for the above (gotta love Houzz for their great forum) answered my reply that the frames were from Ikea. You might remember these Ribba guys from this project too, I actually bought the wall collage versions first but they hung with no art for a long while.
The only bummer about Ribba frames is that they are so deep – there's really no mixing in other art or the levels of the frames become a little disproportionate. No big deal for this space though, I was looking for all birch.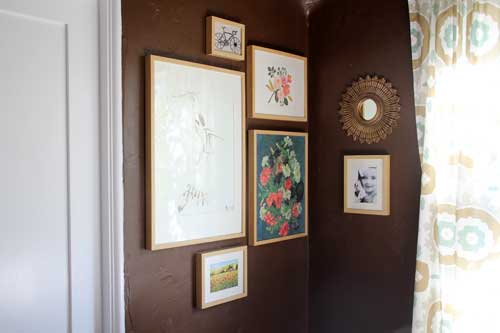 The birch frames bring cohesiveness to the space – exactly what the previous collage was missing. And the color is perfect against the chocolate brown walls!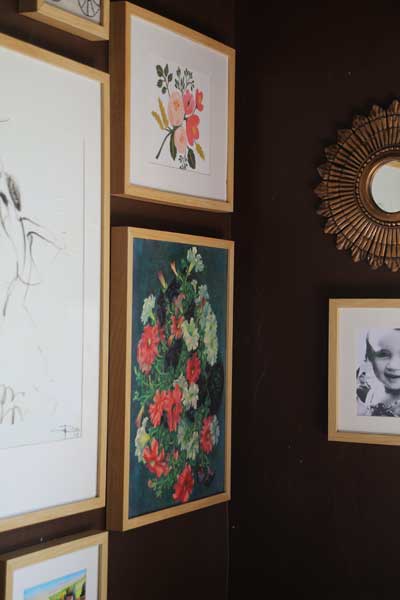 And just like finding the right frames for the space, the artwork has taken me quite some time to piece together, too. I would still like to replace the very bottom Tuscany fields painting (that we found on vacation) with something that fits the overall color scheme better at some point.
This dancer is one of my favorite finds. I needed a large, bright piece that wouldn't compete with the rest of the wall but would be interesting enough to feature in a pretty large frame. I thought a basic black charcoal on white would be ideal – an opportunity for the eye to rest and enough white space to brighten up the corner. I found this dancer on Etsy from the BalletArt shop.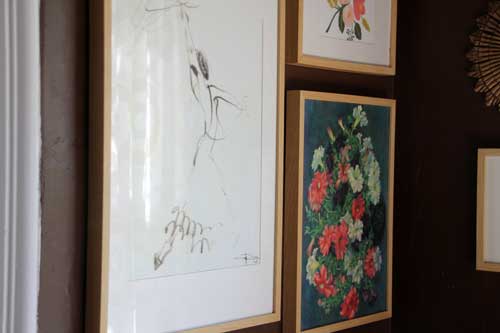 The floral prints just past my dancer bring coral and navy into the room – two colors that work really well with the existing sage, brown and tans.
The first is from one of my favorite calendars (I snipped the front page right off) by Rifle Paper Co and the oil painting is a $10 antique store find that I cut right off of the canvas board with an exacto knife and framed (don't worry, it was a reproduction

).
Love the colors! I'm thinking of switching Liv's picture (on the right there) for a sepia rather than b&w because of the warmer tones in this collage.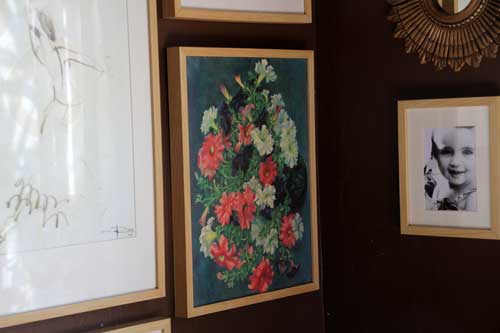 The very top piece of art is an embroidered bicycle that I made Kevin for Father's Day. Kev loves biking and it's one of his favorite activities to do with Liv. Originally this little box sat in the living room but I think it looks great here.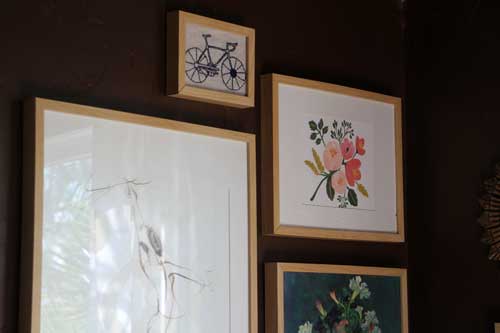 Much improvement over the first trial run: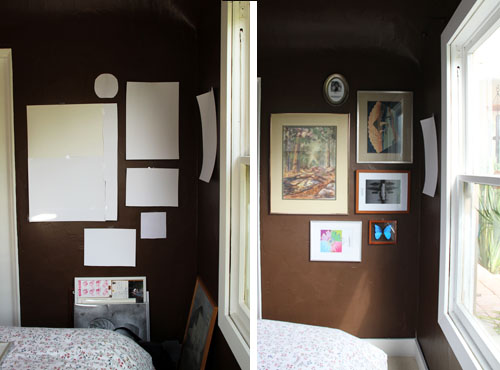 And here she is again today:
Now to find new ways to bring coral and navy into the room. I brought in a little coral/pink art canvas for the side table and perhaps a throw for the bed and pillows for the new bamboo white accent chair will help.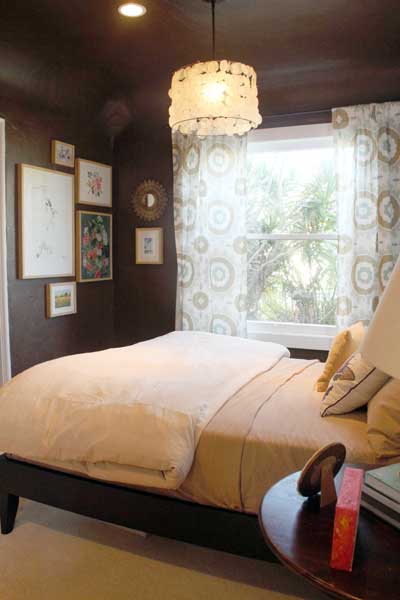 The office is that much closer to being complete! So happy with how it's coming along these days, the dreaded design block (writer's block for design?) for this room feels like it's finally over.
For more Office Makeover posts, check out: a new rug, chair & bookcases, a new tufted headboard for the guest bed, our floor plan, color inspiration, a new trellis print rug, stuck in a rut, designing and sewing the curtains, diy fabric bulletin board panels, handmade capiz pendant light, organizing the bookshelves, wall collage part 1, part 2, fabric bulletin board inspiration, (new) inspiration board, new lamps, wallpapering open shelves, finding the perfect credenza, new trim, dining table-to-desk, a new desk & bookshelves, installing remnant carpeting, grasscloth wallpaper, painting the office nook, finding carpet for the office, chocolate brown wall ideas, plastering progress, inspiration for a diy desk, back in action!, desking hunting for under $300, bookcases under $300,inspirational rooms, room layout options, demo part 1 & demo part 2.
Tags:
Accessories
,
Decorating
,
Home
,
Office
Posted in
Home
,
Our Guestroom/Office
,
Renovating Adventures
|
5 Comments »