January 28, 2013
This wax paper project is a really fun way to spice up a simple dessert, and perfect for Valentine's Day with a heart shaped cut out like the one I made for this chocolatey gooey treat.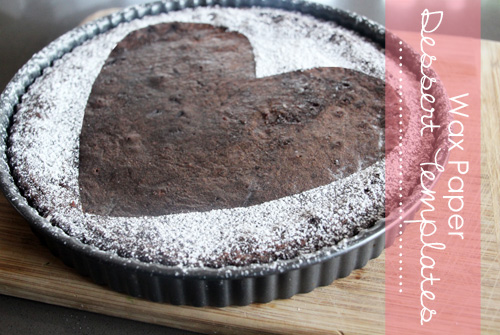 Brownies look so much fancier in a tart pan, no?

Liv and I used wax paper, scissors and powdered sugar to create a little design, and it took us just a few minutes to make these ordinary sheet brownies a little prettier. A heart shape is easy to cut out and perfect for the upcoming holiday, but wax paper is such an easy medium to work with that you could cut out just about any shape, set of initials, numbers for a birthday cake… you name it. And no need to stick to just powdered sugar, colored sprinkles or sugar would make for colorful designs!
I'm thinking this would be especially pretty on a flourless chocolate cake, individual cupcakes, or now that the imagination is spinning, really any dessert with a flat top.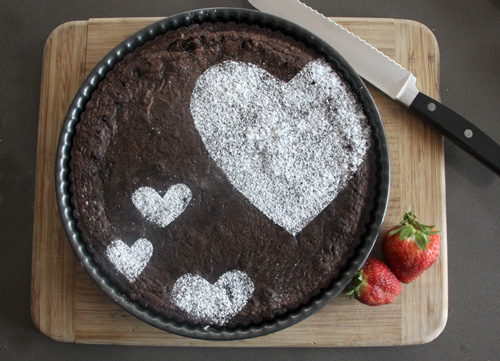 The reverse of the template is equally special, an entirely different effect.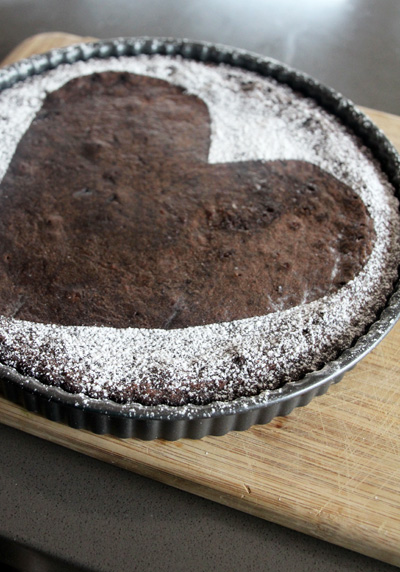 Soooo simple, but let's break it down just for fun

.
******************************************************************************
Wax Paper Dessert Template

a
Materials: wax paper, scissors, dessert, powdered sugar
Bake up your most delicious dessert of choice and let cool (the wax paper will stick to any warm dessert, so completely cool is a must to avoid pulling the top up and off of your baked good).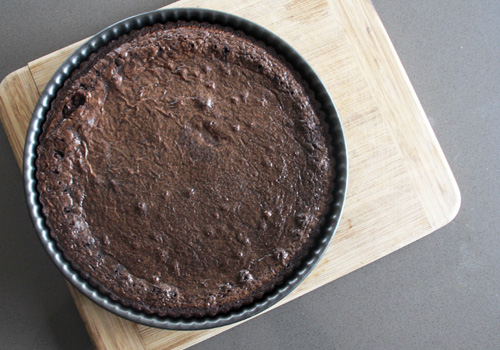 I chose a heart shape because Valentine's Day is just around the corner! And it's super simple to snip out of wax paper (fold the paper in half for an even easier cut).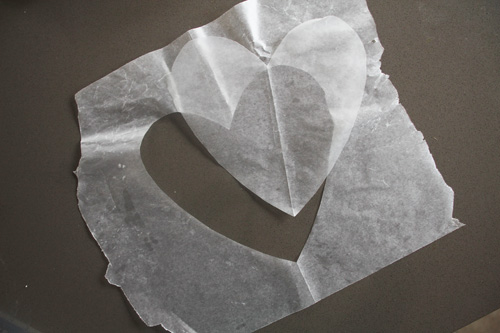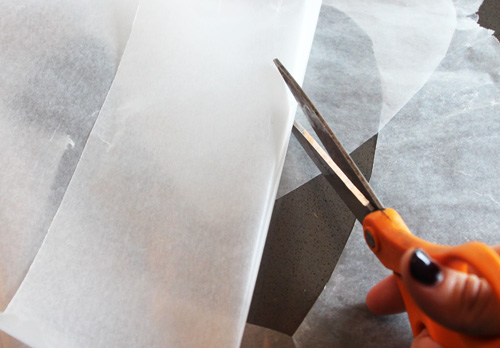 Liv thought the heart shape was cool, too.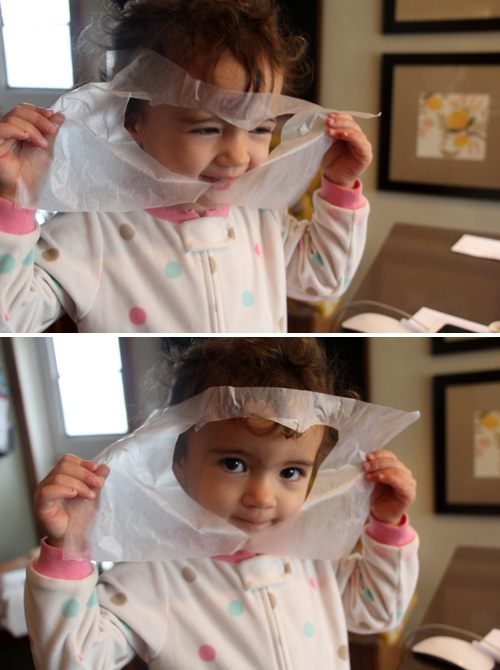 I ended up making several different shapes and sizes for my powdered sugar topping, the more the merrier.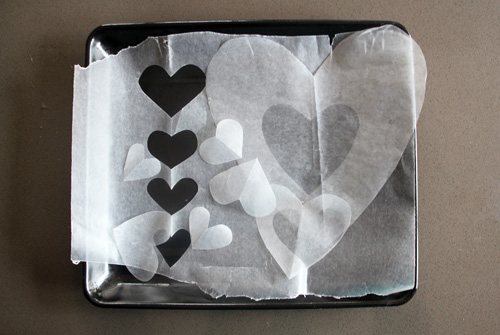 I added my hearts to my dessert in a somewhat random pattern, and filled bits of wax paper into gaping holes that I thought might let powdered sugar through (and where I didn't want it to be).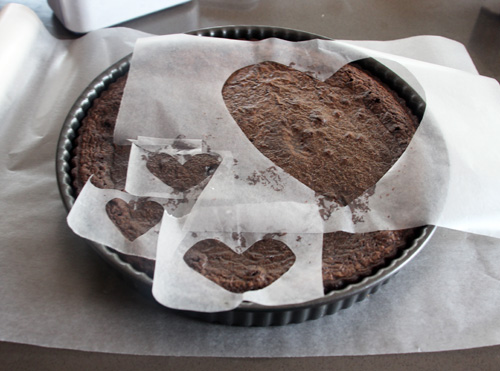 The beauty of wax paper over any other template material (cardstock, vellum, sheet protectors, etc) is that with a little body heat (aka the touch of your fingers), it will lightly adhere to the dessert to create a nice little barrier, but not enough to tear the top.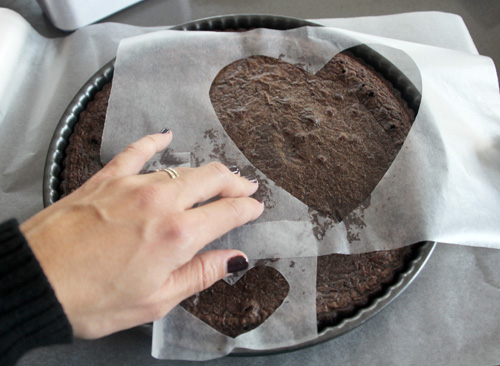 Then sprinkle away!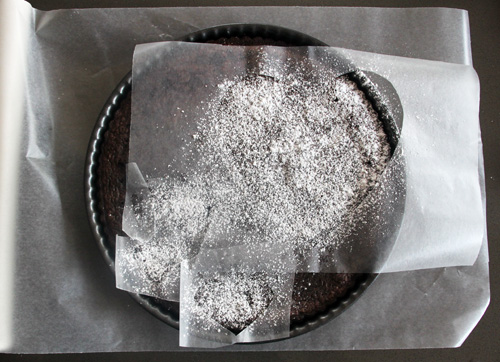 I don't have a fancy powdered sugar dispenser so I just used my good ole tea steeper (what is this called? a tea ball? a tea spoon?), filled it up with powdered sugar and shook. It's nice because it's small and you can control exactly where that sugar ends up.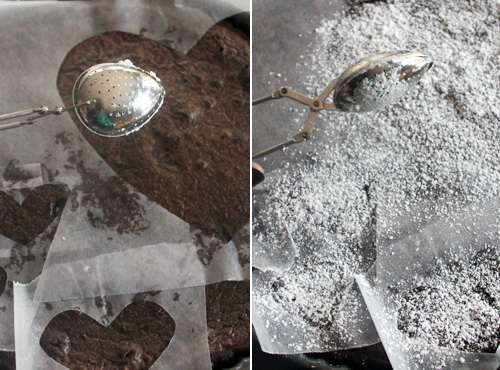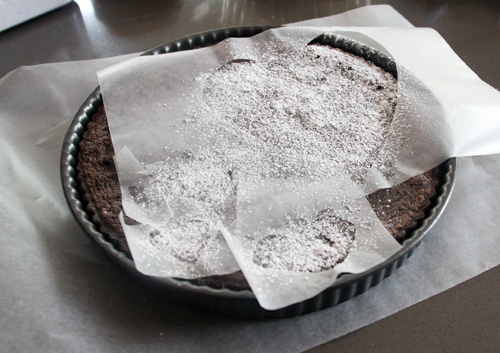 Slowwwwllly peel away your template and voila!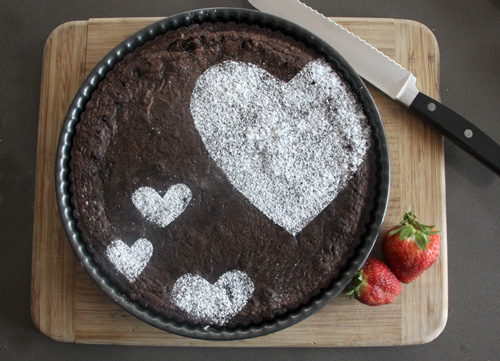 Or use the reverse of your cut outs to create an entirely different look.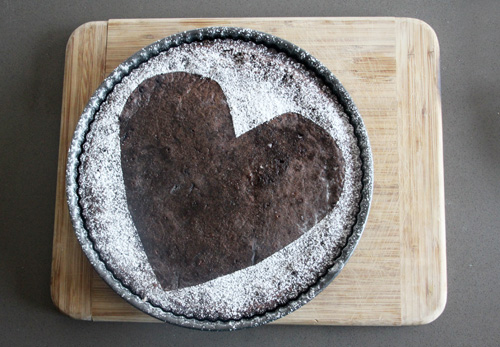 Here's the process in one nice little collage: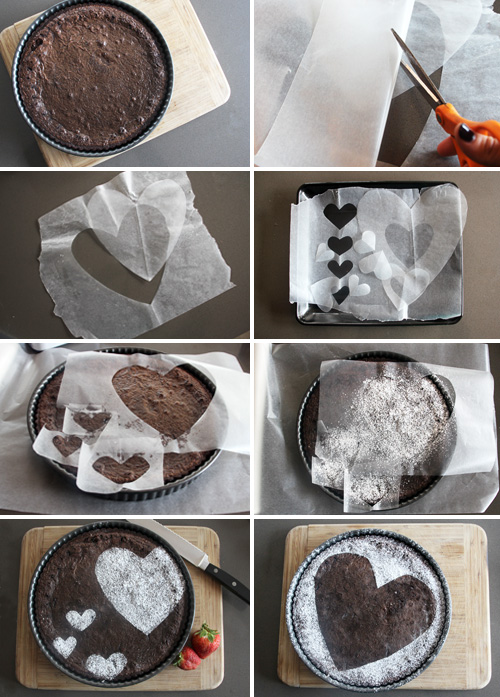 So pretty! Ready for a candlelit dinner and a Valentine's date night…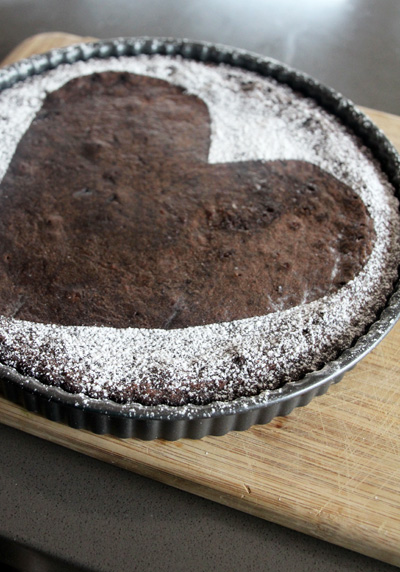 PS More Valentine's Day ideas here and recipes here.
Tags:
Decorating
,
Desserts
,
DIY
,
Parties & Entertaining
,
Recipes
,
Tutorial
,
Valentine's Day
Posted in
Crafty Solutions
,
DIY
,
Holidays
,
Parties & Entertaining
,
Recipes
|
6 Comments »
January 23, 2013
One of my favorite, super-quick-to-throw-together ideas from Liv's party was to create little favor pouches for gummy bears to hand out to all of the kids on their way home.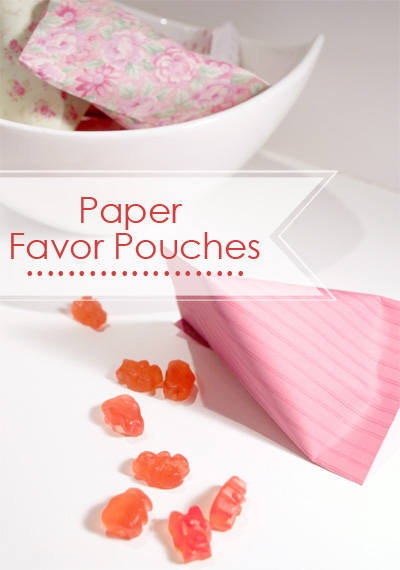 I didn't get a very clear photo of the treat bags at the actual party, but here's the gist on how we put them together: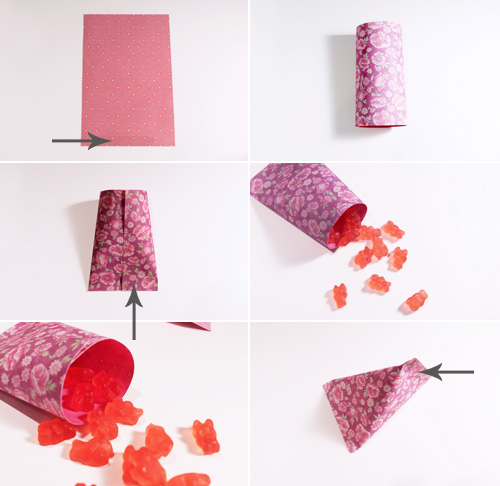 The grey arrows indicate where a piece of double sided tape was added to adhere two sides together. The pouches were popping open after a while, so I might try something stronger than plain old sticky tape next time. Maybe even cute staples or scrapbooking tape + a dab of glue in a few key areas (such as the corners).
They were a cute and easy addition to the party! And we literally made them as people were walking in (and as it dawned on me that I had meant to put favor bags together but had completely forgotten about them… luckily I remembered a few variations of this idea on Pinterest - not to mention those cool popsicles that used to be sold out of similar pouches when I was a kid – and happened to have paper and pink candy on hand!). Big thanks to my brother and friend Trish (the invaluable party co-preppers) for helping me assemble.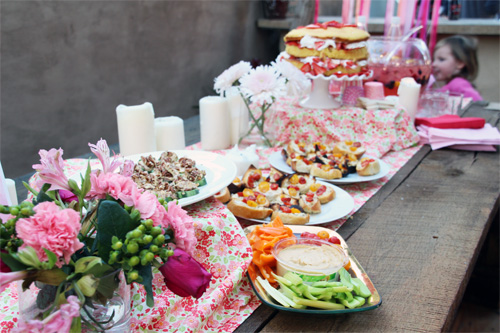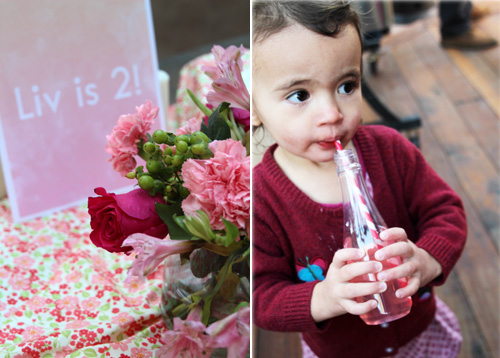 More pictures from Liv's 2nd birthday right here, and you can filter all party ideas posted on the blog by theme here!
PS this would be very cute for Valentine's Day treats, don't you think?
Tags:
Baby Shower
,
Birthday
,
By Color
,
Crafty Solutions
,
Decorating
,
DIY
,
Kids Party
,
Parties & Entertaining
,
Pink
,
Tutorial
,
Valentine's Day
,
Wedding
Posted in
Crafty Solutions
,
DIY
,
Family & Friends
,
Holidays
,
Olivia
,
Parties & Entertaining
|
1 Comment »
January 21, 2013
On Friday I shared our new breakfast nook in the kitchen: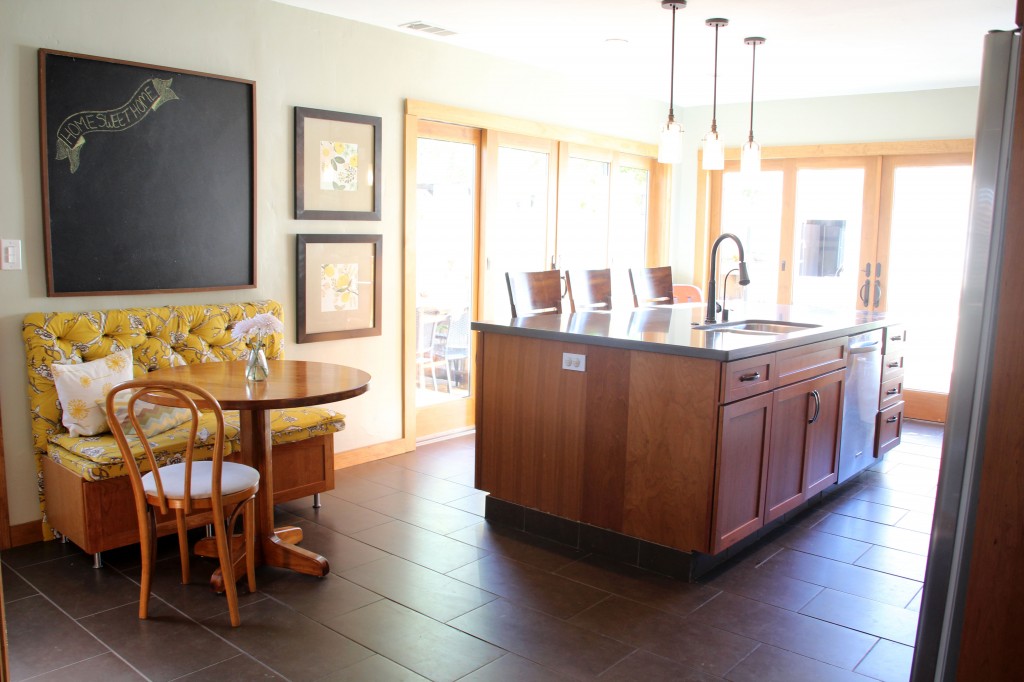 And I'd have to say that my very favoritist part of this project is the new tufted backing to the bench (in that beautiful citrine vintage blossom!). That bench is actually two 24″ above-the-fridge cabinets with a new set of Ikea legs (refrigerator cabinets are actually a great size for seating – they're generally 18″ or so inches deep, 12-15″ high – though the added legs help – and 24-36″ long). The tufted backing helps to add a comfy and cozy feeling to the space and gives the eye something to focus on.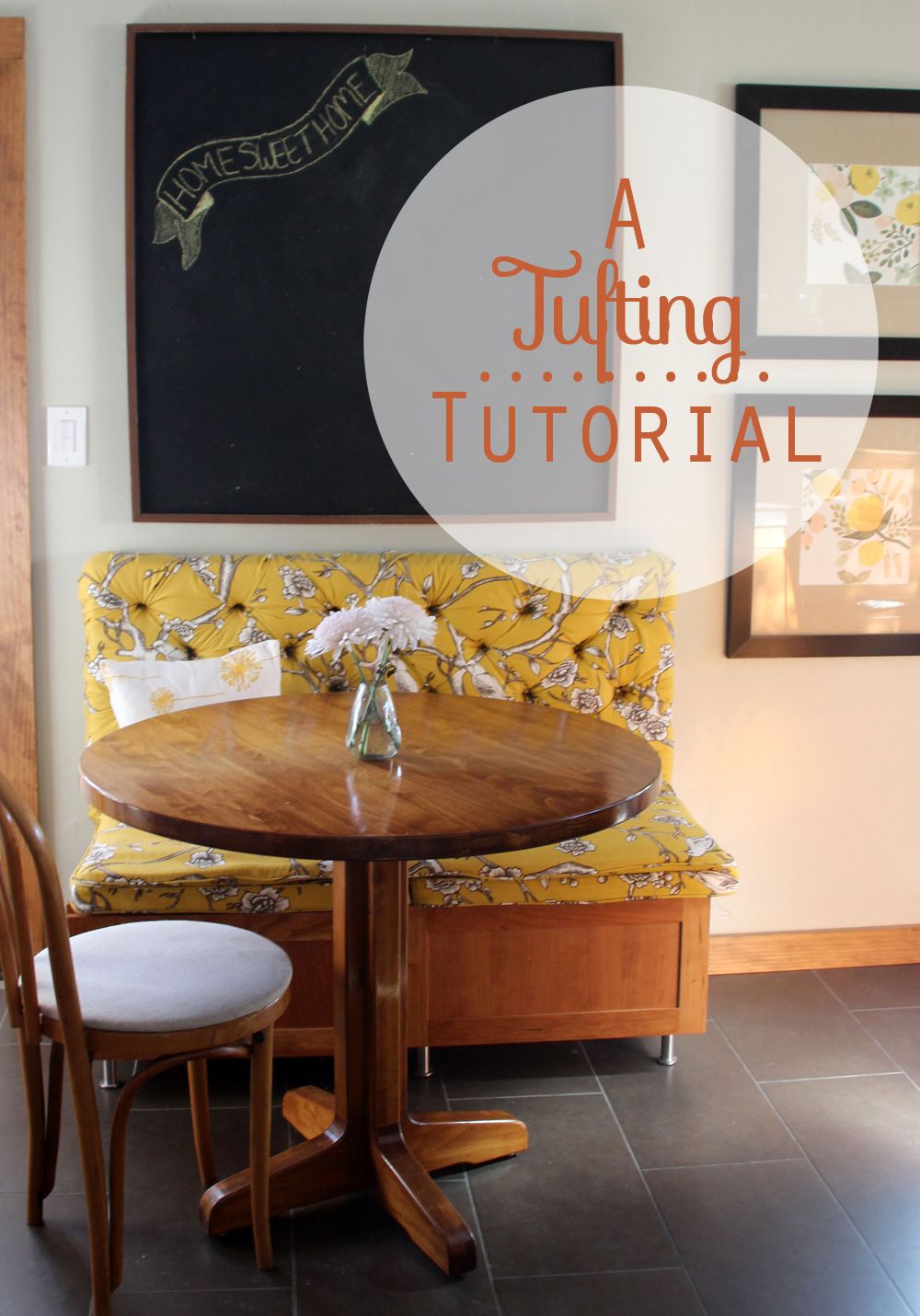 Today's post is about the DIY tufting portion of the nook because that was a pretty decent (but totally doable) project that I've been really looking forward to sharing with you (that, and a few live and learn lessons along the way – because there are always a few

).
Here are links to posts about our adventures in finding the right bench seats, cushions, the ugly plywood window design dilemma we ran into, the revealing of the tufted backing (after much 'what is this space missing?' pondering), the initial inspiration for the project and pulling it all together.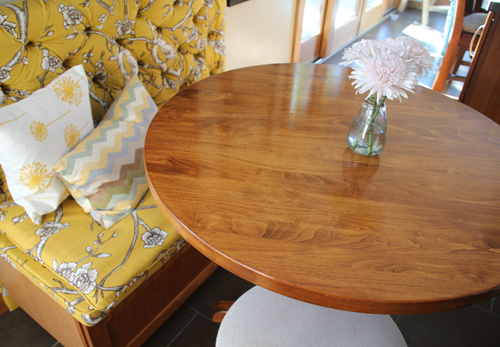 I owe a good majority of this next tutorial to Jenny and her awesome tufted headboard guide. Be sure to head on over there if anything here is a bit hazy, or just for more great tufting advice from a real expert. I changed things up a bit (such as using plywood instead of pegboard, stapling my tufts instead of sewing) and by incorporating tips from other tufting posts I've read over the years, and this project was a bit of a culmination of all of the above.
*******************************************************************************
Tufted Bench Seat Backing
m
These are the same steps when it comes to tufting and creating your own upholstered headboard, coffee table-turned-ottoman, fabric covered bench, etc. and while you may be modifying tiny details only (like corners) I've used these basic tips on various projects – no need to limit it to a bench back!
Materials for a 48″ long tufted bench back: 3 yards of fabric, 28 DIY buttons (usually sold in a kit of 5-8) – I used 5/8″, staple gun, 1/2″ staples (the longer the easier to drive through foam and into plywood), 48×38″ plywood (or whatever the height of your bench back), 48×22″ three inch foam, high loft batting to cover front and back.
My first step in this project was selecting a sturdy material for my bench back base. Options for a tufted frame include plywood, pegboard (a suggestion from Jenny that makes measuring and sewing tufts super easy) or an existing headboard, bench, etc that already features a neat shape (like this one).
For this project I ended up choosing 1/2″ plywood since I was looking for a material that would stand on its own (pegboard is best attached to a wall) and is a custom size and shape (no existing frame could be found, though I tried). Plus, I'm stealing one of my previous staple gun tufted button tips from another headboard makeover rather than sew the buttons on myself (which is where pegboard would be oh-so helpful).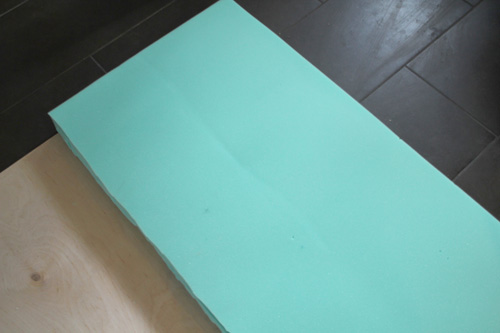 I've learned to love 3″ foam for tufted projects (learned this lesson the hard way using 1″ on a coffee table-converted-to-bench a few years ago back and 2″ on a headboard a while back). 3″ looks deep and professional, yet is still a manageable thickness with non-upholstery tools. Unfortunately Joann's fabrics was out of this particular size when I visited late one evening so I ended up stacking a 2″ + 1″ piece for the same finished look.
I recommend cutting your foam (easiest with a serrated knife, electric knife or sharp shears if foam is thin enough) so that it is slightly larger than the plywood below. Will help keep those corners soft, smooth and beautiful, too!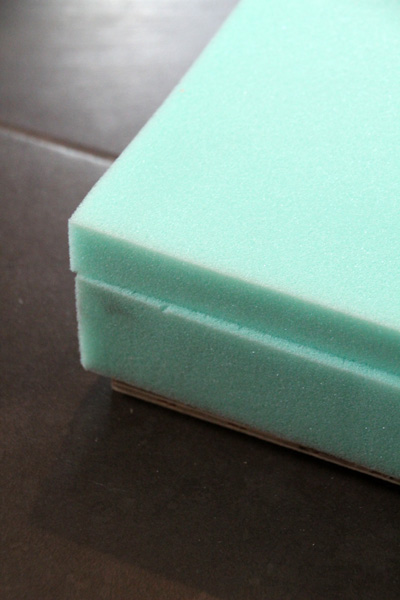 Next, I marked my tufts off on the top of the foam. I love the look of close tufts!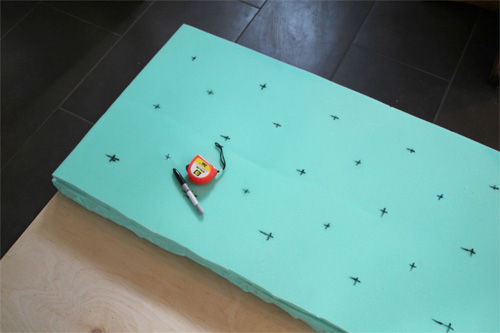 A paring knife dug out a quarter ish sized circle out of the foam and all the way through to the plywood below.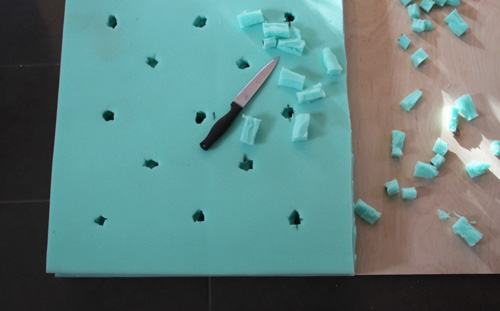 It's helpful to find an old one (thrift store find) that you won't need in the kitchen anymore! This guy was quite dull by the time I finished my 28th cut and I'm sure it was full of bits of broken foam.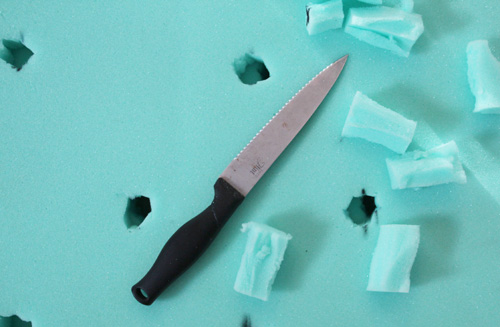 Before applying a spray adhesive to the two separate pieces of foam (I actually found it much easier to cut through one and then lift that layer up and finish cutting through the lower layer, rather than at the same time), Liv used them as yoga mats.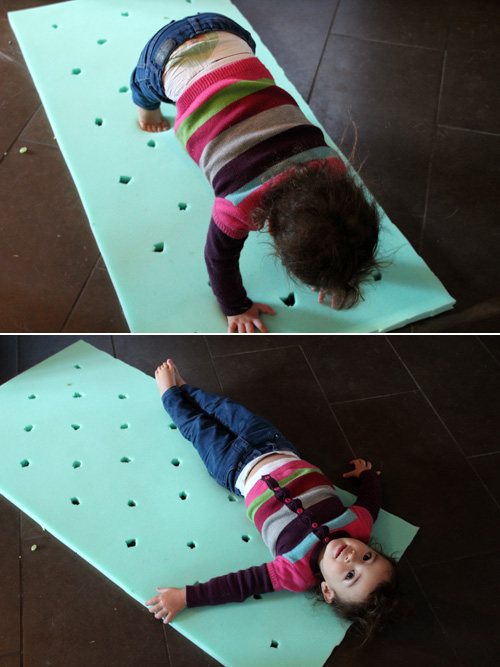 The foam is adhered to the plywood with spray adhesive as well, then a high-loft batting is wrapped around the entire piece. It was important to me that the bottom portion of the bench backing (while not tufted so it fits easily behind the the benches and against the wall) is also covered in fabric, and extending the batting down keeps the look soft and consistent all over.
No need to spray adhere the batting to the foam, you'll actually want the flexibility and stretch of the batting as you tug and pull it into various tuft crevices as you staple in the next step.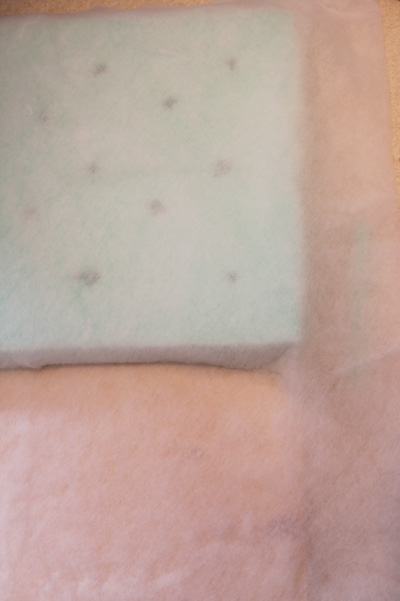 Now's a great time to mention how you can create the same tufted look if you didn't want to go the stapling route. My method is pretty simple – instead of drilling holes into the plywood and using upholstery needles to sew each tufted button to the backing, I simply staple each tuft down and then cover the staple with a glued button. Easy peasy. But, if you were opposed, you could complete all of the above steps while also marking off your plywood and drilling a small hole at each tufting mark. Then this next step will turn into an upholstery needle + sturdy thread project rather than staple gun.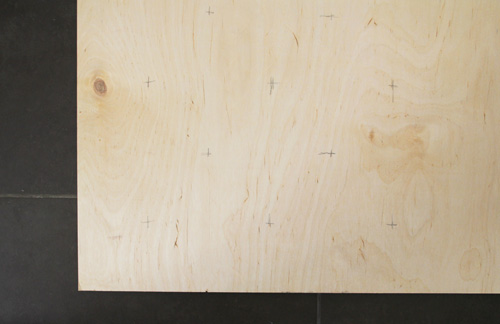 Back to where we left off. Because my choice of fabric for this project is a patterned fabric (found here), I needed to adjoin two 54″ sections of the fabric to keep the pattern running vertical (rather than turning the fabric on its side and running it horizontally, meaning my birds would be sitting sideways when looking at the bench seat). Fabric typically comes in 48-60″ widths and two 54″ (the width of this fabric off of the bolt) fit the 48″ plywood perfectly after all tufting. If you were using a solid you might easily cover the entire top portion of the bench backing with 2.5 continuous yards (though I might purchase 3 +1 for the skirt just to be on the safe side).
To do this, I started at the very center of the board with one 54″ section and tufted the entire right side, then overlapped the second 54″ section on the left and slowly intertwined the the two fabrics into the tufting down the center.
My first tuft starts with pushing the fabric and batting directly through the foam until it touches the plywood.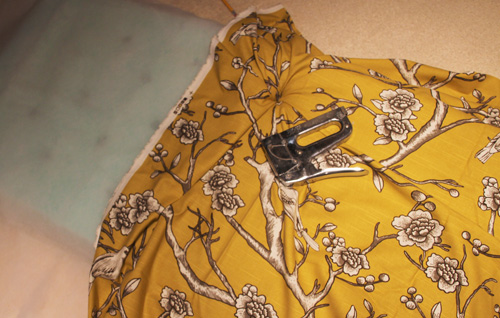 Then inching the staple gun into the deep fabric hole, attach fabric to plywood.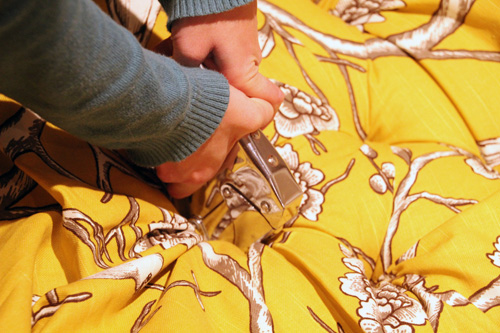 You might go through a lot of staples in this next step! I had staples popping left and right and that's just the nature of shoving a staple gun into so much foam and batting and fabric. Patience will serve up one clean staple per tuft and that's all you really need.
Extend the new tufts out from the center. As I worked my way from one tuft to the next, I was careful to watch how the fabric folded out from each tuft. You can control the diamond shape of the fabric between tufts by pulling and folding the fabric as you go, or you might opt for a slightly more random look by allowing the fabric to gather out in all directions from each tuft. Another helpful hint: use the pattern to make sure you're working in a straight line. All of the folding and pulling can slowly veer you off in one direction or another and you won't realize it until you're 3 tufting rows down.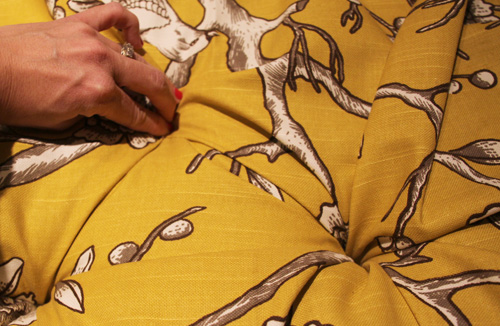 Half way there!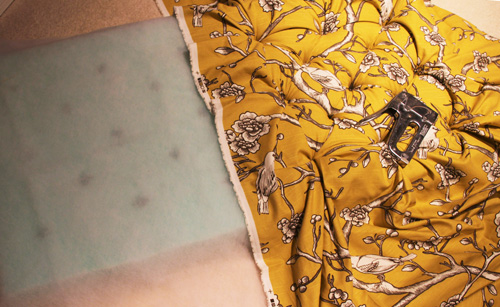 Now it's time for me to add the second 54″ section of fabric.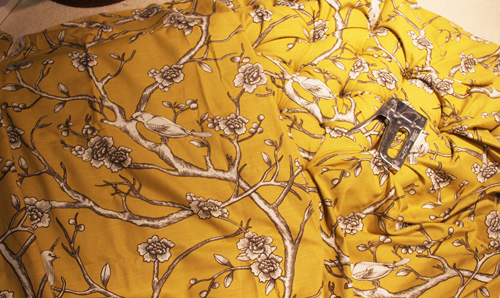 I began by overlapping the two fabrics by at least 12-18″ so that there was plenty of room for weaving the new fabric in and out of the existing center row of tufts (12″ is your absolute minimum, give yourself room to work here).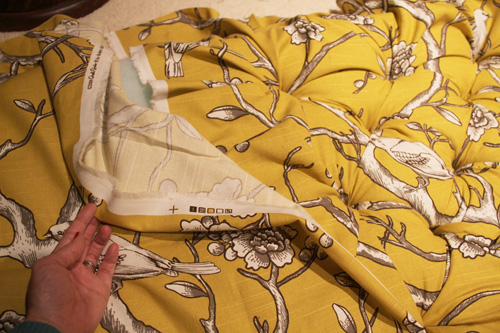 Cutting the fabric as I went allowed me to play with the zig zagging tufts and how the two fabrics would overlap so that eventually the adjoining of the two sections of fabric would be invisible.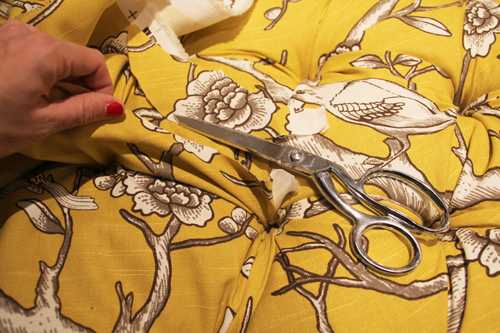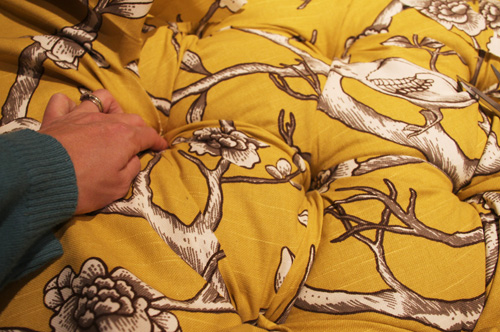 Then on to the rest of the tufts and all the way out to the edges. My edges have not been secured at all just yet, and that's on purpose. Sometimes you have to pull up several tufts to start over (as simple as pulling up staples, no big deal) and you don't want a permanent feel just yet.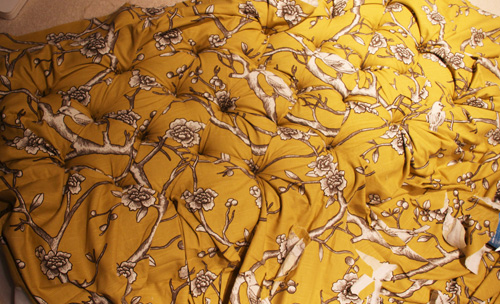 After my tufting is finished, I've moved on to securing the fabric at the base of the foam directly to the board. By pushing the fabric up a bit I can hide a staple easily (but I'll cover this up again when I add the lower 'skirt') and keep the foam pushed up and perky instead of letting it fall flat or sag at the bottom (har har).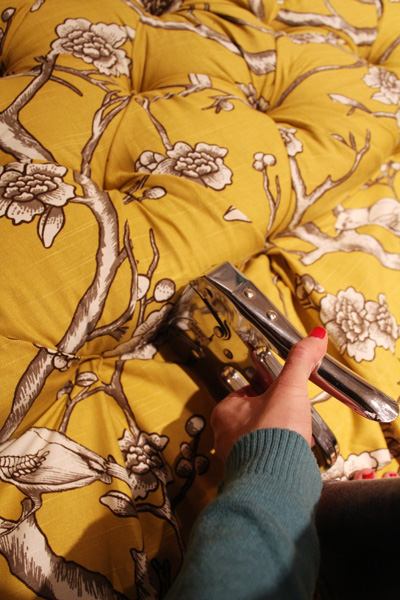 I technically could just extend both 54″ pieces of fabric straight down to the bottom of my board, but that leaves me with an ugly seam down the middle and a lot of gathered fabric. So instead, I cut those extra pieces off and reattached a correctly sized piece of fabric to the base of the tufts.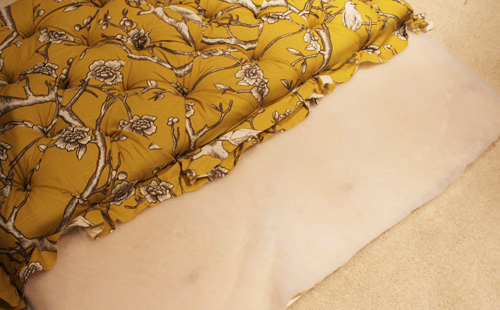 By flipping the fabric upside down and stapling the under side, I'm hiding my new staples and my previous staples from eye sight.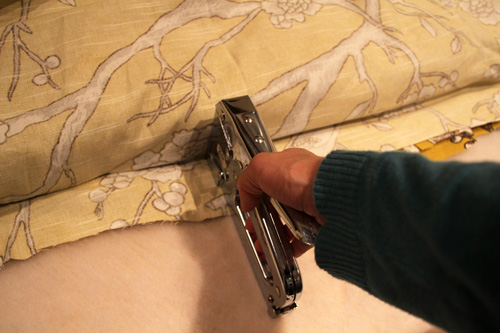 Now the base is one smooth, solid length of fabric. That extended batting makes a huge difference in look, too.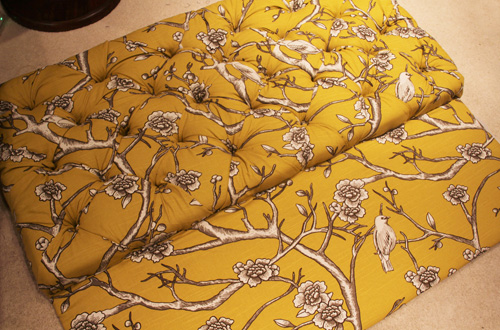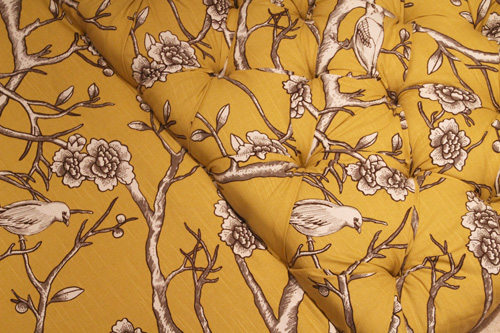 To secure the outside edges of the top of the back, simply pull the fabric carefully and staple, starting in the center of each of the three sides. Play as you go until the folds feel appropriate and the corners overlap nicely. You might prefer a straight fold that goes from tuft to top, or something with more of a 'v' shape. The fabric will tell you what it has in mind, too.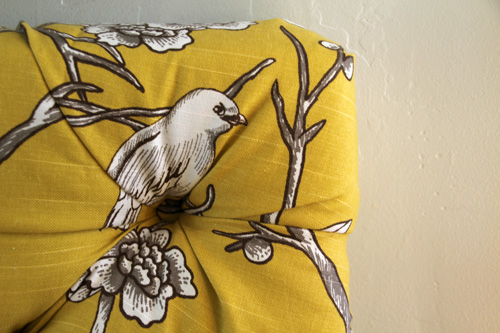 Having the batting wrap around to the back of the plywood will help keep your edges soft and smooth (the slightly larger foam helps a ton, too).
Not to be overlooked are the covered buttons! Button kits are available at most craft shops and I chose a 5/8″ size with serrated edges. This is a must! There are button kits with molds for forming buttons, or kits with serrated edging to grip that fabric and no mold. In my opinion the second option is much easier to work with (though I couldn't find a link online at Joann's to share the exact product). Big shout out to David and Michael for helping me finish 28 hand covered buttons in an hour – I still have feelings in my fingertips because of the help.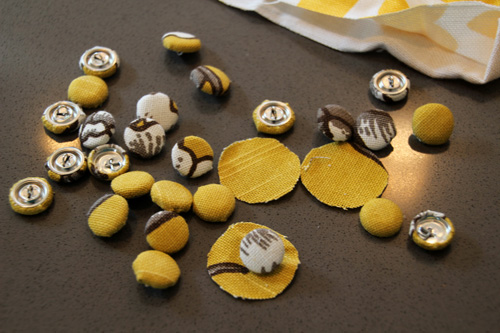 Makes a world of a difference! A small detail but one that finishes off the project perfectly. The buttons are secured with a strong dot of glue to the back of each, then I pushed them into the tuft crevice.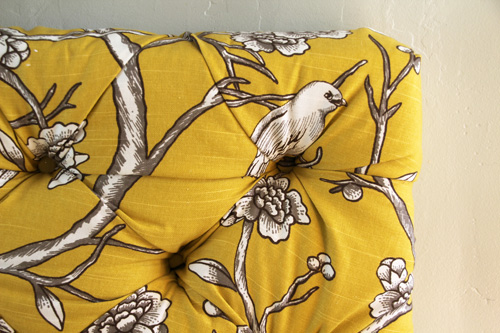 Finished!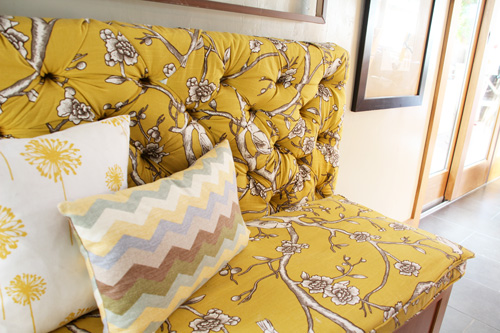 The lumbar throw pillow with the fun zig zag print is by Etsy artist PillowMio and the dandylion print by MyModernHome. I purchase most of my inserts at West Elm because of how deliciously cozy and reasonably priced they are (and often ask the Etsy artists to sew the coverings to match the inserts if I can't find the right size, I love them that much).
So thrilled with the new breakfast nook! Will keep you posted on the install of that new door to the left of the nook and the molding at the end of the island… when it makes it to the top of the list

.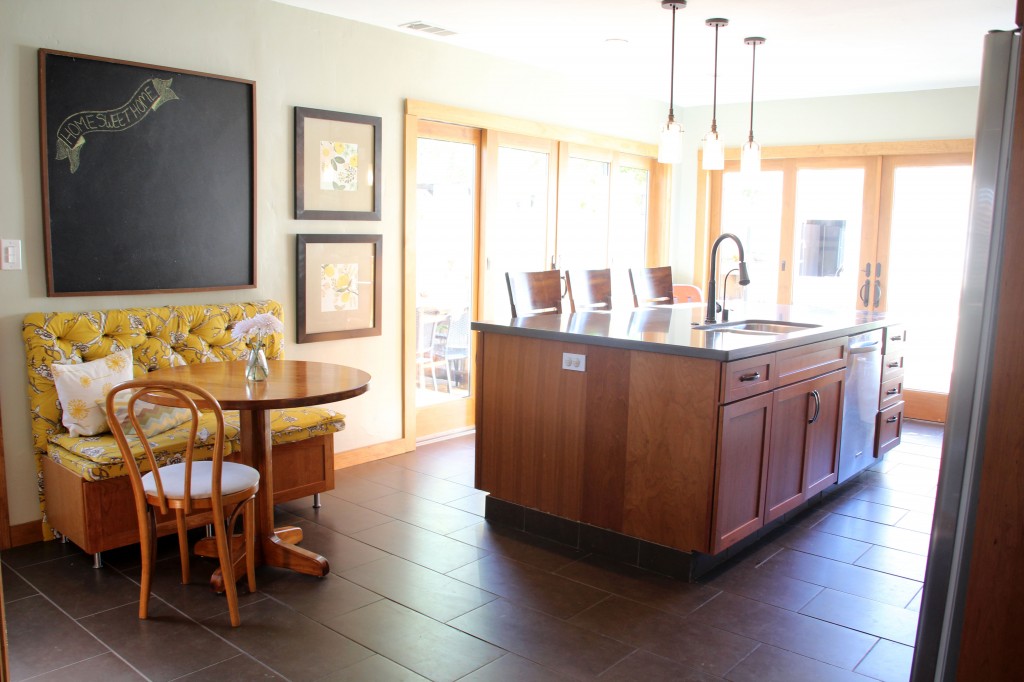 PS More on everything kitchen remodel (it started as a den at the back of our house) by sorting all blog posts by this tag.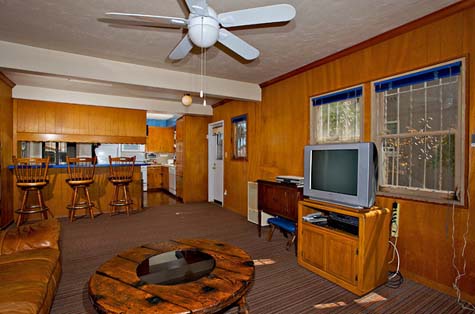 And more on the breakfast nook transformation here: part 1, the inspiration, part 2, the bench, part 3, the cushions!, part 4, the ugly wall design dilemma, part 5, revealing the tufted bench, part 6, finished!
Tags:
Accessories
,
Before & After
,
Crafty Solutions
,
Decorating
,
DIY
,
Home
,
Kitchen
,
Tutorial
,
Yellow
Posted in
Crafty Solutions
,
DIY
,
Favorite Fabric
,
Favorites
,
Home
,
Our Kitchen Remodel
,
Renovating Adventures
|
8 Comments »