March 21, 2013
It's been a while since we revisited the dining room, but I've been in the mood to inject some color into our home this spring (and pink, of all colors!) and this particular room was high on my list. We've had a wall in this space that for some time has needed one BIG piece of artwork. Something colorful and whimsical and oversized, a piece that would 'pop' with beautiful color.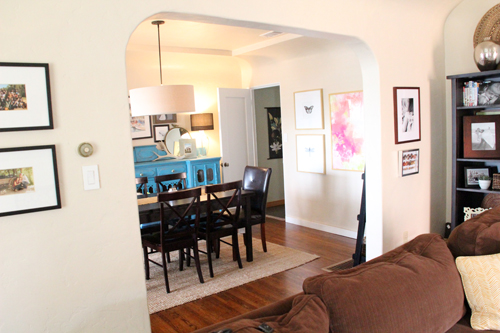 But finding large artwork at a reasonable price is tough! I initially was on the hunt for a big piece of canvas art to add texture to the wall, but I soon realized that purchasing a piece that big (even if I saved my pennies for months) was not in the cards (though there are some really fabulous artists out there – I'll try to get a post together on options). I patrolled Etsy and Art.com and every online shop in between. My mother-in-law gave me a huge 30×40″ canvas so that I could give creating my own abstract art a go – but then I found a piece that I fell for (that canvas will have to find another great spot in the house!).
Minted came on as a blog sponsor right about the time that I was giving up, and Minted's print selection is over the moon fabulous! After searching through their beautiful selection, I fell in love with a print by Kelli Hall called Ligurian Houses. It was the perfect mixture of abstract, colorful, whimsical… it would fit the space perfectly.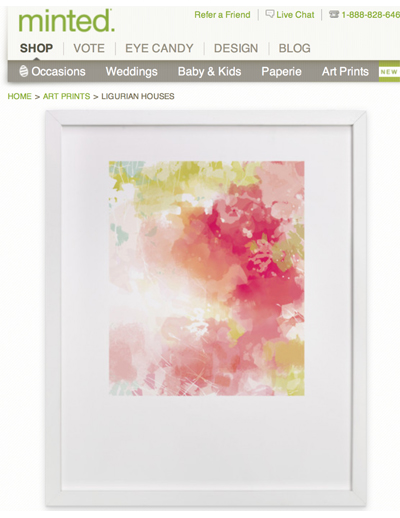 Instead of framing the entire poster as it's seen on Minted, I actually ordered the print in a much larger size than needed and then cut the poster down so that just the colorful artwork was visible. This is a great trick for any poster-style artwork, no need to frame the entire piece if there's one particular portion that you love.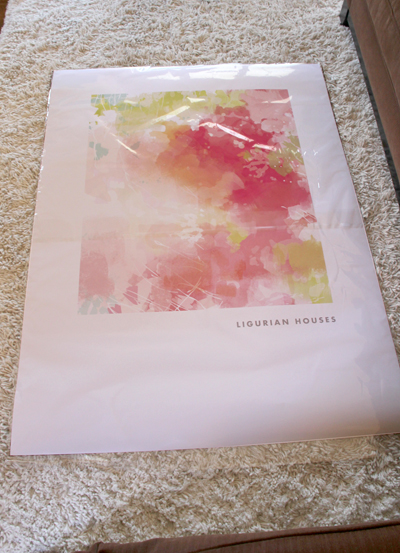 When the print (on a really thick, museum quality archival cotton rag paper) arrived, it was HUGE. I could have wallpapered the dining room wall with it.
When it came to framing, I was on the search for an economical solution, but one that would still look professional and great hanging there on that big ole wall. My favorite Ikea poster frames were just a few inches too long, and I considered breaking one apart as I did here but then decided that spending a little extra to have the right size made was probably worth the longevity of this image.
The most affordable route that I could find? Americanframes.com. I was especially happy that they offered to pop six frame samples into the mail before I ordered so that I could compare the different finishes and wood before making such a big purchase at about $85 sans the white matte.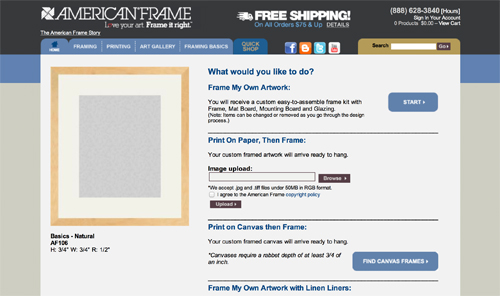 I ended up settling on this natural frame because it matched well with the Ikea framed butterfly and dragonfly, and was the most inexpensive of the bunch.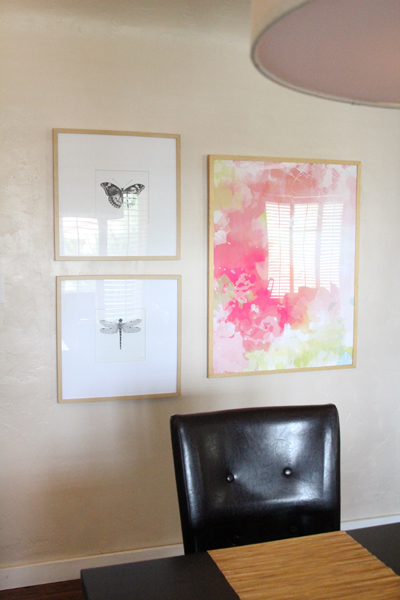 It felt like an eternity but finally my frame arrived! I spent last night assembling it.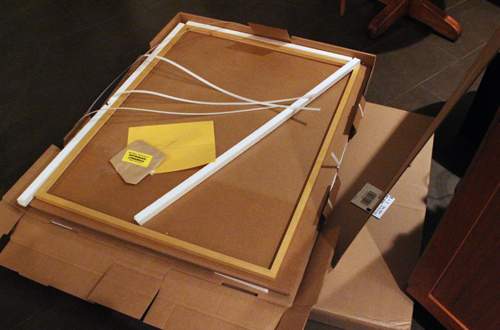 The wood frame came assembled and the backing, acrylic and hardware were in their own separate wrapping. A screwdriver (actually we pulled out the electric screwdriver for tightening the last few clips in place) and hammer later and the artwork was up!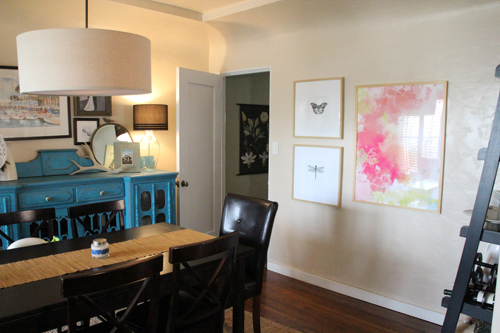 I especially love how it plays so nicely with the new pink additions on the bookshelves in the living room.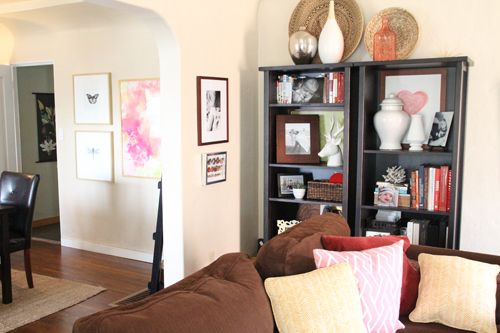 I'm playing with adding a few lighter Spring-colored throw pillows into the mix as well. Yay for the arrival of Spring!!
Here's a link to two additional semi-DIY over-sized pieces of artwork we've recently added to the house (and inexpensive solutions, too): 'canvas' fabric art for the living room and a black botanical chart for the kitchen.
PPS All dining room makeover posts can be found sorted right here.
Tags:
Accessories
,
Art
,
Decorating
,
Dining Room
,
Home
Posted in
Home
,
Our Living Room
,
Renovating Adventures
|
7 Comments »
January 1, 2013
Happy 2013! As promised, I spent my New Year's at home with a glass of (Martinelli's) champagne and in uber comfy style (unlike my imagined idea), no major stories to tell but a relaxing welcome to the new year.
Man oh man I can't believe it's already 2013. This past year has come and gone in the blink of an eye and while there were so many adventures and projects and stories to share, it feels like it all happened quite quickly really. With that in mind, I thought now might be a fun time to take a walk around the house to see what Kevin and I crossed off the house renovation project list from last year, and what we might be tackling in the coming months/year now that it is officially brand new. Here's a similar walk-through from 2011 (wow, that seems like yesterday!).
Just for fun, let's take it waaaay back and sneak a peek at what each of these rooms looked like before moving in as a more grand comparison.
The Dining Room
First up, the dining room. No major construction changes here (except that that left door below now leads to a hallway to the new kitchen and the right door below no longer exists – see bathroom update next) but plenty of design changes. Mmm I still love the soffits in the ceiling and the rounded walls that make this a 1930s home.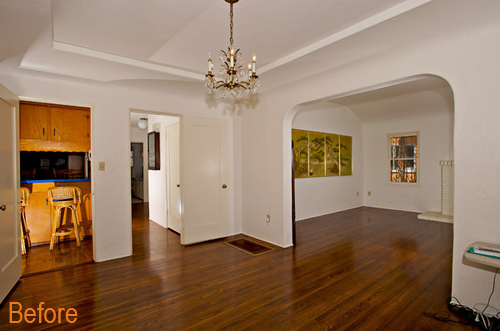 In 2012 we played with rug ideas, new lighting, adding curtains (transformed from a favorite pattern found in a duvet cover) and finding neutral art to balance out the dining room space. Plus this awesome greenery (which does not like its current location – Fiddle Leaf Fig owners with a green thumb, please email!). We still have plans to come up with comfier seating options and more light (that pendant, as beautiful as she is, does not give off a whole lot of bright).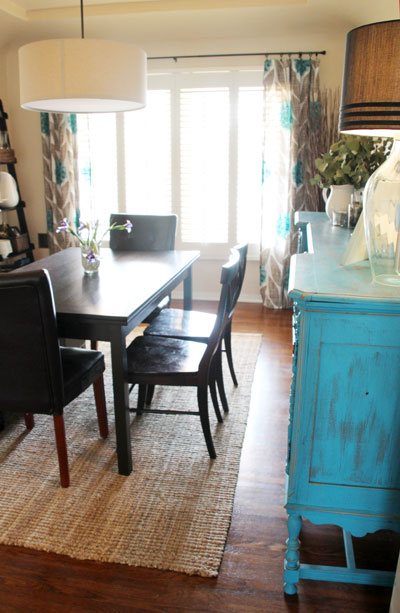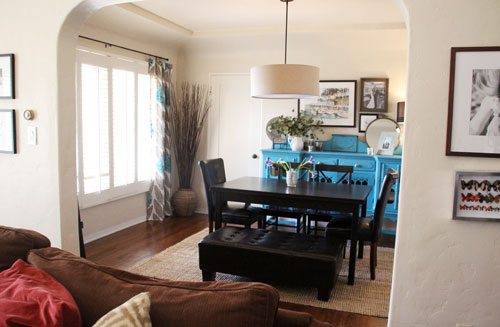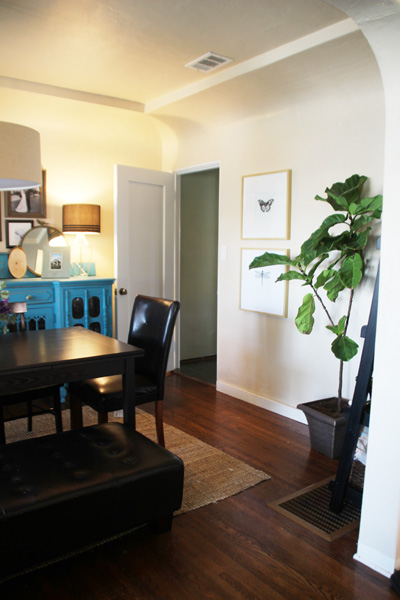 More about all of the the dining room updates here.
New Guest Bathroom
Next is our build-from-scratch bath that used to function as three small closets (two for the hallway, one for Liv's room). The before (photo taken from the back of the house, the same hallway from the other direction is in that top before shot of the dining room):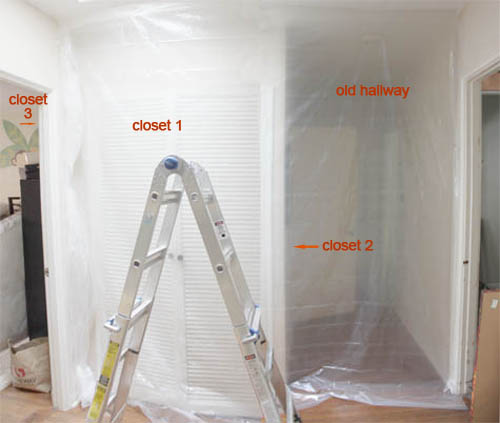 Here's a quick glance at the sketches we initially created to help guide the space, not too much changed over the course of the couple of months of building in terms of layout and design: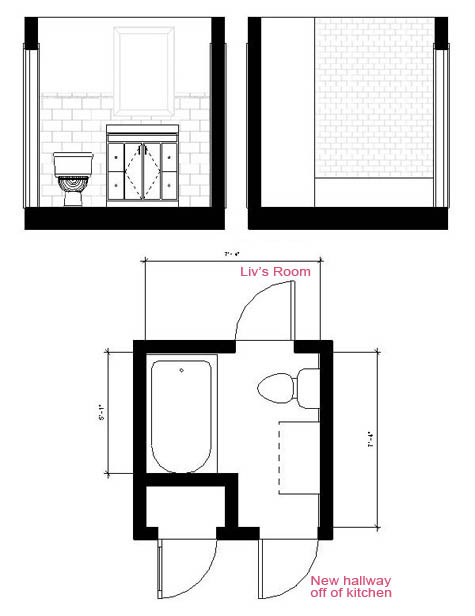 And the crazy construction behind it: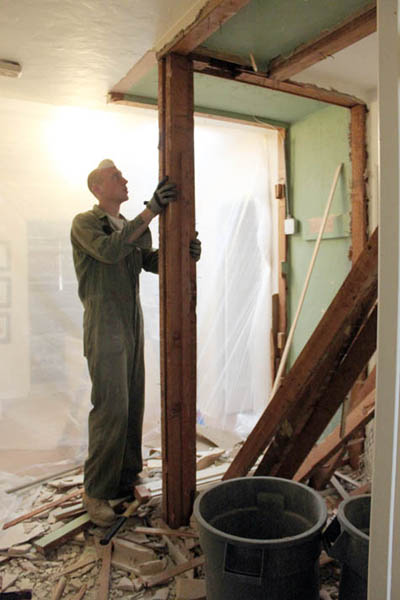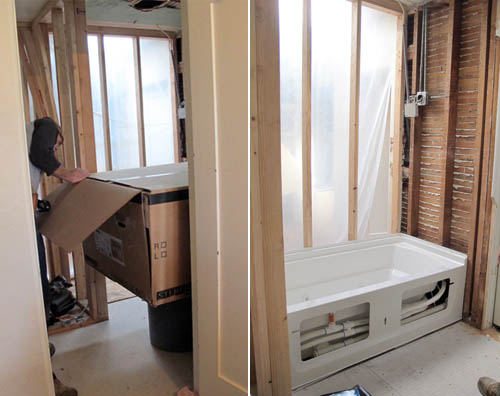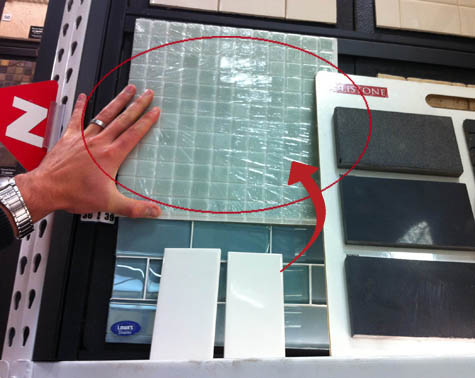 All of which brought us to here!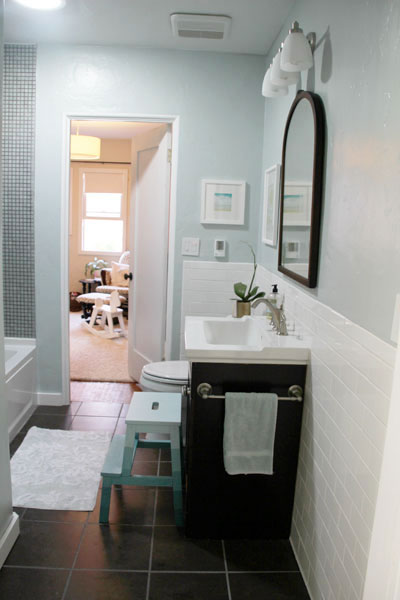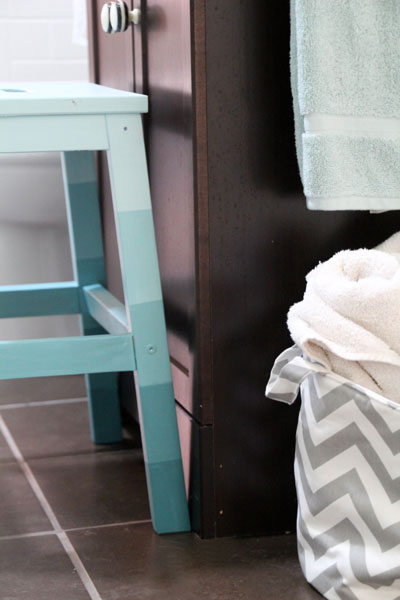 More details on all of the little DIY projects plus the full construction process play-by-play can be found here (favorites include this ombre footstool and awesome Etsy chevron towel bag).
Hallway Redesign
Once the bathroom was finished it was time to tackle a big chunk of empty wall on the opposite side of that tub up above in the hallway. This particular hallway is a roomy space that connects bedrooms to the kitchen and the rest of the house, so it's a natural play space for Liv and her push toys/doll strollers while we're cooking or eating in the kitchen. It made the most sense to keep it as kid-friendly as can be.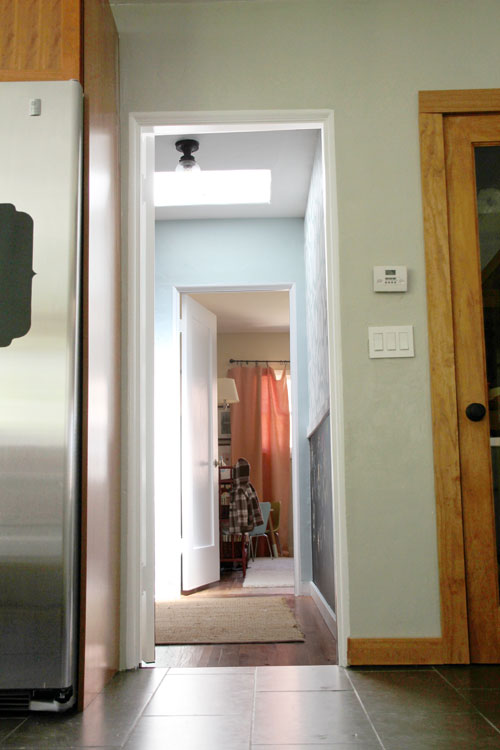 So, I painted the lower half of the wall to encourage massive chalkboard murals and the top half with my own version of a wallpaper design using painter's tape (after much searching and not being able to track down 'the one').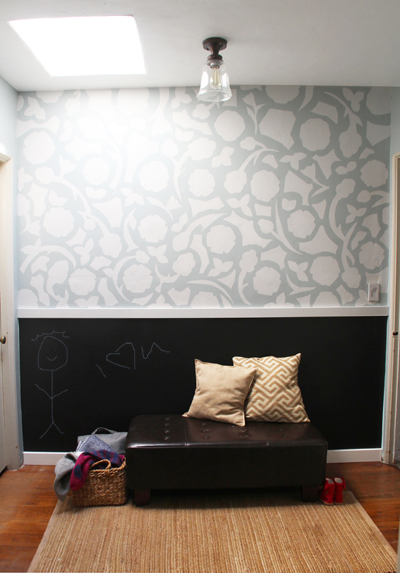 We have since removed my 'shoe-putting-on-station' because the bench really was not so great at corralling loose jackets, shoes, handbags and what not as I had hoped, and eventually became more of a tripping hazard. Ah well. On the plus side, Liv has more access to the full chalkboard and loves to cover it with her shapes and squiggles!
We plan to revamp this entire hallway space once we settle on a master bedroom/bath redesign, so this next update will likely not last through the end of this upcoming summer. But this side of the hallway needed a little storage love as well so a Craigslist corner unit received a paint update and a few favorite knick knacks. The below two shelves now house blankets and what not.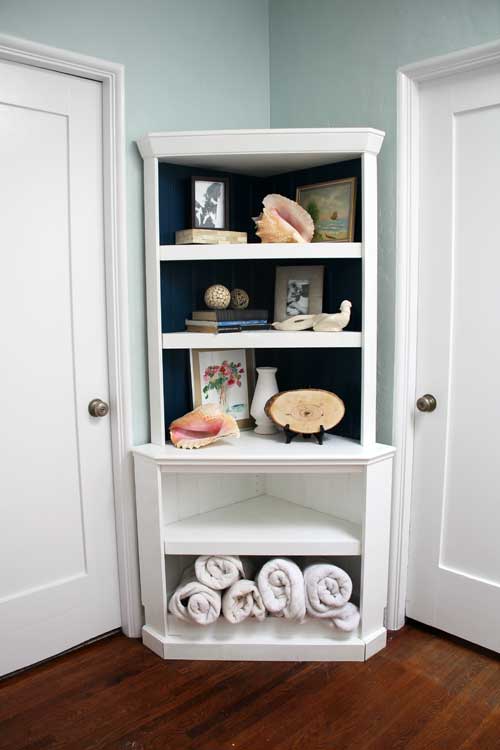 Office/Guestroom
Most of this space was built and finished in 2011 (the original kitchen used to live here). But we did make a few updates such as a new fabric headboard for the guest bed, new wall collage (including this handmade favorite), new Craigslist vintage storage and chair, and rug for on top of our rug (that perty white has nothing against a dog and toddler).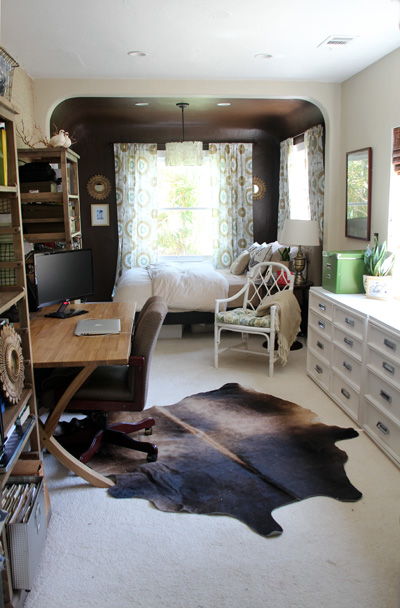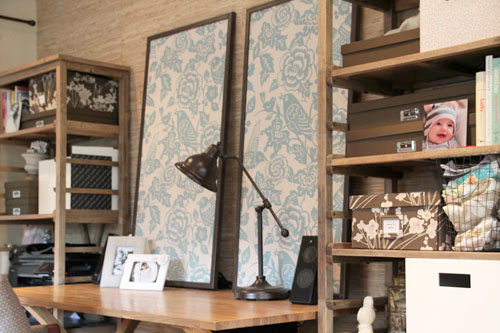 Follow along with office projects here. And believe it or not this space used to actually look like this!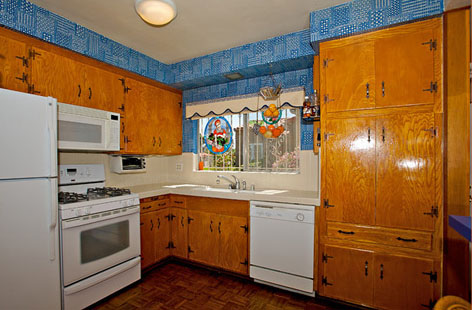 Living Room
Our living room received a few cozier updates with a few more in store for 2013.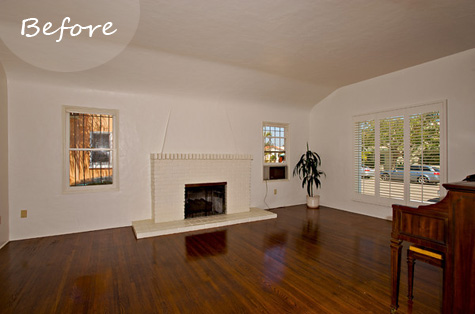 New envelope pillows, embroidered artwork, DIY butterfly art and a faux canvas painting made my list of top changes, though we also invested in a super shaggy/soft rug for playing with blocks and a few new pieces of bookshelf tchotchkis (this being my favorite).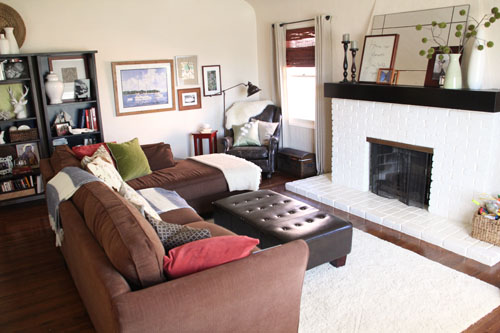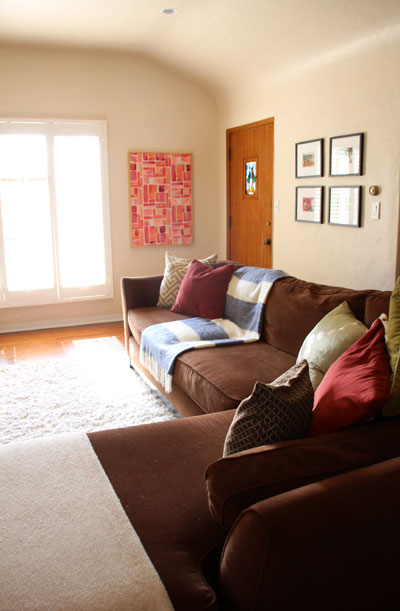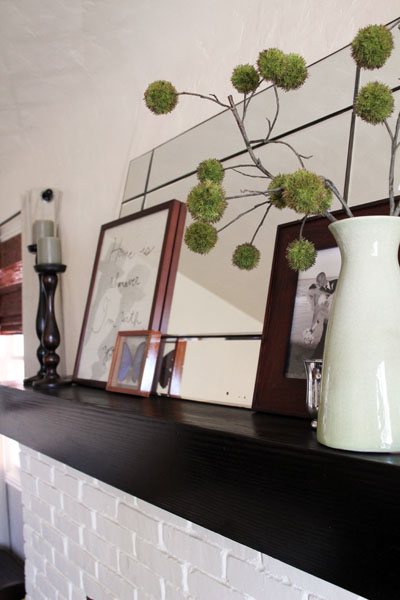 Curb Appeal
So much to be said about all of the outdoor work happening around these parts in the fall of 2012! We painted the house (more to come on that, we actually still have windows and a few little areas to complete) and we're loving the new soft tan color!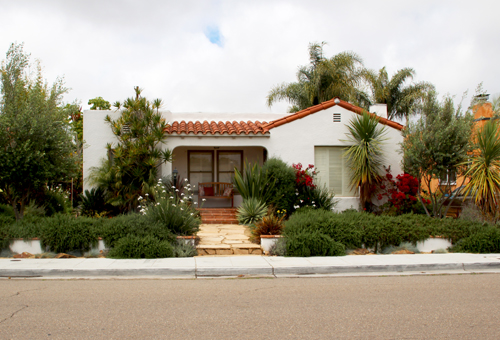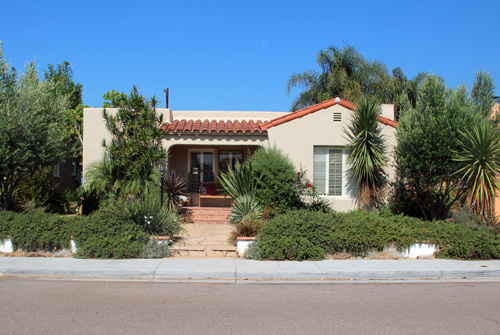 We've chosen white as the window trim and those front two windows have since been restored (also something we're teaming up with professionals for) and painted. Kevin stained the front porch bench and grouted the saltillo tile under foot as well.
The jungle of a sideyard was also tackled!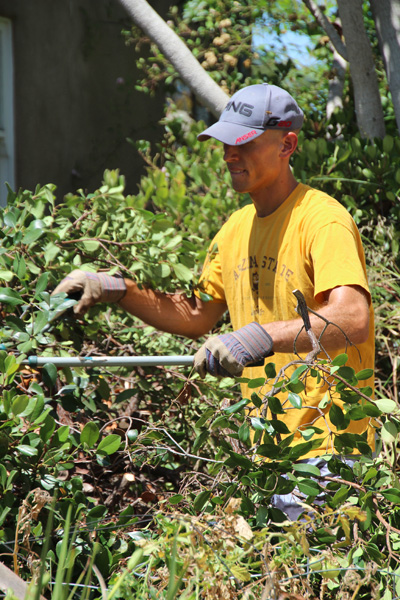 A little clearing, wall building, deck laying and table building (from very cool reclaimed wood) later…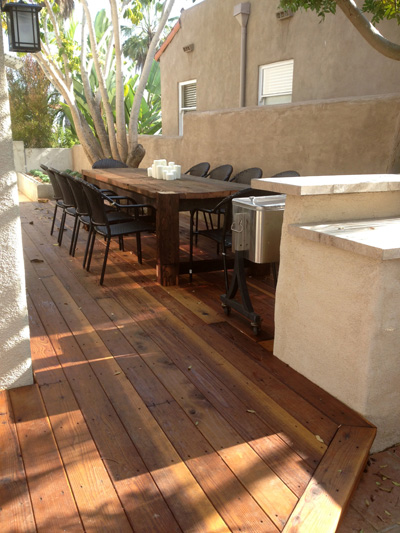 And you have one of our very favorite updates. This is an awesomely useful outdoor space now for dining, cooking marshmallows and BBQing alike. The above dining table is just off of our new kitchen so when it's time to par-tay we push the wide doors open and join the two big spaces.
These two photos below are pre staining, but you can see how the new flagstone ties in with the rest of the backyard!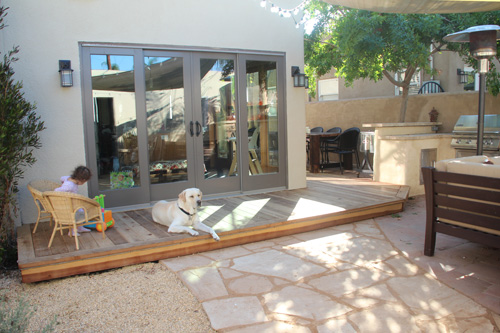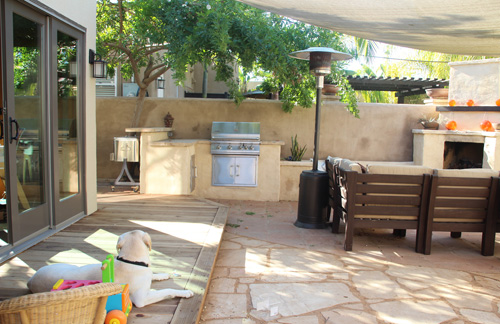 And there it is, the big stuff from 2012.
Still on this list? Much. A master bedroom/bath remodel, guesthouse makeover (we have a little back unit near the garage), finishing up the kitchen nook and hallway, Liv's big girl room + new nursery, the garage and a few more curb appeal updates. Plus the usual day to day crafts, style boards, parties and ramblings of this blog. AND a new baby. Woohoo!
Thank you for joining us on our adventure. I feel so incredibly lucky to have an online group of friends that offer awesome suggestions, that extra encouragment just when we need it and who check in on us on a regular basis. Thank you. And very much looking forward to spending the rest of this new year with you!
Tags:
Decorating
,
Dining Room
,
DIY
,
Home
,
Living Room
,
Office
,
Year in Review
Posted in
Curb Appeal
,
DIY
,
Home
,
Our Dining Room
,
Our Guest Bathroom
,
Our Guestroom/Office
,
Our Hallway
,
Renovating Adventures
|
10 Comments »
October 15, 2012
It feels a little funny to leave home in the middle of a hot summer and come back right in the thick of fall, Halloween, cool weather and changing leaves (well, that last one is almost true. We have only two trees on our street here in San Diego that go from green to red but I marvel at them all season long…) This past weekend we made our annual trip to our favorite pumpkin patch (complete with pumpkin spice lattes before hand and a delicious chili potluck after) and the reality of the season has finally hit! More on that below…
While at the pumpkin patch I picked up a handful of pumpkins to decorate the house with too, and thought I'd share my faux 'dipped' versions today.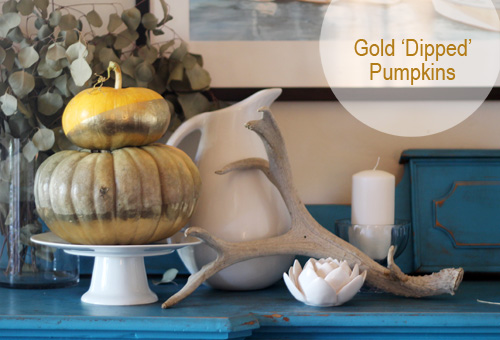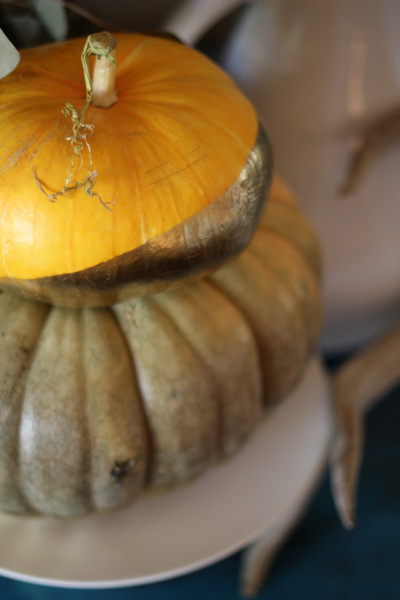 I'm not sure where the idea came from but while brainstorming fall & Halloween decorations I thought it might be fun to bring a few organic, neutral details into our house (that I wouldn't mind leaving up for a few months) while also filling it with plenty of oranges and reds and traditional colors.
Gold has been a favorite accent color of mine, from shiny knob handles to burnished vintage vases to classic jewelry – and that became a starting point. Creating some sort of dipped decor out of white and green pumpkins seemed like a neat way to try it out.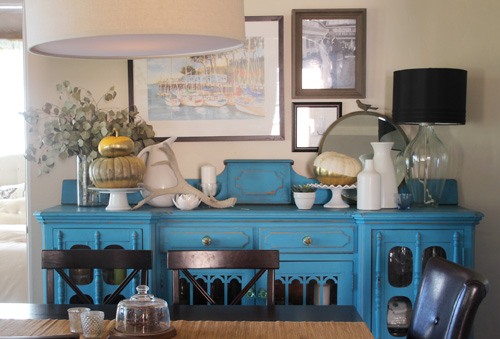 I'll have to mix some spooky Halloween decor in there soon, too.
These pumpkins really don't looked as if they were 'dipped' in paint in the traditional sense, but I actually love the contrast of the lines and attempted to give it a slightly crooked, mis-aligned feel on purpose. A little more organic.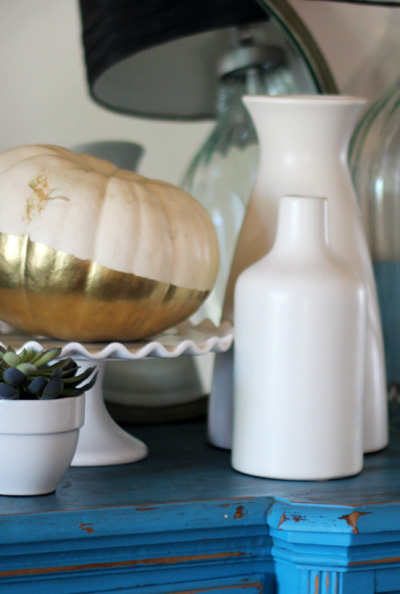 My original thought was that maybe I'd actually try to dip the pumpkins and considered buying a quart of gold paint, filling a round bowl large enough for my pumpkins and literally 'dipping' them, but then realized that spray paint might be a bit more efficient in application, cheaper and less wasteful.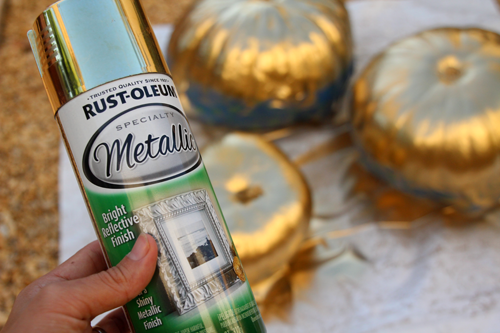 I love the result!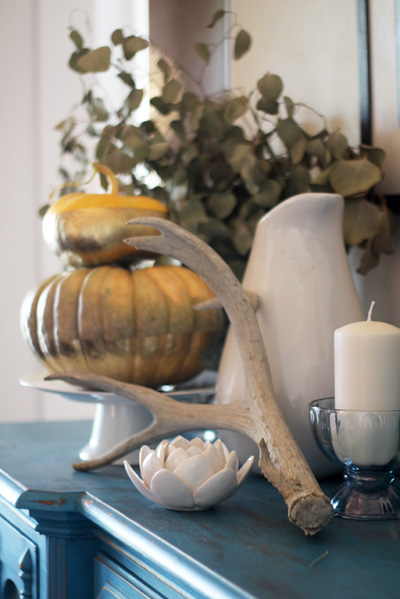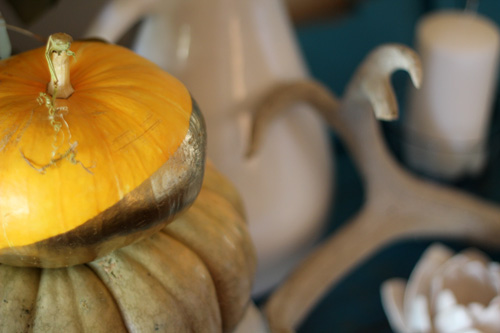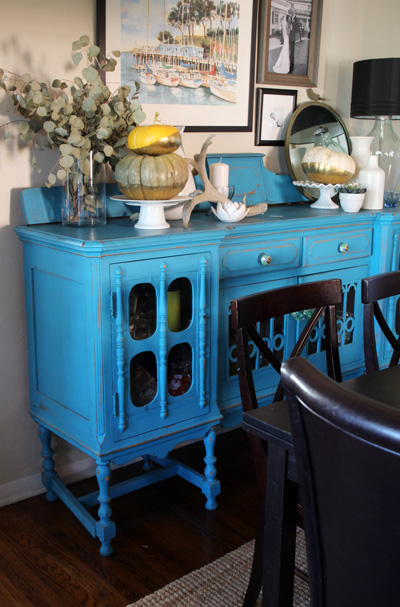 Just a little bling for the room, and a fun alternative to decorating pumpkins in the usual way. Soon Liv will be old enough to really help!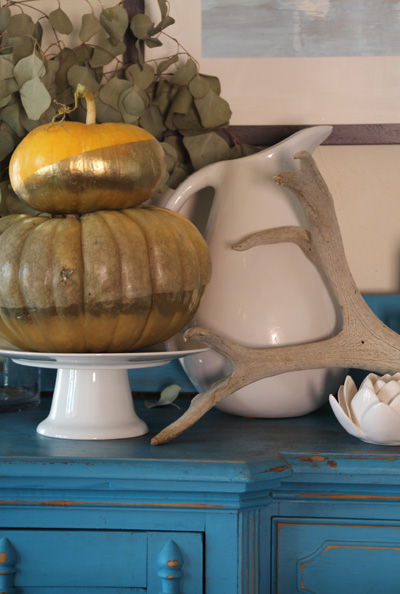 The process was simple. I first wrapped the pumpkins with painters tape (choosing the wider version since spray paint can get a little crazy and I wanted to avoid paint getting on the top half of my pumpkins. The alternative would be to tape on some type of barrier like cellophane or paper to cover the top completely), pressing down on just the lower half of the tape (since the edges are round to prevent creases in the tape) and aligning it at a bit of an angle.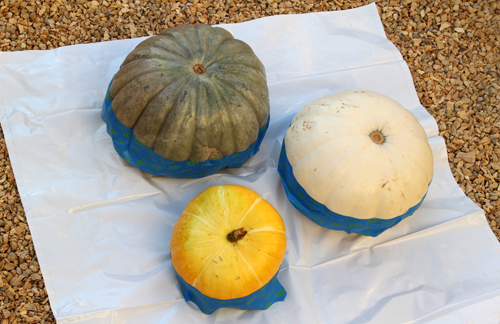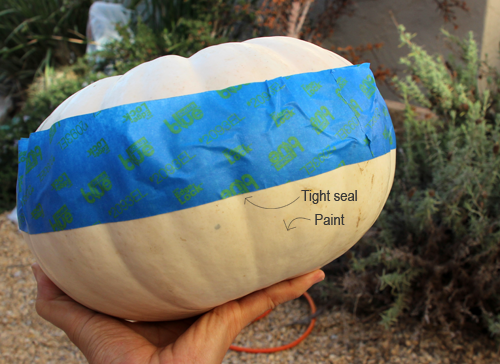 Then spray away! Be sure to keep your can of spray paint at least 10-12″ from the actual pumpkin to avoid dripping.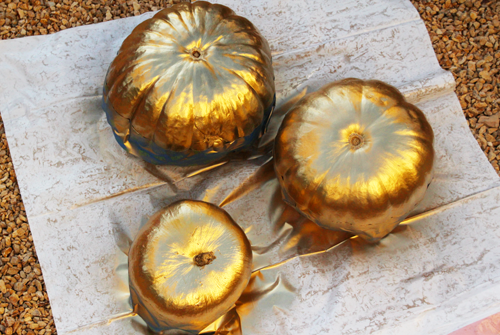 And here they are again in the dining room: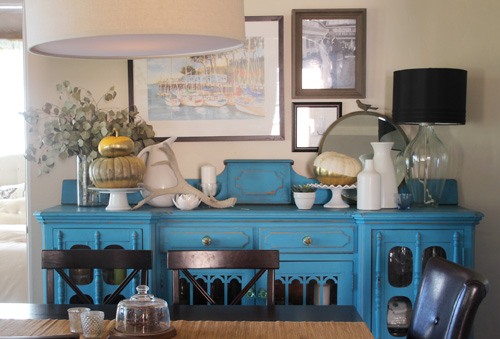 Looks great with the turquoise buffet!
Decorating the pumpkins has been a lot of fun, but visiting the pumpkin patch to find them is a great family tradition, too! Years back a friend found the perfect pumpkin patch for our annual trip just about 25 minutes east of us here in San Diego.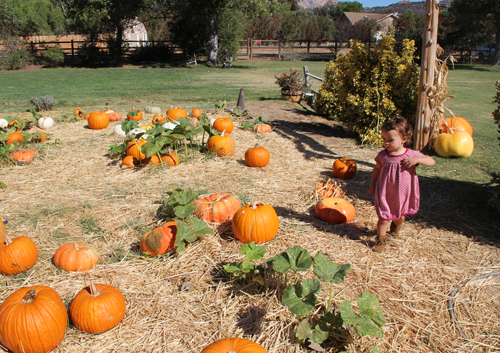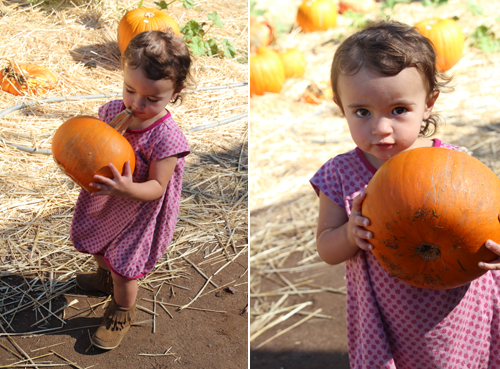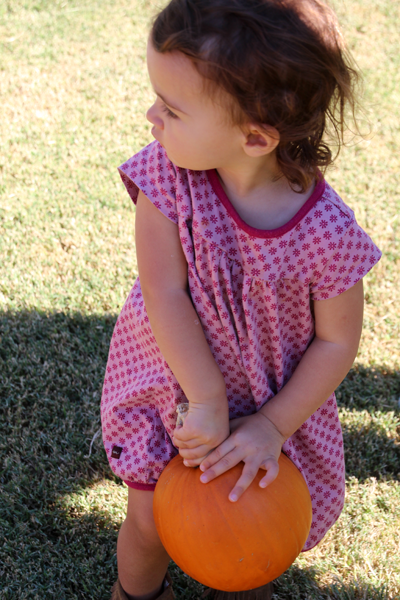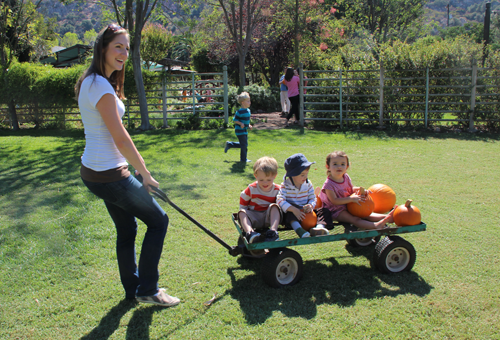 Summer's Past offers huge, crawling gardens to roam, a snap pea 'maze', animals for petting, a coffee bar for warm beverages (although the weather in October is always about 75), a cute little shop full of lavender soaps and such, little 'vignettes' around the property that are perfect for holiday photos, jump houses for the kids and a great big open pumpkin patch. We've even aligned our visit with their little harvest festival in the past for even more goodies.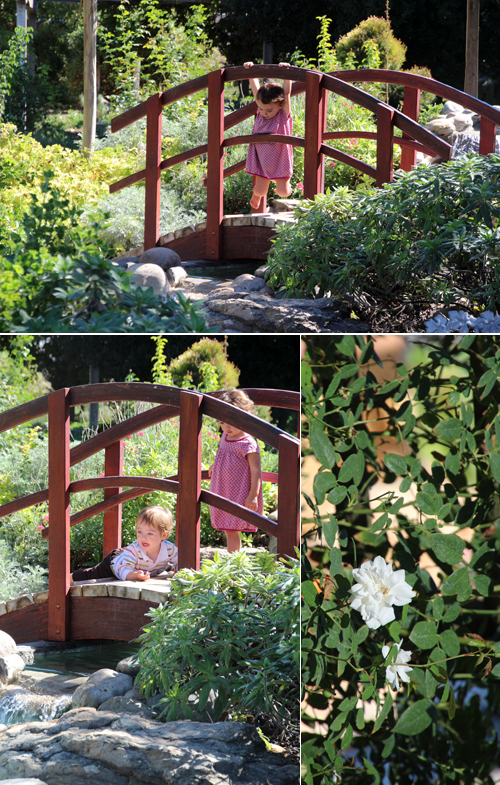 Liv romantically walking the gardens with her potential future hubby, Gavin.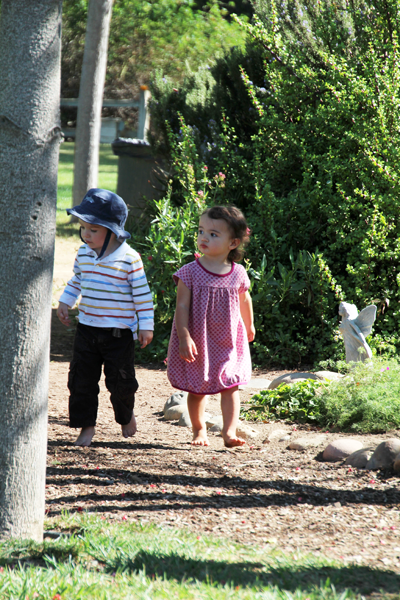 Why won't it move!?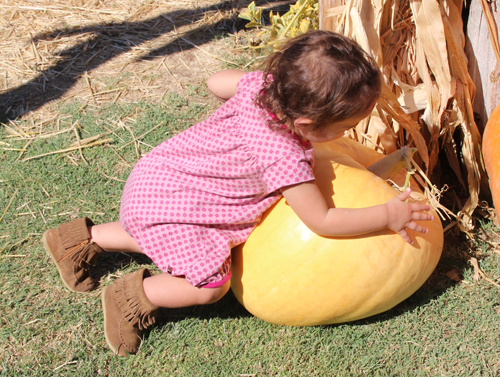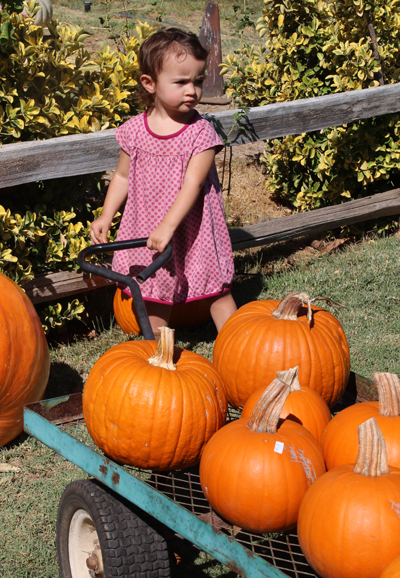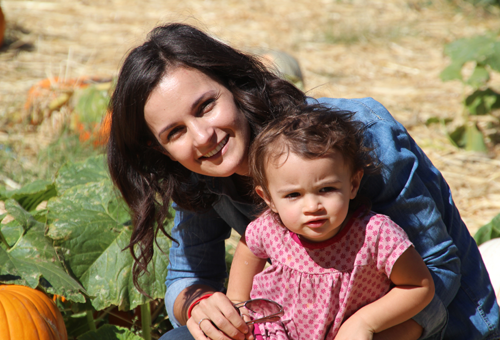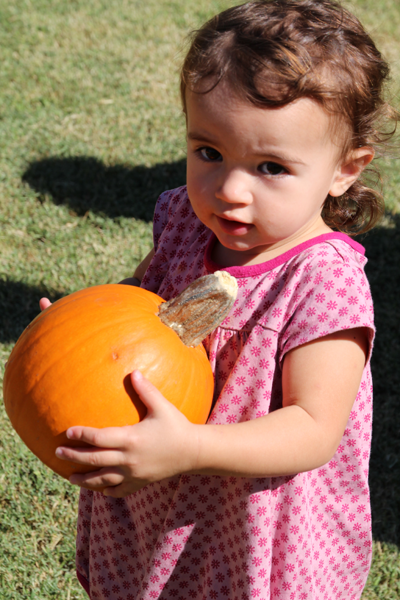 Here's our group shot this year!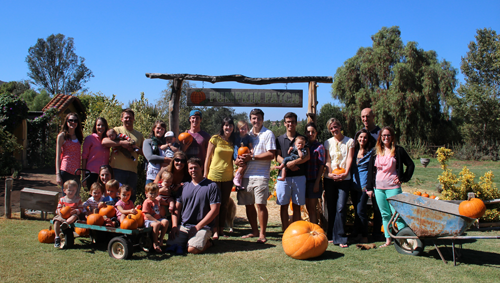 And a sneak back on previous years… the quantity of children continues to climb!
2010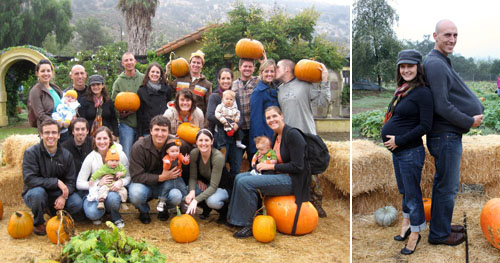 2011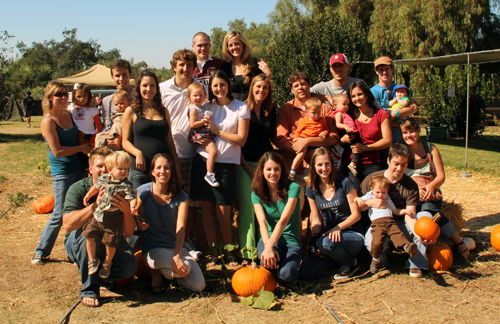 2012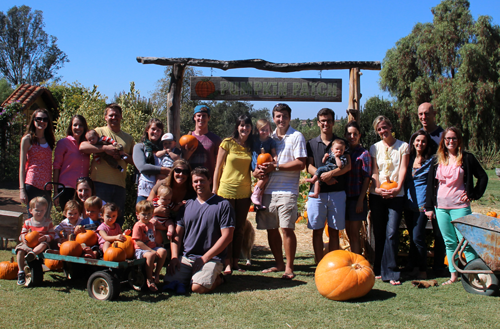 Liv picked out a few pumpkins, enjoyed a little cart ride and played in the jump house for most of the morning. We managed a family photo as well.
Sort of. Liv's not paying attention, but what can you do…
I look forward to this event with amazing anticipation every fall! This one sort of snuck up on me but I already can't wait to go back. And now it's time to really get decorating for Halloween! We're also throwing a little dinner and trick or treating around the neighborhood party again this year. Yay for fall!
Tags:
Accessories
,
Crafty Solutions
,
Decorating
,
Dining Room
,
DIY
,
Fall
,
Gold
,
Halloween
,
Home
,
Paint
,
Patterns & Color
,
Thanksgiving
,
Tutorial
Posted in
Crafty Solutions
,
DIY
,
Family & Friends
,
Holidays
,
Olivia
|
11 Comments »