December 29, 2011
New Year's Eve is just a few days away! Wow has this year flown by. But before reminiscing, I thought it might be fun to share a few favorite party, food and drink ideas for the upcoming holiday. Oh what pretty inspiration!
This shimmery silver and mocha dessert table (featured on HWTM) by Enchanted Events & Design is beautiful. I love the modern use of baby's breath as a big, globe shaped centerpiece and the color palette is wintery and soft.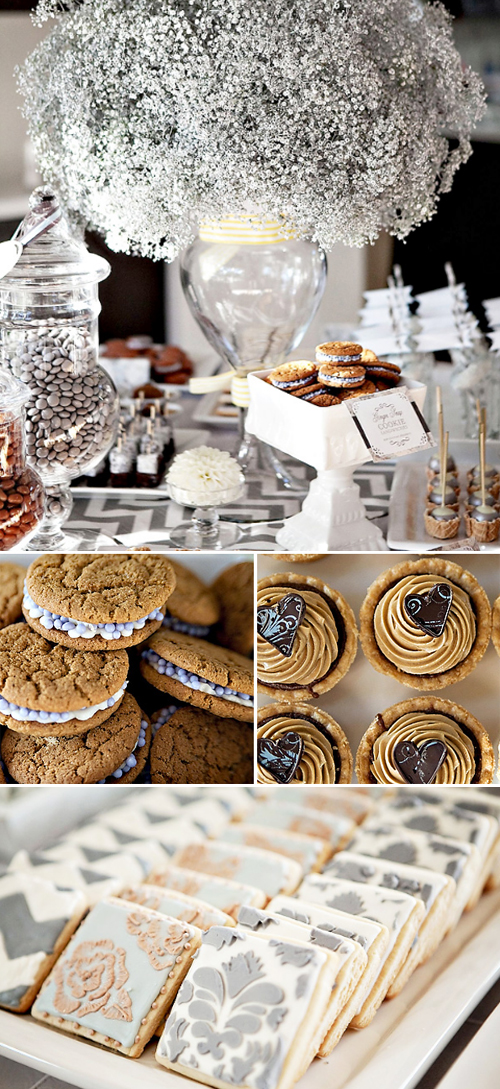 Check out this inspiration from The Celebration Shoppe, Martha Stewart and BHG. The beautiful glitter stars are a favorite this year and mixing blush pink into the mix makes for a sweet New Year's Eve palette (check out those adorable DIY glitter ballet flats).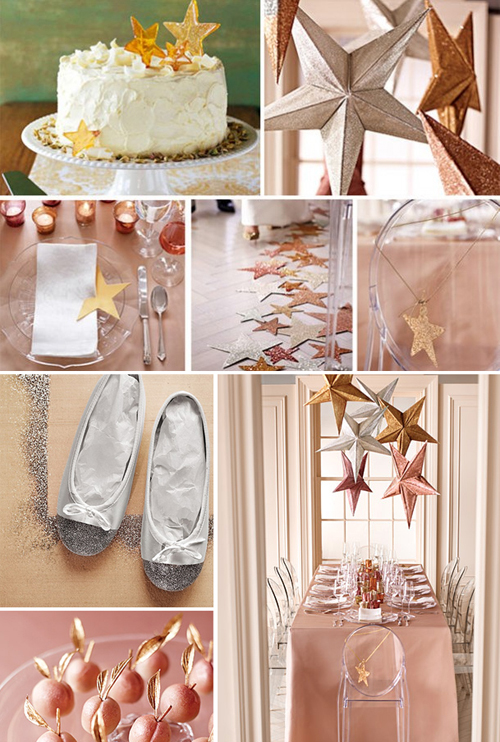 I love this silver glittery banner and the classic white tabletop by Caroline Anderson and Sofie Lawett via Olivet. I think both would be easy to recreate for the special holiday.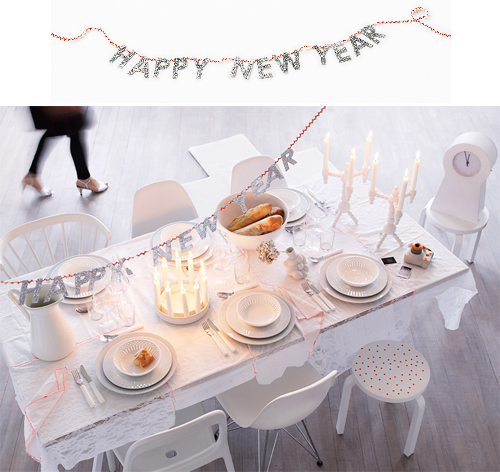 This bling bachelorette party featured over at Style Me Pretty is a bright and shimmery take on the holiday as well!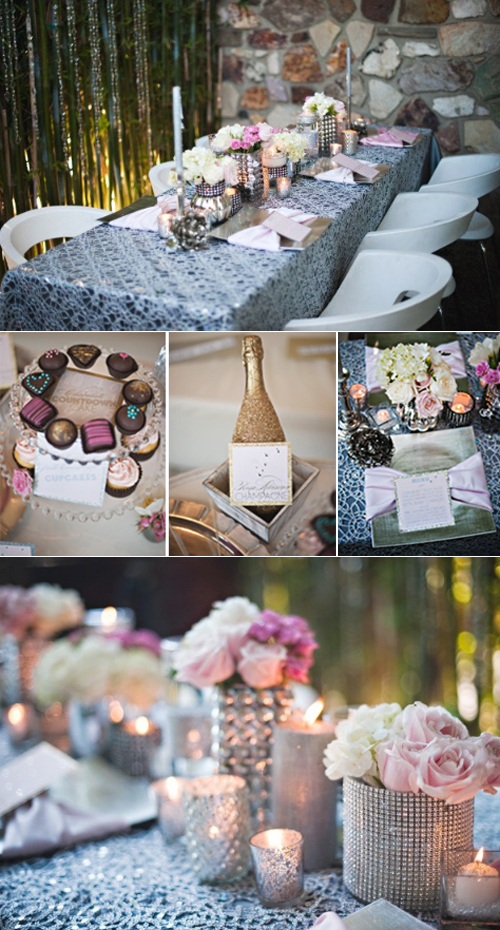 Whew! So much sparkle and glitter. Yay for New Year's being just a couple days away! More shimmery inspiration from last year posted over here (featuring one of my favorite feathery parties by SMP with a green, pink & white tablescape) and here (for even more silver and green).
Tags:
Decorating
,
Dinner Parties
,
New Year's Eve
,
Parties & Entertaining
Posted in
Holidays
,
Parties & Entertaining
|
Comment »
December 28, 2011
Hope you had a wonderful and relaxing Christmas! We're trying to still keep it low key around here as we soak in as much holiday as possible before the New Year. This is always one of the best weeks.
I wanted to share with you one of the handmade gifts that I put together this Christmas. Oh I had high hopes of sharing this project with everyone before Christmas! but… you know how that goes. There I was on the 23rd of December after everyone had gone to bed and I'm finishing up spray painting stencils by backyard patio lights at my in-laws. Haha! Motivated to create a truly handmade present for family this Christmas, I had started this project several weeks earlier but as luck would have it I finished just in the nick of time.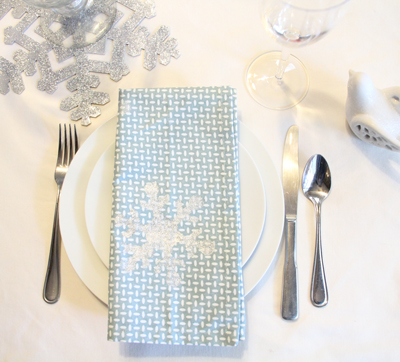 Simply Spray contacted me back in November about a product review regarding their fabric spray paint. Immediately the wheels started turning with creative present ideas for family and friends this holiday season. My initial idea was to track down basic white flour sack towels and several wintery stencils to design some fun kitchen gear for our Grandmas, moms and aunts.
After much searching, I stumbled upon inexpensive white flour sack towels at Rite-Aid (I think they were about $1 a piece), and several sets of patterned cloth napkins and solid-colored oven mits at Target. For the record, I also scooped up a couple of white and tan table runners from Ikea but I haven't finished those yet (sigh).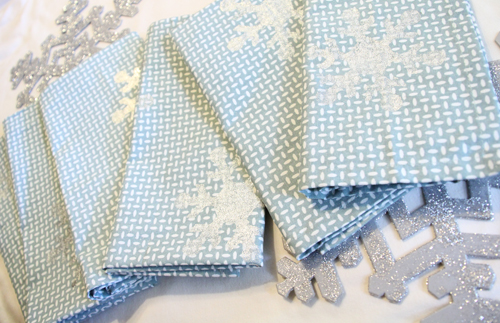 Simply Spray sent me several different types of fabric paint to try out. They carry an upholstery spray (think spraying an entire chair or even couch), a fabric spray (for use with a stencil, soft to the touch, soaks into the fabric) and stencil paint (more of a silkscreen effect staying on top of the fabric). For these projects I used the stencil spray in gold glimmer, silver glimmer and textured white.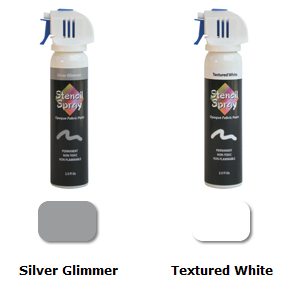 Creating a stencil was a bit more challenging. I first took advantage of Kevin's seriously honed x-acto knife skills (from years of architectural modeling) and printed snowflake designs on thick white paper.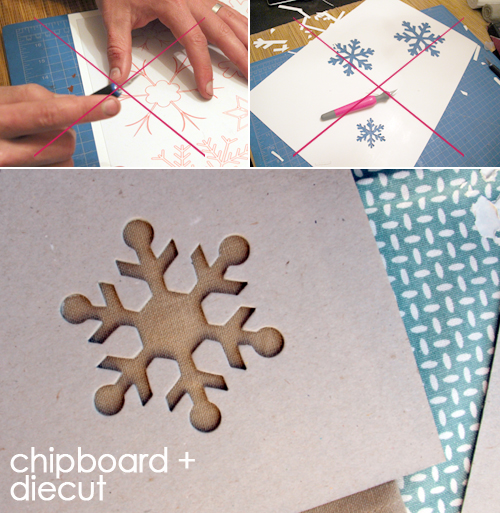 But the process was time consuming (poor Kev) and the stencils lasted for just one use. Where oh where could I find the outline of a snowflake to use as a stencil? That's when I thought of a cricut machine and ended up at a scrapbooking shop where I learned that you can use chipboard (super sturdy) in a diecut machine! Perfect. For about $.30 a pop I made 10 ish snowflake stencils out of chipboard.
*****************************************************************************************
Stenciling with Fabric Paint
s
Materials: cloth napkins/tea towels, chipboard stencil, spray adhesive, Simply Spray Stencil Paint, cardboard (or hard surface to lay out fabric on), newspaper to keep your space clean! plastic gloves to keep your fingers clean

– optional
To stencil the snowflakes onto my cloth napkins and tea towels, I first gave the back of the stencil a quick douse of spray adhesive to keep my stencil in place on my fabric and to help prevent bleeding. (Note – it's best to do this holding the stencil up rather than spraying at a surface such as this countertop – but for picture purposes here's the example)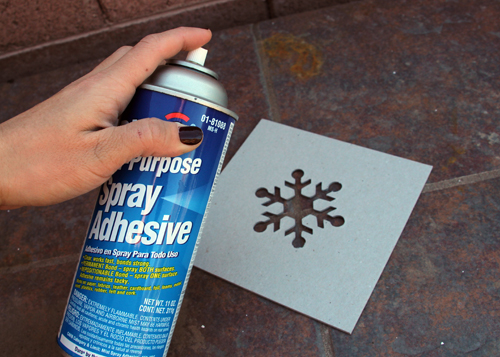 Apply your sticky stencil to your fabric and follow the instructions on the stencil spray can for application (basically, shake shake shake). Before you spray your actual napkins, towels, etc be sure to test the spray out on scrap cloth. A few lessons learned from scrap cloth: the cans drip and they can cause giant droplets on your fabric and the spray is not always even. It's easy to compensate for once you play around a bit.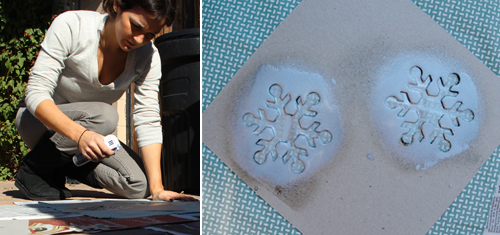 A quick email to Simply Spray resulted in the suggestion of starting and ending the spray 'off' of the fabric (such as in a paper towel), this helped a ton. A couple of other tips from me would include: 1. the white textured spray has quite the 'spray' that will end up all over your fabric regardless of your aim – use chipboard to cover the entire piece except for the stencil area to prevent any sort of splatter (not an issue with the gold or silver glimmer spray), 2. the gold and silver glimmer spray tended to bleed quite a bit – I found it best to get about 6-8″ above fabric and quickly swoosh over stencil area with a light flow (the bleed doesn't go away, the watermark look will dry and stay), 3. I needed roughly two cans to finish six cloth napkins and three tea towels which I didn't anticipate, so I did end up making a Michaels run half way through the project.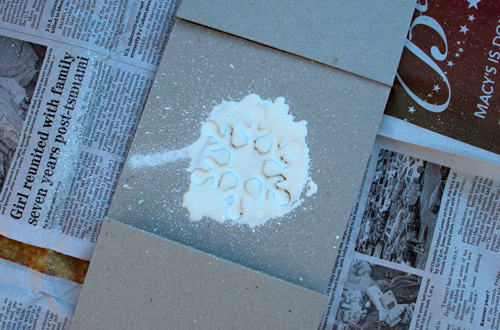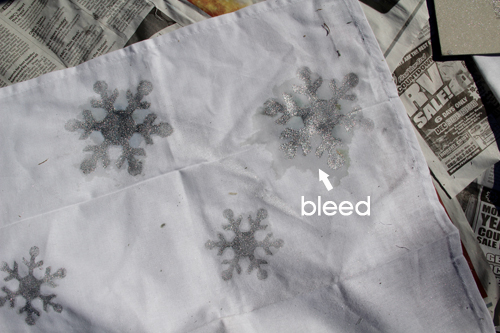 Let dry in the sun for several hours to cure, then wrap up and gift!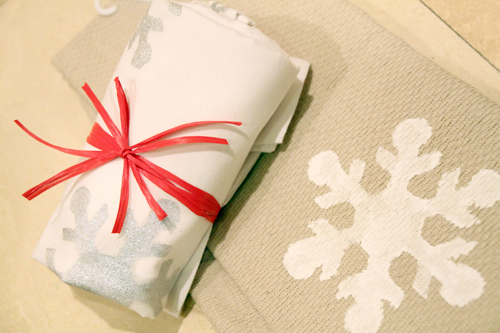 *****************************************************************************************
I played around with different materials, including a terry dish towel, dark brown napkins and even several oven mitts.  I attempted a bit of lettering but the white bled through around the edges.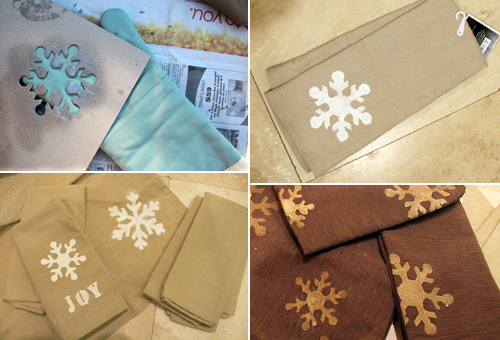 In the end, the projects that I ended up gifting and loving the most were the white flour sack tea towels and the light blue patterned napkins I found at Target that I covered in a few subtle silvery snowflakes.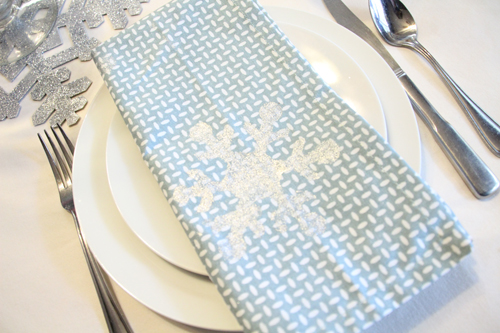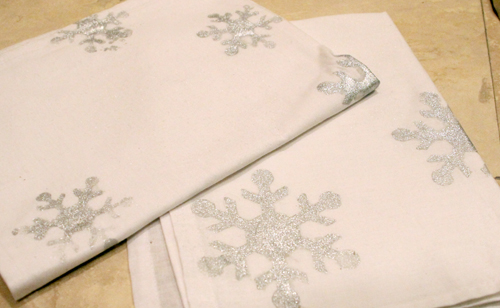 The tea towels each received three or so small snowflakes and two large in one corner so that about 1/3 of the towel was covered with a random pattern.
The napkins were painted with three ish snowflakes in one corner in a random pattern. Having some snowflakes just half on the napkin helped to create a random and pretty look.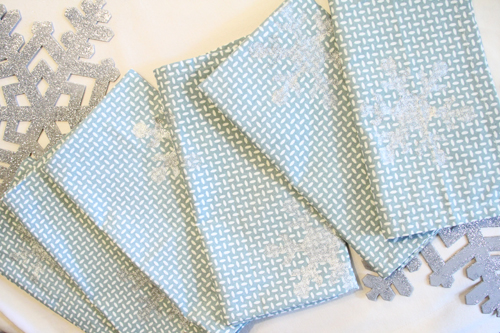 It was a fun project! Simply Spray is revolutionary in that it's the one and only aerosol fabric spray paint brand (I've heard the spray bottle versions are super messy) and it's really fun to work with. Be prepared to mess up on a few of your fabrics (I bought eight cloth napkins to create six) and make sure to set up a station covered in newspaper for painting and drying. I think my mom, mom-in-law, aunt and cousin dug their new towels, napkins and mitts.

Tags:
Blue
,
Crafty Solutions
,
Dinner Parties
,
DIY
,
Fabric
,
Paint
,
Parties & Entertaining
,
Silver
,
Tutorial
,
white
Posted in
Crafty Solutions
,
DIY
,
Holidays
,
Parties & Entertaining
,
Product Review
|
Comment »
November 21, 2011
What are your plans for Turkey Day? Next to a delicious meal and afternoon food comma, the Thanksgiving tablescape is high on my list of what I look forward to. Serious about the food comma – my mom's apple and pumpkin pie… mmmm.
I love a beautiful table because it can be so inviting and it really speaks to how special a meal is. Plus, it's an awful lot of fun to plan and pull together.
Here are a few tablescapes that I'm especially inspired by this Thanksgiving (and here's my list for 2010):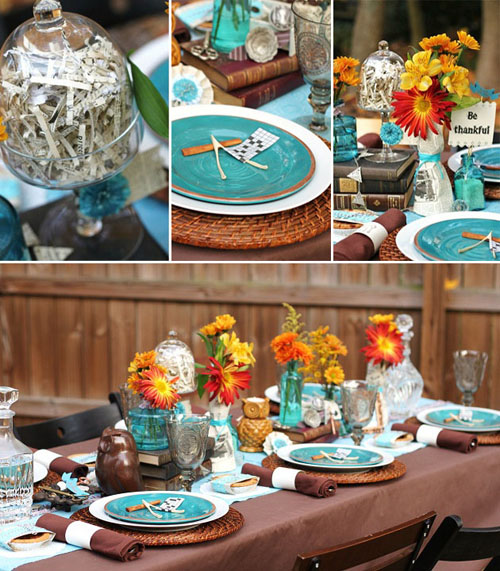 Initially found over here, the color palette of this rustic tablescape is what caught my eye. How beautiful is the teal against the rich brown and pops of bright orange? But the details are equally adorable! How creative are those crossword and wishbone name cards? and the newspaper filled cloche? Lovely job, Chris!
Next up? A modern and neutral table backed by a pop of color.
I love the idea of keeping your table simple (with, say, a basic white tablecloth topped with a wide brown runner) and creating a statement out of your food serving area. Pick up a brightly colored fabric remnant and drape it over the existing tabletop decor (such as a large mirror or picture frames) for an fresh display. More details on this party here.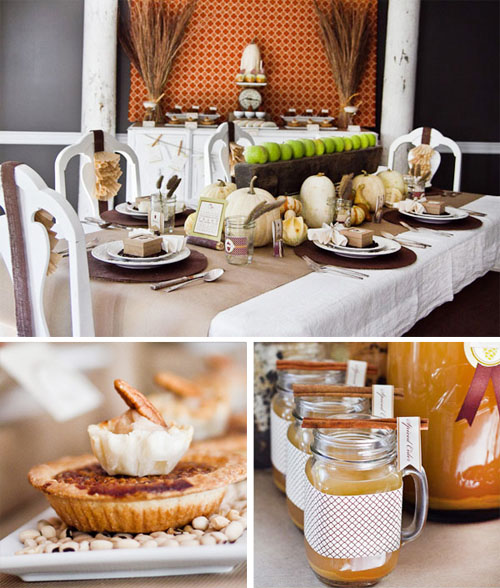 Statement runner. Enough said. Simple, classy and no need for extra decor which leaves plenty of room for all of the fixen's right there in the center.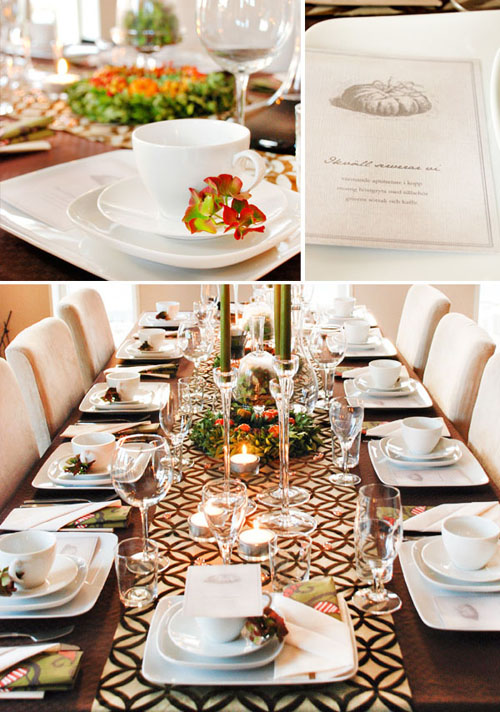 This bridal shower doubles as a beautiful fall tablescape. You know what immediately caught my eye though? How ingenius a simple ribbon running the length of the table is. What an easy way to introduce a new color to your table palette and to reuse current craft room items!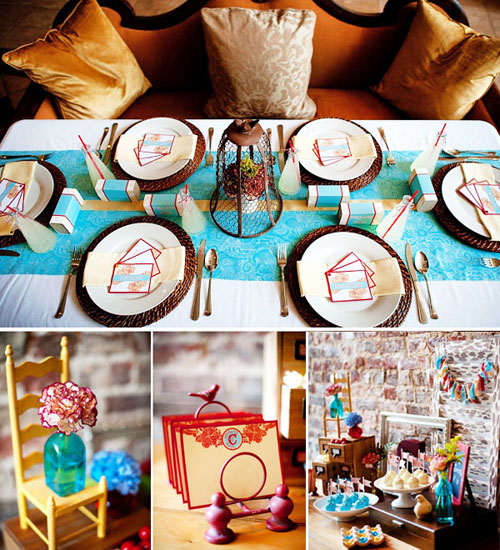 Finally, you can't go wrong with classic white. Give your Halloween pumpkins new life by coating them in a thin coat of white spray paint to match classic white dishware. I would incorporate bits of thrift store lace and my crocheted doilies to balance out vintage with modern in this refreshing tablescape. Thanks, It's Overflowing for the inspiration!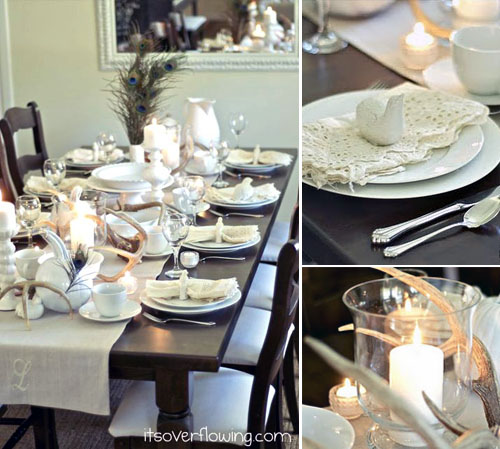 Many thanks to Pampers, Play Dates & Parties for getting the brain juices flowin' – be sure to check out more ideas here.
Tags:
Blue
,
Decorating
,
Dinner Parties
,
Fall
,
Orange
,
Parties & Entertaining
,
Patterns & Color
,
Teal
,
Thanksgiving
,
Turquoise
Posted in
Holidays
,
Parties & Entertaining
|
5 Comments »