March 25, 2013
We spent some time over the last few days decorating Easter eggs. It's so neat that Liv is at an age where these types of mommy/daughter craft projects are fun and exciting for her. She's still not as hands on as I'm sure she'll be when she's just a little bit older, but she helped me choose colors, paint, apply stencils and dab glue for all of the different techniques we played around with.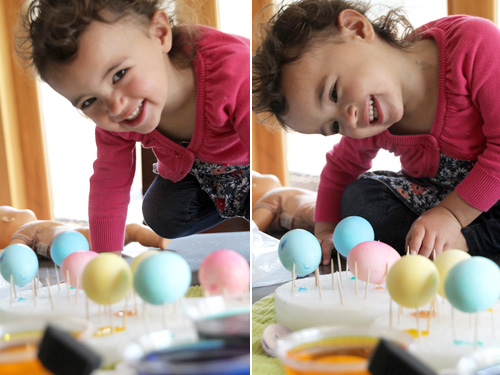 Such a cutie! She loved the entire process and didn't question the idea of coloring and displaying hard boiled eggs that we would normally have for lunch – but I'm sure there are much odder oddities in life for a two-year-old.
Looking over our little assortment of finished eggs, I'd have to say that this year's theme was all about the gold.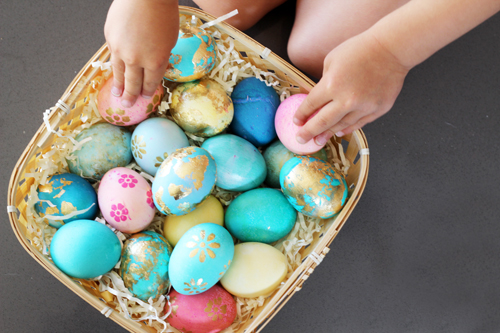 Gold leafing, gold marbling, gold stenciling… subconsciously I was clearly tying recent home decisions into Easter decorating

.
So I have about five-ish ideas to share today (with a few bonus finds here and there), but before getting into any of the specific techniques that we tried out, step one was to dye the eggs.
We dyed 18 in total and used Wilton food coloring (because that's what I had on hand, though any ole' dye works great) to create an assortment of blue, teal, pink and yellow eggs.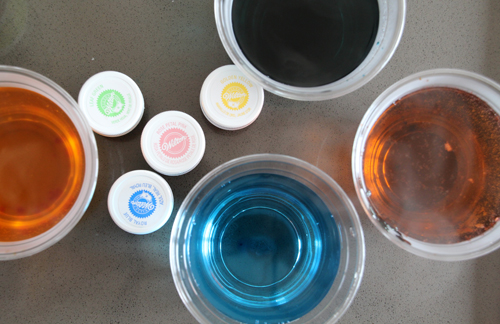 Each of the four little plastic cups that I set out received 2 tb white vinegar, a cup or so of hot water, plus the various dye colors.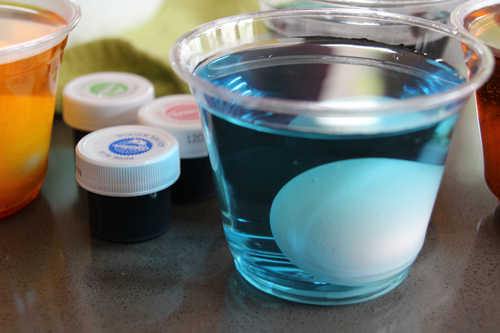 I read about a styrofoam block + toothpick egg drying rack from this article here – brilliant!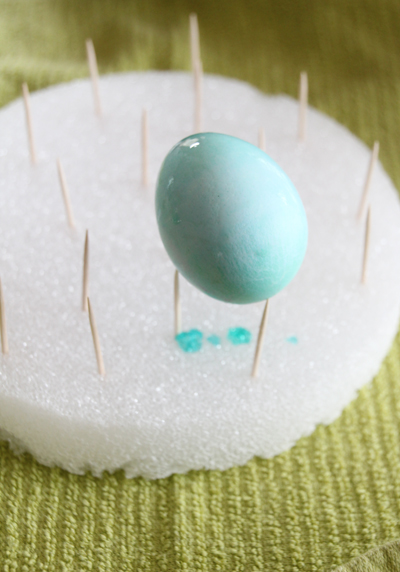 A couple of minutes submerged in the dye/vinegar/water mixture will yield soft colors, more time = more saturation.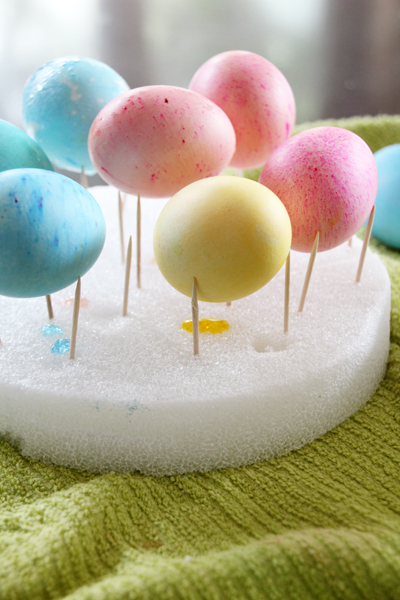 We opted for mostly lighter, more pastel colors and that little speckled effect on the pink eggs was a happy accident. More on that soon.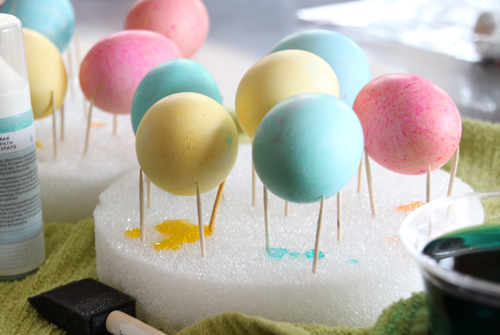 When the above began to get a little tedious (a toddler only has so much attention), we sped up the process with stove top bulk dying.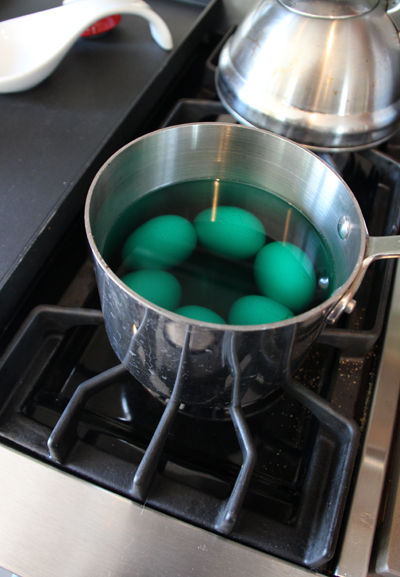 We bulk dyed much of the teal colors, they were definitely my favorite!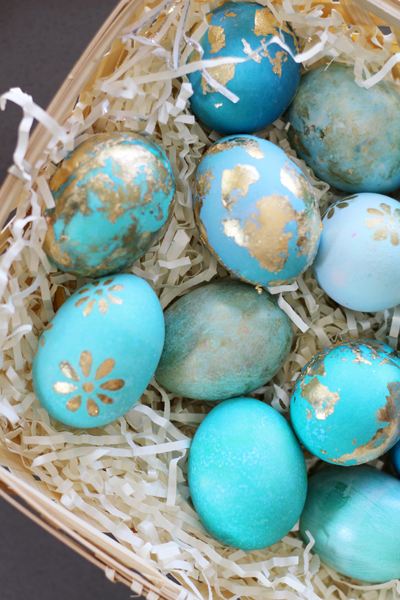 Alright, let's get down to the nitty gritty on a few of these techniques because these were so fun to play with.
The first is a faux marble with gold craft paint using two different tools: sponge brush or paper towel.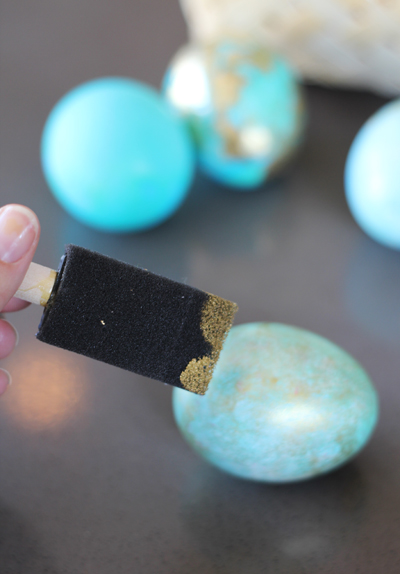 A little dabbing/blotting and your eggs take on a most unique effect. I love these! Quick and simple.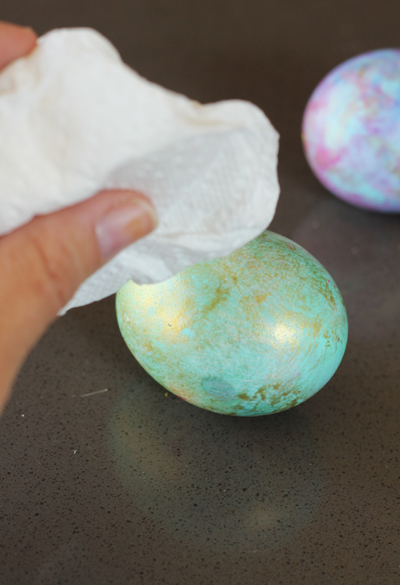 Next up, stenciling. Using the same gold craft paint, I found a package of gloss enamel Americana reusable stencils at Michaels that were made out of decal-type paper (which is incredibly flexible and can wrap around an egg, plus has a sticky side to help adhere stencil temporarily) and used a sponge brush to lightly fill in the various floral designs.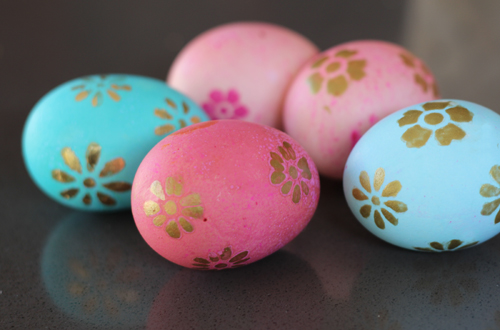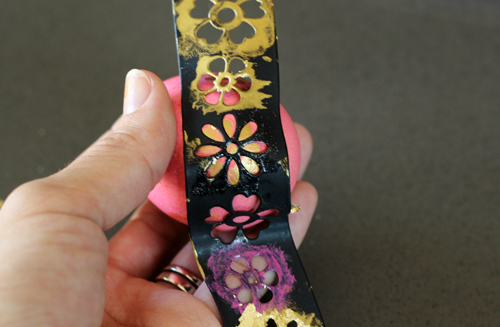 Here's Liv's: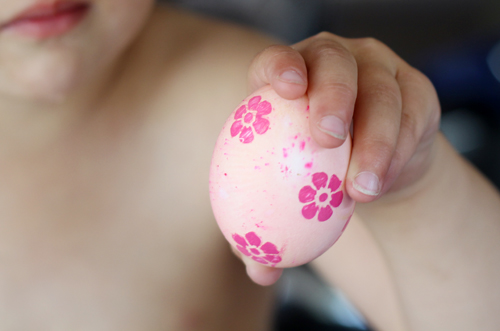 By default, we discovered that if we messed up and wanted to start over, wiping off the paint will actually pull up some of the dye as well, creating a neat tinted/washed effect where the painted florals once had be.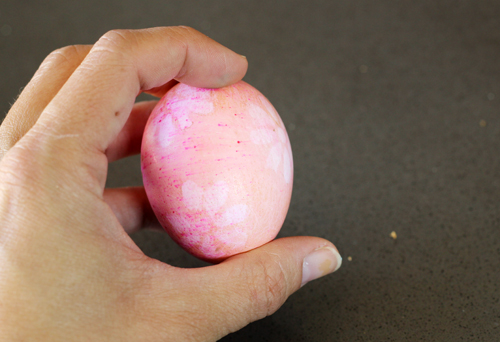 Side note: some of our eggs came out with a tie-dye, dotted explosion look and I discovered that this happened when our gel dye did not completely dissolve in the hot water + vinegar mixture. But it's actually pretty cool looking!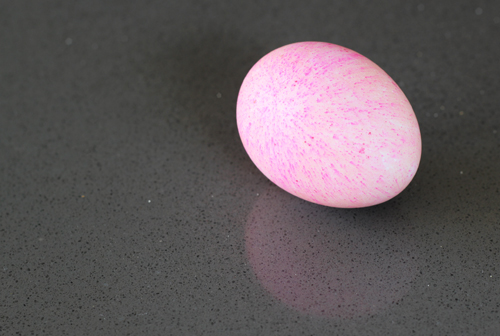 When I came across this idea on Pinterest, I was smitten. Had to try my own version of gold leafing eggs! Here are the steps that I used for the effect, though if you're on the hunt for more detailed instructions, check out the original full post.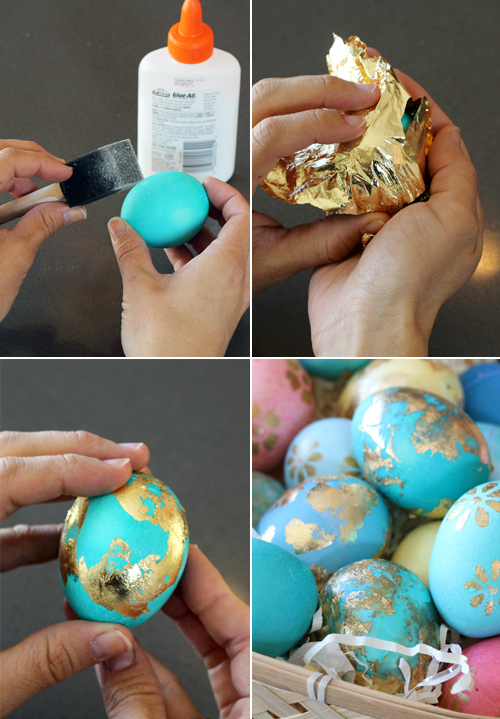 Rather than a leafing adhesive, I went the inexpensive route and applied Elmer's glue in dabs and blots and swirls. Next up was lightly covering the egg in a half sheet of gold leaf (straight from the craft store) and then gently rubbing at the leafing until only the areas with glue adhered. Slowly an organic, smudged-gold leaf design emerged.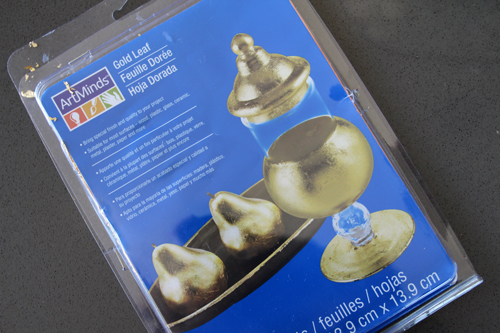 If you decide to give this a go, play around with the final look and different mediums to enhance the gold effect. To blur the lines between gold leaf and egg, I added a bit of gold paint to a couple of the eggs with a sponge. One more unique look.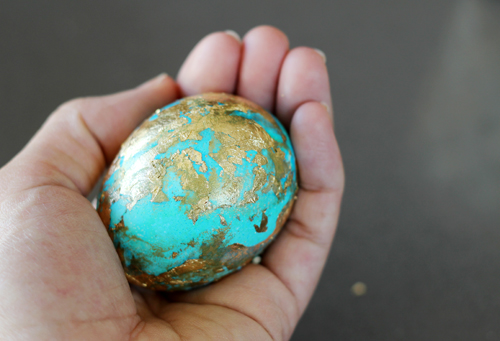 My favorite effect of the day included a combination of stenciling and leafing (see floral egg at the very front below).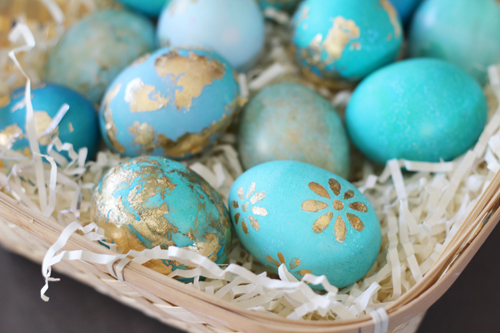 Using a stencil as my guide, I gently applied leafing and gold craft paint to the egg and then slowwwwly pulled the stencil up and off.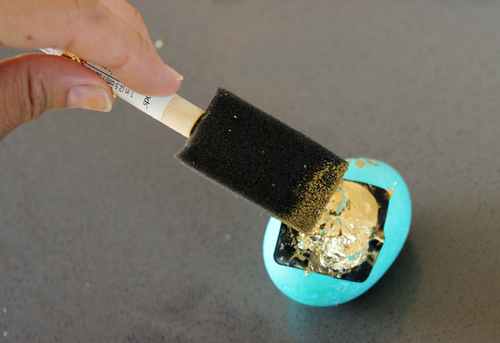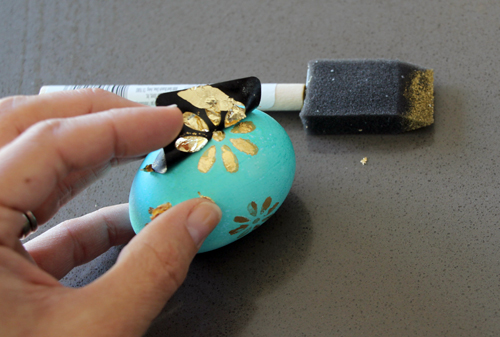 Probably the trickiest technique of the day, but with a little patience and a little creativity (try a sharp x-acto knife or your fingernail if leafing sticks to stencil) these guys are so pretty.
I wish I had blown out the white and yolk of some of these eggs so that they would last a lot longer than just this week… but maybe next year. If I were trying to preserve my designs I would also coat each of these eggs in some sort of spray seal or varnish.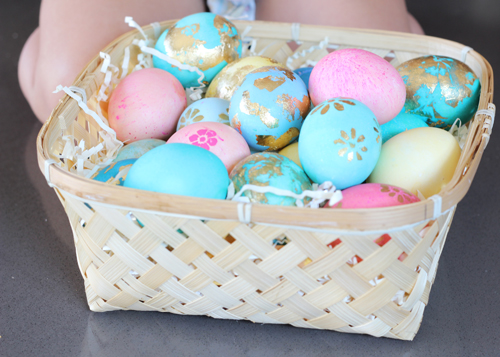 Just one week until Easter! These will be fun eggs for the Easter bunny to hide

.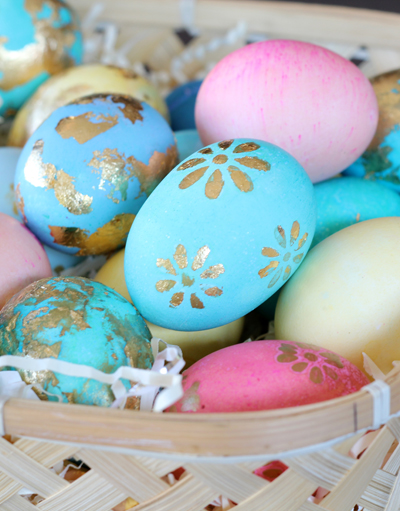 Just for fun, a picture of Olivia from Easter last year. Oh my goodness, heart is melting.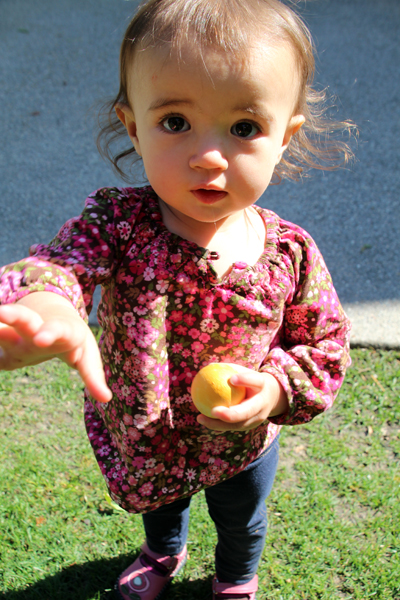 PS More Easter ideas here
Tags:
Crafty Solutions
,
Decorating
,
DIY
,
Easter
,
Tutorial
Posted in
Crafty Solutions
,
DIY
,
Family & Friends
,
Holidays
,
Olivia
|
4 Comments »
April 6, 2012
Liv's a little young to fully appreciate how fun it is to dye Easter eggs, but I was excited about the idea (it's been too long since I was a kid!) so I decided to give it a go anyhow.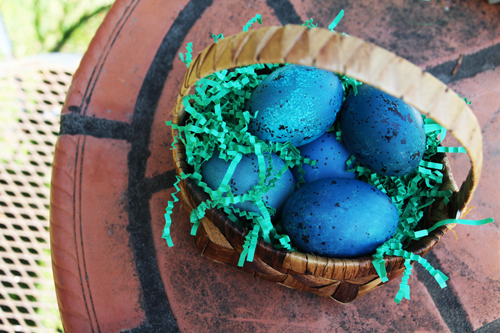 I wanted to keep it simple with whatever we could find easily available in the kitchen, so my first attempt was to create my own natural dye using this awesome tutorial. Vegetables, fruits and spices can create some pretty neat, saturated colors, check out these beautiful examples! And I'd imagine older kids might find it pretty neat to see how dyes and colors were originally derived.
My goal was blue speckled eggs, so I defrosted a frozen bag of blueberries from the freezer and boiled them down (with about two parts water) into a rich, dark liquid. Sadly, after just a few hours my blueberry concentrate left my eggs looking black and rotten…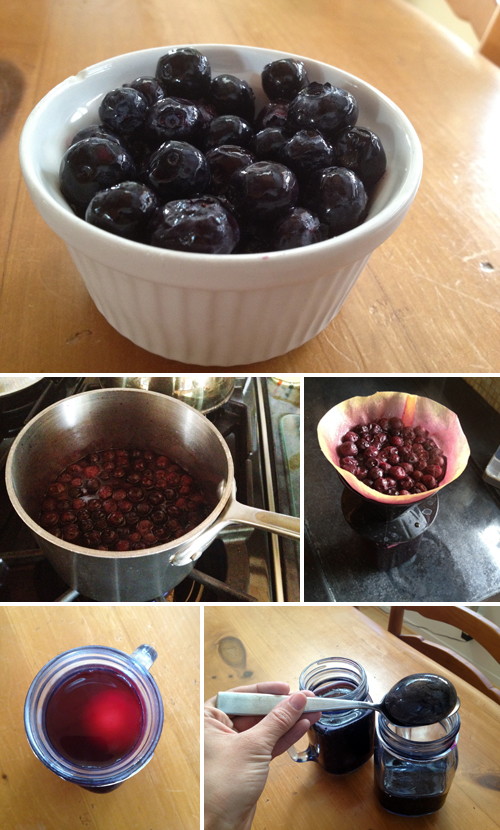 Muahhhhahaha, perfect for Halloween! So blueberries aren't the way to go, but I would definitely try this method with another fruit again in the future!
Plan B: trusty food coloring + vinegar.
Two hours later and the eggs were looking quite blue and quite beautiful! I dyed a mix of white and brown eggs from the fridge, and I actually prefer the darker tint of the brown underneath that very saturated blue.
To achiever the speckled egg look, I improvised brown dots in clusters and speckles with a brown sharpie once the eggs were completely dry.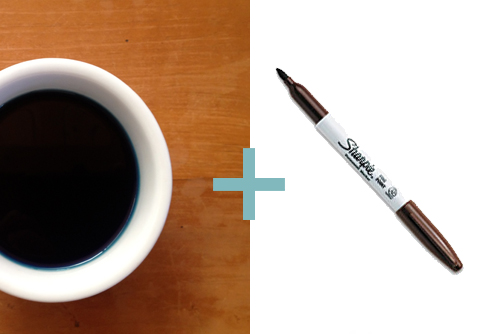 Such an easy project and such a fun result!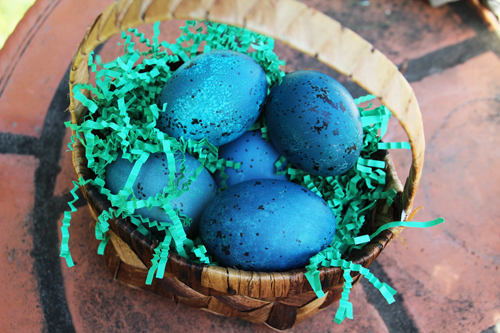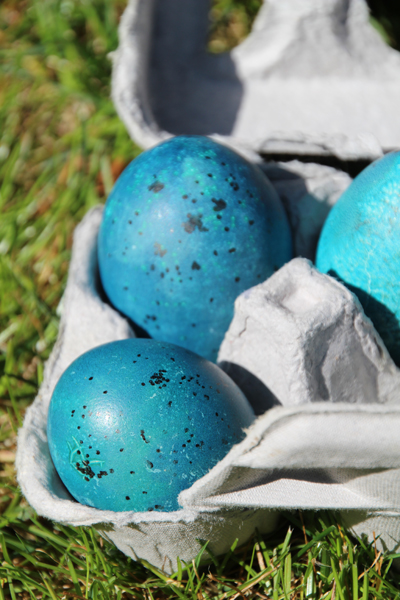 We carried the eggs around the yard for a bit, unloaded the bunch from a basket and filled it back up again.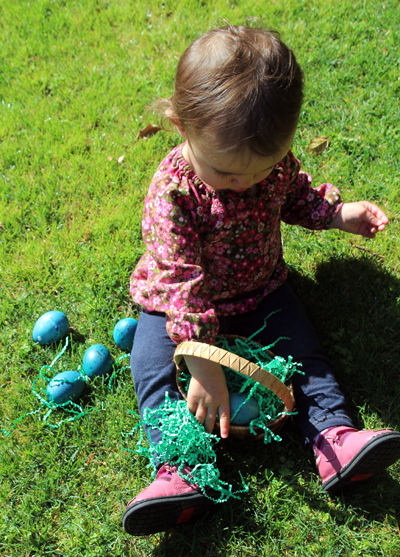 We're practicing for Sunday.
We also made a few simple solid yellow and green eggs, and then a few polka dotted versions!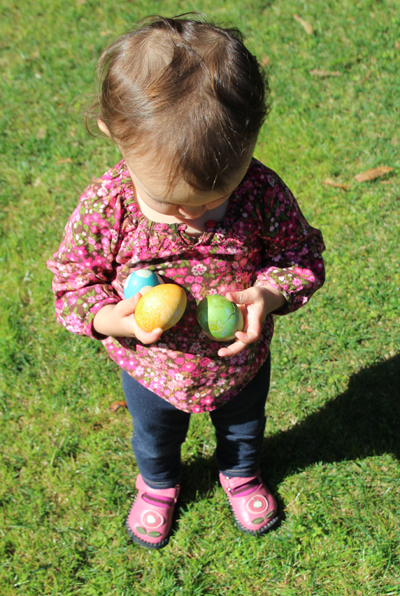 Egg hunting under way…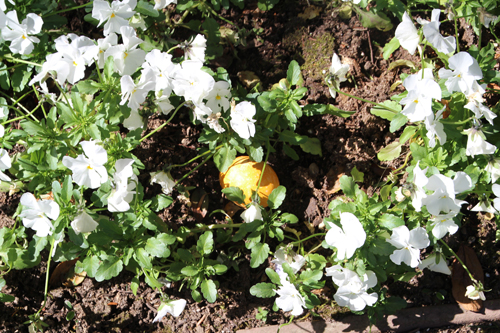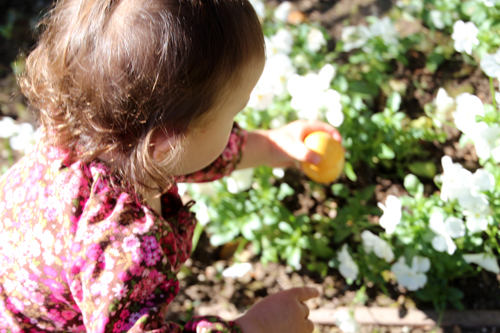 Here she's wondering 'where are the rest?', Liv just picked up the two hands out posture when she's asking a question in baby talk, it's adorable!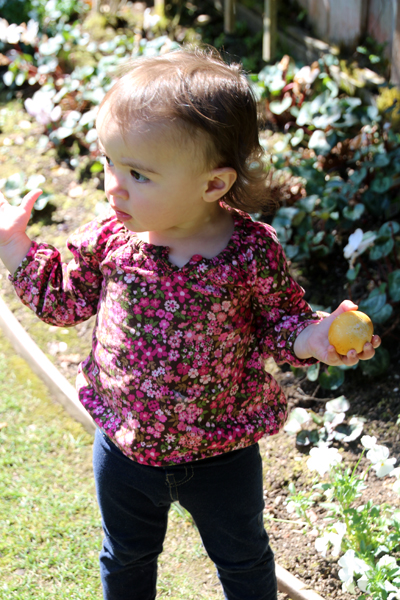 Look at those big brown eyes! What a cutie.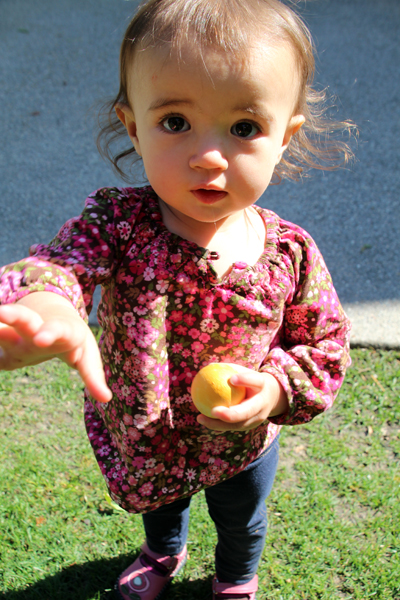 And then mid outdoor play time, Liv realized that she could smash the eggs!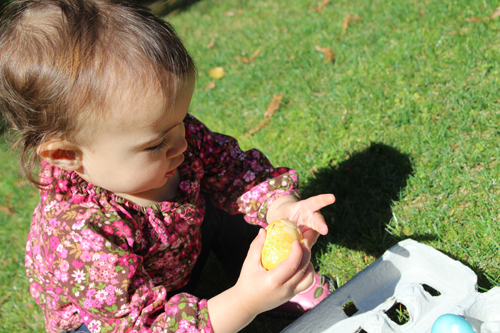 And that if she squished them between her palms just right, pop! The hard boiled inside would come bursting out.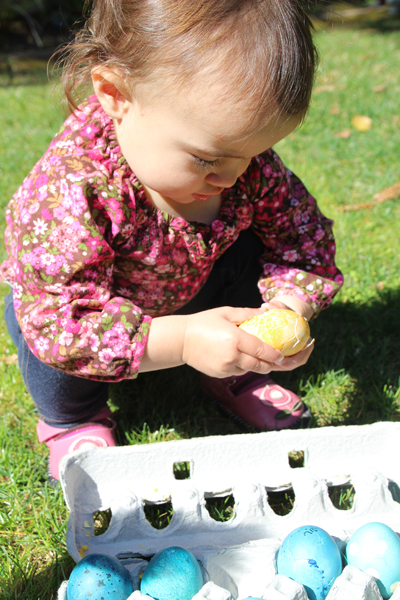 A half dozen smashed eggs later and our hunting adventure was officially over. So much for keeping these guys around until Sunday

. But they served their purpose and we had great pre-Easter fun.
A few more reminders of those pretty speckled eggs…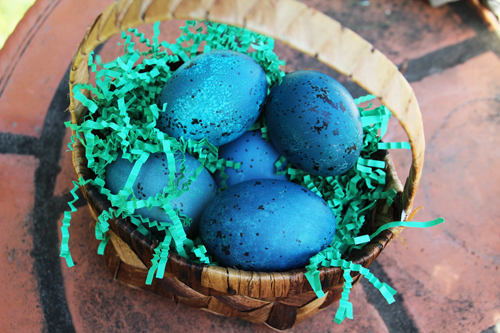 *Sigh*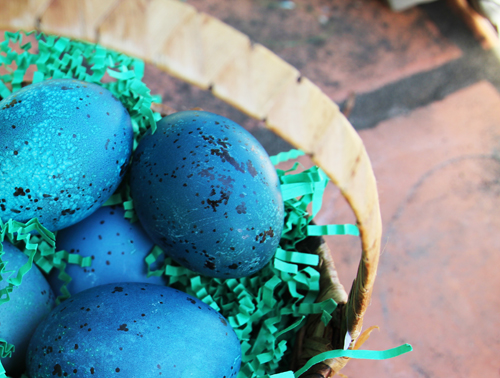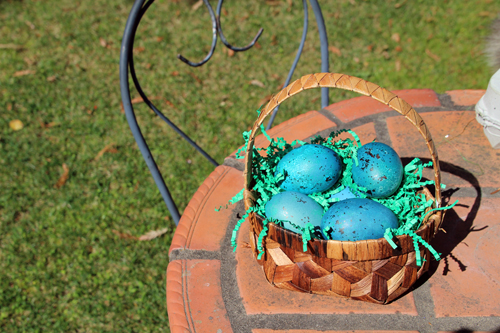 The polka dotted eggs were a fun project for us to tackle together. I covered a few eggs in small metallic smiley face (they have the best stick) and round office label stickers before letting them sit in the dye. When they were finished and dry, Liv helped me pull all of the stickers off.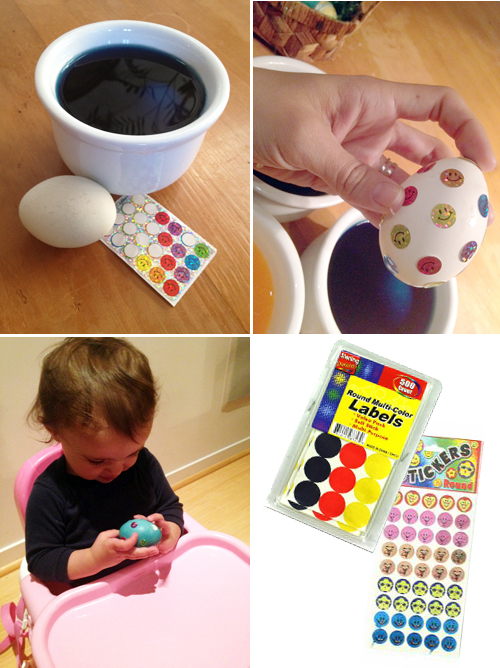 It is tough to get a clean circle without any blue leaking underneath a sticker, but the dryer and more room temperature your egg is, the closer you'll get. Here's a great tutorial on polka dot eggs, check it out if you give these guys a try!
Have a wonderful Easter weekend! Hallelujah, He is risen!
Tags:
Blue
,
Crafty Solutions
,
Decorating
,
DIY
,
Easter
,
Patterns & Color
,
Tutorial
Posted in
Crafty Solutions
,
DIY
,
Parties & Entertaining
|
5 Comments »
April 2, 2012
Easter is just a week away! It is a favorite holiday of mine for so many reasons… one of those being the significance of new life, the passage of winter to bright, fresh spring. It's also a holiday that we celebrate with extended family. This year my aunt is pulling my Dad's side together to spend time with my Grandma who is turning 85 and I'm really looking forward to it.
Speaking of fresh, spring colors, these tablescape ideas are right up my Easter brunch alley. Perhaps I'll see if I can't call dibs on hosting the egg hunt next year.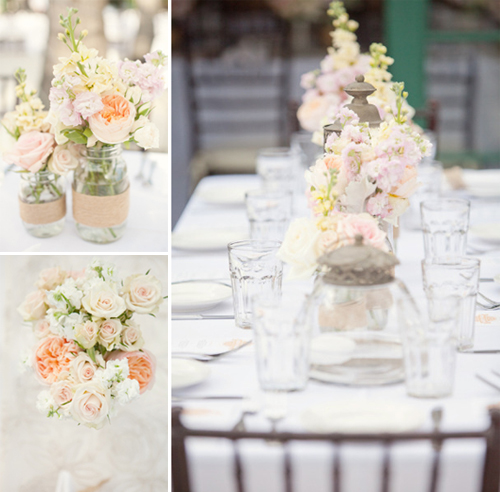 I love the muted coral, pinks and whites of this traditional table setting, and the sweet burlap, vintage jar and striped straw accents add thoughtful detail, as do the handwritten food labels.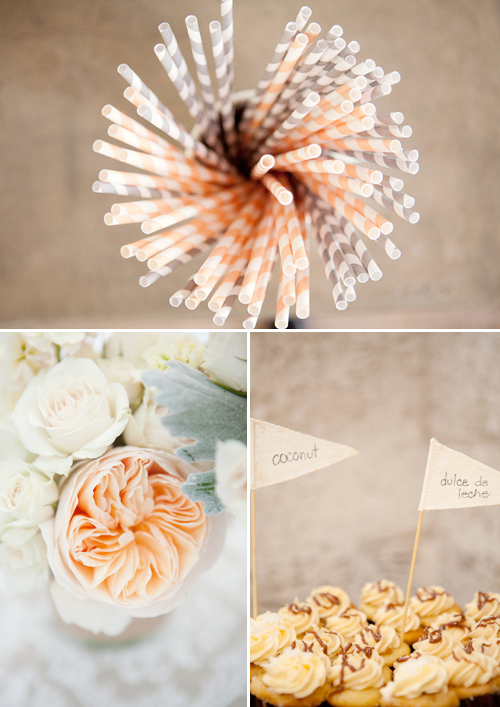 An alternative and brighter Easter palette to play with includes pops of fuchsia, burgundy and pink. Love the hanging floral spheres below (craft your own inexpensively from foam balls covered in hot glued plastic hydrangea flowers and hung from thick ribbon – we used white for our wedding five years ago and the floral spheres were hung high enough that guests were none the wiser of the faux decor).
A tablescape featuring a long fabric runner in a solid color and a hodge podge of silver vases full of wild flowers is the perfect centerpiece – pull brightly colored accents (such as throw pillows, a mirror or candles) into an outdoor space to tie the theme together.

Both parties found right here at Style Me Pretty.
Here's a nifty idea from Decor8′s contributing writer Leslie for incorporating pastel ribbons into an Easter tablescape. She suggests rummaging through your current supply to find unique ways to show off bits and pieces left over from other projects, including tying around vase stems or rolled napkins for breakfast.
And a grown-up Easter basket idea?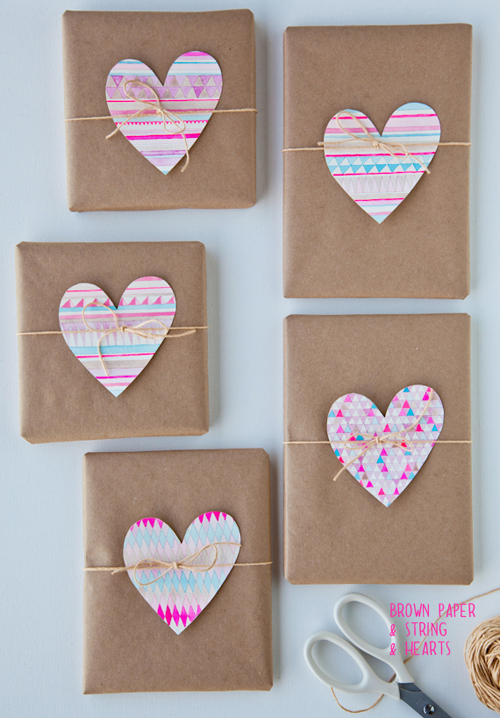 A box of trinkets, a favorite book or a boxed chocolate rabbit wrapped up in butcher block paper and tied in twine.
Happy Monday, and happy Easter preparations!
Tags:
Baby Shower
,
Bridal Shower
,
Decorating
,
Dinner Parties
,
Easter
,
Parties & Entertaining
,
Pink
,
Red
,
Wedding
,
white
Posted in
Crafty Solutions
,
Parties & Entertaining
|
7 Comments »