May 17, 2013
It's perfect weather for an outdoor picnic, no? Hopefully you're experiencing this beautiful sunshine wherever you are, too! Eating outdoors is the best (especially on a big grassy lawn at some fun park) and now that the Outdoor Eating season is approaching here in Southern California, I think more picnics need to happen in our house. Or, outside our house. Maybe on the new outdoor table.
Liv and I were experimenting with painting (her new very favorite-ist thing to do in the whole wide world), and while Liv took to the bright colors, I played around with updating simple rattan chargers from Ikea with white paint.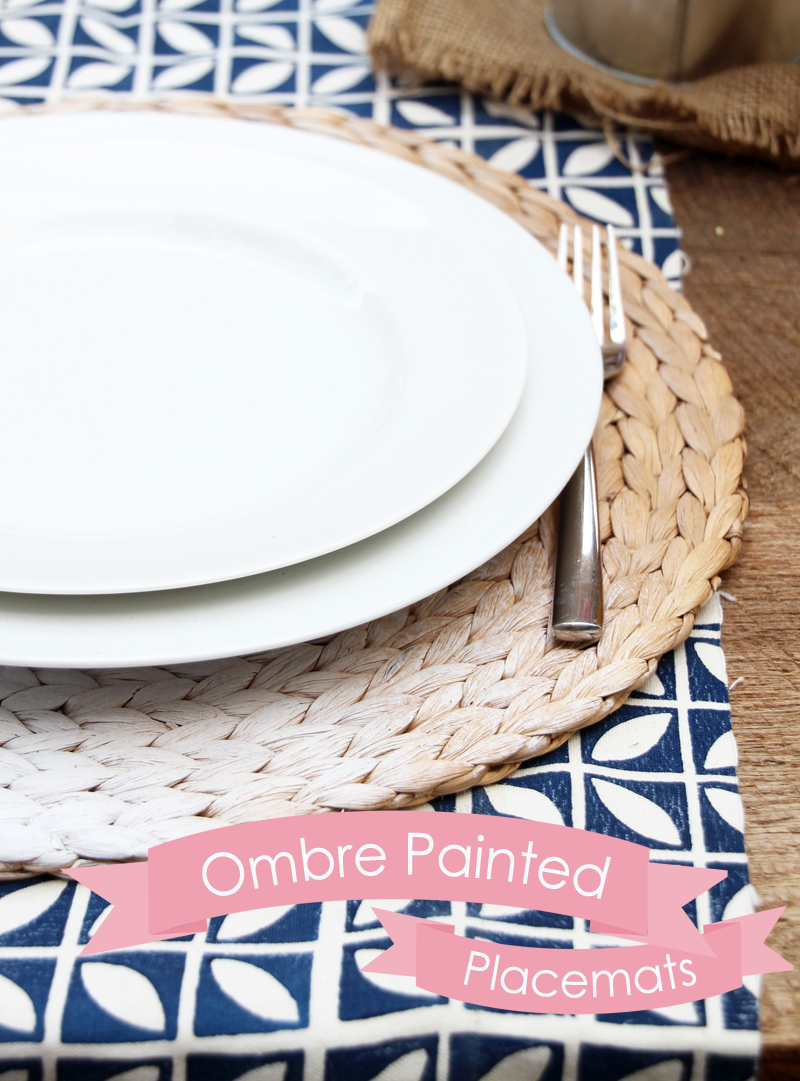 Turned out pretty cool! I really dig the look with that blend of the soft rattan and the stark white finish. Actually, this is just dawning on me – they kind of remind me of these.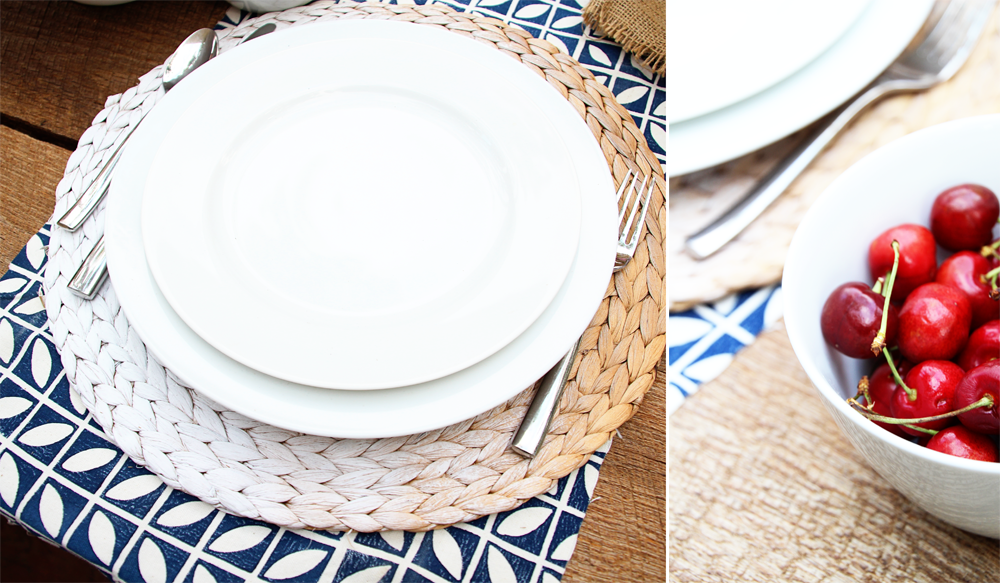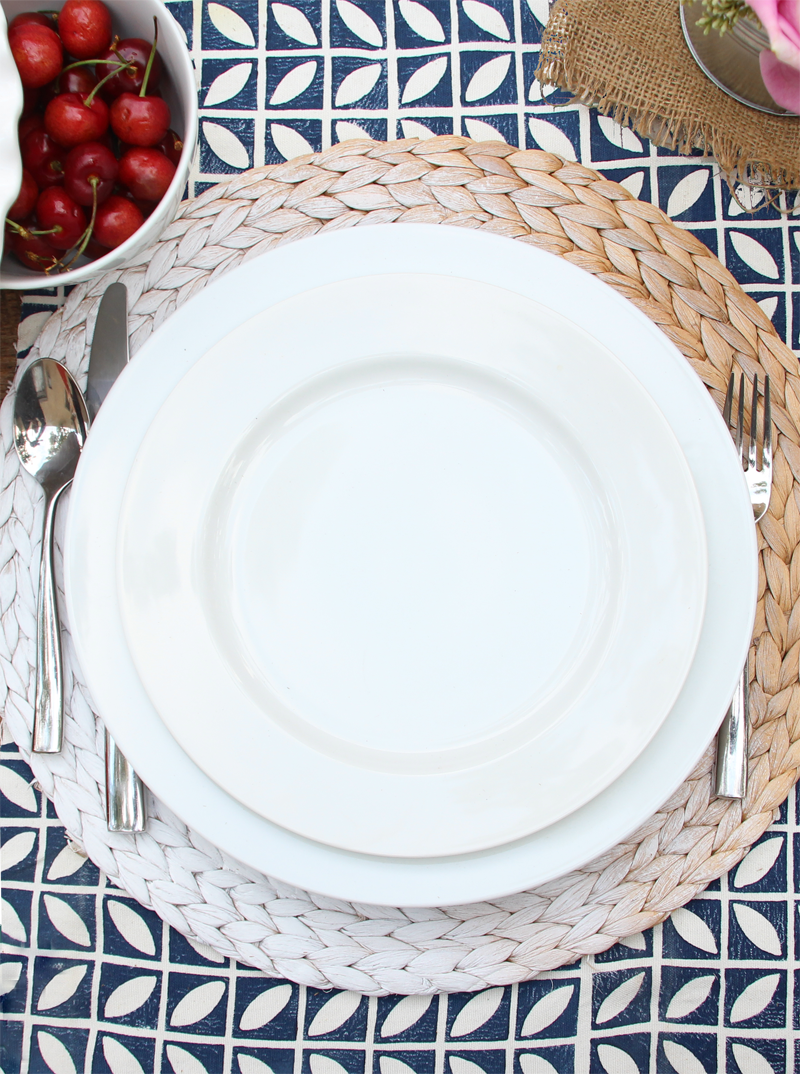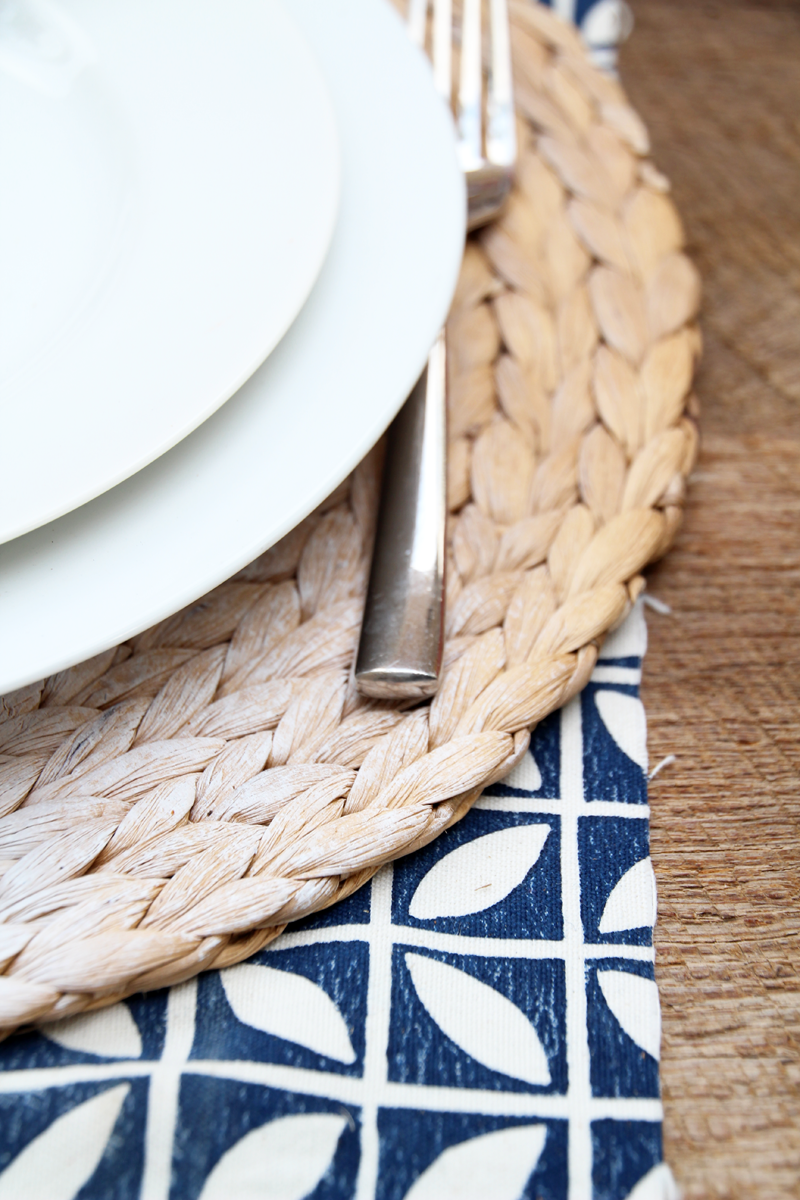 The application process was more than basic. I actually tried spray paint first thinking that that might be fast and easy, but couldn't achieve that gradiated effect I was picturing, so went over the work with acrylic and a paint brush.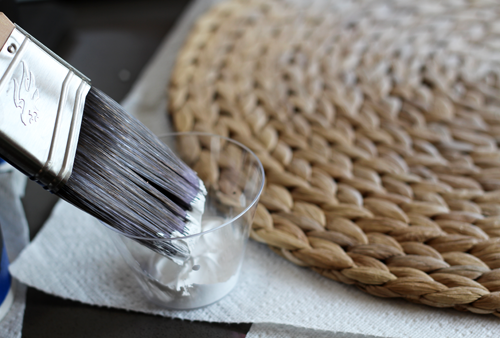 Brush, brush, blot, blot…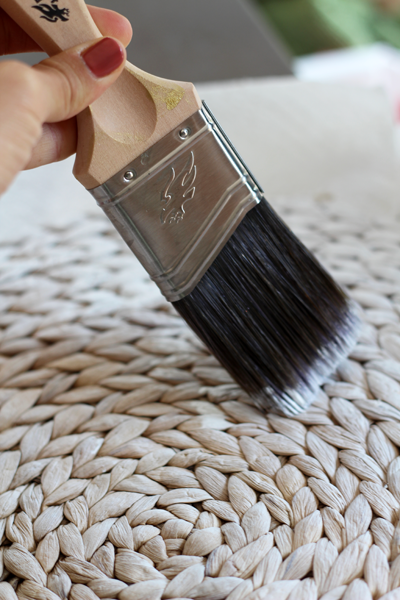 Lots of blotting later…
And finished!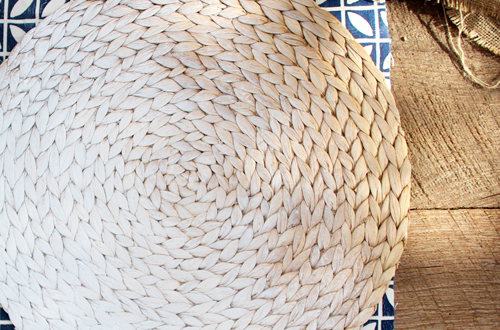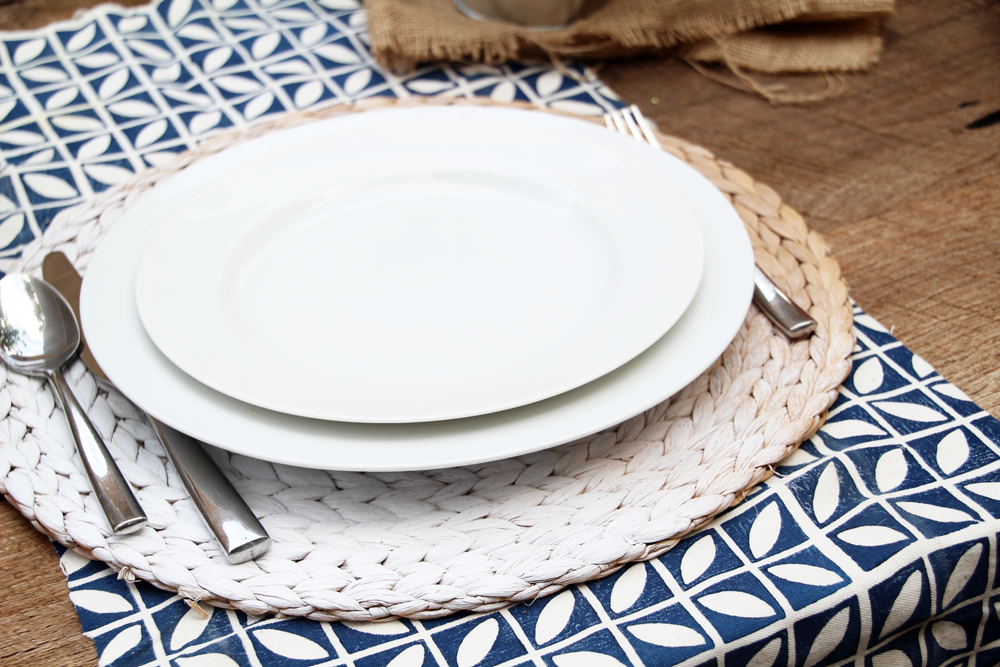 Navy and maroon might be a new favorite color combination – kind of perfect for July 4th, no?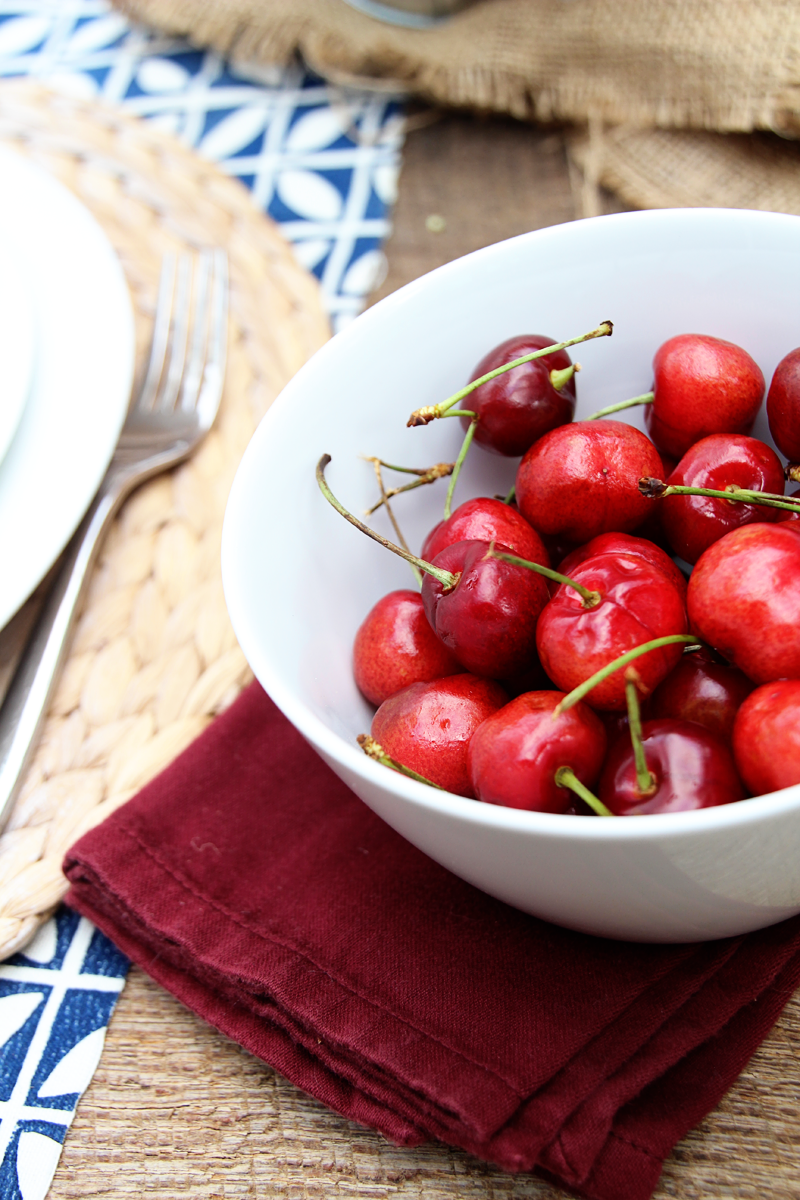 These placemats were so simple to create and at a couple of bucks a pop, a great housewarming gift idea as a pack of four or six, or perhaps as something special for a special lady/friend/mother in your life? Or even better, package up in a picnic basket with a fun outdoor blanket and a bottle of wine as a wedding gift (it's that season, too).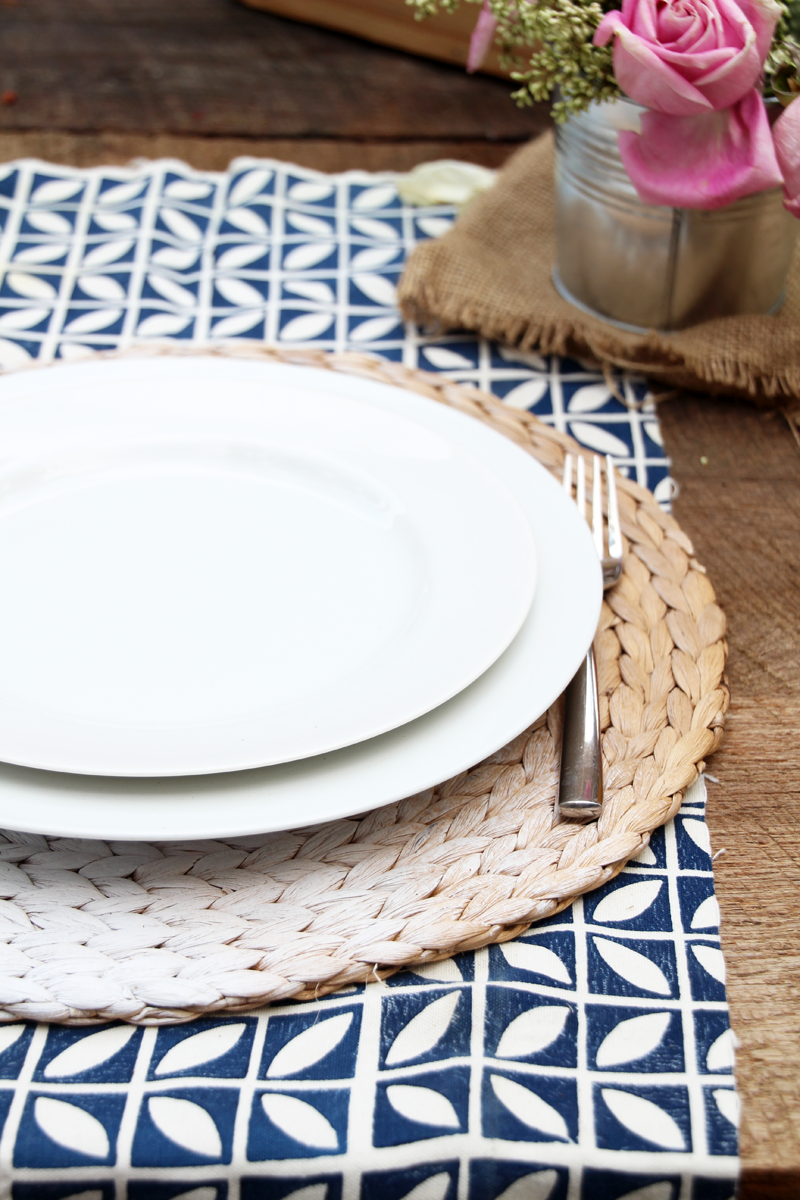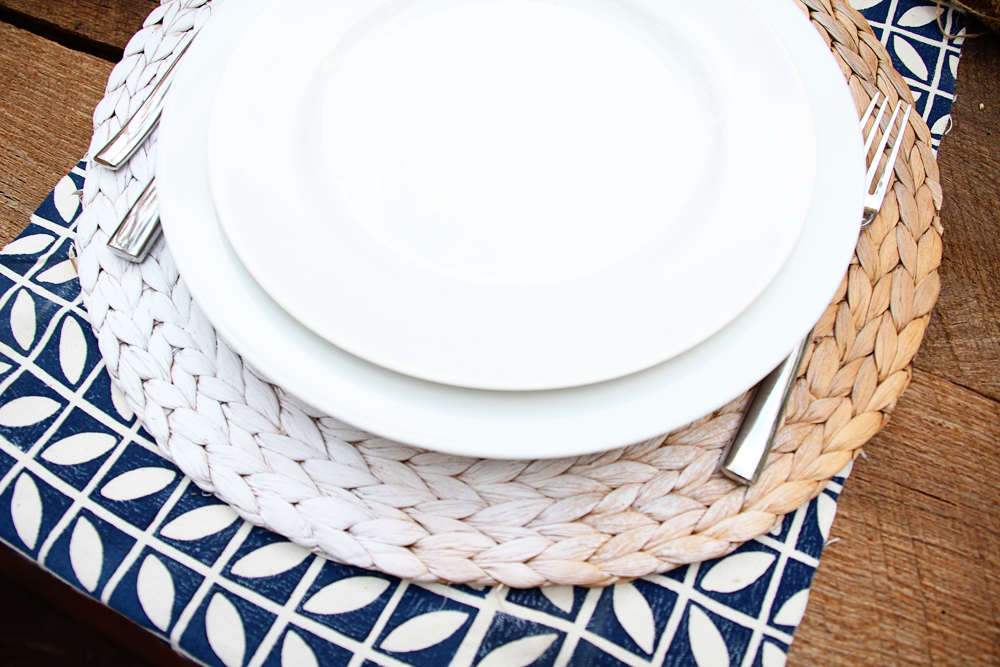 Sorry, enough photos. The lighting was perfect and I went a leeetle overboard.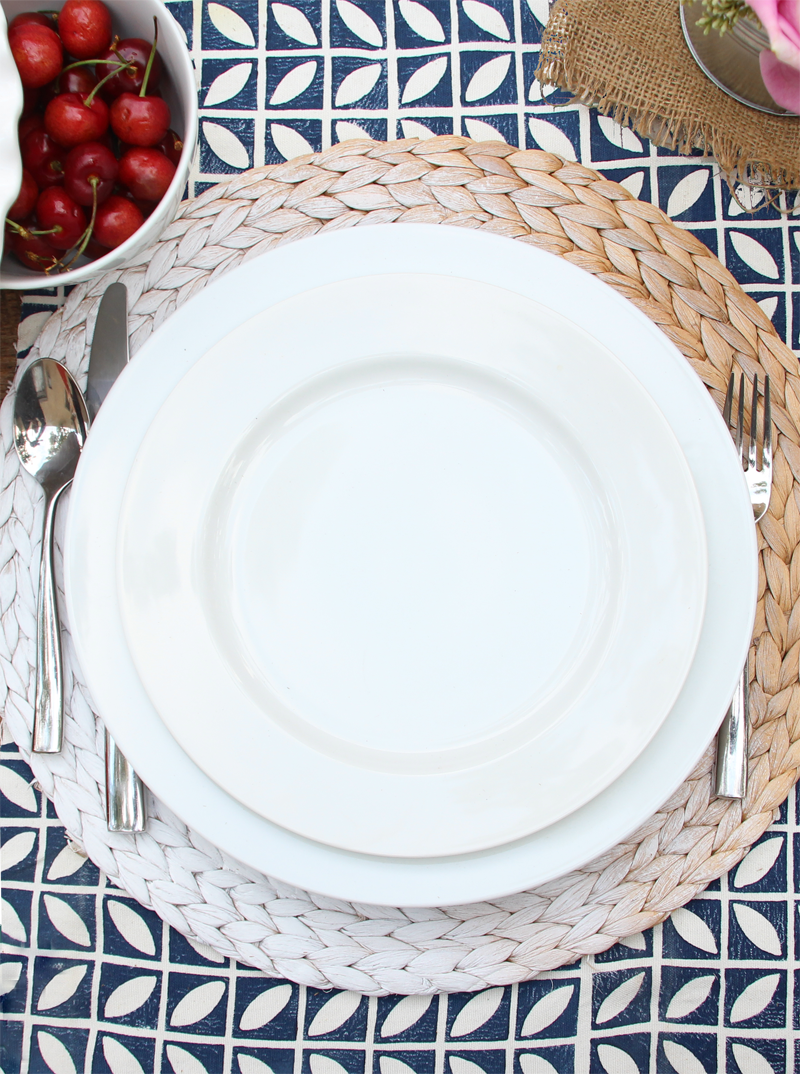 More handmade gift ideas found right here.
Tags:
Accessories
,
Before & After
,
Crafty Solutions
,
Decorating
,
DIY
,
Home
,
Parties & Entertaining
,
Tutorial
,
white
Posted in
Crafty Solutions
,
DIY
,
Handmade Gifts
,
Home
,
Parties & Entertaining
|
3 Comments »
April 23, 2013
Remember when I made these guys a couple of weeks ago? Well I ended up overdoing it on the amount of deliciously melted chocolate in my double boiler and wanted to find an easy way to scoop up the remaining goodness, lest it be wasted or eaten in an entire sitting by myself.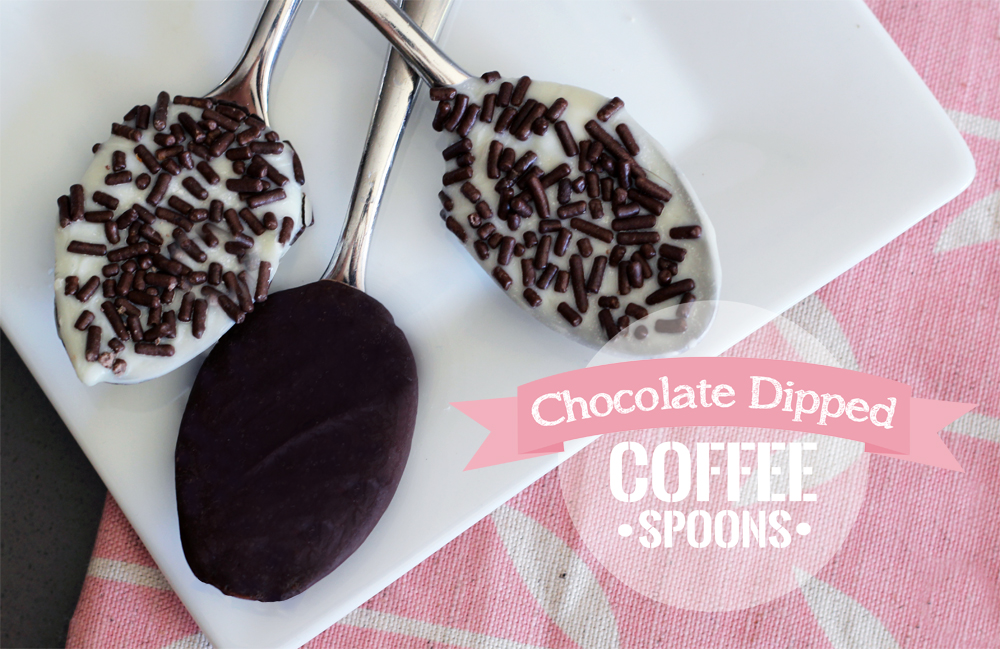 The easy solution was dipped spoons! I've actually made these before with plastic spoons for a hot chocolate bar at a friend's nesting baby shower, but it's been a couple of years so I thought I'd revisit and share how easy, yummy and practical (can't let that last bit of chocolate go to waste!) this is. These dipped coffee spoons would also would make great gifts if sealed up in a little cellophane and ribbon.
So easy and so quick, and they look so pretty when set out with coffee, hot chocolate, chai… you name it.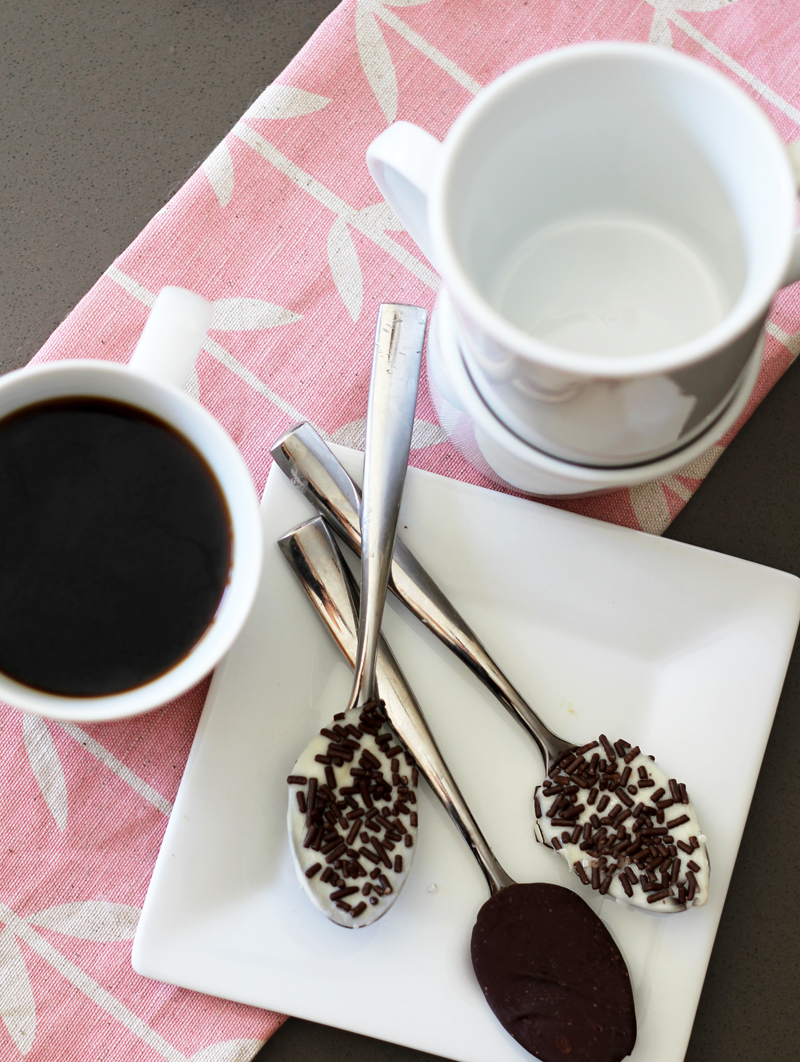 They could be covered in any pretty sprinkle or sugar for a customized look for a shower theme or party, or swagger with alternative chocolate colors (white over the dark, for example) for a fancier design.
The left over spoons went onto the coffee shelf in my kitchen – so tempting!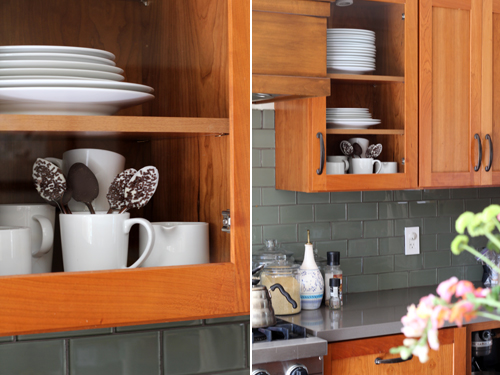 They won't last longer than a couple of weeks before the chocolate begins to crack, but I really haven't had to worry about an 'extended stay' problem

.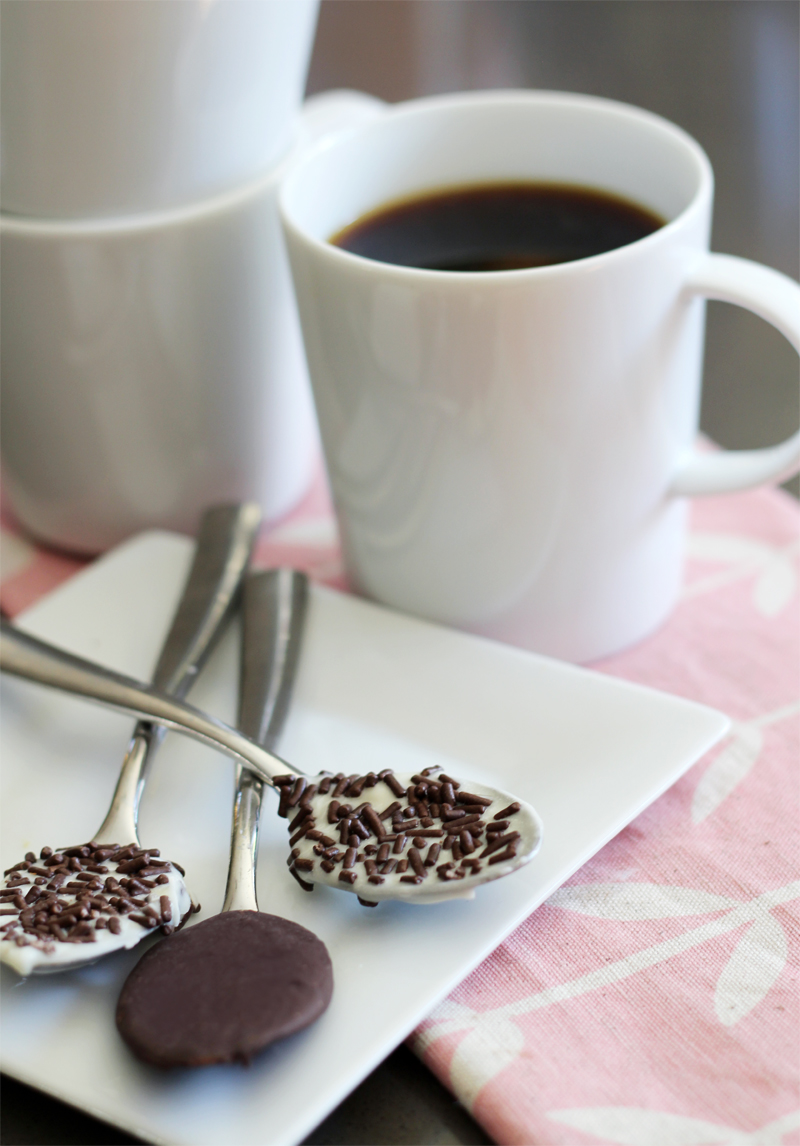 Making them is easy peasy, see this post for a better overview but the basics are: chocolate chips, double boiler, spoons (if using plastic as favors or gifts, make sure your chocolate isn't hot hot hot or the spoons will melt during the dipping process), toppings.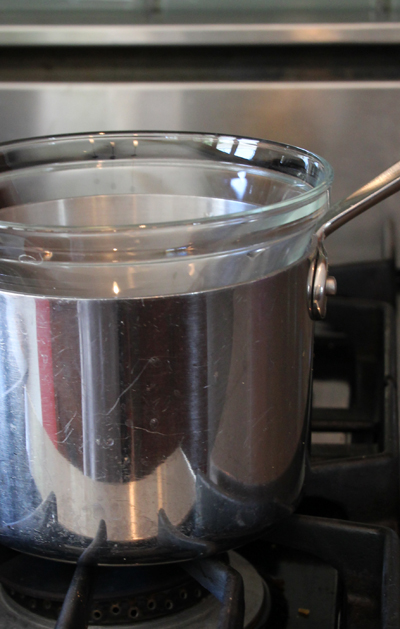 Yum.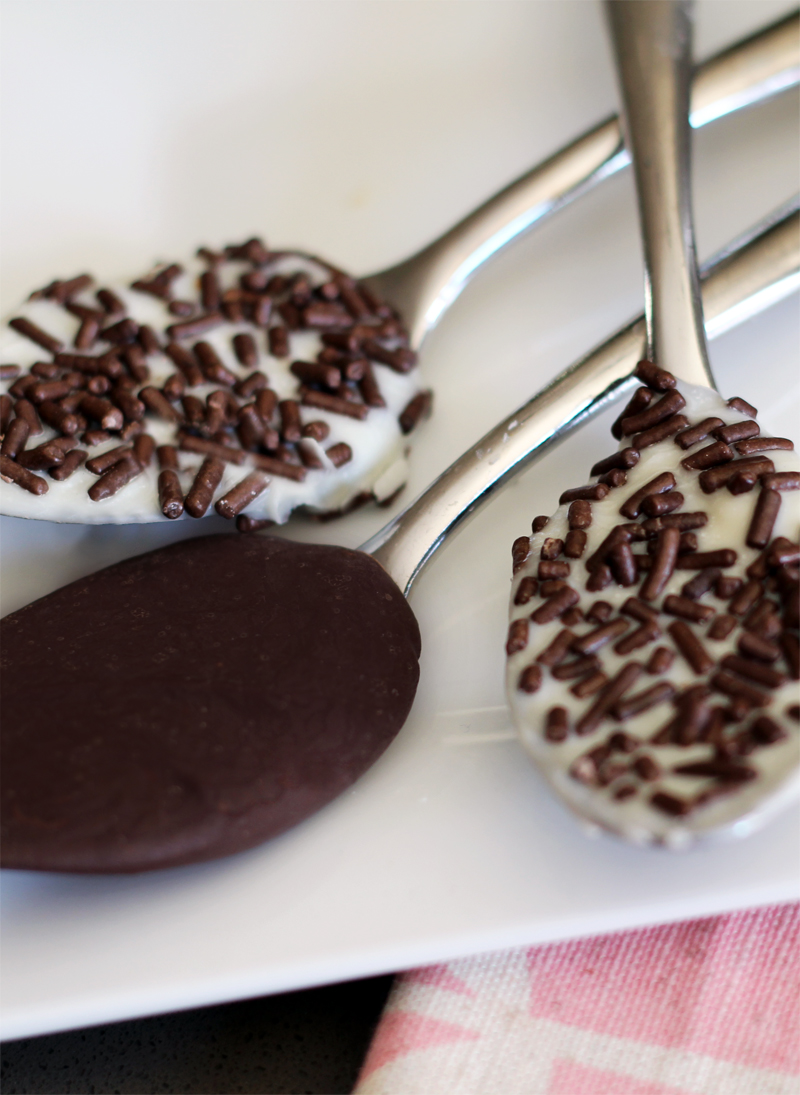 PS More recipes and good eats can be found right here.
Tags:
Baby Shower
,
Birthday
,
Bridal Shower
,
Chocolate
,
Desserts
,
Dinner Parties
,
Favors
,
Gifts
,
Parties & Entertaining
,
Wedding
Posted in
DIY
,
Parties & Entertaining
,
Recipes
|
5 Comments »
April 12, 2013
Update: Hmmmm, something is definitely up with the buttons not showing on the left side of the blog. Hopefully that little glitch will be fixed soon!
Sweet and salty is an amazing combination. And white chocolate dipped pretzels? Trader Joe's was on to something when they started selling those mini coated pretzels by the bag full.
I have always thought that the shape of pretzel rods would make for an excellent party something… and then it occurred to me that they would make deliciously tasting stir sticks to serve with tea or coffee!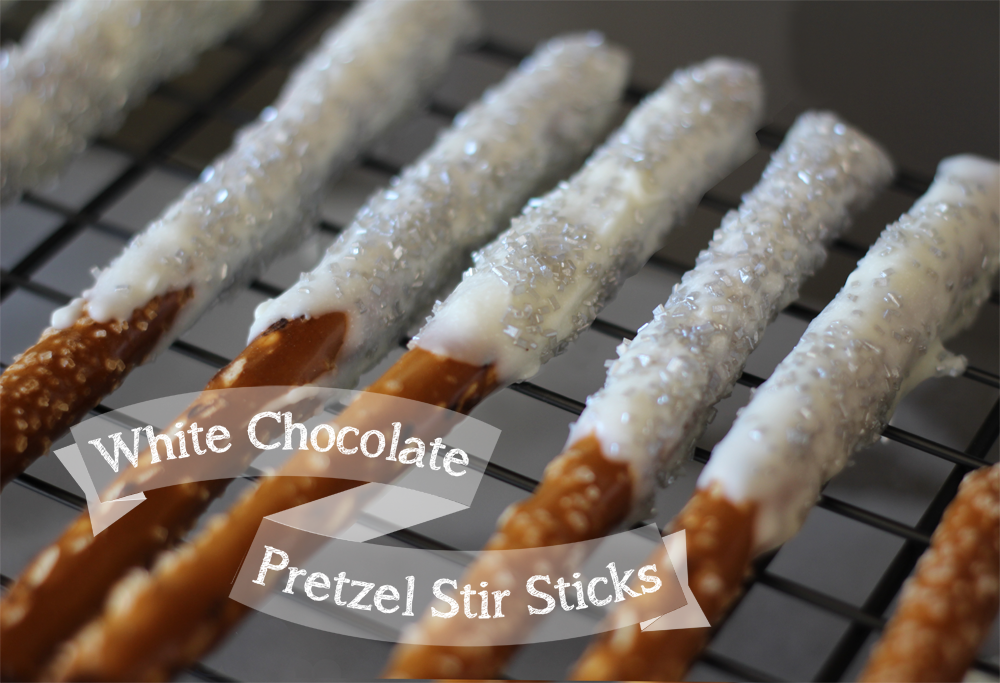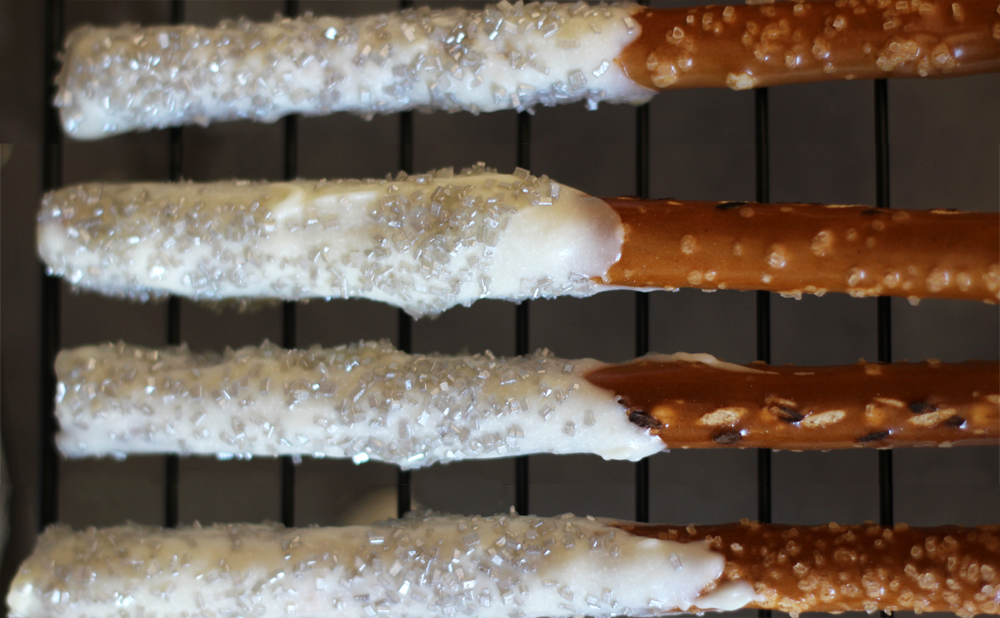 Liv and I whipped up a dozen or so before a book club meeting to serve with tea.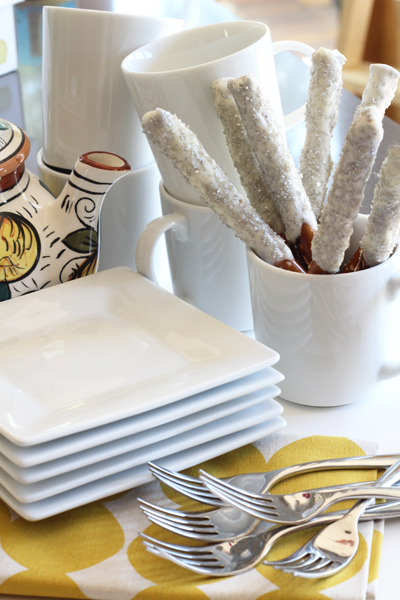 One double boiler full of white chocolate chips, a half of a container of silver sugar (found in my pantry but originally from Michaels) and a canister of pretzel rods later and we had a super yummy snack (and probably ate half of the finished stir sticks before the ladies even arrived).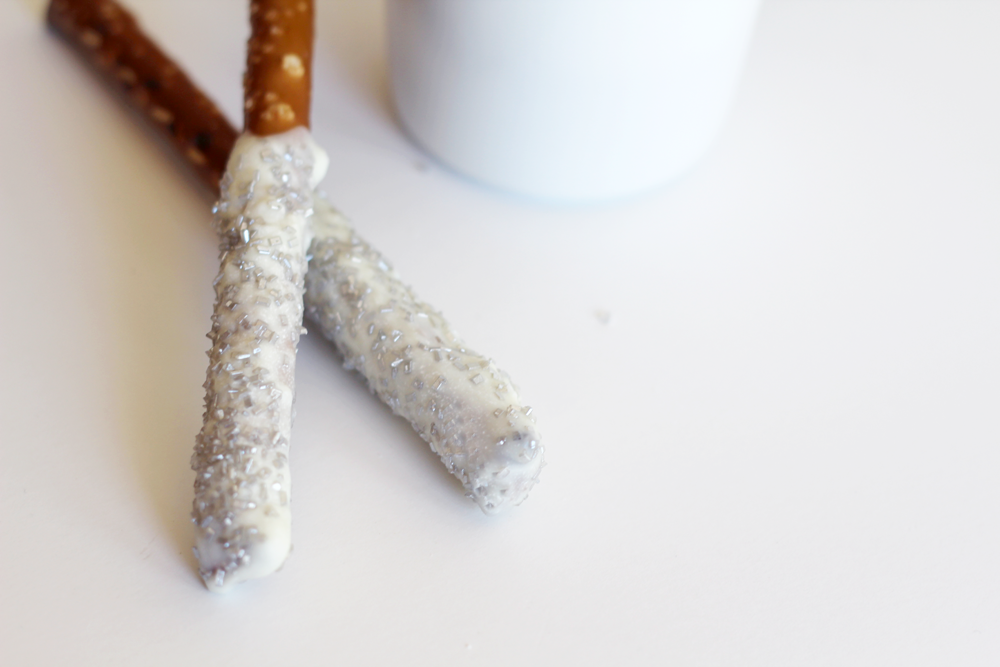 The toughest part was figuring out how to let them cool after being freshly coated in warm chocolate. I tried standing them upright in a cup (but as predicted they dripped downward), and the best solution ended up being a cookie rack sprayed with a non stick cooking spray and lined with wax paper underneath. The pretzel sticks did have little indentations along the bottom after the chocolate had hardened, but it wasn't terribly noticeable.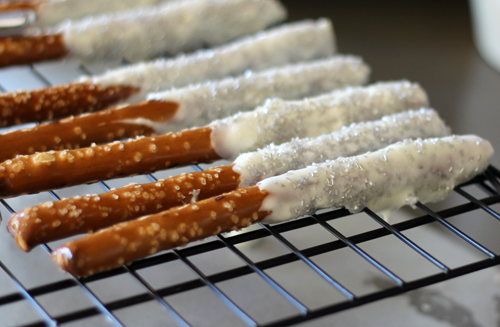 These would be great for a shower (cover them in blue or pink sugar/sprinkles), a coffee bar (with swirled milk chocolate on top), packaged as thank you gifts for teachers or friends, or even perhaps made as favors with a little bow for a wedding or party.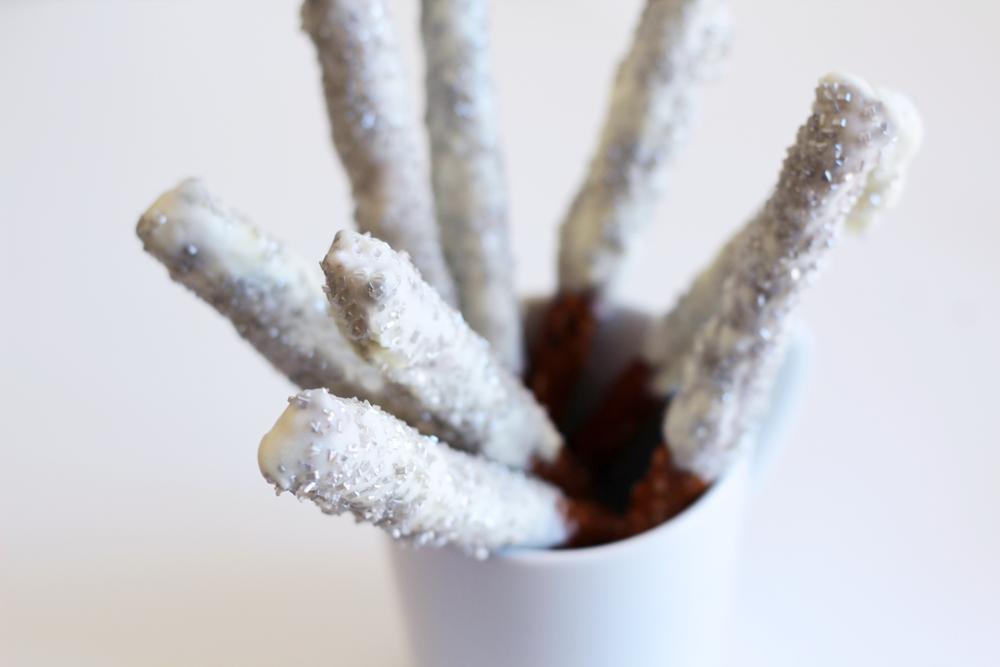 We covered a few in rainbow sprinkles just for Liv. I know… not the healthiest snack, but I can think of worse

.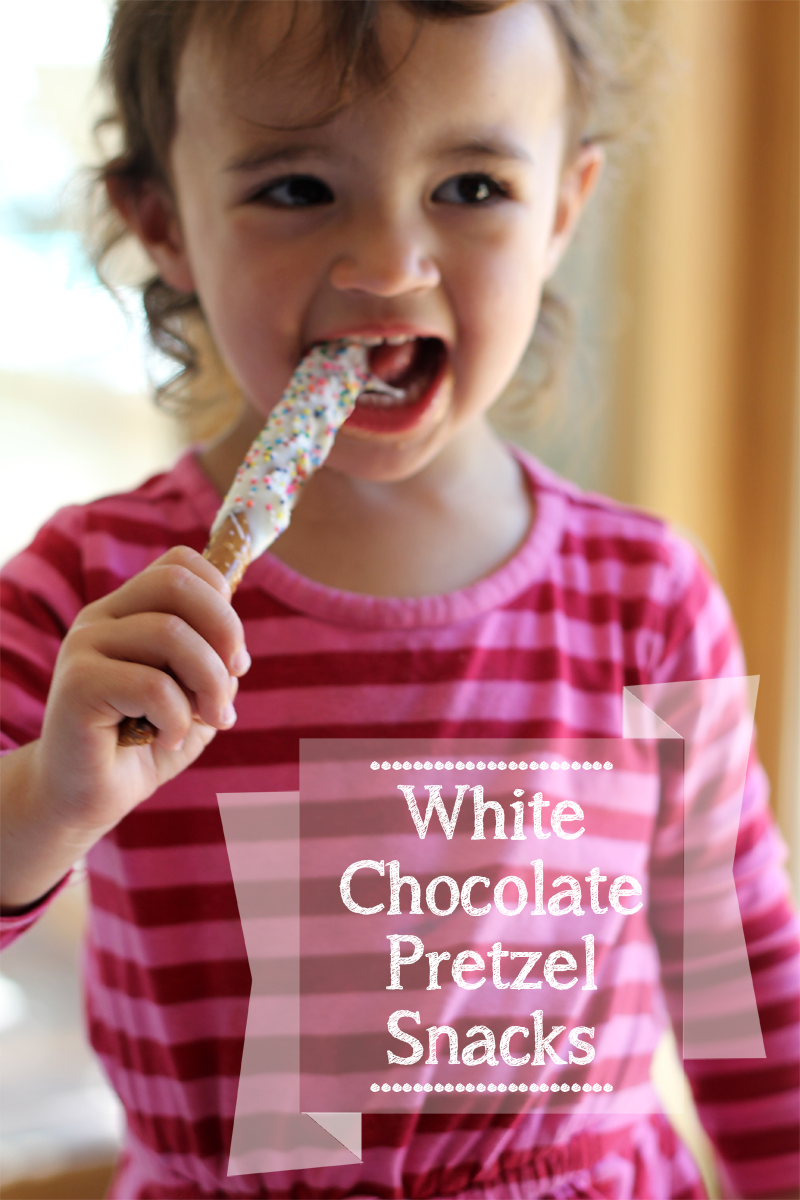 Happy, happy weekend!! 
PS more good eats recipes sorted right here.
Tags:
Baby Shower
,
Birthday
,
Bridal Shower
,
Desserts
,
DIY
,
Kids Party
,
Parties & Entertaining
,
Recipes
,
Tutorial
,
white
Posted in
Handmade Gifts
,
Recipes
|
4 Comments »