May 9, 2013
I have a fun project to share with you today!
I've been on the hunt for a neat centerpiece (to either DIY or buy) for the big outdoor table that Kevin built on our new deck and am so happy with how this oversized planter's box project has turned out. My favorite might be the pops of color in the form of five added geometric hexagons.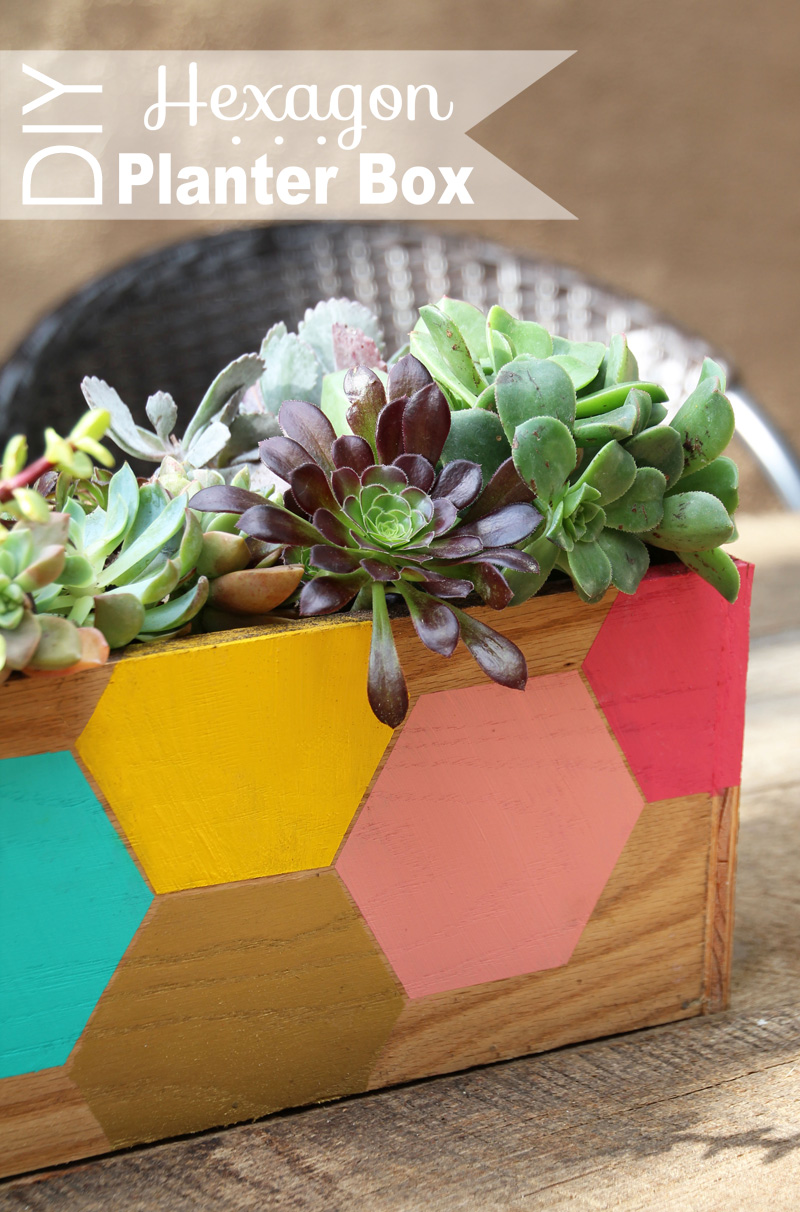 Succulents and I get along really well, and they look so pretty all together in one large container! I've been wanting to play with them more in our garden in unique ways, maybe even designing a succulent wall along the back bbq area.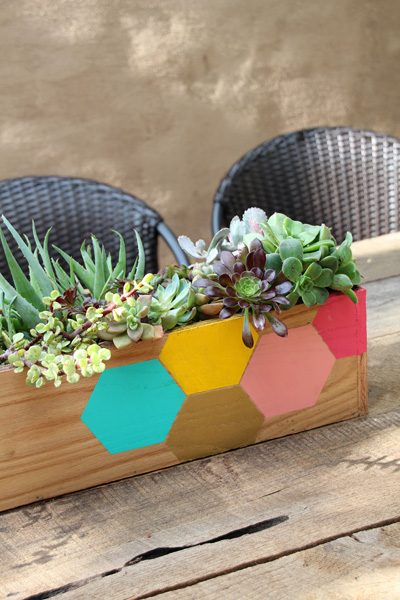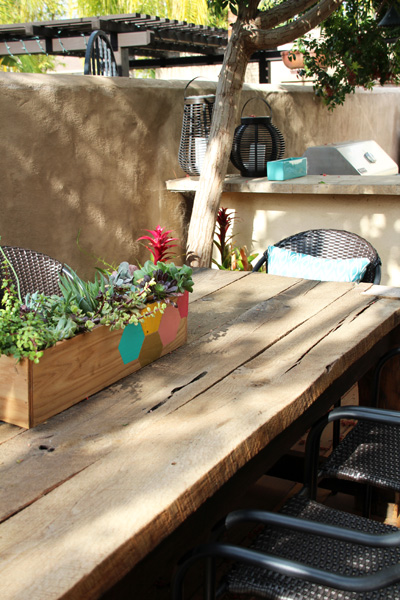 The hexagon pattern wraps over the top edges of the box and along one corner as well, I love the symmetrical pattern and how the painted shapes work together but provide their own little bursts of bright, unexpected color.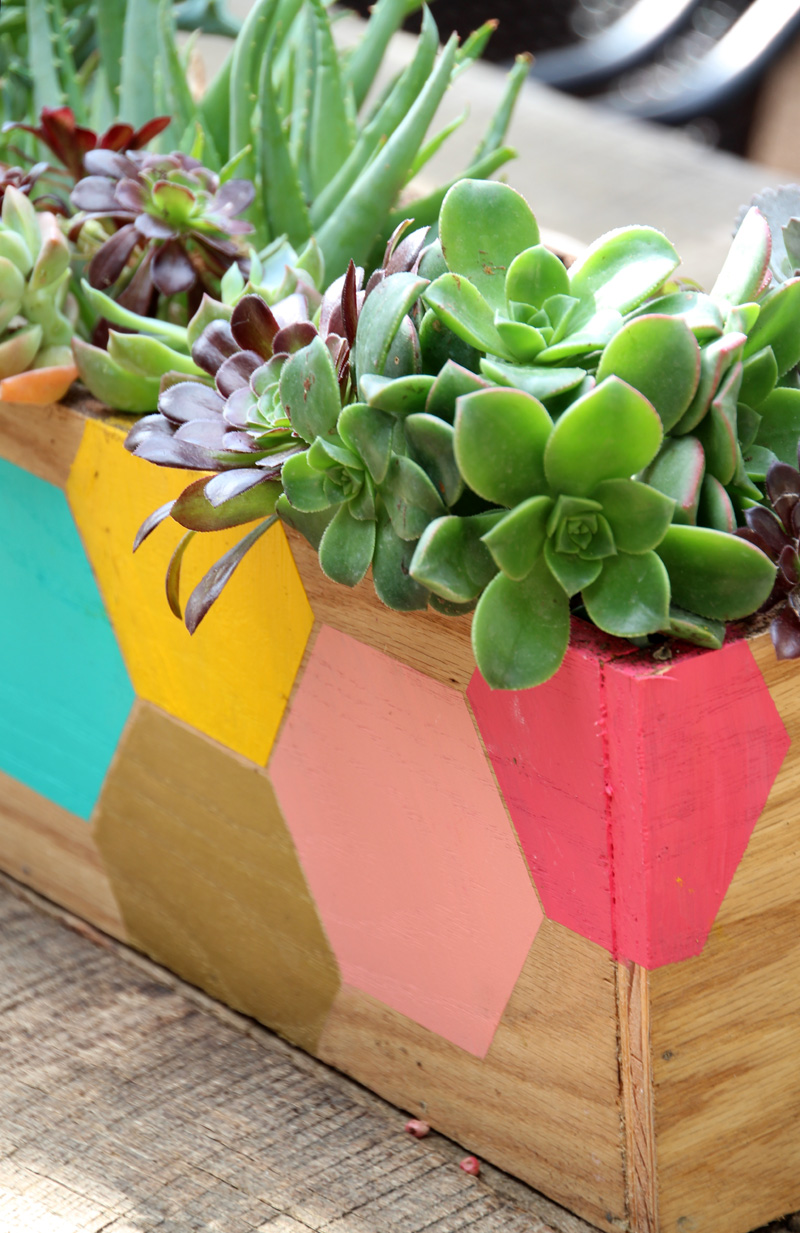 I was actually inspired to finally getting around to finishing this project by Katie and Sherry's Spring Pinterest Challenge:

It provided the inspiration needed to pull my materials together and take a couple of hours to build, stain, paint and plant my new succulent centerpiece.

The goal of the challenge is to take a pinned idea and make it happen – here's my pinned inspiration: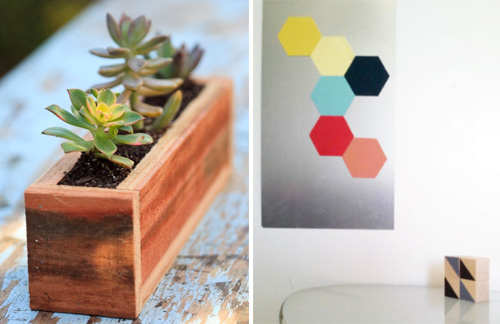 This lovely wooden planter box from The Growing Wall and these neat felt hexagon shapes by Squared Array. I imagined them as potentially very pretty when combined together.
Let's get into the nitty gritty…
The process for building my initial planter was pretty simple. To keep material costs on the low end, I purchased a single piece of 24×28″ plywood from Lowe's and asked the technician to cut the board horizontally into three strips  that were 24×6.5″ in size and the remaining 24×6.5″ piece into two 6.5″ square sides. That used up just about every inch of the wood perfectly (I had just one large rectangle left over).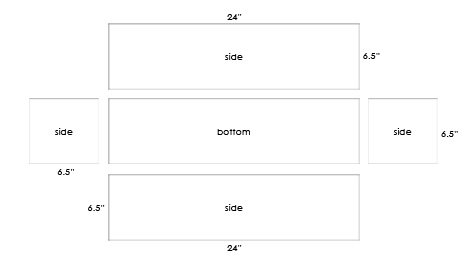 Cutting plywood often causes freying at the edges so if I had needed a more exact cut I might have opted for real (rather than compressed) wood instead. But this worked out perfectly as the cuts were kept to a minimal and the plywood cost just $6! And all of the cuts were made at Lowe's so I didn't have to bring the board home, pull out the table saw and add that extra step to the process.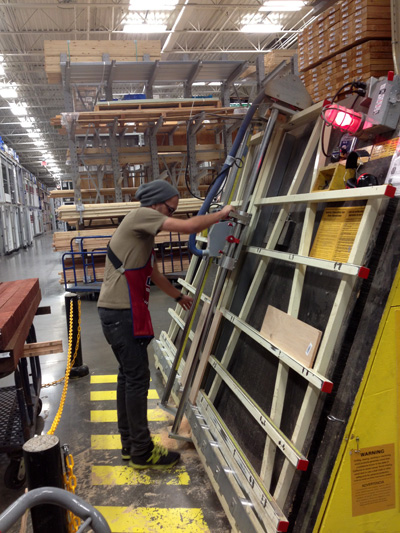 Thanks, Lowe's man.
To nail the box together I used small tack nails that I had on hand.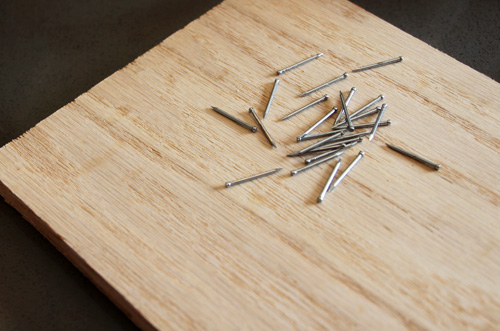 As well as my trusty floral hammer! No need to dig through the garage and pull out a massive hammer from the tool chest, I really love having my smaller-than-average tools in my office and waiting for everyday use.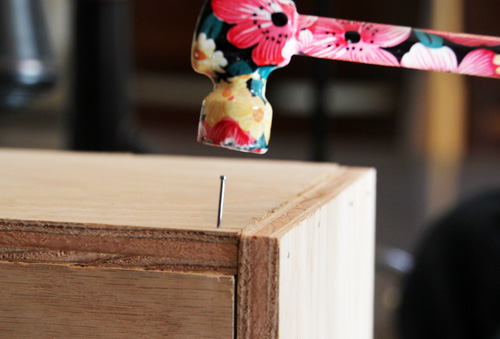 I placed a nail every 3″ or so along all edges of the box that met with another edge. 32 nails and one finger later, and the planter box was assembled.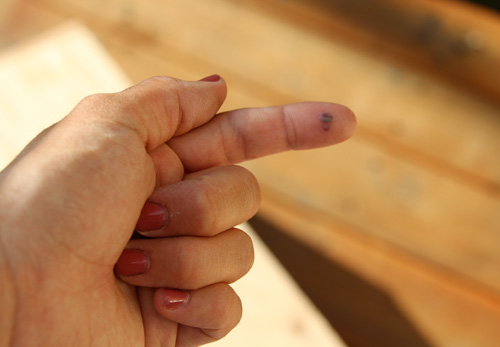 To hide the silver tops of the nails, I used a stainable wood filer that we had on hand (but I would say that this step is optional).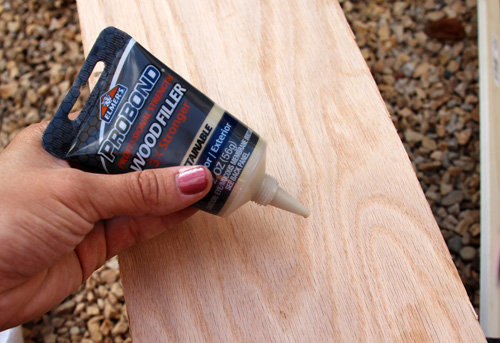 And to remove any pesky store barcode stickers (why do they make them actual stickers??), a little Goo Gone.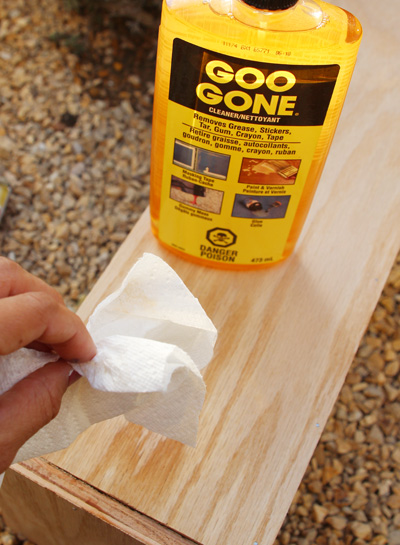 We have a decently sized stain collection from various projects in our garage so I chose from two of the lighter finishes. I ended up using both the "ash" and "oak" (oak first followed by a quick layering of ash) to give the box a slightly birchy, slightly weathered look.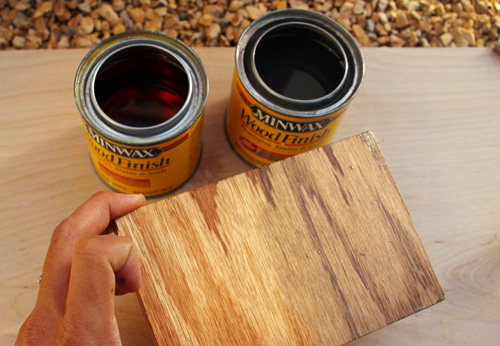 With the glare of the light it's hard to see the finished stain coat here, but the coloring came out just as I had hoped.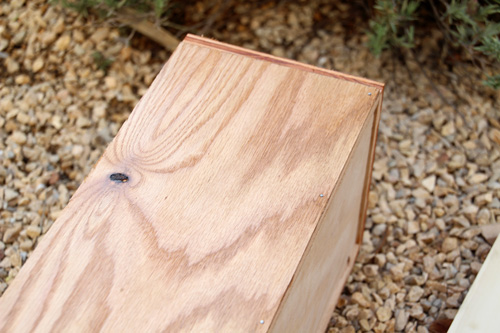 I stained the first few inches of the inside of the box as well, the rest will be filled with soil and will be pretty much unnoticeable.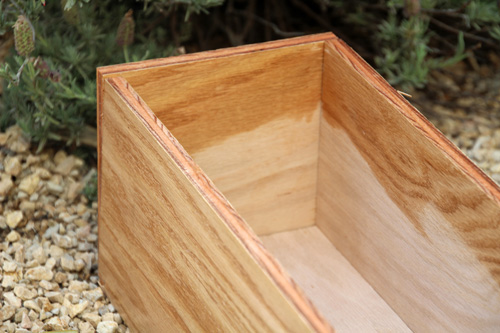 To make my hexagon painted shapes, I printed out a basic hexagon outline (using the Illustrator shapes feature) on to cardstock. Feel free to download my copy here. Laying out the cut out shapes in various formations helped me to come up with a final pattern.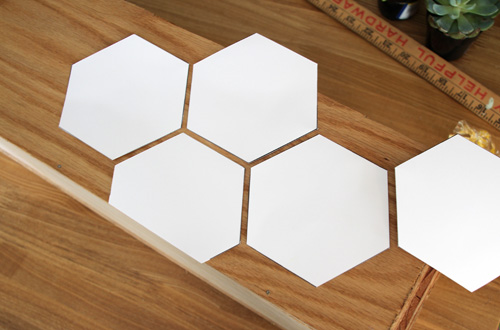 Using that pattern as my template, I taped out the various paintable hexagons one at a time.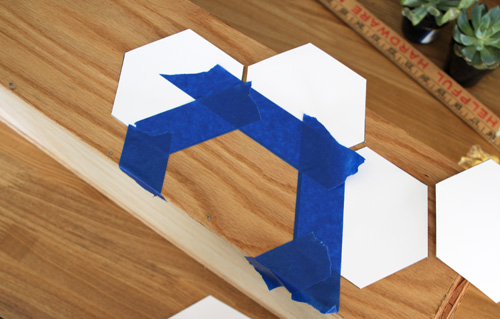 And slowly filled in the taped off areas with various colors. You can see that I left a sliver of wood showing between each shape, I love that little detail.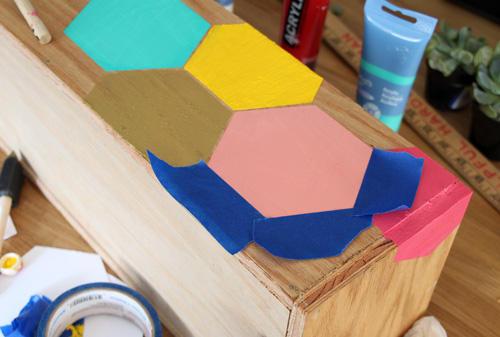 Press down solidly on those edges to prevent any under tape bleeding! And as soon as you've applied the paint to the wood, pull up that tape right away for a flaw free line.
Next up was planting. I found it was cheaper to purchase most of my succulents in one large prearranged plastic round planter from Lowe's (that I broke apart and replanted), then supplemented with littler containers and cactus from our garden.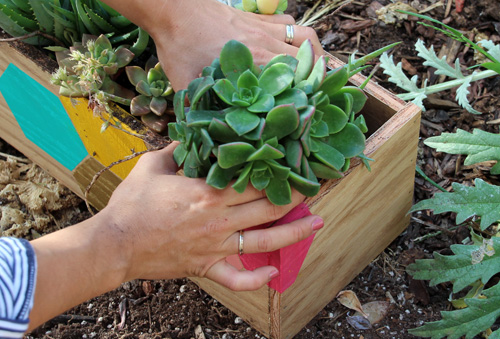 Finished!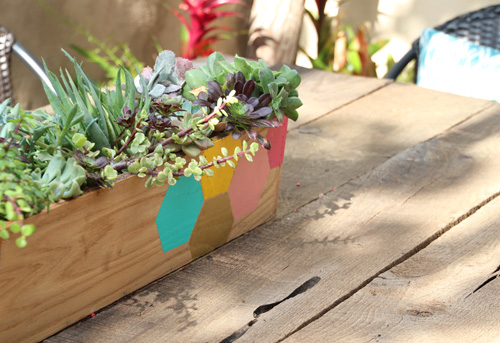 A new, pretty centerpiece that is just the right size for our 12 person table. This will look great in the summer for outdoor picnics and parties – I'm picturing a pretty table set in whites and navy blues, or even pinks and mint greens to compliment the colors of the planter box.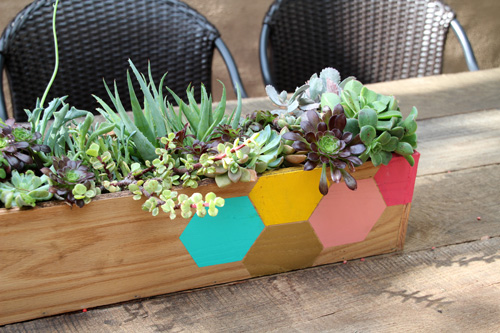 The hexagon shapes are definitely my favorite part.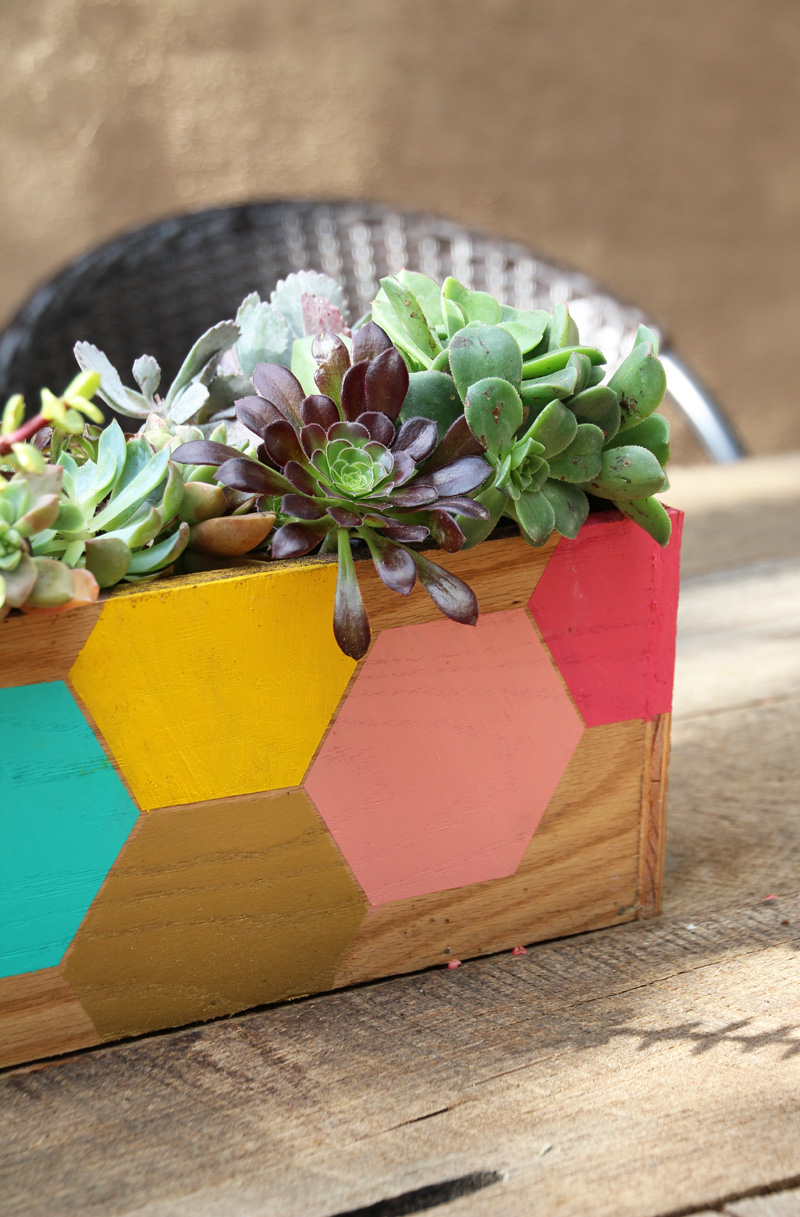 I will be linking this project up with the four hosts of this season's challenge: Katie, Sherry, Emily and Renee. Check out all of the great projects!!
Here's a link to my previous Pinterest Challenge projects (including the fireplace facade that has an exciting announcement to make soon, an ombre step stool for Liv, faux gold mercury glass, a chevron cloth napkin project, a painter's tape stenciled hallway and so many more fun ideas…).
Tags:
Accessories
,
Crafty Solutions
,
Decorating
,
DIY
,
Gold
,
Home
,
Paint
,
Patterns & Color
,
Pink
,
Pinterest Challenge
,
Teal
,
Turquoise
,
Tutorial
,
white
,
Yellow
Posted in
Construction
,
Crafty Solutions
,
DIY
,
Downloadables
,
Favorites
,
Gardening
,
Handmade Gifts
,
Home
,
Our Yard
,
Renovating Adventures
|
6 Comments »
February 27, 2013
Six ish months ago we had to turn the gas off in our fireplace… which was such a downer as there's nothing more amazing than flipping that little gas switch and watching a beautiful, blazing fire set the mood for your living room. Perfect for chilly nights that call for family games on the living room rug or for a late night Netflix. But alas, this is an older home with old fireplace issues and we had to switch her off.
Hopefully one day she'll blaze again.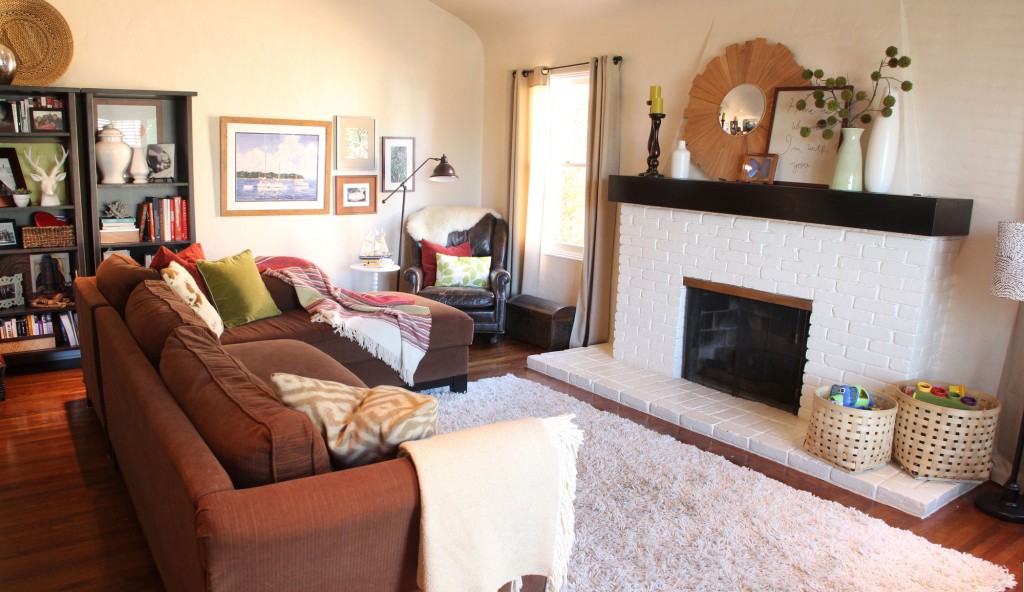 Until that day it's time to turn the eye-sore innards of this old fireplace (black bricks, metal curtain and goldish top plate and all) into a prettier focal point for the room. Enter Pinterest Challenge, Winter 2013.
I love these little challenges because they provide the motivation to cross a big project off of the massive to-do list, and usually I can justify choosing a project that I more love and want to complete, and less of one I must do because it's next on the priority list. Here are a few past projects that we've tackled around here, including painter's tape wallpaper, gold chevron napkins and an ombre stool for Liv (one of my favorites) among others.

With a little motivation, a week to track down materials and a great inspiration picture, I had an idea of where to start.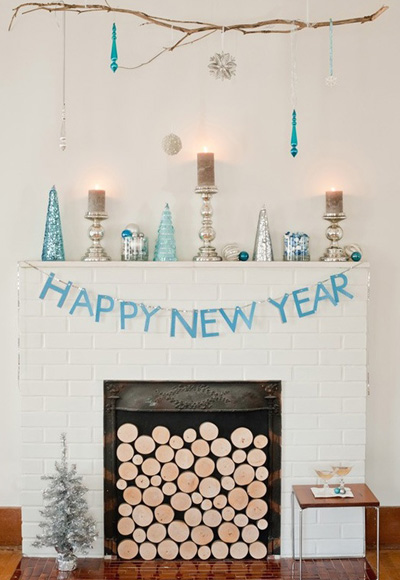 Oooo I love the above image! What a great way to utilize the empty space in a fireplace while still keeping a room cozy and comfortable (fireplaces and stacked wood have a way of doing that…).
Our finished project… drumroll…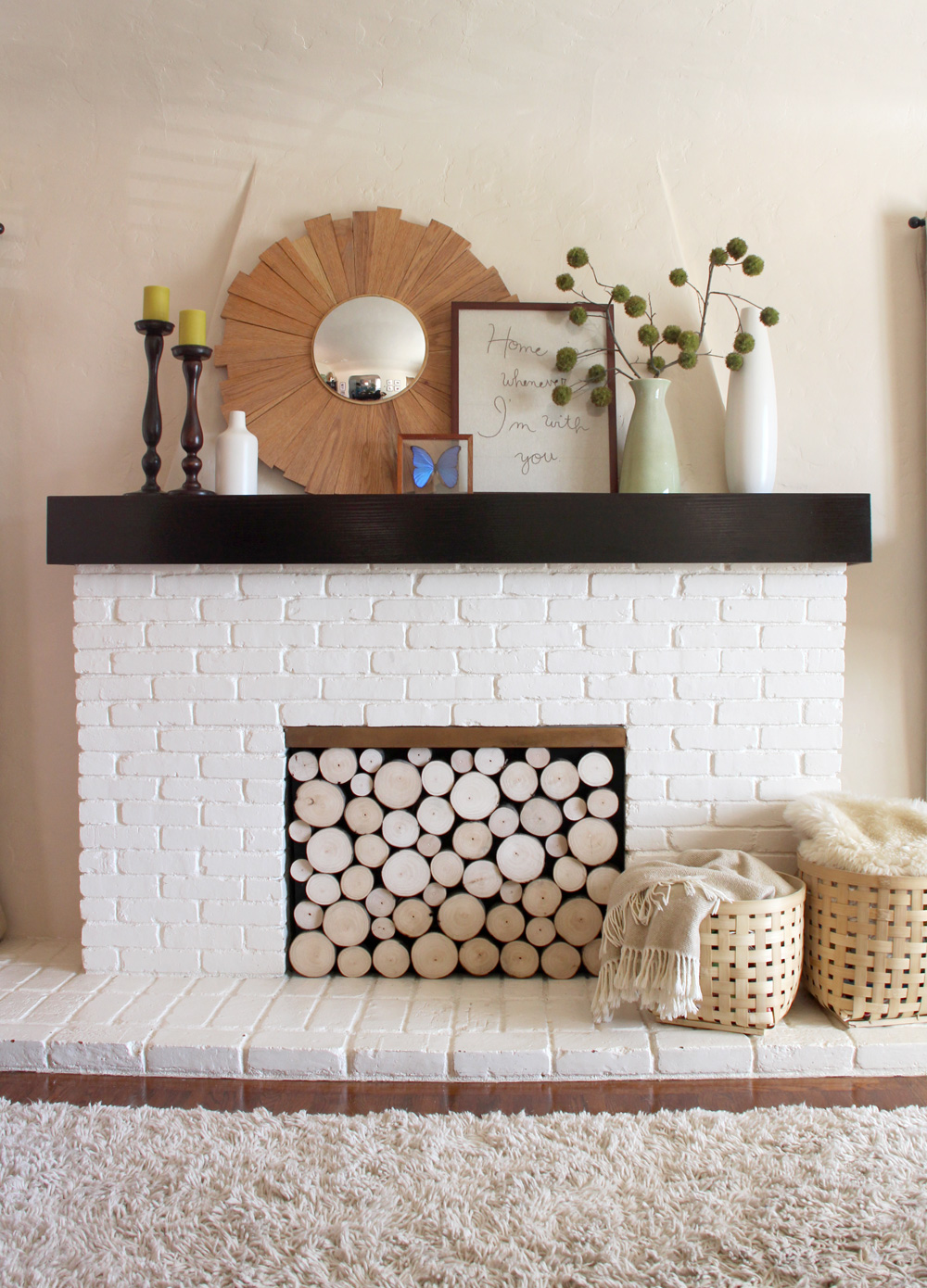 I would be very happy if you thought we went and stacked a bunch of logs in our fireplace and called it a project! But I promise it was much more than that. The goal here was to build a faux log stack facade that we could remove when we were ready to use the actual fireplace, and replace the next day once the fireplace was cool again.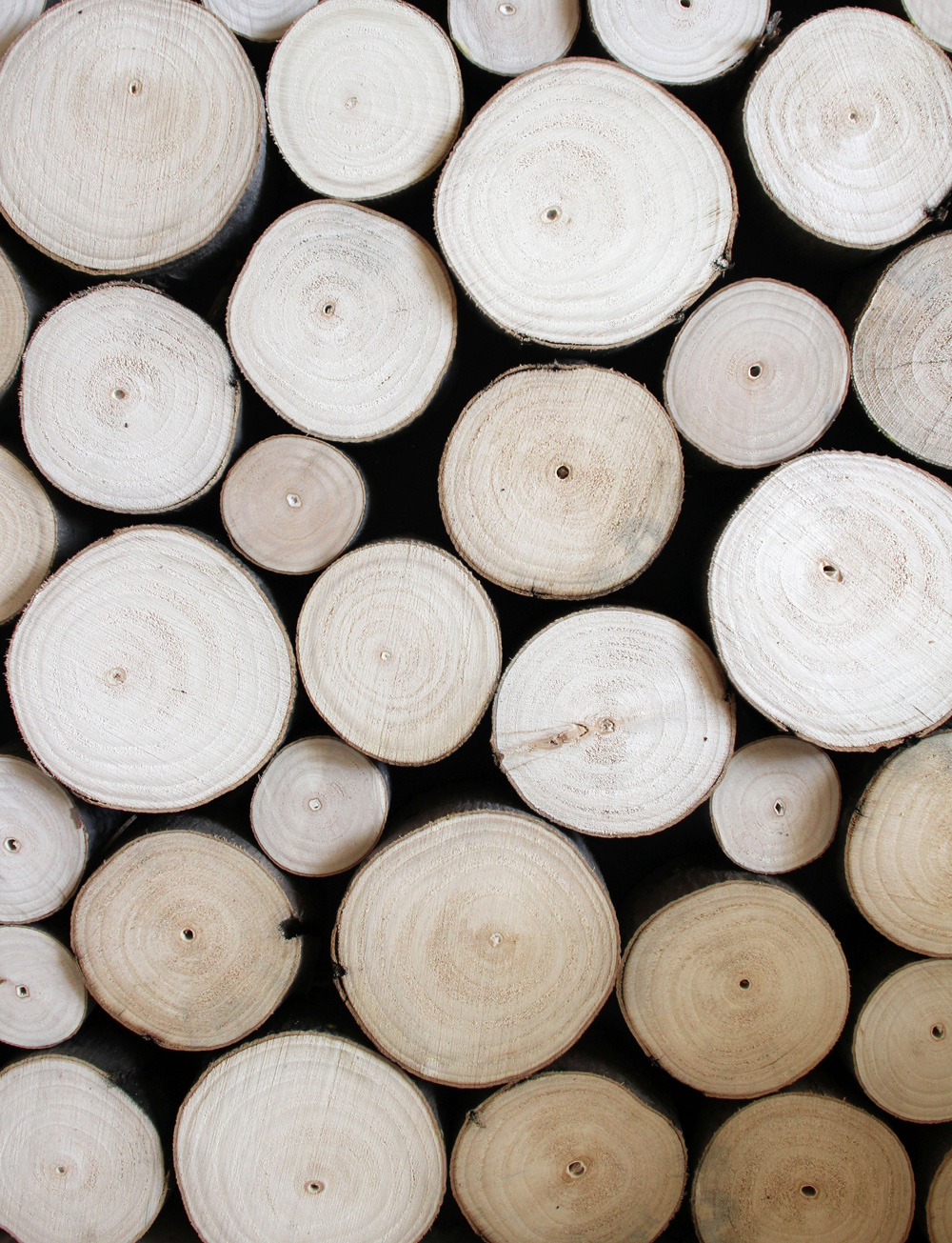 The hope was that the screen would give the depth and perception of a a bunch of stacked wood, but really it would be just a few inches thick and somewhat easy to pop in and out.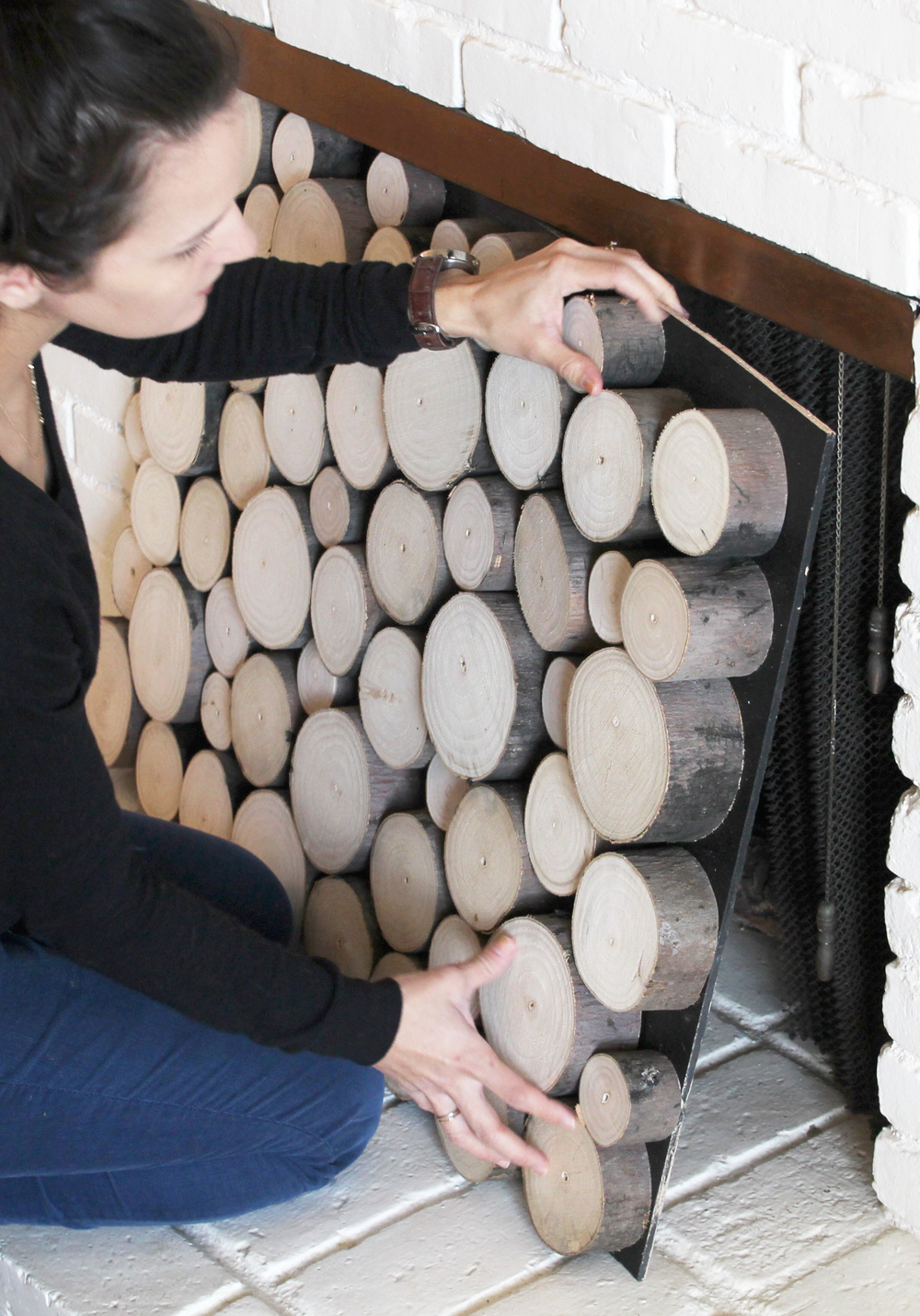 What do you think? Are we fooling anyone?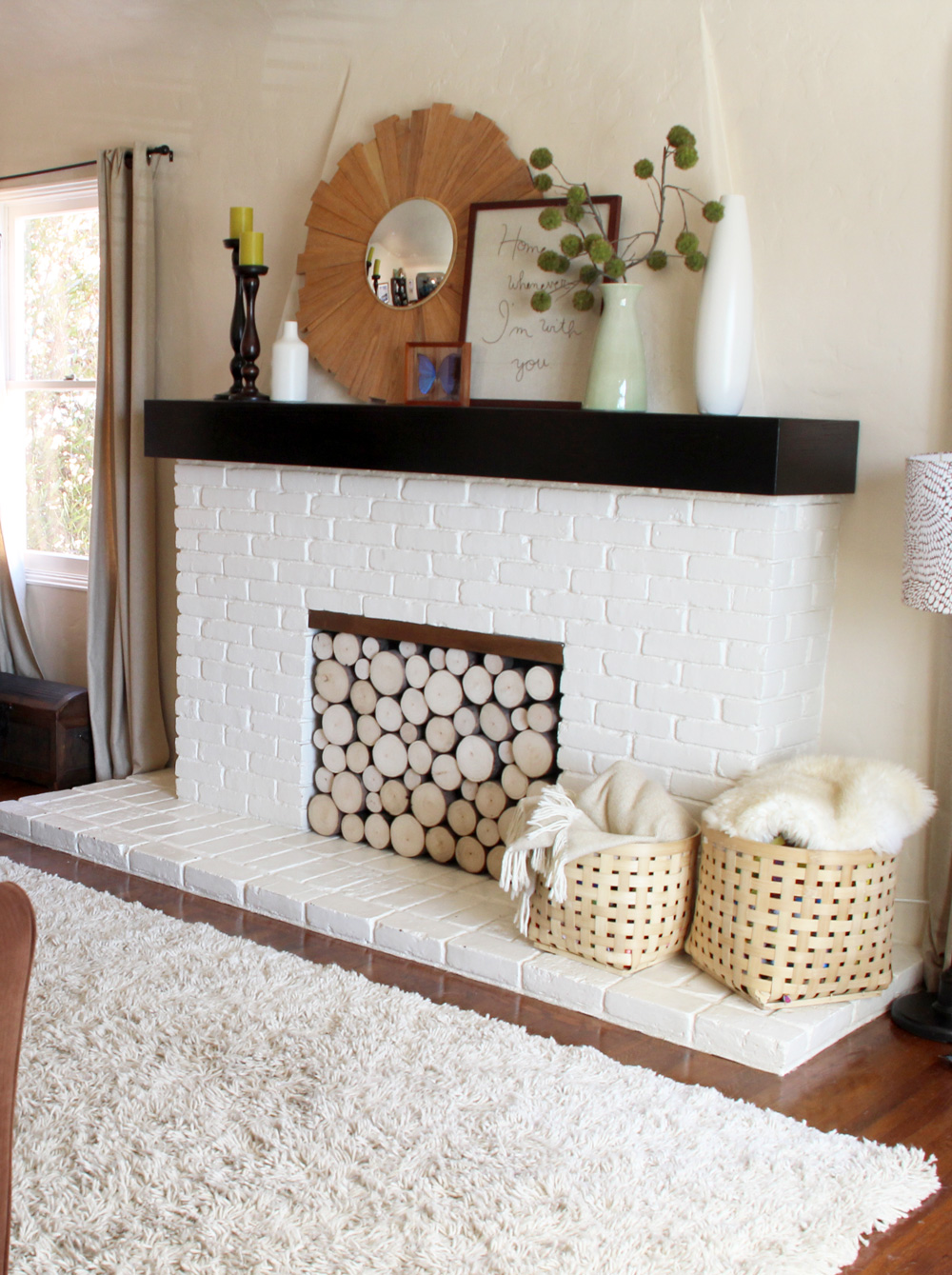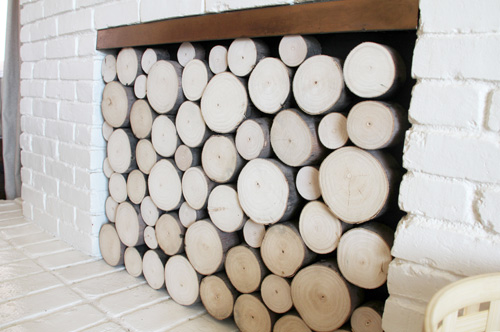 Now on to building the screen!
*******************************************************************************
Fireplace Faux Wood Stack Facade
m
Materials: ~50 variously sized log slices, plywood cut to the shape of your fireplace opening, black matte paint, wood glue (or nail gun) 
I ran into the first big road block while tracking down the actual logs. You'd think that this would be fairly easy… but turns out smaller logs (unchopped) in lighter wood colors (such as birch rather than oak or redwood) are not always readily available in these desert parts of San Diego. Who would have guessed.
I really lucked out when a friend of ours suggested eucalyptus and then found a huge pile of firewood for the taking! And he generously handed over variously sized logs for me to include in the project (thanks, Dave). Other resources that might be useful? Craigslist and Etsy (turns out you can even purchase sliced logs for the right price).
Kevin chopped up my logs into 3″ slices and I began assembling my faux stacked wood.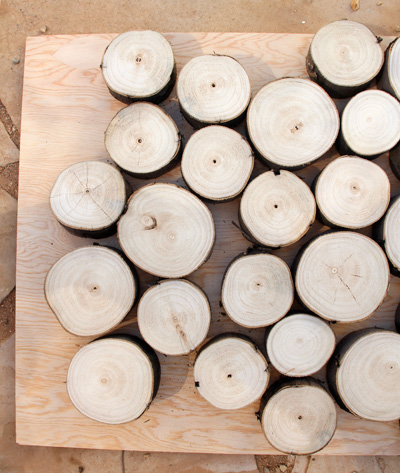 The backing for our fireplace screen is a piece of plywood measured, cut to size and painted black.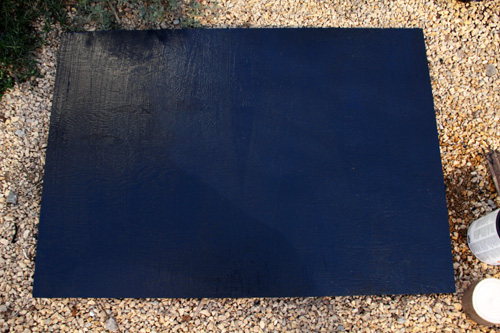 I considered spray painting it but we had only a satin finish in the paint closet, so I used up a bit of leftover chalkboard paint that we had on hand (from this and this project) to achieve a more matte finish (the above is still wet, but once this paint dried it was more than perfect).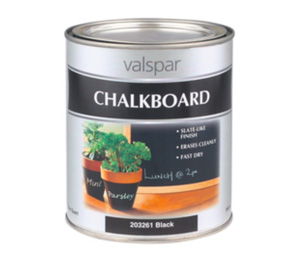 Our nail gun is out on loan at the moment or I would have simply lined up my log slices, laid the backing over the top and fired away to secure the slices to the backing and to keep the logs from moving, but instead I lathered each slice individually with a thin coat of wood glue and allowed the entire project to dry overnight (that stuff is tough). When we get the nail gun back I'll add extra reinforcements to ensure that none of these logs come sliding down, especially with toddlers at play.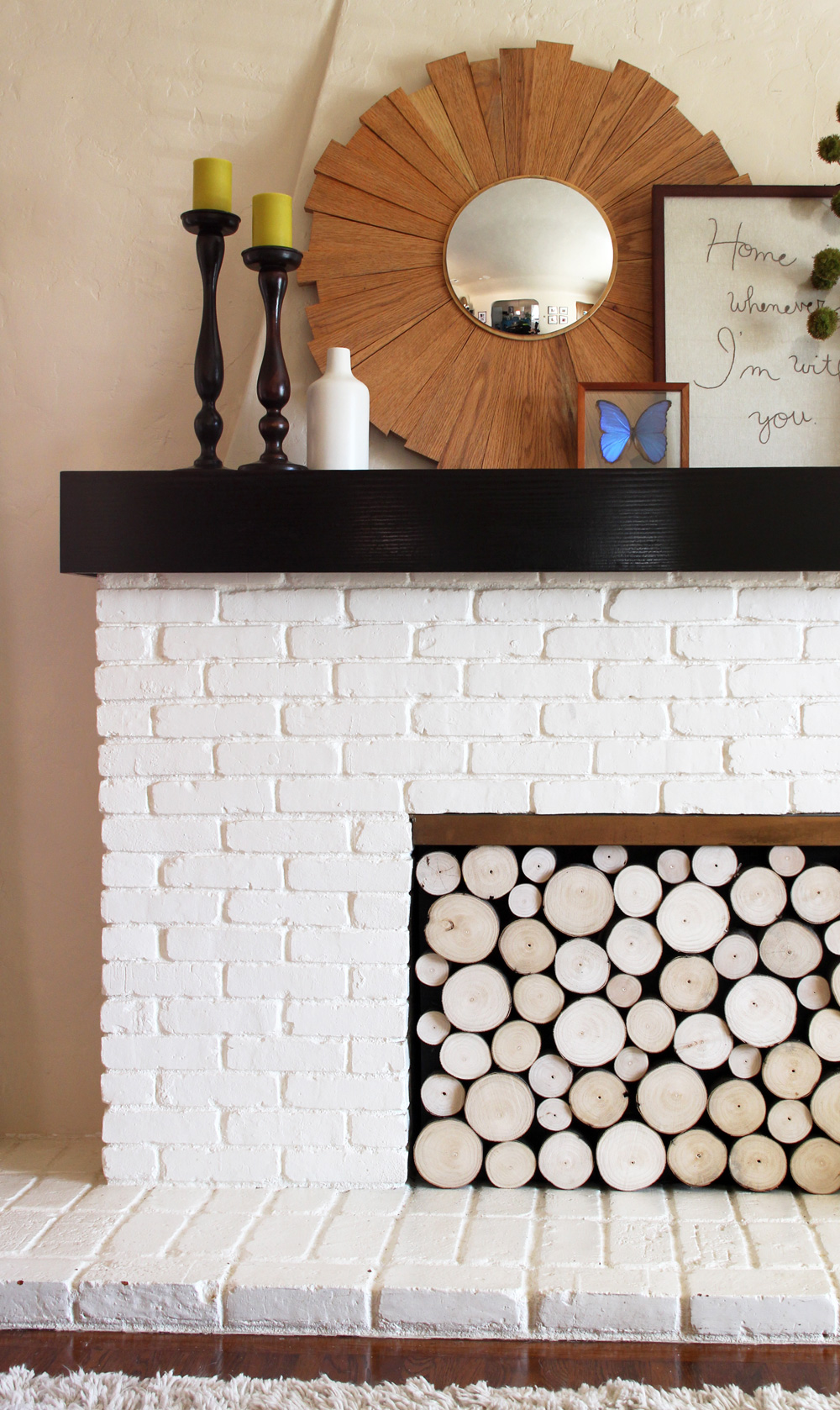 I opted for a 3″ depth on the log slices (rather than 1/2″ or something easier to manage/less heavy) so that they would add more depth to the fireplace and (hopefully) make the black backing a bit more invisible. In person it's obvious that this is a faux fix to our little fireplace conundrum, but it's a neat faux finish at that! 
Should I paint out that gold top plate a darker, oil rubbed bronze color?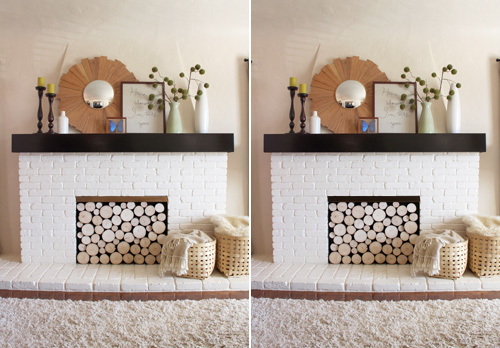 That might be step two to this project, looks kind of nice!
*******************************************************************************
I'm linking this project back to Katie's, Sherry's, Megan's and Michelle's Link Parties today!
PS all Pinterest Challenge projects are sorted here, and all living room projects can be found here.
Tags:
Accessories
,
Before & After
,
Crafty Solutions
,
Decorating
,
DIY
,
Home
,
Living Room
,
Pinterest Challenge
,
Tutorial
,
Winter
Posted in
Crafty Solutions
,
DIY
,
Favorites
,
Home
,
Our Living Room
,
Renovating Adventures
|
21 Comments »
October 30, 2012
I rolled up my sleeves and crossed one big holiday-related project off of my list this past week after a little motivation from Katie and Sherry's seasonal Pinterest Challenge. Too early for Christmas? Maybe, but making this project happen (with all that I have stacked for the big holiday season) was high on my priority list for Liv this year and I'm SO happy to have it ready to go for the holidays! Liv totally digs it, too. Even if we have to box it up and rehang it in about a month.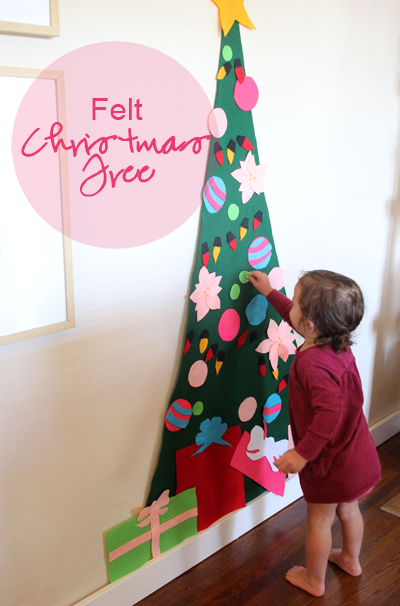 I imagine turning this into an Advent calendar of sorts when Liv is old enough to open up one ornament each day to add to the tree (maybe even ornaments we've made together?), and the concept behind Advent. Maybe I'll try a version this year to… to be determined.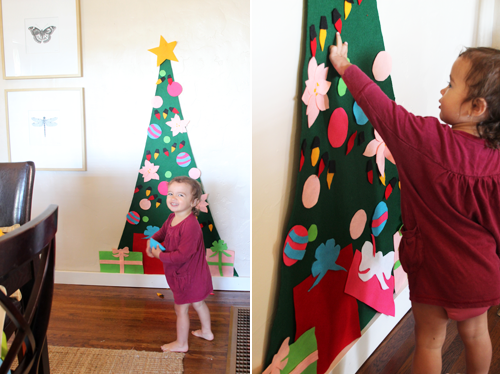 I love me a good deadline to make a project that I would normally push off and off happen. It could be a visit from family, a dinner party or a challenge like this one! Previous Pinterest challenges have produced my ombre stool for Liv, painter's tape wallpaper, DIY gold mercury glass, shimmery chevron napkins (a bit of a womp, womp – these guys didn't wash so well, though they look awfully cool) and the capiz pendant/chandelier that hangs in our office.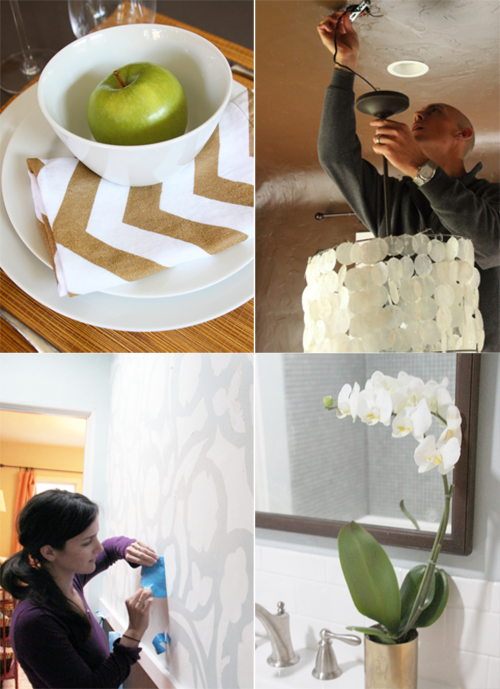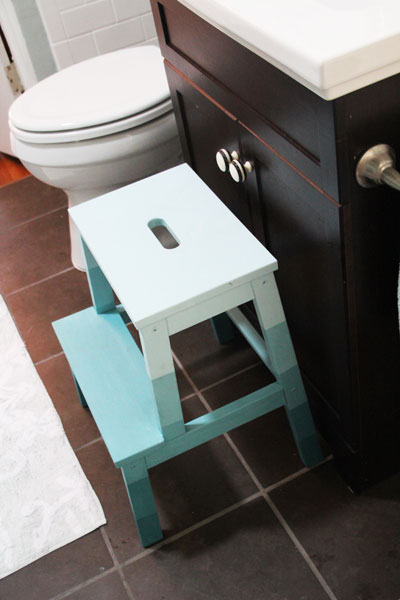 The original inspiration for the felt Christmas tree came from this blogger, who redeveloped her version of a felt tree after being inspired by this blogger.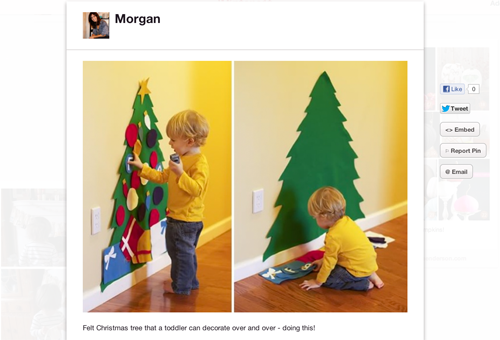 What a neat idea for a toddler? Liv is at that age where she loves to mimic and especially loves to replicate whatever I'm doing on her own – she likes to carry a purse when I have a purse, cook when I'm making dinner, pretend to drive when we get into the car, attempt to apply lipstick in the bathroom mirror…. and the best solution for her to recreate and to copy momma and dadda, without actually cooking or carrying around my purse, is to give her her own version. Hence why this felt tree is genius.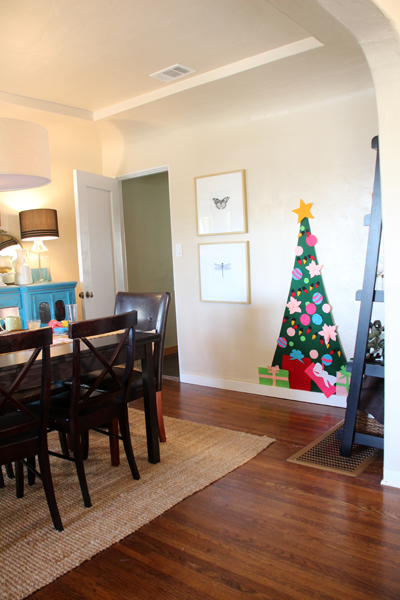 I hope that when it comes time to decorate the 'big' tree, she'll be just as cheery at decorating her own version. And perhaps not try and undress or reorganize the real version in the living room?
A few of the ornaments I assembled in advance, like the poinsettia flowers and the striped pink and turquoise bulbs. A little stitch or glue holds these guys together so it's easier for Liv to move the entire decoration. It's wonderful that felt sticks to felt – no adhesives to attach the actual ornaments to the tree.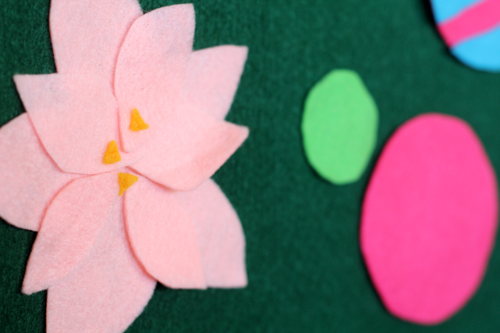 Others I left unglued so that she can play with and rearrange bows and packages and Christmas lights.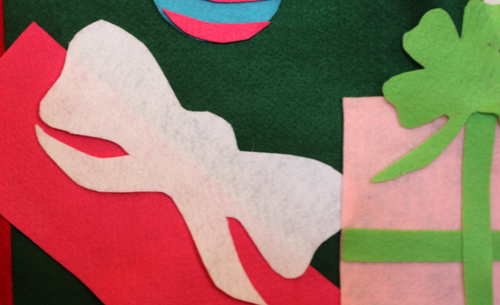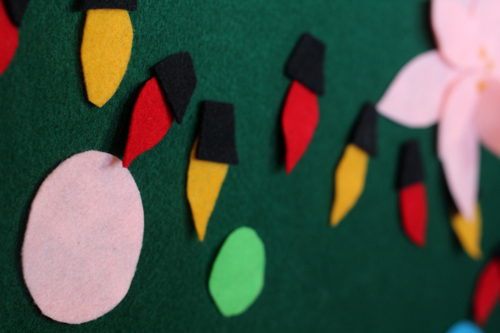 Creating this guy was fairly simple. I way over bought on yards of felt (1.5 of green for the tree, 1/4 each of the various colors) which left me with about $18 worth, this project was probably made with a fourth of that though so you can add this to the extremely budget-friendly category.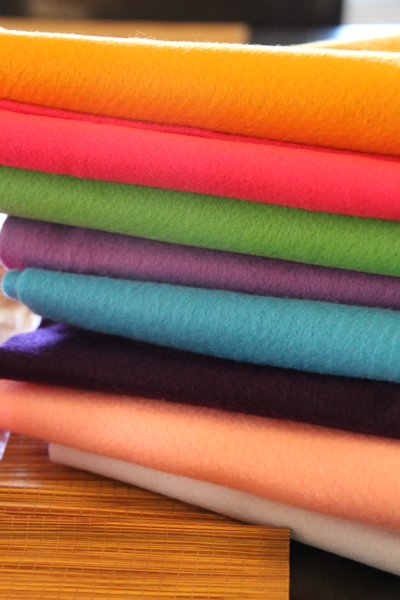 I opted for a modern, basic triangular shape for my little tree and chose the dining room (with a big open space on the wall while our fiddle leaf fig soaks up some sun closer to the window) as its home.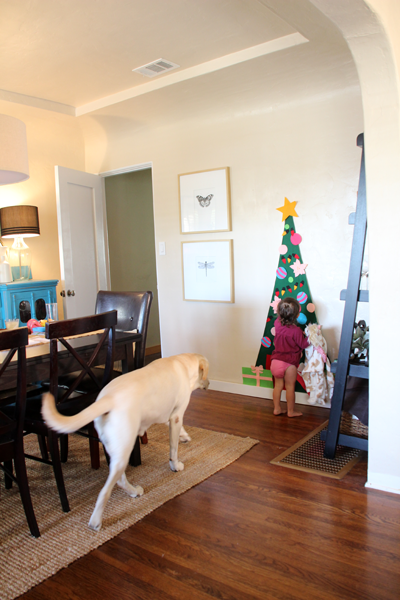 Various votive candle holders and glasses made for the perfect stencil to make my round ornaments, the rest were basically free hand.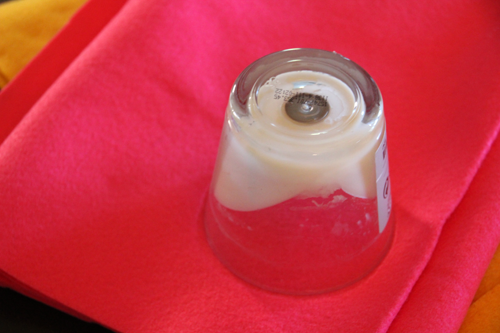 One of the best tips I have for messy projects like this (aka lots of bits of felt everywhere) is to use the ol' Rachel Ray scrap bucket rule. I love this! instead of leaving your scraps (of food on the prep table, in Rachel's case) out, collect them all in a bowl for the trash or composting pile. In our case, a felt scrap bowl. As we cut out ornaments, we immediately pushed all of the extra bits and pieces from the table into the bowl leaving us with a cleaner workspace.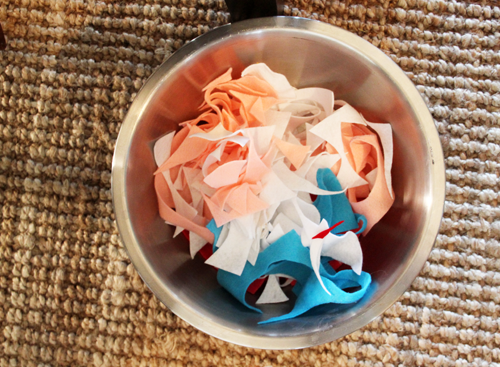 Which resulted in faster ornament making!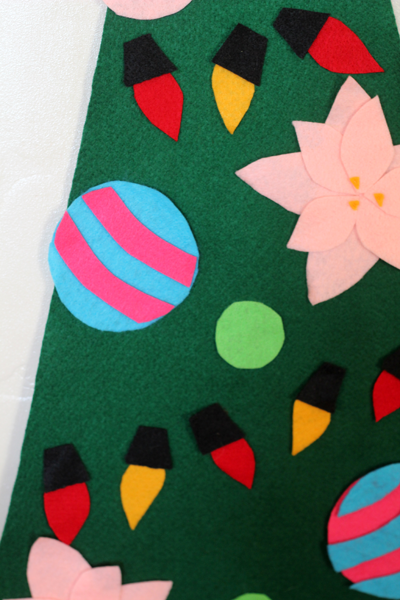 I'm imagining the felt board possibilities… We can keep rearranging and updating this tree through December, Liv has already stripped it down a few times to start again. What next? An ocean scene? or maybe a play kitchen out of felt?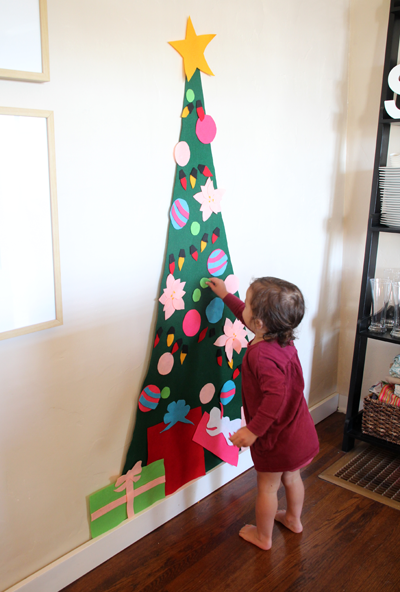 And as of tomorrow, back to Halloween. Can't wait to show you Liv's homemade costume and my plans for our annual Halloween dinner party. PS I owe you all updates on our recent travel adventures, painting of the house, new deck (new side yard!) and so much more. Forgive me, I'm so behind.
Happy Pinterest pinning! If you participated in the challenge, I'd love to see your project!
Tags:
Christmas
,
Crafty Solutions
,
Decorating
,
DIY
,
Green
,
Kid's Crafts
,
Pinterest Challenge
,
Tutorial
Posted in
Crafty Solutions
,
DIY
,
Home
,
Olivia
|
15 Comments »