February 14, 2013
***Update: I've just uploaded Anna Kate's style boards from yesterday into the Wardrobe Style Board Gallery – ohhhh computer issues – sorry for the delay! And I've labeled her previous maternity boards as 'Pregnancy Style Boards' so now they're easy to find for us moms-to-be***
Liv and I combined her birthday thank you notes with Valentine's Day cards this year and I think it might be our new norm. It's a good reason to spend some fun time crafting and creating (she loves when she can participate with stamping or punching holes) and we save stamps by sending out Valentine's Day cards plus thank you notes in one (though I'm probably wayyy past the 'thank you card' due date etiquette at a month late…). We sent out quite a few and even Olivia's sitter helped us cut out a ton of the cute monsters inside of the cards.
This idea has been done before (see here and here as two examples), but it was too cute to pass up!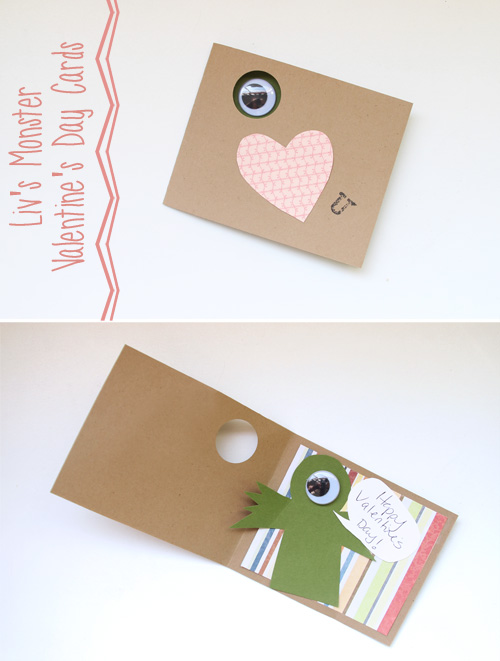 Perfect for our parents and grandparents as a way to say 'I Love U' and 'Thank You!' in one. We sent these all out with our Kisses Treat Bags - though being the procrastinators that we are they might arrive a day or two late.
The outside of the card consists of a cut out heart, a stamped 'U' and a simple punch (I have used this circular label punch for SO many projects, including these wine glass charms/labels that were featured on HWTM ages ago).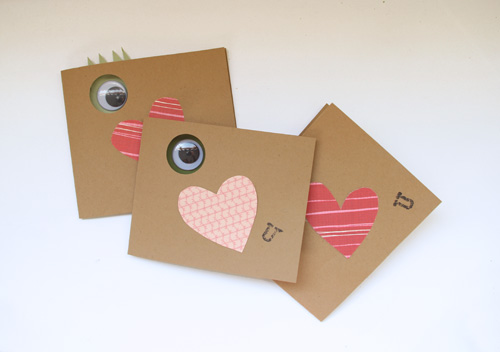 The inside includes our little monster! A green construction paper monster with a googly eye and brightly colored paper backing. Plus Liv's message to family and friends.
I asked Liv to add a little of her own crayon art and she was happy to oblige.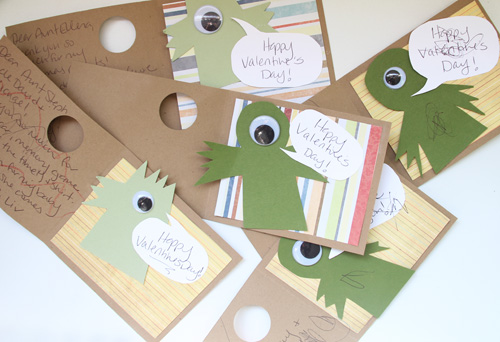 Happy Valentine's Day!
Tags:
Cards
,
DIY
,
Kid's Crafts
,
Paper Crafts
,
Paper Goods
,
Tutorial
,
Valentine's Day
Posted in
Crafty Solutions
,
DIY
,
Family & Friends
,
Holidays
|
2 Comments »
February 11, 2013
***Congrats to Ashley D. on winning the $100 Minted.com giveaway!! Thank you to everyone who entered***
Liv and I made little Valentine's Day treat bags for her grandparents and great grandparents (they were inspired by this version we made last year for Mother's Day with drawings by Liv and taffy), and this time around we filled the little clear bags with Hershey's kisses to officially send 'Bags of Kisses' through the mail.
BUT, before I share this super easy and customizable candy bag, I have to share that we had our little gender reveal party yesterday and it was so much fun! So neat to experience the awesome surprise of what we're having with everyone at the same time!! Caught it on camera so I can share the surprise with you all. But you have to wait just one more day or two while I edit the video! So sorry for the suspense… let me just say I was totally caught off guard!
Okay… back to the cute little baggies

.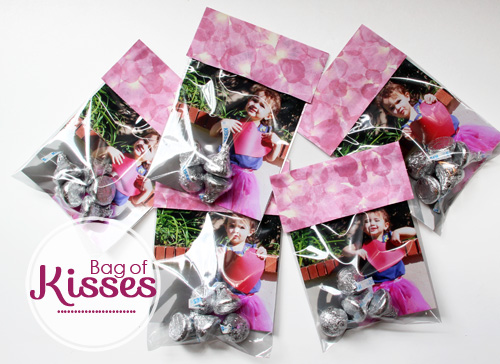 ********************************************************************************************
'Bag of Kisses' Treat Bags
m
Materials: pretty paper, clear treat bags (almost any size will work – I used 5×7 bags for this project and 4×6 bags for today's project), an optional photo or image for the bag, Hershey's kisses, paper cutter, glue/stapler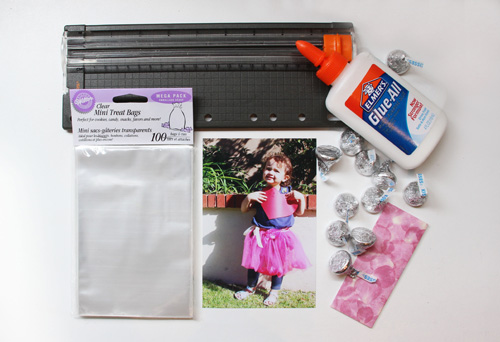 A very quick and simple project to assemble.
First up was Liv's Valentine's Day photo shoot! I actually caught Liv on a day that she was wearing her little tutu (as a 'ballerina' – which rarely happens) and handed her a construction paper heart to play with (I made two which turned out to be the smartest plan because the first was crinkled and torn before I had even pulled out my camera).
Then we shot away!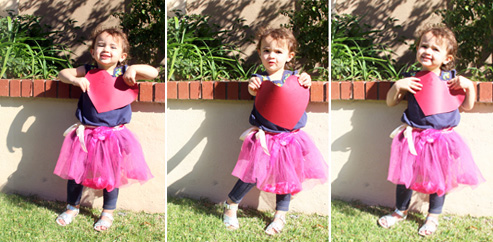 500 pictures later (in about 45 seconds) and Liv was smiling and standing and carrying the heart in the same photo. I love that middle shot – I always have to take a ton, but it's always worth it.
Actually this might be my favorite: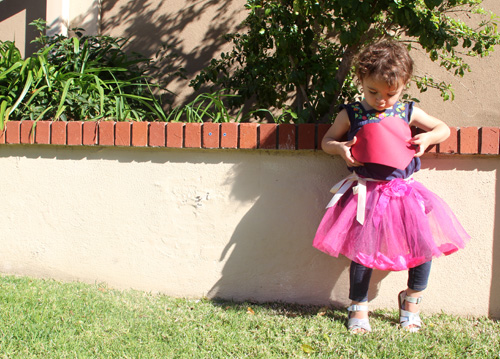 We turned it into the little card that we'd send out with the bags: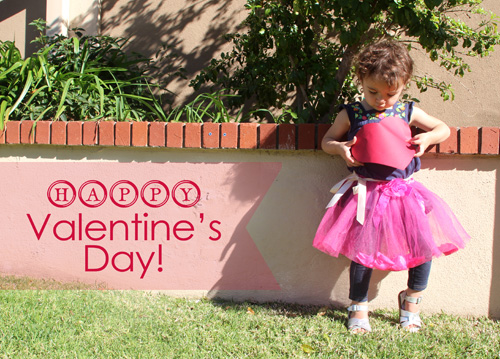 Ahhh and here's Liv last Valentine's Day! One year makes a huge difference.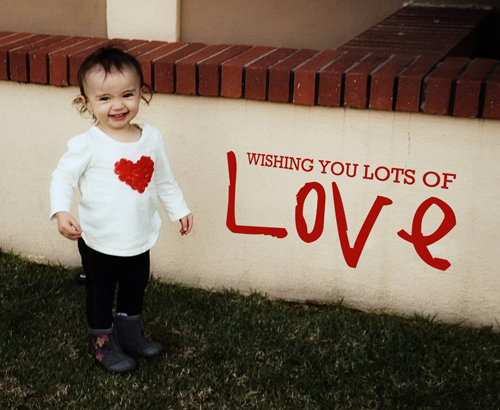 After processing the photos, I ended up cropping both the bag and photo to make the finished bags just a little smaller.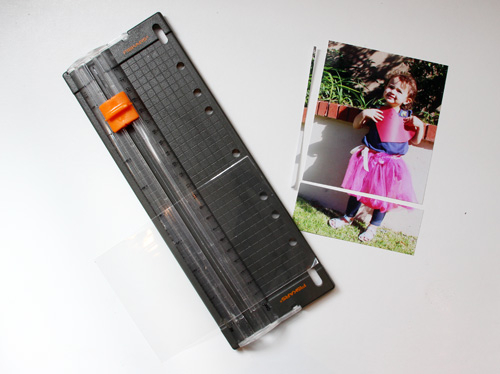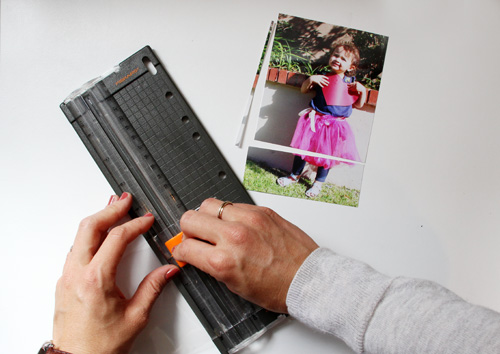 Then into the bag went a handful of kisses and on the top of the bag a cut rectangle of a pretty paper (from the scrapbooking aisle) that was folded in half. You could easily staple the top directly onto the clear bag as well, but I tried something new for a seamless look this time around with glue.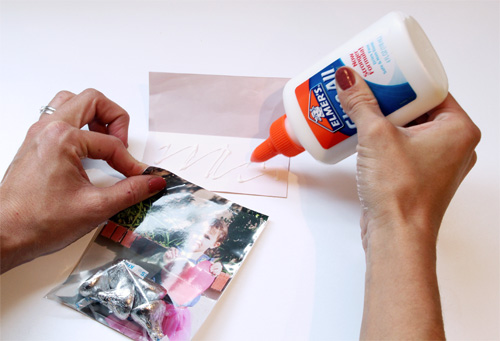 Finished!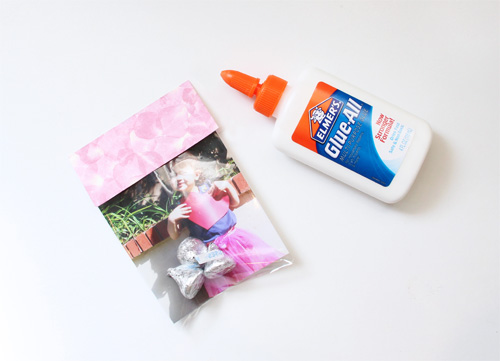 I couldn't decide on which pose I loved best, so I made several of each: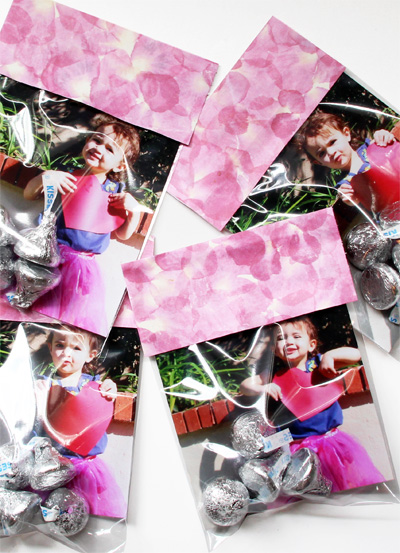 Here's the entire project in one quick collage: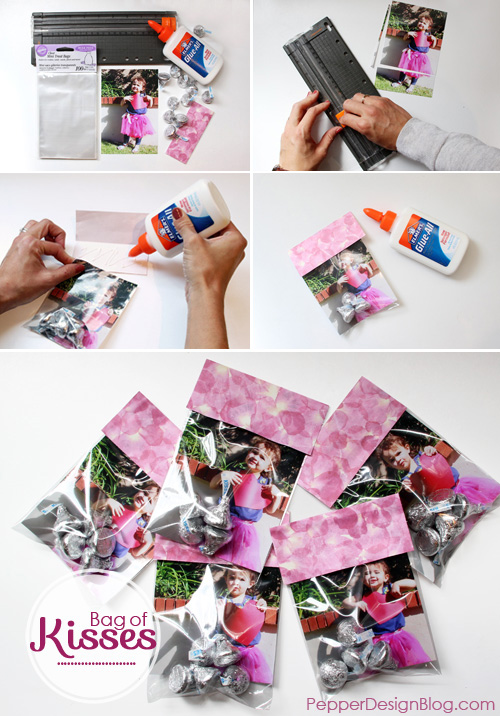 ********************************************************************************************
This is a favorite and easy project in our house, we've made them for Mother's Day (which I referenced above here) but you could use them for parties (they make great favor 'thank you' bags) or as treats for school. You could really add any image (be it a favorite photo, paper, fabric square, etc) as the backdrop or even leave it blank as a clear bag. Use a solid piece of paper at the top to include a little message, too! And we've also filled these with miscellaneous goodies such as confetti or glitter just for added fun.
Valentine's Day is just around the corner! Here's a quick link to search by all heart-day related posts.
Tags:
Crafty Solutions
,
Parties & Entertaining
,
Party Favors
,
Pink
,
Red
,
Tutorial
,
Valentine's Day
Posted in
Crafty Solutions
,
DIY
,
Family & Friends
,
Favorites
,
Handmade Gifts
,
Holidays
,
Olivia
,
Parties & Entertaining
|
6 Comments »
January 28, 2013
This wax paper project is a really fun way to spice up a simple dessert, and perfect for Valentine's Day with a heart shaped cut out like the one I made for this chocolatey gooey treat.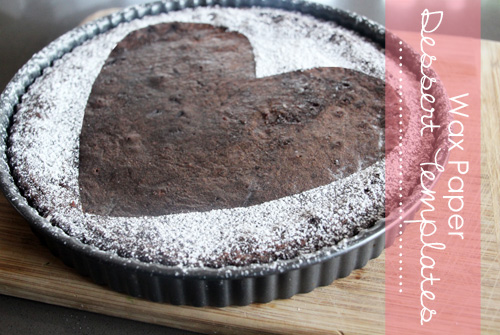 Brownies look so much fancier in a tart pan, no?

Liv and I used wax paper, scissors and powdered sugar to create a little design, and it took us just a few minutes to make these ordinary sheet brownies a little prettier. A heart shape is easy to cut out and perfect for the upcoming holiday, but wax paper is such an easy medium to work with that you could cut out just about any shape, set of initials, numbers for a birthday cake… you name it. And no need to stick to just powdered sugar, colored sprinkles or sugar would make for colorful designs!
I'm thinking this would be especially pretty on a flourless chocolate cake, individual cupcakes, or now that the imagination is spinning, really any dessert with a flat top.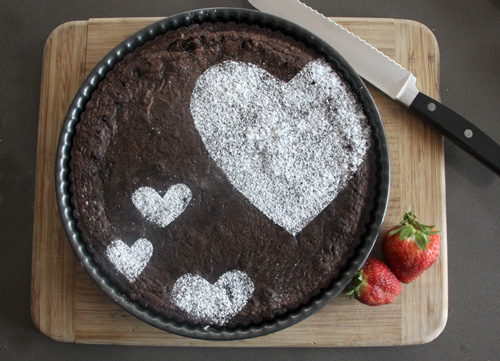 The reverse of the template is equally special, an entirely different effect.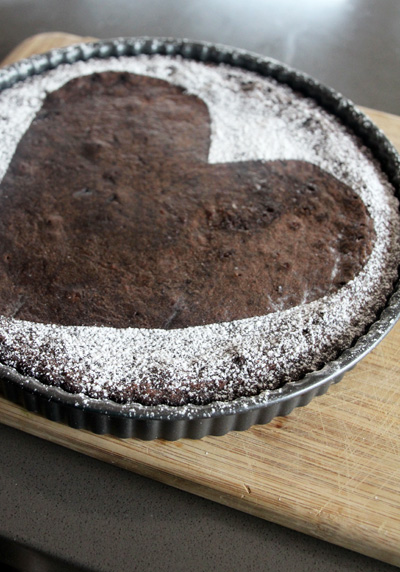 Soooo simple, but let's break it down just for fun

.
******************************************************************************
Wax Paper Dessert Template

a
Materials: wax paper, scissors, dessert, powdered sugar
Bake up your most delicious dessert of choice and let cool (the wax paper will stick to any warm dessert, so completely cool is a must to avoid pulling the top up and off of your baked good).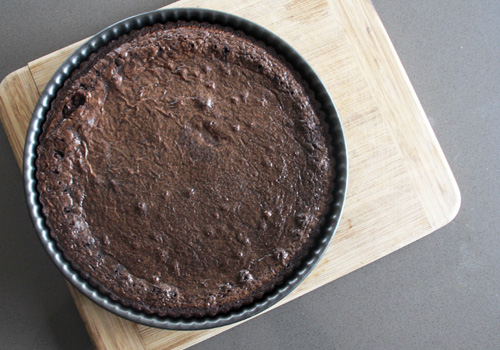 I chose a heart shape because Valentine's Day is just around the corner! And it's super simple to snip out of wax paper (fold the paper in half for an even easier cut).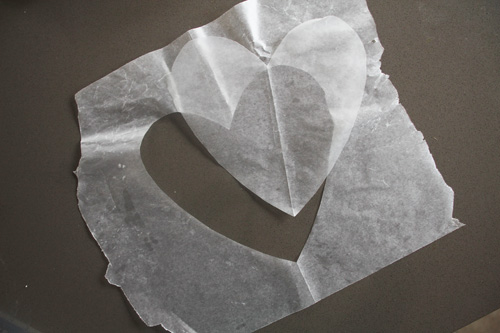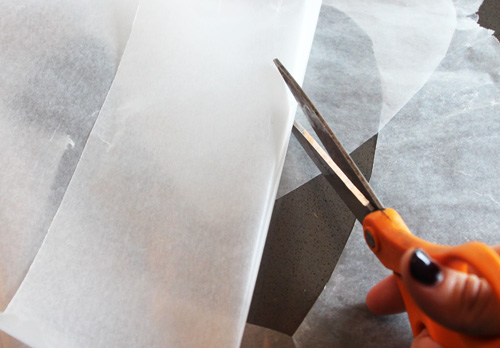 Liv thought the heart shape was cool, too.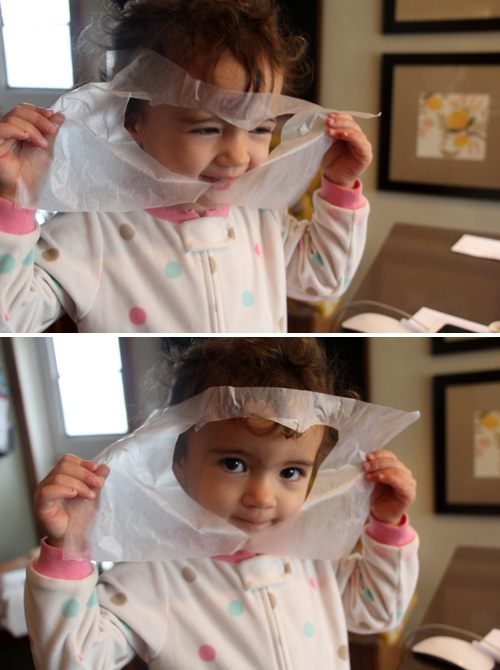 I ended up making several different shapes and sizes for my powdered sugar topping, the more the merrier.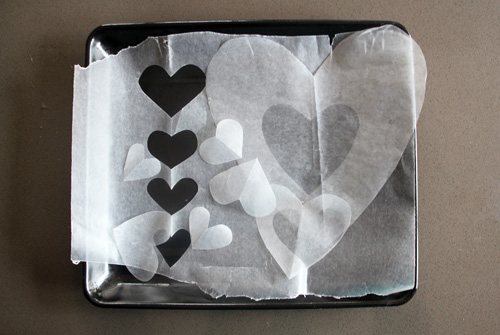 I added my hearts to my dessert in a somewhat random pattern, and filled bits of wax paper into gaping holes that I thought might let powdered sugar through (and where I didn't want it to be).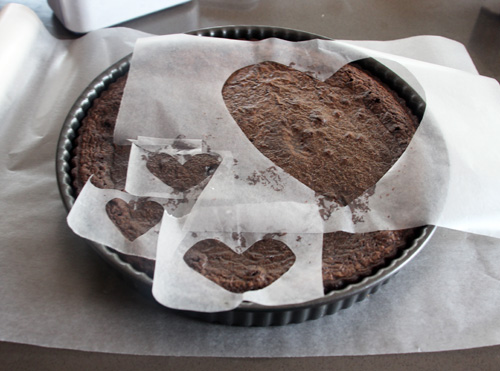 The beauty of wax paper over any other template material (cardstock, vellum, sheet protectors, etc) is that with a little body heat (aka the touch of your fingers), it will lightly adhere to the dessert to create a nice little barrier, but not enough to tear the top.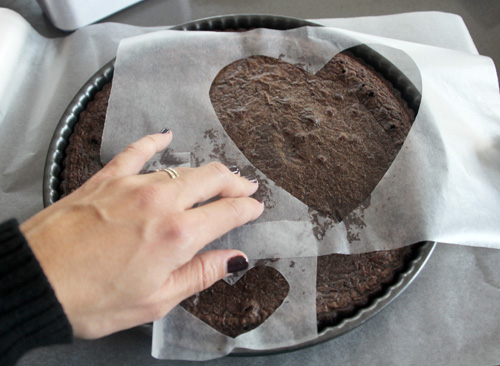 Then sprinkle away!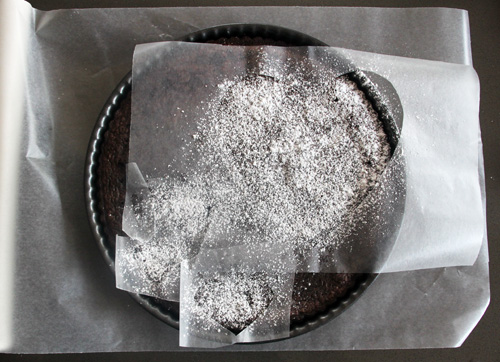 I don't have a fancy powdered sugar dispenser so I just used my good ole tea steeper (what is this called? a tea ball? a tea spoon?), filled it up with powdered sugar and shook. It's nice because it's small and you can control exactly where that sugar ends up.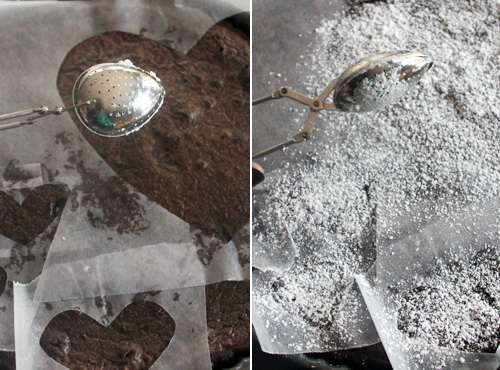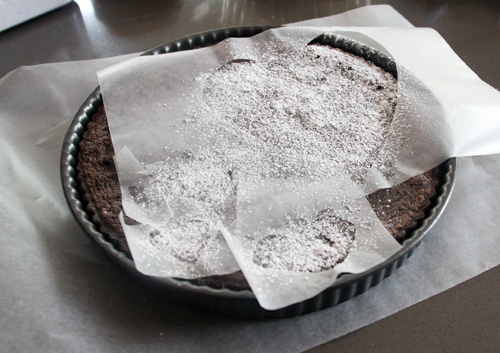 Slowwwwllly peel away your template and voila!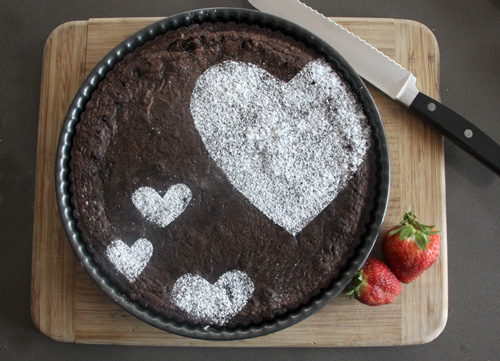 Or use the reverse of your cut outs to create an entirely different look.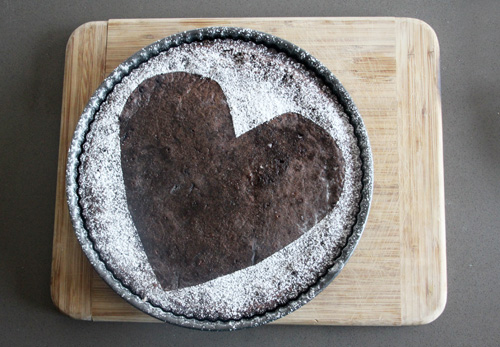 Here's the process in one nice little collage: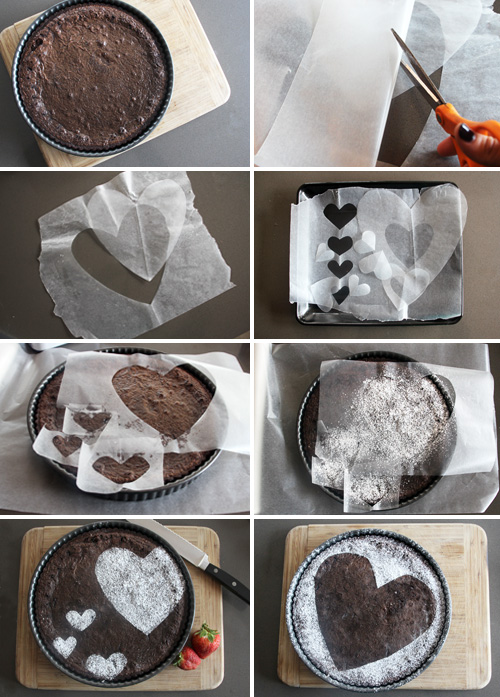 So pretty! Ready for a candlelit dinner and a Valentine's date night…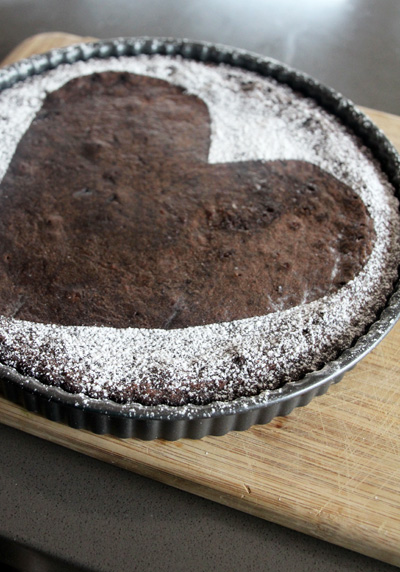 PS More Valentine's Day ideas here and recipes here.
Tags:
Decorating
,
Desserts
,
DIY
,
Parties & Entertaining
,
Recipes
,
Tutorial
,
Valentine's Day
Posted in
Crafty Solutions
,
DIY
,
Holidays
,
Parties & Entertaining
,
Recipes
|
6 Comments »