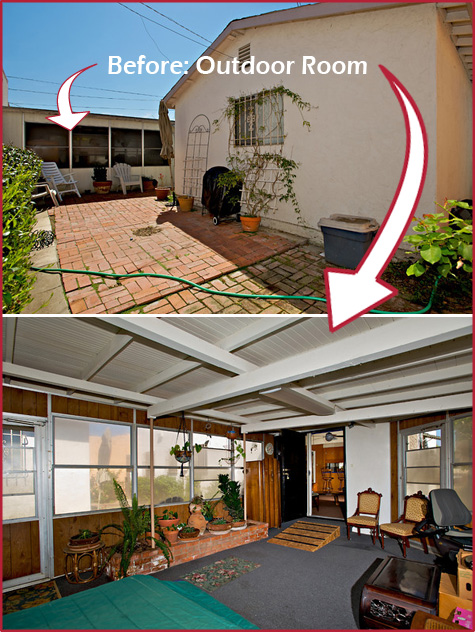 If you remember way back to when I first introduced our little ole' outdoor room (aka backyard) to everyone earlier this year, you might recall how much work we had to do to get to this: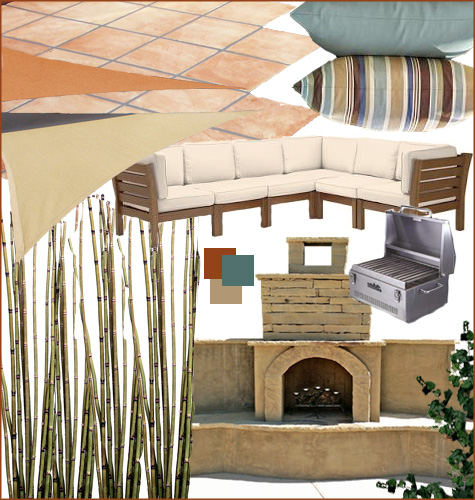 Here's a quick link to Part 1 & Part 2.
Our *dream* backyard included an outdoor grilling area, fireplace and big comfy sectional. Evenings of smores & stargazing, afternoons of hamburgers & cold beer – who could ask for anything more?
Here's the backyard mid-project: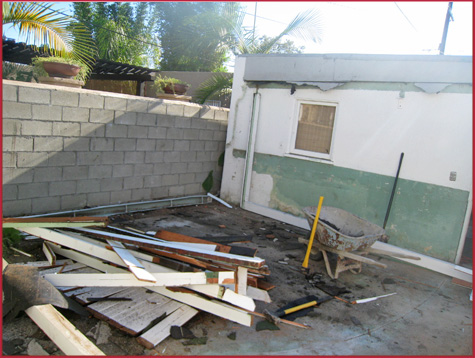 I couldn't be more proud of my handy husband who I'm pretty sure knows how to fix anything and everything known to man. So… weekends of pulling up brick, tearing down walls and much MUCH cement, stucco, and tile later… here she is!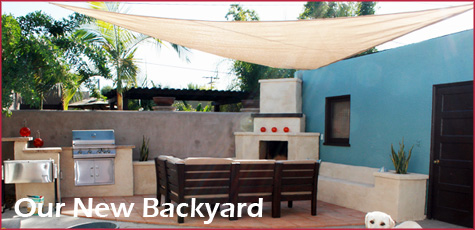 This DIY project was a monster – but isn't it beautiful! We opted for a shade sail for added coverage (a throw back to our love of sailing) and it was an economical option when we found one on ebay for less than $50. The grill and ice bin were Craiglist finds, and the sectional was my hybrid Pottery Barn & DIY project (follow the jump for more on that).
Can you believe this used to be a carpeted, walled-in room?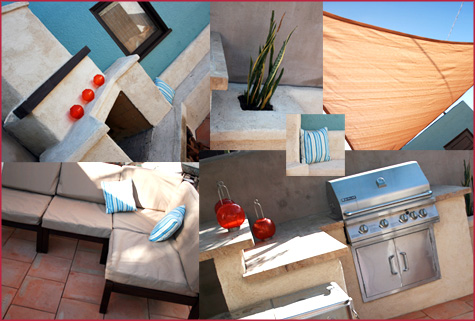 To keep the outdoor kitchen within budget, we used our favorite site Craigslist and Home Depot coupons for everything from cement block to grout to our counter top tile.
While Kevin took on the bulk of the redesign, my big project was the future seating area. I fell in love with a Pottery Barn sectional (see above inspiration board) and thought that surely I could replicate the find on a local, more inexpensive level. After searching every store here in the area (including the plethora of online options!) I came up with a hybrid solution that involved sewing, stuffing and Sunbrella galore.
For the cushion DIY project,a
By waiting until the Chesapeake sectional went on sale, and then purchasing Pottery Barn, Williams Sonoma & West Elm gift cards on Ebay – plus a 10% off coupon – I was able to snag the base of the sectional at 60% off it's retail price (shhh – don't tell anyone my gift card secret!). The second downfall (minus the price) of purchasing Pottery Barn cushions straight from the store was the fabric options. I knew we would use the outdoor space for grilling & get-togethers, and while we don't get much rain in San Diego, the eventual spill of something was unavoidable.
With this in mind, I was on the search for Sunbrella – that amazing fabric that provides the best in water repellancy and breathability (no mold!). Pottery Barn offers Sunbrella, but at 300% the mark up of your everyday fabric option. Argh. SO, I went out on a limb, ordered the Sunbrella fabric by the yard (after taking oh-so careful measurements) and began playing with color options for the back: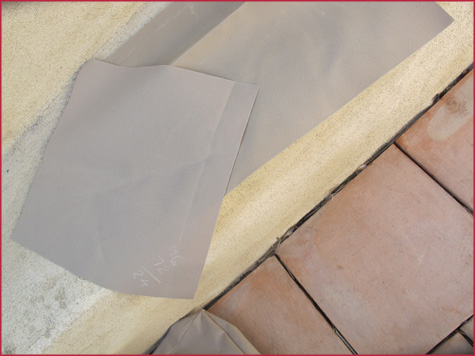 The stucco ended up drying much lighter than anticipated and no longer looked quite as clean of a complimentary shade as the Sunbrella fabric I had chosen (see above). But I continued on undeterred – now I had 30 yards of fabric, 9 plastic zippers, 60 yards of fluffy batting and 5 huge pieces of foam! I was ready.
I strongly considered the sewing project myself – for about two seconds. As soon as I felt the weight of the fabric and realized exactly how many seams I'd need to put together, I headed down to my favorite seamstress to enlist her help. At $20 a cushion I was sold!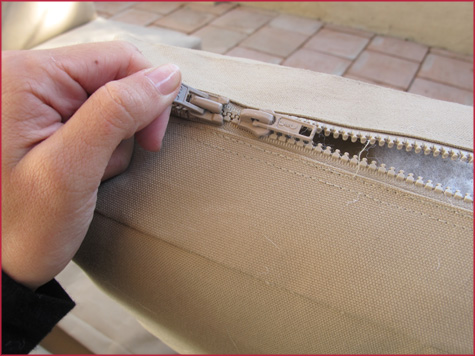 For the cushions, I chose heavy duty plastic double-sided zippers from Yardage Town (I had to travel to FIVE to collect all 9, who knew it was such a special request?) so that I could easily strip and wash the cushions if need be.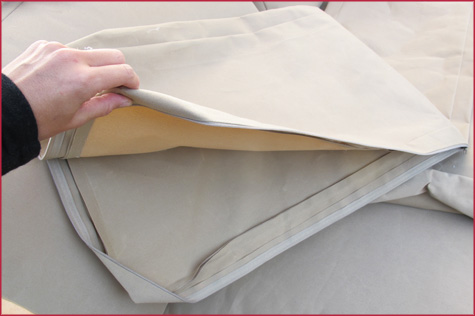 I also opted to have the zippers round each corner (those corners that you wouldn't see while standing in front of the sectional) for easiest on and off replacement. Boy am I glad I did! Getting the final batting and foam into such stiff and relentlessness fabric was difficult enough.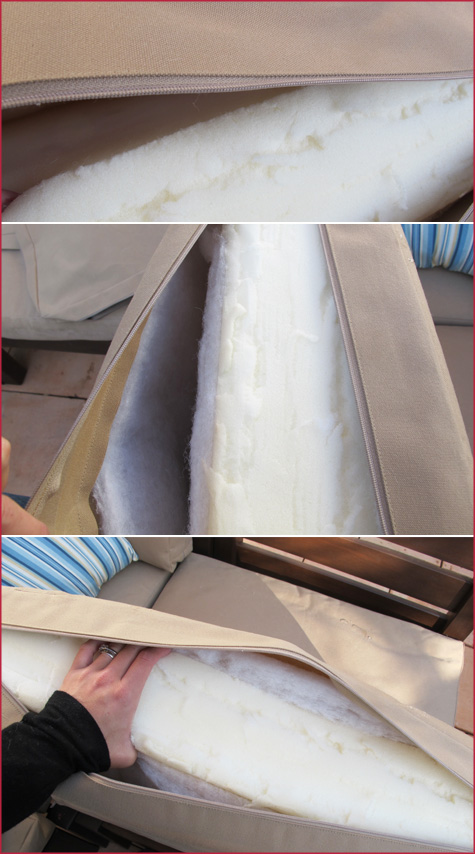 Figuring out how to stuff my finished cushions was tricky. I first tried just foam and was left with a life-less block. Realizing 'cushy-ness' was what was lacking, I added an inch of batting to each side. In the end, each cushion got a 4″ thick piece of foam (I used a razor to cut and trim) as well as 2 full inches of batting per side for that plump look (4″ total of batting per cushion).
To top the sectional off, I made small pillows out of a nautical striped fabric from Joann's.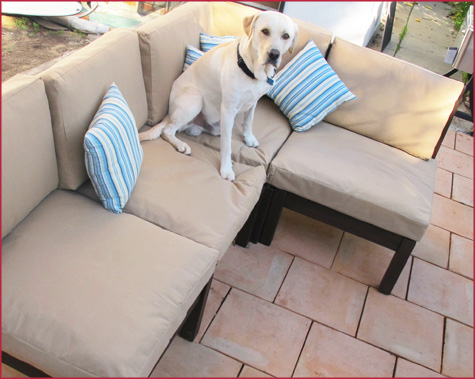 Here is Bodie showing his new mid-day nap location off!
The conclusion? Our DIY sectional: base ($600) + DIY Sunbrella cushions ($480) = $1080 as compared to the Chesapeake Pottery Barn sectional with Sunbrella cushions: $3085 (includes shipping).
It was worth it!