As we get closer to the 'big day' (seven short weeks!) Kevin and I decided it was time to begin tackling the new nursery.
Little secret: I have trouble making decisions – it takes me weeks to pick out a paint color or fabric pattern let alone an entire room layout that's full of all of the above plus furniture, etc – so deciding how to design the gender-neutral space has been especially tough. From colors to themes to styles… too many choices.
But we're taking baby steps and and that includes tearing out all unwanted features of the current space. Here's a quick 'before' of the room just prior to us moving in to the house two years ago (aka all decorating done by previous owners):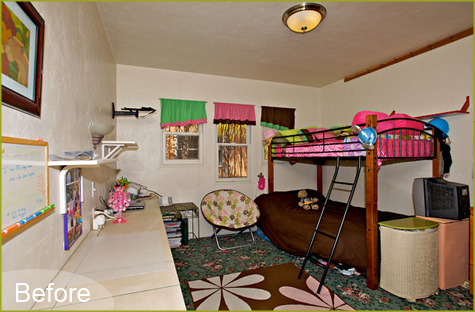 And here are the must-fix-before-we-even-begin-to-decorate areas of the room: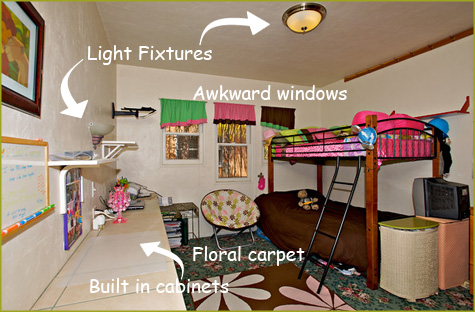 The most unusual piece must be the built-in cabinets topped with bathroom floor tile. They span a wall of the room and probably at some point in their life served as storage, but in a pretty unattractive fashion.
Second would have to be the floral carpeting. Not that brown floral rug which was moved out by the previous owners, but the green carpet underneath covered in rose vines. Wheerrrreee do you even find that?? The rug was pulled up before moving in and wood floors were revealed underneath, it was a close one though!
On the minor side, the light fixtures needed an upgrade and the windows ultimately needed replacing and new molding. Plus the fact that there were three of them in a row meant a bit of creative covering to keep the light out during nap time.
So mission number 1 is set: tear out built-ins, work on floors, pull out light fixtures and update windows!