Hope you had a great three day weekend! We traveled out to the Phoenix area to spend time with friends and with Kevin's family, but now we're happy to be back home – well-rested from our mini vacation and ready to jump back into work and projects that have been stacking up around here.
Thank you to everyone who offered their suggestions with Friday's Office Rut post. It was really helpful to hear some great outside perspectives and I agree whole heartedly with mixing up the print sizes/scale of the fabrics (especially balancing out the large print curtains with some smaller print fabrics on the bed – brilliant) and adding a 'pop' of a bold color. Ideas are underway on that one…
One recent addition that has helped to bring new life to the room is a new rug.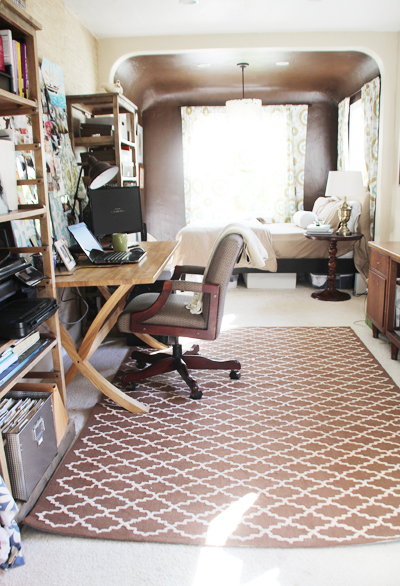 I love the bold trellis pattern print and the neutral brown color – it really helps to tie in that chocolate 'nook' behind it nicely!
We originally didn't have plans to have a rug-on-rug in this room. The room is carpeted and I had hoped against all odds that the white remnant we had installed would miraculously stay that way for years, but I think I have always known that this high traffic area would need some protection some day.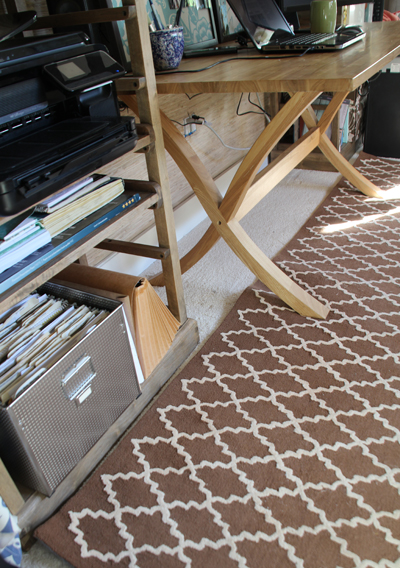 The unfortunate part is that the carpeting is less than eight months old and we've already had a professional cleaner (after trying to remedy on our own) out to fix the Bodie paws + Liv spills + shoe marks that have cropped up here and there. I suppose it was inevitable.
So when Rugs USA offered to partner with us to test out an area rug from their site at a discount, it was perfect timing and I was excited to work with them to find the right rug for this space. Rugs USA has a huge selection of rugs at every size imaginable – so finding several that met my criteria wasn't difficult. That criteria included: dark rug (to hide those inevitable spots), wool pile rug (not dhurrie or flat so that I can easily vacuum up Bodie hair and it wouldn't get stuck to the rug), and a 5×8′ or 6×9′ size so that the furniture on each side of the office would overlap the rug rather than having a rug-on-rug look that looked disproportionate. It was narrowing the choices down that was the problem :).
Below are a few that caught my eye, though some were indeed flat rugs or strayed a bit from my original brown idea: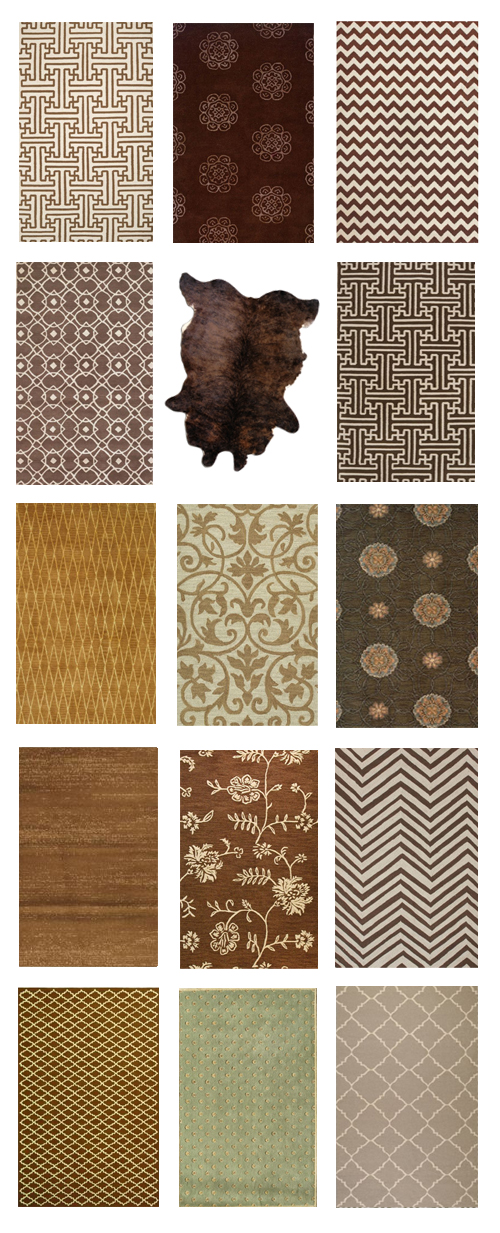 From top: 1, 2, 3, 4, 5, 6, 7, 8, 9, 10, 11, 12, 13, 14, 15
The bulletin board fabric is a busy print (and the board itself can get a little overloaded with photos and clippings) so I was immediately leaning towards options that were either solid or had one repetitive pattern.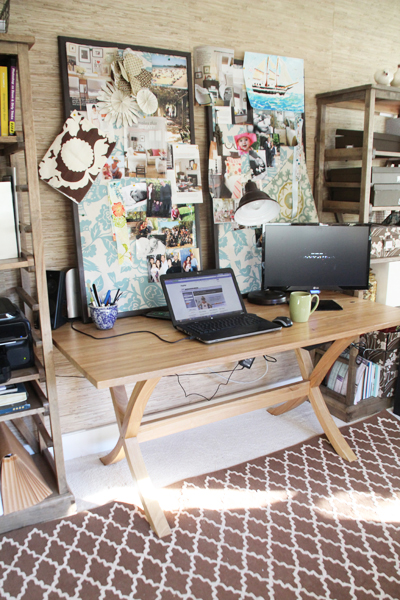 And I'm really really indecisive about this stuff – poor Kate over at Rugs USA didn't realize what she was getting herself into with our email exchange that included a change of heart every couple of days for months.
I ended up choosing the Safavieh Newport Collection in chocolate and I'm really happy with the choice. Something solid would have felt too plain and something too patterned (floral, etc) would have been too busy/contrasting with the other fabrics in the room.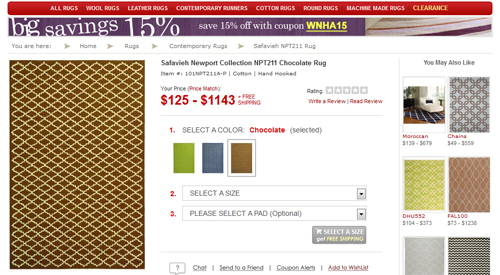 This particular rug didn't come in a 6×9′ size but as a slightly smaller 5'6″ x 8'6″, which actually worked out a little better. If you're walking into the office from the kitchen, here's how it looks: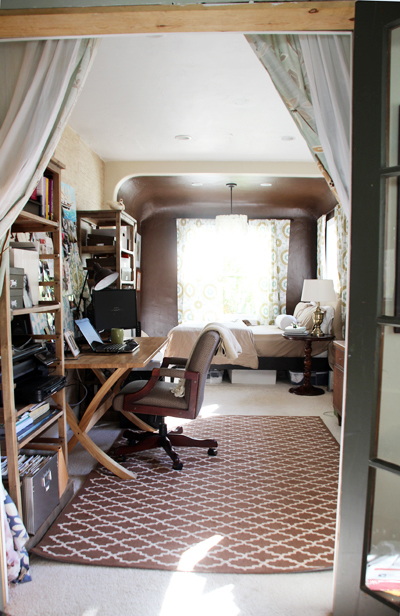 This shot show how the french doors connect the kitchen and office, though those doors are readily in need of their makeover moment. Right now the frame is the natural plywood color and the doors are a hunter green (we left the color from the previous owner for now).
A close up of the pattern:

I'm still trying to decide if I'll unload those massively packed bookshelves so that the rug can go under furniture on at least one side of the room.  Or perhaps at least add a little more carpet color between the two so they're not smooshed right up against each other.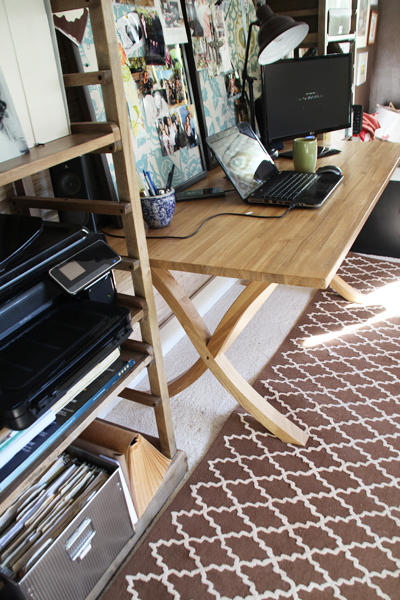 If you head back out to the kitchen from the office, I ended up hanging the temporary window curtains on a double rod over the french doors to add a little privacy to the space for guests and to help me 'disappear' when working at home. The old french doors separating the office and kitchen will be beautiful when complete, but the clear glass isn't always the best when a guest is wanting to head to bed or I'm trying not to distract Liv when she's eating lunch with the babysitter.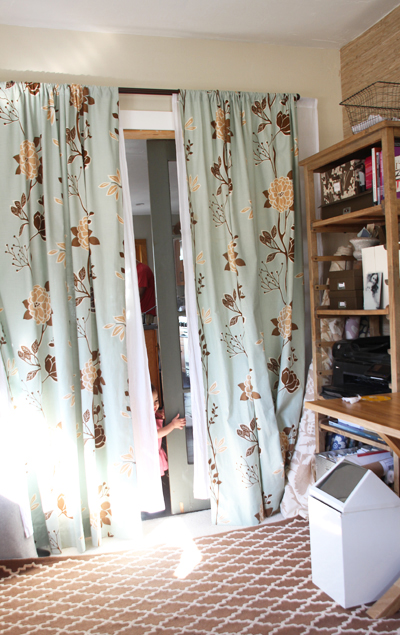 Here's that beautiful girl coming to find me during me now!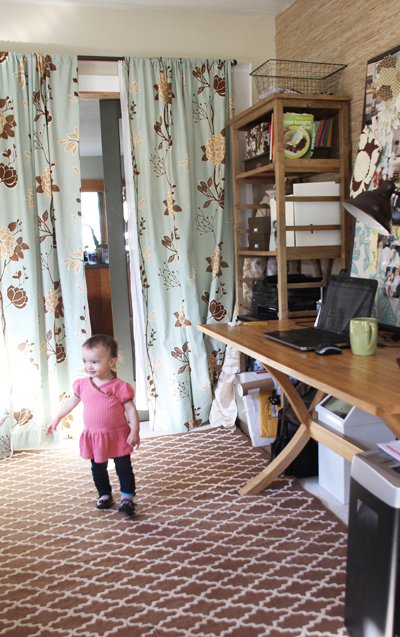 I'm so fortunate to be able to work primarily from home, even if I have to hang a curtain between my office and the rest of the house to get a full day's work done :).
I chose a double rod so that from the guestroom area you see the thicker patterned panels (that serve as a light blocker) and from the kitchen the sheer, breezy panels (instead of the back of the other curtains). You can always have one or both pulled tightly across depending on how much of a separation between the two rooms you're hoping to create.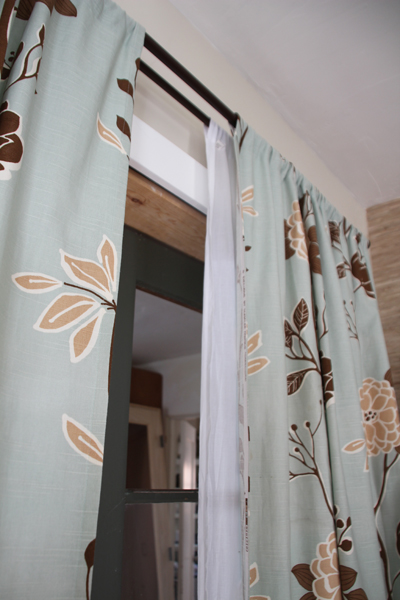 The only bummer? I realized that after I had cut and hung these babies that my salvaged World Market sheer panels (from another room) were about 4″ too short!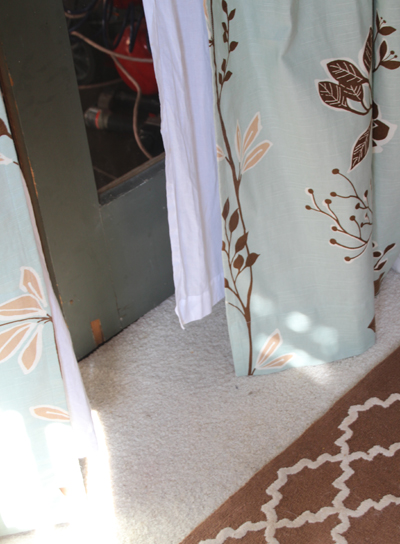 One day I'll have to line them with a solid fabric or something like that. One day.
So the office is officially back on track. Hope to finish this guy up very soon as we prepare for a summer of guests and the plenty of other projects that are calling our name!
PS Rugs USA is always offering sweet discounts over at their site, check in often to snag an area rug at 20-35% off on any given day.
For more Office Makeover posts, check out: stuck in a rut, designing and sewing the curtains, diy fabric bulletin board panels, handmade capiz pendant light, organizing the bookshelves, wall collage part 1, part 2, fabric bulletin board inspiration, (new) inspiration board, new lamps, wallpapering open shelves, finding the perfect credenza, new trim, dining table-to-desk, a new desk & bookshelves, installing remnant carpeting, grasscloth wallpaper, painting the office nook, finding carpet for the office, chocolate brown wall ideas, plastering progress, inspiration for a diy desk, back in action!, desking hunting for under $300, bookcases under $300,inspirational rooms, room layout options, demo part 1 & demo part 2.