Last I left you, we were starting on the dining room from almost scratch.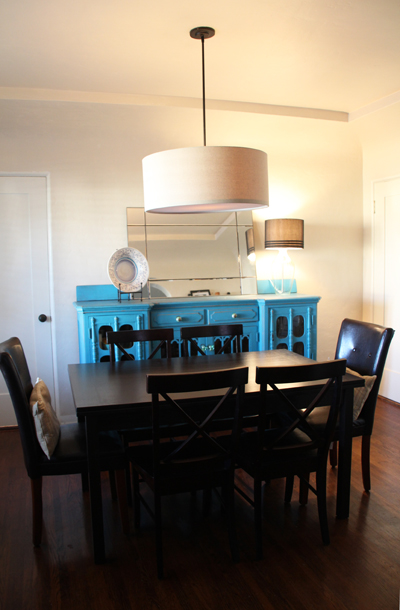 This is so fun! This room is in need of almost everything less most large furniture items.
Let's talk a moment about that new light because she was quite the adventure. The original chandelier was beautiful, ornate and most likely original to the house (meaning it was 77 years old).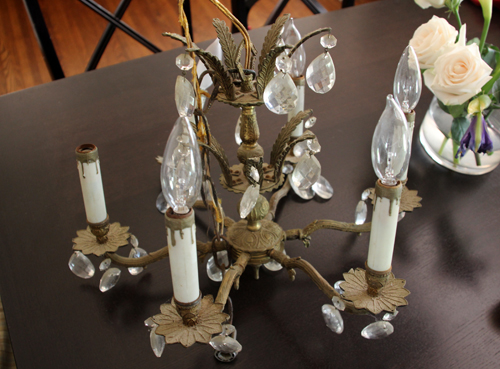 She was clearly showing her wear though. Everything from missing pieces to really, really bad wiring.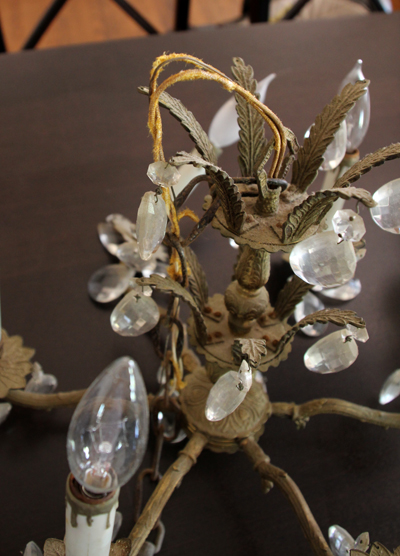 My favorite accent has got to be the faux dripping gold candle wax :).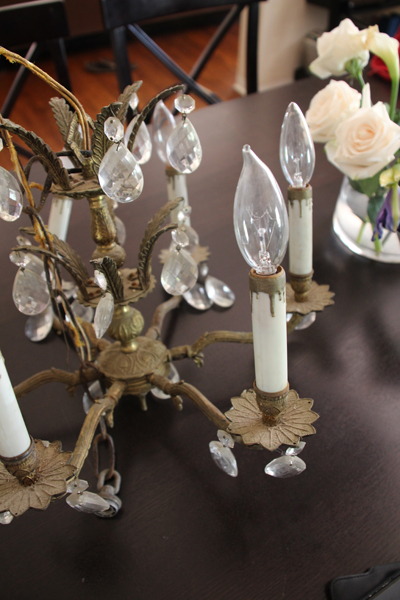 Despite it all though I still think it is such a cool piece and that it should stay with the house. Maybe I can fix it up and make it more of an accent light in Liv's big girl room (whenever we decide to take that on), or perhaps keep it neatly wrapped up in storage so that we can pass the original lighting on to future owners.
What I did know though, was that a new light would be an instant, updated impact to the entire space.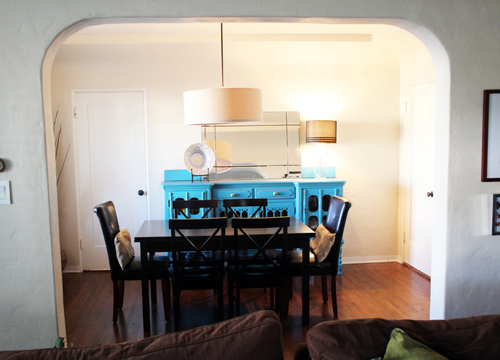 After much pendant hunting, I had narrowed my ideas down to: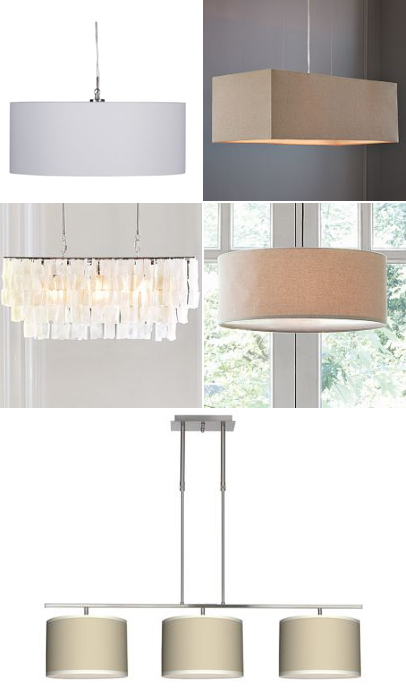 I love the big round Eden pendant that we installed in Liv's room – this has to be my favorite go-to in terms of price and look, and I thought that this version with a natural linen shade would fit the dining room even better. I was also drawn to something a bit more rectangular, like this West Elm shade pendant or this beautiful capiz pendant (so stunning! but Kev was not on board). Finally, I thought a light with multiple drum shades might just fill up the space well, like this one.
After much searching and much envisioning and much research, I finally fell for the West Elm short drum natural linen pendant shade. It didn't hurt that on one of my random visits to the store, I found it marked down a third of the price! I haven't seen that discount since but it was clearly a sign that she was the right modern pendant for the space.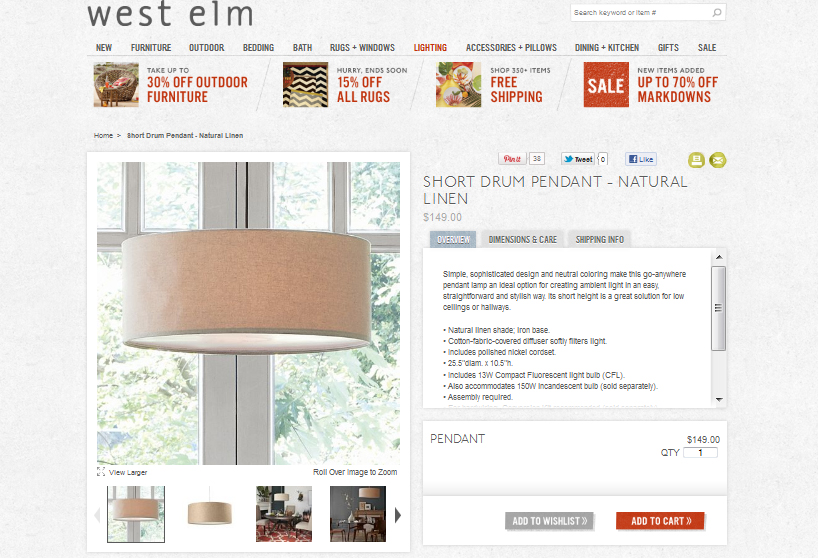 I was very keen on the light, but not so keen on the white cable and silver wire/canopy that suspended the light from the ceiling (a little too modern for the space) – not sure why the above shows black because it's definitely white! The pendant had to be converted to a wired version rather than a plugin, so in that process I opted to nix the West Elm mounting and added the shade to the oil rubbed bronze rods (just two rather than the three stacked 12″ rods it came with) and canopy of this Lowe's pendant: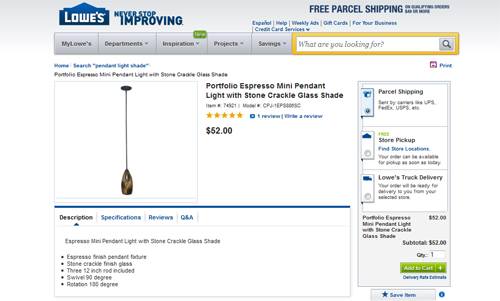 A pricey upgrade but definitely worth it. The new bronze mounting fits the Spanish-style space (with those rounded walls and inset ceilings) but the size and shape of the shade makes a huge modern difference.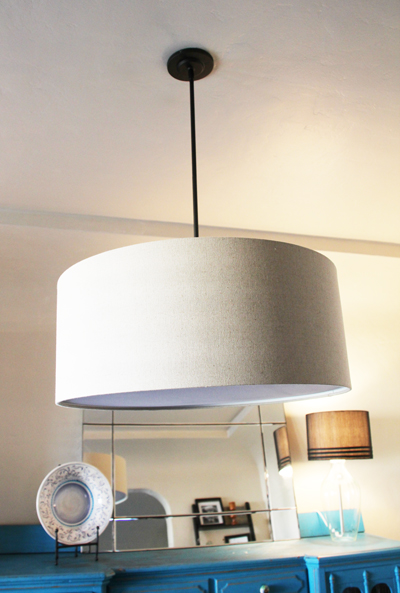 Using a kitchen pendant light to update another ceiling fixture is an easy and affordable tip, though I must warn that we got this one wrong on the first try. I originally bought a candelabra mini pendant light that emitted about 30W – aka not enough to eat your dinner by! This monster shade needed a real deal light base (like the size of a usual light bulb) and we reinstalled the pendant again with the right sized light mount (thanks Andrew!). Now something like this option or this option, while not as big as I wanted for the space, would have provided three or four light bulbs for the large shade and would have cut down on this problem all together.
Another reason it doesn't emit as much light as a usual chandelier?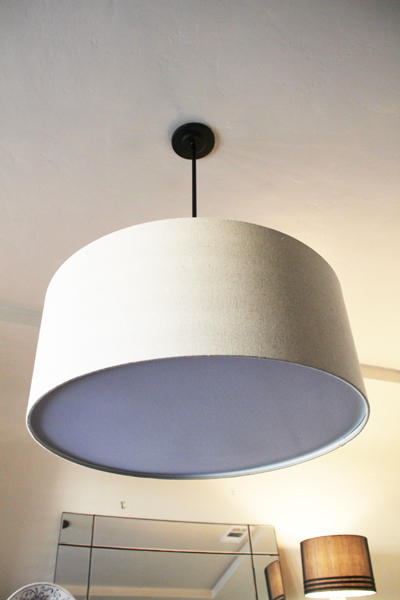 The bottom of the shade is covered with a see-through insert that diffuses any light that comes out of the chandelier. You need as much watts or lumens (the LED version) as possible!
This all wraps up with my love for drum pendant lights, whether you hang them high in the center of a room like the Eden in Liv's nursery:
Or low over a table, like the new linen short drum in the dining room!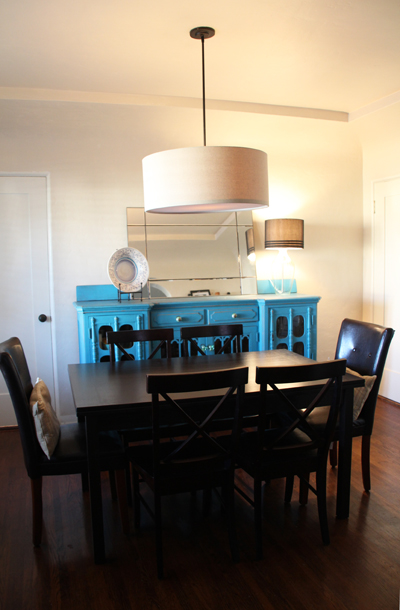 Though I do wish it could be a half a rod lower – just need to learn how to rethread rod iron rods ;).
Read the full dining room story by starting here: the before!