Hope you all had a wonderful Halloween! I meant to post pictures of Liv's costume and our party prep yesterday, but time started to run out and costume changes were being made with cobwebs still to be hung… and then everyone arrived for trick-or-treating. So here we are with a fun little round up of yesterday's events! I hope you had a wonderful, safe night full of trick-or-treating (or handing out candy, or sitting fireside with a nice glass of wine), too! Those being affected by Sandy right now, you are in our prayers.
First up a few halloween decoration shots from around the house. We didn't go crazy this year, just a few sprigs of black spray painted fake flowers to mix in with the usual mantel decor (made those guys a few years ago) and a couple of pumpkins (that we can keep up through Thanksgiving).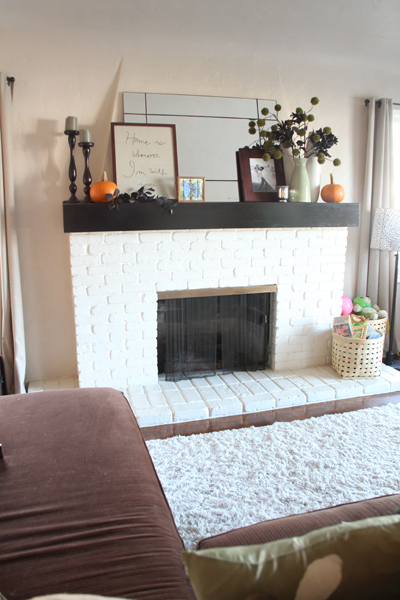 I also added a few Halloween additions to the gold dipped pumpkins on the buffet…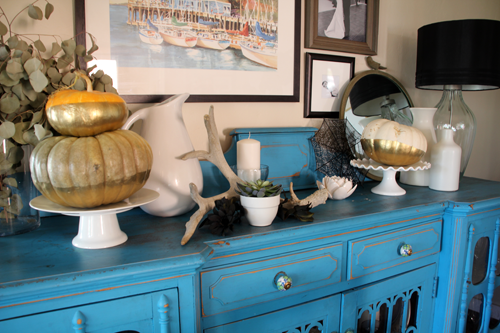 And spent most of my time decorating outdoors on our new deck! Look at that baby, she's finished! Needs a coat of stain but she's ready for a Halloween party.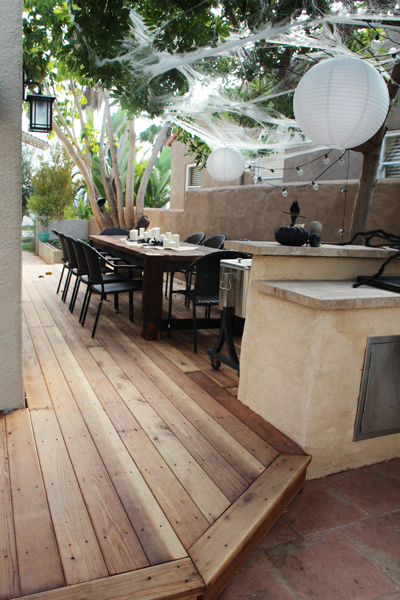 A few globe lights and white paper lanterns in the trees and near the fireplace, too.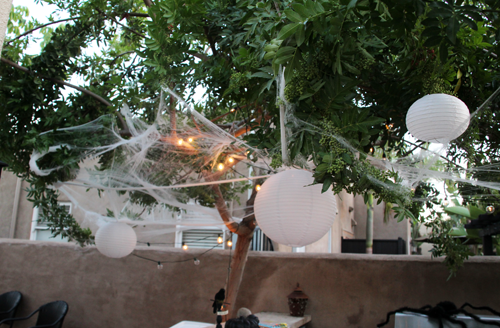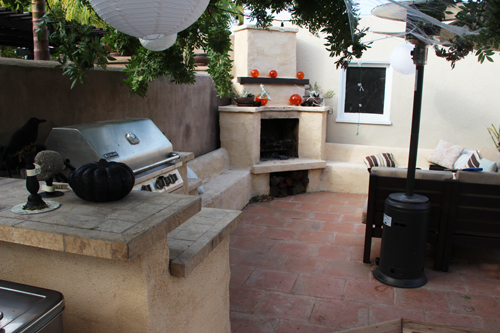 And a row of candles, burlap and black frames for the NEW table that Kevin built for the side yard (more on that to come!).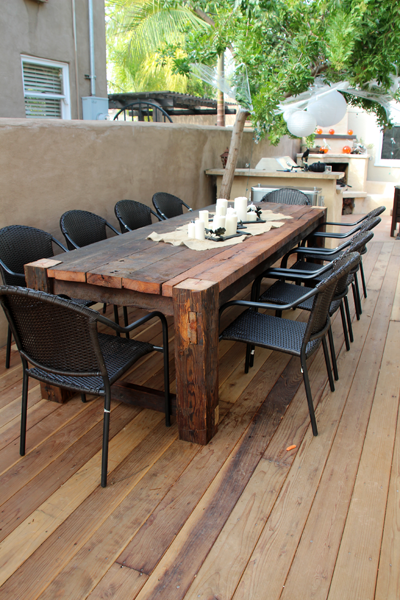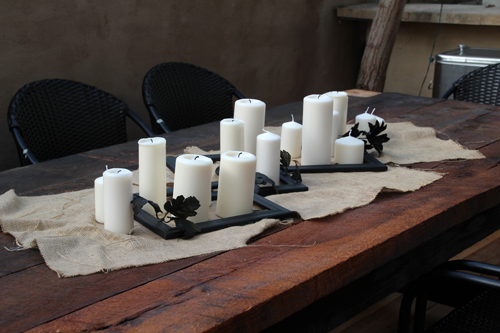 Then our little trick-or-treating crew began to arrive!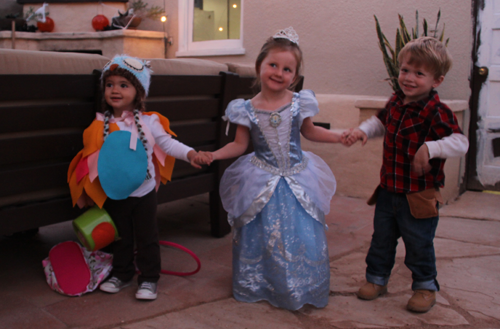 And soon we had the entire gang. No one was very happy about the obligatory group pic.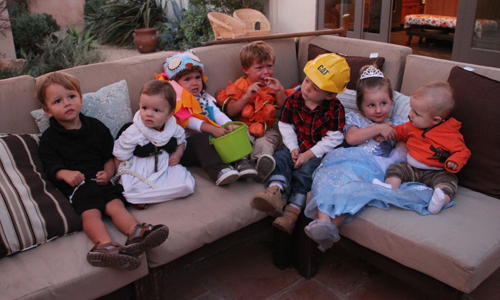 (Check out these same babes just a couple of years ago. Some of them weren't here just yet…)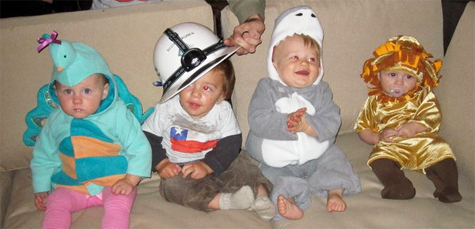 And then off to trick-or-treat! Forgive the blurry photos, I didn't realize my focus wasn't set correctly until the night was through.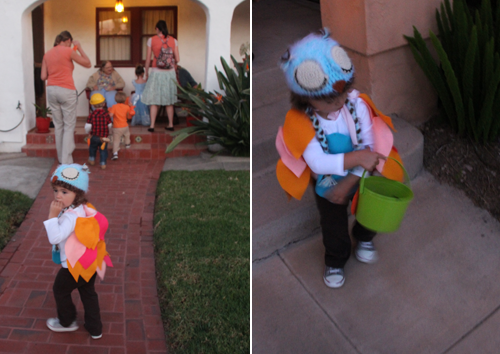 We actually went through a few costumes with Liv before she agreed to dress up for Halloween, and even then it was as her friends were arriving that she put on her final attire (nothing like a little peer pressure…). My first costume for her was a cute little cupid outfit (with momma and daddy wearing hearts that connected), but I should have realized earlier that the tiny wings were just too overwhelming and would result in tears every time we pulled them out of their box.
Soooo plans b & c were a cow costume that Mimi (Grandma) sent or a duck (thank you for Killer B for the fabulous last-minute inspriation!). Liv decided no cow (they'll work great as PJs) and so we went with the yellow and pink wings that resulted from my morning felt fest (while on a conference call with our main office with my regular 9-5 job… shhhhh don't tell).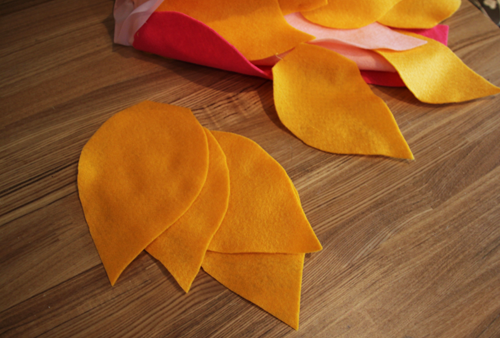 The process to create the cape was quite easy. I first cut enough 'feathers' to cover my cape template (which was basically a slightly curved rectangle) and applied a simple stitch to hold each overlapping feather in place. A ribbon at the top allowed me to tie the cape around Liv's shoulders.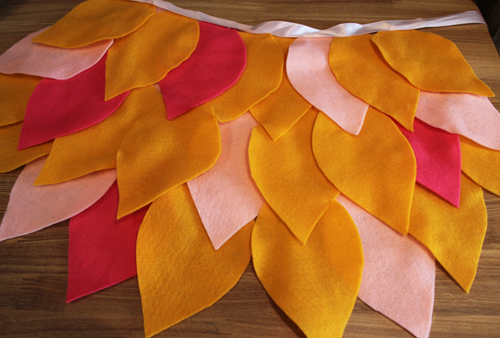 At the last minute Liv wanted to wear her owl cap (a previously brainstormed costume), so we added a turquoise belly and brown pants to her outfit and turned her into an owl!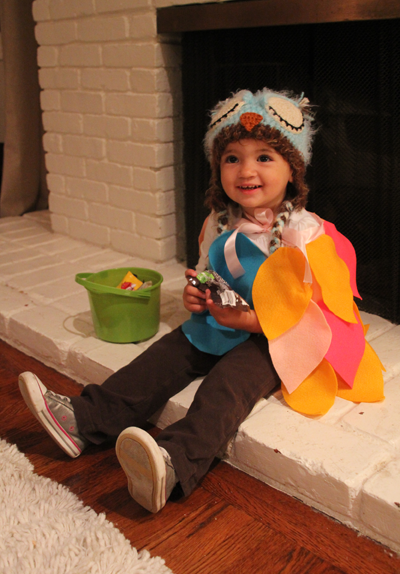 Which she was keen on and we were all happy.
After candy sorting, it was time to continue the party and share a delicious potluck dinner.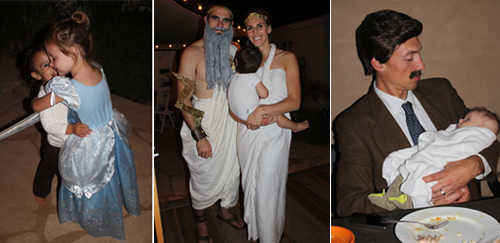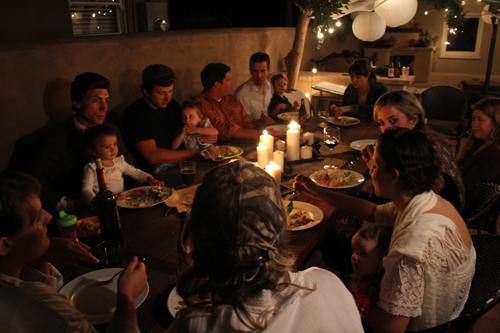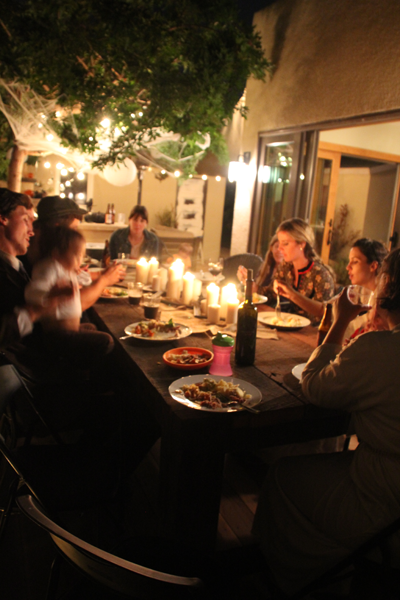 Followed by delicious Halloween desserts! Nice job, Steph and Melanie. Below are adorable owl-oreo cupcakes and nutter butter ghosts. We also had little mini cupcakes and delicious creamscicle cocktails that I neglected to photograph.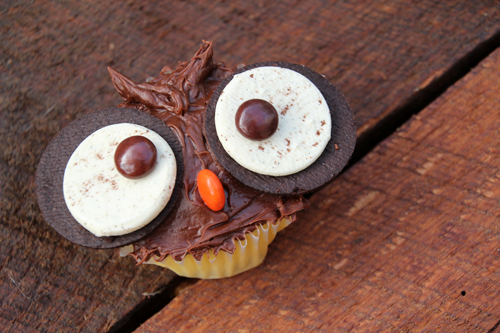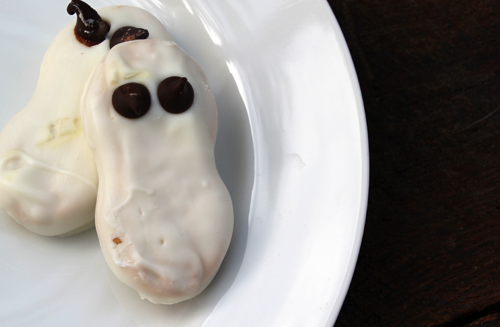 That's our Halloween! A fun night with great friends and a lively street full of trick-or-treaters. And just in case you're wondering, that's Kev above in his last minute costume as Ron Burgundy/Ron Swanson in the wig and mustache. You stay classy, San Diego.
Happy day after Halloween :).