A bit of an off-topic post today, but in lieu of a wardrobe style board I thought I would share a little sneak peek into my morning face routine (mmm, there has to be a better way to say that?) – and essentially my very favoritist make-up bag contents. In the cosmetic world it's kind of sparse (I think?? at least compared to my sister's!) – but it's basically my prep for the day be it at home or when traveling. Except that I take the mini little plastic jars with me for luggage purposes when on the go.
I always find that the best products to try are those from personal recommendations, no? If you have a love in your life feel free to share it as well!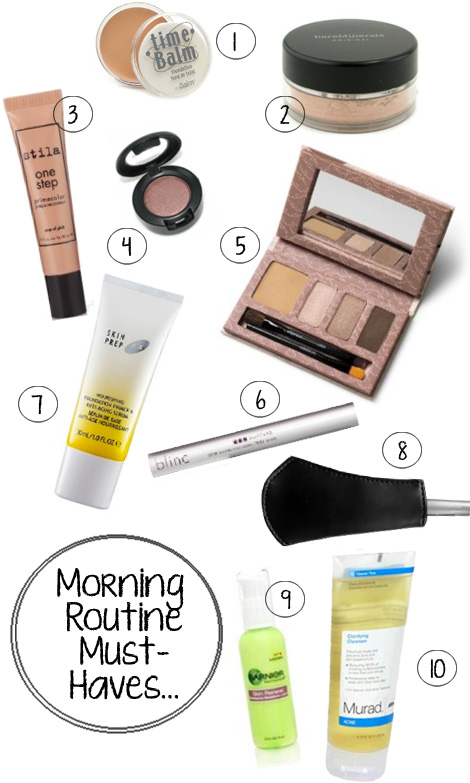 1. Time Balm concealer in Medium: for the eyes, nose, you know…
2. BareMinerals in Medium Beige: still very much a fan of this product – perfect as an allover (light) coverup for everyday use.
3. Stila One Step in Pop of Pink: this stuff is fantastic! Maybe my favorite item in the bag. Perfect for travel (brought it all over Europe) as it's a great primer/shadow for the eyelids, lovely cream blush and adds a little color to the lips.
4. Mac Eyeshadow in Sable: if I must choose an all around perfect eye shadow, this is it. I imagine it goes beautifully on any skin color and can be dressed up or down depending on quantity applied and eye liner.
5. Benefit, Big Beautiful Eyes: bought this for traveling and have found it's perfect for everyday. A little color for the eyes and a darker liner or eyebrow filler for fancy occasions.
6. Blinc Mascara: I have a relationship 8 years strong with this magical mascara. I really hate make up remover… and this particular brand comes off in cone shapes (basically the covering of each individual eye lash) without any assistance except for your face wash. NO red eyes, NO rubbing off of black paste – it's seriously perfect.
7. Cover FX Skin Prep Serum: this primer is on the pricey end but I use the smallest dab in the mornings to prep my eyes for concealer and the tube lasts me a life time. It's my favorite primer – and if you've never applied concealer or eye shadow with a primer, you are in for a treat.
8. I love Sephora's generic line of brushes (the ones with the silver handles? Couldn't find a link online) and I ended up making my own set of brush covers so that I could toss the brushes in my bag on the go (and switch them from briefcase to diaper bag to drawer cleanly). Hmmm… maybe I should market them.
9. Garnier, Skin Renew Daily Moisture Lotion & Sunscreen: I've tried a variety of brands but I keep coming back to the affordable, light weight sunscreen that is this guy. Love it.
10. Murad Clarifying Cleanser: Best face wash ever for my very problematic skin. Nuff said.
What do you think? Any favorites that you love and want to share? Could you survive with just a few eye shadows (I have a bigger stash in my drawer that I need to part with…) or are you a lip gloss-only girl anyhow?
Happy weekend!!
PS Apparently 'Rice Krispy' is actually spelled 'Rice Krispie' – oops! Previous post corrected :).