The new breakfast nook (shared about here) is on its way! I crossed my fingers, gulped twice and ordered those above-the-fridge cabinets that match the rest of our kitchen cabinetry and are perfectly sized as future bench seats for a breakfast nook. (For reference, they're cherry wood shaker-style KraftMaid cabinets from Lowe's in a honey spice finish.)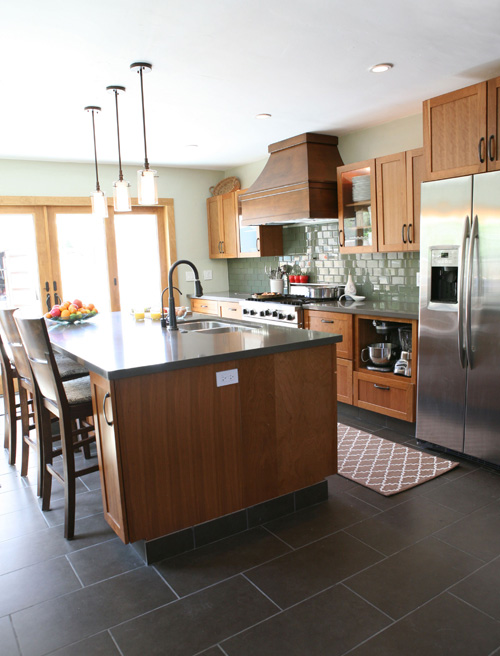 And then they arrived! And are just as perfect as had hoped. I opted for drawers rather than doors so that as I move my bench pieces around the kitchen (I'd like these guys to serve double-duty as all sorts of seating options) the contents won't come spilling out. The drawers provide a nice little stash place for tablecloths and runners and such, too.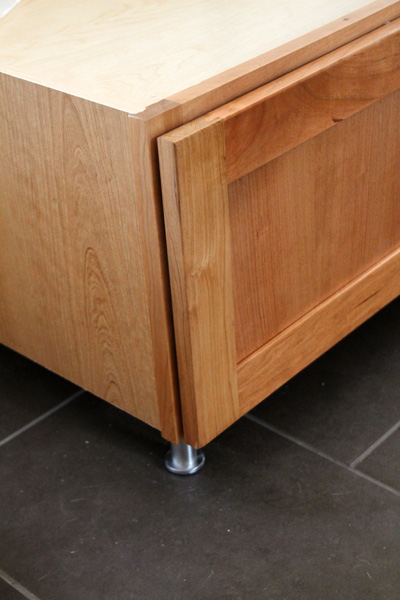 The drawers came assembled straight out of the box, but rather than add a toe kick to the bottom of the cabinets so that they aren't directly on the ground, I thought that legs might look a bit nicer and will add a little industrial detail.
Ikea came through with two varieties that I thought would work well – one a solid metal 'skinny' leg with a round foot, the other a pewter-painted 'fatter' leg with a rubber foot. The skinnier guys won based solely on ease of installation (I could drill the legs directly to the base of the cabinet without the screws interfering with drawer functionality).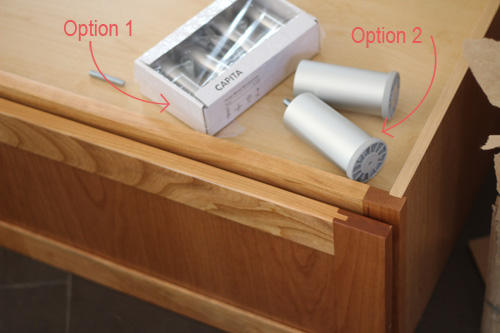 You can see that the fatter legs actually require a decently sized pre-drilled hole and something to screw the current exposed screw into (which is probably customary on the Ikea cabinets you're supposed to buy them for). See how the legs would sit into the underside of the cabinet above and not flush with the bottom (as I had imagined them showing up)? That plan was a no-go.
My skinnier legs are attached to a cabinet by securing each with four small screws, a perfect solution when a drawer must function on a track that is in the way of potential screws. The small screws were about 1/2″ long and didn't interfere with any sliding motion when drilled through the base.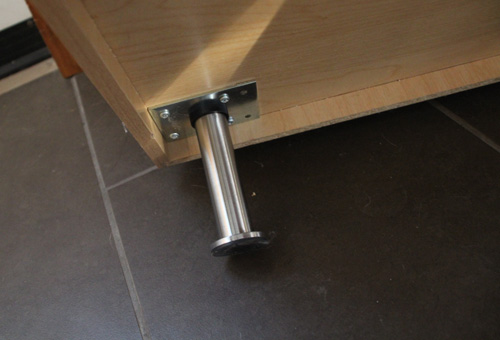 I totally dig my Ikea industrial legs. They don't look very Ikea-ish at all and are perfect for the kitchen!
Don't mind the dusty floors.
Now it's on to pretty cushions to top these rather uncomfortable drawer cabinets with, and then a table and maybe a few cool chairs. The breakfast nook is coming together!
All kitchen posts can be found right here (we built this space from scratch, at one point in its past life it was actually a den).