PS I have 25+ colorful felt bowties/bows leftover from this party that we have no more use for and that I'm happy to drop in the mail to the first reader who shoots me an email: morgan at pepperdesignblog dot com. Update: reserved!
Sometimes there's nothing quite like a rich homemade soup to end your day with. I'm such a soup girl, I could eat soup for lunch or dinner every day and be as content as a bee. Love me some soup.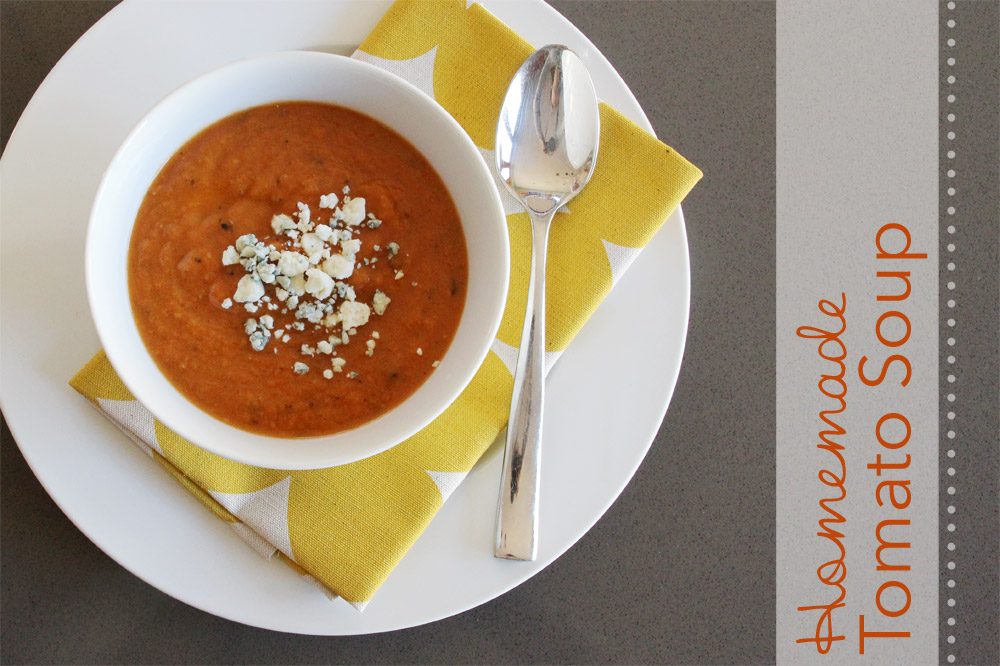 We recently had a box of something like 20lbs of tomatoes left over from an event and as they say there in our kitchen day upon day (getting older and older), I was beginning to fret over perfectly good food that was slowly wasting away. Sure, we poked into the big cardboard box to grab two for a lunch salad or a few to throw in with eggs in the morning, but our meals were not making an impact on the pile.
Picture this box but full to the brim. This is an after-soup shot.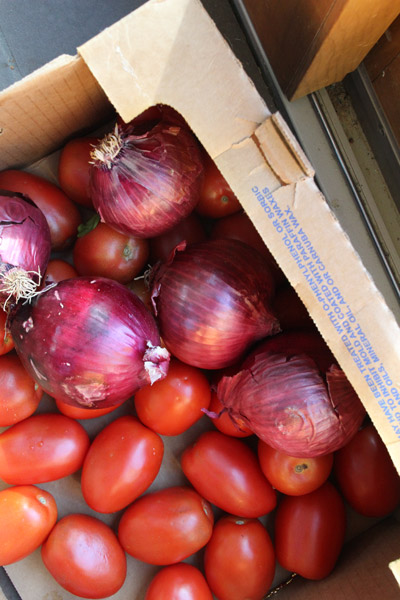 And then the idea of a big stock pot full of homemade tomato soup came to mind. Yum. We could enjoy with grilled cheese during these cloudier days, pass out to friends or freeze a few containers for the future.
Into the pot went five big red onions, near my entire box of tomatoes and a healthy dose of fresh rosemary from the garden.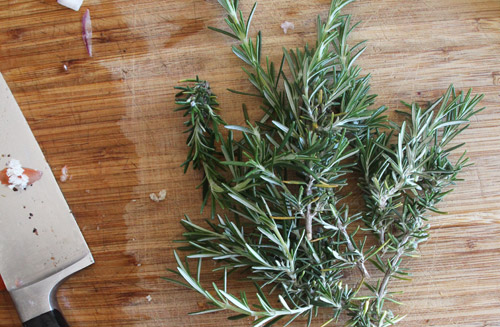 ************************************************************************************
Homemade Garden Fresh Tomato Soup
m
Ingredients for ~6 servings: 4 cups chopped fresh tomatoes, 1 onion, 1 clove garlic, 1 cup stock (veggie or chicken), 1/2 cup cream, ~1/4 cup butter, ~2 T flour, bit of olive oil, 2-3 sprigs fresh rosemary, salt and pepper, additional spices to your liking (ideas include: bay leaf, celery root, white pepper, cloves)
I'll call this soup a 'garden fresh' variety because I didn't use canned or stewed tomatoes like most recipes call for. There's always that alternative available though.
I used what I had in the kitchen and ended up with enough tomato soup to feed a small army (where are the 7 brothers/brother-in-laws when you need 'em?), but if I were to break it on down to a more manageable recipe size-wise, it would be the above. Keep in mind I'm a huge fan of 'a pinch of this' and a 'dash of that' so not all of my measurements are super, super accurate. Plus, soup is one of those grand dishes that you can adjust and change as you go. Have extra celery? Throw it in! Want to use up a can of tomato paste? Why not. Too many potatoes in the veggie bin? Any soup will love potatoes.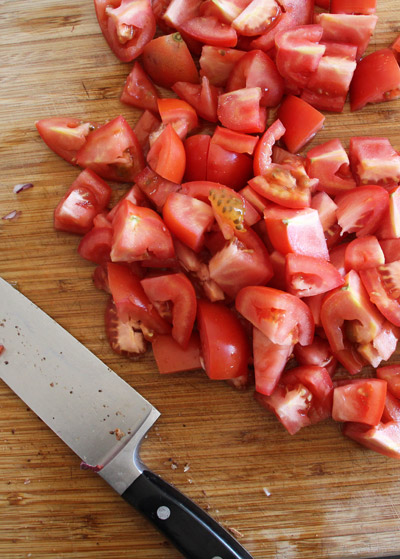 First up is sautéing the garlic and onions until they are tender, brown and full of aroma.
The trick I've learned with sautéing garlic and onions is to apply in this order: heat up empty stock pot (or sauté pan if you're using this trick for any everyday dinner recipe) until you can hold your open palm about five inches from surface for just five seconds (and then it becomes to hot to keep hovering), add olive oil (enough to glaze the entire top of the pan just barely) and allow to heat up again (you can follow the five second rule here, too), add onions and allow to brown for a few minutes on their own without stirring, add chopped garlic and give the pan a toss, coating everything in the pan again in olive oil. Now let brown for a few minutes and toss again. Repeat until the room smells just delicious.
Next up for this particular soup is to add the chopped tomatoes, broth, rosemary, salt & pepper, and any other favorite herbs. Allow to stew uncovered for as long as you can (1-2 hours should do the trick, though I let mine simmer all day long. The longer your flavors have a chance to 'get to know each other' the better).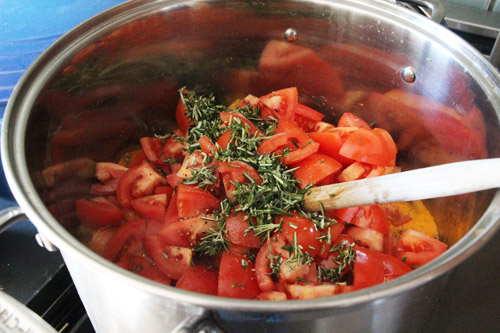 I kept the soup uncovered because fresh tomatoes will add a lot of water to your dish. Allowing the steam to evaporate will help to thicken up the soup as it simmers, you might decide to cover up canned and drained tomatoes to keep the water from leaving the pot though depending on how she's cooking.
I also employ a simple roux trick to assist in creating a decently thick soup too. It goes something like this: add 3 parts ish butter to a sauce pan and let heat up until completely melted, add 1 part ish flour and stir continuously over heat until mixture is completely disintegrated with no lumps (add more or less butter/flour here depending on consistency, you're going for a smooth chowder look and feel), add milk and turn off heat. Stir to combine.
A roux is simply a thickening agent and a great one to have in your back pocket for any recipe. I prefer flour over corn starch (based on taste) any day and melted butter over water.
Back to our soup. Add roux to simmering soup just as it's finishing its time on the stove. Additional cream can go into the pot if you're wanting a slightly creamier texture as well.
Finally, emulsify your soup with an immersion/hand blender or let cool and use your everyday smoothie blender (you'll have to pour the soup back into the pot and heat it up again if you go this route). I love, love this immersion blender for soups because the lower portion of the hand blender simply pops off and goes into the sink for washing. Christmas present last year and it's a favorite.
Update: Just saw on Hautelook that they are offering the same Cuisinart hand mixer at 50% off right now!
Done! (Some people love their tomato soup super thin and strained, you could emulsify more than I did below until the consistency is similar to a liquid and then strain out larger herbs.)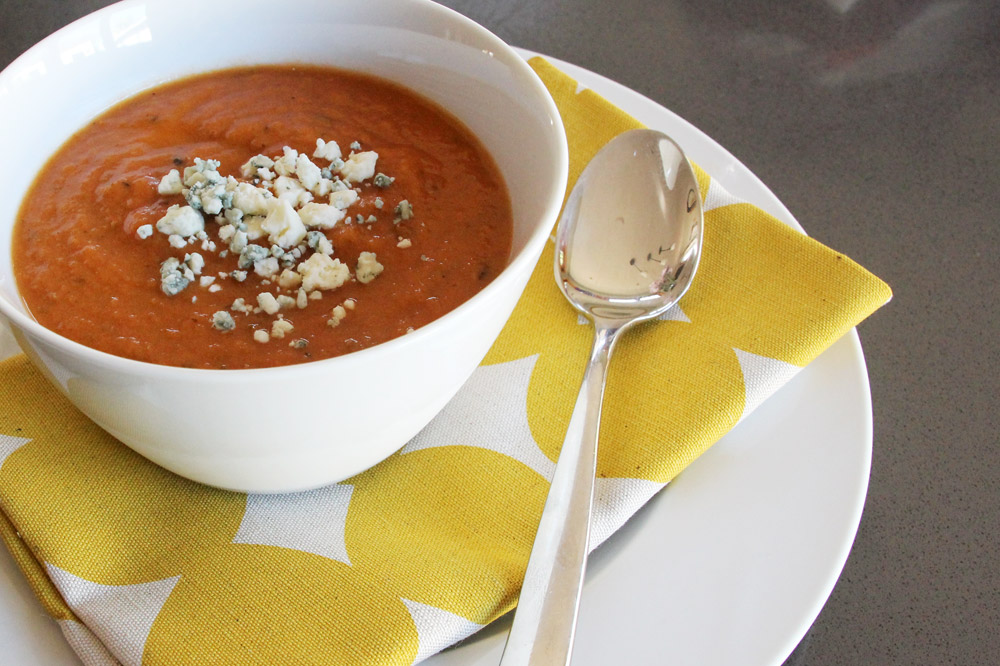 For dinner, I served this guy up with an apple, mozzarella and blue cheese grilled sandwich. Chop up some of that sandwich to make 'grilled cheese croutons' as an alternative – delicious! If you have an olive oil of excellent quality (perhaps a Christmas gift or something from a little tasting shop that you're not quite sure what to do with), swirl a bit on top for added flavor.
PS this makes a great base for tomato sauces as an alternative use, it is also really yummy served cold (learned that trick in Spain) and is a good base for veggie or noodle soups if you don't emulsify (instead add roasted veggies or pasta to your chunky tomato base).
************************************************************************************
PSS all recipes featured on the blog are linked right here. Happy eating!