There's something about flower pots with overflowing plants and color that just makes a deck or patio space sing! It's the icing on the cake.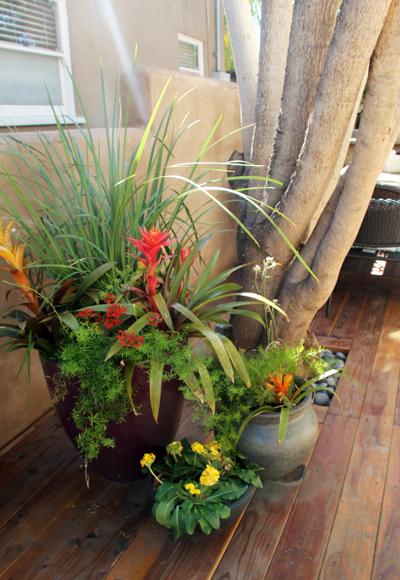 My mom has a great eye for plants and color (and even a horticulture background to boot), and so during one of her recent visits (and a super busy weekend) I sent her to Lowe's with one mission: help me choose plants that look beautiful together and won't die on me.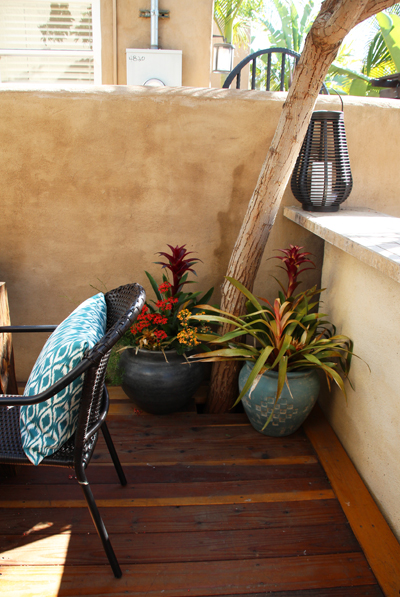 It's funny, because had I planned this all out I would have probably steered us towards a more Mediterranean look (crawling rosemary, tall purple lavender stalks, etc), but the tropical vibe that she ended up settling on definitely looks great in the space! And everything (for the most part) has survived post her trip. I'm so grateful for her help with tackling such a BIG project on the deck (see the size of some of those pots? woah).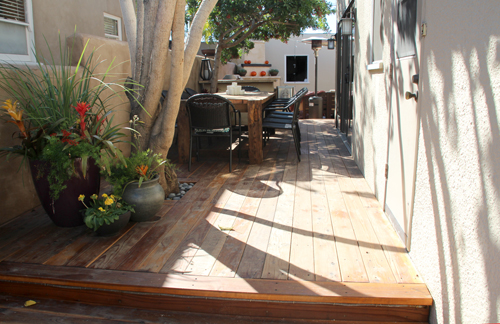 The added color in the space makes a huge difference. I love the pops of red and yellow and the bright greens that compliment the existing pepper tree there in that far left corner (above).
We finished the sandbox in the same weekend! It's such a great addition for Liv out on the deck, and since the kitchen is just through that door there on the right, she can play in the sun (yay day light savings!) while we're just inside prepping dinner or cleaning up. Bodie is a great playmate and big brother too.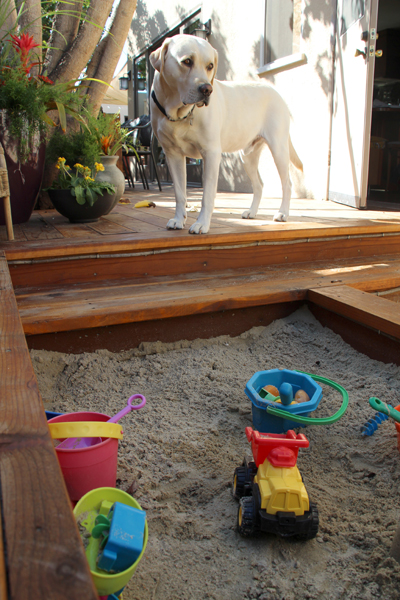 Back to those flowers… look at that beautiful red.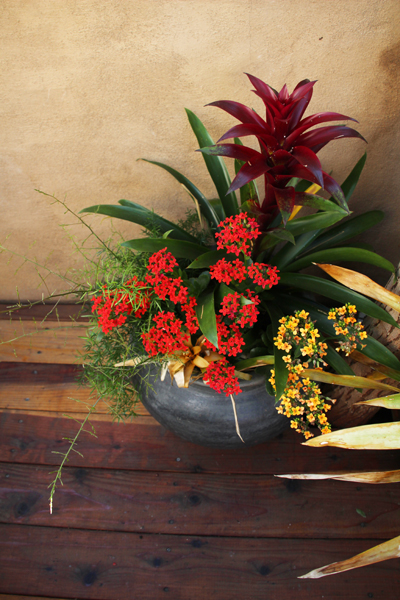 When cleaning out storage in the very back of our yard, we also found two huge bags of river rock that I had used as vase fillers for a friend's wedding (seriously the most perfect/cheapest vase fillers, straight from the home improvement store). We poured the remnants into the tree openings around the deck and it looks so much cleaner rather than the old pile of dirt and dead leaves.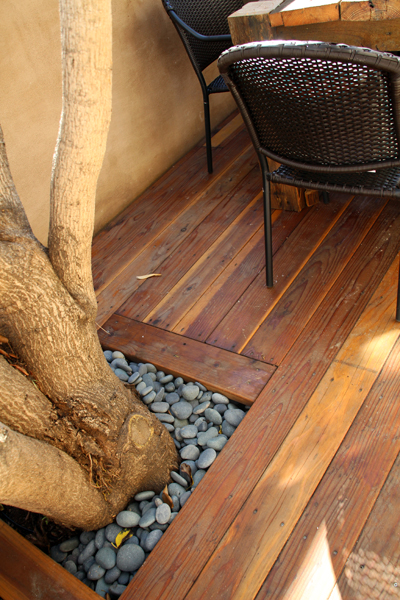 I still owe you a post on Kevin's monster project of designing and assembling this table…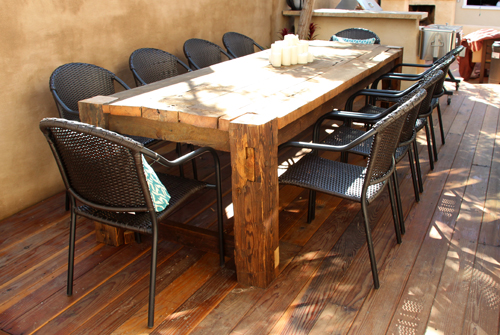 Perhaps my favorite deck addition to date! Look how rustic and perty she is…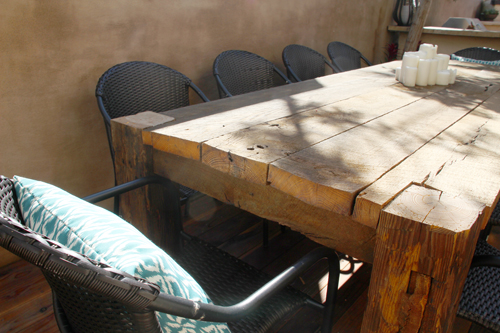 We've revealed this new side yard project in stages (a complete series for the deck, a glimpse at the new sandbox and a still-yet-to-be-complete post on the table is in order) but the flowers are officially the icing on the cake. Here's the deck pre anything green or colorful, makes a big difference, no?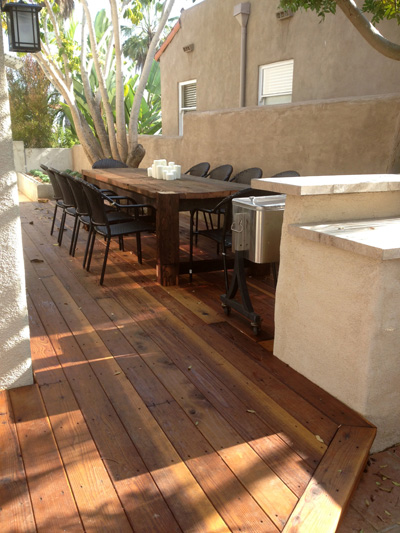 Still have to tackle plaster and paint on the garden box at the front of the side yard (we're looking from the back to the front in this photo), but then we can stamp this project as finished!
Remember when the side of our house was nothing but a crazy jungle?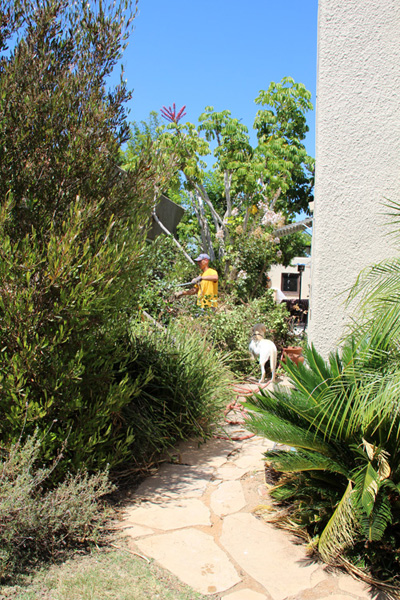 Me neither. I'm grateful that that was ages ago! And there is little that is making me happier these days than sitting out on those new stairs enjoying lunch in the sun (and a break from work in the office) with Liv while she's playing.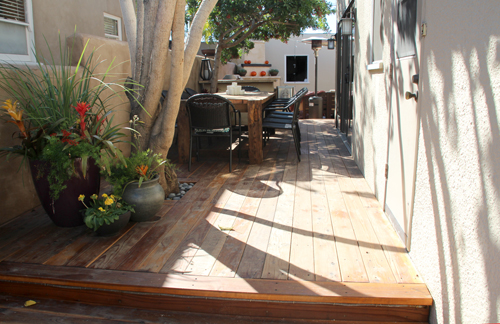 We partnered with Lowe's and their Curb Appeal campaign to include all of the new flowers and pots for this post. Our newly-green-thumbs are incredibly grateful and we are hoping to not have to take advantage of their awesome year long guarantee on all flowers. Just kidding! I'm watering every week…
PPS You can find all posts (including the building of the deck, flagstone walkway, giant cement wall, DIY sectional cushions and the rest) by sorting posts on this blog by Our Yard, or by clicking right here.