We had a great weekend full of family and friends and celebrating. We hosted Liv's birthday on our back deck on Saturday afternoon, and while it was a little prickly and cold outside, the outdoor fireplace and heater helped to warm things up.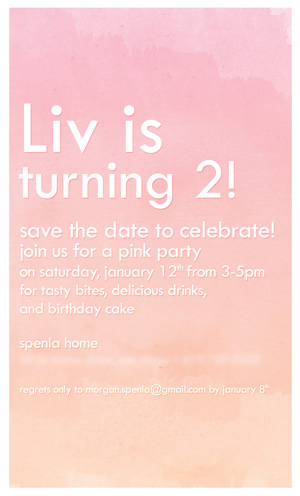 I'll try to get to more of the details of the party in future posts (like the easy little favor pouches a friend helped me throw together last minute and some of the ribbon/tissue paper details we're keeping around to reuse in Liv's future big girl room), but here's a little wrap up of the event: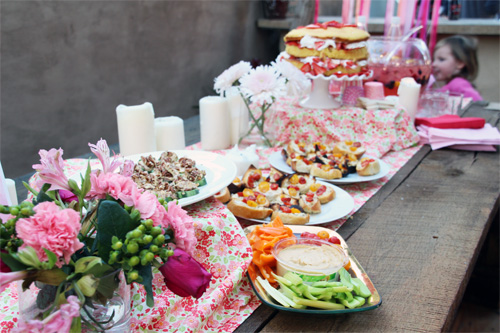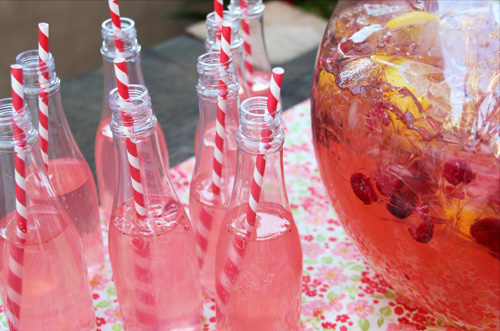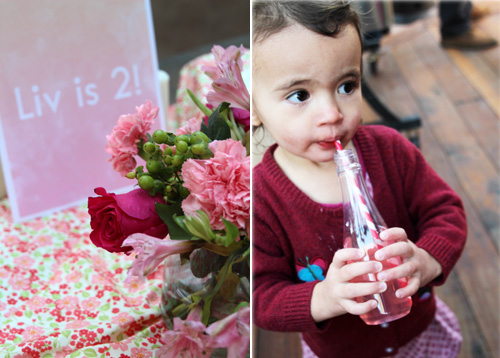 We served heavy appetizers, berry lemonade, and an overstacked strawberry shortcake for dessert. My favorites included my mom's delicious potato and corn chowder soup in our white coffee mugs, cheesy homemade macaroni for the kiddies, BBQed teriyaki chicken & pineapple skewers, toasted ricotta and chive bites (with pomegranate seeds to look like little flowers), and roasted tomato, cream cheese & poppyseed bruschetta. All served atop pretty floral fabric that I found here.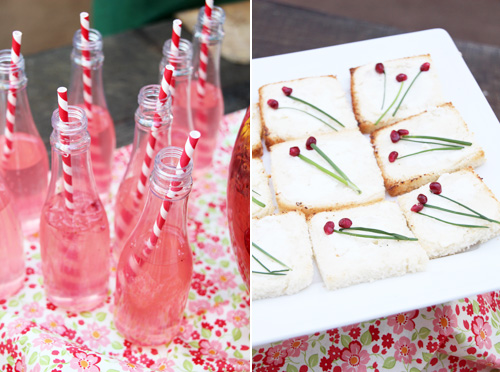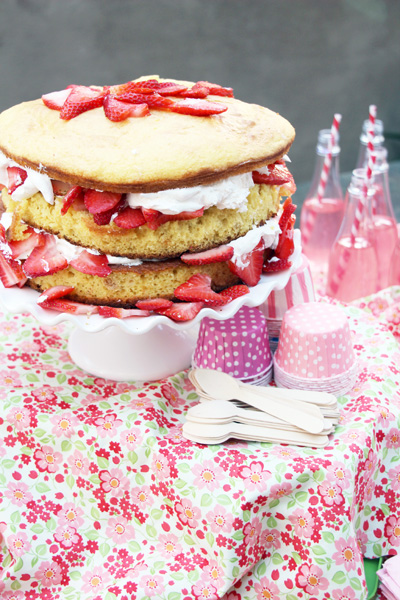 I found adorable plastic milk bottles online for the kids to enjoy their berry lemonade (easy and almost spill proof). The invites and sweet little signs for the event were by this Etsy artist (I loved working with Katrina, I highly recommend). Oh and I cannot forget – this is my favorite source for paper lanterns! At roughly $1.30 a pop it's impossible not to cover a room in a dozen of them (which it's hard to see from the photos, but the outside patio is).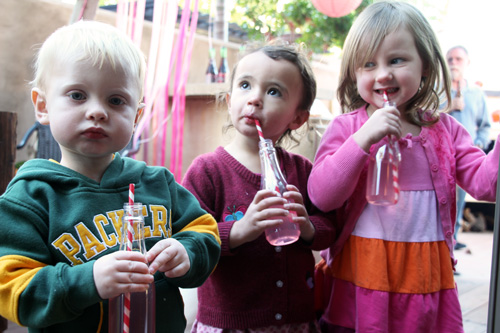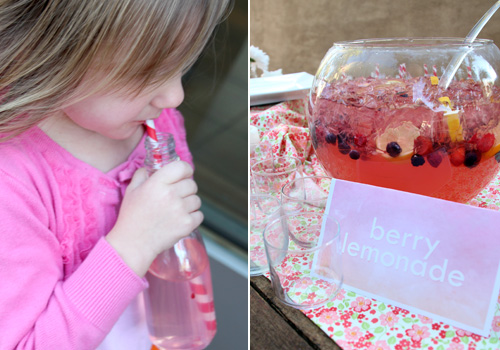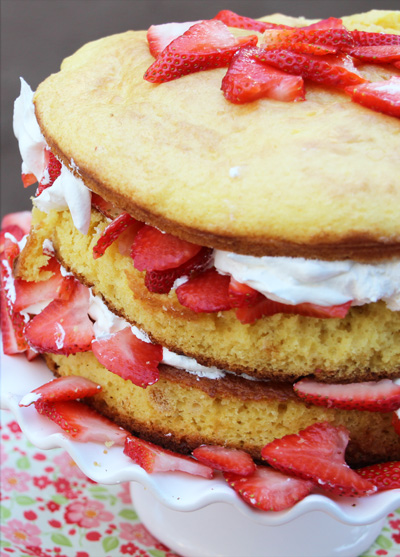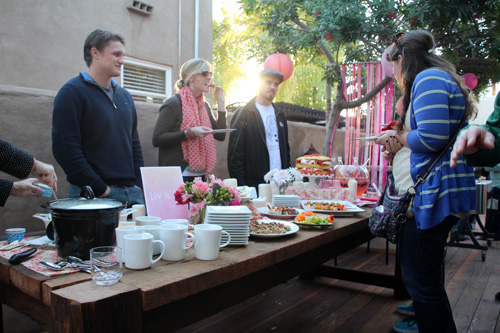 I snapped a few photos as everyone was arriving and before it got too crazy…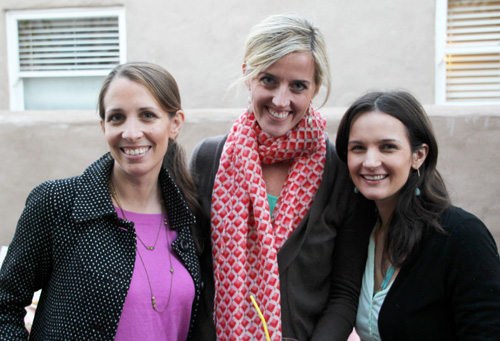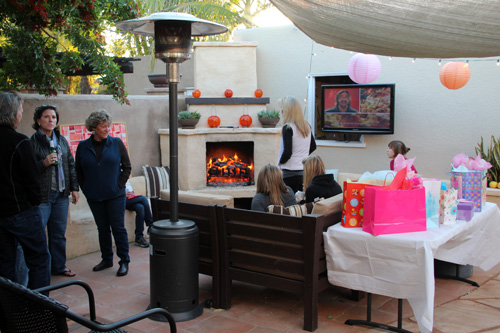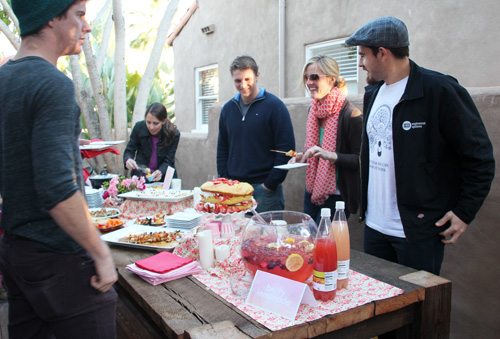 We purposefully scheduled the party for post-naptime for Liv and all of her little friends… but guess who didn't nap all day? Good thing all of the excitement kept her busy!
One of Liv's presents from mommy and daddy was a finished sand box! More details on this to come but we actually built it right into the deck. The kids loved it.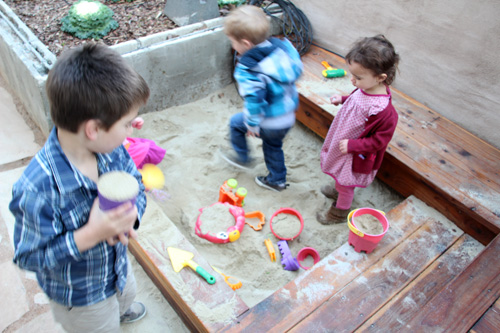 I opted for an easy dessert this year since we were hosting the party at our house and I knew there would be so much to do (thanks mom and dad for all of your help! We owe you). But the strawberry shortcake fit in great with the rest of the decor and it was a tasty treat for kids and parents alike. We even used these little cups and wooden spoons to serve up the cake in a manageable size for the little ones.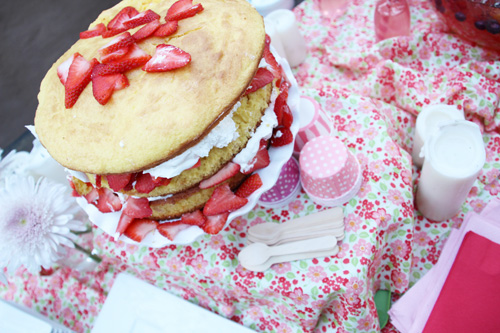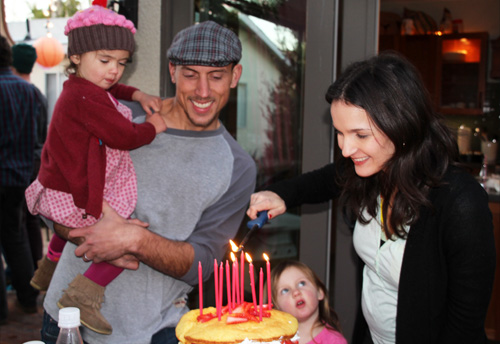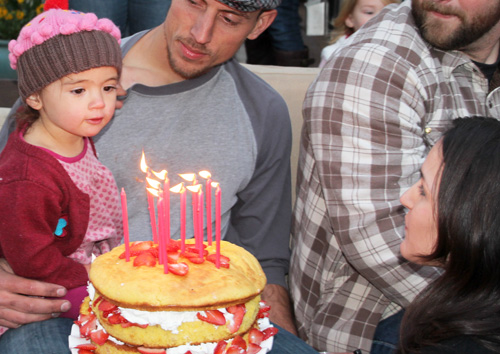 An awkward photo of my but a cute instagram pic of Liv getting ready to blow out her candles (and her little cupcake hat :)).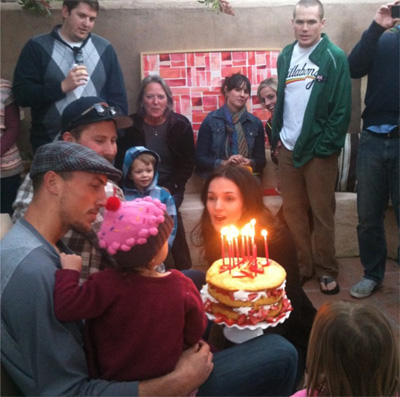 Liv thought that the strawberries and whipped cream were most delicious (and amazingly, since it was so chilly, the entire dessert stayed assembled with no melting whatsoever).
By the time we opened presents, the sun had finally crawled out of sight and all children were decently tired out. But what a fun day!!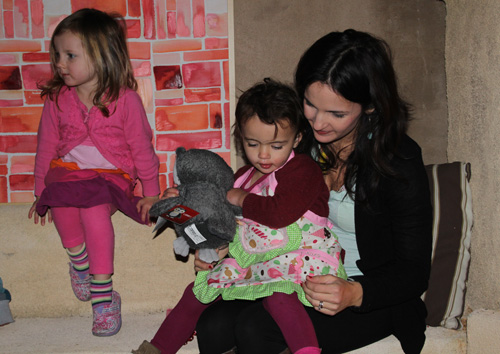 More on the invites and the inspiration for the party here and here. And just for fun, Liv's first birthday linked right here (with my favorite red and white striped DIY tablecloth :)).