Hey mommas and future mommas, I've spent a little time on some reconnoissance work for you and I thought I'd share the results (rubbing hand sneakily together). I'm 38 weeks pregnant today, woohoo!! So this is about 3 months of research in the making.
Fan of maternity clothes I am not. Even though there comes a point where most pregnant women will not be able to avoid them (oh, 6-9 months in), they are often hard to adjust to because of limited styles, fit, price and comfort. I try to stick with everyday, off-the-rack clothing for as long as possible and when necessary, I size up. That works for me for the first trimester and most of the second (with the addition of this helpful little guy and long tanks).
Then comes the time when you must make room for that ever increasing watermelon in the tummy. It was winter during my third trimester with Liv so I learned to embrace maternity jeans, sweaters, thick leggings and all things comfy cozy (which I found surprisingly comforting). This time around though, this baby and I are experiencing warm, sunny weather all the way!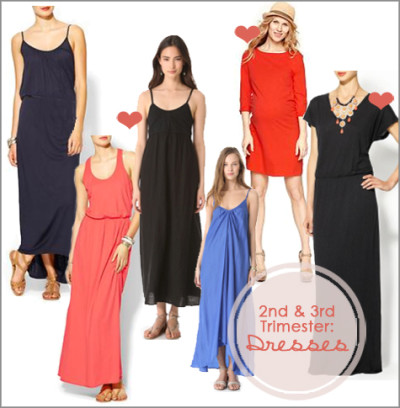 My solution? Dresses of the maternity and non-maternity type.
A simple, non belly cinching t-shirt dress was my go-to for most of the 2nd trimester.
For the 3rd? The fabulous maxi dress. Maxi dresses are generally flowy and with more fabric than the average dress so that there is plenty of room for a growing baby. Most maxi dresses will transition from pregnancy to post-pregnancy (before you're back to your usual size) to post-post-pregnancy (when you can belt the waist and still pull off a slightly over-sized dress) easily.
My best secret? Find non-maternity maxi dresses that you know you'll love even when not pregnant and have them altered to a low-high style (for a few dollars at your local dry cleaners) at a mid-calf length so that they fit the belly perfectly now and when the belly is eventually gone, will hit your legs at an even length. OR have a maxi hemmed at an even length at your knees to make the perfect maternity summer dress (the extra fabric from the maxi part is just the right amount to transition a maxi to a belly bumping comfy dress).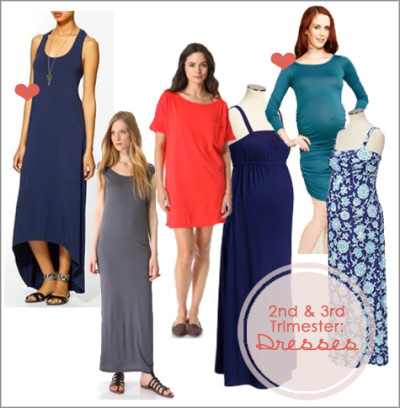 I live in the same five or six dresses these days, though I checked out quite a few before narrowing down to those favorites!
I'm basing my roundup of favorite finds off of my own stats (5'3″ on a good day, a buck and a nickle or dime pre-pregnancy + 35 ish pounds for the growing baby), but I think most women will find that these types of dresses are perfect for this time of the year pregnant or not.
I've tried on each of the dresses above and have kept only a handful (I basically wear the same few outfits and rotate) but all have past my raving reviews checklist (there were plenty that didn't, too). Some are maternity, most are not. Some are my new go-to favorites (see the little heart icon) and most I ended up purchasing in navy or black (because as much as I like to think I'm just radiant in colors these days, that's definitely not how I feel ;)).
Let me share the goods!
Style board 1:
Camilla Luxe Slub Maxi Dress: Comes with a rope belt but that was easy to remove. I kept this one and hemmed it to my mid calf – very comfy cotton dress for the farmer's market or around the house.
Michael Stars Racerback Maxi Dress: This would be perfect hemmed at the knee and there is plenty of room for the belly when the elastic waist is pulled up a little above it. Very similar to the Lizia dress so I returned it.
SOLOW Linen Maxi Dress: It's supposed to hit at the calf but on me it reaches the floor. I love it and it has been my go-to for most of spring!
ONE by Pink Stitch Resort Maxi Dress: Tight in the chest but perfect from there down. I imagine taking this dress on vacation post-pregnancy and wish it was made of cotton so it was a bit softer.
Gap Slub T Shirt Dress: The boatneck cut is very flattering on a very pregnant lady and this guy has become another go-to for me.
Lizia Luxe Slub Maxi Dress: My favorite dress for slightly nicer occasions. I pull the elastic waist up over the belly (will transition to a post-pregnancy dress really easily) and it's not too tight or ill fitting.
Style board 2:
Splendid Always Hi Low Maxi Dress: Perfect 2nd and 3rd trimester dress with a flattering cut and made from comfy cotton. Here's a similar one I just discovered, and check out that price.
Monrow Novelty Basic Cutout Dress: This guy was returned (could only keep my favorites) but I still loved the fit and the gal with especially toned arms – not me – will appreciate.
Velvet Fudge Dress: A t shirt dress that ended up going back when I found a cheaper version at Forever 21, but this guy is on sale now!
Old Navy 's Maternity Eyelet-Yoke Maxi Dresses: The price is too fantastic. Didn't love the floor length style so altered it to my calves, now it's a great dress to wear around town.
NOM Raleigh Dress: This one is hard to find these days but it often comes up on Gilt for as little as $25 (which is wear I snagged it). I've worn it to a few fancy events including a wedding and a Valentine's Day date night and it always gets very kind compliments.
Old Navy's Maternity Floral Maxi-Tube Dress: The cut for the dress was perfect (as I started to gain the bulk of my extra weight I became especially aware of the various neck cuts of dresses) but I didn't love the pattern on me. I considered dying it for a while before returning ;).
There you have it, my 2nd & 3rd trimester dress roundup for all of the pregnant or soon-to-be pregnant mommas out there. OR for the lovely ladies without bellies who really dig maxi dresses (because I will definitely be sporting my non-maternity finds post-belly, too).
All Style Boards can be found right here! 
PPS Have you seen The Pregnant Husband? Best chuckle of the day.