With the heat rising here in San Diego (summer is really feeling like summer with temps in the high 80s and low 90s – and it will probably stay pretty warm through the first week of October) my fall maternity clothing from T's pregnancy is struggling to keep up. I do have a few dresses from Liv's pregnancy (which was actually the exact same timeline as this one – my favorite pregnancy timeline seasons-wise for sure), but after over 4 and a half years I thought I'd revisit the flowy, non-maternity dress department to see what was available.
I can usually make it through my 1st trimester with my usual wardrobe (maybe adding a rubberband closure on favorite jeans or by leaning towards my larger tops/dresses). The 2nd trimester, however, is sort of one of those in-between phases where you might be shopping for new clothing but you may not have to head to the maternity aisle just yet. I think of that as a huge plus because pieces I buy now might actually see some use for years (even when I'm back to my regular size).
Six non-maternity, belly-friendly dresses that are great for summer: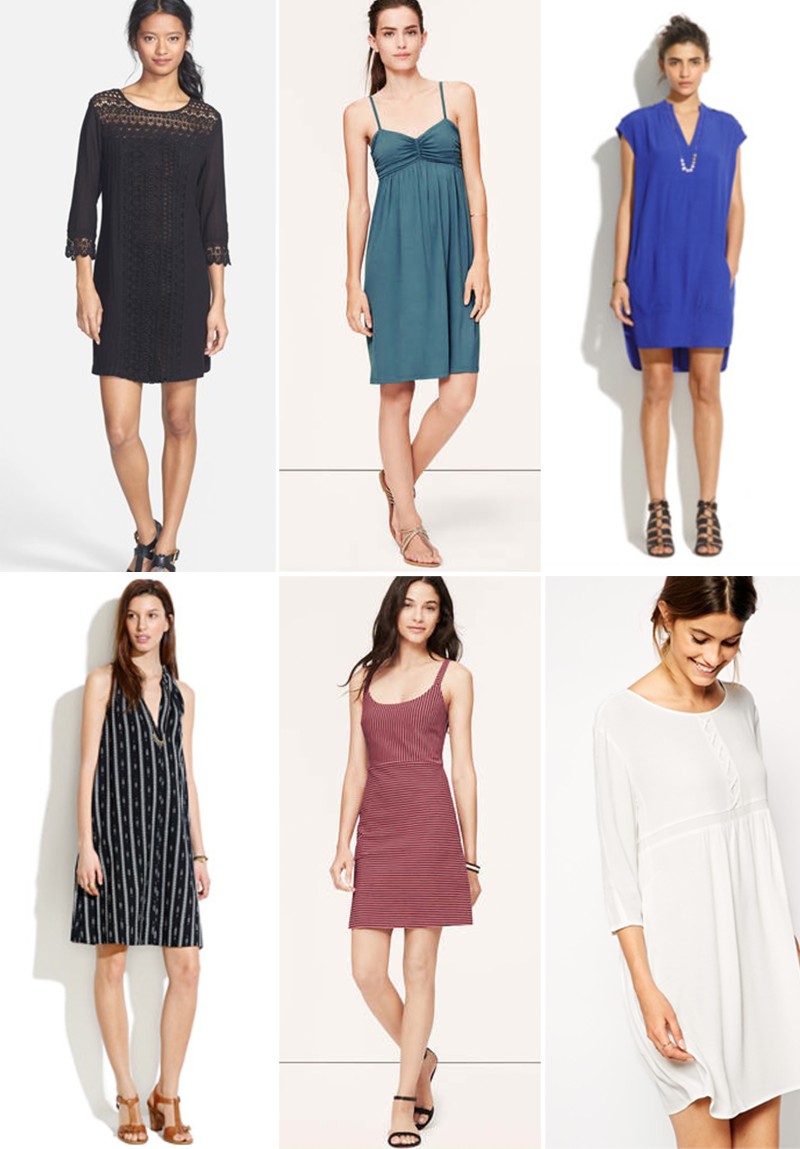 Lace Detail Shift Dress by Nordstrom | $65 from $98
Ruched Cami Dress by Loft | $22 from $49
Morningside Shift Dress by Madewell | $118
Ikat Striped Dress by Madewell | $110
Mixed Stripe Tank Dress by Ann Taylor Loft | $69
Smock Dress by BA&SH Alysse Smock ASOS | $286
Test driving: I picked up #1 during Nordstrom's Semi-Annual sale (today is the last day! it's like cyber Monday all over again…) for an upcoming wedding, #2 as an easy-breezy summer dress to help escape the heat, and #5 for a work event (it's a perfect work-meets-maternity for the 2nd trimester). I've been really wanting to try on #4 but am anxious on pulling the trigger. Feels like I'm already making a significant dent in my clothing budget for the summer…
On that note, let's talk pregnancy for a moment. I don't know if all women struggle with this but I have to be honest, pregnancy can be hard for me. Not just the hormonal (which is a crazy topic of its own) but also very much the physical. Most women in general are pretty mindful of body image, and pregnancy is a time where we have to put much of that aside and – dare I say – embrace the extra layers that are being added to our arms, our face, our thighs (it's like our bodies are going into storage mode all around). Ahhh what a struggle and how challenging for the psyche.
Sometimes, to combat those feelings, I've found that little splurges on what makes me feel like me can be absolutely worth it. This is a time in our lives when we have to give ourselves a little leeway, even in the clothing department. A lot of my girlfriends share maternity clothes which can really expand the selection. My favorite places to search for something new to add? Consignment shops like Buffalo Exchange and Crossroads (do you have those in your neck of the woods?) where you can size up. I tried to survive my first pregnancy on the tightest budget, now I'm realizing that if a looser dress or a more comfortable pair of shorts, or that really great-but-unnecessary tee will make me feel more normal and like myself, I can't feel guilty about what may end up being a purchase for only three months of use (I guess, after all, that it will be the best three months of use ever).
I have so much on my mind right now as I begin this body transformation again, and I suppose that one of my leading thoughts is that, when pregnant, if you're not feeling glowing and beautiful, give yourself an opportunity to mix things up and to embrace what makes you feel like you.
Because that is an awesome feeling :).
PS favorite 2nd & 3rd trimester maxi dresses. Happy Monday! Had such a low-key, relaxing, catch-up weekend and hope that you're feeling equally refreshed. Yay for casual weekends!