Father's Day is about a week away! Kevin is more of the 'plan an activity' type rather than the 'gifting' type so we'll probably try and do something fun and adventurous (as adventurous as this 38 week prego body can be) as a family. I originally planned on booking us a tent cabin about an hour east of San Diego for hiking, skipping rocks at the river and campfires, but then I realized that we might be having a baby that weekend. Ha! So we'll stick close to home.
In other news, Liv started preschool!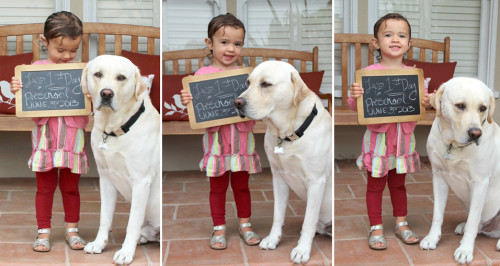 It's just what this active, loves-playing-with-new-friends girl needs. We've enrolled her in the summer session of a local school for just two days a week so that she can get used to the big adjustment before little baby arrives. The feedback so far? She absolutely loves it. Prior to preschool we've had an awesome set of local college girls rotate long playdates with Liv at the house each day while I work or before Kevin is finished with school/work (I highly recommend college-aged girls as great nannies when you have as unusual of a schedule as I do! They usually have unusual schedules, too).
But back to the post… I have a round up of favorite Father's Day gift ideas to share today and I hope they're helpful as you plan out what you might be gifting that special dad, grandpa, hubby or other man in your life. Enjoy!

1. There are so many creative and handmade iPhone cases over on Etsy these days, this mountain biking version (on that cool wooden panel) is one of my favorites.
2. Speaking of biking, here's a creative solution for the two-wheeled traveler: a leather growler carrier built to add to the back of your bike! Kevin is a craft brew fan so we have plenty of growlers around the house, now biking and balancing a glass jug for refills at the local brew house (or friend's house to enjoy) is convenient.
3. I gave Kevin a Himalayan salt block last year for serving yummy appetizers on while entertaining. Check out these salt block shot glasses – pretty nifty for Tequila, right?
4. A beer flight for the house would be a creative way to showcase your own home brews. Or to enjoy various varieties with various courses for a fancy dinner.
5. A Father's Day card for the Star Wars dads, you cannot go wrong.
6. How cute is this mini super hero shirt for kids? Surprise dad on Sunday morning with a cape and a day of family super hero games. My Dad is a Super Hero tees found here.
7. Mustachifier: an entertaining gift for the new dad, and one that he will want to show off to all of his buddies.
8. Handmade by artist Lee Goodwin, a driftwood iPhone dock would look snazzy on dad's desk or on the living room console table.
9. Customize a six pack with printable retro Father's Day beer labels, this is a neat idea for a family dinner or bbq!
PS here's a link to all of the gift guides posted on this blog for more great ideas (you might have to hunt through a few but there are plenty of round ups from previous years), and here's a link to all handmade gifts posted here!
PPS these would be great for dad's too. Oh and check out the French 75 kit here to learn how to infuse an alcohol, or try the homemade sea salt and olive oil infusion recipes (for the chefs – so easy and always a hit).