Each year I include products from Uncommon Goods in my annual gift guides. They have such cool stuff – you won't find a lot of their artisan and small-shop gifts anywhere else. Products are creatively designed, thoughtful, clever and are available at affordable prices. I love the little history & description of each product that they provide on the website as well (it feels as though you're purchasing from the carpenter or artist who designed your gift).
This year UncommonGoods has asked me to put together a post of my very favorites and has sent me some of the below to check out for myself.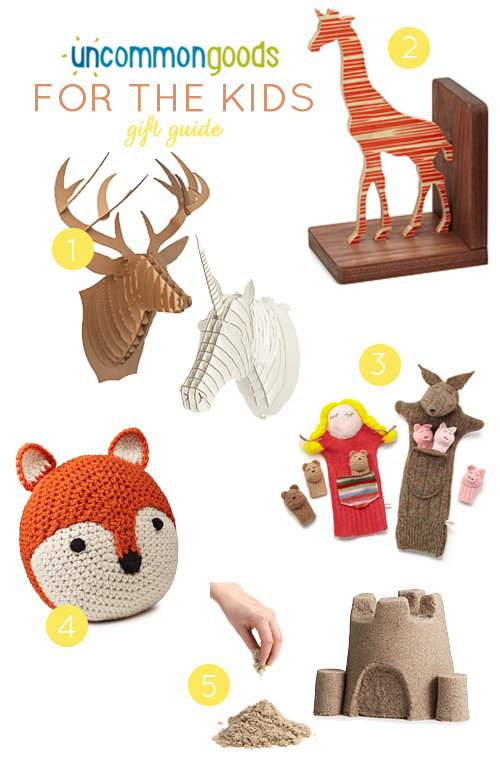 Giraffe Bookend | Bucky the Deer  & Unicorn cardboard heads
Storybook Puppets | Fox Pillow | Kinetic Sand
1. Cardboard animal heads are so great! We actually have Bucky (the deer head above) living on our mantel at the moment for Christmas and he's perfect. The unicorn is a nice twist on the original. 2. Kids get a lot of gifts at Christmas, these bookends are a really cute solution to an influx of books (always a good thing!). 3. Livy and her nana have been experimenting with sock puppet play, storybook puppets are great interactive gifts and allows kids to 'put on a show'. 4. How adorable is this knitted fox pillow? 5. Sand that magnetically sticks? No mess? Sign me up. And perfect sandcastles sound awesome.
More gift ideas for the kids here.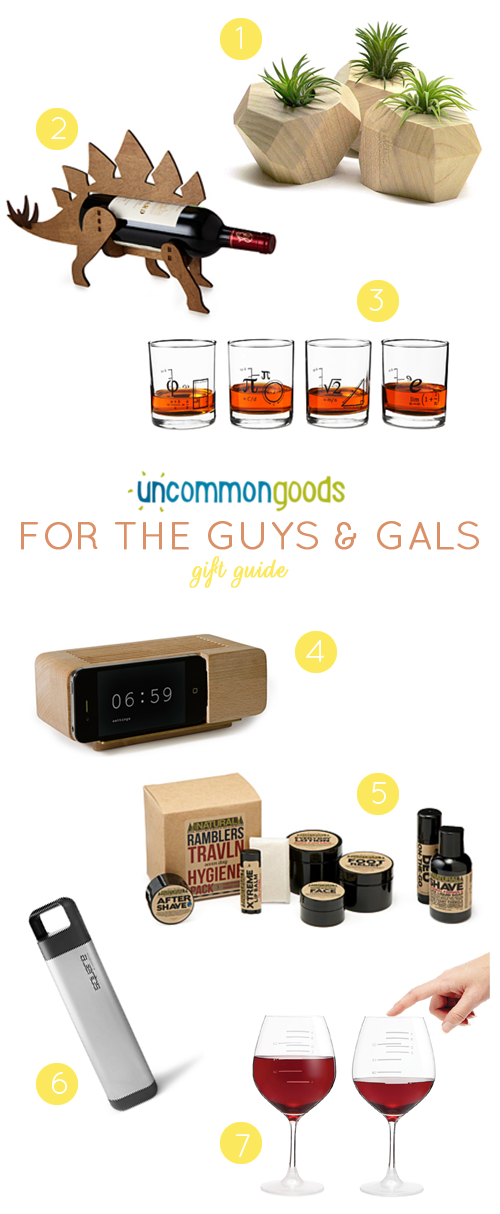 Faceted Wooden Planters | Wine-o-saur | Math Glasses
iPhone Alarm Dock | Ramblers Travel Pack |
Square Water Bottle | Major Scale Musical Wine Glasses
1. I love the look of these faceted wooden planters, the little air plants inside make these so pretty next to a window. 2. For the wine lover? This guy is awesome. 3. My PhD candidate brother would totally dig these glasses. 4. I love the wooden design and the amplification of this iPhone alarm dock. 5. Men rarely think to transfer their favorite product to smaller versions, I think that this pack is great for the traveler. 6. This water bottle was one of the products that UncommonGoods sent my way – it doesn't roll, the water tastes amazing (as opposed to stale or metal-y) and I've finally found THE reusable bottle for me. 7. My mom would love these musical wine glasses! She loves a good party trick ;).
Check out all of their clever gifts for women here and for the guys, here!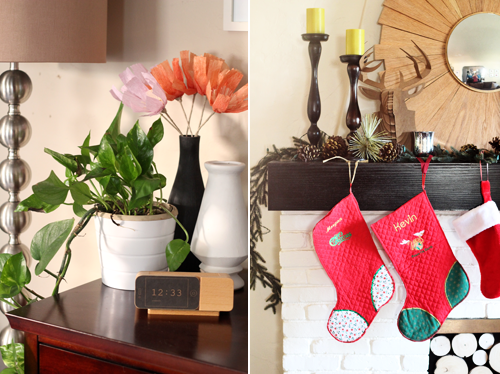 We are especially loving the wooden alarm clock dock and Bucky the deer head at our house right now. Bucky fits right in with the mantel decor.
**************************************************
This roundup is a sponsored post by UncommonGoods. I have been compensated with some of the products mentioned here but my opinions are always my own.