I can't believe we're so close to Christmas. This December has flown by in a way that I can't even describe. It feels as if we've just decorated the house and now it's time to enjoy it for, oh, a month or so (like most years, right?). But not the case. Crazy when that happens.
I wanted to share a few of my favorite finds for the guys this Christmas. Be they husbands, boyfriends, dads, sons, a friend… hopefully this will inspire for a few of the boys on your list!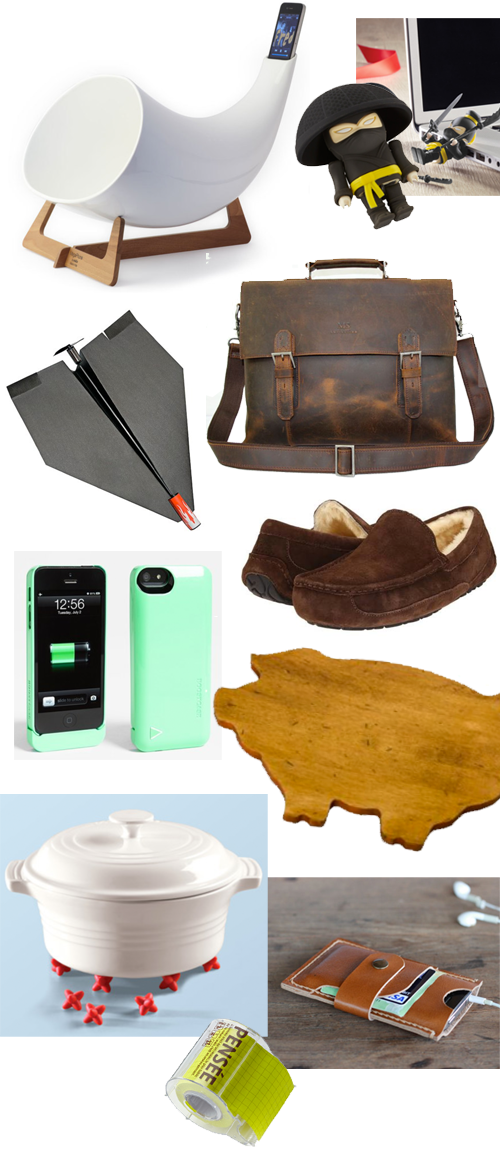 Megaphone Sound Amplifier | Kung Fu Flash Drive | Leather Messenger Bag
Electronic Paper Airplane Converter | Ugg Slippers | Rechargeable iPhone Case
Cutting Board | Tumble Trivets | Leather iPhone Case | Memo Sticky Roll
These beautiful megaphone sound amplifiers are on the high end, but they are made by hand, so neat to look at, and supposedly just awesome on the ears. For ninja-fast, stealth-like document fun, a Kung Fu Master flash drive (good stocking stuffer, no?).
Today's briefcase is a well made leather messenger bag. Etsy is full of great options. This little gadget converts paper airplanes into electronic flying machines. So cool.
Does your husband's phone die all of the time? Mine too. Solution. Shoes in our home will always be inevitable (too many comings and goings of hubby in workbooks or kids in converse) but if we did have a no shoes policy (a girl can dream), I'd gift these to Kev.
Every chef needs a good quality cutting board. Shaped like a pig? Why not. And have you heard of man trivets? These tumble trivets are the next best thing (no floral oven mitts for protecting the table from the pot roast, thankyouverymuch). Rumor has it that you can toss a couple onto your table and set down hot dishes without a second thought (and I'm thinking that later in the evening after a dinner party the boys would turn this into some sort of beer drinking game…). Great stocking stuffer.
I adore my own all-in-one iPhone case. This one is a handsome version for the guys. The idea of sticky notes on a roll is great to me, I think most guys would dig this last little find in the above collage on their desk.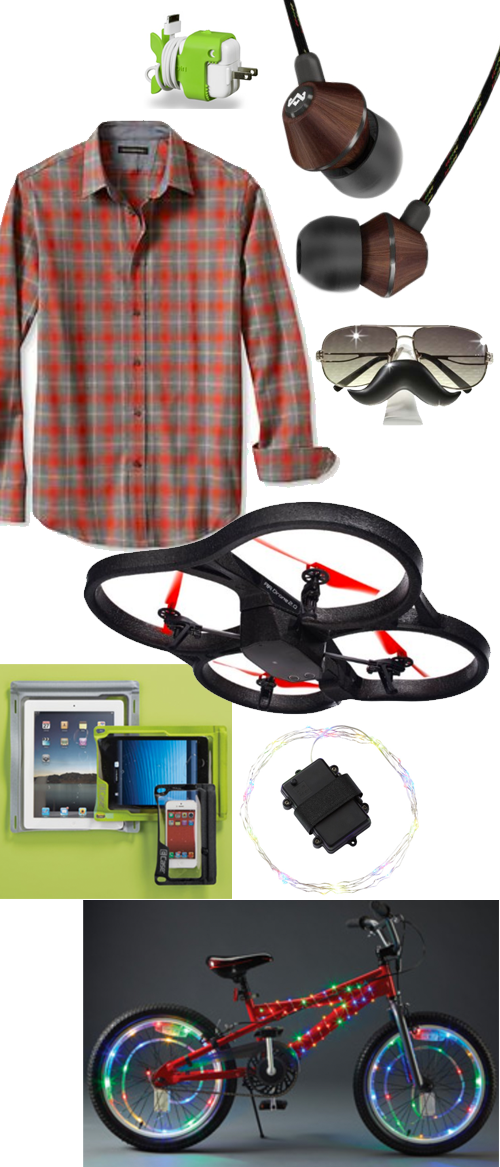 Nibbles Cablekeep | House of Marley Earbuds
Plaid Shirt | Antonio Mustache Glasses Stand | AR Drone
Waterproof Pouches | Cosmic Brightz
Another great stocking stuffer for the computer-lover (that I need now, too): Nibbles Cablekeep. No more broken and/or missing computer chargers. And for incognito music: these really cool looking House of Marley Earbuds.
I'm a fan of a man in a plaid shirt (and this one is 40% off for a short while). Look closely – how clever is this mustache glasses stand? These are awesome  for a desk or entryway console table.
If paper airplanes are not your guy's thing, how about his very own drone.
If you have adventuresome boys to buy for, waterproof pouches make great gifts. Because they still go camping/fishing/hiking with their gadgets these days.
Finally, Cosmic Brightz are completely necessary. They look awesome on a bike, but they'd light up my and Kevin's ugly Christmas sweaters brilliantly this year!
More gift guides for this season (and last) right here. Happy present hunting :), I still have a few to go, too!