The travel posts on this site must be well indexed by Google because a question that I receive somewhat frequently via email is what travel equipment for kids are my go-tos. I've covered tips for traveling with babies here and toddlers here, but that was – for the most part – when I was traveling with just one (one these days feels like a breeze!). Let's talk about equipment today and what a typical trip to the airport might look like.
If I took inventory on what gear (for navigating airports, restaurants, city streets) that make traveling just a little bit easier, I would come up with these five products that I regularly rely on (update: part two of the gear in action now posted):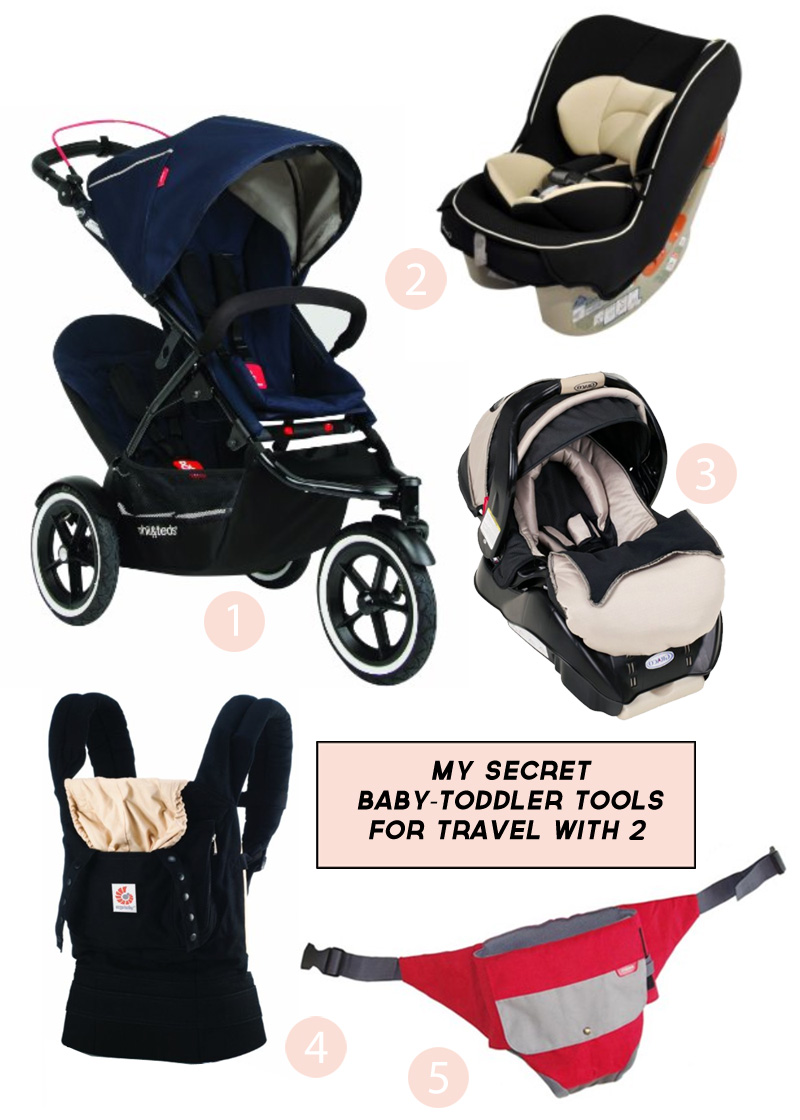 They are by no means must-haves, but I depend on them a ton! I've mentioned before but my office headquarters is up in the Monterey Bay area (about 500 miles north of San Diego) and I'm lucky enough to often bring the girls with me when I travel for work. I have family in Santa Cruz and my mom or Kevin might even travel with me to watch and play with the girls while I'm in the office during the week. There are times when I'm traveling solo with the girls too for work or for play, and I like to make travel as no-frills, no-fuss as possible (I bring as little as possible and make as little of a deal about it I can, I think of it as just part of our life).
My Secret Travel Tool List
1 | Phil & Ted's Navigator Double Stroller: I'm a huge fan of three wheel strollers for ease of use. After much research I discovered that this guy has received the best double (for a stacked stroller rather than a side-by-side) stroller reviews. We love it. T sits snugly in the bottom seat and Liv rides up top. Even better – it fits either our Combi Cocorro car seat for Liv OR our Graco Snugride for Taylor with the car seat attachment (check it out in action from a recent trip to the airport). For the record, I'm not sure what manufacturer guidelines are for car seat compatibility, I'm speaking purely from personal use here.
PS I love my BOB stroller more and look forward to the day when I have only one in a stroller so that I can pull it out again. BUT as far as doubles go, this guy fits easily through airport security conveyor belts, can be gate checked, and – most importantly – ensures that I have my two little companions buckled in and secure while wandering terminals or city streets.
2 | Combi Cocorro Car Seat: I researched high and low for a lightweight car seat for travel to Europe two years back and discovered the Cocorro. I love, LOVE this car seat more than words can describe! It's very lightweight for travel and it's quite compact (you can even fit three across in the back seat of a car). It's the only up-to-40lb car seat that can fit in a stroller with the cross-car seat safety belt in place and when we stow it under the plane it's very easy for me or anyone else to cart around in a travel bag. We have the black (available here).
3 | Graco Snugride: Originally bought this infant car seat because it was compatible with the most amount of products (BOB and Phil & Ted's Navigator strollers being two key ones). We used it for Liv and now for T.
4 | Ergo Carrier: By far the easiest carrier to put on and take off quickly for travel which is great for boarding a plane. Has a large sun cover for walking around when we reach our destination or for allowing T to sleep on my chest while flying (I can block out all light). I love that I can wear her on the front or back and that even at 12 months it's super easy for me to carry her around. We used the infant insert when she was less than three months old.
5 | Phil & Ted's Wriggle Wrapper: I am not a fan of traveling with baby products. I've mentioned before that I put the girls to sleep wherever I can when we arrive (beds on the floor, beds in drawers or car seats – infants can sleep anywhere). The idea of carrying a travel high chair makes me laugh – momma has two hands and is willing to bring two rolling suitcases and a stroller with her tops! This Wriggle Wrapper rolls up to the size of a rolled sweater and weighs about a half a pound. If I bring it along I am grateful later for the high chair help at restaurants or the hotel (T's a mover and shaker, especially when she's eating :)). This soft high chair wraps around any solid chair (unlike the fabric versions that slide over the top of a chair which is very limiting) and secures baby in while they eat. I think that the Wrapper may have been discontinued! Snatch one up if you can find it (there are alternative brands out there, too).
Bonus: Maclaren Triumph Lightweight Stroller: The bonus stroller that's not on the above list is my lightweight Maclaren. I usually opt for a stroller that can do double duty by carrying a car seat with it as well, but if you are looking for an umbrella-style stroller that quickly folds up for, say, hopping on and off of a city tour bus but one that also reclines for mid-day naps (naps should never rule your vacation) this is the one.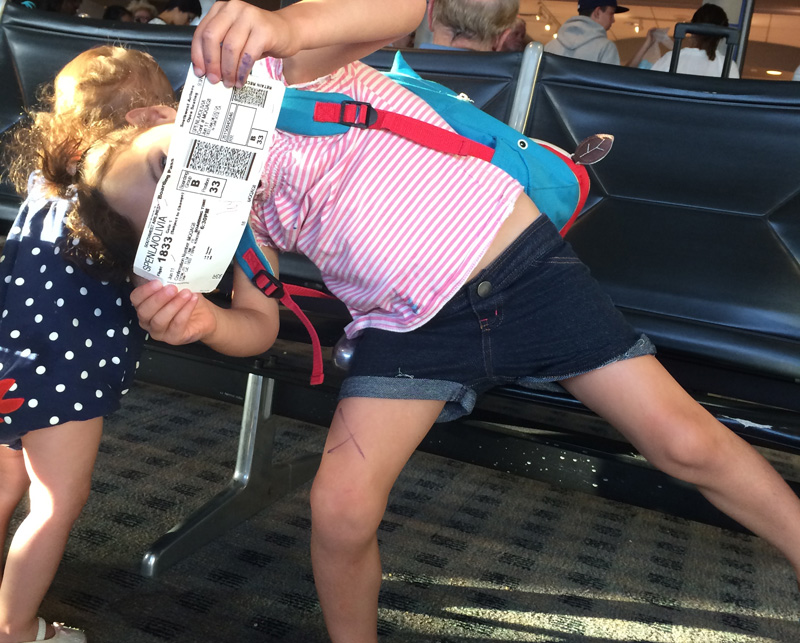 But what about all of the above in action!? I'm breaking this post up into two (soooo many words) but come on back for a typical trip to the airport with our fam so that you can see how just little me with two little arms gets the troupe from point A to point B. Pics and hints to follow! Update: you can jump out to that post right here.
PS if you have a moment pop over to this interview from the lovely Capella – I was thrilled to be featured and you might find it interesting! She quizzed me about my hometown, my comfort foods, who I'm inspired by…