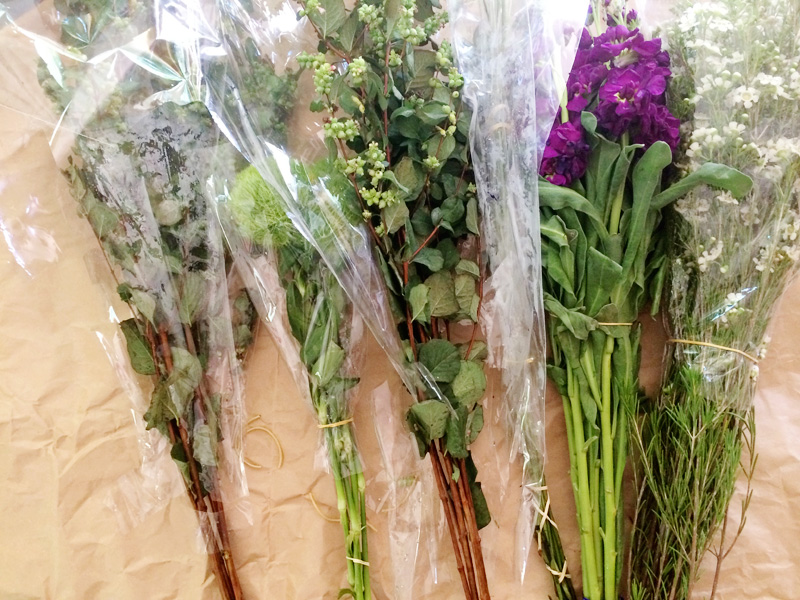 This past weekend I asked Katie Beverley to come over and help me shoot photos of the house from head to toe. It was a good lesson in goal-setting and 'making things happen', we accomplished a ton. I staged (aka cleaned) while she found pretty details in the ordinary. I can't wait to see the photos. Above image from when I came back from the flower shop. Wish my home could always be covered in branches and blooms!
If you have some extra time…
I tried this double knot (found over at Cup of Jo initially) and it is so easy and pretty. Sporting it on our next date night.
Inspiration for the most colorful and sweet outdoor space (ps mine is almost done – but I've got more of the blue/lime thing going on).
A House Doctor moment – I'd like to find a way to make this striped bench for the living room (a close up). Have also been searching for a ladder just like this one for in there.
Really, really digging this rug.
Sleep in an IKEA for the night (this is for real).
Kid's need more sleep and a little emphasis on self-discipline: How to Make Your Kid's Smarter according to Time.
It's blazing hot here in San Diego right now, but I'm so ready for fall maternity. Speaking of maternity, just scooped up this pretty dress for a November wedding (love that price).
"In pregnancy, there are two bodies, one inside the other. Two people live under one skin … When so much of life is dedicated to maintaining our integrity as distinct beings, this bodily tandem is an uncanny fact." An article/guide to taking care of your emotional well-being during pregnancy. (Another one I loved: "As much as childbirth is a major event for the body, it's also a transformative event for the soul. Just as significant as your own birth and your own death." You are witnessing – nay, conducting and orchestrating – their most significant life event.)
A casual summer-to-fall dress. And the necklace I'd wear with it (recently met the designer and enjoyed her aesthetic).
I love me a good sale. J Crew – you tease too much.
I'm really admiring Glenn Dean's art right now (especially his gallery of landscapes and of California).
The Theory of Everything documents the story of Stephen and Jane Hawking – a must-see movie that's on my list.
What are you up to this weekend?