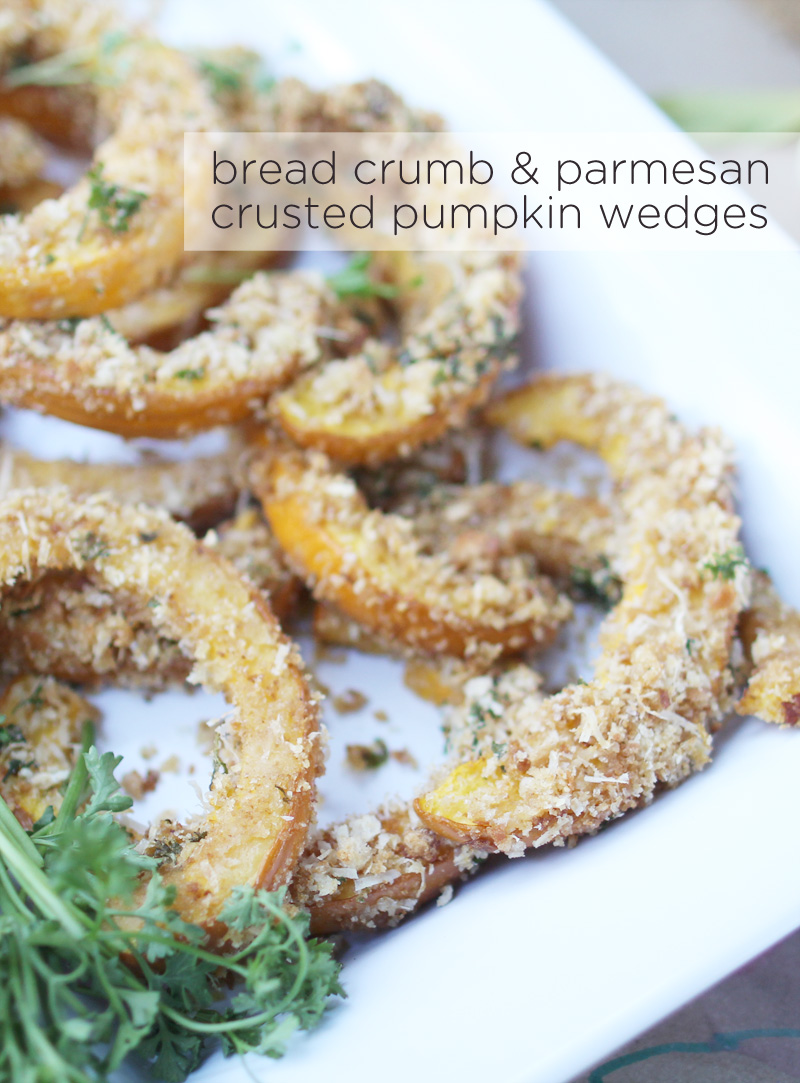 How was your Thanksgiving? We ended up having incredibly warm weather (for November!) here in San Diego and relocated outside to eat. Butcher block paper was a more natural fit for the giant wooden table and by the time our meal was done the table was covered in crayon drawings by everyone (amazing how coloring at the table can be so addictive and inviting). Here's a shot of the family: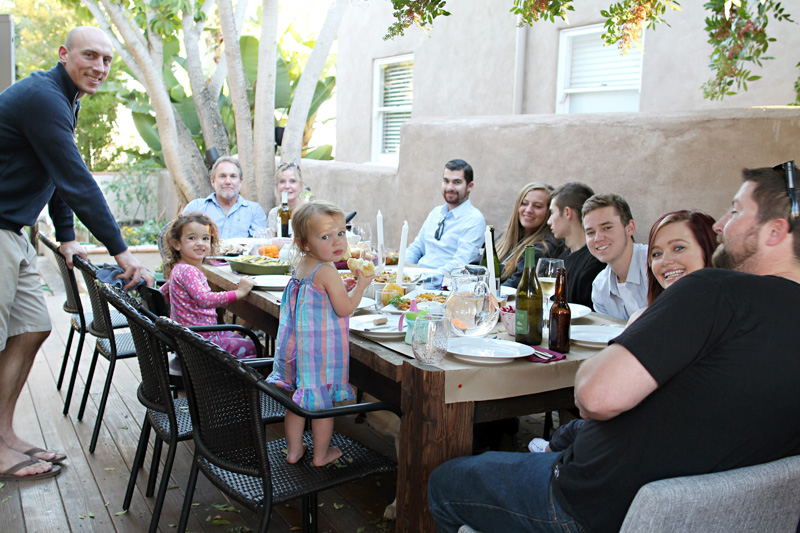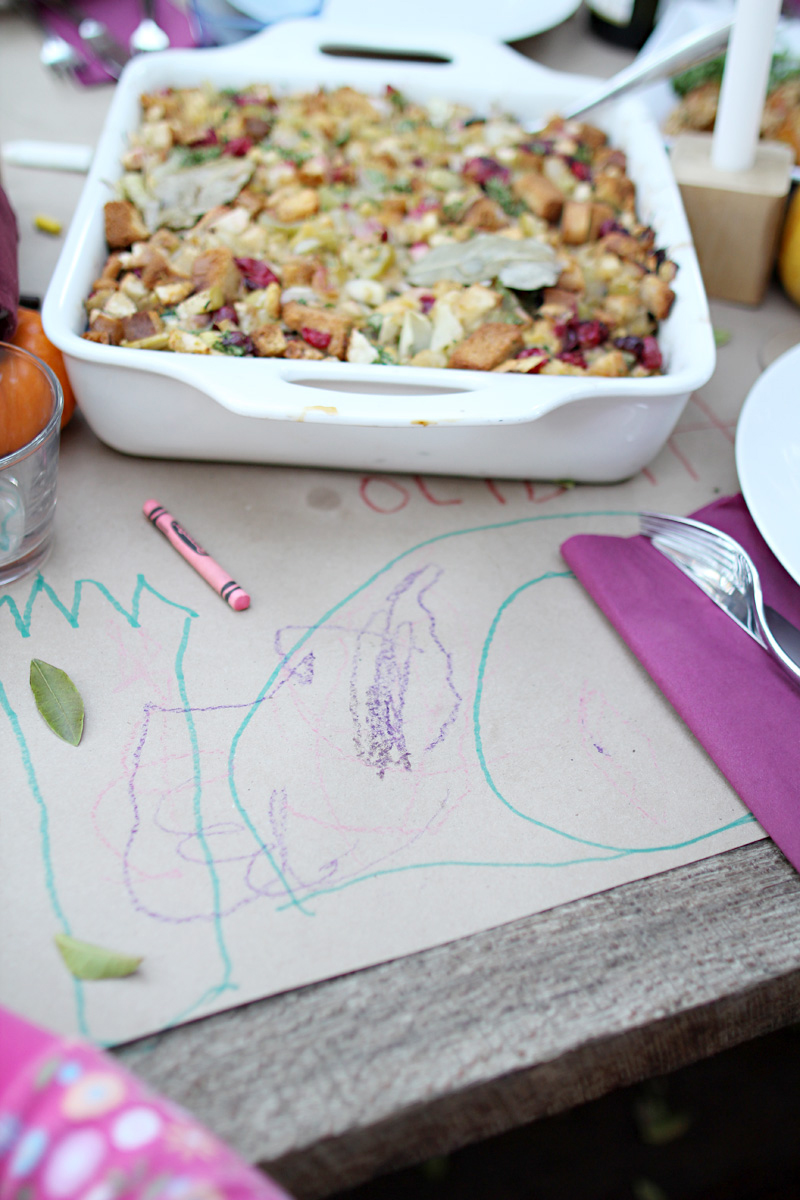 Liv's hand-drawn place setting :).
Since pumpkin season is officially over (and we are making room for Christmas by putting away fall decorations this weekend!), it's time to use up those pretty pumpkins we have lying around the house. We have been gathering sugar pumpkins in our CSA box and using them as decorations, same for a lot of varieties of squash – butternut, acorn, kabocha, traditional pumpkin – that have been filling baskets and lining the tops of tables because they're so pretty.
This recipe today is great because it calls for a few simple ingredients, is SO delicious and is perfect for keeping good fall veggies from going to waste. My favorite is when it's used with butternut squash, but we've tried it with most of our leftover whole pumpkins/squashes and it's an all around yummy appetizer or side dish.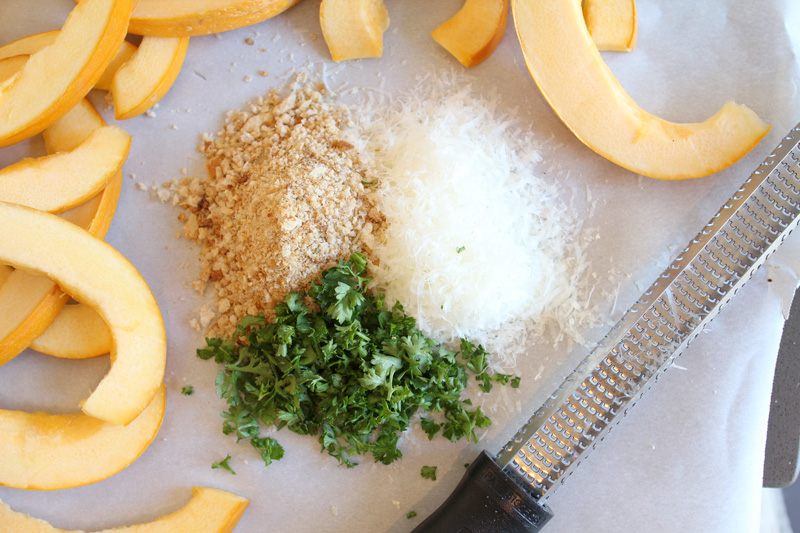 Kevin first discovered this recipe in one of our favorite cookbooks, Plenty by Yotam Ottolenghi. Over time we've modified and simplified it so that it has become a quick go-to for parties or meals. I've partnered with the Grains Food Foundation to share this quick & easy recipe because bread crumbs are one of the key ingredients and because grains are a big part of our natural daily diet.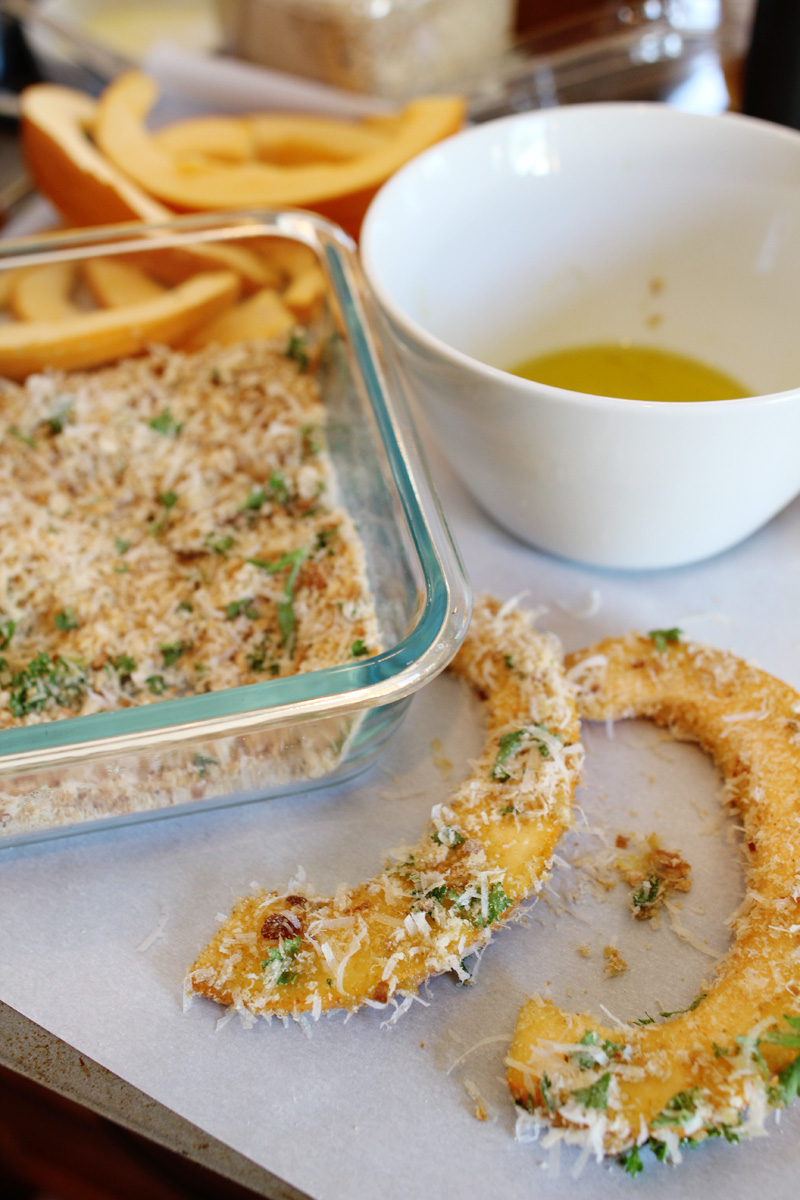 Bread Crumb & Parmesan Crusted Pumpkin Wedges
1 cup bread crumbs
1/2 cup freshly grated parmesan cheese
1/2 cup chopped Italian or regular parsley
1/2 t salt & pepper
1/2 cup olive oil
1/2 lemon
1 sugar pumpkin cleaned and sliced (about 1/4-1/3″ thick – skin and all), or: 2 butternut squash, 2 acorn squash, 2 kabocha squash, 1 large spaghetti squash, 1 small-medium sized pumpkin, or any other squash you have lying around
Dip:
1/2 cup sour cream
1/4 cup chopped fresh dill
We'll often make 2-3 batches of the above recipe depending on how much pumpkin/squash we have to use up.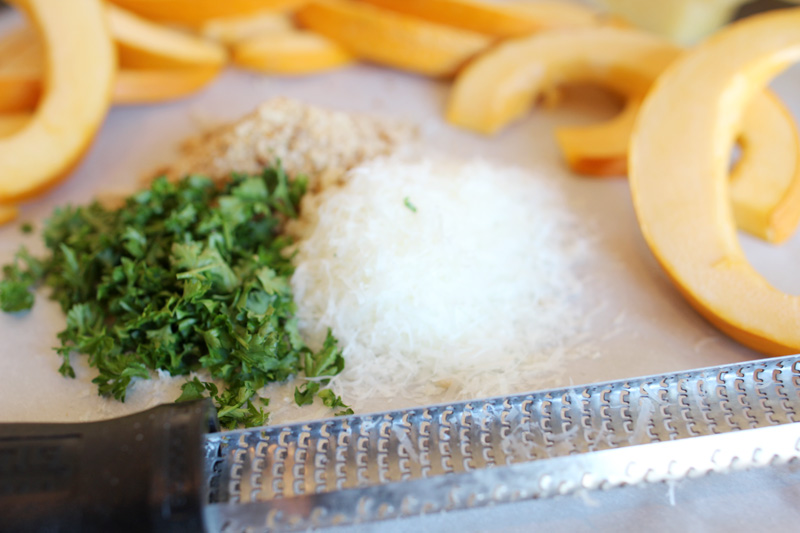 Preheat oven to 375 degrees. Mix the bread crumbs, parmesan, parsley and salt & pepper in a bowl or onto a plate for dipping pumpkin slices.
Dip slices of pumpkin/squash first in olive oil and then in bread crumb mixture.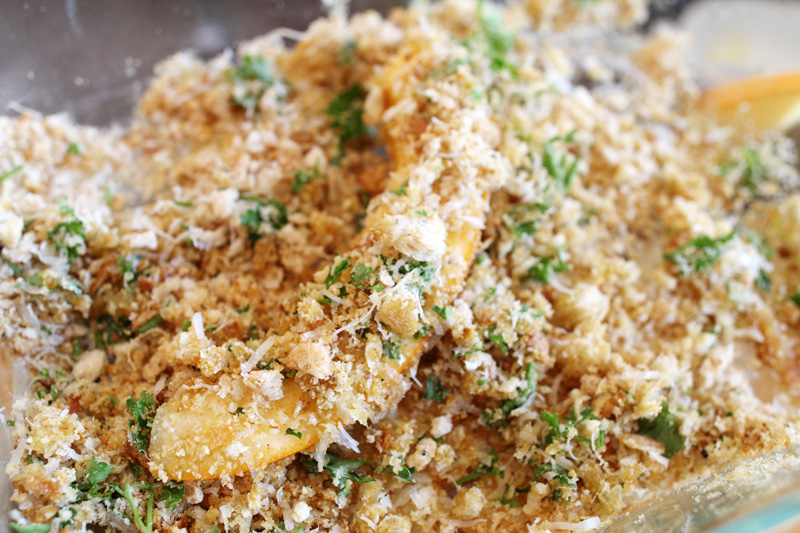 Line a baking sheet with parchment paper and organize pumpkin slices, it's fine if they touch!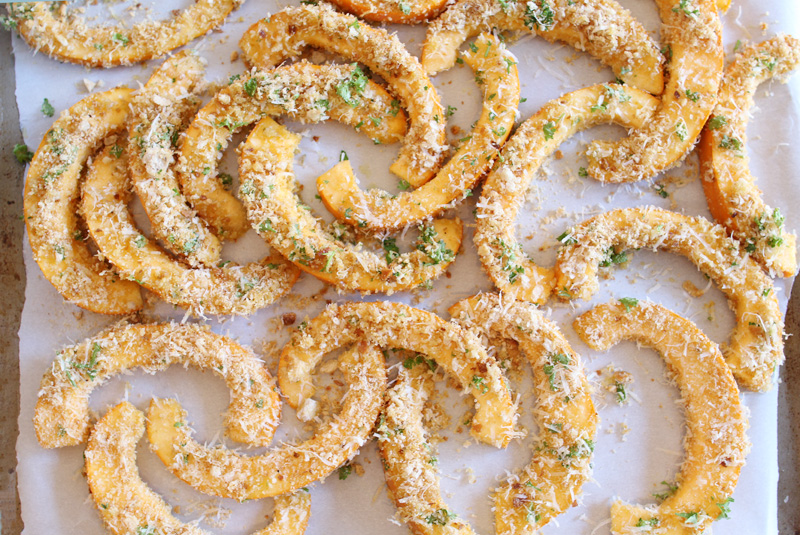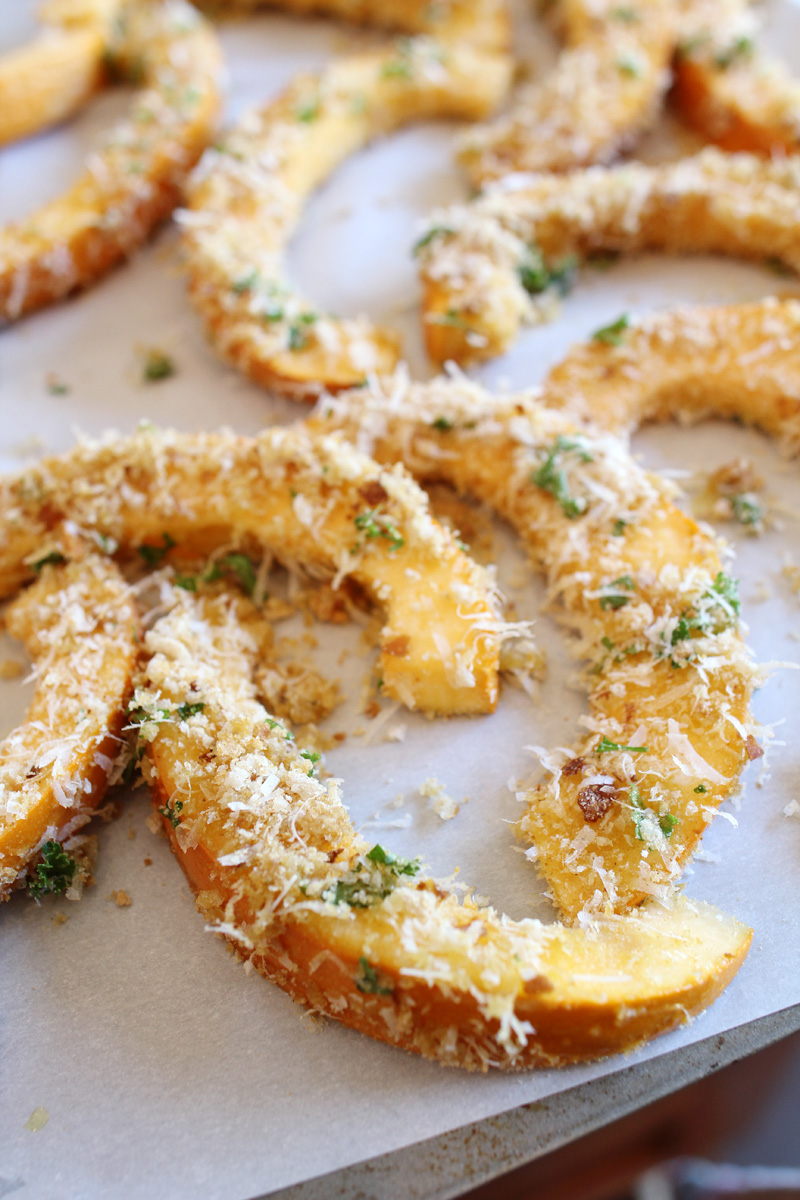 Squeeze lemon juice gently over slices and pop the tray into the oven for 30-40 minutes.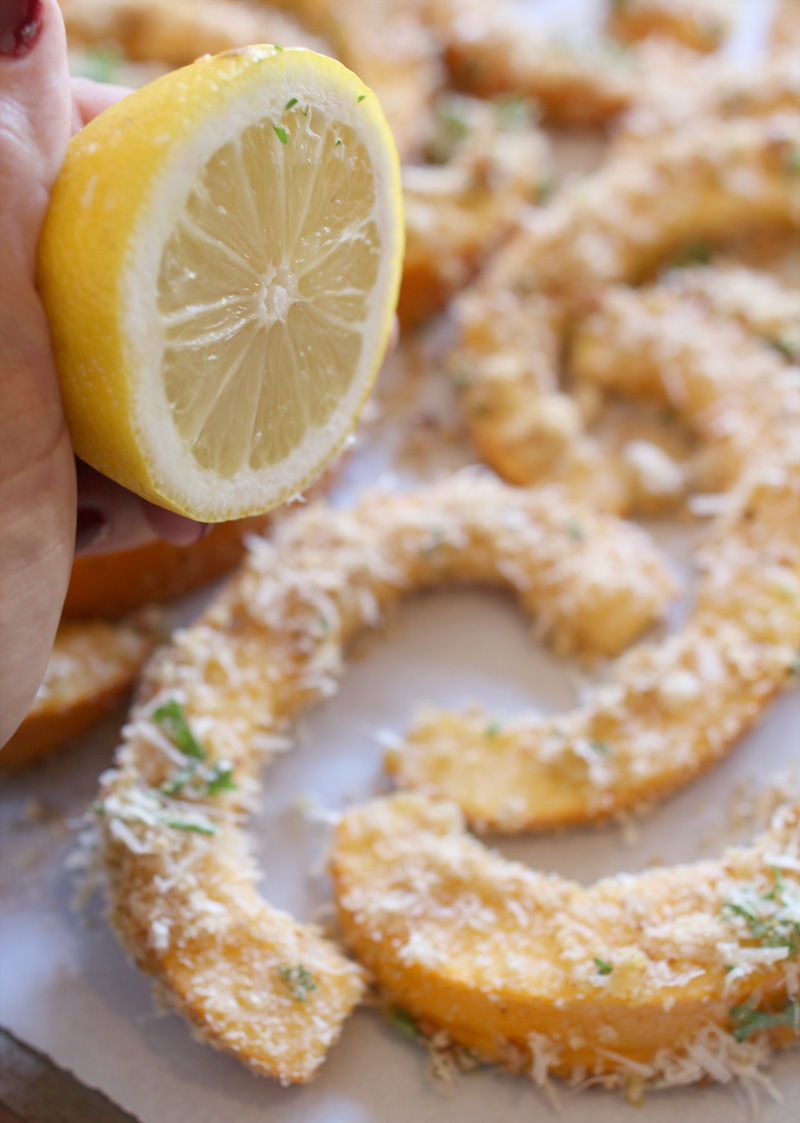 When finished, the flesh of the squash will be soft and delicious and the coating will be slightly crunchy. A sour cream and dill dip (2 to 1 ratio) compliments the finger food appetizer perfectly.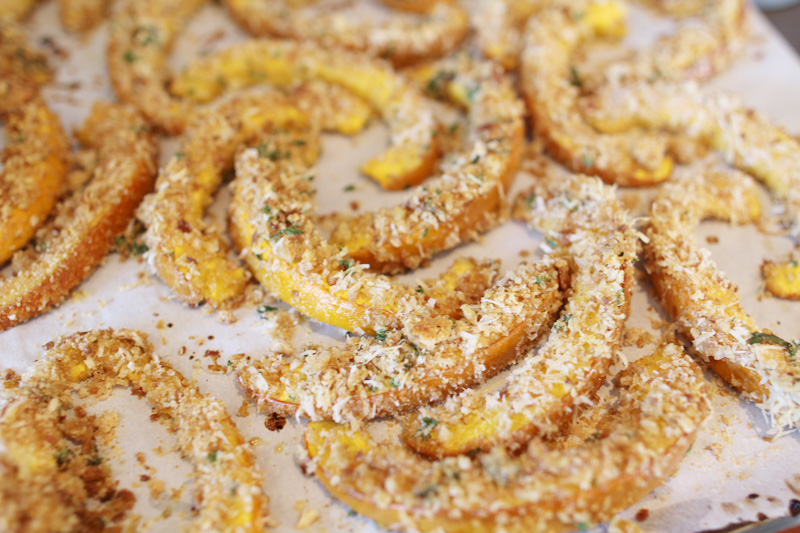 Oh so, so good. I love squash in the fall, especially baked, and I think that you'll really enjoy this recipe. My sister suggested mixing in coconut flakes for next time and I think I'll give that a try.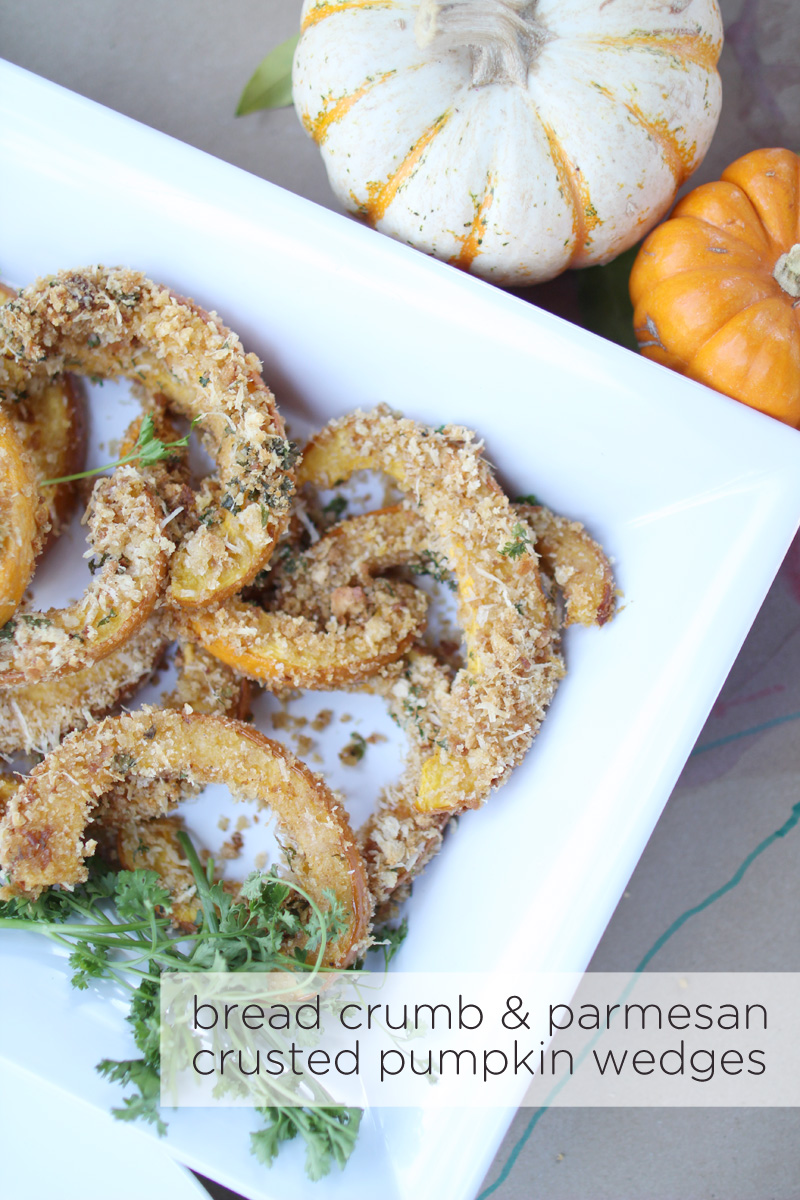 Any new/creative ways you're using grains in your fall & winter recipes? Bread crumbs are great because the possibilities of what can be coated, roasted or baked are endless. Now back to holiday decorating! Cannot wait to get that Christmas tree up and the house covered in glittery twinkle lights!
I partnered with The Grain Foods Foundation to create this post. Thank you for letting me share about the organizations and companies that support this site!