Sorry for the radio silence over here. As a part of my recent design update I've also been working on transferring host servers and, long story short, the site rolled back to a version from three weeks ago. Argh! It took a few days to pinpoint the issue but it's happily fixed now thanks to the folks over at Bluehost :).
And, in case I forget, Happy New Year's Eve! 2015 here we come.
We had such a wonderful Christmas with lots of family visiting. We're also expecting our home to have a bit of a revolving door over the next month with Liv's 4th birthday and the new baby. Timing has coincided itself well with a lot of winter maintenance projects that we've been meaning to tackle so I thought I'd share a few photos and a little on what we've been up to.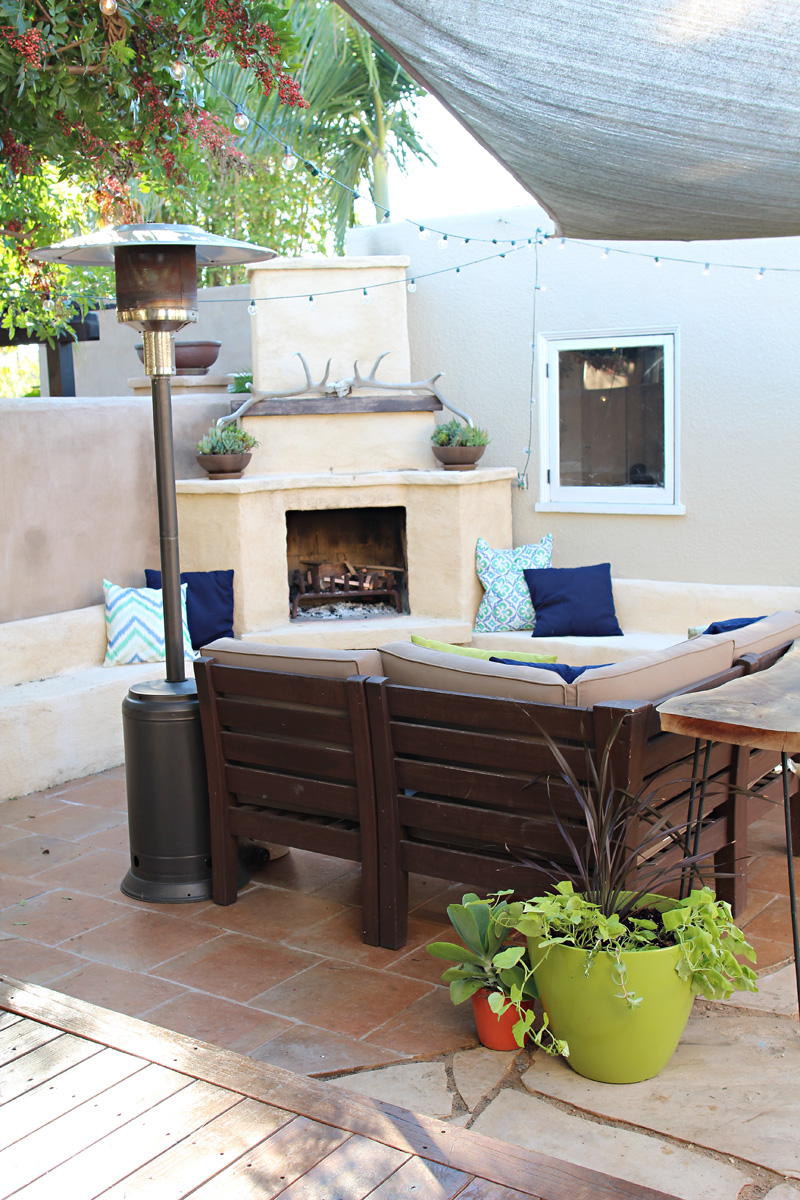 It's such a great feeling to get much needed work done (despite how much I'd love to be going to the zoo or spending a Saturday morning at an awesome brunch spot). But those precious weekend hours over the last month or so have been put to valuable use! We have maybe 20 days of rain a year, which I definitely won't complain about, and we (and here I mean mostly Kevin) try to tackle some of the bigger power washing/staining/sealing projects come each November/December just before those twenty days arrive. It helps to keep the outdoor patio, new deck and entertaining area in ship shape, especially come spring when it's really time to enjoy this space again.
Here's a peek at the before: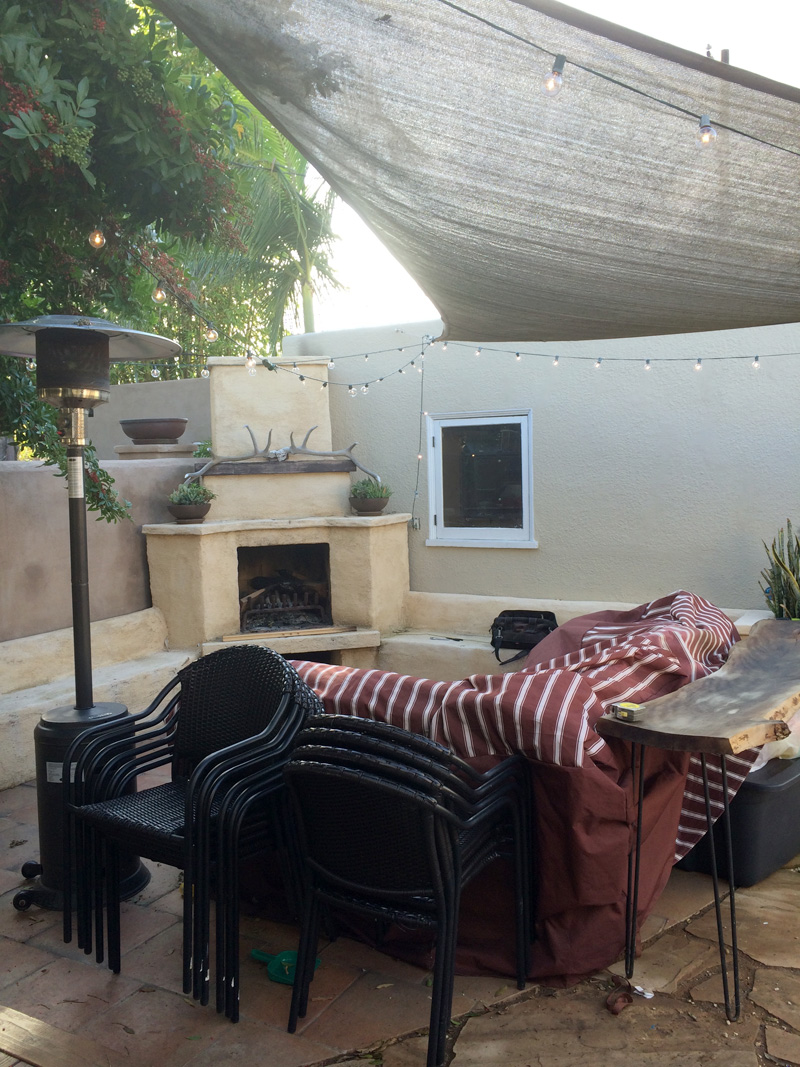 Looking a little dusty and sad. The after is quite a bit better, right? Ready for guests and outdoor entertaining (we actually had Christmas brunch out on the deck – the weather has been beautiful! And fingers crossed Liv's birthday party can be held outside, too).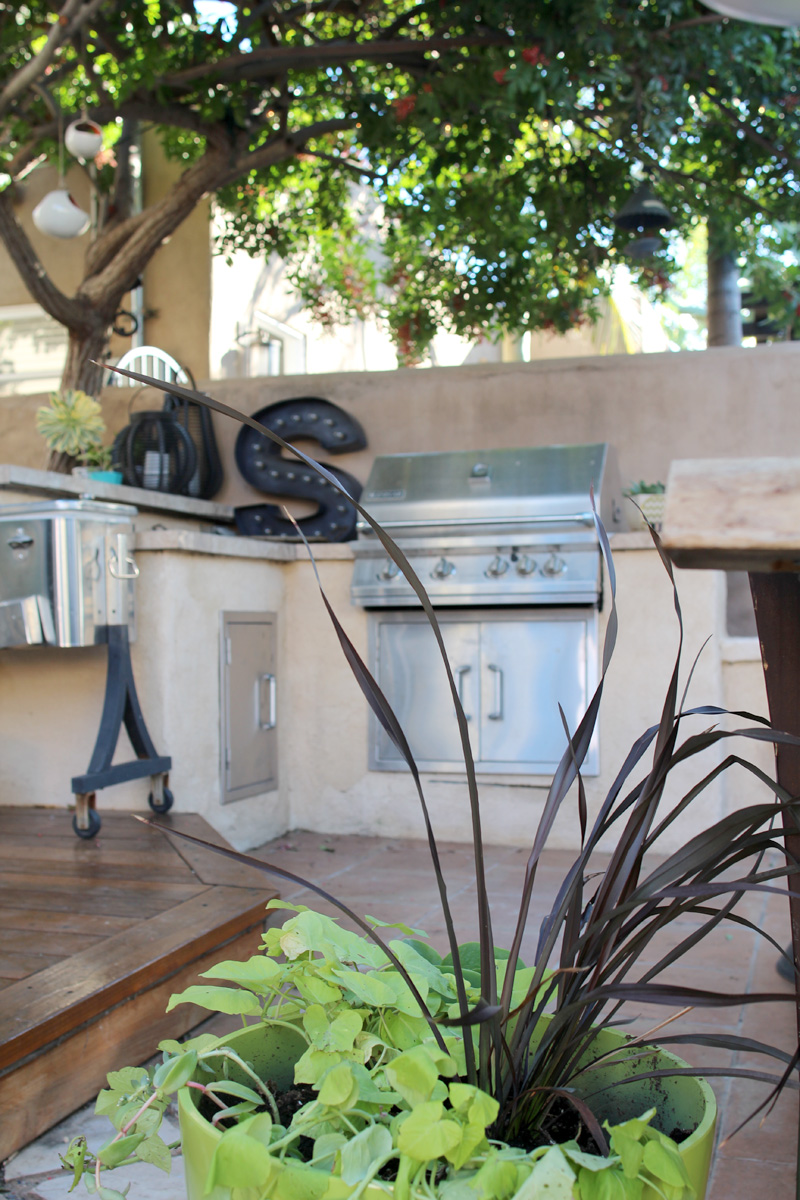 A few new updates since the last time I shared on our backyard include my Christmas presents from Kev (those awesome iron planters on the outdoor table! and a new coffee table for the sectional that he built – more on his new welding hobby soon). I also found that S marquee sign (above) at HomeGoods for Kevin's birthday earlier this fall, it looks great lit up at night and matches the globe lights we have around the yard.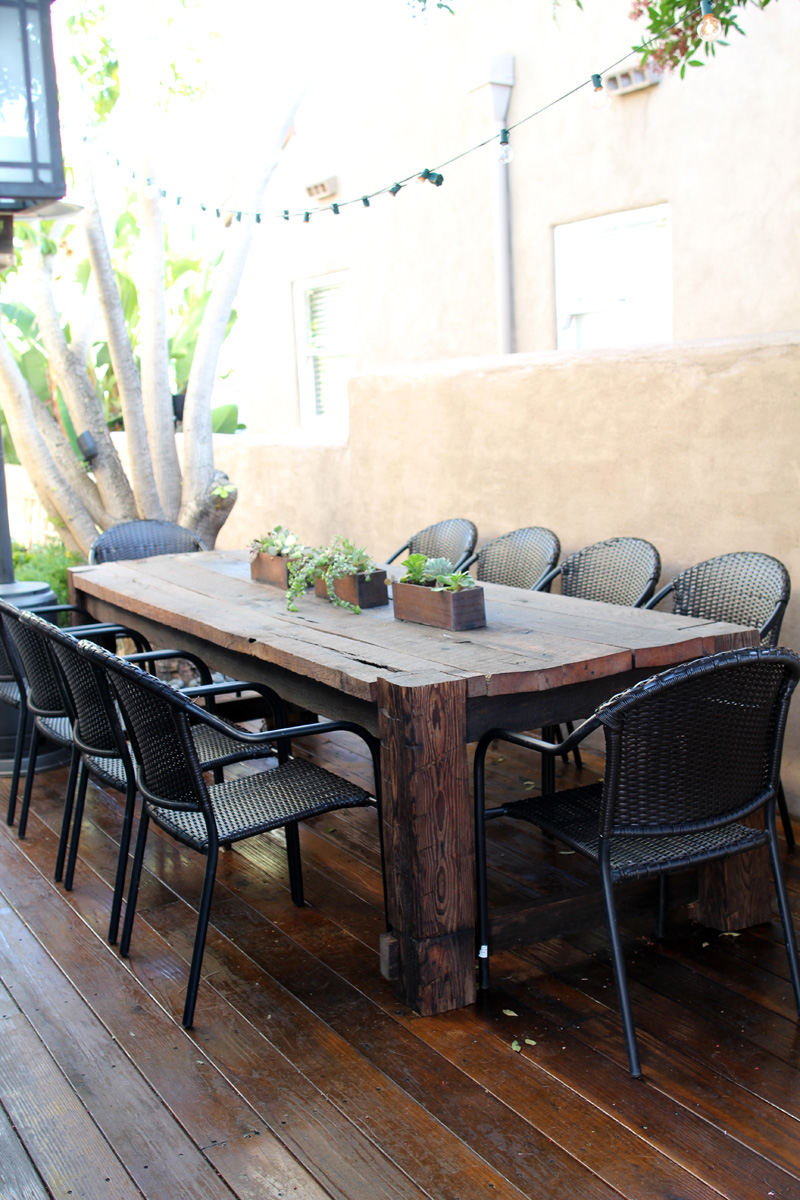 The new iron succulent boxes look awesome.
Also, new pillows. I keep finding cool throw pillows and I keep incorporating them into the mix. Really digging pattern at the moment (found this guy and his brother across the way on the other side at a consignment shop) and they're super comfy for hanging out by the fire.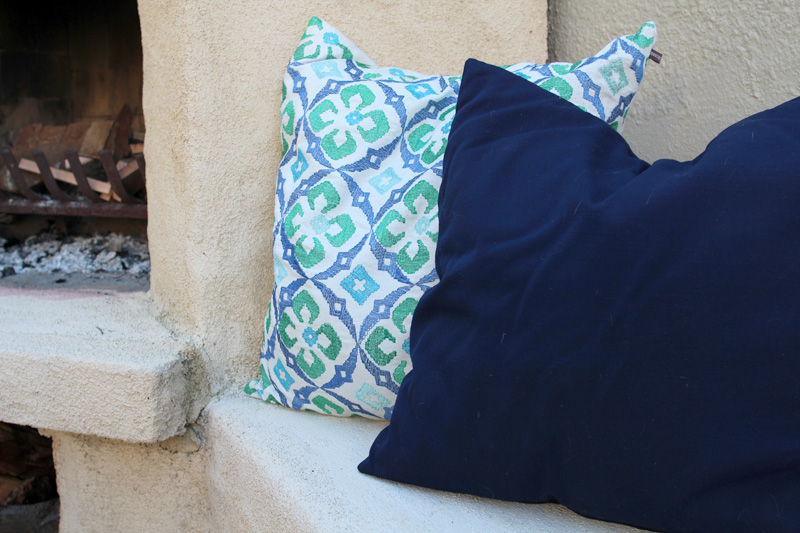 Also new to this space is an Ikea chair from the as-is department. It's not technically an outdoor chair, but I'm hoping that because we don't really have harsh outdoor weather here it will be okay. It's filling a nook that really needed a seating spot and I love how the black rattan looks.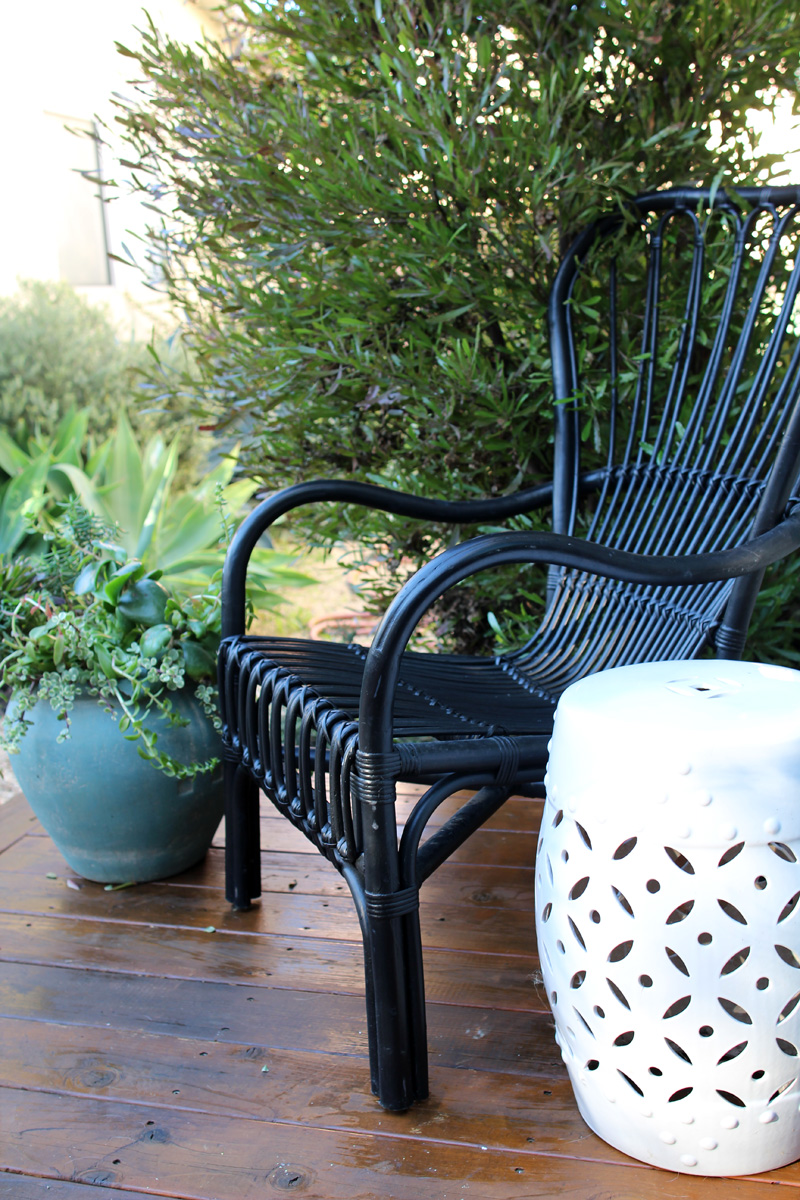 But back on to that maintenance…
The first maintenance project was to power wash everything. There is nothing like grime-free stucco or tile!
The second was to reseal the outdoor furniture (namely the beautiful outdoor dining table Kevin built three years ago out of reclaimed wood and the slab bar table that he put together last year as a buffet/drink station for outdoor parties).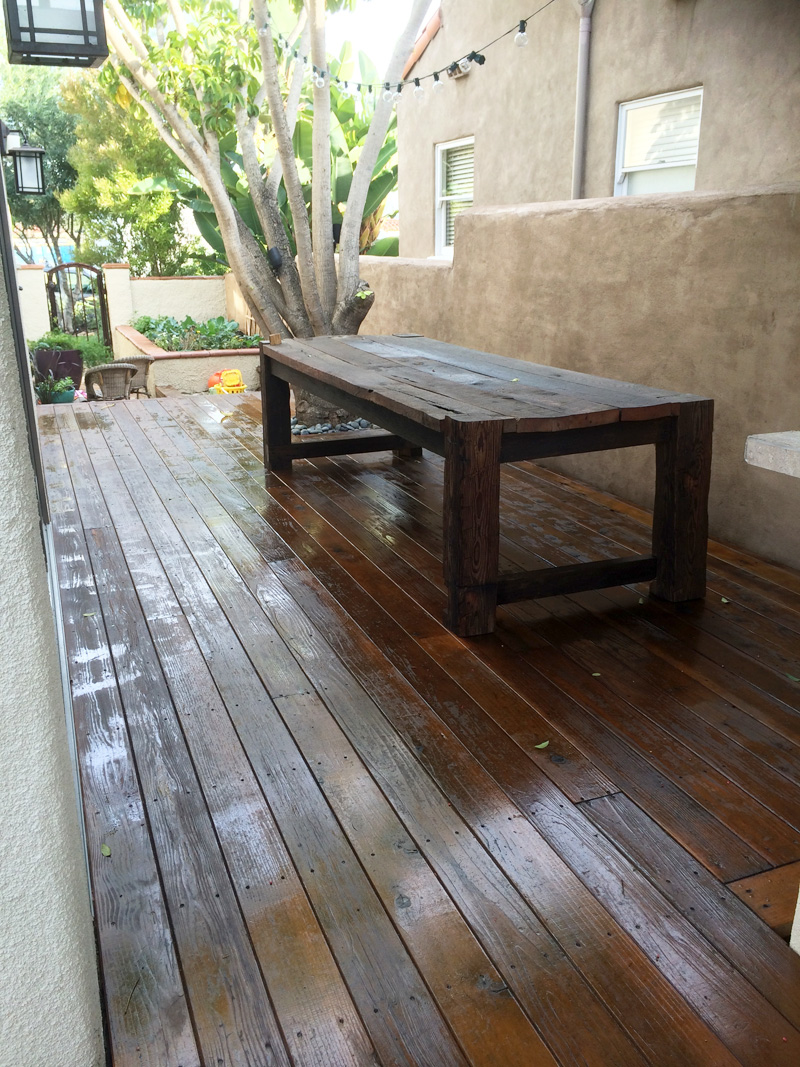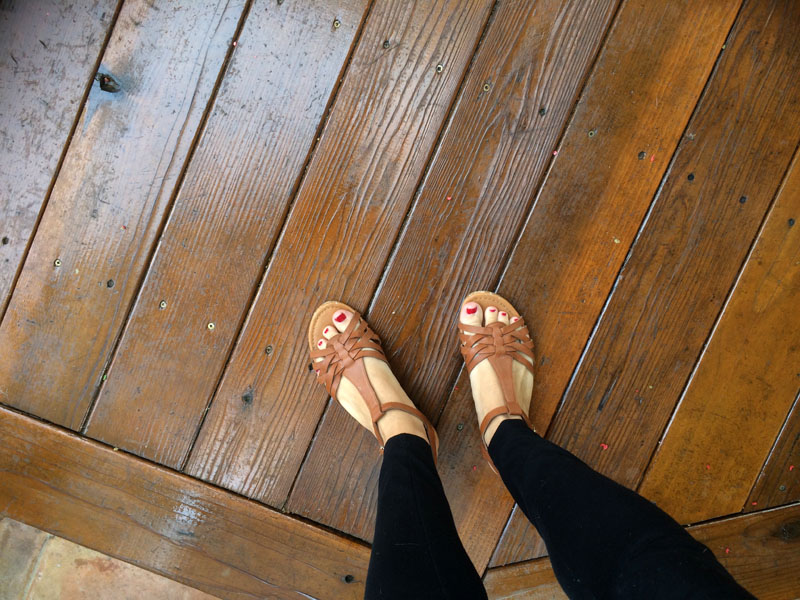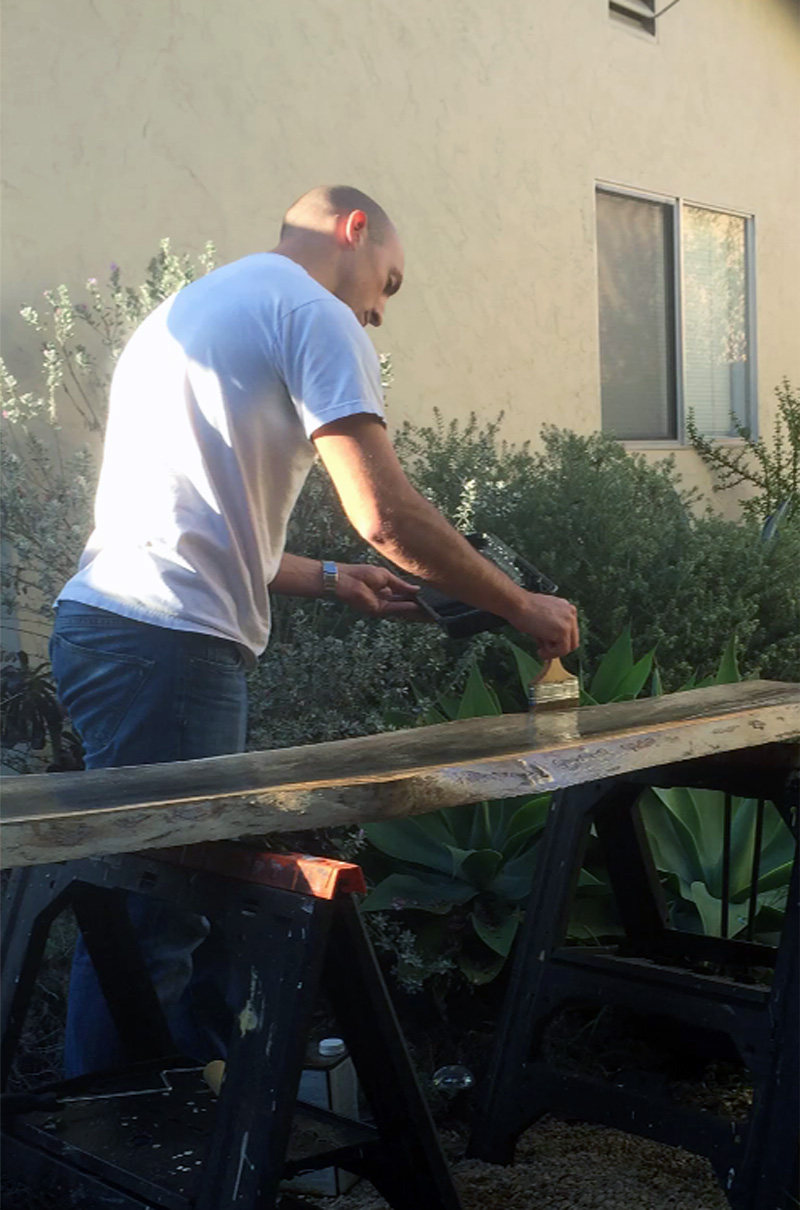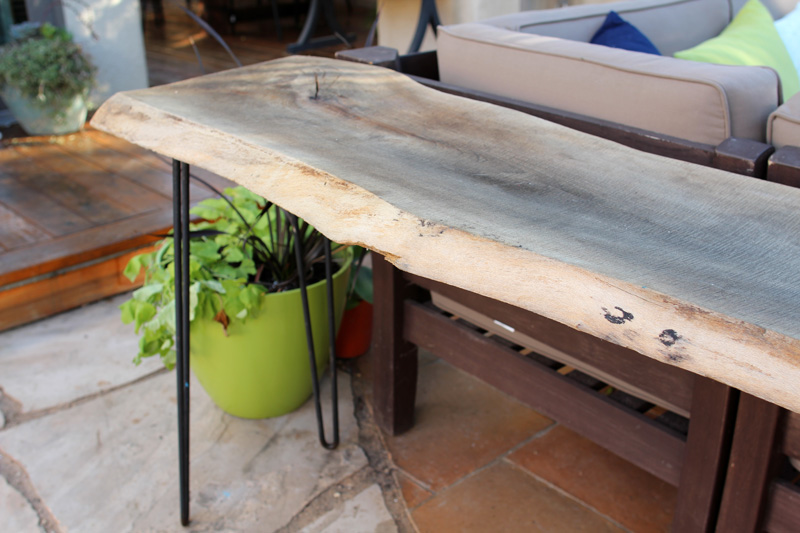 The third was to reseal and condition the saltillo tile (which is pretty popular/common here in San Diego). The girls were both really wanting to help at this point (picture eager little faces pressed up against the kitchen glass doors) so Kev acted as supervisor. The sealing of the saltillo tile and the sealing of the deck were quite a few days (maybe even a week or two) apart and we kept them inside for the latter because of fumes.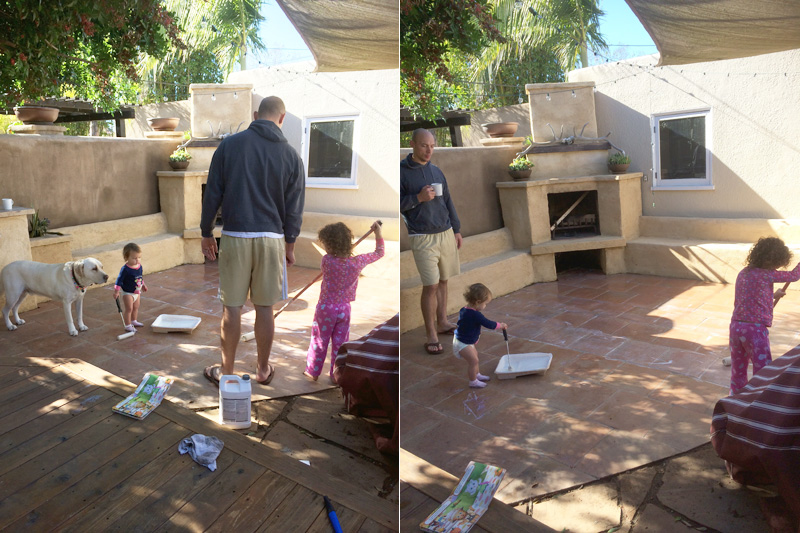 The fourth was to reseal the deck. Kevin used TWP, an oil based sealer that doesn't require any sanding, just power wash and scrub on.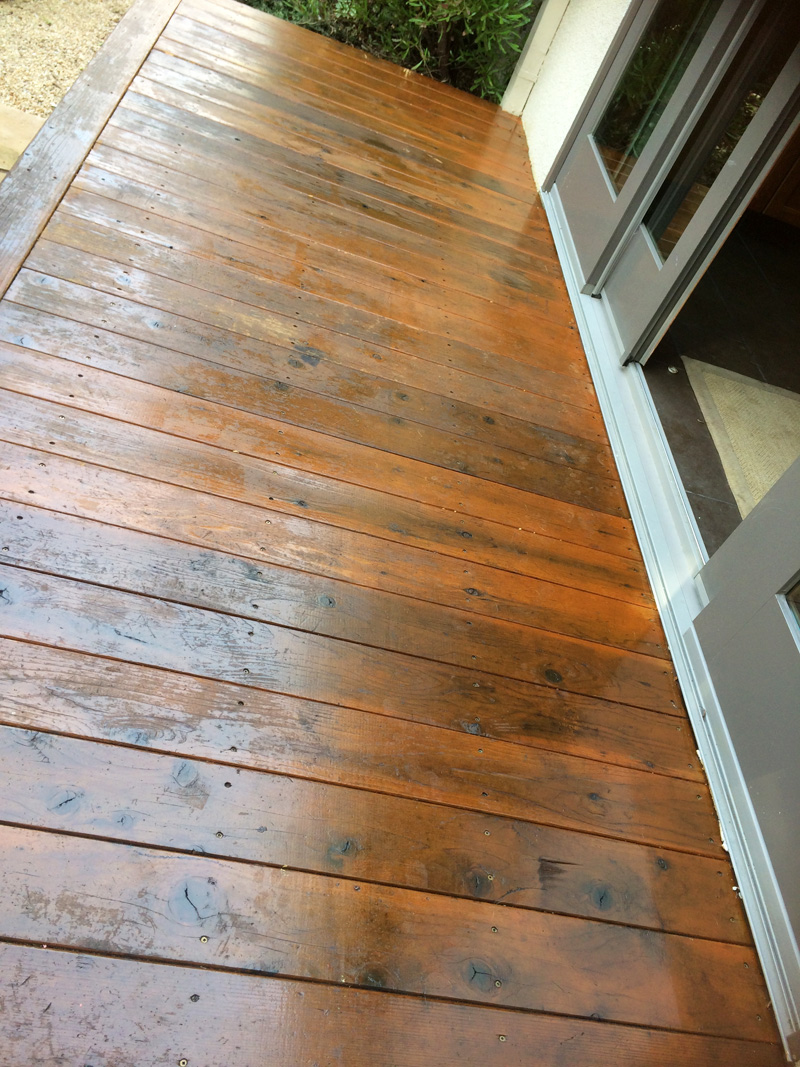 Plant updates for around the yard were high on my list, especially finding a new 'pop' of color to sit right in front of our sectional as you're leaving the kitchen.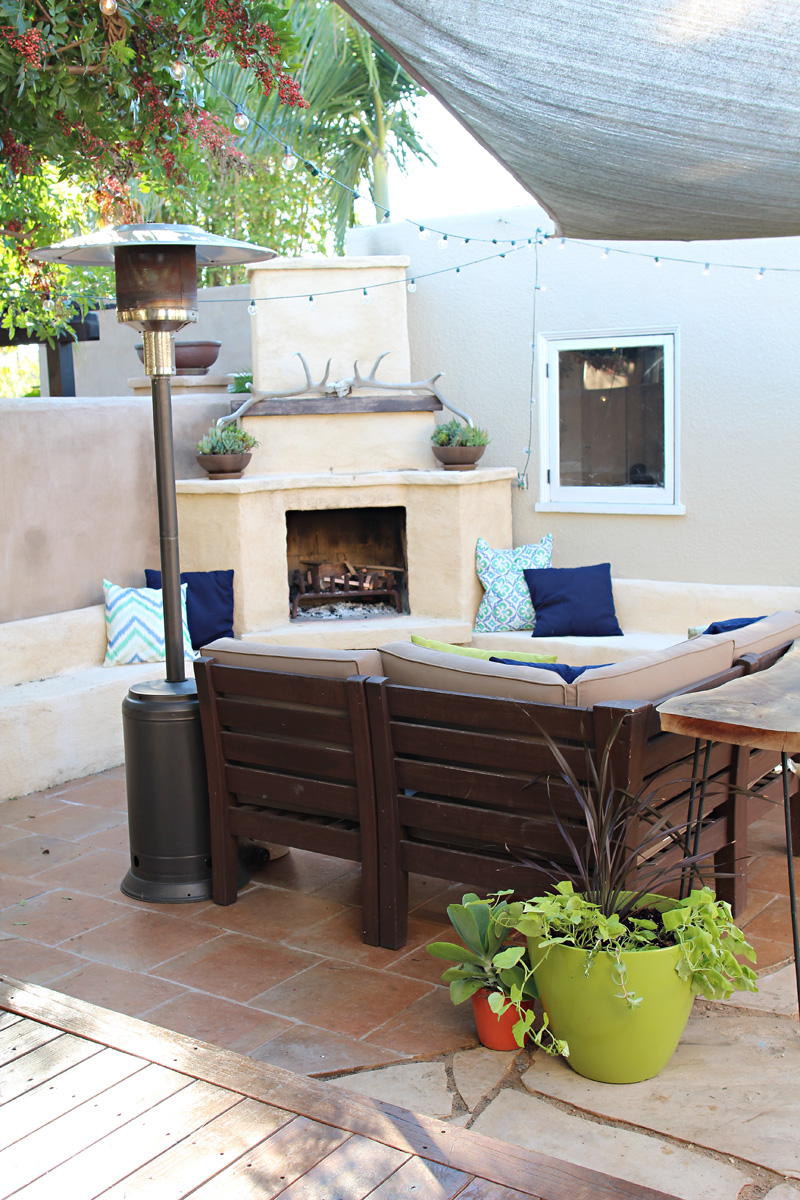 I found this big green guy at Lowe's (plastic, too, so it wasn't too expensive). It's the same version that we have on the side deck in purple.
And to go in that planter, something that would add more color and that might crawl its way up and out of the container. While out in Arizona earlier this fall I fell in love with these beautiful, vibrant green sweet potato vines that Kevin's aunt has growing all over her yard. She shared a clipping with me and I had plans to help it propagate roots (by soaking the cleanly clipped vine) and replant it in our yard, but I lost that fight despite decent root growth. Off to the nursery for two more plus a flax to add contrasting color.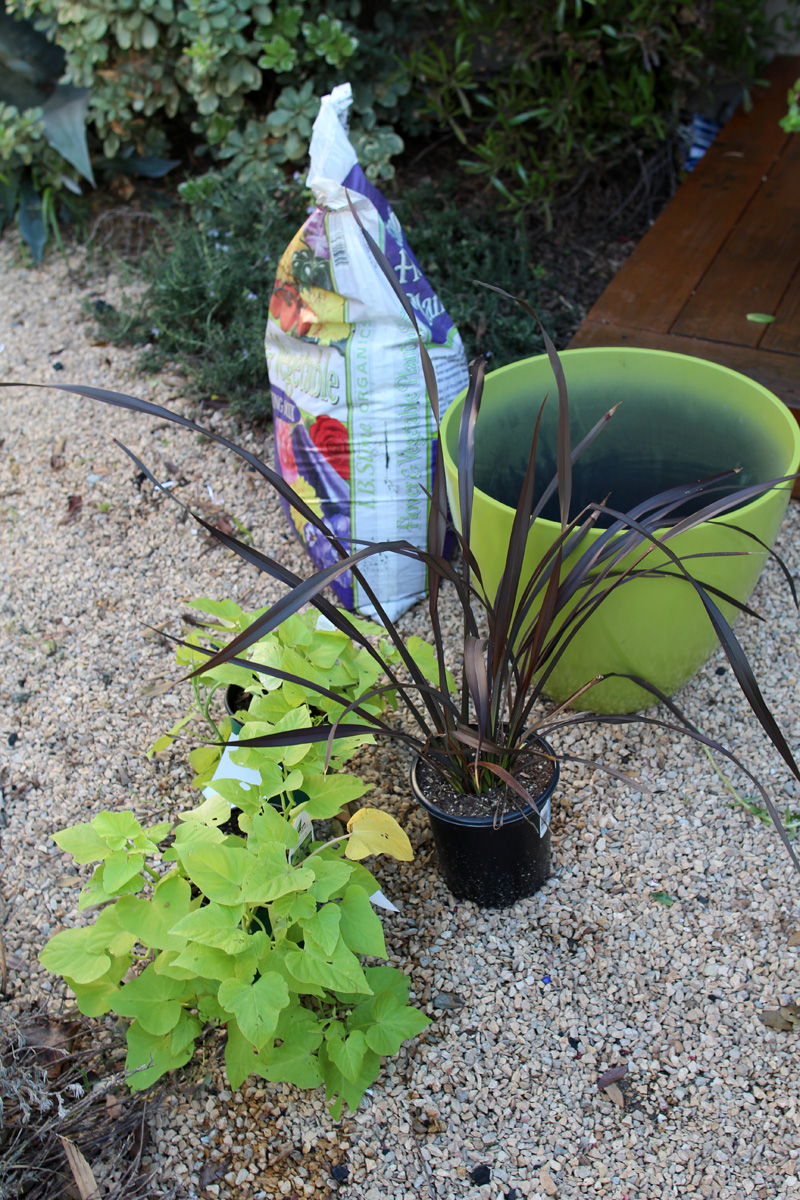 This shot was taken about a week after transplanting, he's still getting used to his new home (don't die on me, sweet potato vine).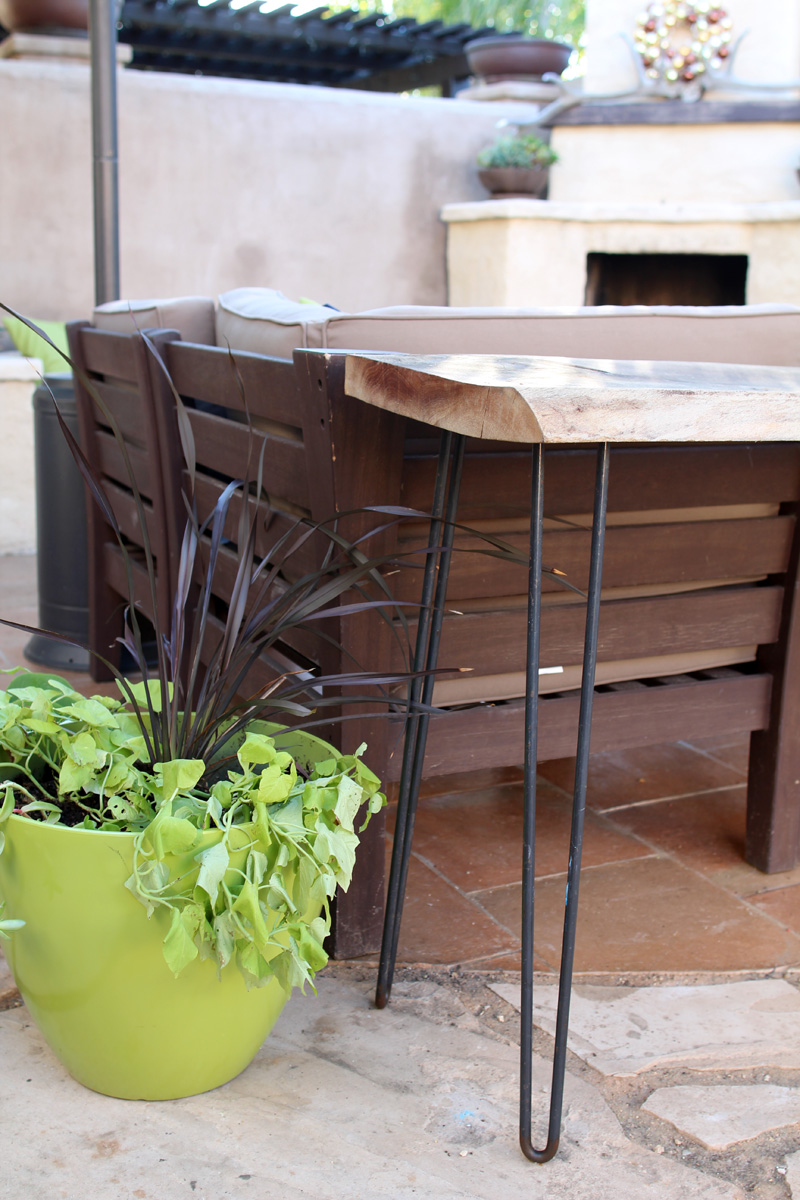 More on that new coffee table soon, but here's a sneak peek. I added a colorful rectangular planter and a few clippings to see how well they'd do here.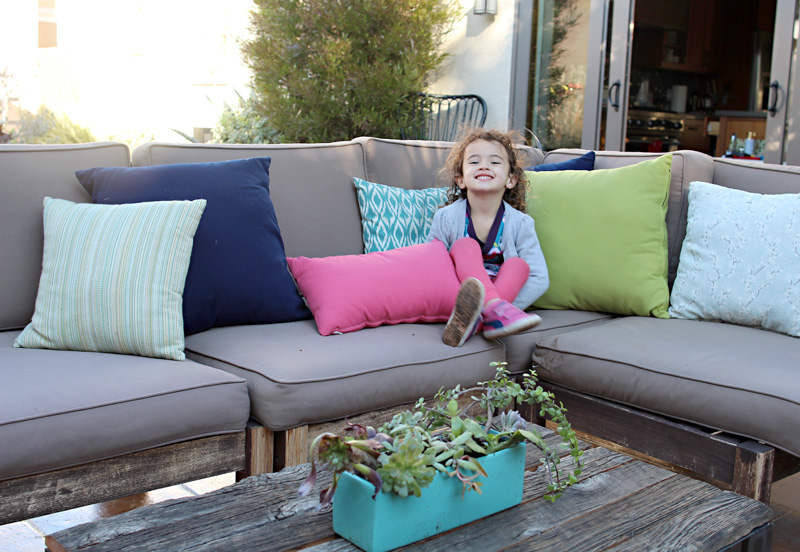 And those new iron planters for the bigger outdoor table? They are looking awesome with succulents salvaged from my previous geometric wooden planter box project and from around the yard.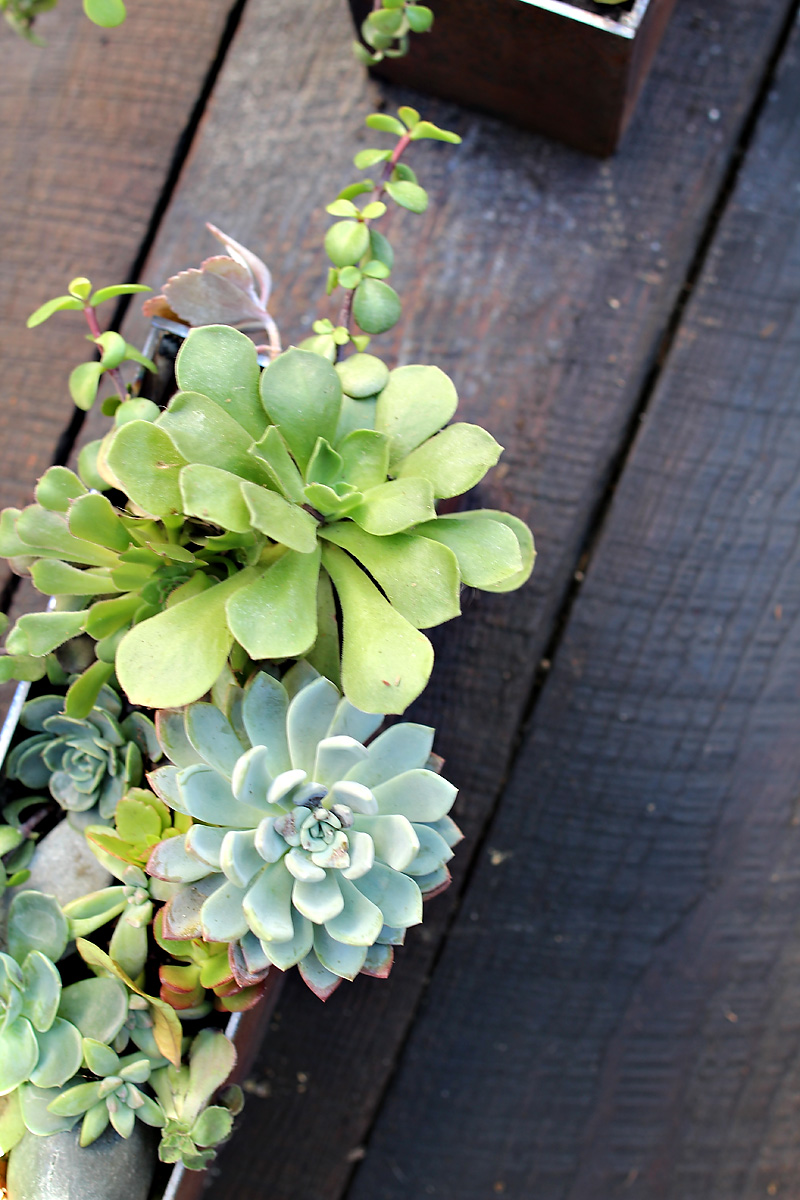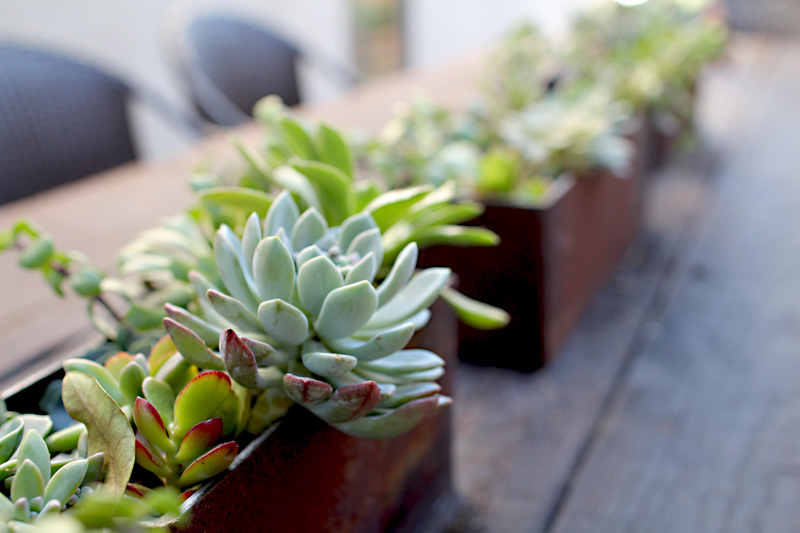 These guys over by the bbq area were repotted: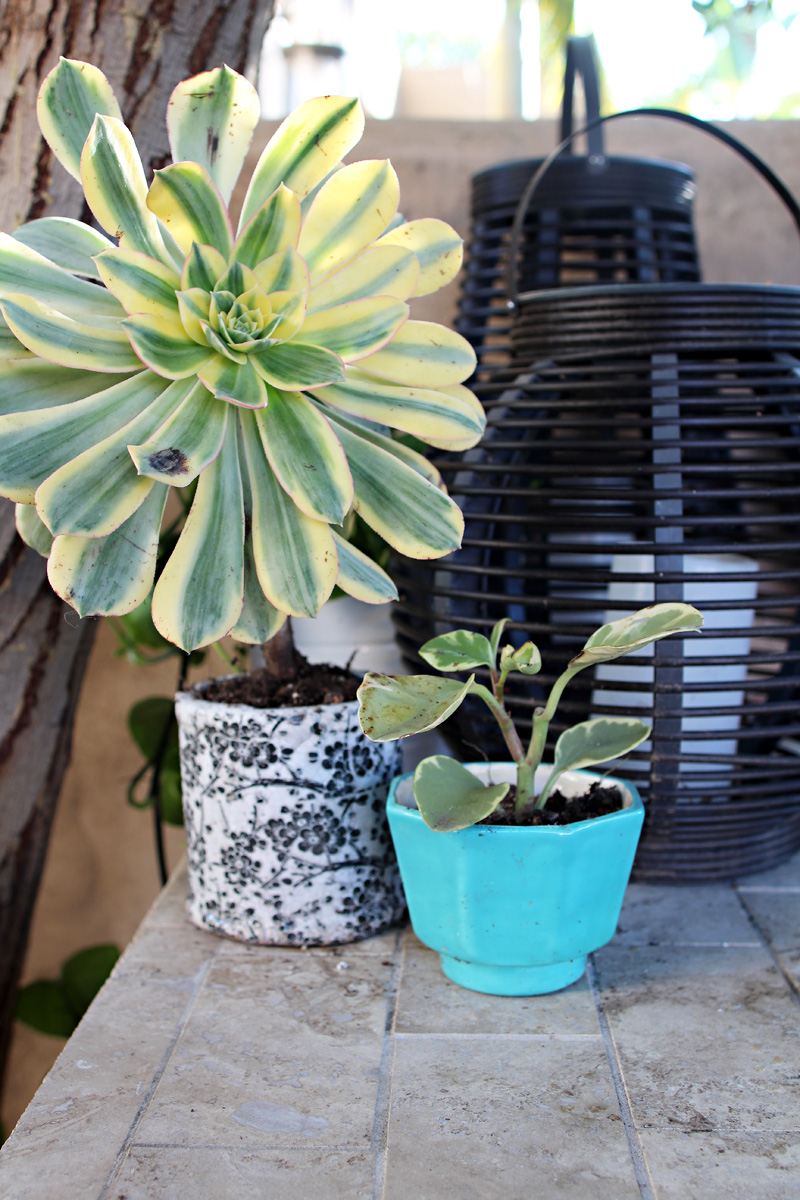 And these guys just needed a little filling in: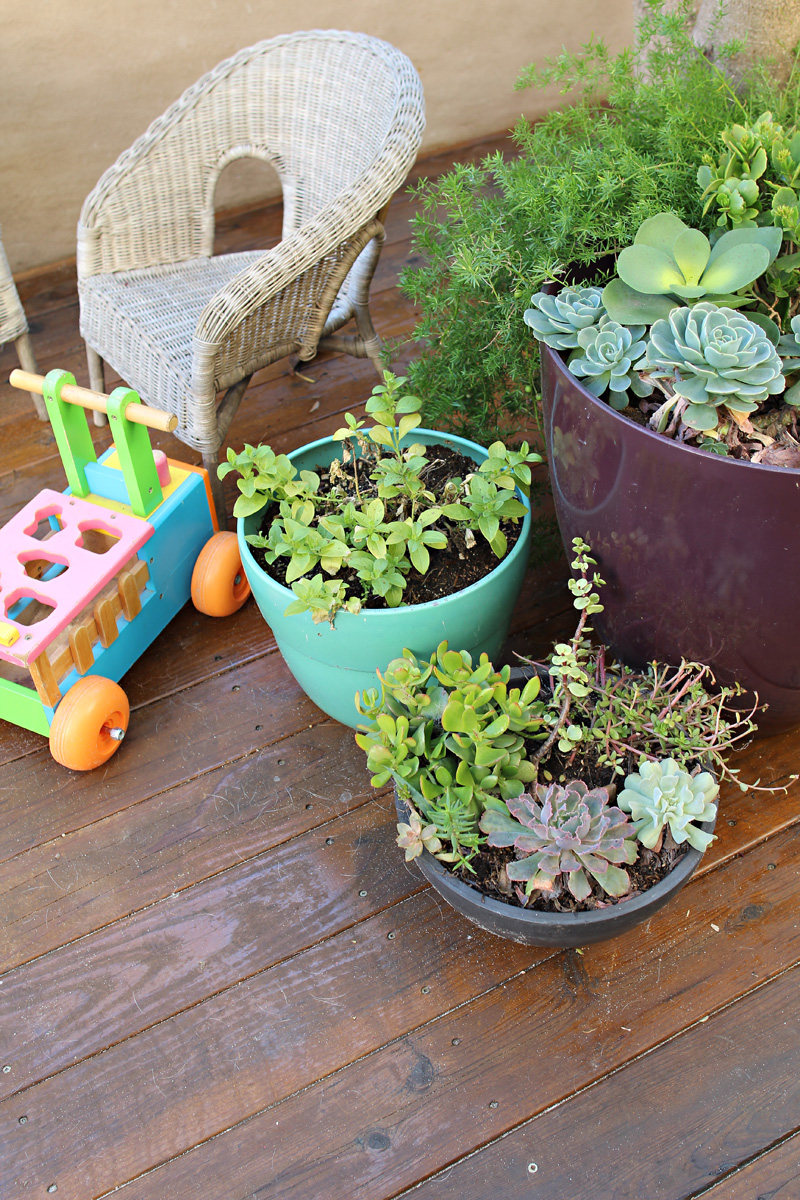 This year I added one more update to our list and that was to replace the outdoor lightbulbs with energy efficient LEDs. This has been on my house list for ages (one: because I hate to replace lightbulbs and light fixtures both inside and out will go with burnt out bulbs for months before I finally unscrew, drive to store, match bulb at store and replace, and two: because it's costly and time consuming to stay on top of it). When Cree reached out about a partnership to swap out our bulbs I was 100% on board.
The benefits of Cree include: lasts 25 times longer than your average lightbulb (1,000 hours vs 25,000 hours), saves $135 over that life time (times however many bulbs you switch out), they're dimmable if you have a dimmer, plus they glow warmly (instead of that bright white harsh LED look). I really, really dig them. You can purchase them at Home Depot and read more about them here.
Hint: lesser wattage required with LED bulbs than regular. For example, we used to put 60 watt bulbs outside and now we're sticking with 40 because we like the look better.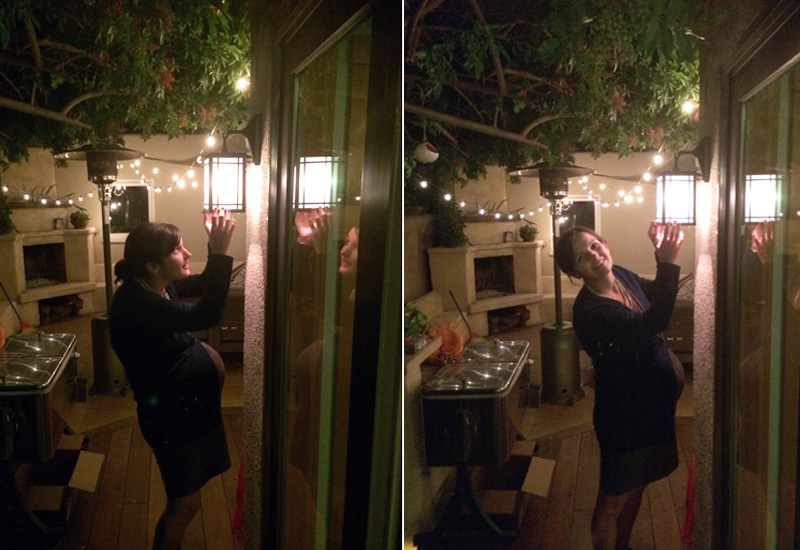 There's that pregnant belly doing just a little more work than that of the  self-deemed photo taker :).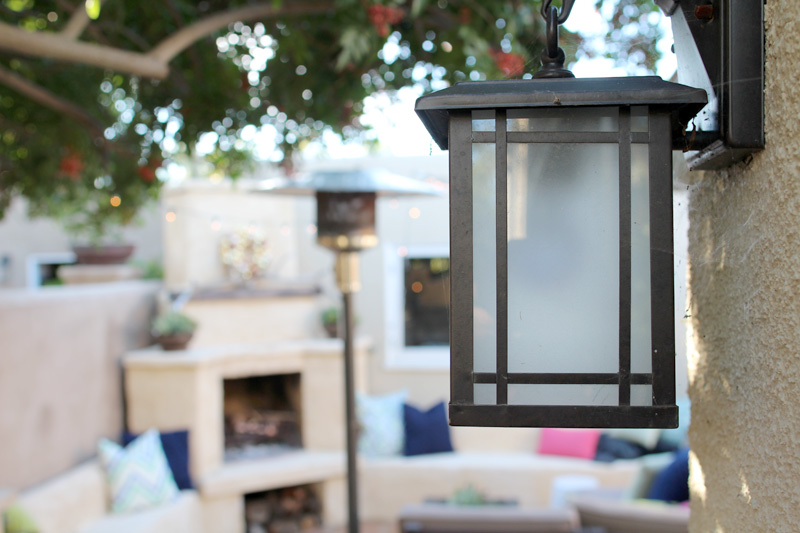 Yay for a very fresh feeling backyard! Day or night, we are ready to rock.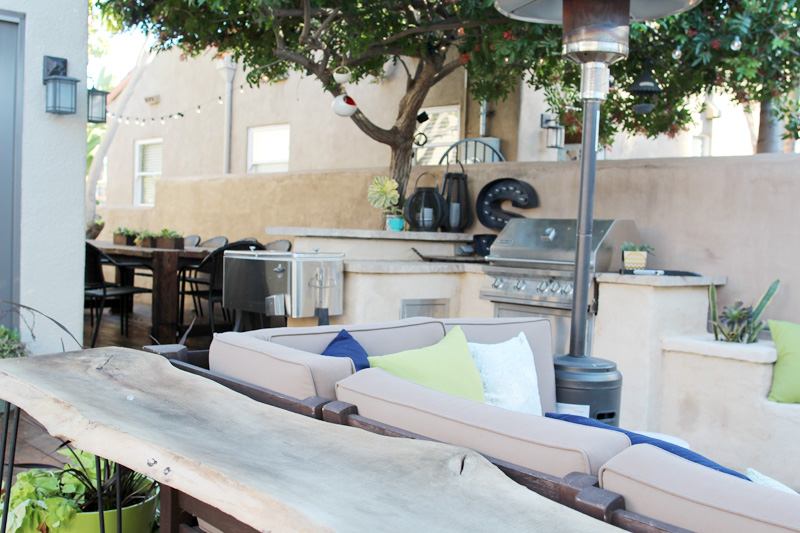 One awesome Christmas down, at least two more big events this coming January, and now the perfect spot to gather all of those friends. On to the count down! Happy New Years Eve!!
This post is sponsored by Cree, creators of a really fantastic LED lightbulb. Thanks for letting me share more about the companies that support this site :). 
PS the transformation of this space from jungle to favorite family spot chronicled here.