Welcome back to part 2 of my guest posts on motherhood. I've shared a few thoughts on this topic in the past but it's been really special and unique to hand over the reigns to hear from a few other ladies (who also happen to be mothers of three, or are soon to be). Last week Miranda shared on the art of doing only one thing at a time, deciding where you want to spend that time, and how she's built a routine around it. I love that.
This week I've asked Janssen of Everyday Reading (also a roommate from Alt Summer 2014!) to share about her family. I've followed along as Janssen and her family traveled to London last fall while her husband spent a semester studying at London Business School and through her third pregnancy (also welcoming a third little girl in just a few weeks!). For today's answers, I especially appreciated Janssen's 'quiet time' solution (soo smart, be sure to read the linked post over at her site). And now I'll hand this post over with many thanks to Janssen for taking the time.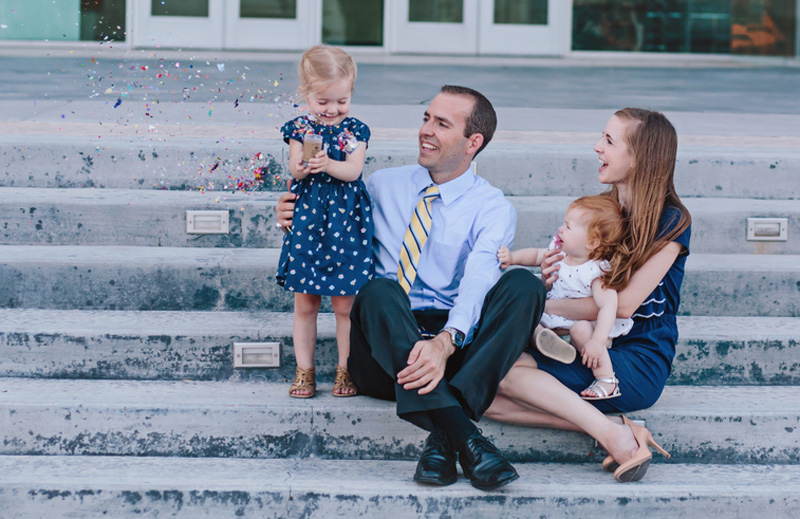 Tell us a little about your family.
Our family consists of me and my husband Bart, and our two little girls, Ella and Ani. In a few weeks, we'll be welcoming our third girl into our family, and I'm not sure who is the most excited about it! My husband is an MBA student at Duke University, so we currently live in North Carolina. We spent this past fall living in London while he did a semester at the London Business School and got to squeeze in a lot of traveling around Europe too, which was a dream come true.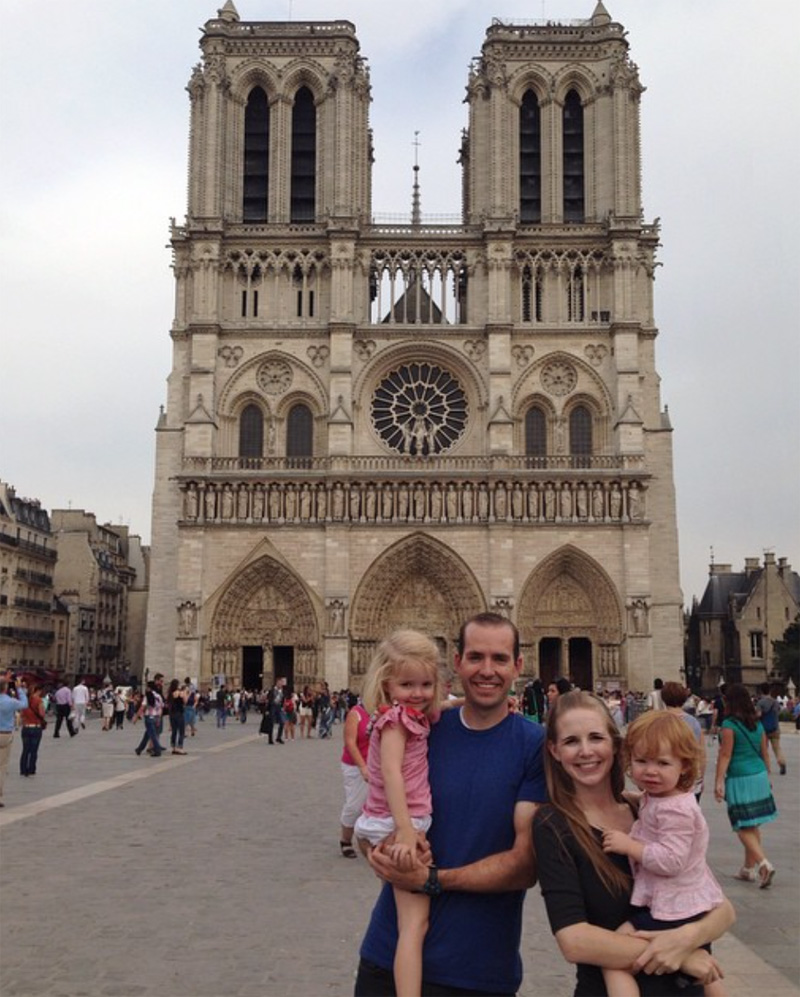 Tell us a little about what you do for a living (creatively, in a corporate environment, as a blogger or other?)
I'm a stay-at-home mom, and I also am the breadwinner for our family while my husband is a student. I blog at Everyday Reading about modern motherhood with a practical spin (no elaborate parties or projects that will take years off your life, but plenty of easy and healthy recipes, simple DIY projects, and great book recommendations) and I also contribute to Disney Baby, Conde Nast Traveler, Penguin Random House, and Cardstore.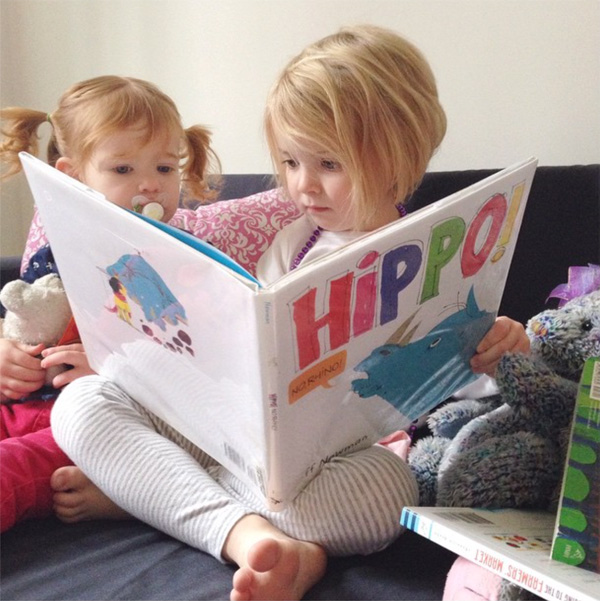 How do you do it all? What does your routine look like? What's a day in the life of?
I wake up about 45 minutes before my girls do (they get up around 7:15) and work as much as I can until they wake up. This has been a game-changer for me; I've never liked waking up early to exercise, but I like my work, so it's easy for me to get up and pound a few things out before the day really begins. Plus, I just sit in bed to work, so it's not at all strenuous.
Once my girls get up, we snuggle in bed for a few minutes, then head downstairs to eat some breakfast (usually cold cereal or oatmeal). Then they play while my husband and I get ready for the day and he heads off to school. Usually the girls and I run errands or hang out with friends or get out of the house and then get home for lunch and my girls go down for naps and quiet time.
I work like crazy for those two hours and then when they get up, we hang out at home, usually, reading books on the couch, going to the park or for a walk, or starting on dinner. We have family dinner once my husband gets home and then it's the mad dash to get my girls in bed by seven.
Any special tips/secrets to making it happen?
I have specific days I do routine tasks so that I don't have to think about them any other time (Mondays, for instance, I do laundry, start to finish, and I never do it on other days). I don't want to spend mental energy debating "should I go grocery shopping today?" or letting those tasks leak into multiple days.
Also, being serious about quiet time for my four-year-old has been the best parenting thing we ever did. It's a sanity saver for me on a daily basis and lets me get the work I need to done even while l stay at home.
And I've given up trying to work much at nights. I'm so unproductive at that time and if I'll let myself off the hook and relax, I can be way more productive during the day because I'm not burnt out, and I feel like I actually give myself time to just enjoy life.
Is there a favorite project (from your site) that you'd share with us?
I made this giant map print for my office last year, and I am just totally in love with it! Plus, who doesn't love a chance to use gold sharpies?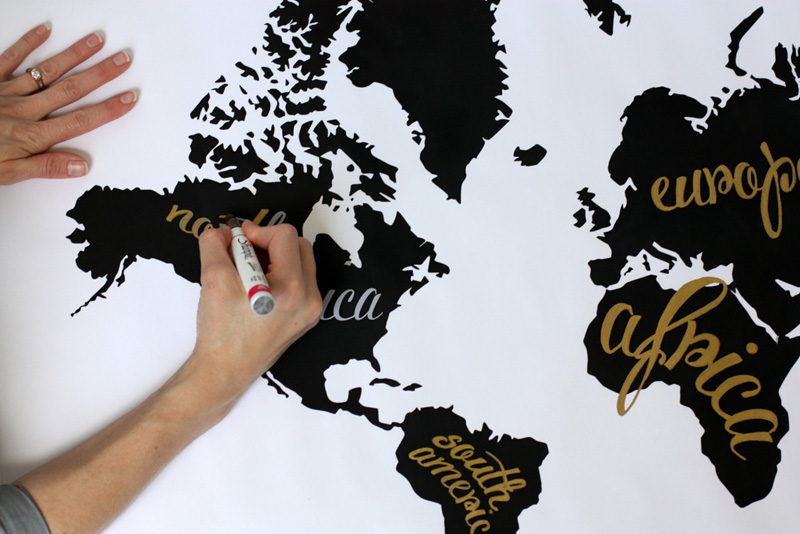 ___________________________________________________________________________________
Thank you so much, Janssen, really happy to have you here today!
PS remember when I regularly hosted Friday Guest Blog Interviews around here? So much good knowledge being shared. I really dig it when bloggers have the opportunity to collaborate and share the love.