It feels a bit overdue for an update on our master bathroom/bedroom renovation. So much of our lives is centered around this space right now (planning it, building it, collaborating on it, living out of maternity wardrobe boxes because I can't access clothes because of it)… but the more and more that we live with the transformation, the more that I appreciate each and every step of the decision-making journey that this space has started us on. And I'm wringing my hands with excitement for the day we move in.
Week 1: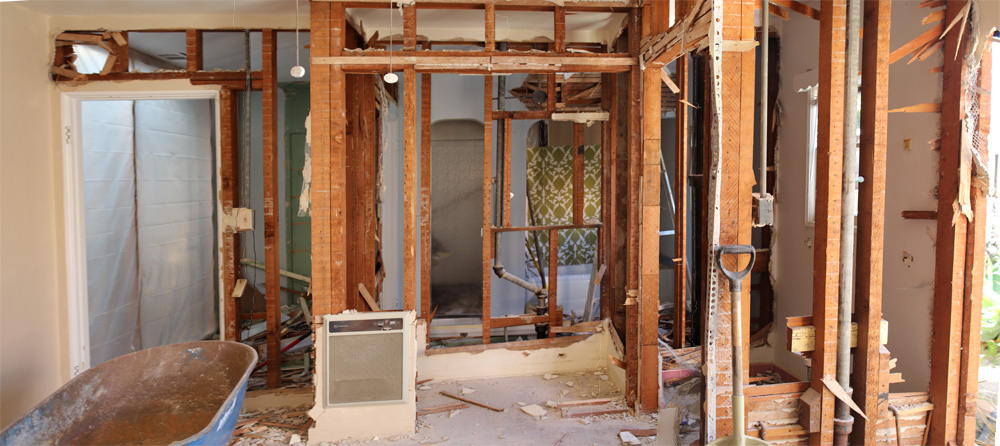 Week 2: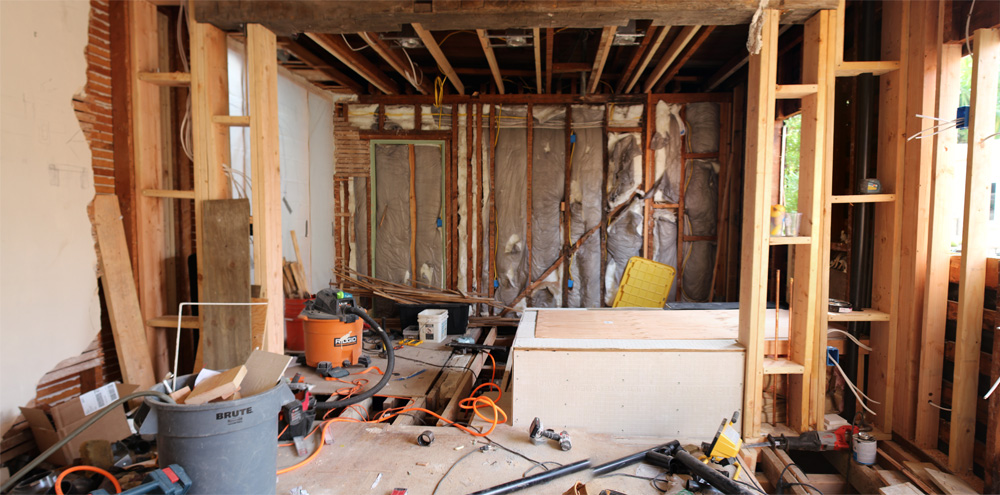 Week 6-7: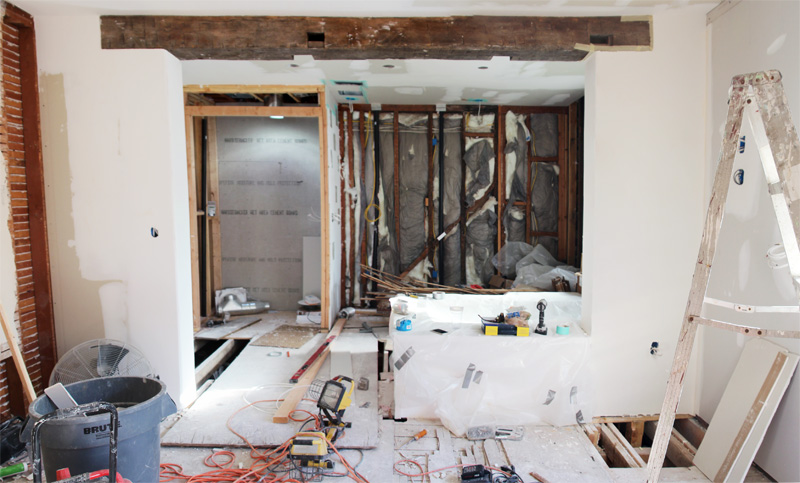 Week 8: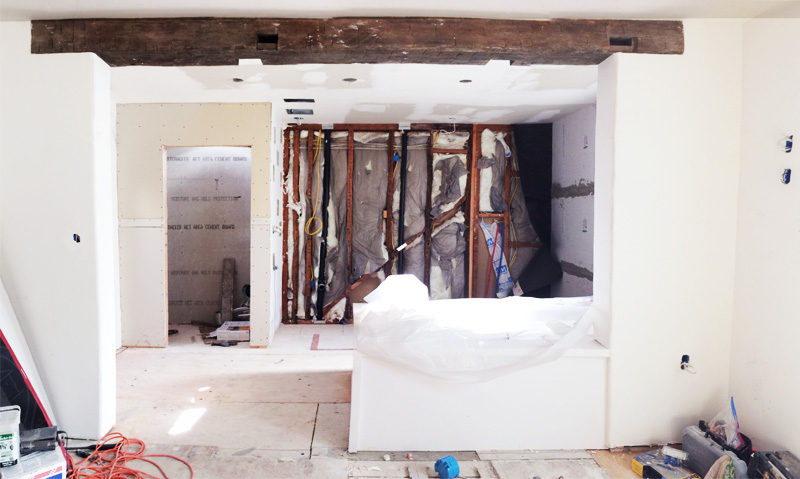 Week 12-13: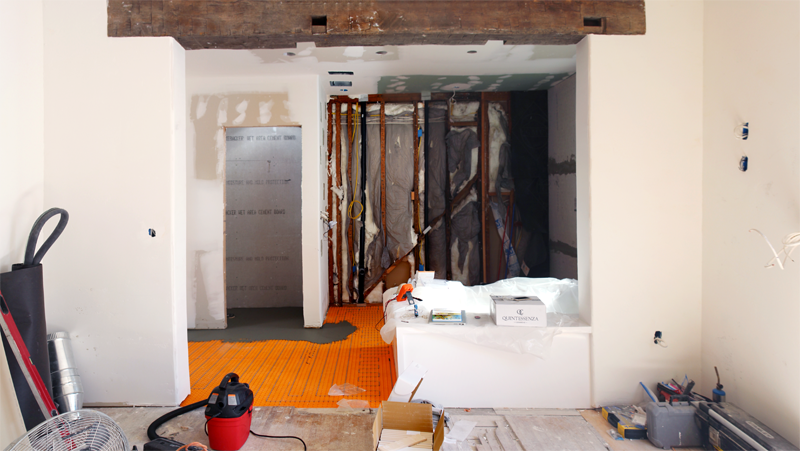 The most significant updates during weeks 10-12 included patching and plastering of all of the walls, reworking ceiling patches, plumbing, moving around a bit of electrical and installation of radiant heating.
Here's a bit of the thought process on how radiant heating works: instead of blowing hot air through a vent or pumping hot water to a radiator, radiant heat warms up the floor (and from there, the rest of the room). Electric mats (there are also hot water pipes that are considered radiant heating) are energy efficient and incredibly functional. You can keep your floor at an even 85 degrees (which seems warm but isn't so bad on the electrical side) and the entire room will be affected positively. On cold days it's also super cozy.
Since this radiant heating is being installed in 'new construction', we placed the mats directly above the subfloor (and they'll eventually be directly below the tile). My understanding is that they can also be placed below the subfloor when being added after flooring is already in place.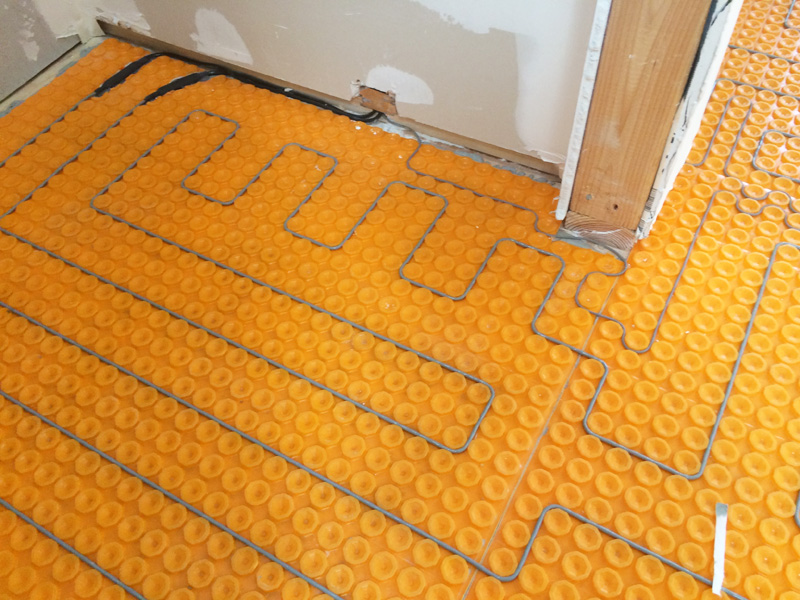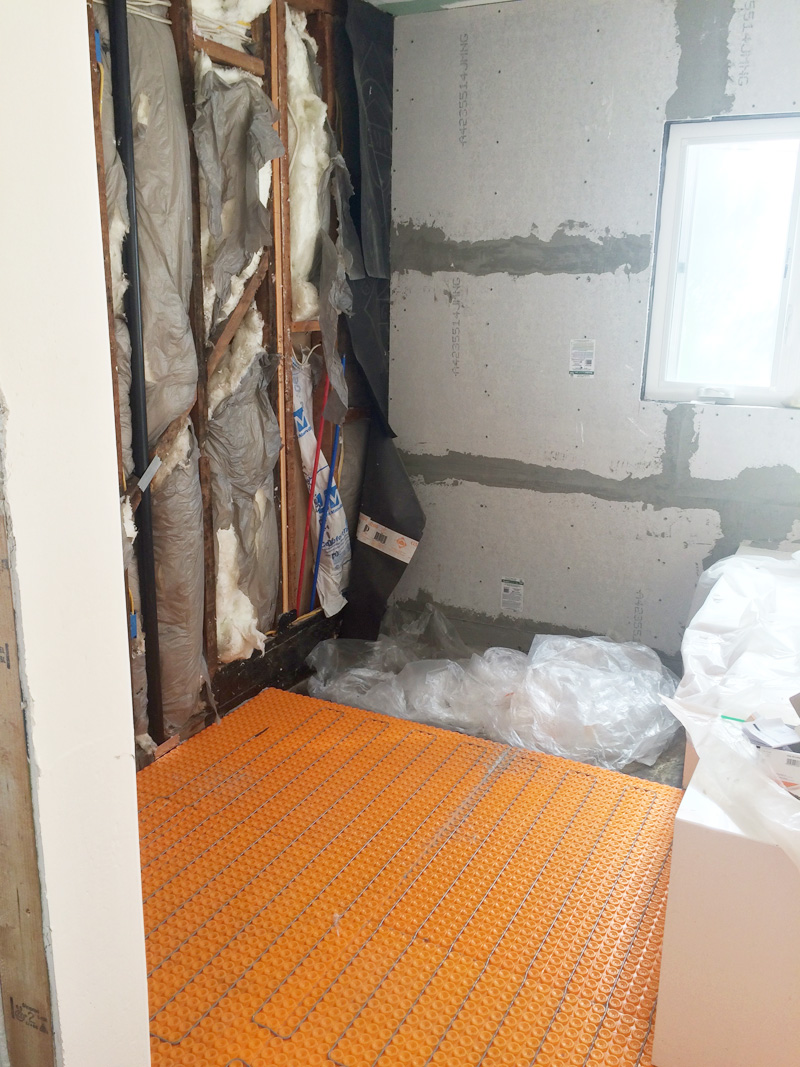 Kevin applied a layer of thin set above the mats for tiling purposes. The mats + thin set raise the overall height of the floors by about 1/2″ (which we'll have to account for with the floor transition into the bedroom and into the hallway from the bathroom to make sure there's no tripping) but I think that the the cozy-toe-affect will be worth it.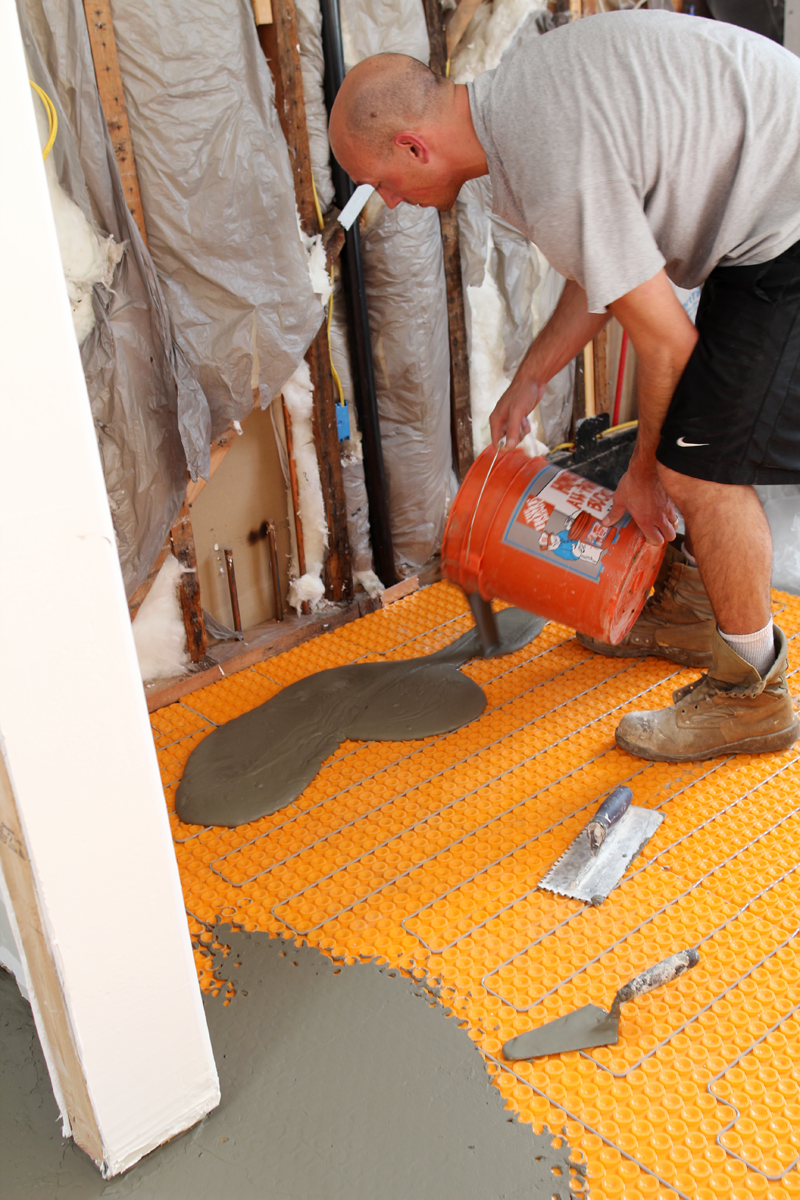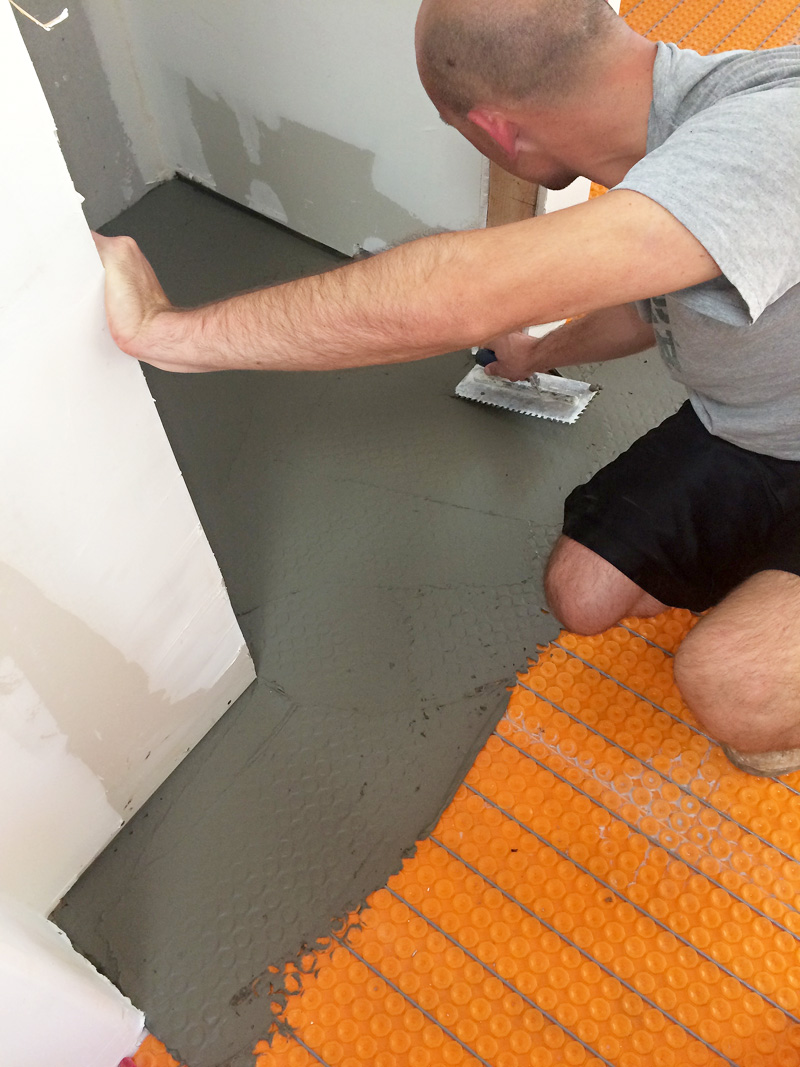 Electrical current is measured before, during and after installation to make sure that a wire hasn't been tripped or cut before the tile is installed.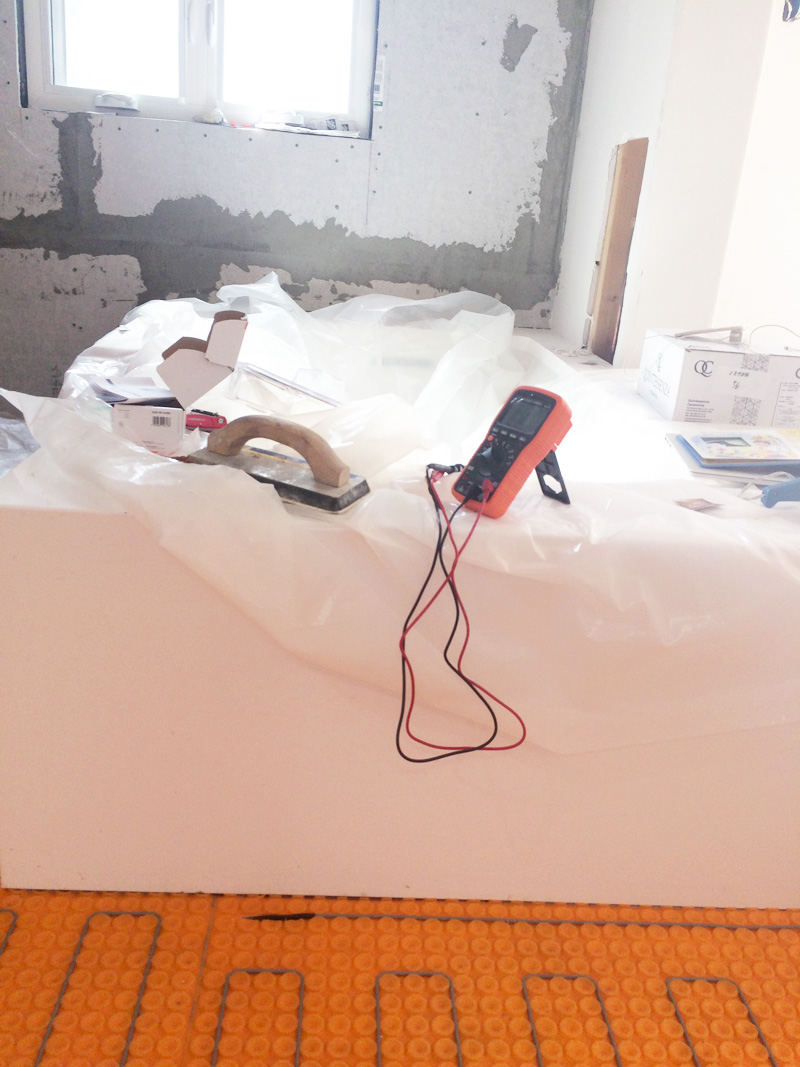 One last shot before it's all covered up!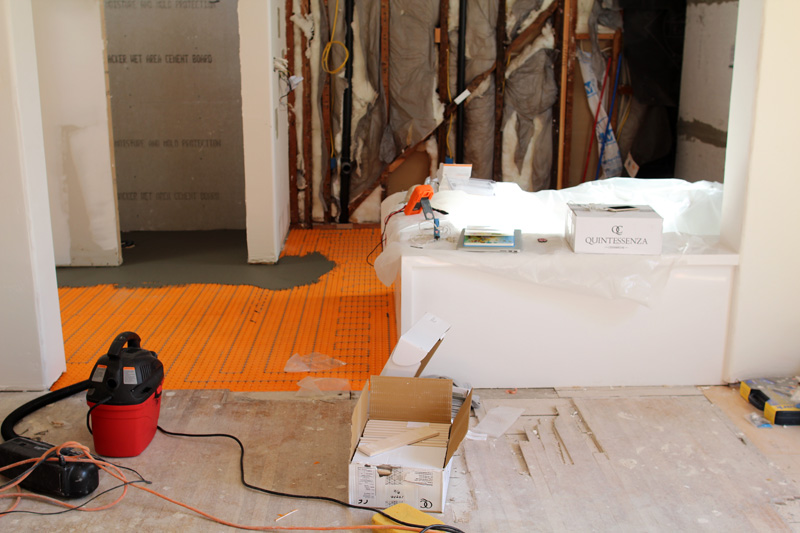 This is sort of one of those luxury projects where timing is always the issue. With such a huge remodel it's hard to justify the cost (like, really hard)… but once that tile is in place adding radiant heating is no longer an option. We bit the bullet and hope that it pays off over the long run.
PS we started this BIG project right over here. Follow along for the full transformation by getting caught up here. Happy middle-of-the-week and see you soon!