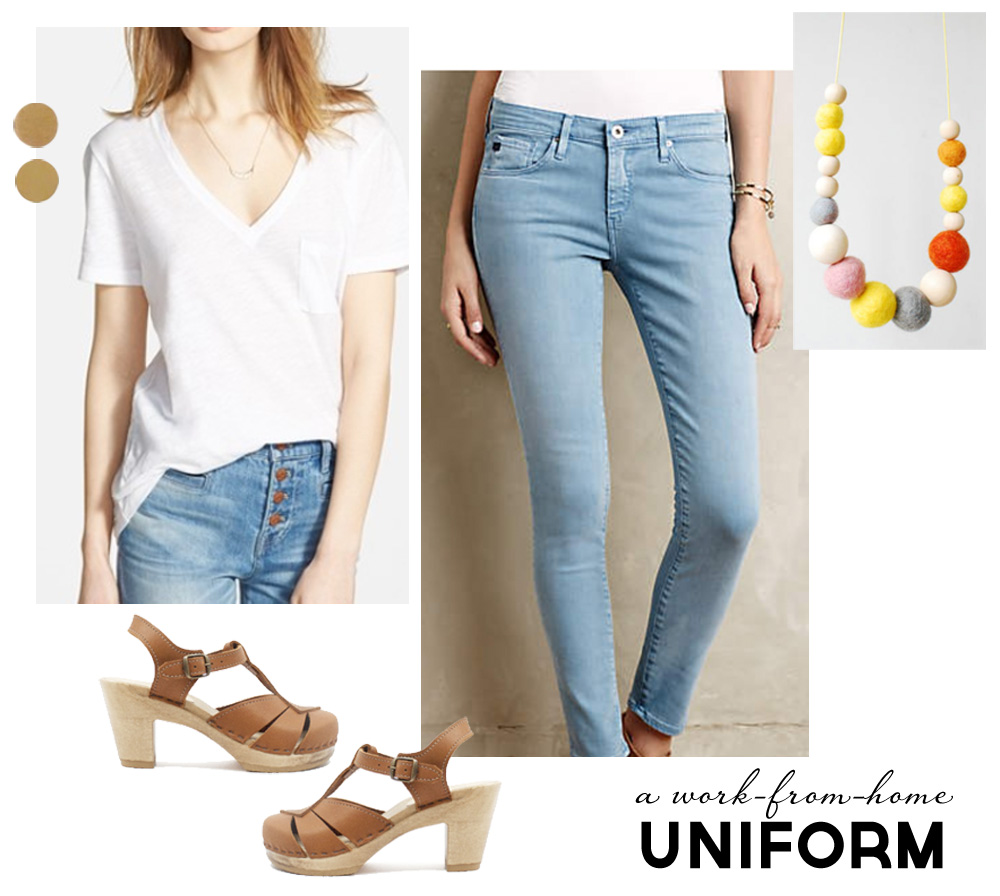 tan clogs | pocket tee | light jeans | gold disc earrings | colorful necklace
It's not uncommon for people to come and go from our house all day long, even mid-week. Subs for the new remodel, our sitters for the girls, a neighbor who pops in to say hi, a colleague for a meeting. Occasionally during the week I'll take a break from the home office to race to an appointment, attend an event or to meet a work partner for lunch. Almost all of these events require more than yoga pants + tank top, which I'm grateful for. I feel much more like a human being if I'm wearing a teensy bit of makeup and a clean t-shirt.
Decision-making requires brain juice and rather than be caught stressing over each day's personal outfit, I really should be using that time to get breakfast made, children walked to preschool and electrician questions answered. And so I've sort of developed a little uniform that has served me well. (This started as a way to live off of a limited postpartum closet while our bedroom has been all packed up and has turned into a sort of awesome solution.)
These days I'm mostly sporting cotton v-neck t-shirts (this one is my favorite – even after a little A/B testing with a few other brands, I have it in grey and soon-to-be other colors), rolled or cropped jeans (shorts for around the house but jeans for a quick meeting. found the above jeans at a neighborhood garage sale of all places for $5. best find ever), comfortable flip flops or wooden clogs (I scooped a super comfy pair up over here for $25) and basic but fun jewelry (the top necklace in this collage is still one of my favorites).
Slightly oversized cotton tee + cropped jeans + clogs + fun jewelry.
Purchase in multiples or wash and repeat. But maybe with a different necklace or scarf.
I'm traveling this weekend for work and am also packing dark denim, clogs, shirts with scarves. I think that the work environment continues to allow for a more casual day and I love that.
PS tips for selling your clothes online (easy and totally possible), two more style staples.