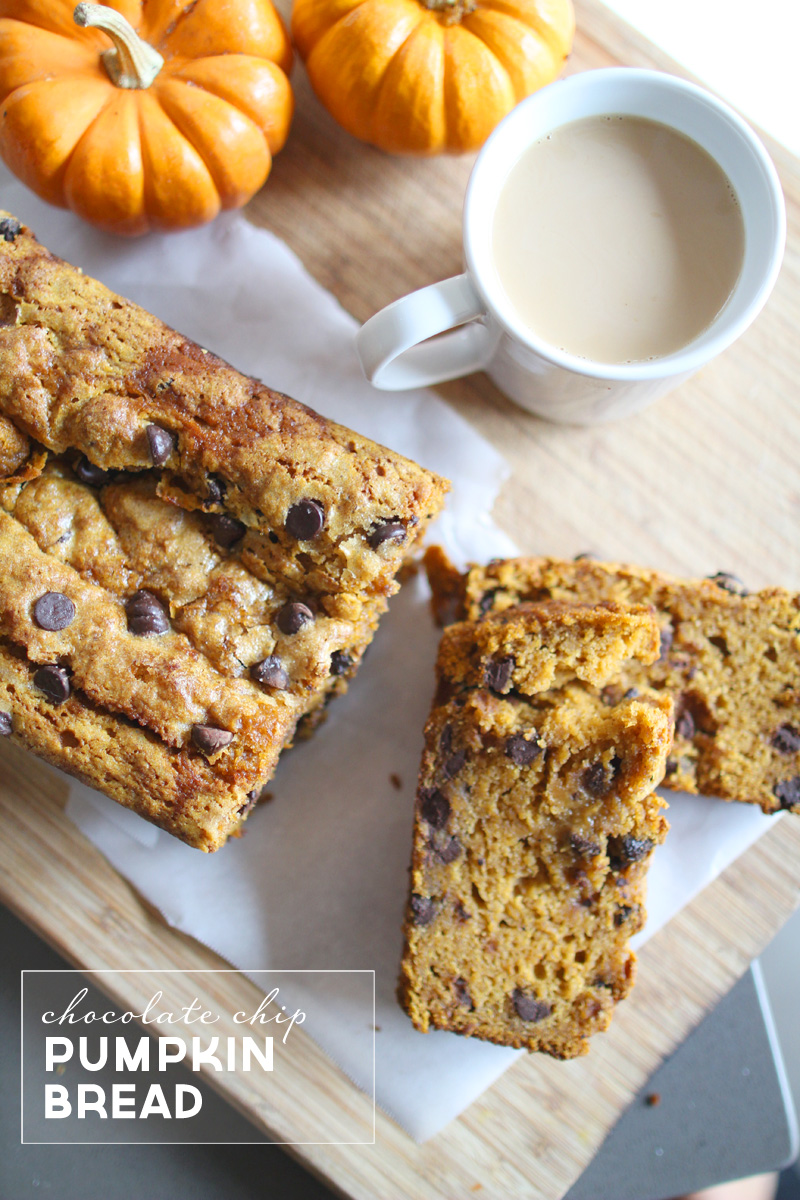 You guys. You must try this recipe. I probably say that about every recipe that I post here, but sometimes I come across something so delicious that it is worth sharing with big, enthusiastically waving arms, jumping jacks and a happy grin (just to, you know, get it some more attention).
You know I'm a big fan of making sweet breads (they're maybe the world's best comfort food to me) and I was so over-the-moon happy with how this particular batch turned out. I've played with many a bread recipe in the past but this one is a slightly modified version of all of those – it is moist and flavorful with just the right amount of cinnamon. It's not over powering in a too-much-pumpkin sort of way, it's topped with a crystalized sugar crust and the chocolate chips make it the perfect dessert or afternoon snack (though we've been enjoying for breakfast, too!).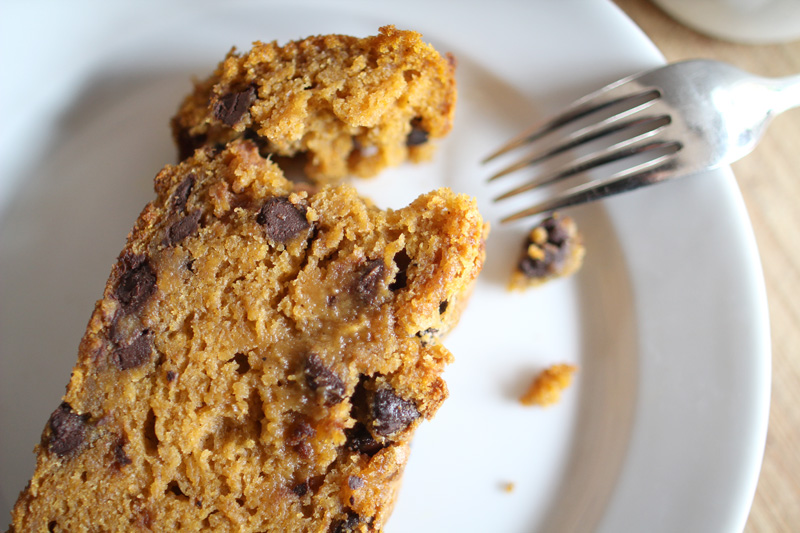 I have been waiting so patiently for grocery stores to stock their canned pumpkin! Who knew it was so seasonal?
Mmmmm pumpkin bread is everything fall should be and so much more (sort of like when the fall line-up at Starbucks arrives – then you know that the season change is official).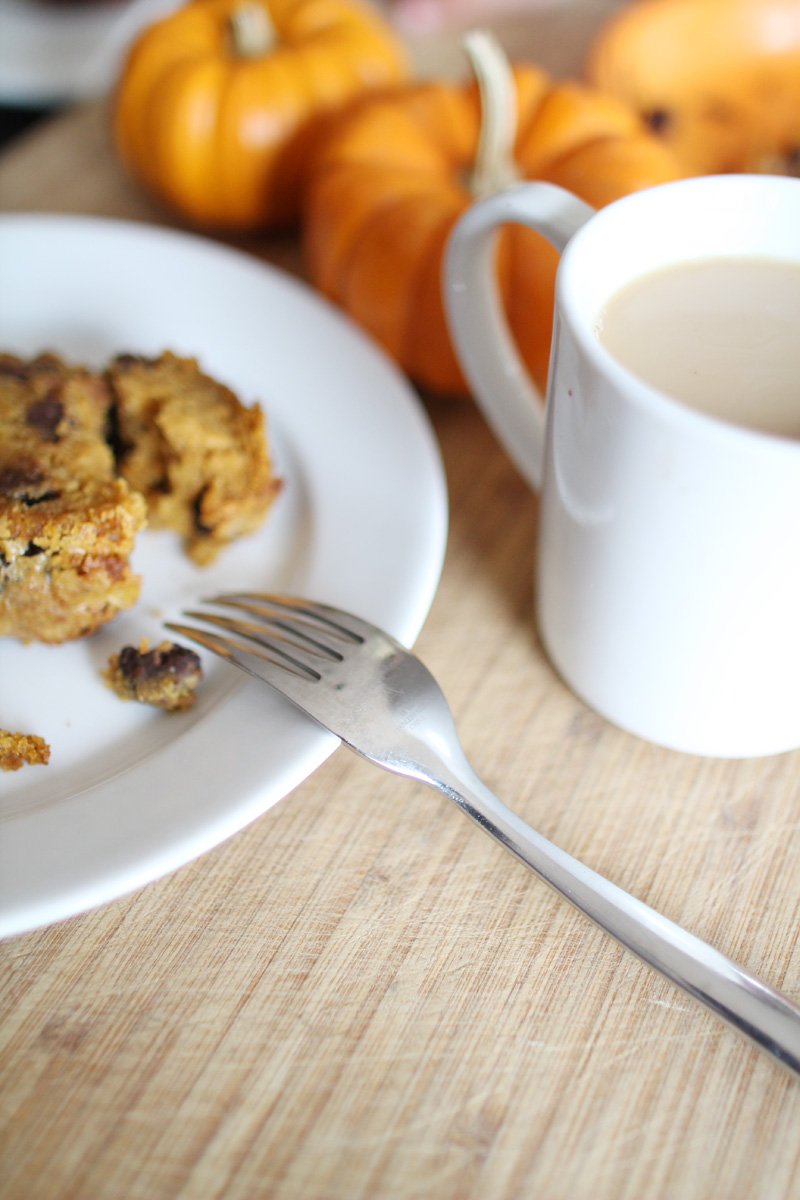 Chocolate Chip Pumpkin Bread
Ingredients:
2 ½ c flour
1 t salt
2 t baking soda
1 ½ t cinnamon
½ t nutmeg
3 c + 1/4 c (for topping) sugar
4 eggs
1 c vegetable oil
1 large can (30oz) of pumpkin
2 c chocolate chips (optional)
The simple steps: Preheat oven to 350 degrees. Butter and flour two loaf pans (or about 3 12-count muffin pans) by lightly dusting flour all the way up the edges.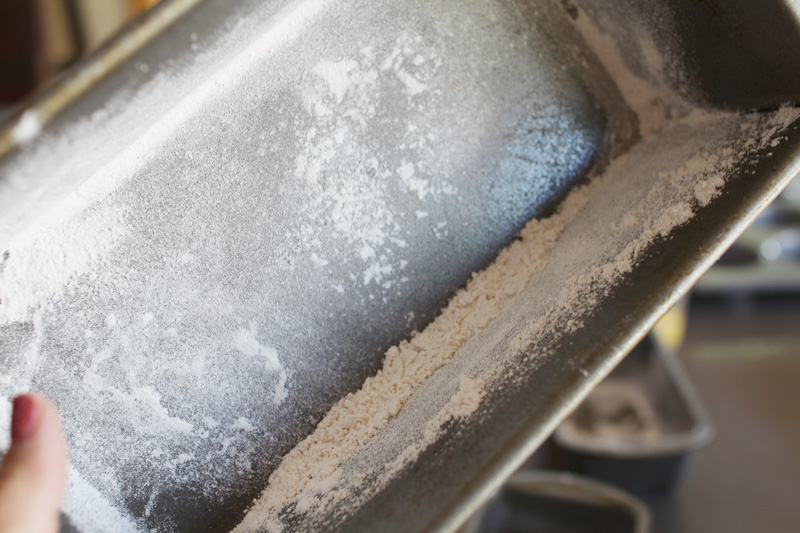 Blend together flour, baking soda, salt, cinnamon and nutmeg, set aside. In a large glass bowl (or mixer), beat eggs and add 3 c sugar. Mix in vegetable oil and pumpkin.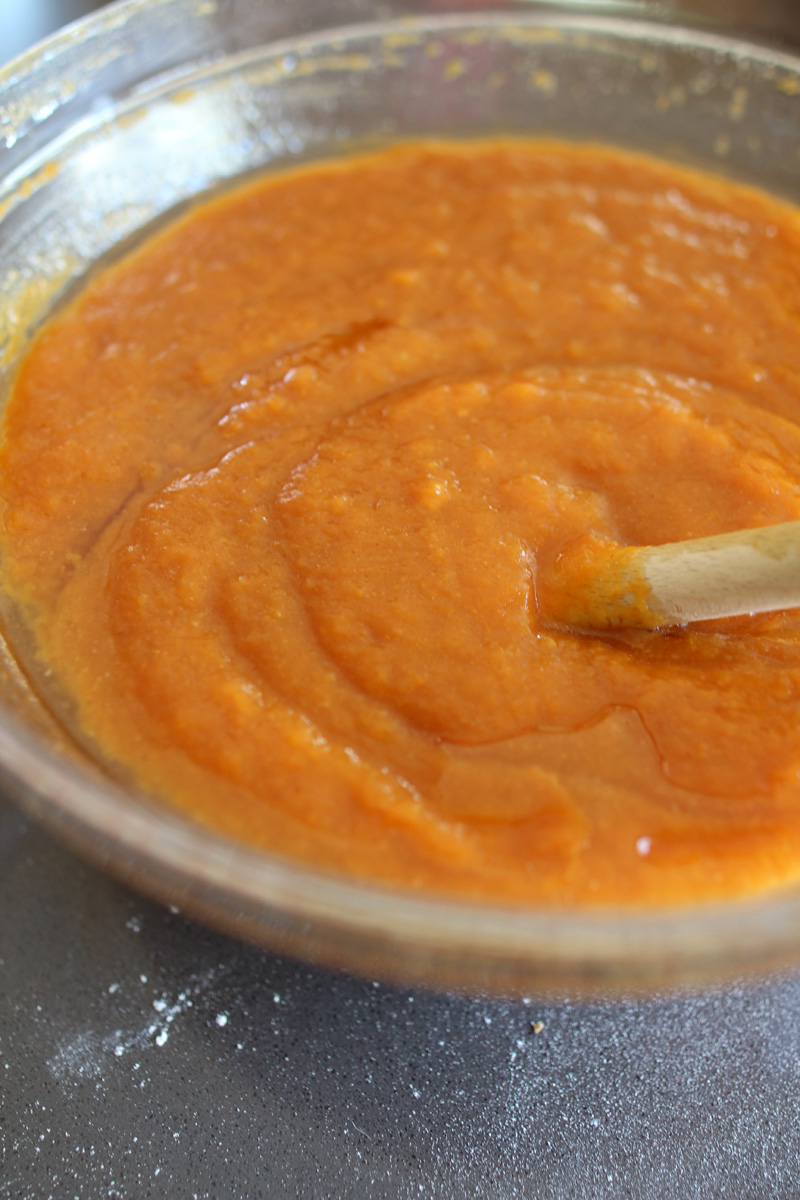 Scoop dry ingredient mixture into wet ingredients one cup at a time and mix well. There will be A LOT of batter so a large glass bowl is easiest :-). I'm sharing the big batch version of this recipe because I've never understood small batch recipes – if you're going to make something delicious and tasty, best to make at least a couple of loaves for sharing! (or midnight snacking)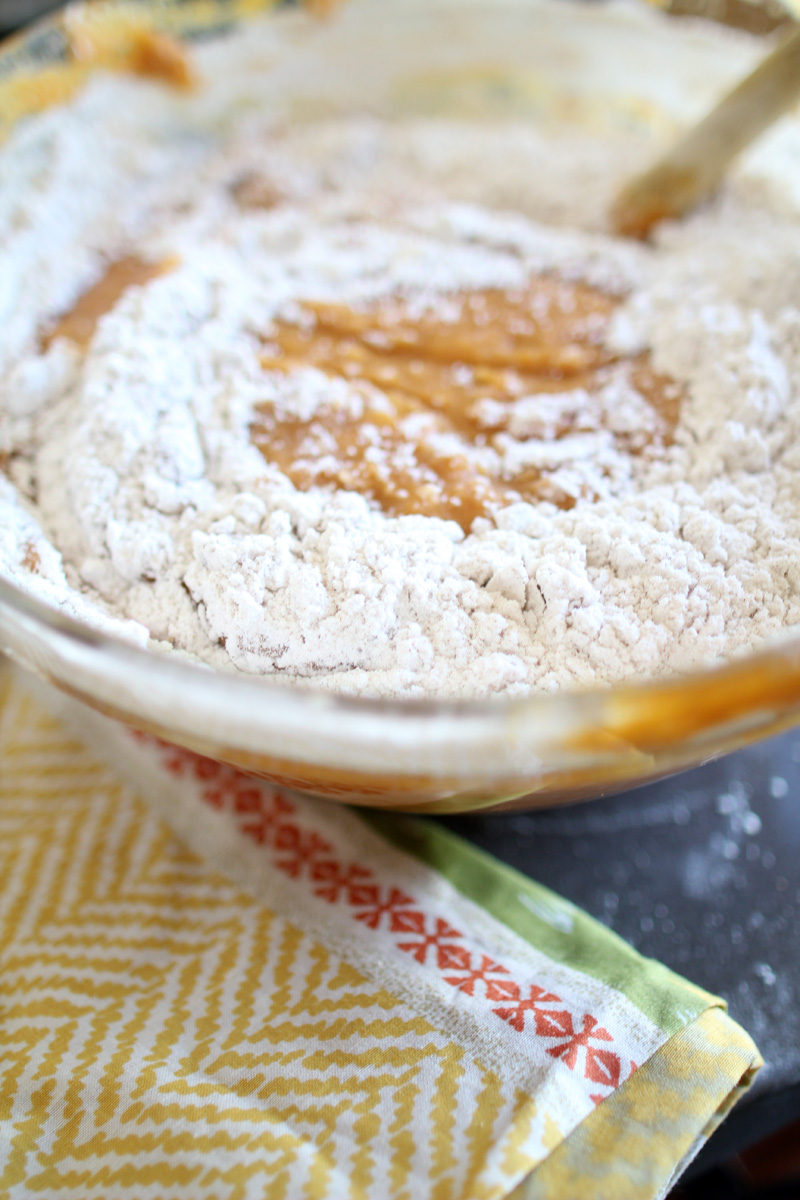 We love chocolate chips in this house and add them to everything. The more the merrier. Feel free to omit if you're making a morning bread or are not a fan though (walnuts or pecans might make a fun addition instead). Or how about chocolate and nuts??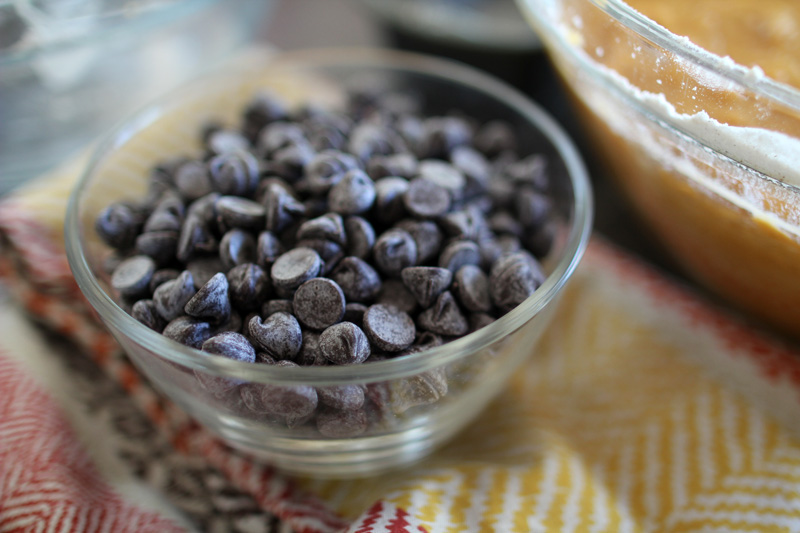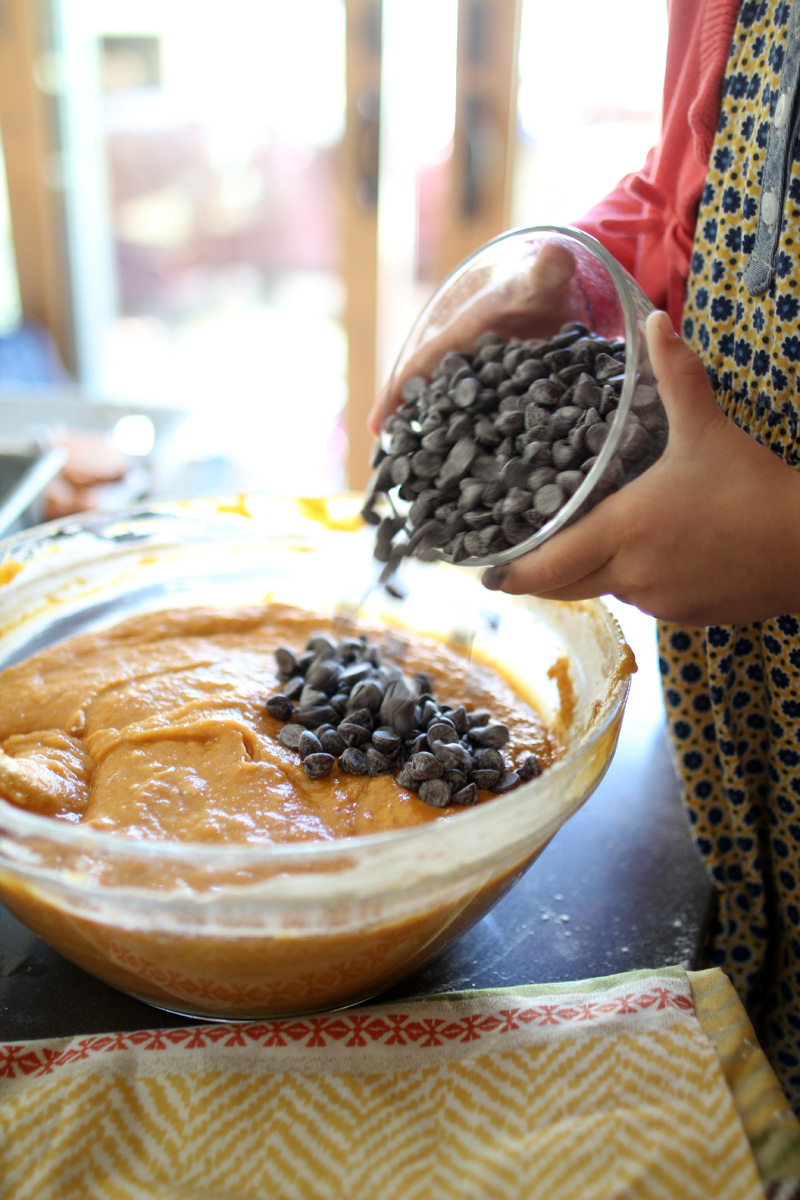 Pour batter into loaf pans or muffin trays. Hint: I love the idea of adding a crystalized sugar topping so I'm a big fan of generously sprinkling sugar as a final step onto almost any sweet bread batter. I also add just a few more chocolate chips to the very top of the loaf so that the chocolatey gooey-ness is visible when they come out of the oven.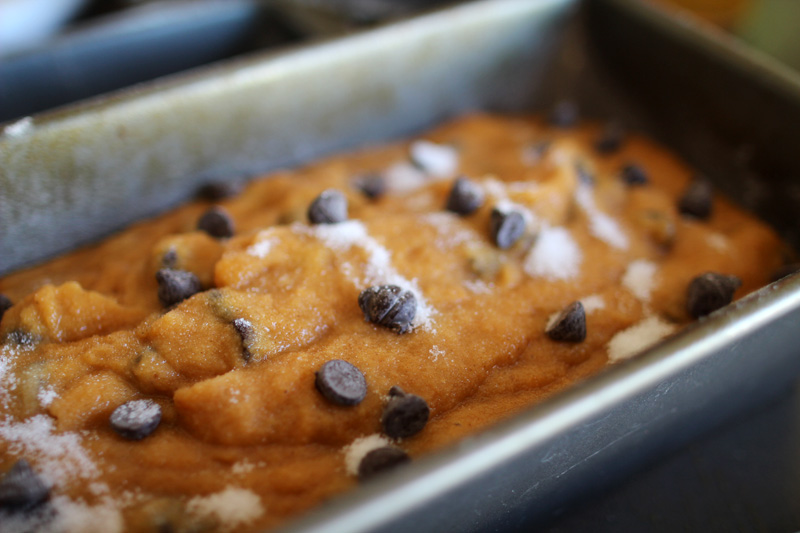 Granular sugar is awesome, white sugar works well enough for that crust. Bake for 45-60 minutes (I choose to underbake just about everything but that's a personal preference) and pulled this guy out early when a toothpick test revealed a moist and almost cooked center.
Can you see the crystalized sugar on top? It's what's making much of this loaf lighter in color. So delicious.
Mini loaves would make a really yummy gift for the neighbors (wrapped up in wax paper and tied with baker's twine for extra points), and muffins a fun snack for school.
What makes this bread so delicious to me is the consistency. It's not at all dry like traditional pumpkin breads (at least the kind you might buy at a coffee shop or pre made in a bakery) and reminds me more of a cross between a carrot cake and a banana bread density-wise. But of course with that amazing pumpkin taste.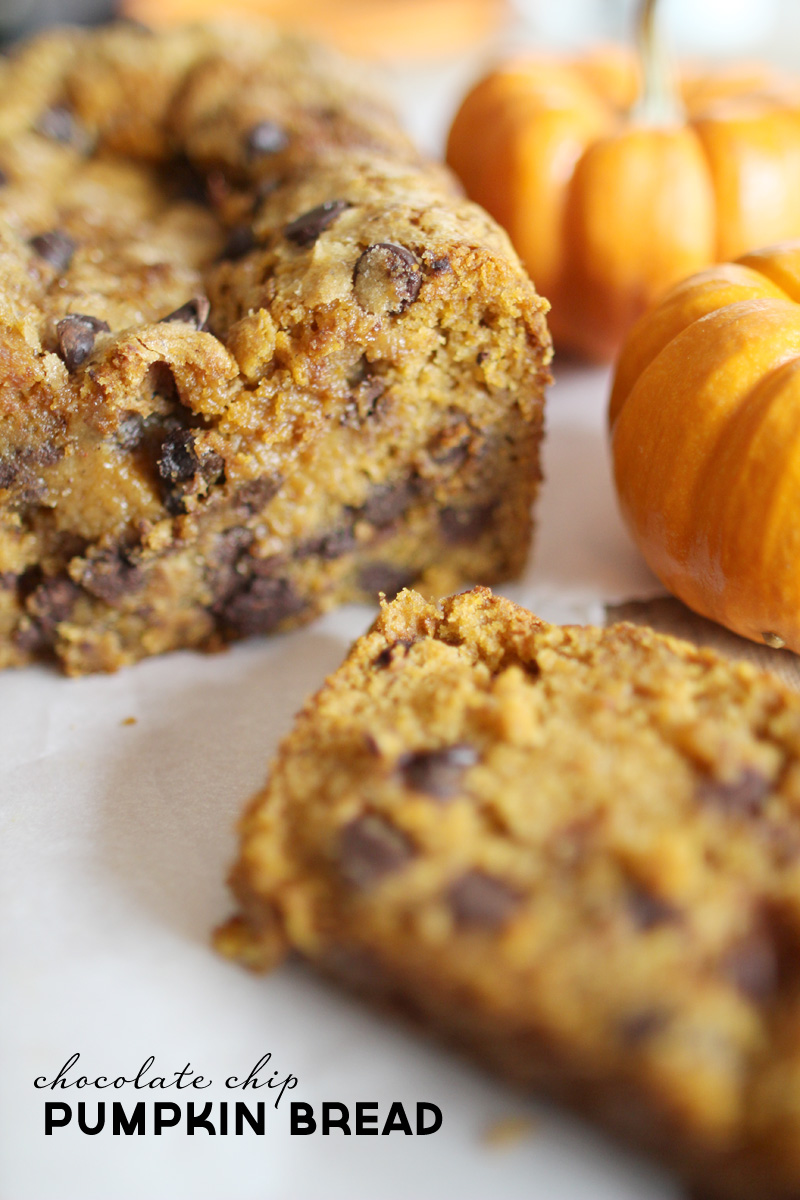 Happy baking! Do you have any sweet bread tricks that you've discovered? When I'm trying to make a 'healthier' bread (like these farmer's market muffins) I cut down on the sugar a bit and add extra veggies. When I'm going for YUM I double the sugar and add extra chocolate :).
Baking is second on the list of favorite mommy-and-me activities (first is our craft afternoons), I can't think of a better way to spend an hour than with Liv and me in aprons (and T tasting everything) while covered in flour!
More good eats (including two yummy fall recipes: maple oat bars and apple pie pops) and a baby shower with a pumpkin 'up, up & away' themed cake at its center. I often refer to dessert breads as 'sweet breads', but don't worry, I'm not talking about those sweet breads! I ordered them at a restaurant once by accident… Lesson learned.