Update: this project has done very well on pinterest and as such a ton of folks are putting it to good use! If you are worried about mold, please read through the comments in addition to this post. Mold is scary but is very possible in a project like this if the herbs are wet, the full bottles are exposed to air as well as a variety of other factors. I recommend choosing a bottle with a solid seal (like this one), refrigeration and using the oil as soon as possible. A few other infusions you may enjoy: sweet kahlua, cranberry & lavender simple syrup (for holiday cocktails!), lavender & lemon sea salt, homemade vanilla extract. xo
This weekend I finished my first batch of handmade Christmas presents. Warning friends and family – you may or may not be gifted one of the several projects that I'm planning to feature over the next two weeks. If you are, pinky swear you'll act surprised.
This first gift is inspired by our love of cooking. Kevin and I are the type that really dig those unusual (and sometimes a little crazy) gifts of thyme-infused syrup, lemon sea salt, curry pistachio paste, pickled potatoes… you know, the weird stuff that you can experiment with in the kitchen. This actually happens to be my favorite find of all time, I keep containers of it in our pantry and add it to almost every finished dish. Especially raw avocados. Mmmm.
My goal was to make something unique – and not too crazy – for kitchen use for friends and family. Actually, many of my homemade ideas this year stem from some sort of favorite cooking or bartending technique.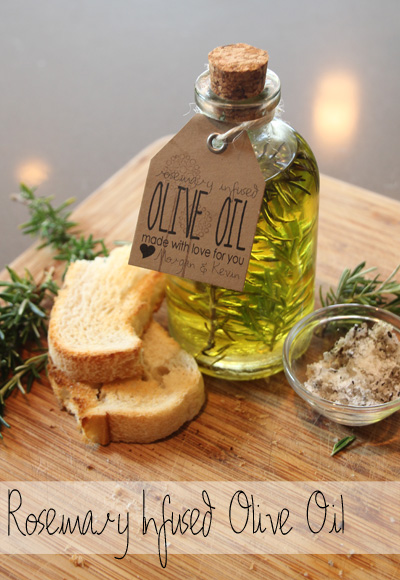 Pretty, inexpensive and not too time consuming! The trifecta of handmade gifting. I really enjoyed spending this past Saturday morning decorating for Christmas with this delicious fragrance roaming through the house in the background. A homemade gift that I highly recommend.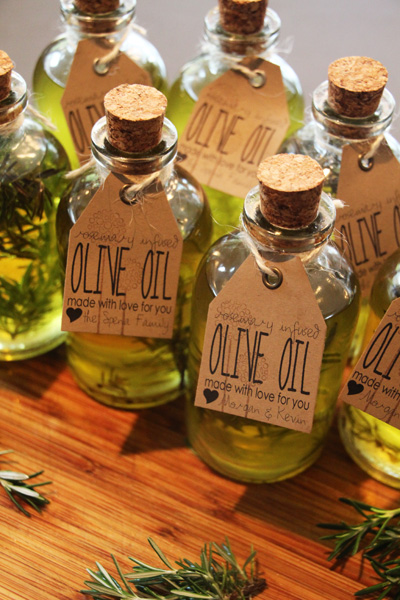 The infusion will now sit in the fridge until Christmas, soaking up all of that wonderful rosemary goodness while the oil becomes the perfect base for salad dressings and marinades, or drizzled alone over sliced heirloom tomatoes or crusty bread.
Rosemary Infused Olive Oil
m
Materials for six 8oz bottles: 15-20 fresh rosemary sprigs, one half gallon of olive oil, small glass bottles with a sealable lid
A quick note on materials. You really could swap out any fresh herb in exchange for rosemary (or even lemon, garlic or roasted veggies, for that matter – though you'll want to read up on how to prep these to avoid bacterial growth). Olive oil is completely subjective to taste but I've read that original (and not extra virgin) is ideal for taking on infused flavors. I imagine EVOO would work great as a substitute in a pinch. I considered ordering a fancy gallon of olive oil online and then I read the rave reviews and blind taste testing results for Costco's very own and was sold. It's supposedly one of the best! Finally, any glass bottle will do (even canning jars) and I've heard that Ikea carries a nice selection as well.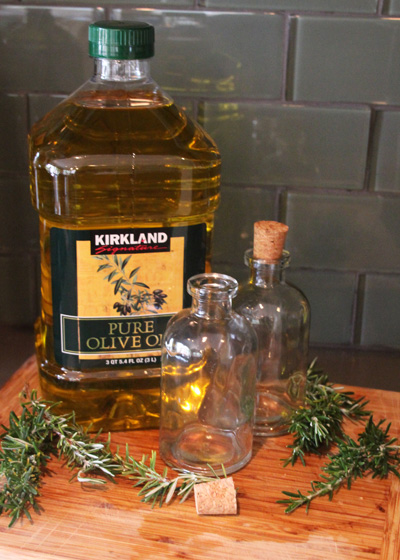 One big secret here is to use fresh herbs, preferably those that you grow just under your window sill (or in your front yard, we have waaay too much rosemary in our front yard, but it does smell fresh and yummy year round).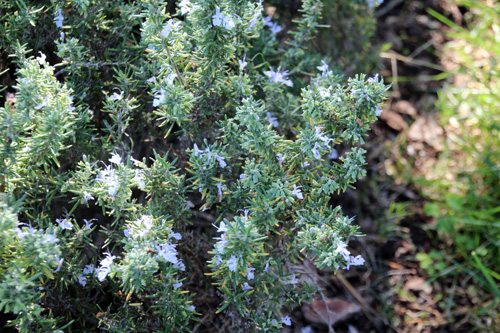 I found my little glass bottles at Save-On-Crafts after searching and searching (my kind sister noticed my dilemma over Thanksgiving and a day later she pointed me to a pinterest link for these adorable bottles! Thanks sis. UPDATE: if I were to do this project over again, I'd choose a bottle with a screw top lid such as these.) and was pleasantly surprised at the quality, price ($1.29 each!) and adorable little corks. When the bottles arrived, they received a thorough dishwasher washing and were allowed to completely dry.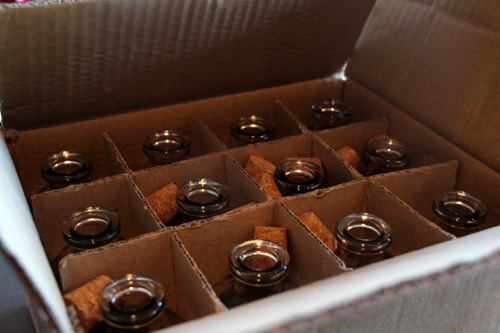 The rosemary, mind you it's straight from the garden where bugs live and children play, was cut down to sprig size and thoroughly rinsed. The whole bunch was left to soak in a water bath for about an hour. This is a sure fire way to uncling any unnecessary flavoring, if you know what I mean, from the sprigs. Followed by a few more rinses.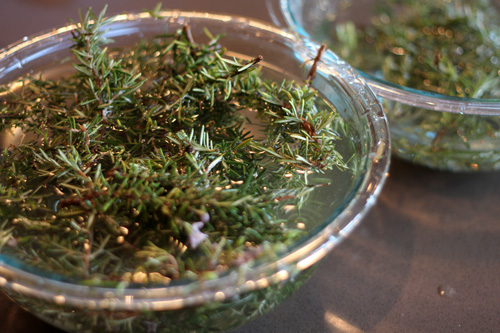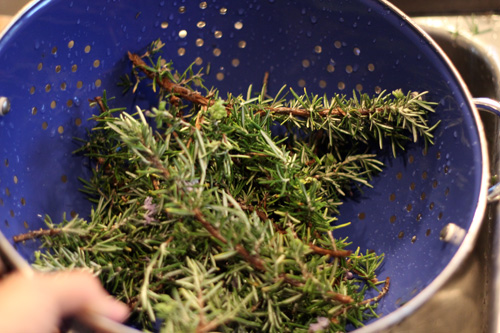 Once the rosemary is thoroughly washed, allow it to thoroughly dry (either out on the counter or by speeding up the process on a low temp in the oven). This is especially important for the rosemary sprigs that will go straight into the bottles (rather than the infusion) – any type of moisture allows for the possibility of mold. Update: my very first batch began showing mold at the very top of the rosemary in several jars after two weeks. I did a bit of research and realized that by soaking the rosemary I had allowed too much moisture into the bottle. For my second round, I let my rosemary dry out for several days so that no water was present during bottling.
To prep my infusion, I poured half of the olive oil and half of my clean rosemary into a large pot on low heat. To keep the olive oil from frying the herbs, ensure all goes in at the same time and that the oil is not spattering when you dust a little water over its surface, the oil should be luke warm. Let the mixture sit and infuse for 5-10 minutes, there's no science to this process but you'll know that much of the flavor has been steeped out of the herbs when they begin to wilt and turn a different shade of green. Turn heat off and let cool completely.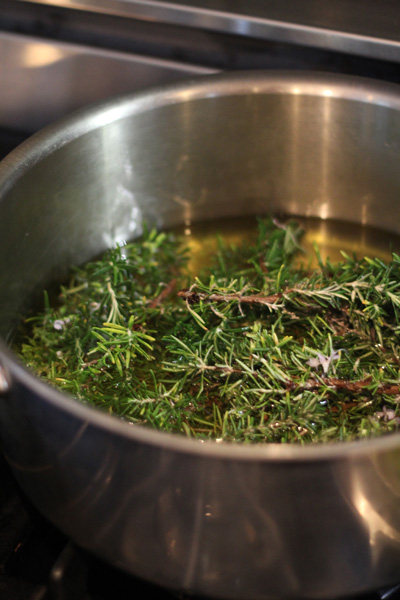 Meanwhile, use the other half batch of fresh rosemary to fill your glass bottles. You don't want to reuse the same rosemary in the above process, this rosemary is now a sad shade of green and will droop in your bottles.
I used a small liquid measuring cup to scoop out the rosemary infused olive oil from the pot to pour slowly into each bottle. It's okay if some rosemary leaves and even sprigs are transferred with the oil. Fill each bottle half way with warm, infused olive oil and half with your remaining fresh olive oil.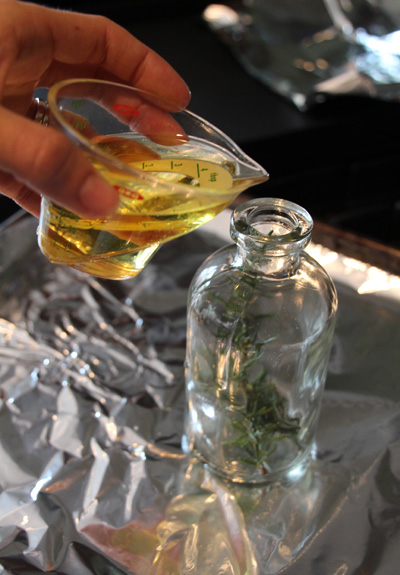 Pouring over a foil lined cookie sheet makes clean up a breeze. Simply scrunch up the mess when you're done, no gooey oil to sop up.
Oh it smells sooo good.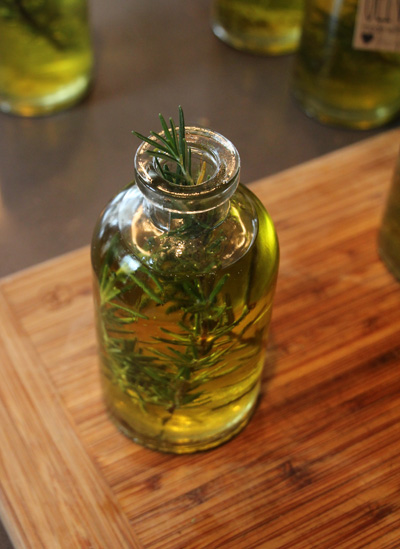 Cork well and let sit for 1-2 weeks for a full infusion. If you're planning on gifting right away, the oil will still be deliciously infused after just a few days, but mention to the giftee that if they let it sit in the cupboard for a full two weeks the olive oil will reach its peak. If they plan on using the olive oil slowly over time rather than immediately, the fridge is the best place to keep it to prevent it from spoiling.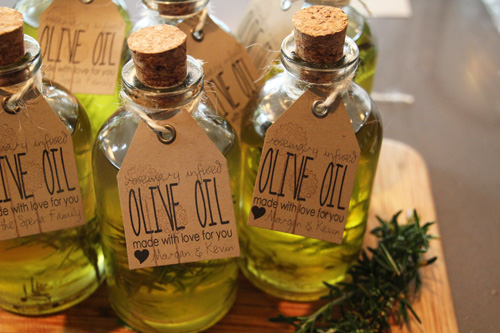 I made these labels on my computer at home and printed on brown card stock. A little stamp in the background adds a subtle handmade touch. Fonts include: Pea Shally, SkinnyNess and Century Gothic.
Update: So thrilled there are so many of you who would like to try this out! I've made a generic pdf template without the 'Love, Morgan & Kevin' that you can download here, you could always leave it blank or write in your own name on the printed version. I apologize but I'm not able to individually email out tags anymore! The response has been overwhelming but awesome. Hopefully the downloadable pdf is just what you're looking for though :).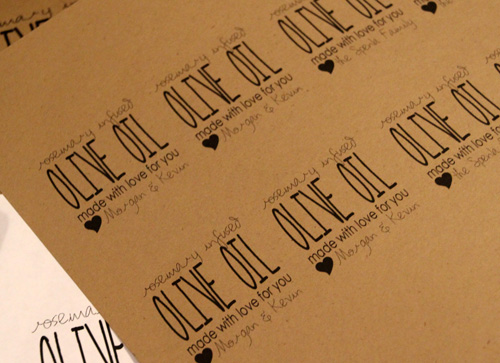 A couple of snips, a grommet and some twine later, and my rosemary infused olive oil project is finished.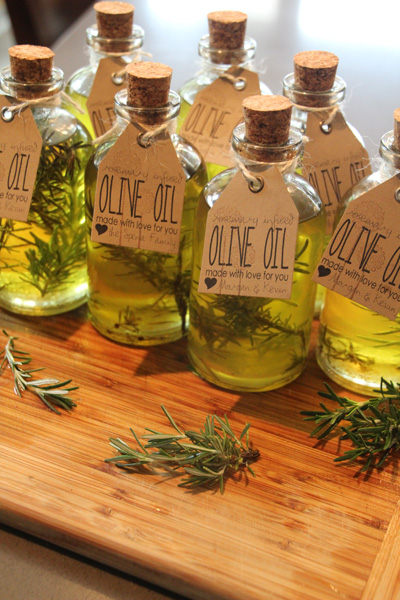 Did I mention it's delicious with just plain bread and salt? Oh man.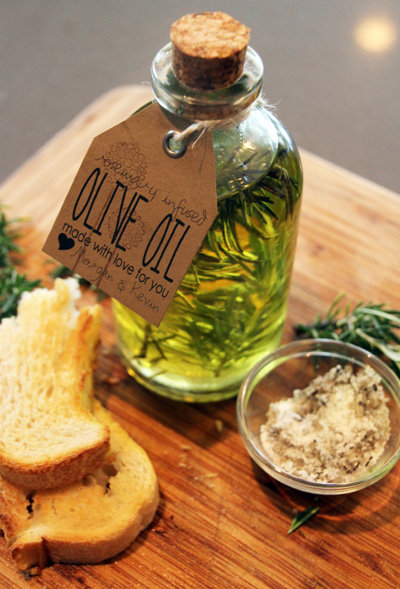 Happy cooking!