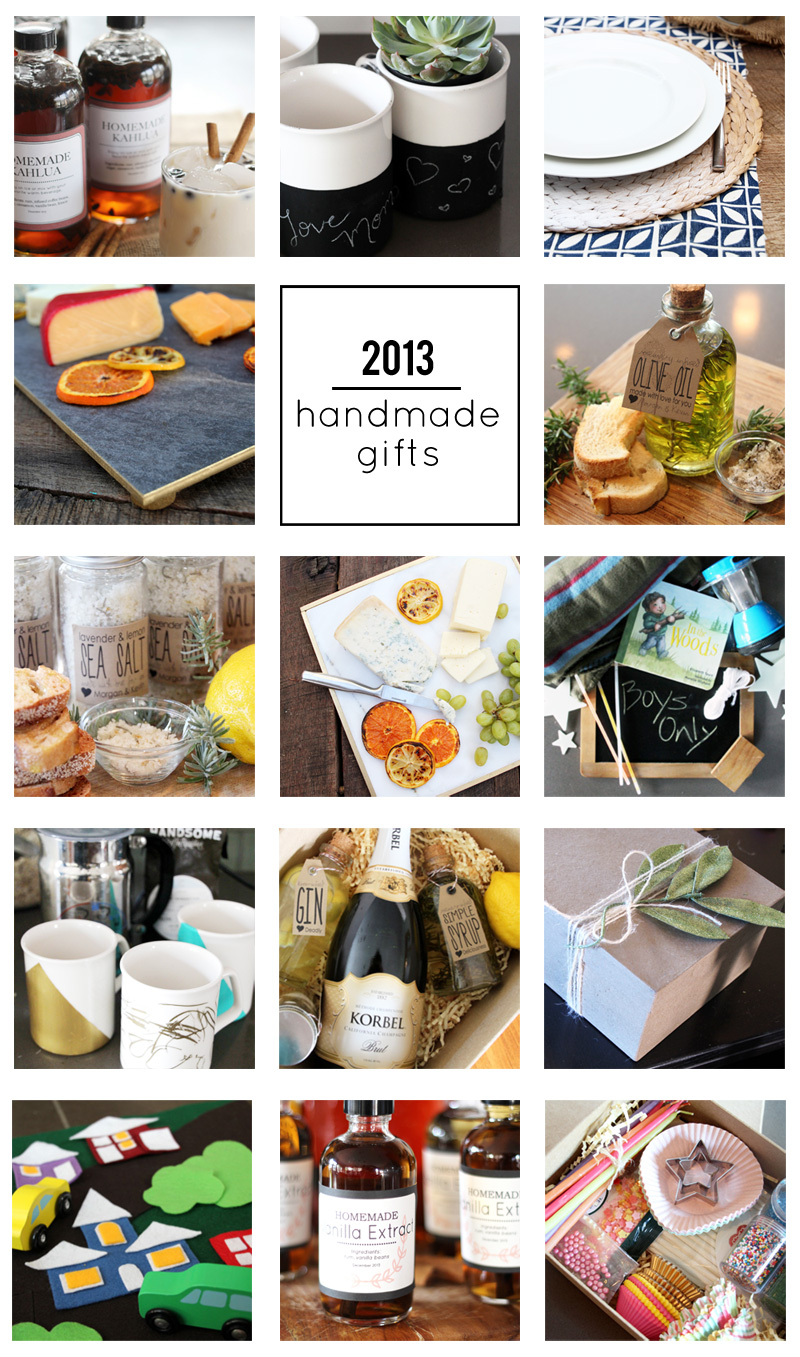 It's that time of year again! I love this time of the year. I'm already working on a Christmas gift list in my phone and have even (crazy) crossed two names off.
One of my favorite traditions each holiday season is to share a handful of homemade gift ideas. I thought I'd kick things off with a roundup of gifts from last year (and some maybe even from 2012) to get the inspiration juices flowing.
Homemade Kahlua: a white russian is the drink of choice for me during the holiday season and this recipe is one I highly recommend. Needs a few weeks to build flavor so now's the time to order bottles and ingredients.
Chalkboard Mugs: chalkboard on everything was a hit last season, happy to say that I think the trend is here to stay a while!
Ombre Rattan Placemats: wrapped with a big burlap bow these are neat for the hostess with the mostest.
$6 Slate Cheeseboard: a home improvement store tile takes on new life with legs and a shiny border.
Rosemary-Infused Olive Oil: a homemade treat for the chef.
Lavender & Lemon Sea Salt: I really enjoy cooking with flavored salts so this was probably one of my favorite gifts to make for friends.
Marble Cheeseboard: similar to above but so classic and beautiful. Equally inexpensive.
Fort Kit: diy gift bag possibilities are endless. This fort kit includes everything that every preschool-aged boy needs for one awesome living room hideout.
Painted (& Sharpie) Baked Mugs: a gift that's a lot of fun for kids to participate in. But they're not dishwasher safe (I learned the hard way, tear)
French 75 Cocktail Kit: one example of how personable a diy drink kit (infused-alcohol and simple syrup included) can be.
Stationery Kit: I use my return address stamp almost every day, here's a kit built around staying in touch.
Felt Town Rollup: a kit for kids that includes a cute, flat felt town and miniature wooden cars for playing on the go.
Homemade Vanilla Extract: we gave a mini bottle of this to each of our friends last year, I still have a few in my pantry! Downloadable label included.
Cupcake Kit: a collection of sprinkles, beautiful cupcake liners and wax candles make for a fun, girly cupcake decorating kit.
I have a few new projects to share next week – and then a whole mini series until Christmas. A curious question: are you a homemade gift maker or does that all sound stressful/do you love to shop instead?
PS here's a cocktail that would be great to build a 'kit' around, and these relaxing salt tea bath soaks are perfect for the new momma.