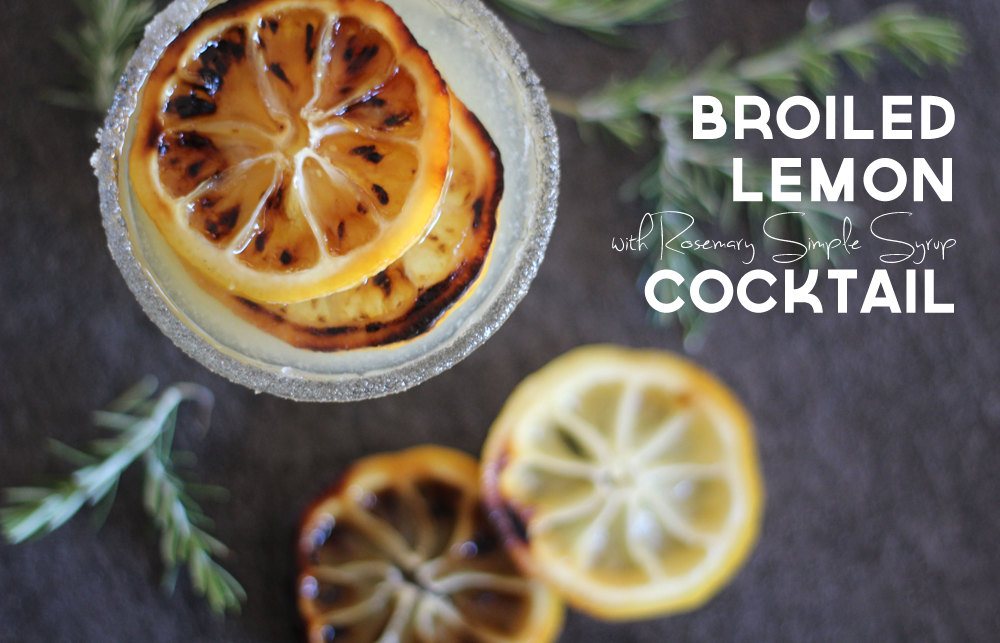 I shared a peek of this cocktail here and here (Instagram often gives me away :)) but I'm so excited to share the full recipe with you all. This could possibly be my FAVORITE cocktail featured so far and I plan on recreating it again and again.
Very pretty too, right? That broiled fruit makes it look quite fancy.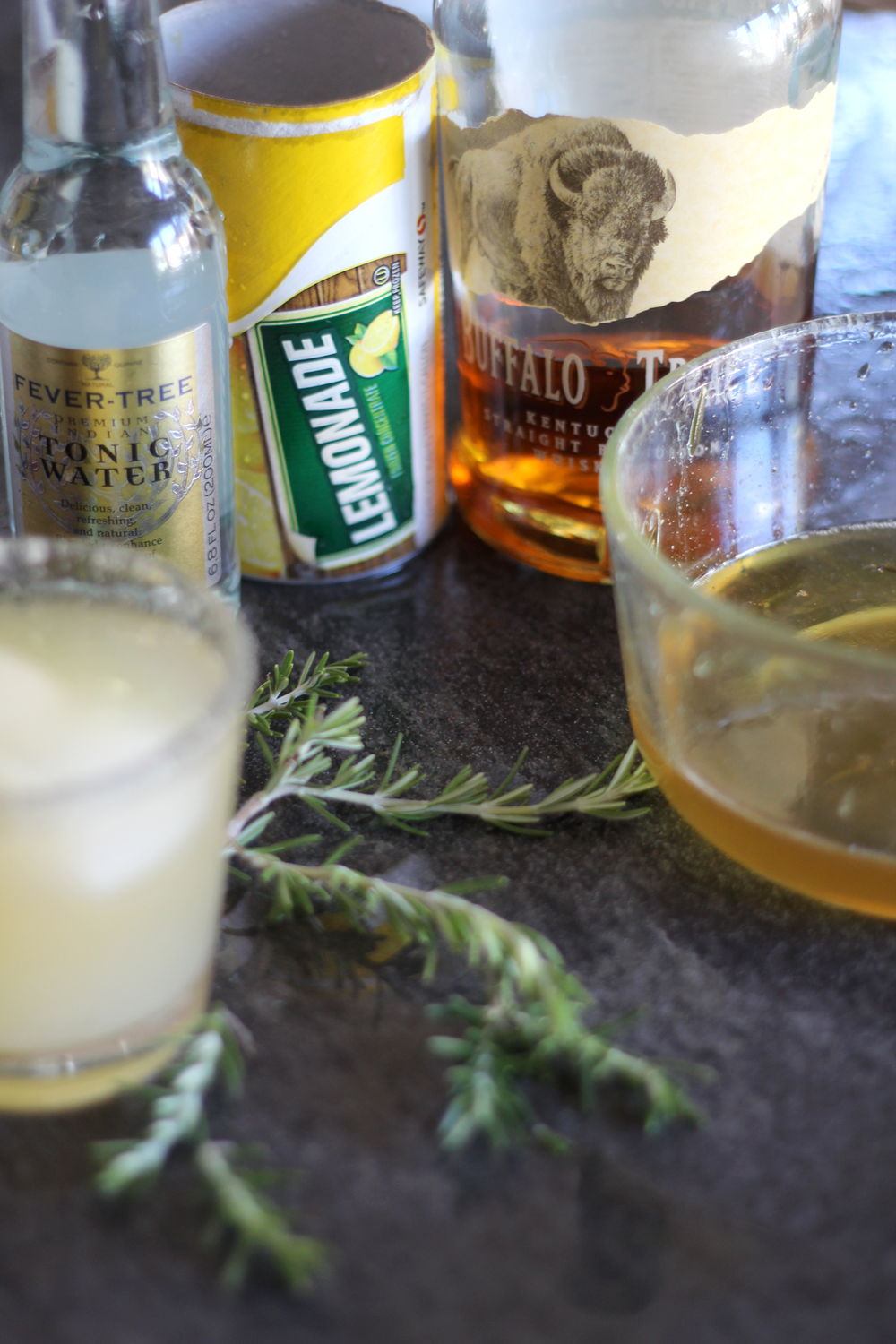 Broiled Lemon Bourbon Cocktail
(With a Rosemary Simple Syrup)
Ingredients: bourbon of choice (whiskey as a substitute), lemonade concentrate, tonic water, rosemary simple syrup (recipe to follow), broiled lemon slices
In a glass with no ice, muddle one broiled lemon slice with one part lemonade concentrate and one tablespoon rosemary simple syrup. Lemon need not be destroyed, just muddled enough so that the rich broiled flavor is infused with the lemonade concentrate. Pour in one part tonic water. Add ice cubes (here's my favorite silicon tray ever invented), top with one part whiskey. Float a second broiled lemon slice and a rosemary sprig as a garnish.
If you're serving in a dipped sugar rimmed glass, prepare a high ball or low ball glass separately by dipping rim first in simple syrup and then in a plate of sugar. Pour your cocktail ingredients into the new glass just before adding ice and whiskey top.
For this example I used a shot glass measurement as my 1 part, if you're serving in a high ball glass (or something even larger such as a mason jar), up the 'parts' by 2xs that amount. More or less tonic water can be added per your preference.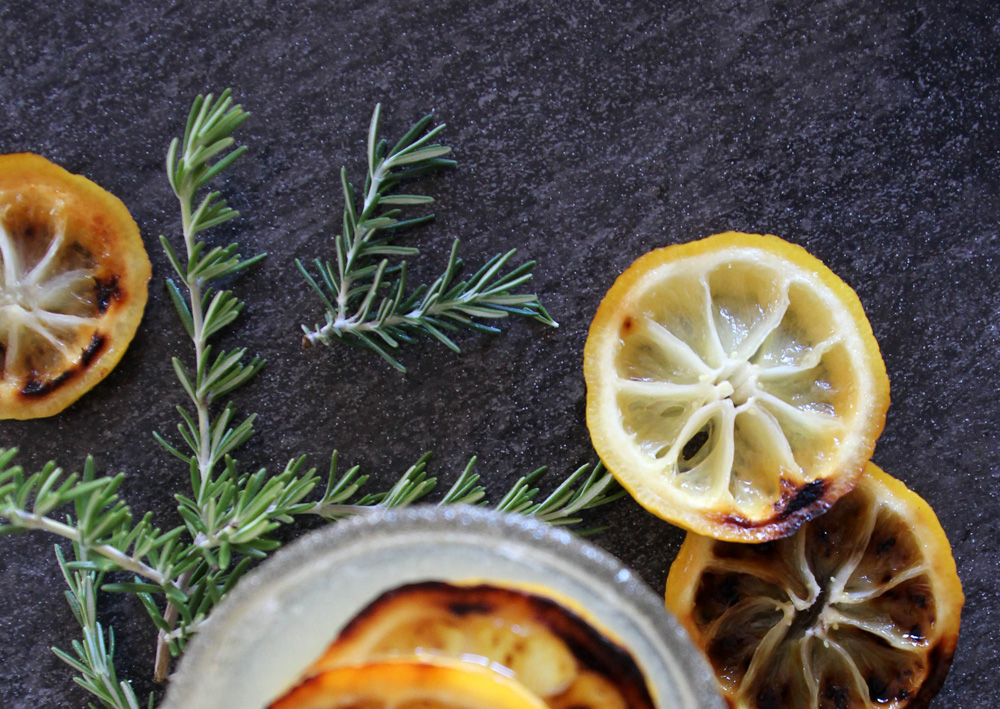 The ingredients are fairly basic with the exception of two key factors: a homemade rosemary simple syrup and broiled lemons.
More on broiling fruit over here, suffice it to say that it's excellent. I love to make a large batch and to keep my fruit in well sealed glass containers in the fridge. They'll keep for a while.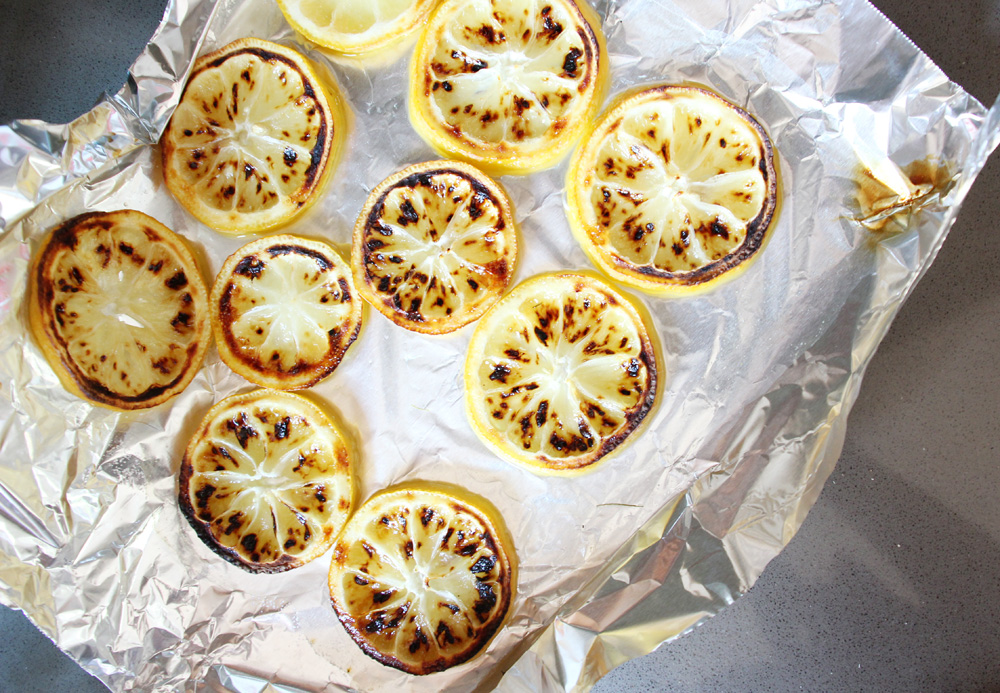 Since a simple syrup is already being prepared for the drink itself, the dipped sugar rim is an easy detail to add.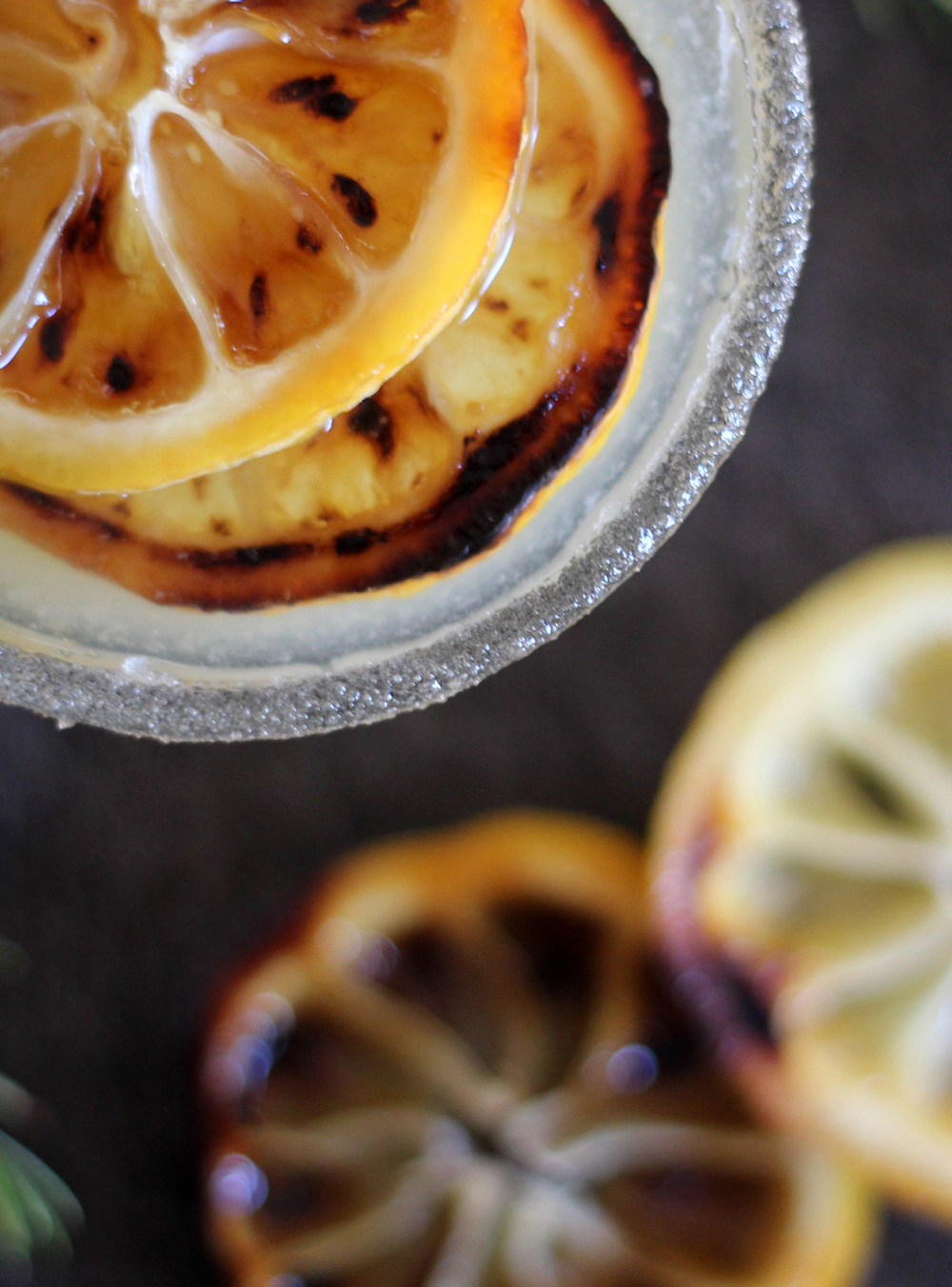 Oooo so pretty. A quick dip into the syrup and then into the sugar.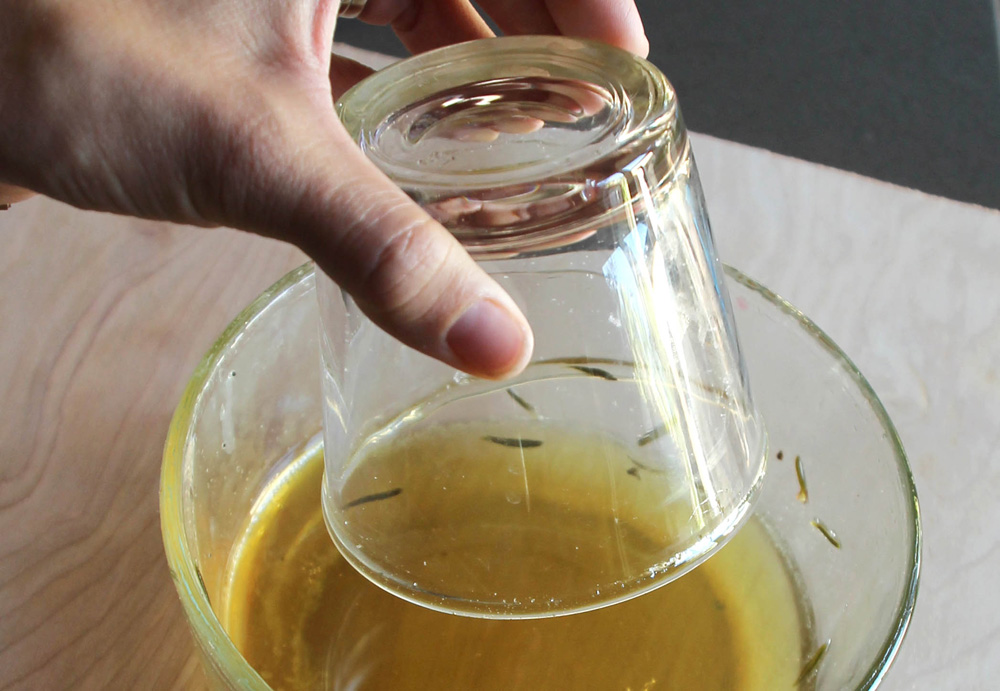 The trick for making simple syrup that is infused with any flavor is time. Simply bring to a boil equal amounts sugar and water, add your choice of flavor (rosemary, lavender, orange peels…) and let simmer until reduced to a syrup quality. PS this is so great on white rice and even fish that you might consider making extra for that evening's entree.
When the syrup has finished its reduction, poor into a glass container with a lid (no need to strain formally, but if you do want fewer rosemary springs in your cocktail you can stop rosemary from falling into your glass container by using a lid over your sauce pot to catch leaves). That glass jar makes for easy storage (keeps for a long time!) and clean up since the sugar syrup will eventually crystalize and hot water will be your only solution for melting it away.
And there you have it! The perfect backyard bbq or picnic cocktail.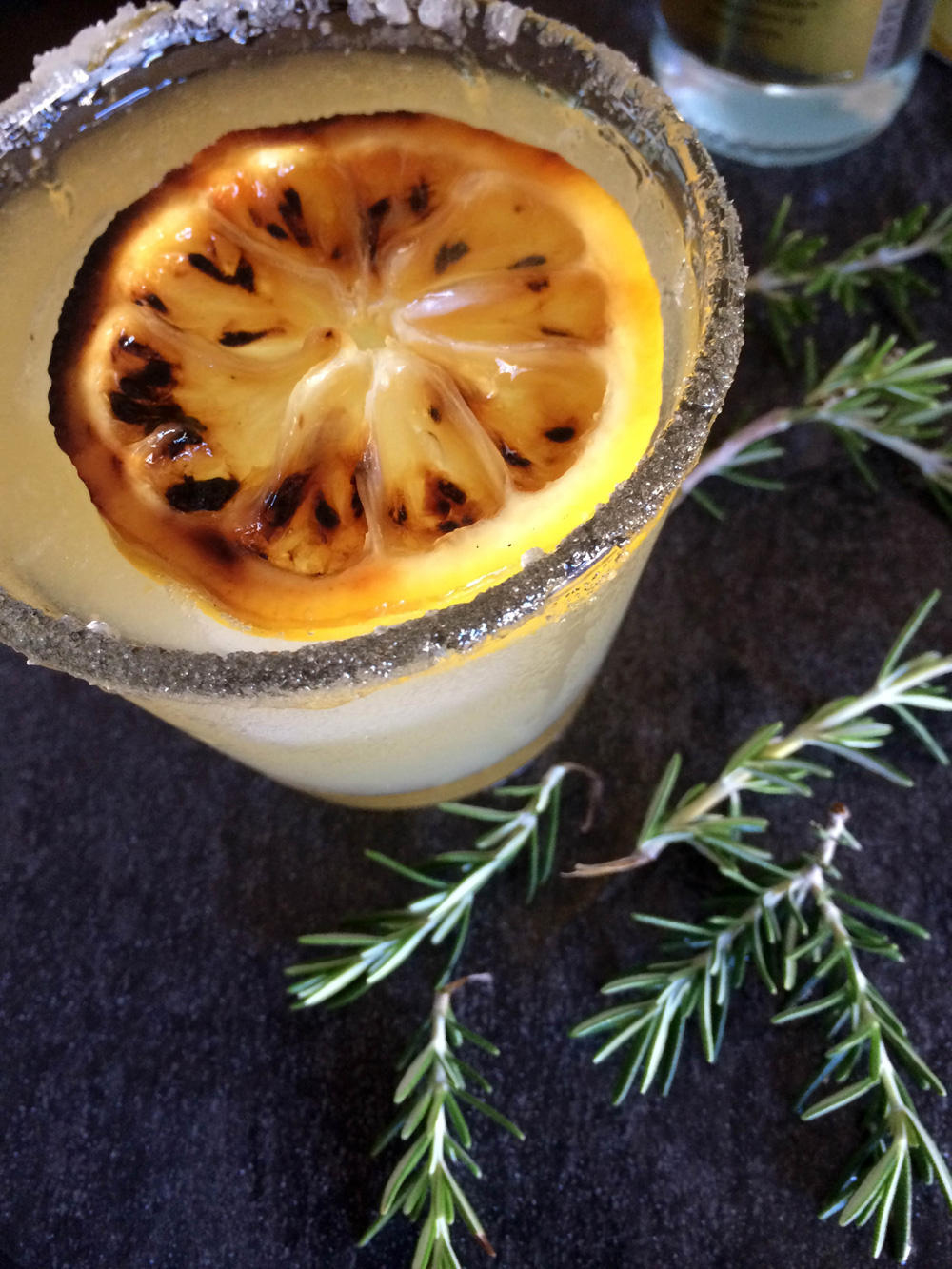 Yum :).
To those who have recommend bitters to me – you are the BEST! I can't wait to share my experiments. This summer is the perfect time to try all of these cocktail beverages out, no?
What's your favorite mixed drink?
PS more recipes here, more party ideas here.
And just for fun, did you know that this recipe remains as one of the most popular on the blog? and this one also includes rosemary – and quite possibly has garnered the most conversation on this blog.