Remember back here when I decided to build Liv a little kitchen for Christmas (and shared all of the inspiration for my favorites)? Well five months later and…. it's finished!!
It's been one of those projects where I've sllloooowwwlly added and added to it over the months. It probably should have been considered finished in January when my Dad and I designed and assembled all of the little pieces (and when we revealed it for her birthday rather than at Christmas time). But then I added a faucet in February, baking racks and an oven light in March, redid the stove range and added a backsplash in April… and it slowly evolved into an obsession. I have to stop. So as of today, I'm marking it done and done!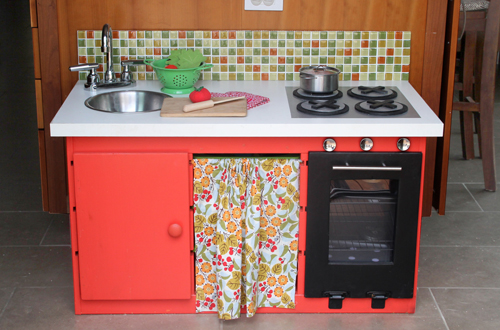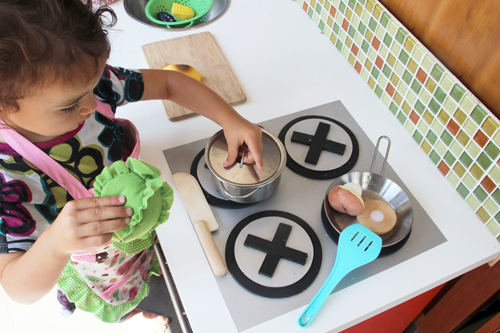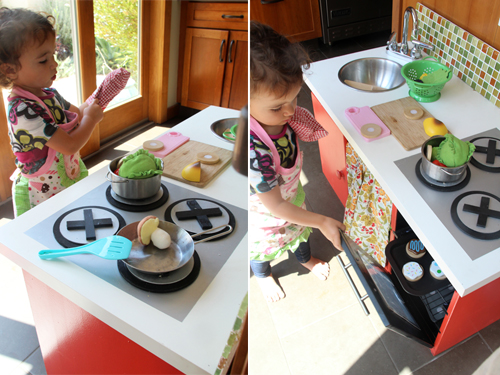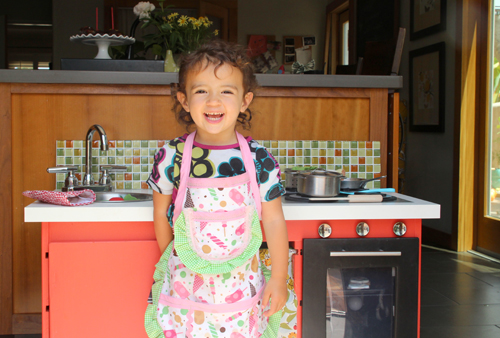 I'll be sure to share some of the how-tos and progress pics this week.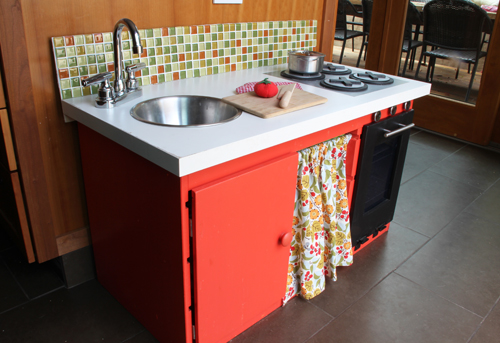 One of my main goals was to build a little kitchen that would work well with our big kitchen. That way Liv would have something fun and interactive to do while we were working in the kitchen (the hub in our house) and could participate in the 'cooking' – and we could have a toddler toy that wasn't plastic or an eye sore in plain view.
The finished mini kitchen fits perfectly at the end of our island, and I chose all of the colors to be more upbeat, kid-friendly versions of the colors that we have throughout our own kitchen space.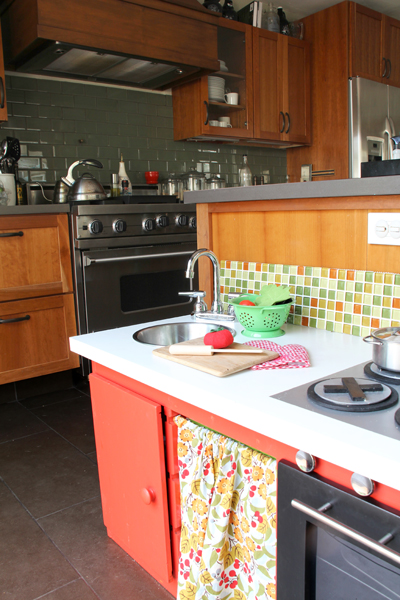 After quite a bit of research (and hunting through Craigslist, thrift stores and what not for the right sized cabinet), I used the TROFAST toy storage unit and plastic bins from Ikea for the little wooden base, and a basic white Ikea desk top that fit the unit near perfectly for the countertop (can't seem to find the link online at the moment, but it was 39″ long and we sheared off just a bit of the width at the back so that there was just a tiny lip over the storage unit). The orange door on the left and black oven door were both shelves built for the TROFAST unit as well that we converted with hinges.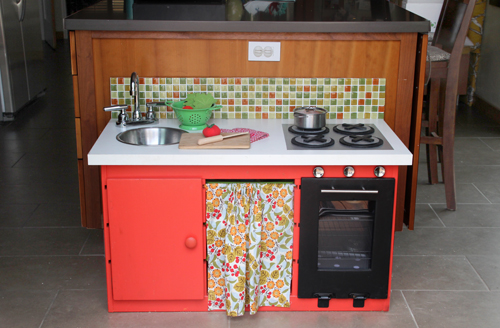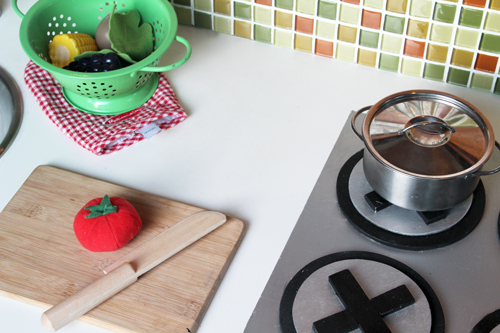 Little extra features include a bar sink that works well as a faucet (which Liv has already requested 'please make it work', ha!):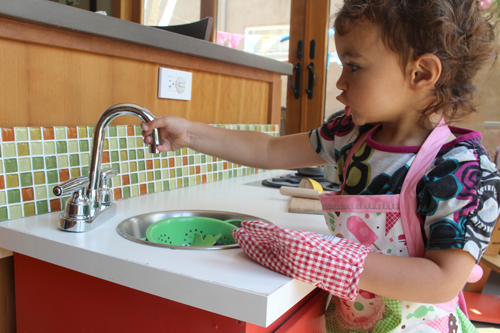 A stove top: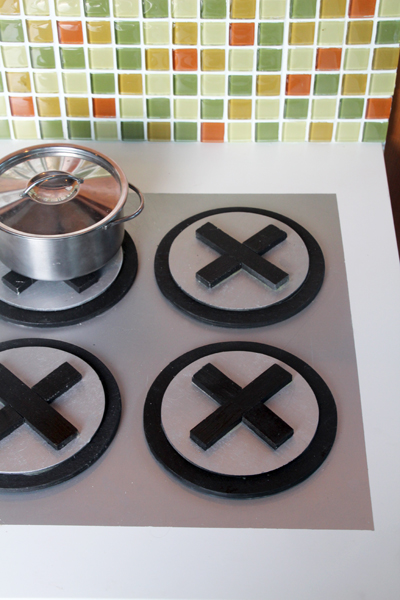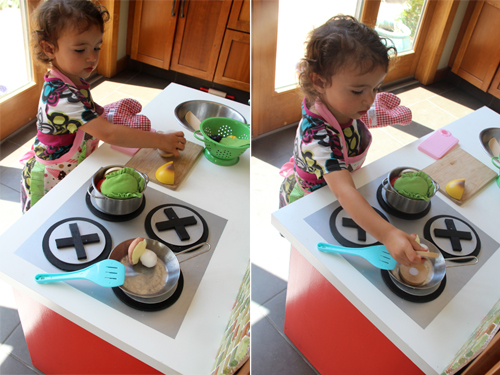 An oven with two little racks and an oven light for baking: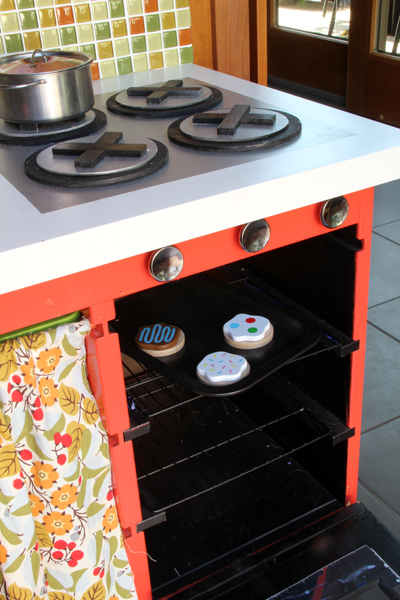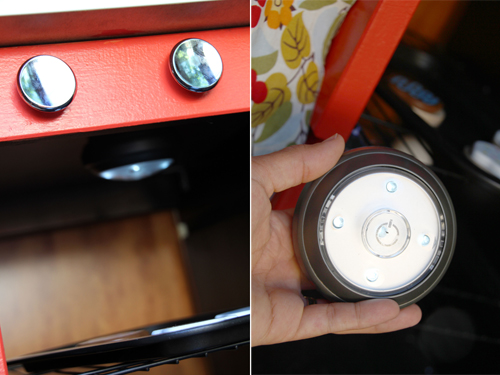 Little knobs that spin for the stove and a handle, hinges + plexiglass for the oven door: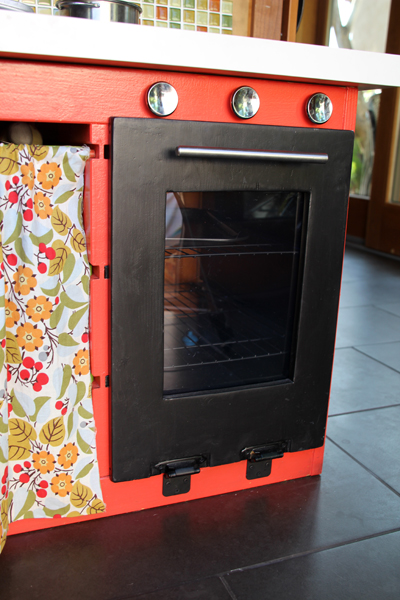 And for toy food storage, a large door to hide bigger bowls and tools, and a fabric curtain to cover up three plastic Ikea bins: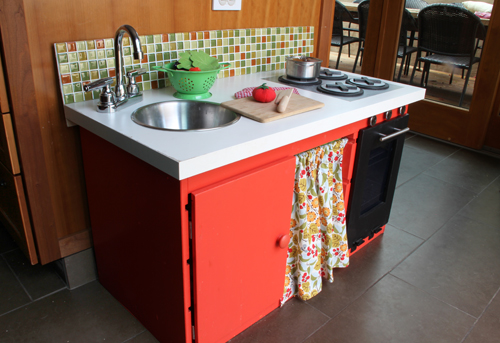 The dowel at the top of the curtain fits right into the notches that were already built into the Ikea toy unit (the fabric remnant is from Joann's):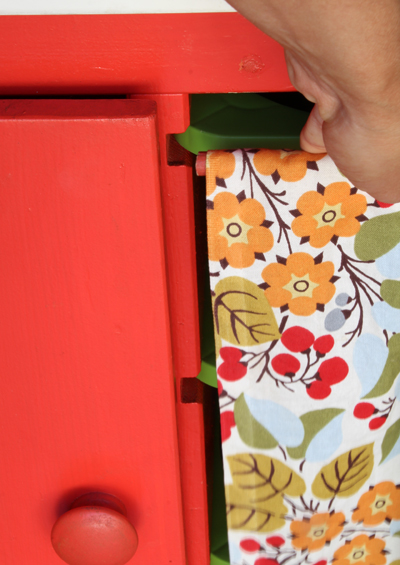 And the entire curtain can be removed during playtime to reveal the bins of felt and plastic foods, wooden cutting boards, aprons and the rest of that fun stuff: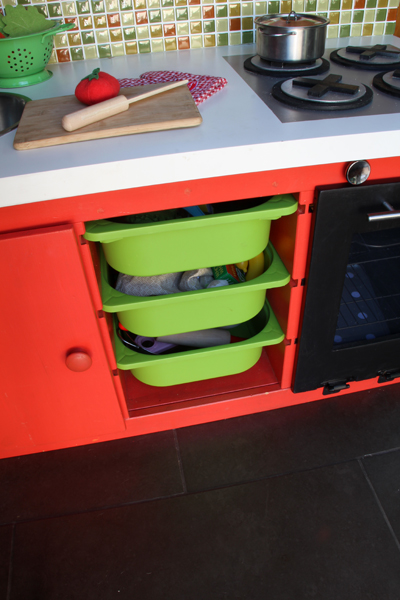 Thanks, Dad for all of your help assembling this guy! He was my powertool man over Christmas and he troubleshooted problems like the oven doors, unbreakable plexiglass and installing the bowl for the sink. I added most of the little design details later when all mellowed down.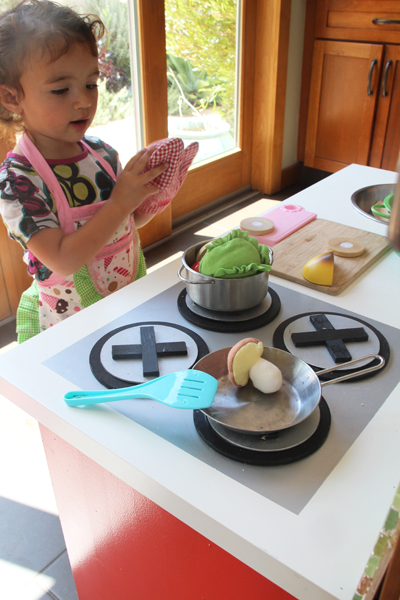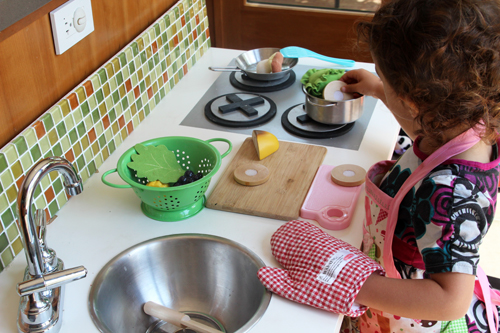 So much work! But Liv loves it and that's what matters most. And I have loved being super creative with the design and build, troubleshooting how I could add a mini backsplash or what way to attach the oven racks into the inside of the oven :-). It's what I live for! In retrospect it would have been cheaper and easier to purchase a pre-built kitchen, but sometimes you just can't beat the DIY.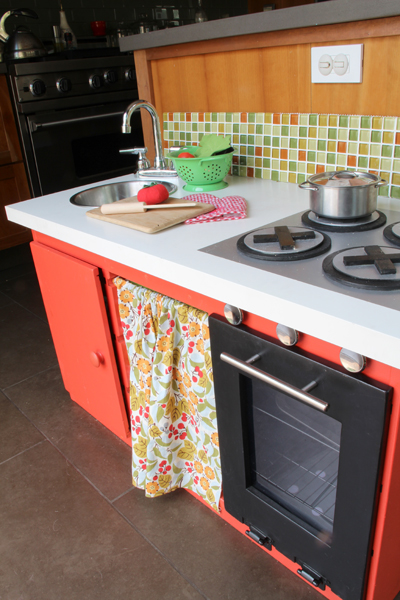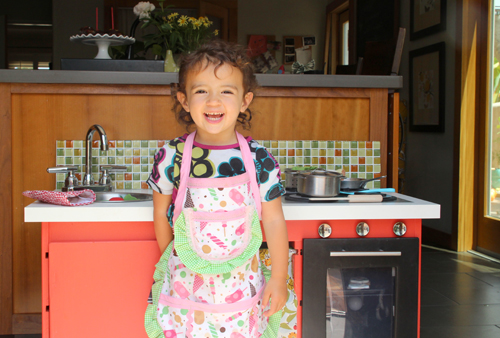 Be back shortly with the source list and the steps to build!