We are back to shorts weather here in San Diego. Fall arrived and the nights were finally a bit cooler – and then bam! out of no where another little heat spell swooped in. Might be temporary but it's not totally unusual for our neck of the US. One summer we had no summer, the next year we had the longest summer (three seasons of heat?) known to man. Oh but the cold weather was a teaser anyhow. Our neighbors already have ghosts hanging from their trees!
Liv and I made these frozen treats a couple weeks back when we were really in that dog-days-of-summer mode, and since the weather has taken a turn, I thought I might share our fresh fruit popsicle adventure with you here. Maybe a recipe to stow away for next June?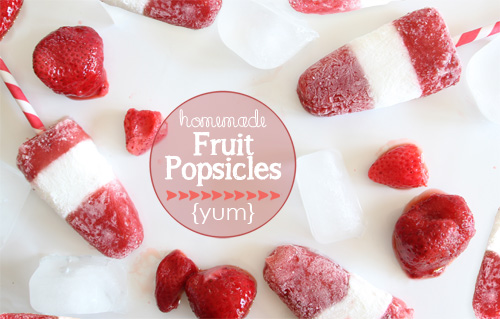 It's not really a recipe. More a sugar-free, fresh-fruit-only blend (this one is still my favorite – and would be sooo good as a popsicle) layered with more fruit blends until a perfect harmony is born.
I am a smoothie person, and while making said smoothie one afternoon it dawned on me that these smoothies would be excellent frozen.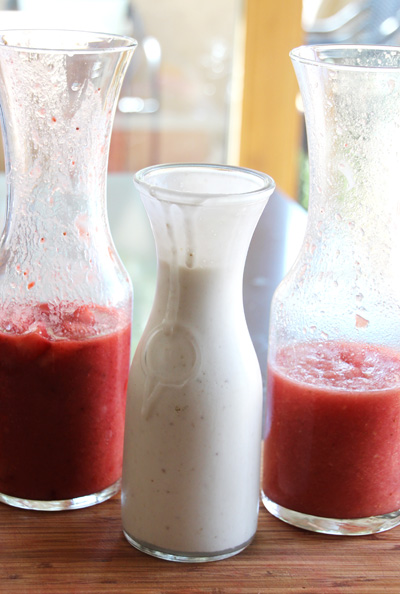 And so after rifling through our frozen (and the last bit of fresh) fruit, Liv and I made three yummy 'smoothies' in our blender: strawberry, coconut cream (actually this guy came straight from a can, but we blended with coconut water for consistency) and watermelon. No sugar, just fruit and ice.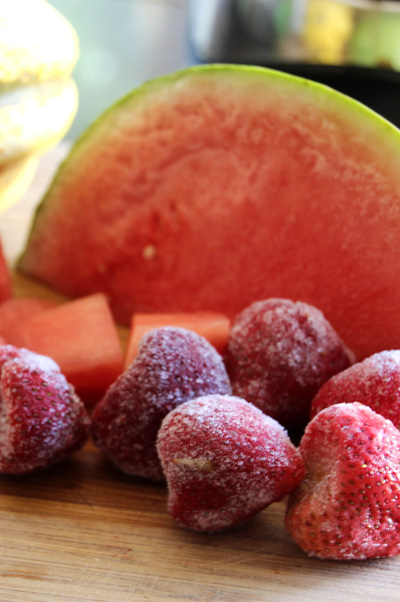 Chunks are a plus.
Frozen fruit chopped up into little tiny pieces and hand mixed in helped for the end look and taste.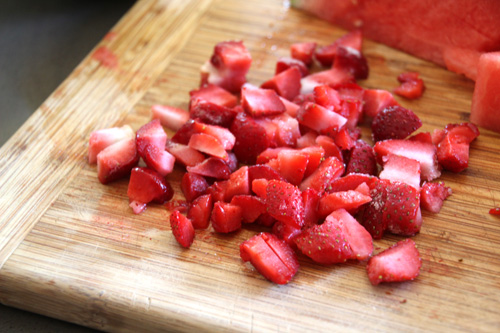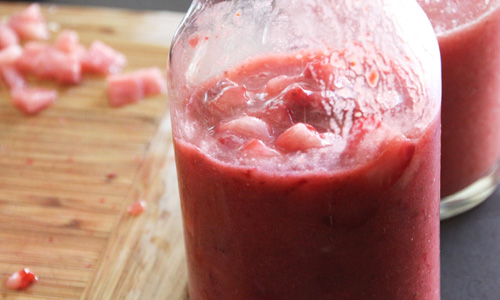 Using a popsicle form from Ikea, I layered the different flavors for a striped effect. Fifteen-twenty minutes between each layer should make them firm enough to not melt into each other. Leftover straws cut down to size from Liv's 1st birthday (wow! so long ago) worked as impromptu sticks.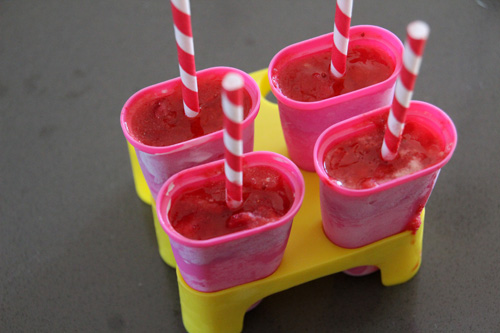 Hey, they kind of remind me of Where's Waldo!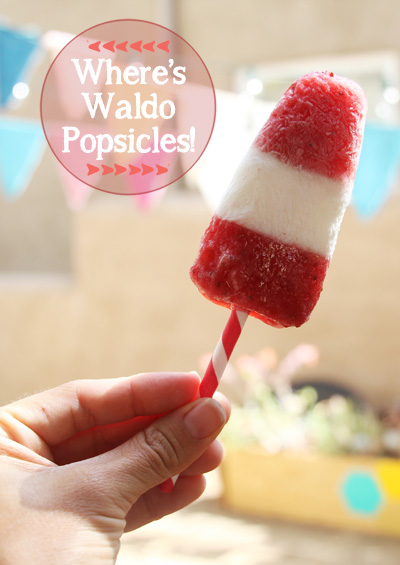 The idea of making popsicles popped into my head after Liv made a batch with her Mimi earlier this summer while I was in the hospital with Taylor. One day after coming home I found several frozen dixie cups in my freezer and remembered what a brilliant and easy idea that is! If you don't have a popsicle form, any ole paper cup will do. Thanks, Mimi.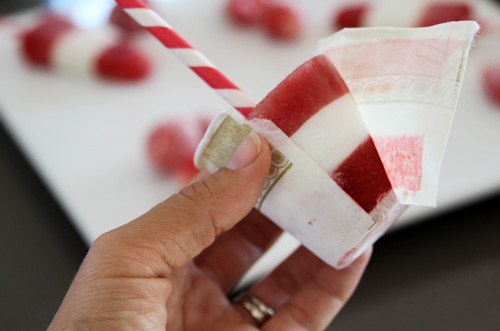 After Liv and I had filled up the six Ikea popsicle forms, we made a handful of dixie cup versions as well.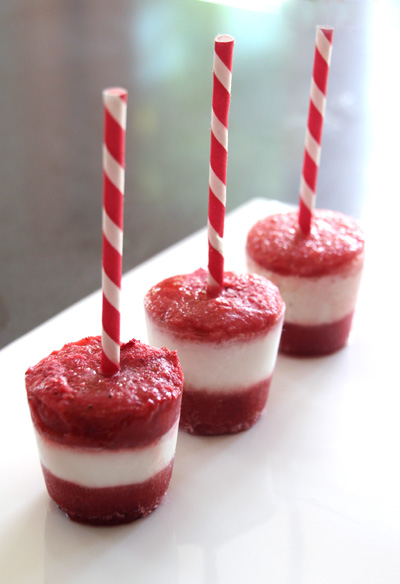 And the added bonus? Layer a piece of sliced fruit at the bottom for a little fun.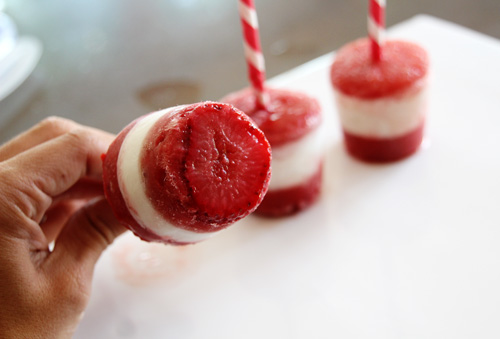 Liv was so patient! She couldn't wait to dive in post-nap.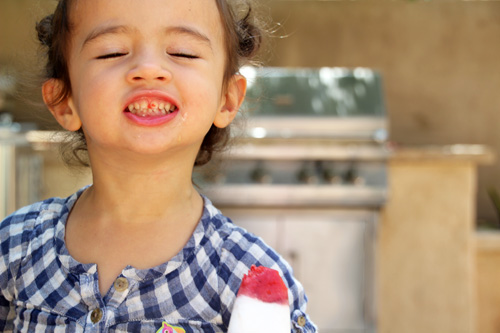 Those paper straws worked brilliantly until they became unfrozen…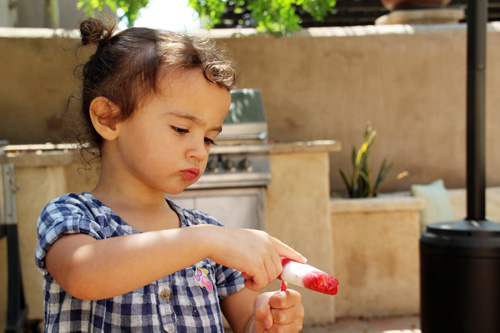 But Livy is a resourceful girl.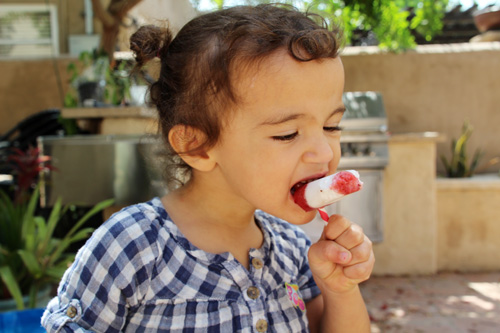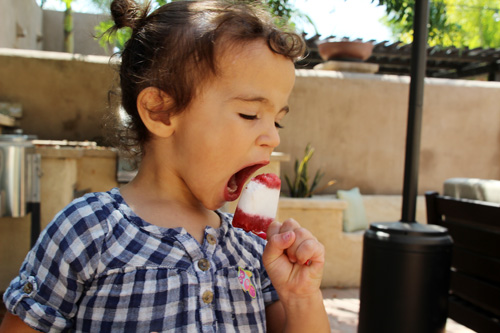 And a cute one at that! How can you turn down this face?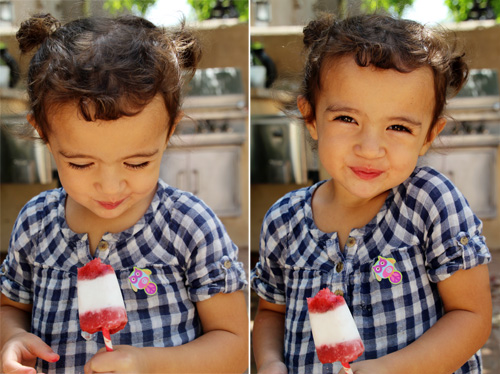 So the next week we made applesauce and OJ pops.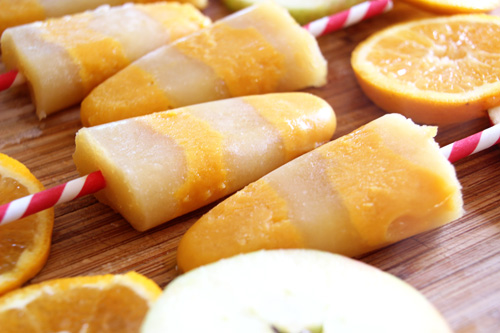 THESE may have been my favorites. I layered applesauce (straight out of the jar) with OJ concentrate for one deliciously sweet snack.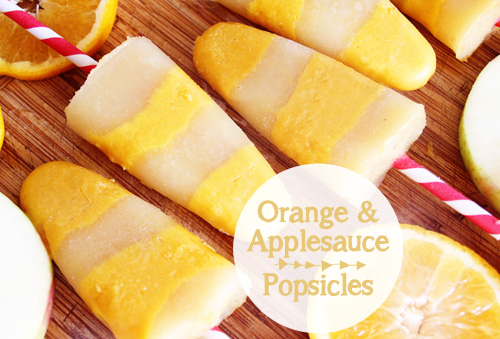 I didn't used to be a popsicle fan, but now I think I'm sold. Something to look forward to next summer…
PS More good eats posts found right here!