Happy Monday and welcome back from the weekend. Ours was a little bit relaxing, a little bit busy. We found our Christmas tree Saturday and began decorating the house, all while listening to a little classical Christmas music and enjoying a few of these. (Warning: they're terribly addictive). Kev talked me into what I thought was a Charlie Brown tree of sorts while we were at the Christmas tree farm, but it turns out that the odd ball of a lengthy, gappy tree is sort of growing on me (when we initially brought it into the house it was three feet too tall). I'll share when it's finally up and you can tell me what you think.
Today I'm sharing part 2 of my gift guide for the ladies! Here's a link to part 1, and a link to the gift guide series on the blog just for fun.

bamboo bath caddy | chevron iPhone case | two tone block planter
pendant necklace | 'Rita' painting | instagram magnets
chevron latte mug | hand printed vine linens
I'm starting this guide off with what I secretly hope will be a diy present from the mister (hint, hint) – but one that would be an equally sweet, purchased treat for any lady. What am I referring to? That beautiful bamboo bath caddy up there in the left corner. So simple and yet so perfect for a book and a glass of wine, no? Kevin is fond of working with various planed raw planks that we find at the lumberyard, maybe he can find one that is about, oh, 3'x1′ to go with that great bathroom that he built.
Following along the planter craze that I've started in our household, I have a few standing planters that I'm eying this season – including this wood + white version that feels both very organic and very fresh. Speaking of fresh, (but in a different way) how pretty is this beautiful 'Rita' painting?
If you're searching for a finicky friend, a simple long necklace like this guy is a win (love the unusual shape of the pendant). I'm still a huge fan of the wallet + phone covers but I couldn't resist this chevron case a gift idea.
I discovered Stickygram earlier this year and have some magnet ideas in the hopper (made from Instagram photos – very easy) for Liv. This chevron latte mug is more of what I have in mind for a close girlfriend (would be great paired with a pound of my favorite roasted coffee beans). Possibly a diy project like this?
I am also a sucker for all things block print. Both this hand printed linen vine design and this charcoal dots version have landed on my boards this year. Linens in general are beautiful and practical gifts for friends, family and neighbors. Pair with a favorite cookbook for something extra special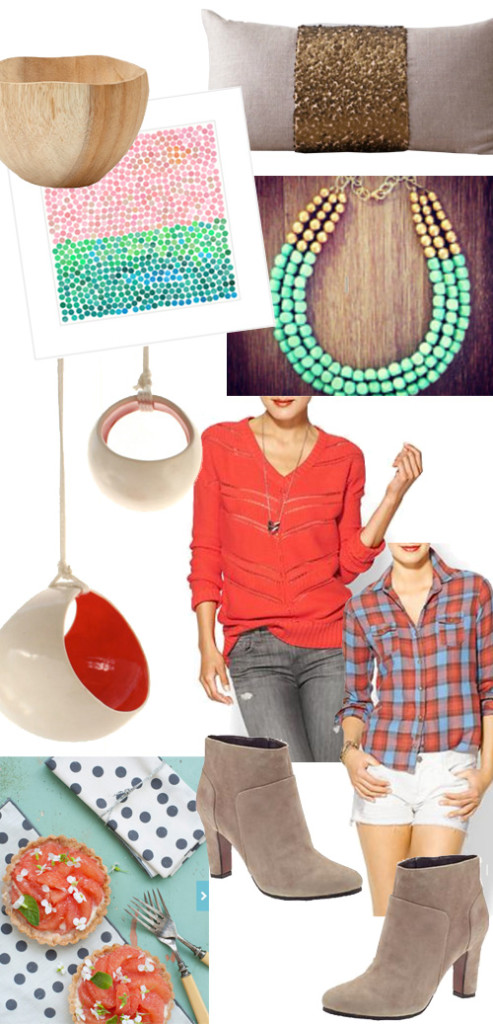 hand carved bowl | dance 2 print | sequined pillow cover
mint & gold necklace | porcelain bird feeders | chevron pullover sweater
plaid button down | charcoal dots handprinted napkins | booties
Our neighbor (the one who built the girls' awesome bookcases) makes beautiful wooden bowls and vases out of stumps and other found woods. Sometimes Liv and I stop by his workshop (which is just two houses down) on the walk to preschool in the mornings and I've come to appreciate the beauty in the natural wood pieces. This piece isn't by him, but a hand carved bowl like that one would make a beautiful gift for a family member for displaying or using.
Speaking of displaying, I recently picked up a sequined gold pillow that looks a lot like this one from Target and love how it sparkles on our guest bed year round – but especially how it looks on the couch this time of the year next to our Christmas tree. I can't seem to find my exact pillow online.
Art is a gift that will always be loved – this print is a colorful (but quite generic) gift idea that I think would be a favorite by many. Another crowd pleaser? The sculptural porcelain bird feeders with their bright pop of color on the inside. I would love, love two for the pepper tree in our backyard.
I personally bought myself a two strand (contact the etsy designer for a custom listing) version of this mint & gold necklace last year and I wear it all of the time. I can vouch for how beautiful and fun it looks in person.
Raspberry red and plaid are two colors (patterns? styles?) that I've been leaning towards. This button down and this chevron pullover sweater are perfect. Speaking of style, how great are these ankle booties? A versatile color that can be worn with black, brown and everything in between.
*****************************************************************
And there you have it! That concludes four inspiration boards of thoughtful and unique gift ideas for the ladies in your life. Be they sisters, friends, the babysitter… I hope these help when hunting down something special for that special someone.
Here's that link to the first two boards (part 1) and again a link to all of the gift guide series previously posted on the blog. Happy Monday.