I found these really cool round wall knobs for Liv and Taylor's room. Perfect new addition for getting sweaters and coats and mini backpacks up off of the floor and organized. But I was a little dissuaded by the price and the idea that I could make something similar (and perhaps more fun) that served the same functionality.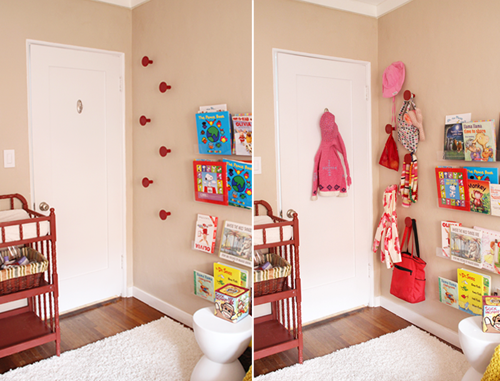 I sat on the idea for a while. I thought that building blocks-turned-wall-knobs would be cute. And then perhaps wooden puzzle pieces (I'd hijack something like one of these just like I did for these art canisters).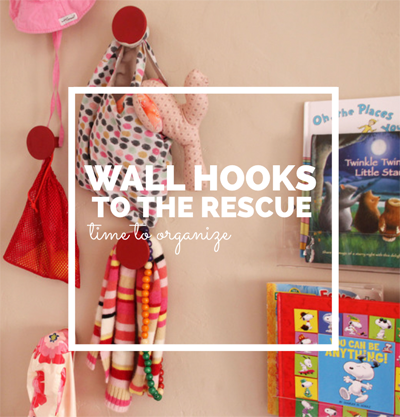 This corner needed an organization solution so badly! Jackets, hats, scarves, bags for the library, bags for eating out at a restaurant or for church on Sunday (you know, crayons and what not), and plenty of hook-worthy accessories were piling up on our changing table, the floor, in toy boxes… it was getting frustrating.
The idea for something creative kept brewing and brewing… it felt like there were too many fun possibilities. But then I decided that this space has a lot going on and what it really needs are just some simple round wall knobs.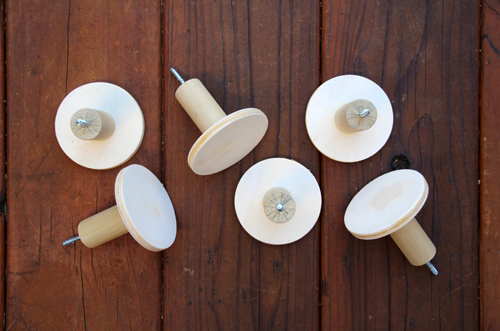 Having had cut perfect wooden circles for me in the past, I reached out to The Junkman. He's awesome – he has been an Etsy go-to for me since I met him virtually (via browsing his shop) over a year ago. If there's a small carpenter project (that would be okay to mail) that I can't tackle, and if the hubby or my kind neighbor are both busy, The Junkman comes to the rescue.
When I shared my project idea with him, I was hoping that he could help me cut the top circular pieces for 1″ dowel chunks that I had had on hand. I was then going to use tack nails and wood glue to connect the circular rounds to the dowel chunks and add a drywall nail to the back end for installing in the wall. He shared with me that he thought he might have a better, stronger way to make these and asked if he could send the knobs completed. I was thrilled with the idea (so awesome!) and happily accepted his offer.
He sent me some behind the scenes pics…

I also asked if he would send one disassembled so that I could share the pieces all with you today should you be needing a similar wall organization solution.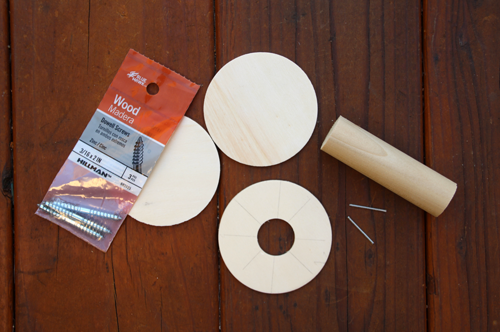 The top part of the knob is actually two thin solid circular disks and one thin disk with a hole the size of the dowel. When all three disks are stacked, they create a thick, sturdy hook for clothing and bags. The disks are 1/8″ x 3″ on their own and 3/8″ x 3″ stacked. Wood glue holds the disks together, two small tack nails hold the middle disk to the dowel piece. More on that in a second.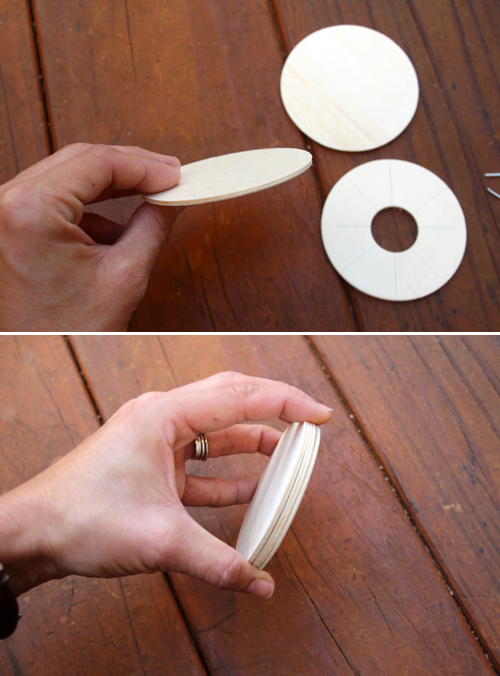 The bottom half of the hook is the dowel. The dowel used is a 1″ dowel cut into 3″ lengths. A predrilled hole allows for a dowel screw to be twisted half way in.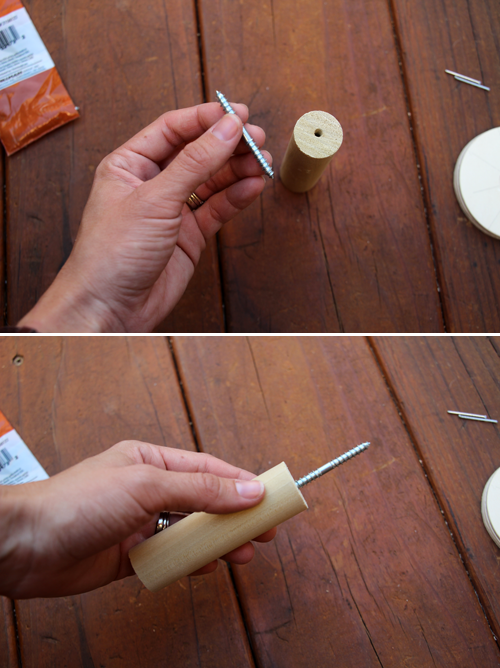 (I should have kept twisting for the picture – that above picture was 1/4 of the way in.)
Here is the order of assembly: glue 1/8″ disk with dowel-sized hole to 1/8″ disk with no hole. Insert dowel into disk with hole and glue in place. Use tack nails to secure dowel to round wood disk. Glue final 1/8″ disk to top of other disks for that seamless look (now your tack nails and glue are covered and your dowel is securely attached).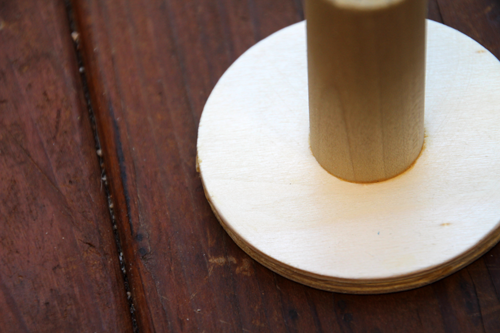 Upon receiving the knobs in the mail, I gave them a good sanding and a thorough coating of Rust-o-leum's burgundy red spray paint. Time being my favorite spray painting friend, I painted the knobs over the course of a couple of days as I lightly coated, waited for knobs to dry, lightly coated, waited for knobs to dry, flipped knobs, lightly coated, waited for knobs to dry… about ten times. This makes for a really even finish with no drips which is so key in not having to redo a paint job.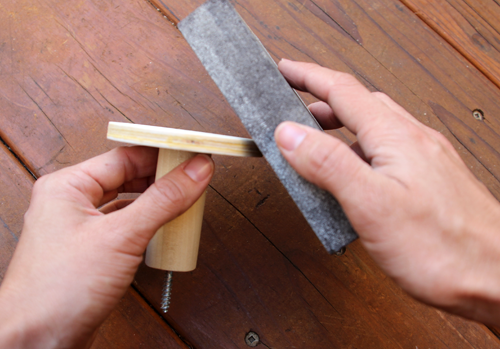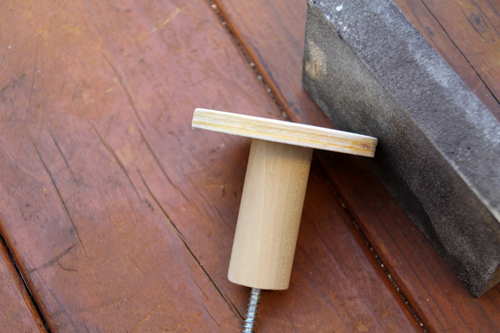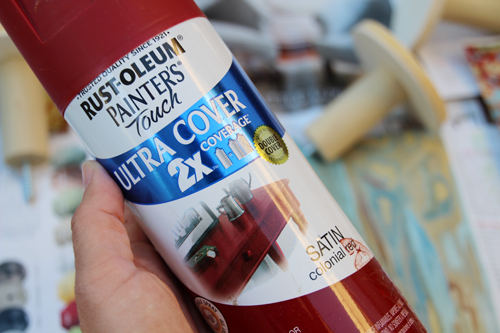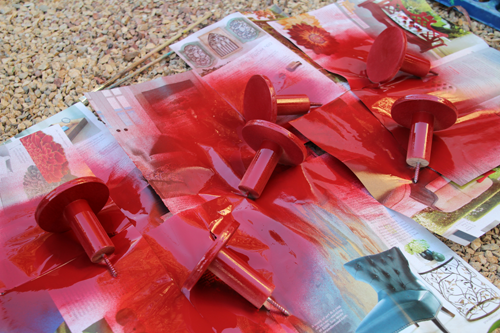 I carefully measured out my hook locations with a pencil and yard stick on the nursery wall. Then I predrilled holes for the screws and drywall anchors (since these guys were not being secured into studs but rather just the drywall) and into those holes I tapped the plastic anchor sleeves and finally screwed in the wall knobs by hand (with a little muscle :)).
Here's how a drywall anchor works: as you twist the screw into the plastic sleeve (which is sitting in your predrilled hole) it expands to create a secure grip. They are a must if you're not working with a stud (husbands don't count).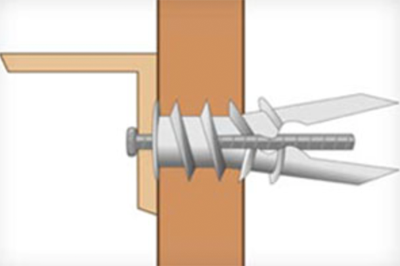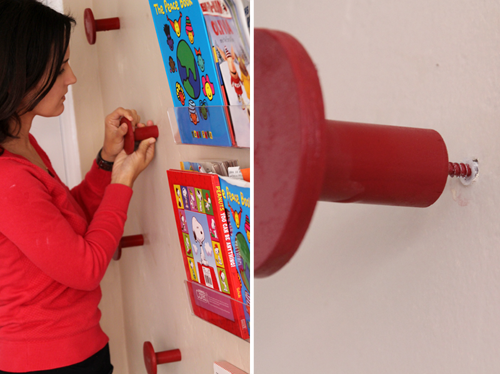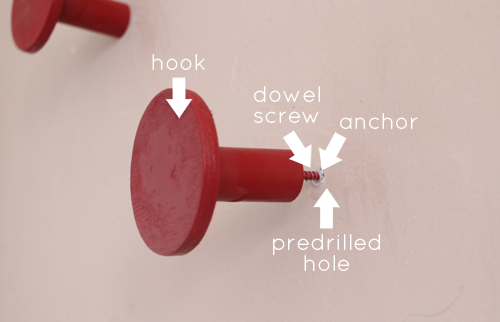 Oh I'm so thrilled with the final result! These are perfect for hanging miscellaneous items that used to swing from the door knob, changing table or pile up on the floor. Now I store jackets, sweaters, backpacks, tiny purses and anything else that the girls have floating around or need easy access to. For everything a home and a home for everything.
Before: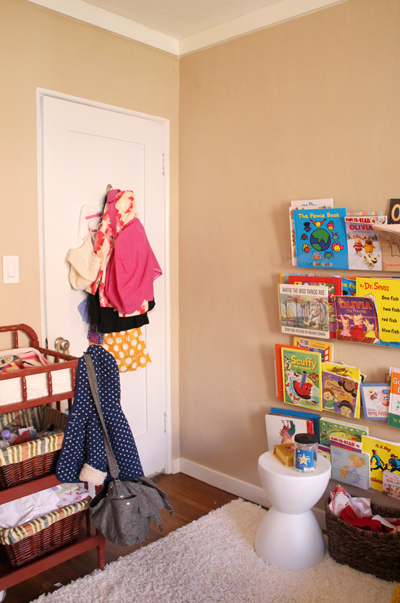 After: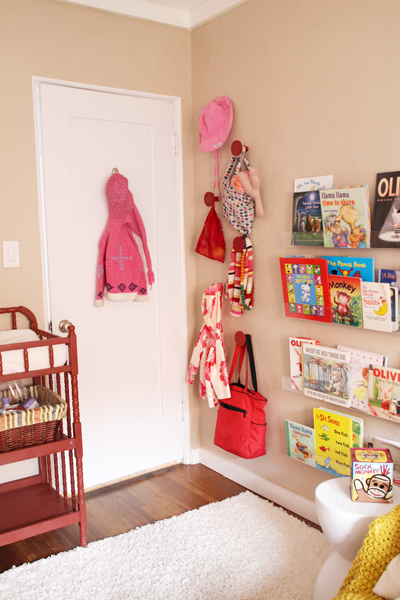 This room is going through a re-sorting at the moment (hence the missing changing table basket) and some items are finding permanent homes in drawers and what not as well. I've also moved frequently used items (hats for the park, spare diaper bag that's great for the beach) out to the hooks so that they're easy to find.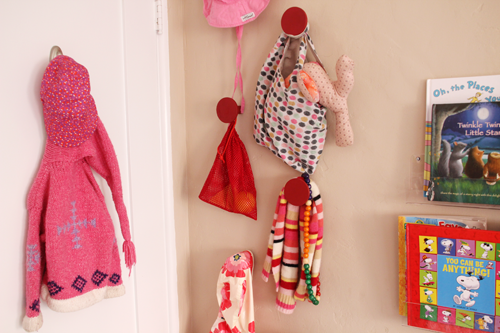 Now back to piling more stuff on those knobs. Any item still left on the floor of the room or still hanging from the changing table – beware.
PS More on the transformation of this space here – check out the other side of the room and the new roman shades over here.
PPS There are some great wall hook ideas out there, you might enjoy this version of a similar project and this one too.