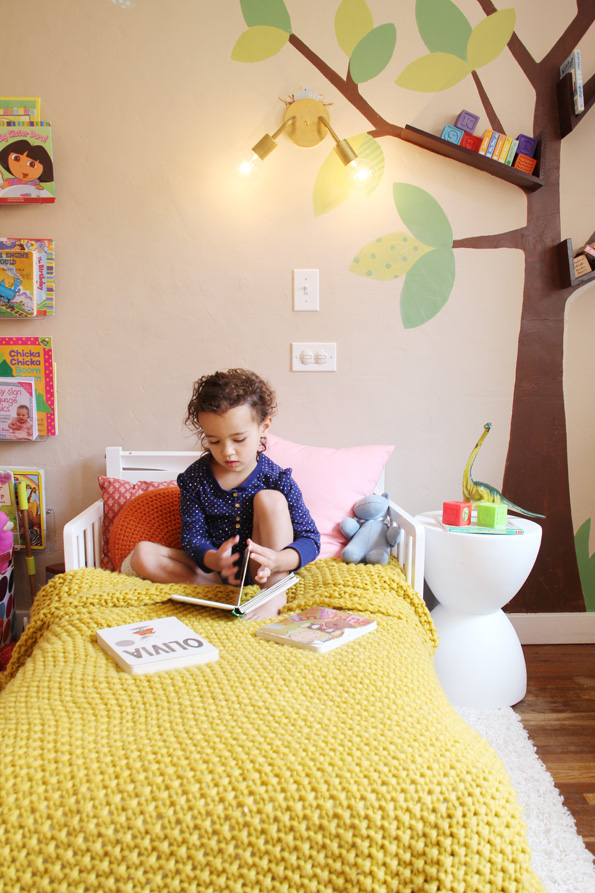 This room is far from industrial, but for some reason the new raw brass wall sconce feels so right in this space. Perhaps it's that it balances the gold swing arm sconces in the built-in bookshelves so perfectly, or maybe because it's so simple that it sort of blends right in.
I've been on the hunt for the right wall sconce for the space above Liv's bed for maybe a year. When we first started to transform this room into a space for two girls, one of my priorities was to update light fixtures that suddenly felt dated. When we added the two bookcase wall sconces in December our previous nickel sconce felt glaringly off. Here's a reminder shot from a few months ago: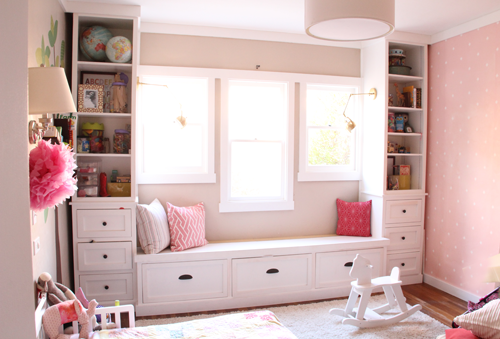 I discovered the company onefortythree from another blogger way back when and totally fell in love with their industrial style. I actually first tried this light because I loved, loved that swing neck (and thought it could do something cool here stretching over the bed), but when it arrived and we held it up on the wall it wasn't right. It felt as though it would swing into the acrylic bookshelves and the jutting out from the wall didn't really actually work in this setup.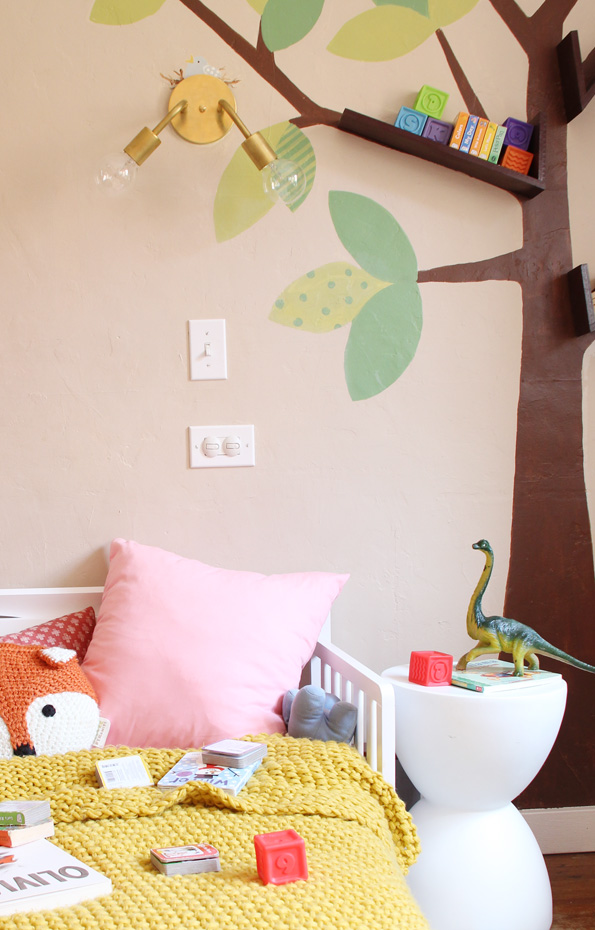 I was really dying to give another light from onefortythree a go though and I was really happy that they agreed to exchange my light for no fee, despite the fact that it's made to order. It took ages for my next industrial brass double socket light to arrive but when it did I was over the moon. The color worked beautifully with the bookcase swing arm lamps and the double socket style balanced out the single socket style of those as well.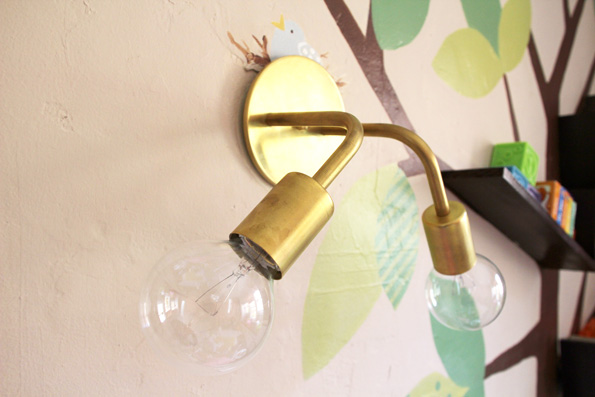 How cool are those oversized lightbulbs, too? They're exposed so we've had long talks with Liv about not touching them… that's the only downfall I potentially see here, though technically even a shaded light bulb is exposed and reachable in this unusual spot. Still not 100% sure why there's a lightbulb outlet two-thirds of the way up this wall… it must have had something to do with the previous owner's furniture placement and I haven't wanted to cover it up because any light is usually a good thing.
Installation was a pain because the sconce backing is flat, meaning that part of the sconce will sit off of the wall unless you chip away holes behind the backing to allow for the back ends of screws and wires to keep flush with the wall (most sconces have a backing that's hollow and about 1/2″ deep to hide these sorts of things). I need to do some more chipping since you can see in the above photo that the light tilts out at the top ever so slightly.
Big difference from before though! Here's a shot from the nursery from about two years ago. I tried to use the wall light as a functioning swing arm for the changing table at the time and it worked out fairly well for late night diaper changes.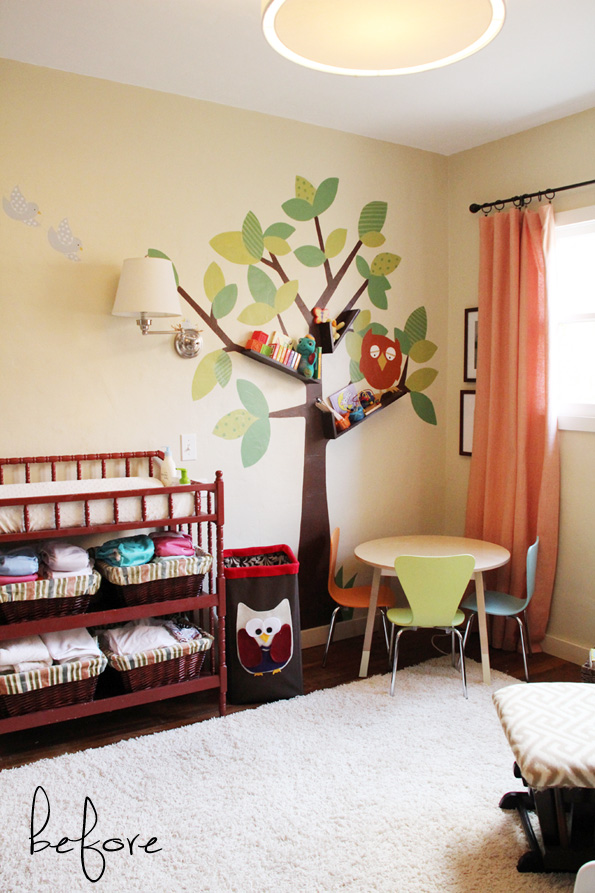 But the new guy is so much better.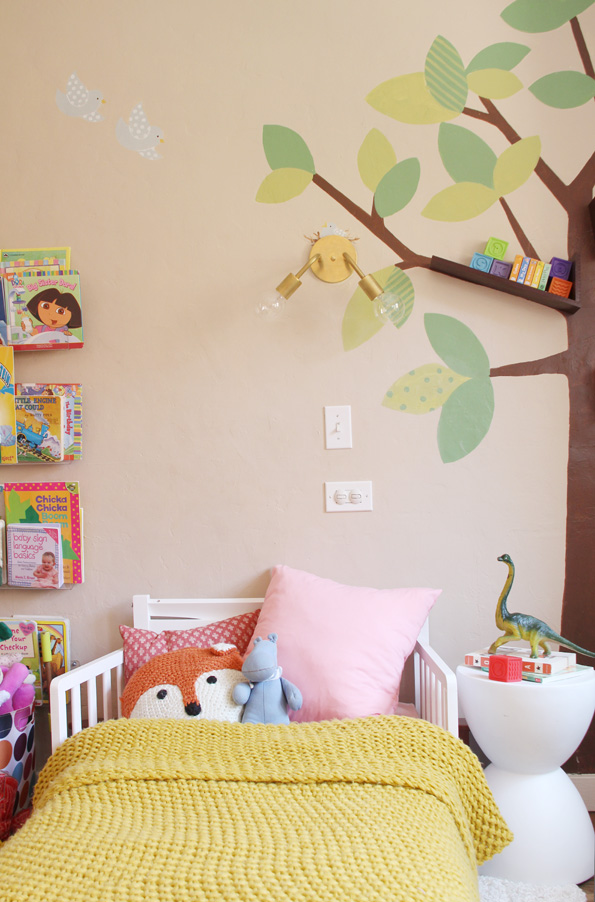 Adorable Fox pillow c/o Uncommon Goods, chunky mustard quilt from H&M, new tan paint is Hot Springs Stone by Olympic (one of the best tans I've ever found, much better than the previous yellow-tan), plastic white 'spring stool' from Joss & Main.
Full transformation of this room into a nursery and then a bedroom for two right chronicled right here.