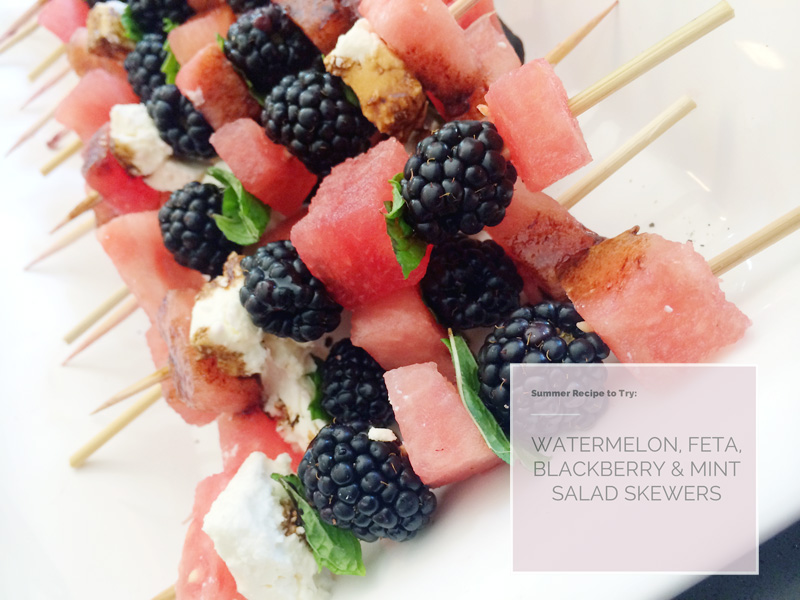 To my state side friends, how was your 4th of July? Ours was so great! I love 3 day weekends so much it hurts. Sunday feels like such a bonus day – one where you can really rest, relax, play, do whatever you want. We took Liv and Taylor down to San Diego's new waterfront park and had a great time watching them splash around. Talk about a great view too – you're right across from the harbor and all of the sailboat moorings.
Here's a recipe from T's first birthday that I've been dying to share. When we were party planning, we knew that the weather that week was going to be on the warmer side, so one of my goals was to come up with appetizers/sides that might feel refreshing and sweet. When I think of summer, I think of: cold sliced watermelon, juicy blackberries, fresh mint (as in chilled mint lemonade or mint & lemon sorbet)… and this little salad-on-a-stick (would be equally delicious in an actual bowl) was born. Mid creation I added a balsamic reduction just because I think it makes it that much better). It's like a sweet bit of 'summer' in one bite.
Watermelon, Feta, Blackberry & Mint Salad Skewer
Combine even sized chunks of watermelon, feta (best purchased in blocks for this recipe) and whole blackberries with mint leaves on a BBQ skewer (I cut mine down to size). In a small sauce pan, heat 1 cup of balsamic vinegar on medium and cook for about five minutes until it reduces by about 30% (we're aiming for a thicker sauce that's not quite syrup), let cool. Line skewers up on a platter and drizzle with balsamic reduction (hint: aim for that ever absorbent feta).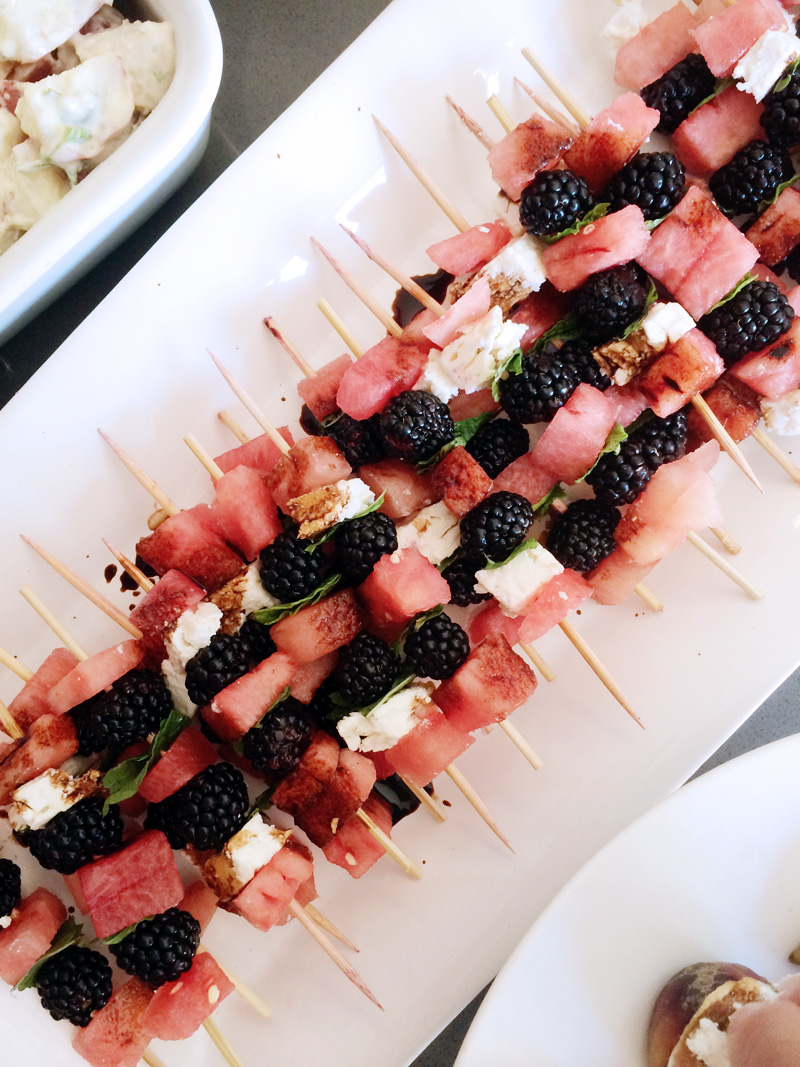 Actually, the colors are very patriotic, no? I'm sharing this recipe just a few days too late. I think that this little skewer might make a killer cocktail accompaniment as a fancy piece of garnish as well. Perhaps a watermelon mojito? Yum. Enjoy your Monday and welcome back from the weekend!
More of Taylor's first birthday over here, and more delicious recipes stockpiled and waiting right here.