I've been on a serious chair hunt over the past few weeks…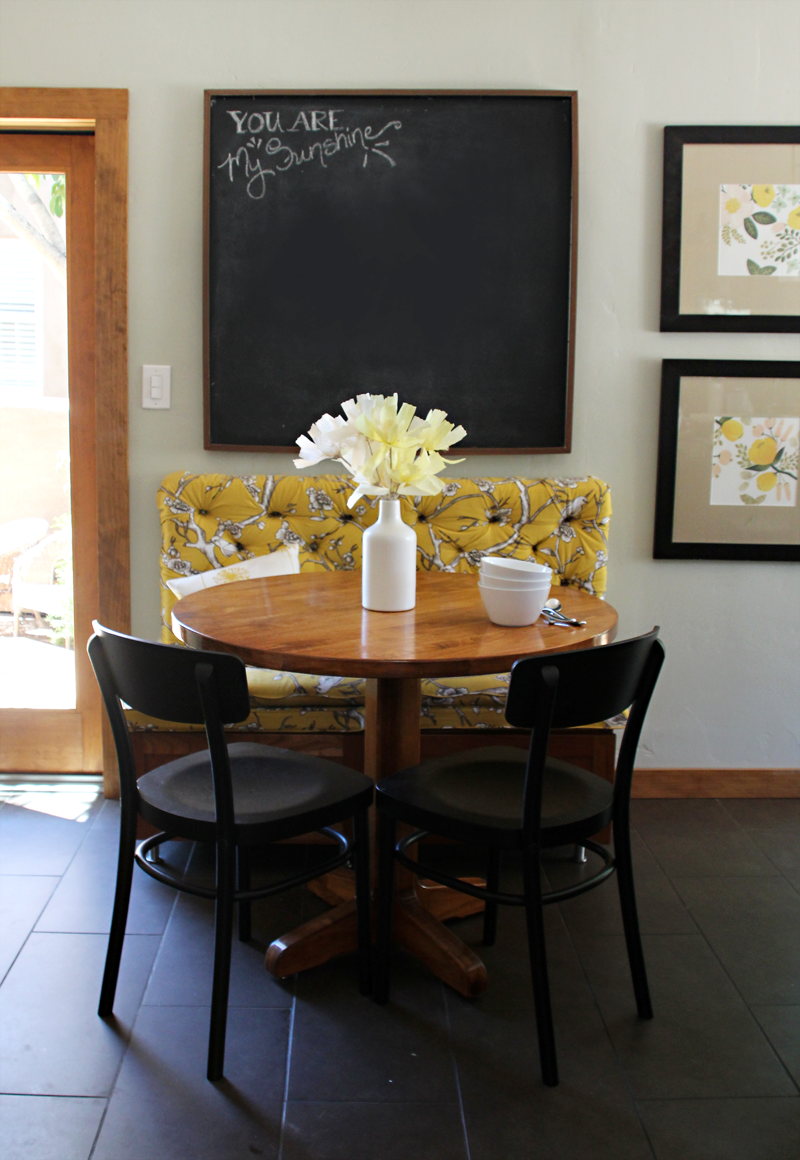 Actually, replacing our one solo consignment store find has been on the to-do list for ages (one chair isn't really that functional in here) but July has been my get on that month. Happy to report that I've found two that I'm really excited about for price, look and general kid-friendly-ness for our breakfast table in the kitchen.
It took a while, but when I finally narrowed my options down to anything and everything black (was toying with white or a colorful set of chairs just a couple of weeks ago), ideas began popping out at me left and right.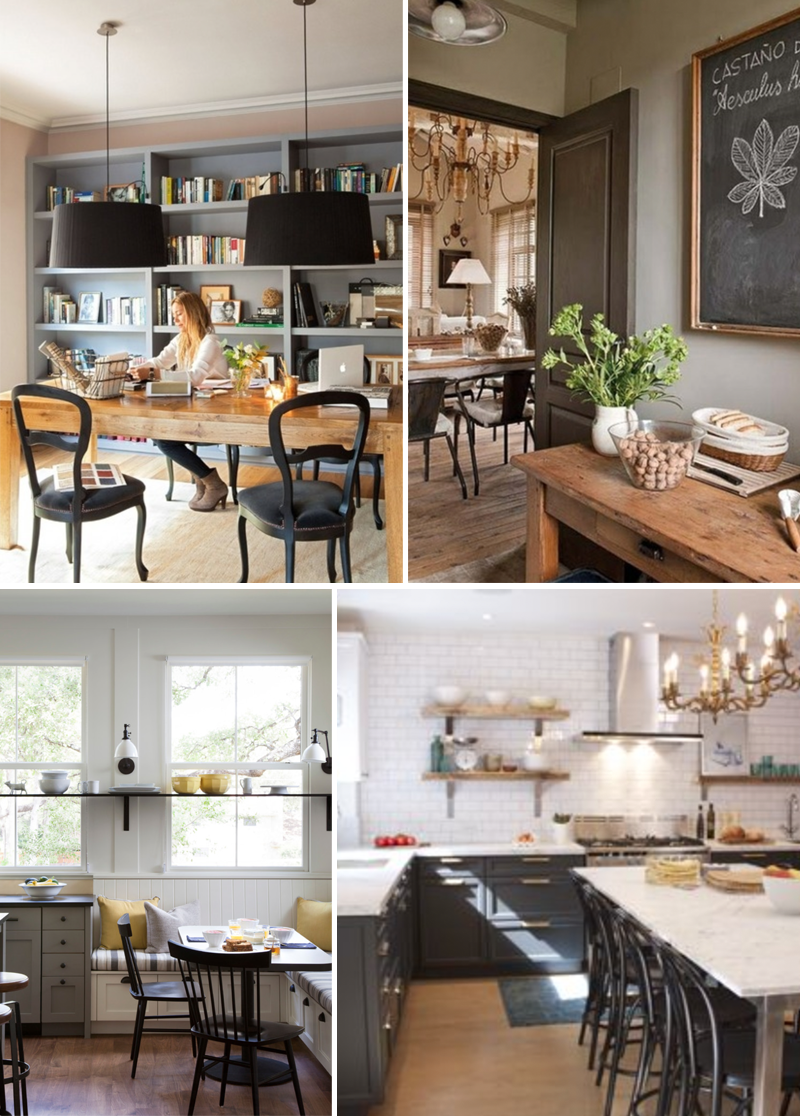 Those top two photos helped to solidify why I thought black would be a terrific neutral color in a space full of warm tones (which our kitchen has plenty of). It became my goal first to happen upon a set of chairs that were unique in design – a cool shape, maybe a cool back, maybe a bentwood just like our previous solo chair…
I thought that these were kind of awesome: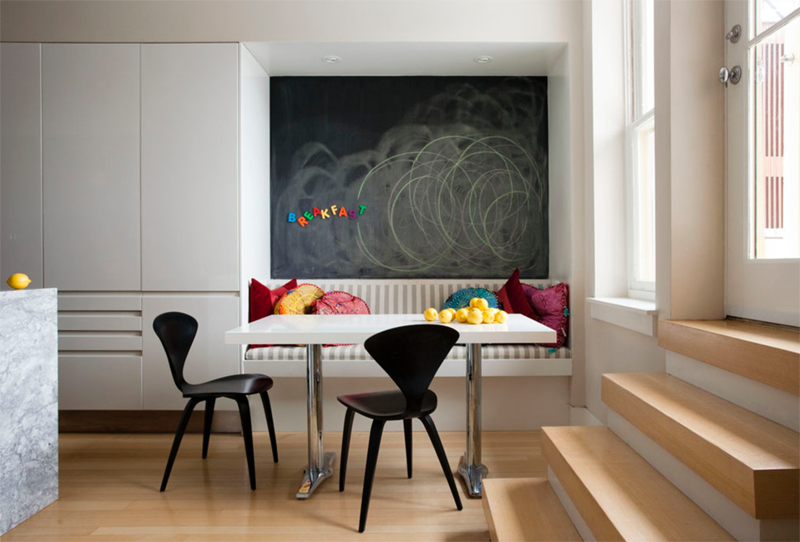 But price was restrictive and suddenly my two new breakfast chairs were feeling like a focal point in the space rather than a functional element that would just sort of 'blend in'.
To help with price (and I really found fun options that could break the bank all over the board), I decided to peruse Ikea's website.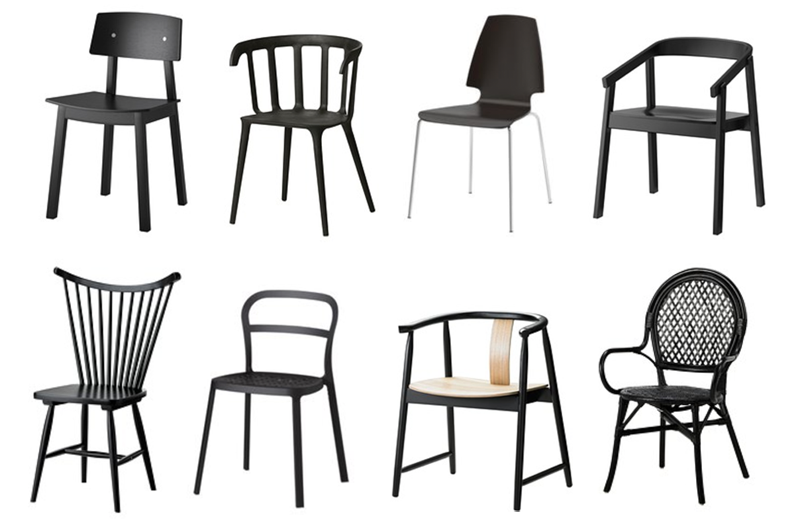 Not bad, right?? Ikea, you have outdone yourself.
I've read so-so reviews about the quality of materials of many of the more design-oriented chairs that Ikea has recently released (and we've had cheaper chairs crack or even smash apart on us – one particular dinner party rings a bell…), but I was willing to give them a shot for a space that is more of a 'breakfast nook' for the under-5-year-old crowd in our kitchen rather than a regularly used dining space. Plus, I was really wanting something that kids could destroy and that I wouldn't care too much about.
Suddenly kid-friendly became the focus of my search. Durable became something that I considered for every chair. The image below of a basic chair became very appealing (love that they also have a yellow settee sort of bench set up!):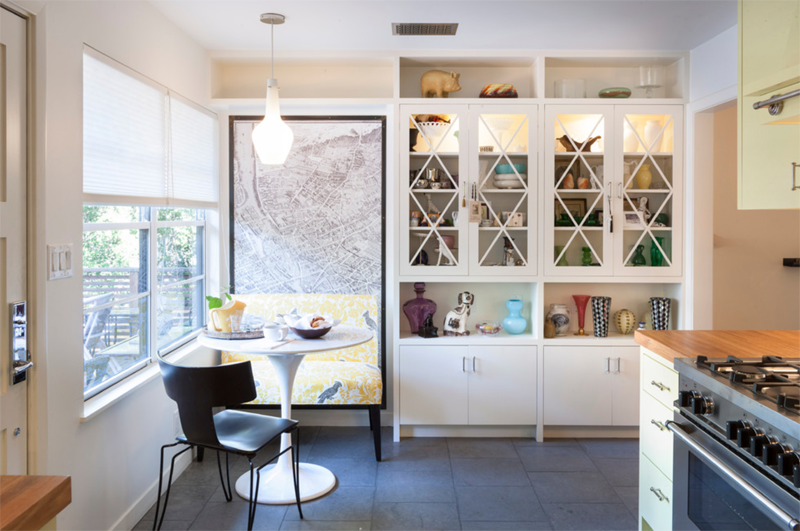 I visited Ikea with the intention of trying out the 2nd from the right in the top row above chair and found that they actually don't sell that model on the floor at my store. What I did discover though were these 'classic' black wooden chairs discounted to $39/each (Ikea family deal through July 29th) which could potentially mean that my kitchen investment would be less than $100 for two chairs that would sort of 'blend right in'.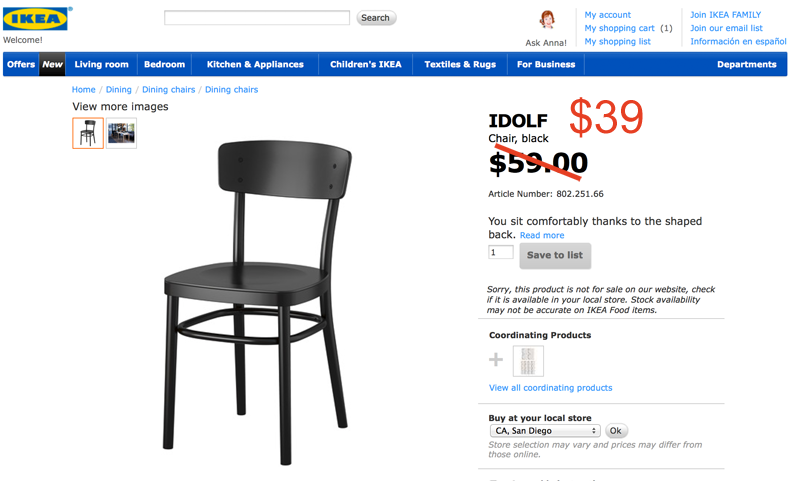 That online description makes me chuckle.
I made an onsite decision (rare) to bring them home and give them a shot. I loved that they were made of wood and that if sometime in the future we did want to have a bit of fun in the space we could spray these guys cranberry, sage or even orange. Liv was keeping an eye out over my shoulder while I was searching Houzz and fell for these kitchen chairs hard: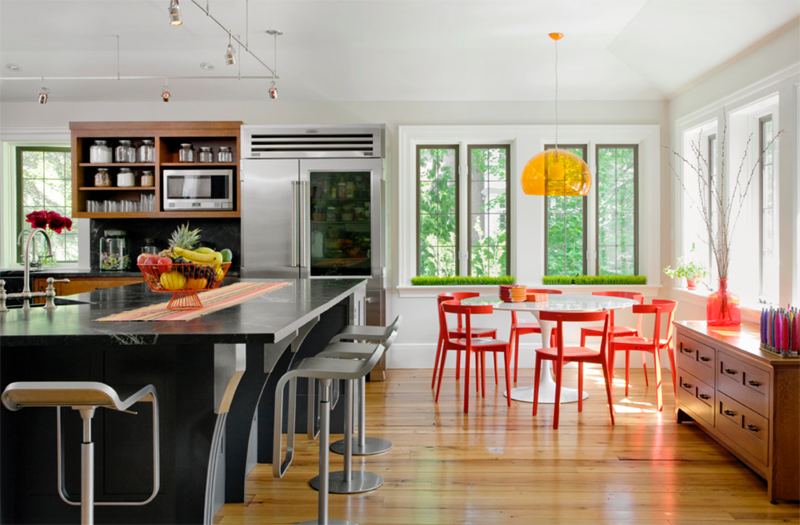 Begged me to paint the two chairs orange right then and there.
The chairs came in a box each and weren't all that terrible to assemble.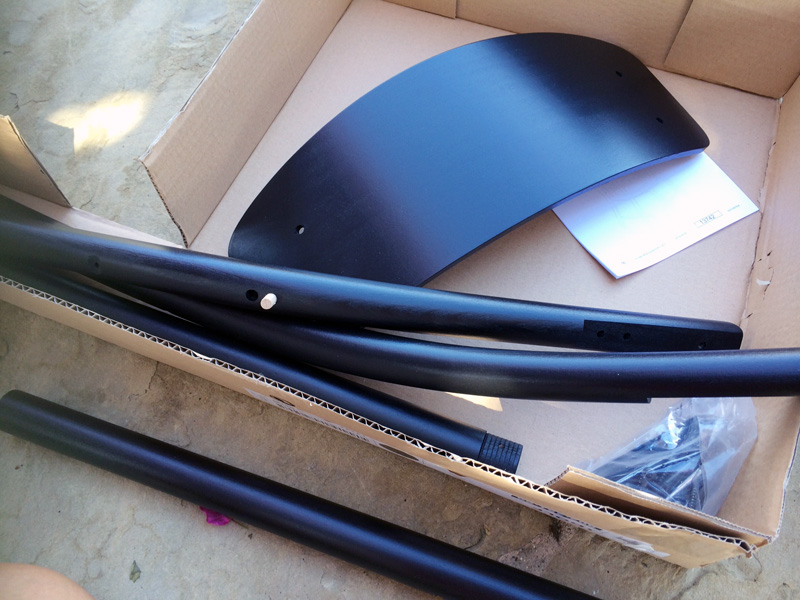 Especially with this one making sure that I didn't lose any key parts (we're assembling in my parent's backyard to keep cool during these warm San Diego afternoons).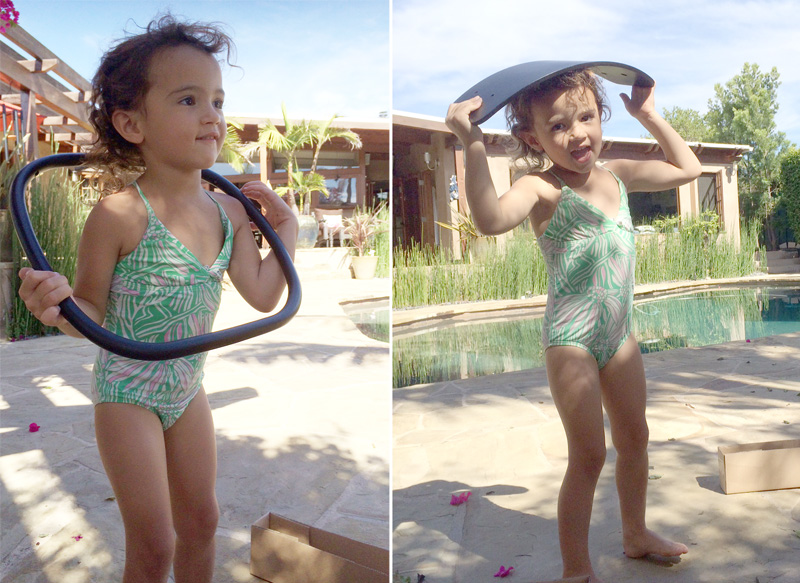 At a reader's suggestion after my last post about debating color vs. black chairs, I visited Crate & Barrel recently to view their selection in person. I regretted choosing a really basic, black chair almost immediately.
Liv specifically requested a photo with the blue chair.
In person, oh the adorable options. Those black, orange or green bentwoods! Or the slatted modern farmhouse in red… Most of the chairs have a shiny lacquer quality and are actually pretty reasonably priced (I'm thinking between $110-$150 if I remember correctly). Oh tough decisions!
I was more than tempted to make an Ikea return at that moment. But at the end of the day I decided to give my new set a chance for a while. With all of the little home updates we're making around here, the Ikea price tag feels about right at this moment. I'm going with my gut to see how these guys hold up (they are already regularly pulled across the floor for counter climbing and I'm anticipating some serious tipping/rocking by a certain little someone in the future). I'm crossing my fingers that their current durability will last longer than any of my Ikea furniture in college ever did. But these two chairs feel solid and tough, I'm pretty sure they will.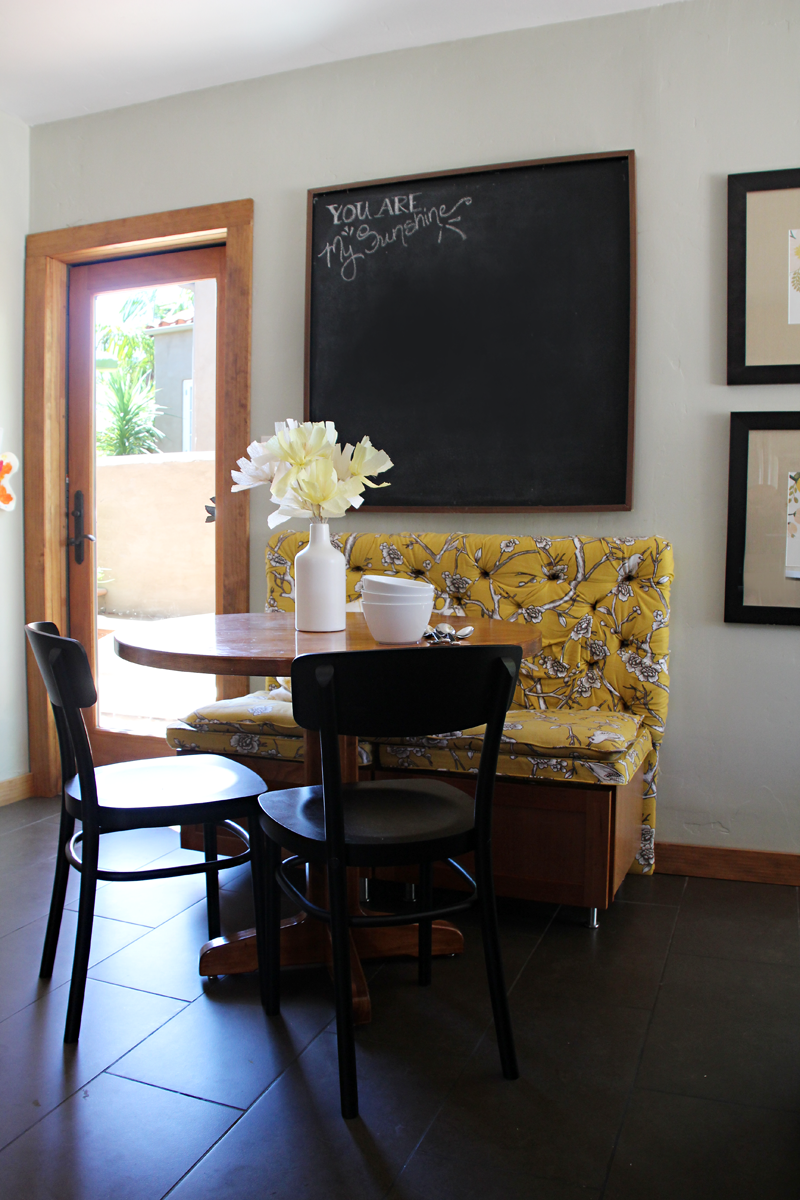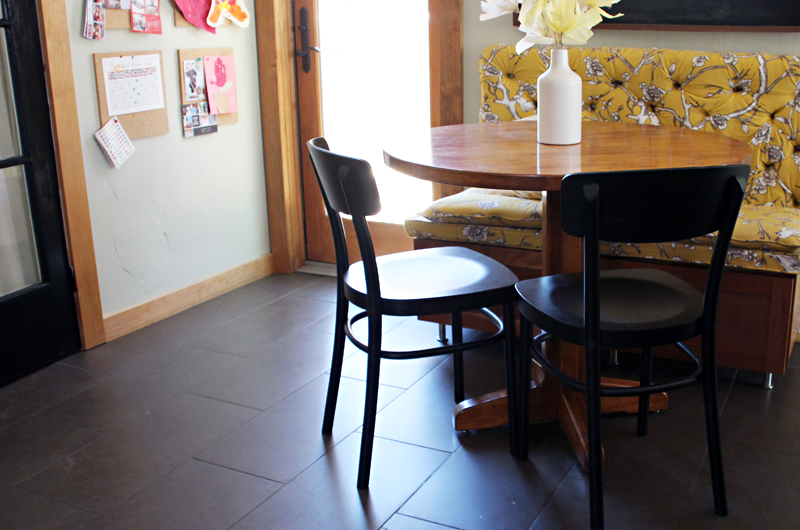 I'm really digging the black in this space (especially with the black french doors, the chalkboard…). In person, it feels really right and not too dark at all.
PS more kitchen transformation (this room used to be a carpeted and paneled den, she's come along way!) chronicled right here.