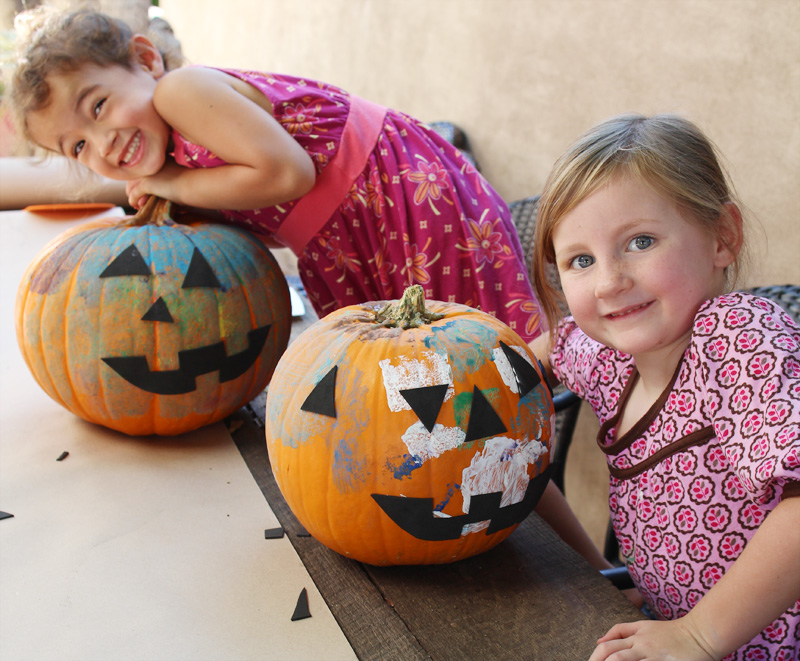 Around here, we are:
Sponge painting pumpkins with friends during a Thursday morning co-op preschool (that's sticky-backed foam that we used for the faces – found at Michaels – to make kid-friendly smiles). Co-op preschool now joins the ranks of the many awesome programs in My Village.
Using up extra foam from the craft store to make Halloween-inspired bath toys (in the same style as this post).
Shocked that the weather is still kind enough for ice cream. And for short sleeves at the park (Taylor is all about the slide now! Not so much a baby anymore…).
Thinking about a Thanksgiving tablescapes (already) – this rustic, plaid one is perty.
Making slow cooked ham and bean soup for a potluck tonight.
Dreaming up a way to add this diy caramel apple slice bar, too.
Thinking up a new spin (I know, again) on this recipe, but now as muffins with a cream cheese frosting and candy corns for Liv's preschool class.
Totally digging these build-them-yourself gummy monster cocktail skewers!
Getting our costumes ready! T is a bumble bee that will be buzzing around her big sister, Liv in a flower pot costume. Kev and I are the gardeners, though I thought about dressing up the bump as a sprout (who gave me that great idea??) and Kev as a bag of fertilizer. Hahahaha ;)
Happy Halloween!!