We packed up Christmas a little early this year (I have a teensy fear that labor will get in the way and we'll end up having our tree proudly lit through President's Day), and it was a little sobering to say goodbye to such a warm and joyful holiday season.
But… there is a little known perk to having a January baby and that is that planning something amazing for a special little someone gets you right back into the spirit! We have an awesome sparkly party up our sleeves for Liv's 4th birthday and the giddiness has set right back in.
Liv's requests were broad this year. We started with: sparkles, snow, mermaids and even a consideration for her little boy friends (that far out number her girl friends right now) with Bob the Builder. After gentle persuasion and much consideration at the craft store, we narrowed our sites a bit and settled on a sparkly star party with bits of Frozen elements, like serving hot chocolate and building marshmallow snowmen. Our color theme was going to be a lot less Frozen-ish (ahhh commercialism, you kill me) with more pink, gold, silver and white.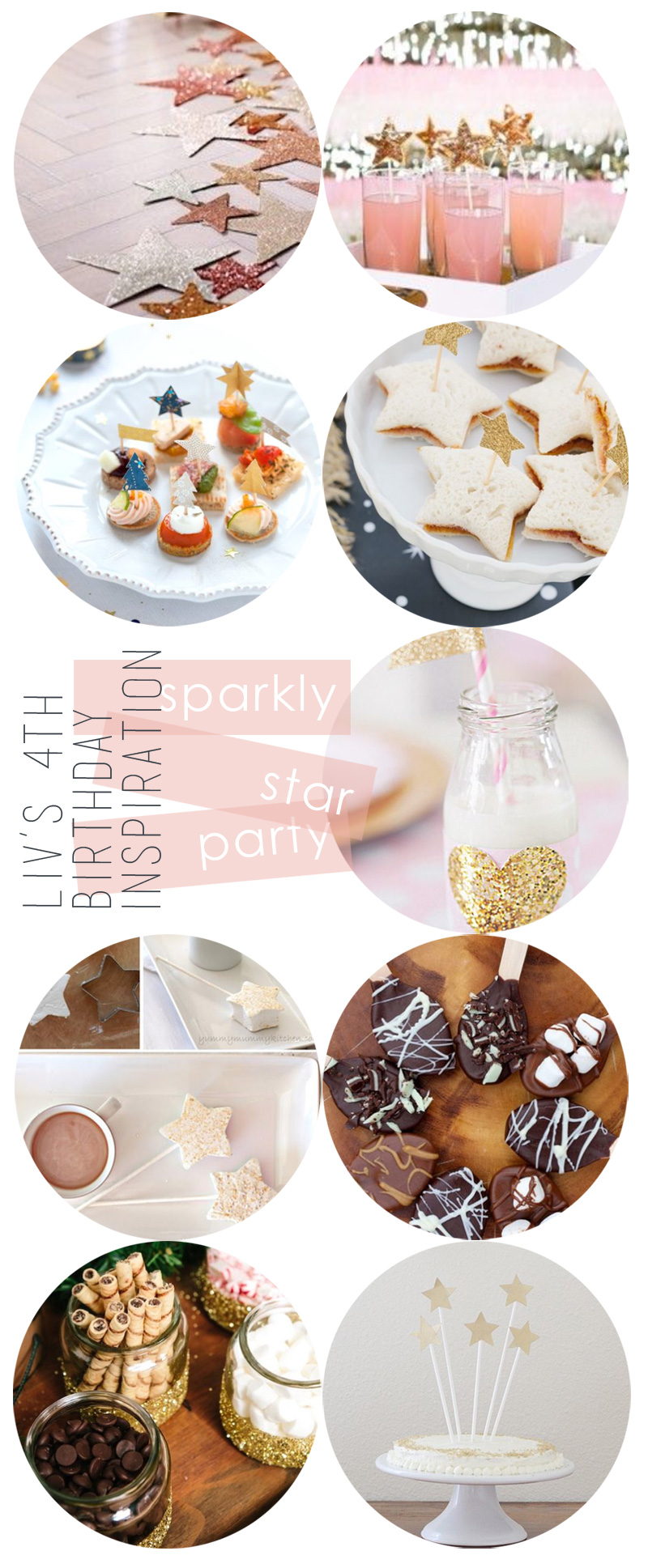 I love an inspiration board because it helps to capture the magic and feel of what we're aiming for – not so much to work as a checklist of what must get done. Full Pinterest board right here. Plenty of glitter and sparkle is making me so excited for this birthday, and as usual I'm pulling it together days before the party. Shhhh, don't tell anyone but it's all part of the fun :).
Inspiration sources:
Bronze, pink , silver & gold glitter stars
Star drink stirrers
Star appetizer ornaments
Star shaped kid's sandwiches
Glitter drink bottles
Star marshmallow wands
Chocolate dipped spoons
Glitter gold hot chocolate bar accessories
Star cake topper
Glittered gold, pink and bronze craft paper – check. Birthday cake waiting in freezer – check (Livy and I baked it together on Sunday). Food, favors, drinks and other decor to be determined…
Looking forward to sharing the after photos with you!
PS Liv's circus/carnival 1st birthday, flowery pink 2nd birthday and camping/outdoor movie night 3rd birthday.