I talk about nearly every topic out there on this blog so I thought I might expand on one particular category that I only occasionally write about (and by expand, I mean that maybe one day this topic will end up with a category button on that there sidebar. Maybe?).
I have been blogging for something like six or seven years and a lot has changed. I sometimes don't even like to refer to this site as a blog because of all of the connotations associated with blogs (both good and bad) that have grown over the years. But, it's a blog – it's a blog that is my family and creative journal. I've kept this little journal alive because it is an outlet, that for reasons I can't even put into words, I enjoy immensely (ahhh and that doesn't even cover it). I can't put those reasons into full-fledged thoughts because words like: creativity, friendship, archiving, over-sharing, community, home, capturing moments, loving on my family, getting crafty… just sort of tumble out when I think about this blog. It's a hobby that means that much to me.
And a better look behind-the-scenes? That might be kind of cool. The topic of blogging and what it entails may be of interest only to my fellow bloggers, or perhaps others will think it neat too, but regardless I promise to post on it only every once in a while. It will allow me to share thoughts on things like: sponsored content, tech support, social media, affiliate links, editorial planning (or lack there of), writing with a clear voice, privacy in the blogging world vs. transparency, and other what-does-it-take ideas. I know I've sort of tackled some of these topics in the past, but I think that this will all be fresh.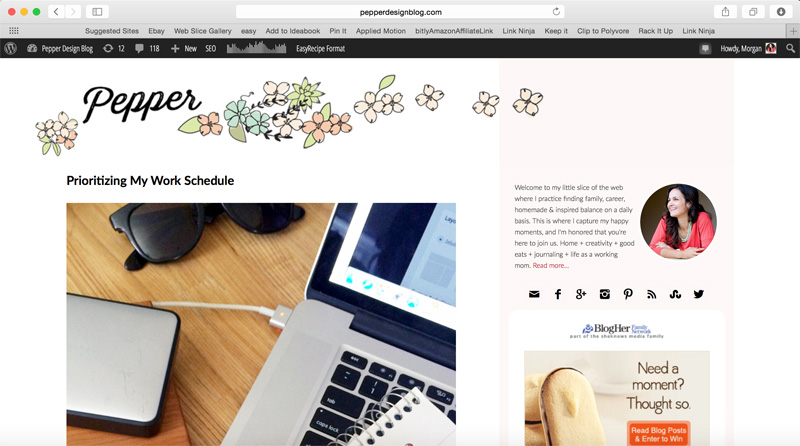 If you're curious on what I've shared in the past, here's a link to my current editorial calendar set up (which I still love) and here are tech tips posts that I've grouped together but that focus on things like managing your inbox, free illustration tools, developer tricks and so on. A lot of these general 'blogging' posts may end up categorized under that topic as well.
Okay, so there's my declaration! Let it begin! (I have to admit that I like to add these sorts of topics to the editorial calendar because they're easy to write – I'm experiencing everything I'm writing about literally as I'm writing it. (Yay, blogging about blogging.)) To kick it off I thought I might start by sharing a post on sponsored content very soon, and I secretly hope that it all works out to be something that is interesting to everyone.
Cheers and happy weekend! xo :)