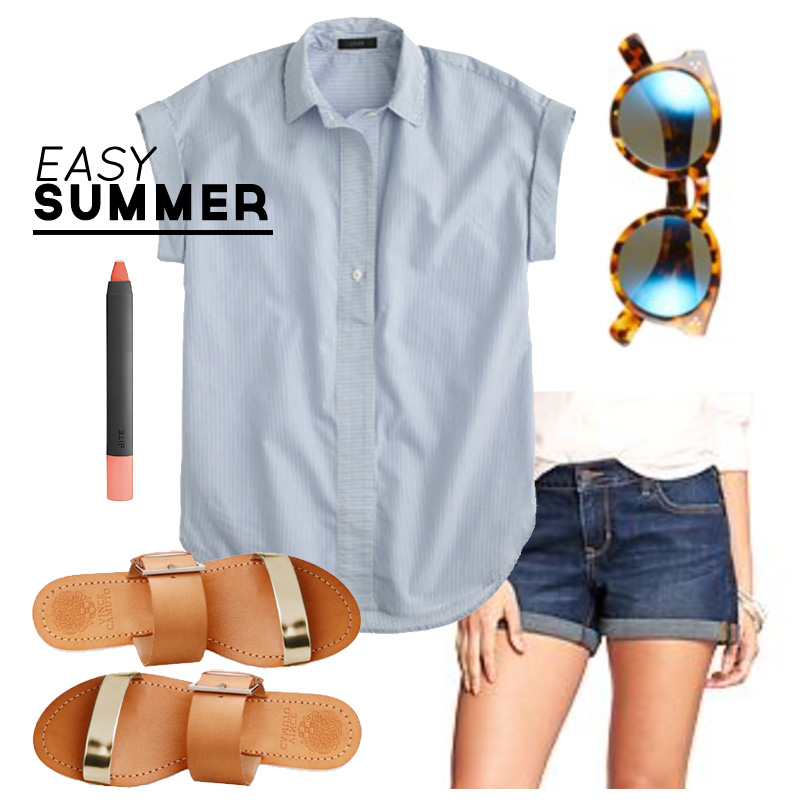 striped popover shirt | mirrored sunglasses | pigment pencil
rolled denim shorts | tan and gold slip-ons
I'm very close to pulling the trigger on the popover blouse above that inspired today's easy summer look. So light and airy! So classic! And those gold and tan basic slip-on sandals feel like a great start-of-the-season staple, I think.
I mentioned that I've been living with a small post-maternity wardrobe for the past four months and am anxious to pull the big tubs out of our garage and rediscover my closet again. Even more so that I was pregnant for nine months before this big move-into-the-guestroom action plan took place in February for our master bath/bedroom. When it comes to warm weather, I love me some easy, effortless, comfortable. Since dresses are mostly out (with the exception of these?) nursing mommas everywhere can rejoice that rolled denim and oversized shirts will always be here to stay :).
ps a pregnant girl's beach bag that still works great for the post-pregnant body, my sandals staple last summer, two more style boards with the same feel (and a roundup of all of the boards shared here).