Just a little while ago I shared that we were working on three different exciting wood working projects for the master bathroom/bedroom remodel. One of those projects is a new vanity – and it's come a long way from just inspiration/paper!
Kev and I tend to collaborate best when we have LOTS of visuals going. I build Pinterest boards and collect big portfolios full of images, he flips through them and comments on the ones he loves, says 'no way' to the ones that he doesn't. We haven't perfected that line of back and forth over the past eight years :) but in the end we always end up with a solid compromise. And we usually both fall in love with that solution when all is said and done.
Here's a snapshot at the inspiration board for our vanity: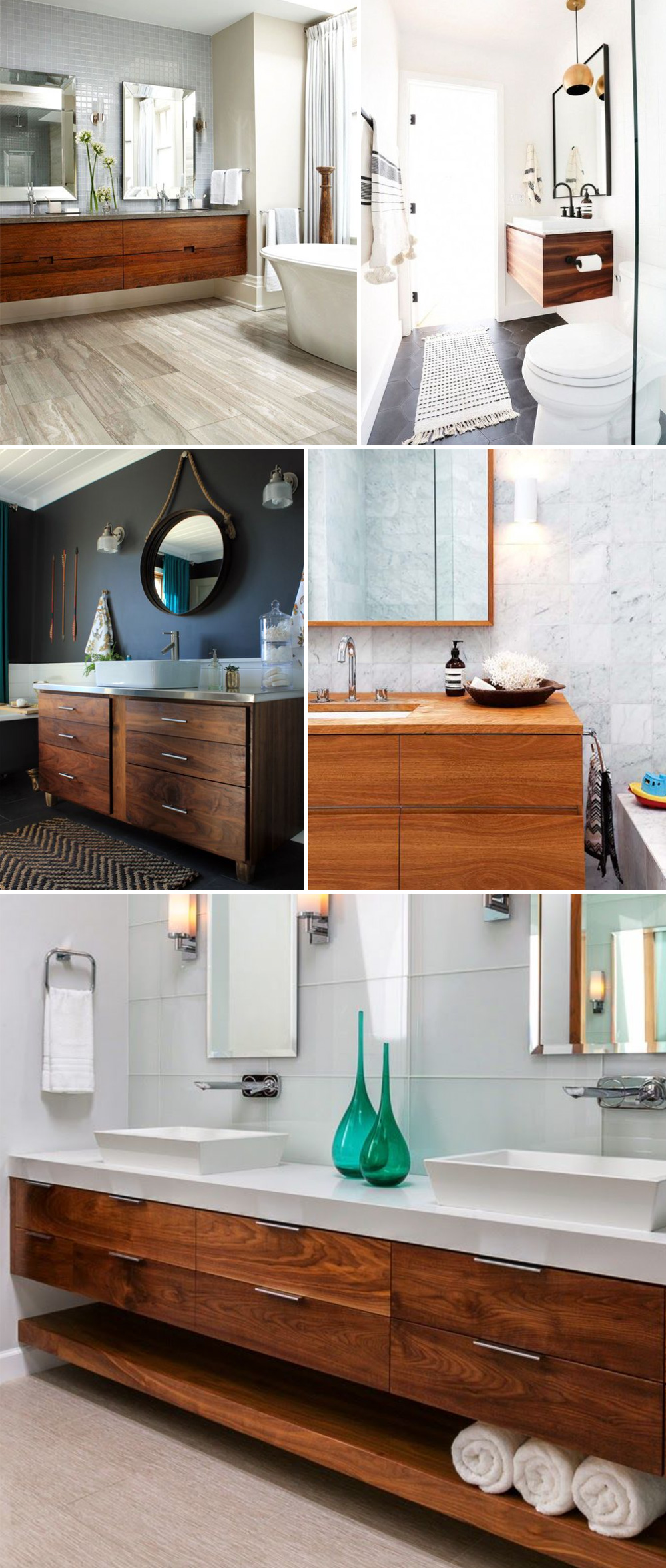 That last larger image was the 'yes!' on both of our parts. It's what we have really ultimately been inspired by for the end result, except perhaps a few shades darker in color.
After considering a lot of different wood choices (here's a nice breakdown of many of the options), we ended up settling on walnut (which is the wood in #3 above – the round mirror image). More specifically, we want it to look just like this in color.
Kev turned to SketchUp to create a more formal design. We love the idea of even adding a live edge (or raw, oiled slab) below the vanity as a shelf. Sort of like the above inspiration image but a bit more organic.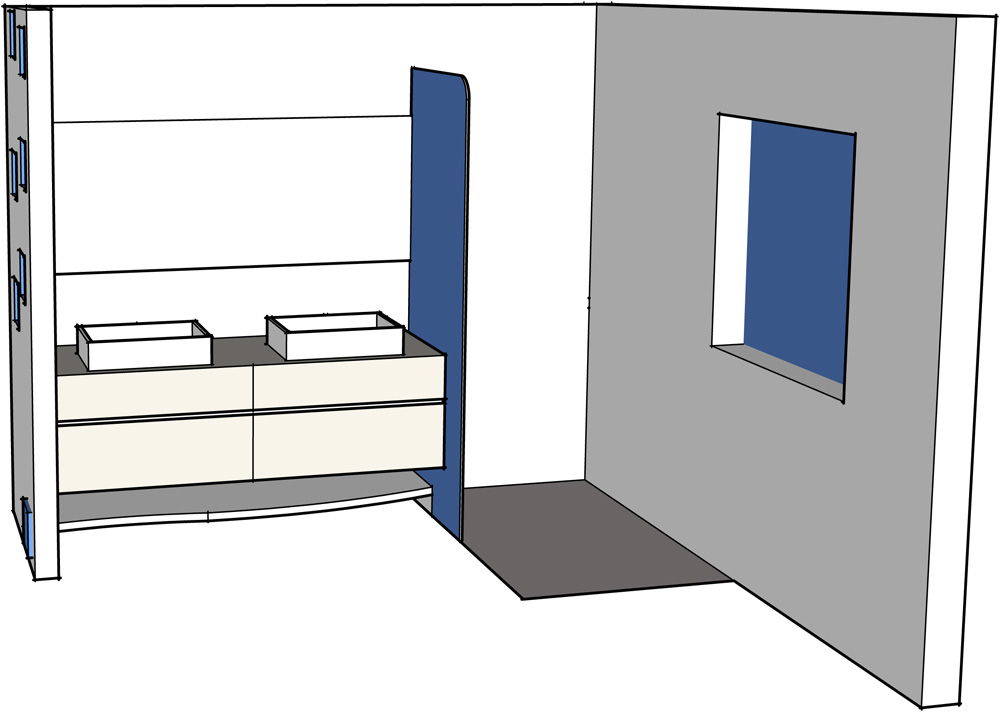 When it came to the right size, it was very hard to find anything out of the box. Make that size AND overall aesthetic. We don't really have the budget for custom, but given the odd layout of the bathroom, what we really needed was a custom piece.
One of the awesome bonuses of living in a neighborhood where everyone is really very good friends with everyone else is that we have neighbors with crazy talents and inspiring back stories. One of those neighbors happens to be a retired carpenter (in a former life sort of thing). He's one of our closest 'hood friends and he loves to create beautiful works of art, even building custom furniture for others in our neighborhood. He actually made the girls' built-in bookshelves a couple of years ago, which to this day is probably the most functional upgrade I've wanted in a room.
So we took our thoughts to him and began to lay out ideas.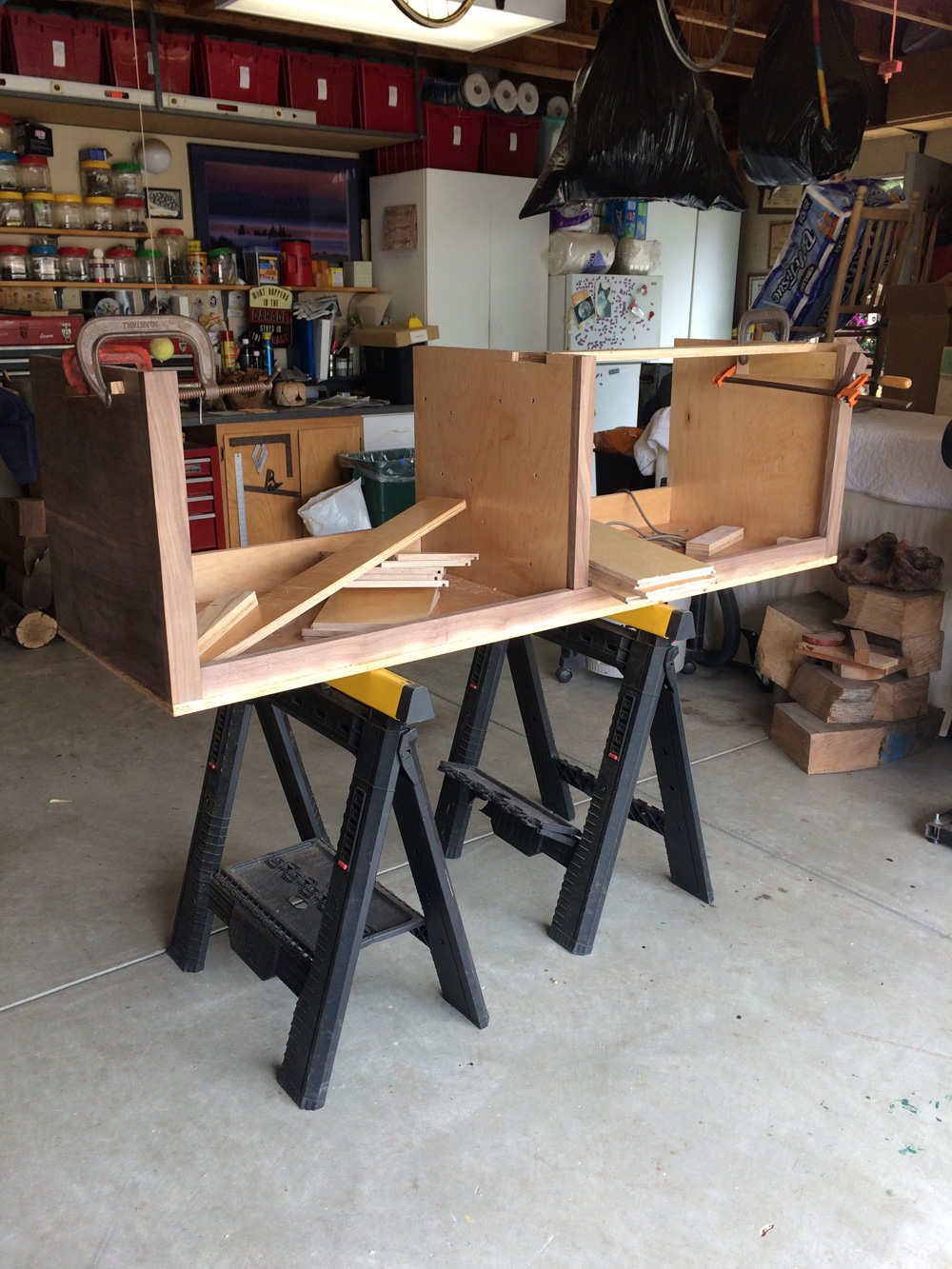 Words cannot express how amazing it's been to craft this vanity together. And by together, I mean that we bring him beautiful pieces of walnut and good ole regular plywood and he shapes those pieces into a treasure.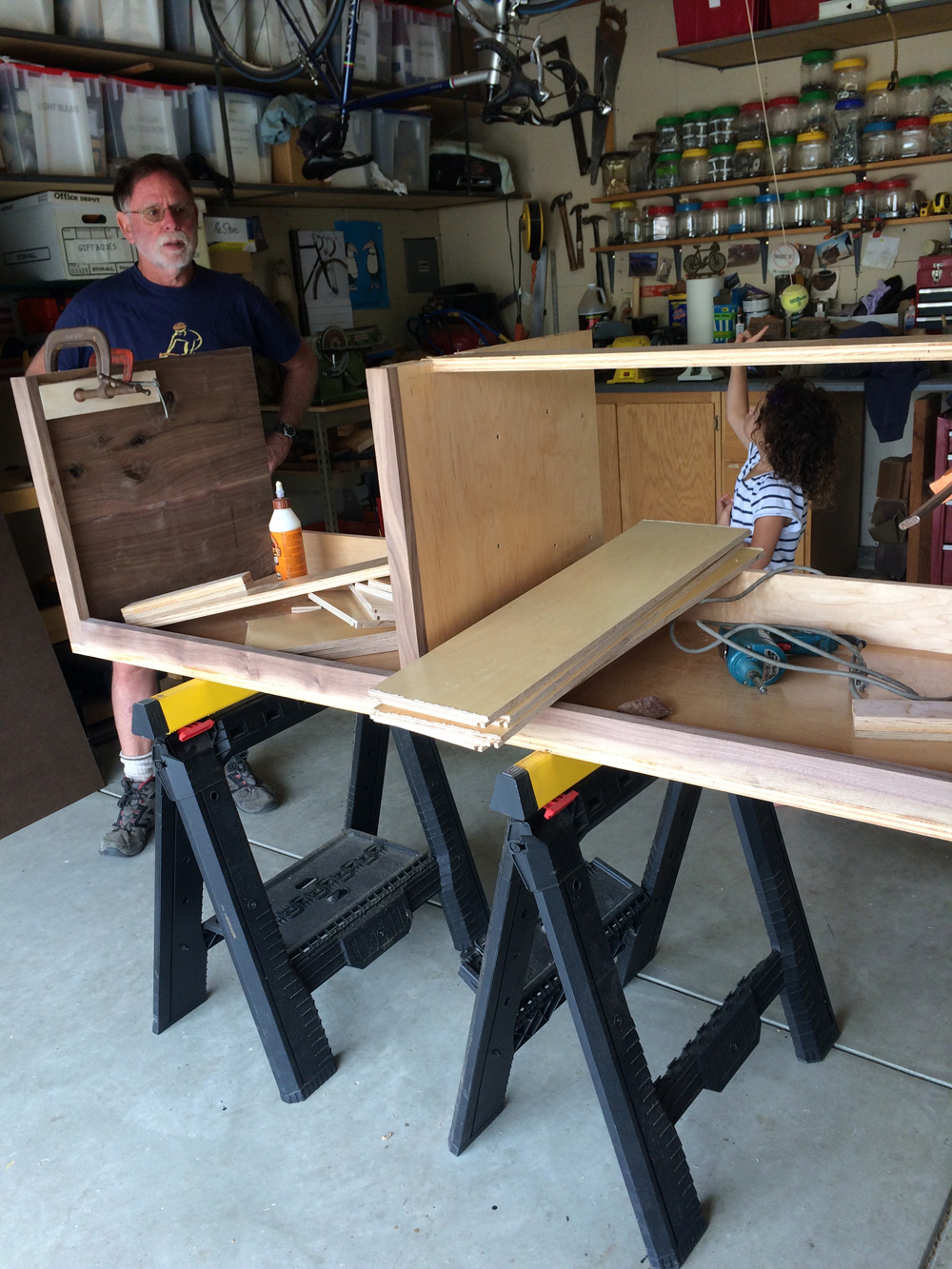 I've been able to snap a few pictures as the piece progresses. The wood is quite cherry in this photo but when the tung oil was applied that walnut color came right out.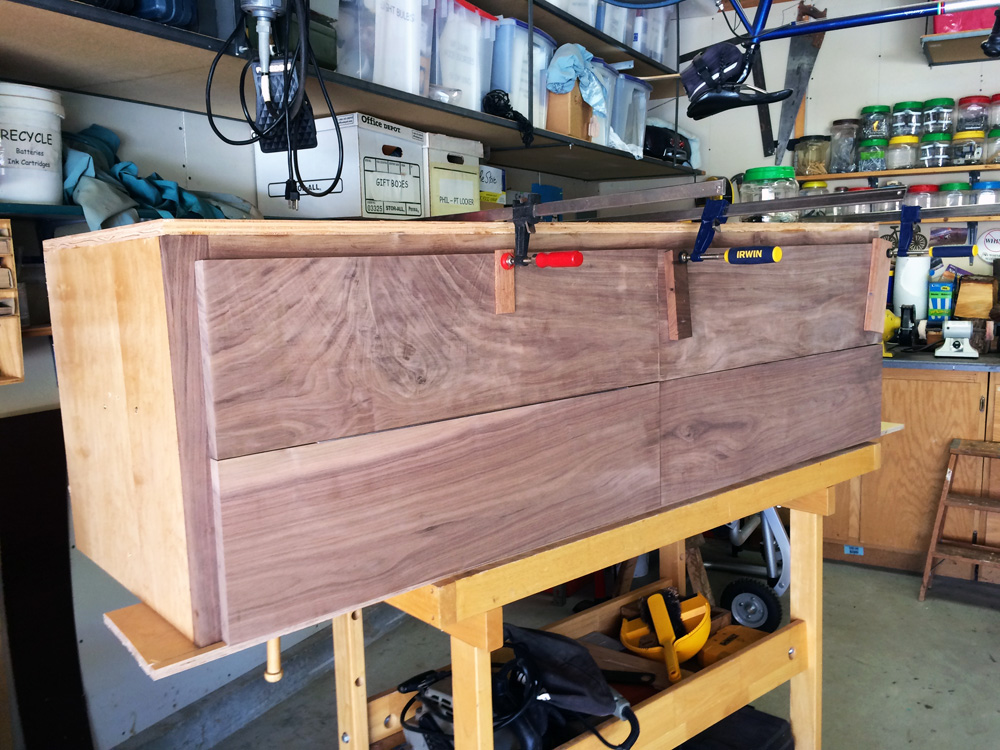 Woodworking is so much more of an art than I ever anticipated. There is such precision, such detail, such careful crafting. A door that is just a little off will never function properly, a face frame with the wrong size reveal (that edge there around the drawers once the unit is installed), will always look out of place. It's perfectionism in the most functional way.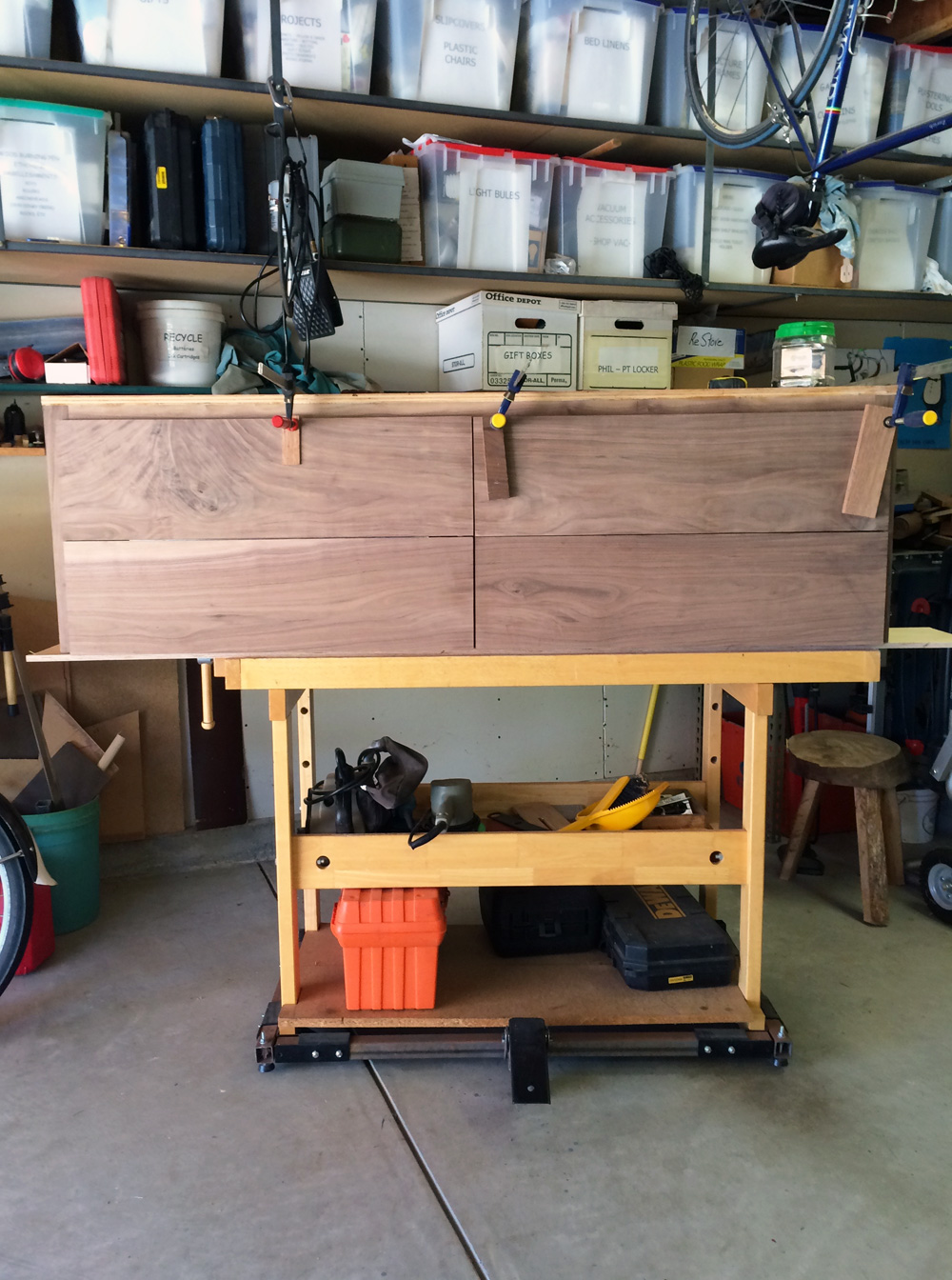 PS the organization of his garage is just amazing.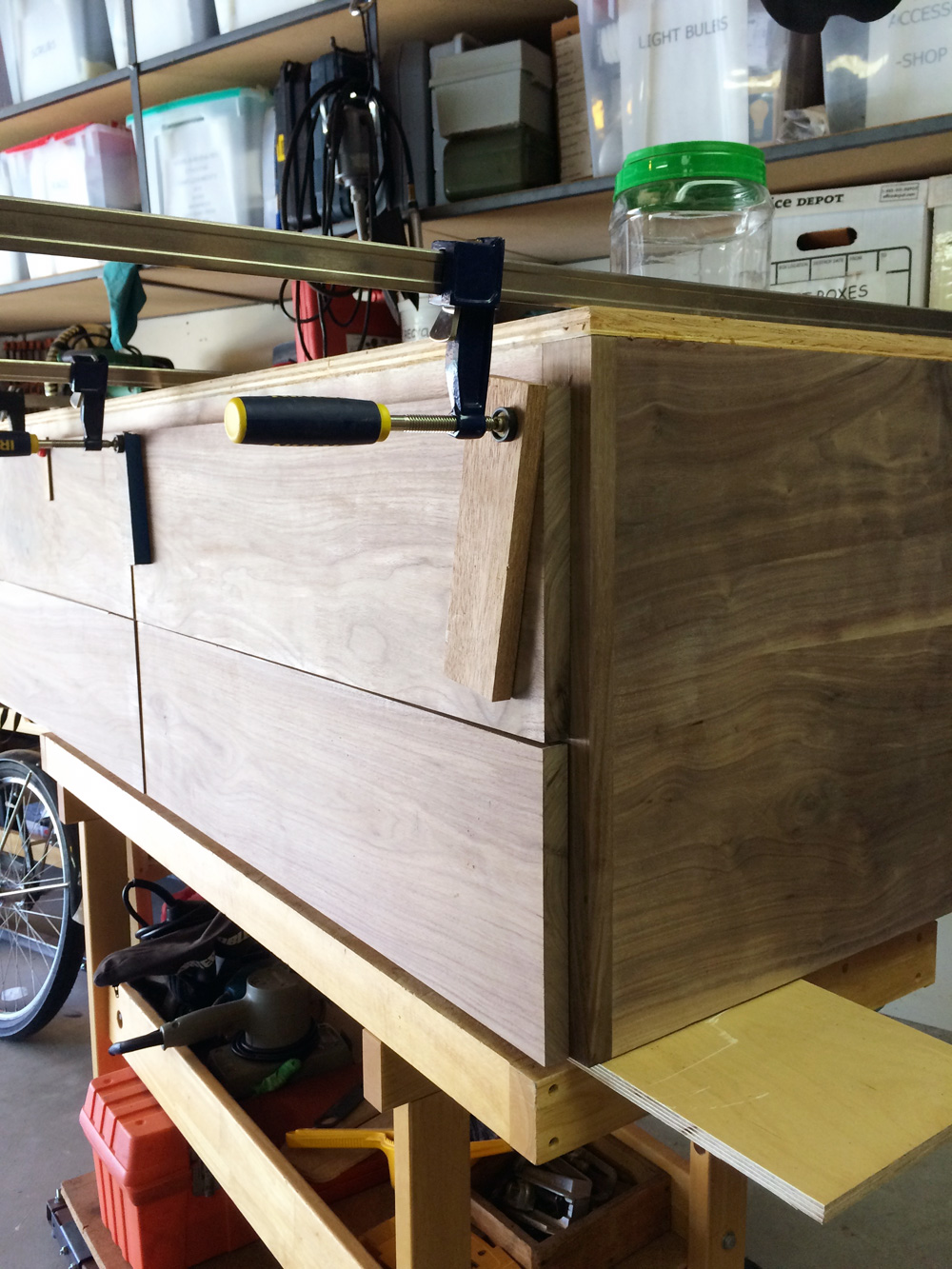 Once the piece was built, Kevin helped with finish sanding (that very, very fine sanding that produces a smooth, polished feel) and oiling. I think three coats were applied by the time the color felt just right.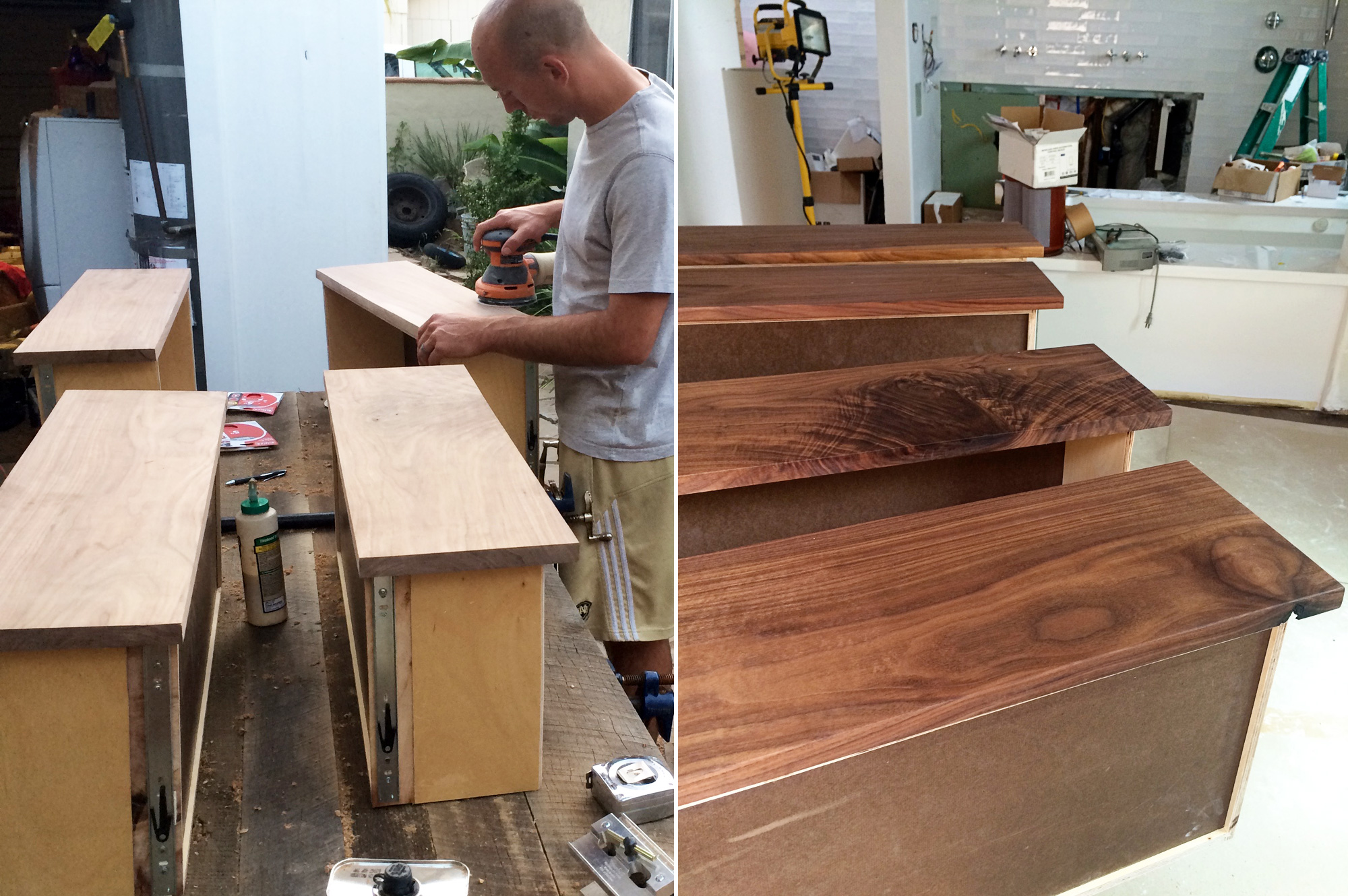 Meanwhile, we've been dreaming up that lower bottom shelf and have been shopping slab yards. If you're in San Diego, check out Made Lumber. It's a whole lot of awesomeness.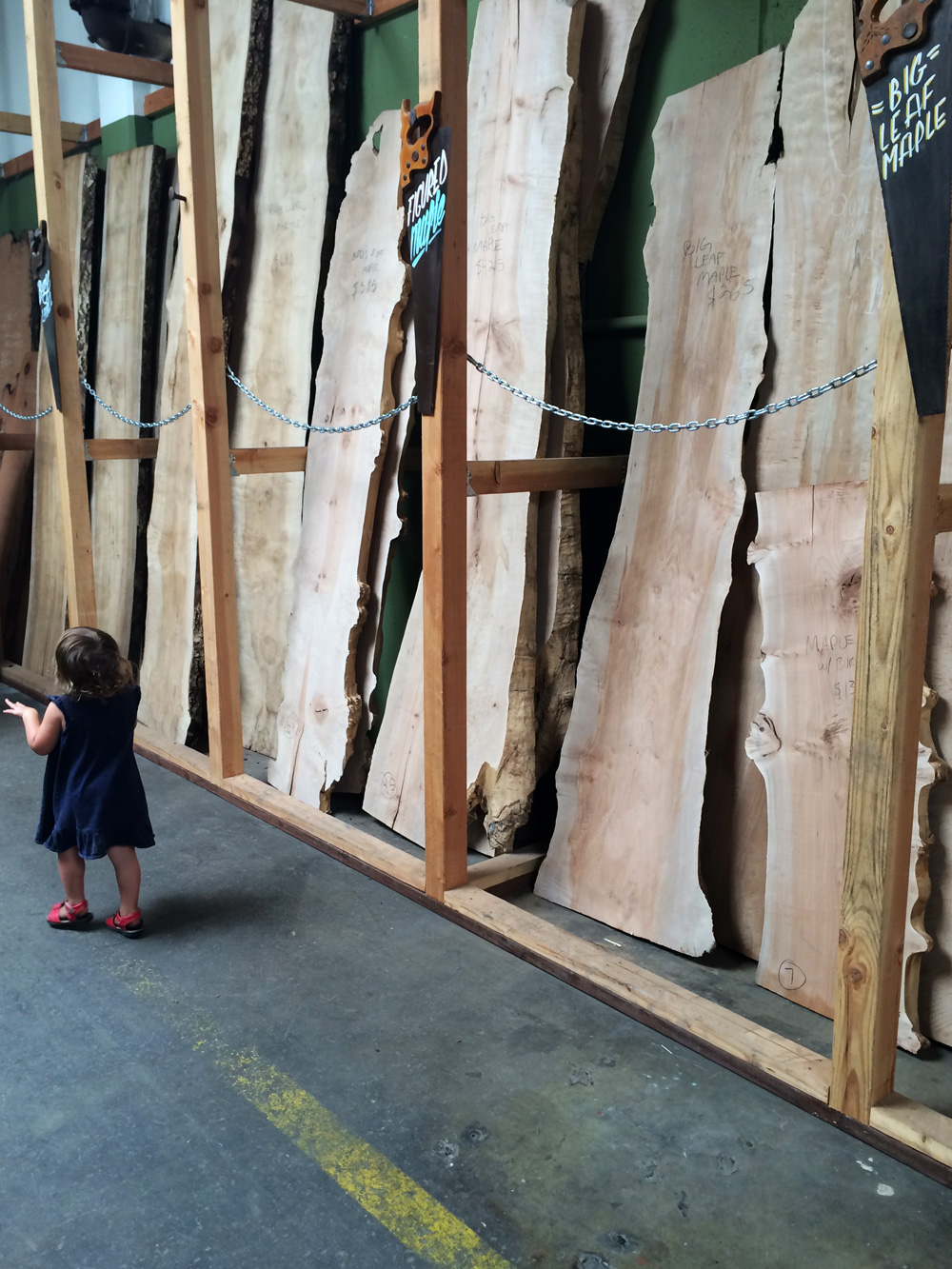 Can you see the full vision? We're so close.
More bathroom renovation stories, the full Pinterest board, the original inspiration (so much has changed!).