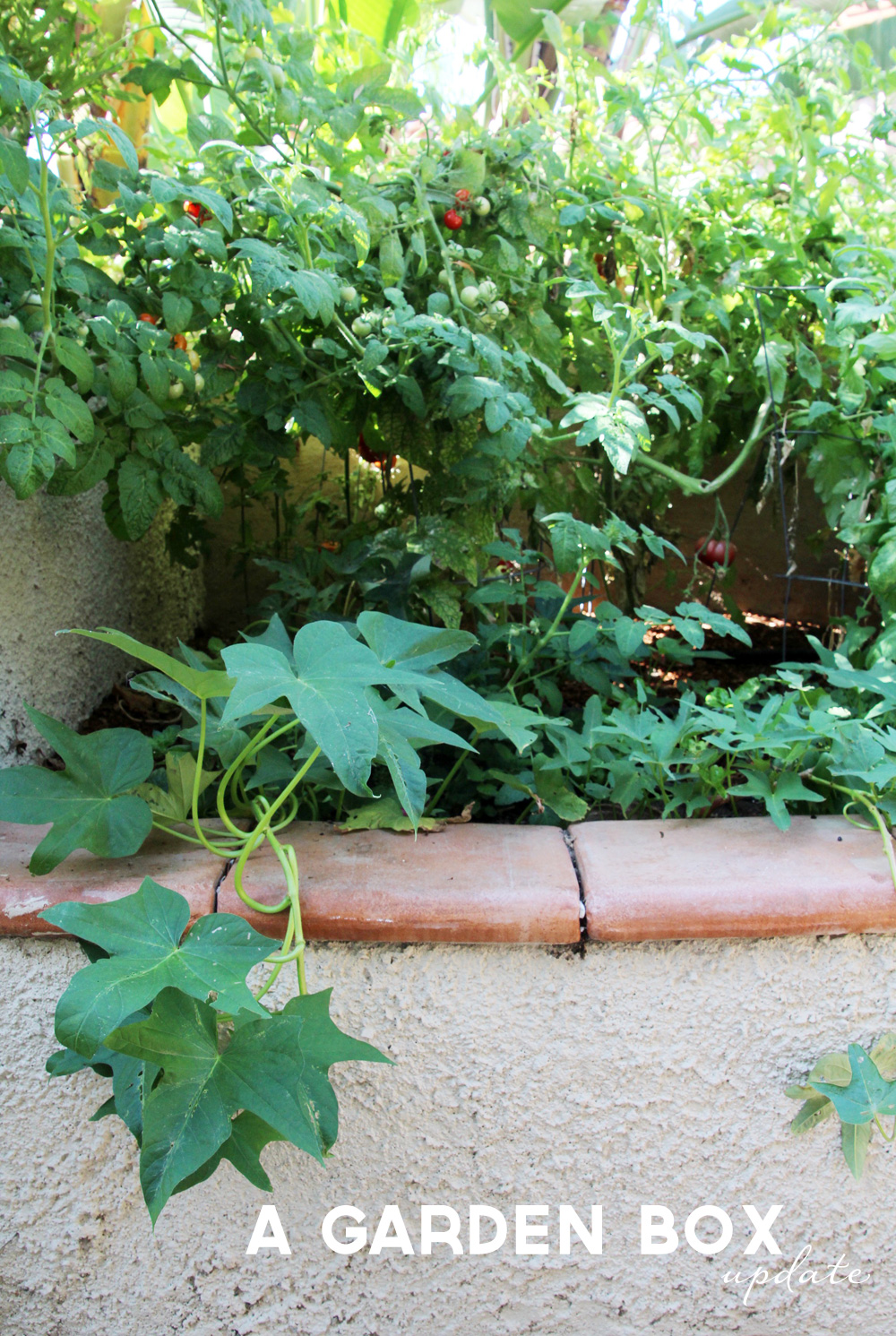 The veggies garden has exploded since I last shared about it here. Those cute little quart-sized plants have spread out to fill every spare inch of space allotted and the tomatoes (oh the tomatoes!) are now clinging to anything and everything.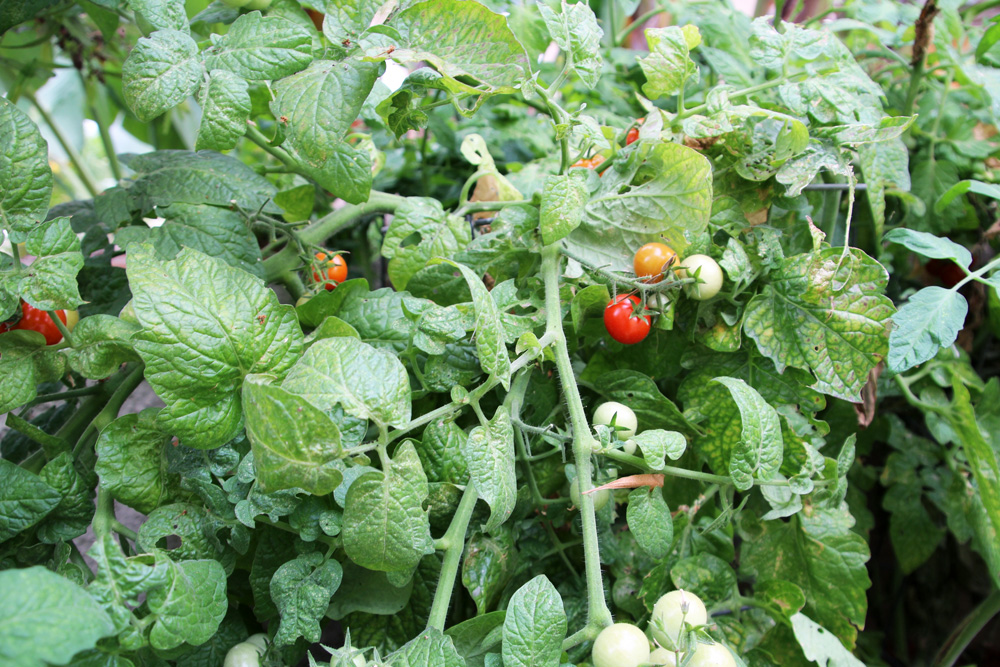 A true jungle for the treasure hunter (aka Liv) in search of red tomatoes to pop into her mouth.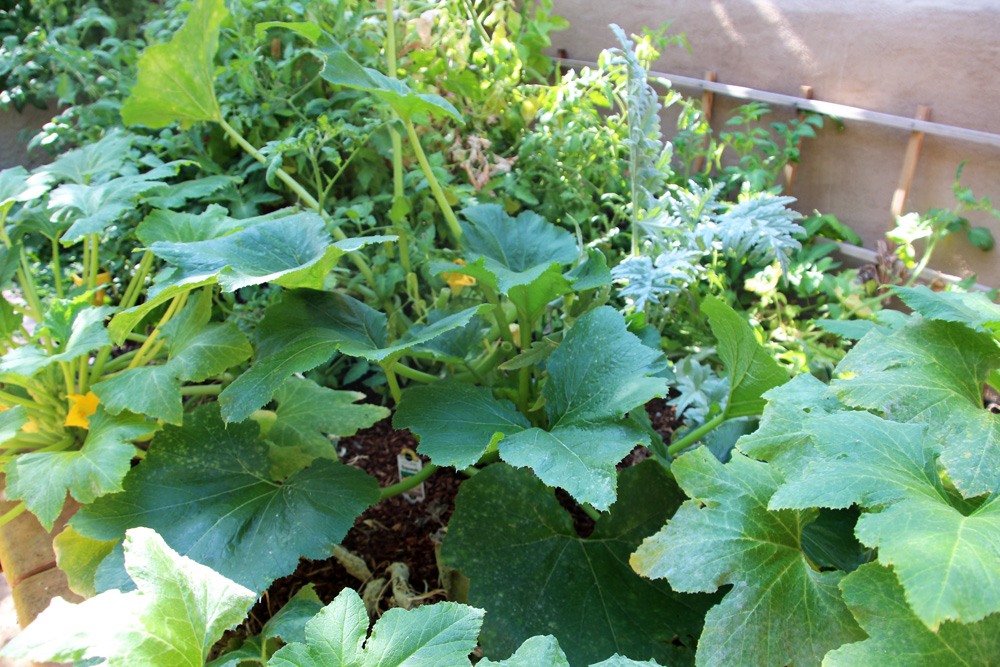 It always amazes me that it takes just a couple of months for so much to happen.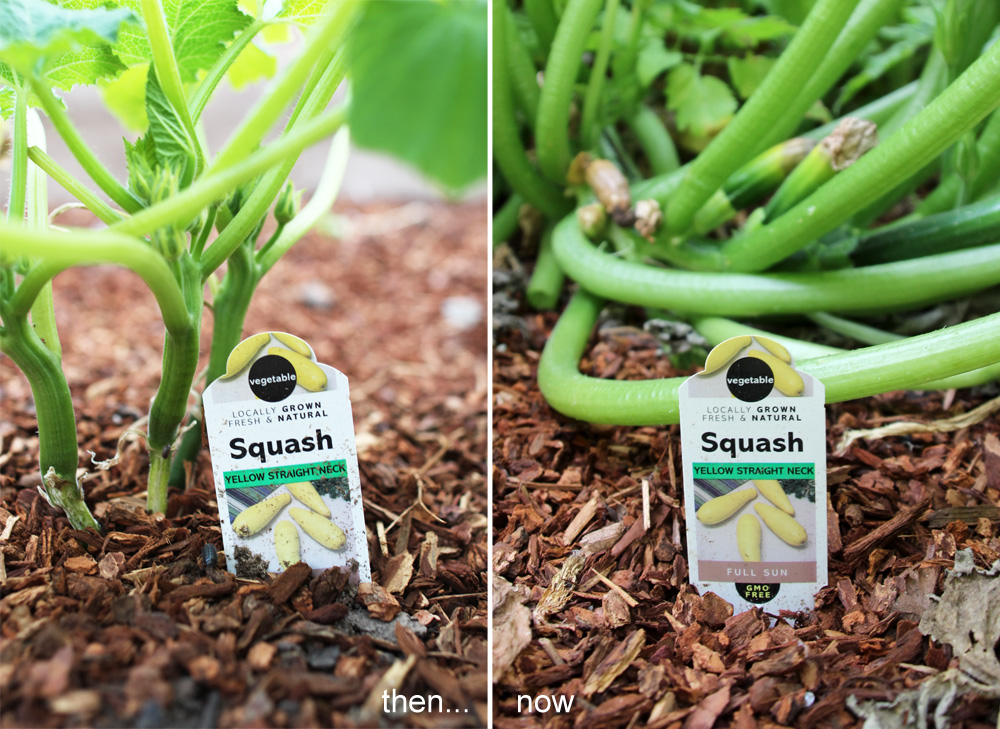 I love this garden! I never thought that I would love a garden so much. I don't spend all that much time on it, but it's one of those hobbies that I'm willing to make time for when it needs it (aka pruning once a month).
Despite the success in growth, we've run into a few problems this summer.
Problem 1: the technical term is 'powdery mildew' (it's true) and it's been slowly taking over the squash plants.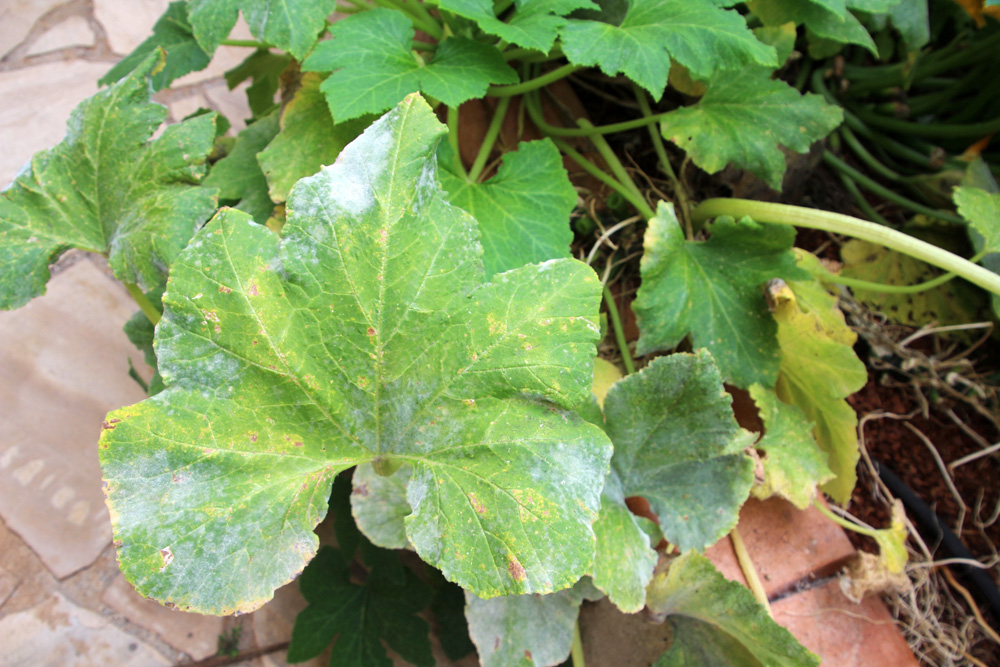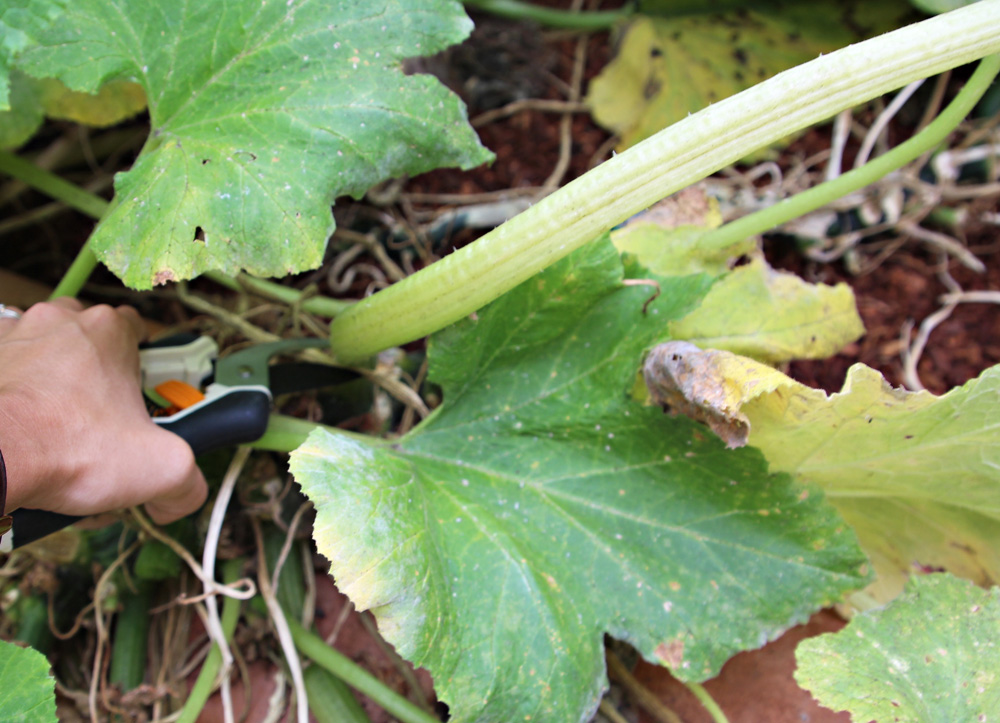 This happened last year and a little internet research confirms that you can clean plants up with vinegar (and other household products) but as I did last year, I found the best solution was to prune out the bad leaves and to cut like crazy. The positive is that this sort of fungus doesn't jump from variety to variety. It usually stays contained on just the plant it started on.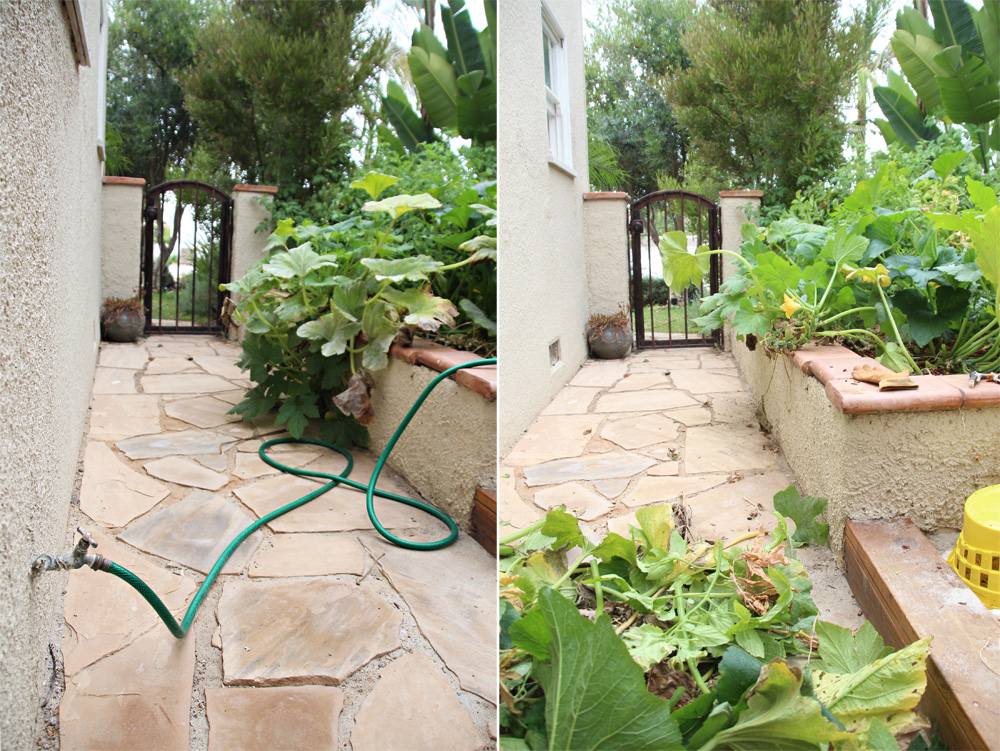 Many gardeners would disagree – the purpose of the giant canopy leaves is to protect the growing fruit underneath from the sun and you can't just remove those leaves. I don't worry about too much direct sun right here though and since it was a problem that I didn't want to monitor, I thought it best to remove the source and to encourage blossoms that were still protected by unaffected leaves.
Problem 2 has been getting those blossoms to produce veggies. Believe it or not, the zucchini and squash have each produced one massive veggie each (it was pretty odd looking!), and that's it. Just one each.
Cool fact: the squash plant produces both male and female blossoms. The female blossoms grow with a baby fruit attached (see first arrow) and the male sans any produce (second arrow). But if the pollen from the male doesn't reach the female, nothing happens.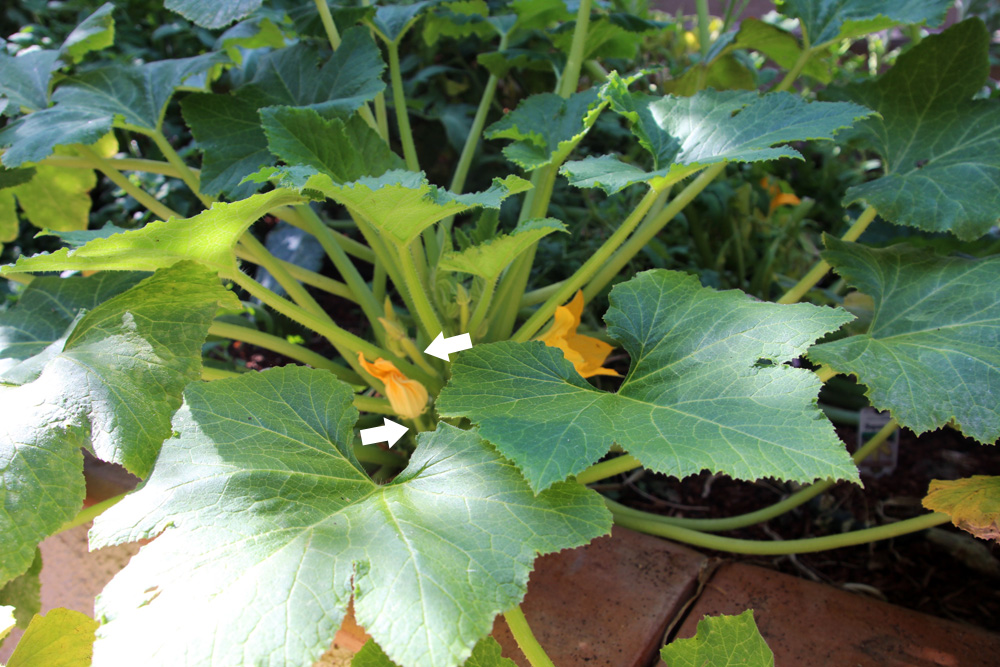 Previously my garden bed has been lined with flowers. Marigolds last year and nasturtiums this year. I had to pull the nasturtiums just a couple of weeks ago due to them not looking so great and I think that's the problem! No bees, no veggies.
So I'm off to purchase some more flowers for the edges of this box soon.
Problem 3 has to do with water and nutrients. It is so challenging to figure out if you are supplying your garden with the right amount of nitrogen, oxygen and so forth. Some plants thrive in depleted environments, some will die. Short of sending a sample of dirt off to be tested, there's not too much that can be done.
Or so I thought.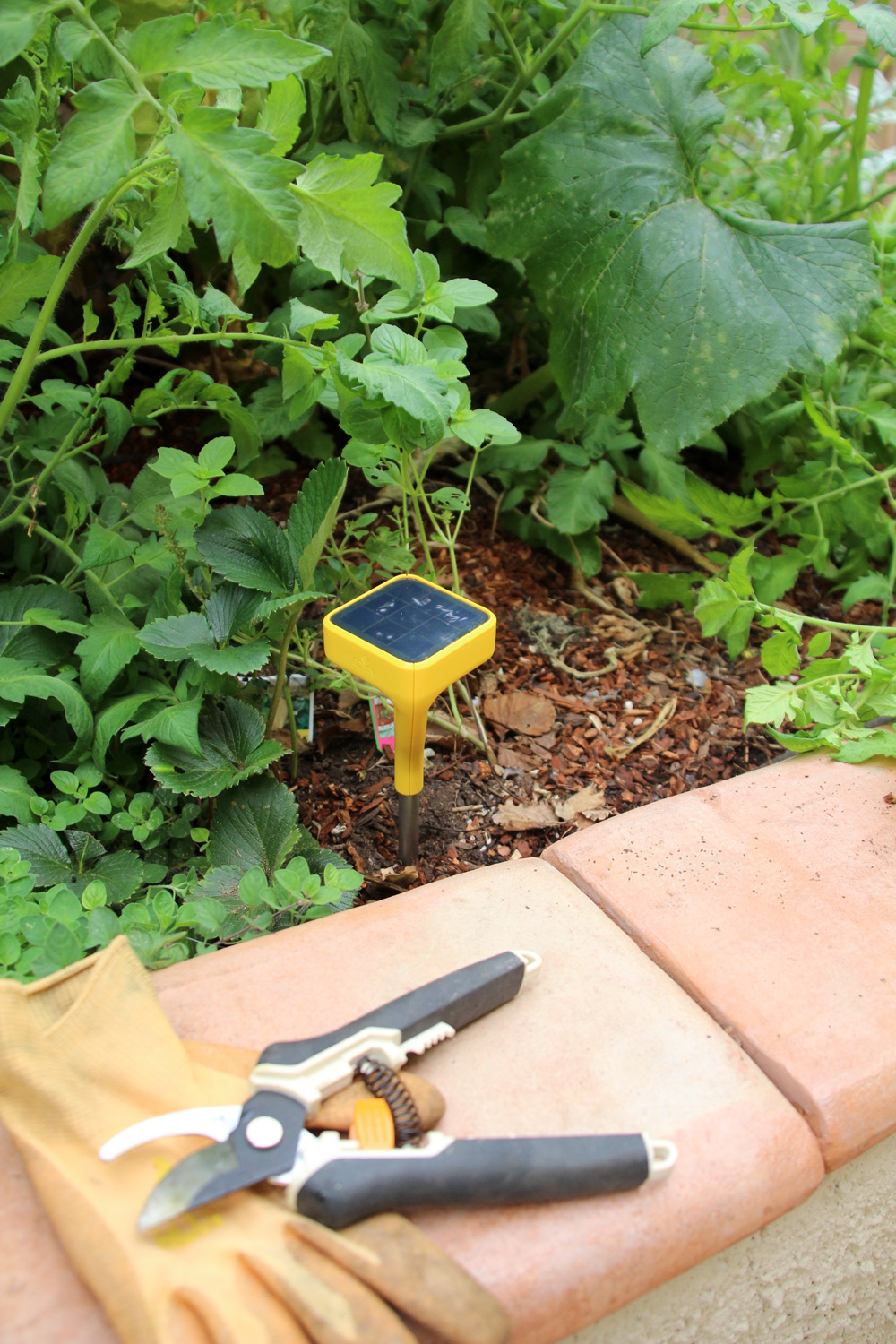 A company called Edyn recently reached out to see if I'd like to test out a garden sensoring system. This little gadget is placed right into your veggie box and is connected via wifi to your smart phone.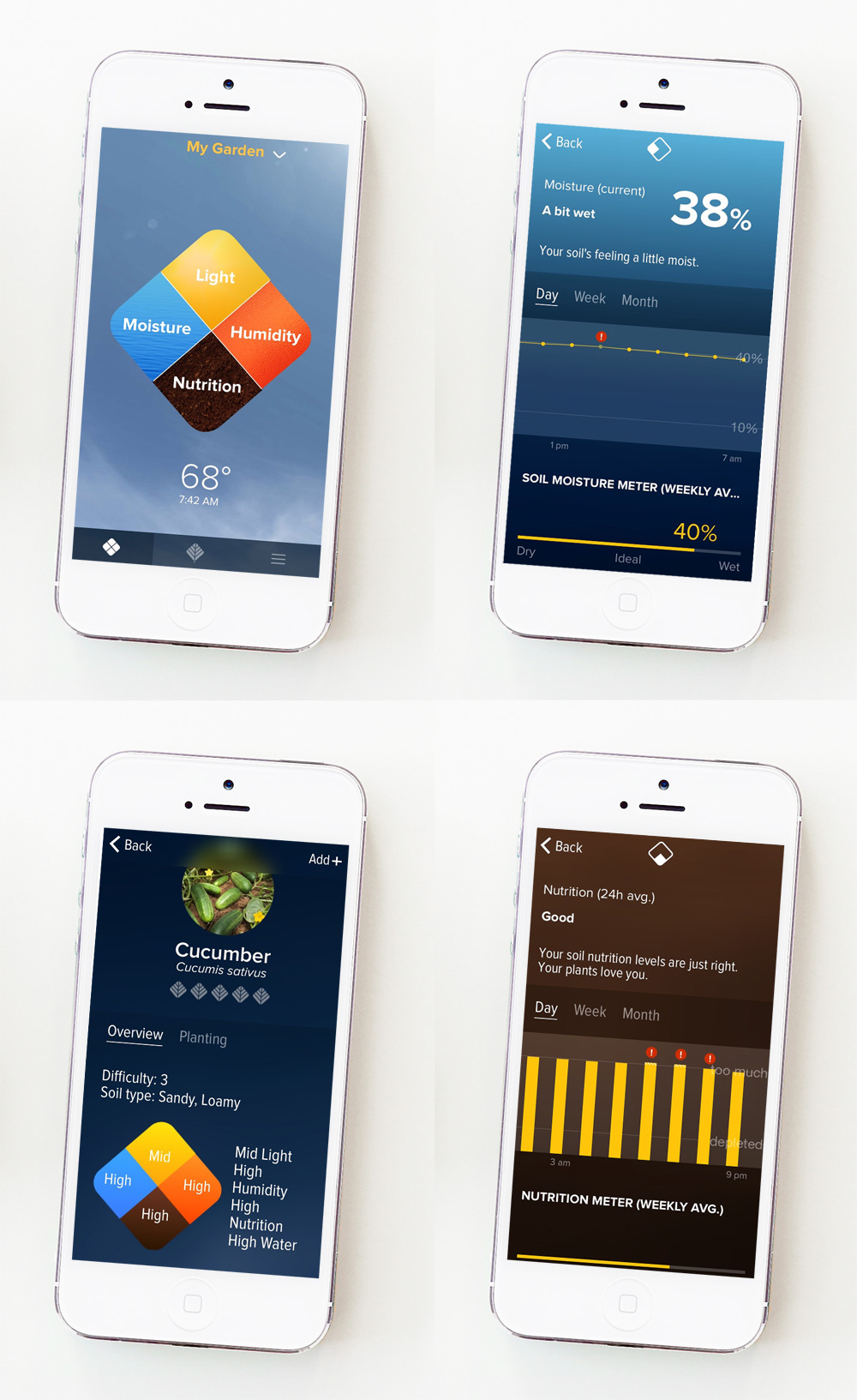 Edyn started via Kickstarter and is now available at Home Depot (the explanation video on their homepage is awesome).
Here's what I learned: the nutrients in my garden are actually right on (hence the overzealous growing, I think.) The moisture level is really too high though, I'm hurting my plants probably with root rot. In our drier climate, my go-to to solve ANY gardening problem has always been to water. I have a nifty little drip system set up within the box and it's all connected to my hose: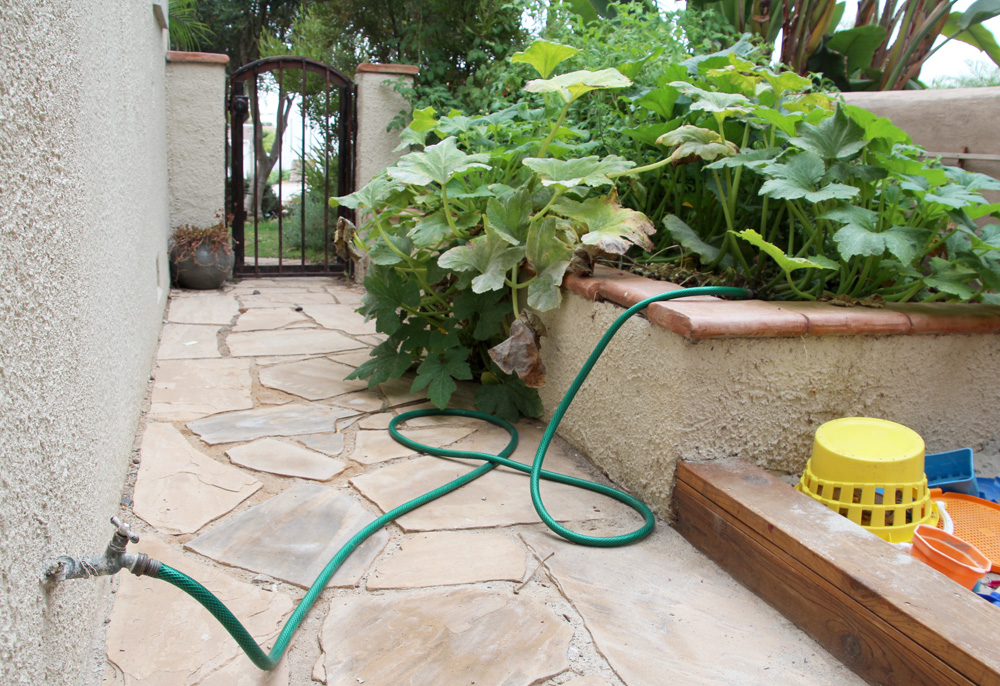 We're in a drought here in California and water conservation is really top priority. I've been pretty lean with our lawn out front (which is now mostly tinged brown and green) and the rest of the landscape is more mediterranean desert so it's holding on well. The garden box is the only little plot of land that receives a decent dousing. But that's completely not necessary.
I have been really watching water usage over the past few weeks and have cut back drastically. If Edyn tells me to water, I do, but it's not often.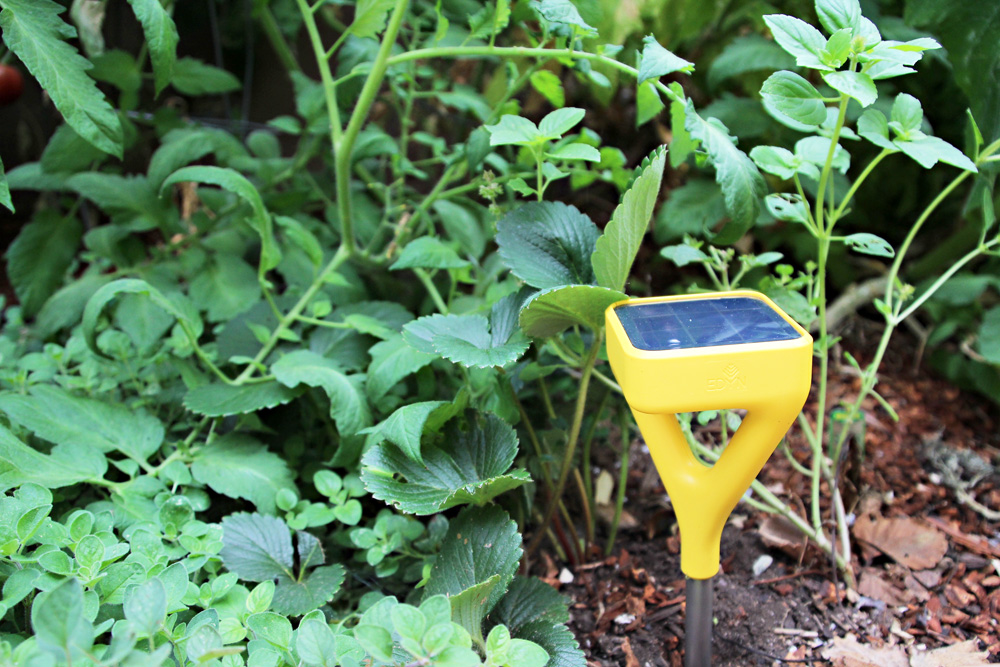 I have been experimenting with the best placement for Edyn. Not surprisingly I'll get slightly different results at different spots.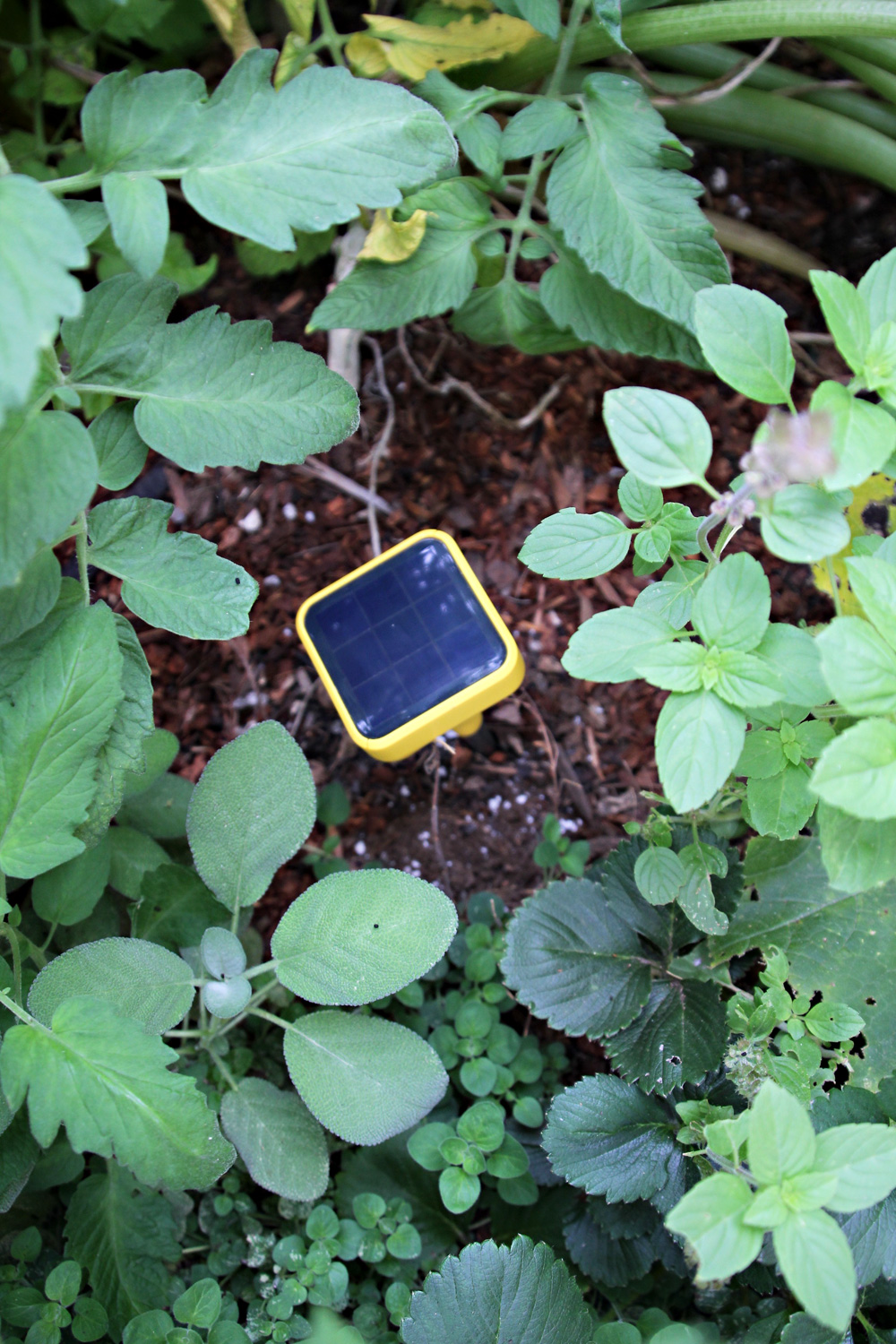 Another cool feature of the tool is that you can ask the Edyn app if a particular fruit or veggie will do well in your space. You can virtually add it to your garden and read all about the light, moisture, nutrition and humidity that it requires.
A couple of notes: the sensor is SUPER EASY to use and to set up, but it does have to be connected via a 2.5ghz wifi network. That didn't make any sense to me in the beginning, either, but my network is a 5ghz network. It's possible to create a 2.5ghz network from your 5ghz network though and it's a rather quick process (you probably won't even have to). I'll let Google answer any questions that you might have there.
My artichoke is reaching for the sun, my newly pruned squash is cleaned up, my tomatoes continue to climb up and over the wall.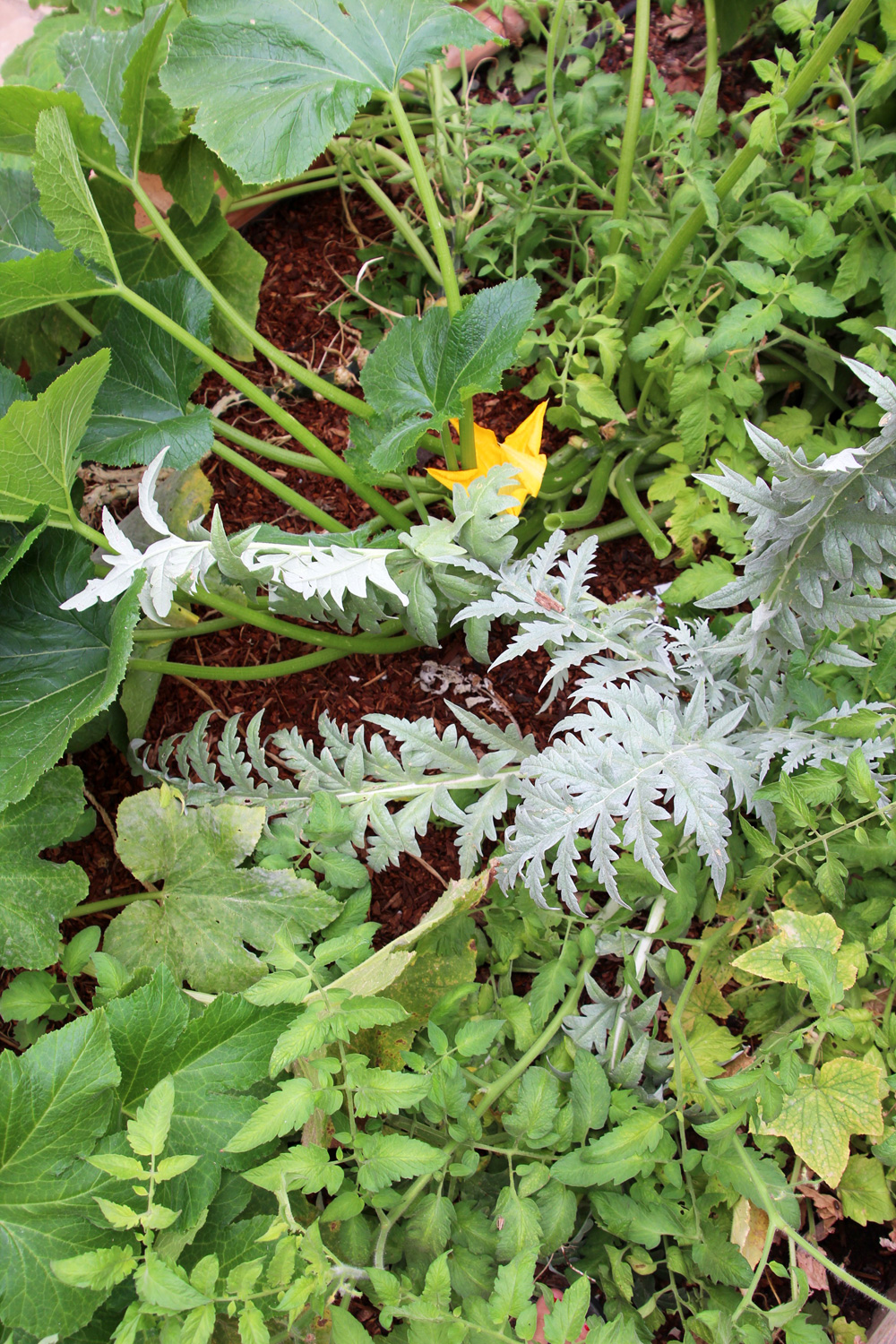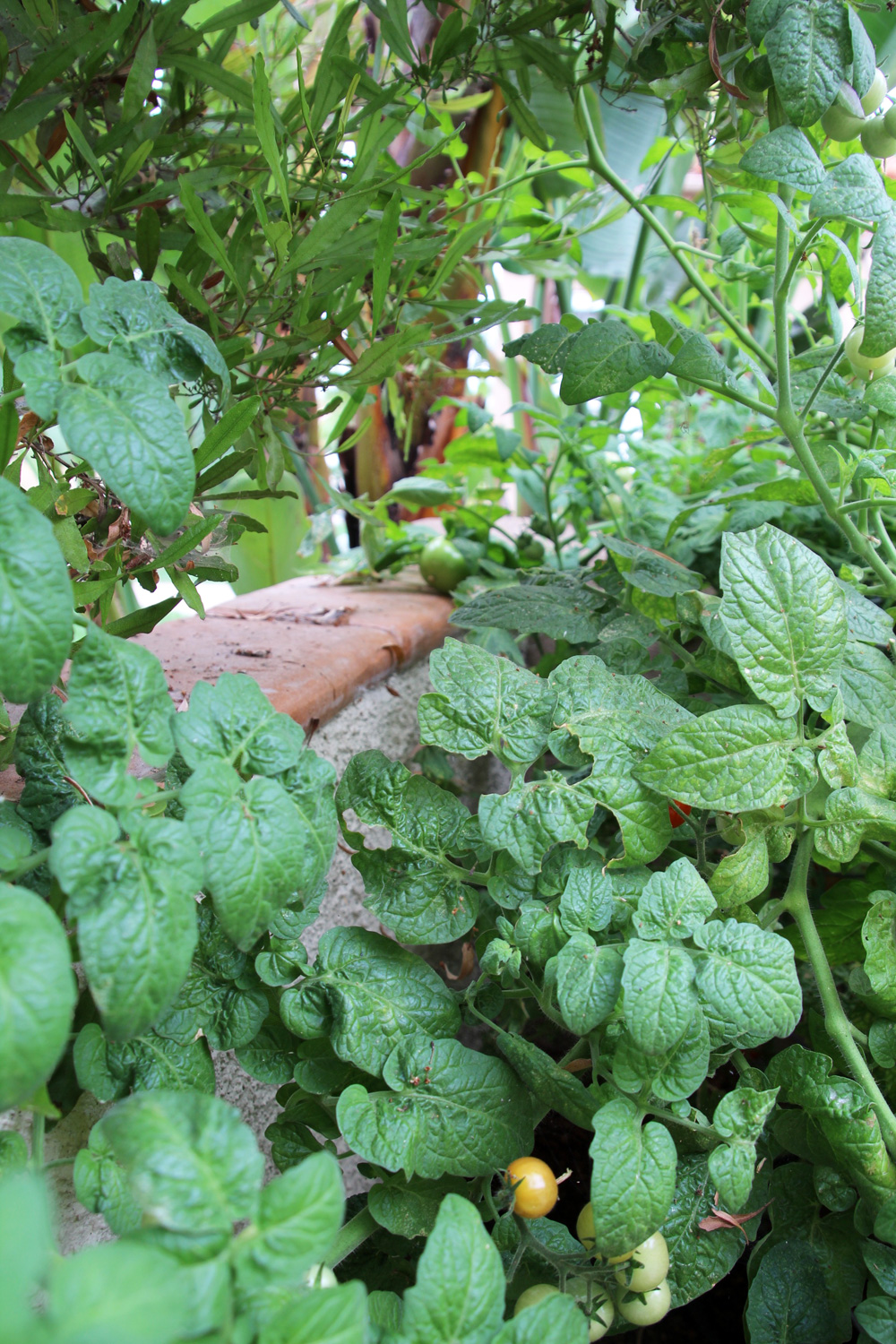 I did lose my beans this year (as I have every year before). Next year maybe I'll try them with the Edyn sensor right at their roots.
Now it's time for production! And to enjoy homegrown veggies at our dinner table come August. That's the goal. (Here's how we took full advantage of last year's garden.)
I collaborated with Edyn on this post however thoughts and words are all my own. Thanks for letting me share about products that support this blog.