I feel as though this post might not need an introduction given parts 1 & 2, but I'm so happy to be back to share with you a few more ways that I'm using up that delicious summer harvest around our kitchen.
This is something that I've really struggled with as a working mom – Kevin used to take on meal duty every night and it was something that I completely took for granted. Now that he works later hours than I, it's my job to make sure that there's a meal on the table at 7pm when everyone is home. Oh the pressure. I usually start to think up an idea around 6:30 when my afternoon mother's helper is on her way out the door. That means that meal prep needs to be fast and that I need to have everything that we're making for that night on hand (I currently don't have any sort of planning system, though really I should). This is part of the reason I am in love with CSA and relish in the surprise of a new, fully stocked organic box of fruits and veggies once a week. Between that box and our garden this summer, we have been making full, healthy meals with just a few alternative ingredients on hand (namely pasta, chicken and cheeses).
Part 1 (frittatas, cucumber salads…) and part 2 (all things roasting) of this series for more easy ideas.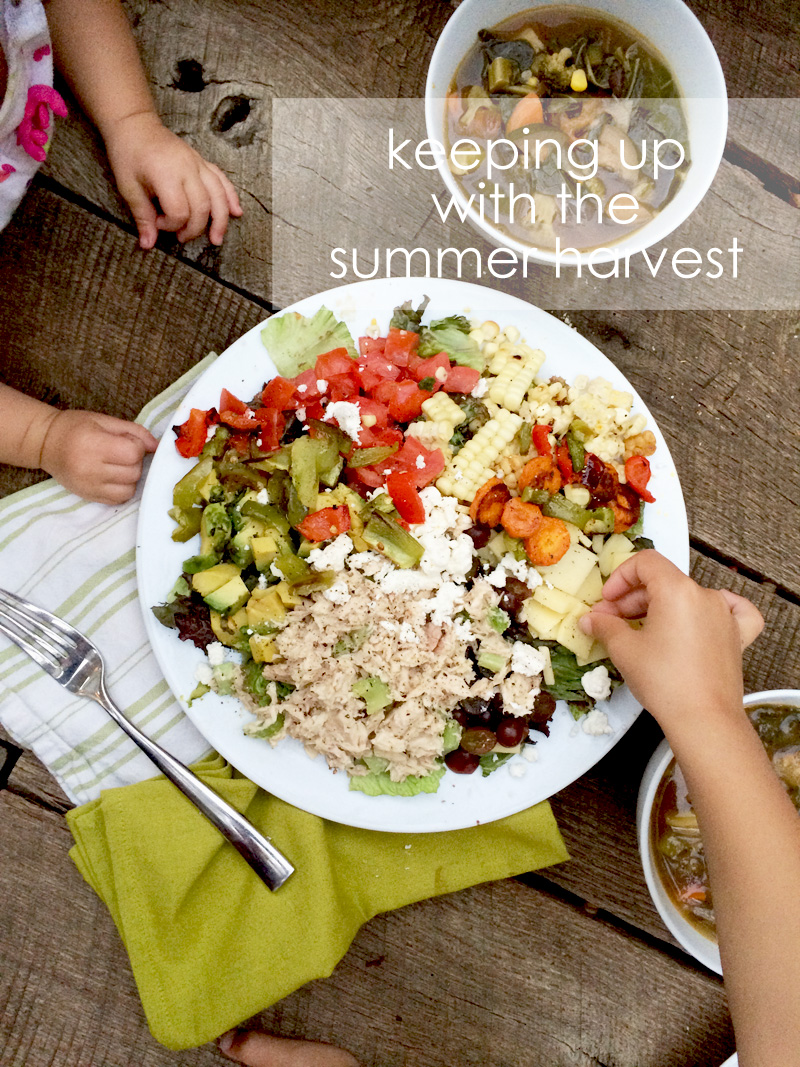 One of my favorite summer harvest recipes to share is one that I stole from Martha Stewart's instagram feed. She (or that wonderfully wise photo curator of hers) suggested cleaning out the fridge each Sunday and making a Nicoise salad out of whatever could be found. This is brilliant because 1. we always have veggies that need to be used up, including leftovers aplenty and lettuce for a salad and 2. cans of tuna are an easy meal staple to have on hand.
I tried it out. I cut corn off of cobs from previous evening meals, roasted up carrots and bell peppers that were at the bottom of the veggie drawer and cubed cheese and avocado to balance it all out. I cleaned out our fridge and made a really pretty meal – little hands thought the colorful partitioning of foods and flavors was fun and it was a total hit.
We enjoyed the monster salad (above) by eating family style off of one big plate outdoors one evening. I love the idea of 'cleaning out the fridge' meals (whether it's a salad or crock pot meal or pizza toppings) once a week. Brilliant.
Moving on to…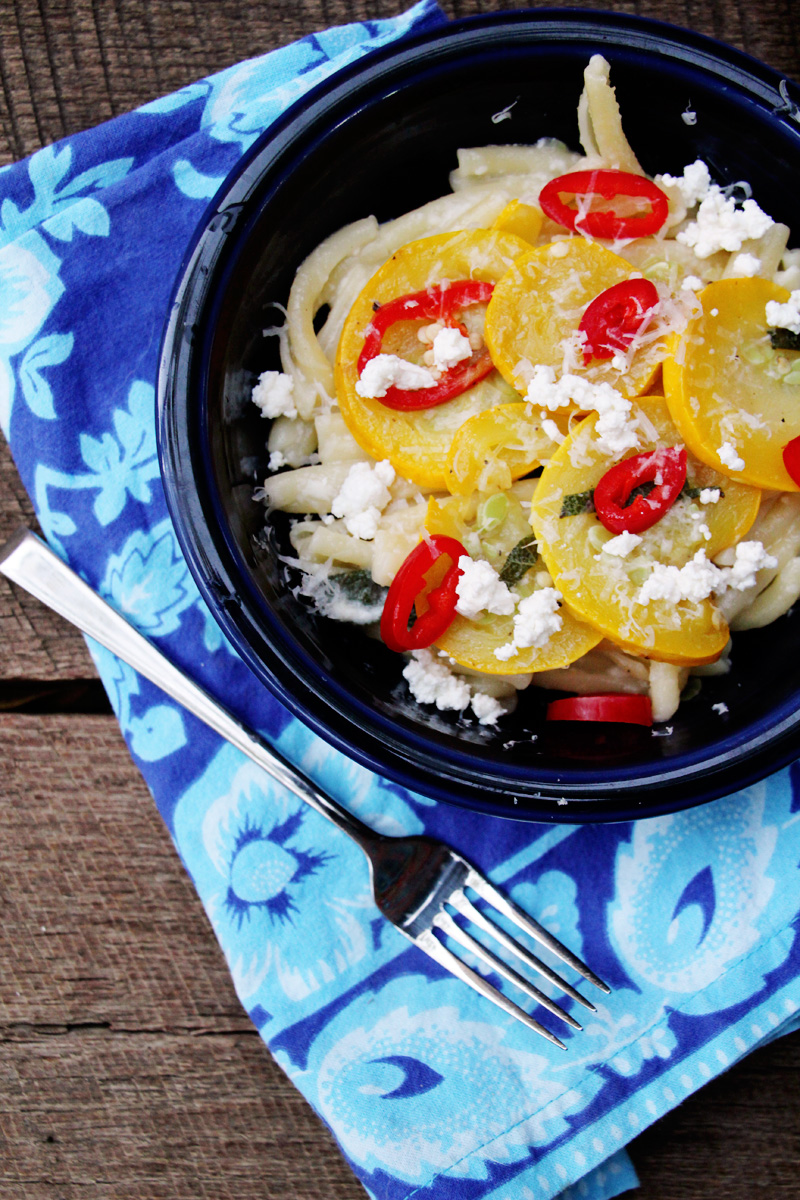 Pasta, as always, is an awesome go-to. Inspired by a series on using just 3 ingredients in each meal, I started making super simple pasta + veggies (and using the cooking water + cheeses to build a sauce) frequently. This squash and goat cheese recipe is one of my favorites so far.
Next up, tomatoes. The easy tomato solution around this house is to toss them as an accessory into a salad, to snack on them with fresh cheese (especially on the go!) or if I really have a bit of time to make a homemade soup.
But one of my favorite new ways to use up all of the cherry tomatoes (or really any kind) that we have lying around is to make them the feature of an entire meal or to build a salad around their juicy flavor. These days I've been layering them with fresh mozzarella and basil, and letting them soak in a mixture of balsamic vinegar, olive oil, pepper and chunky sea salt while I make up the rest of dinner (sometimes I'll let them marinate in the fridge for even a few days).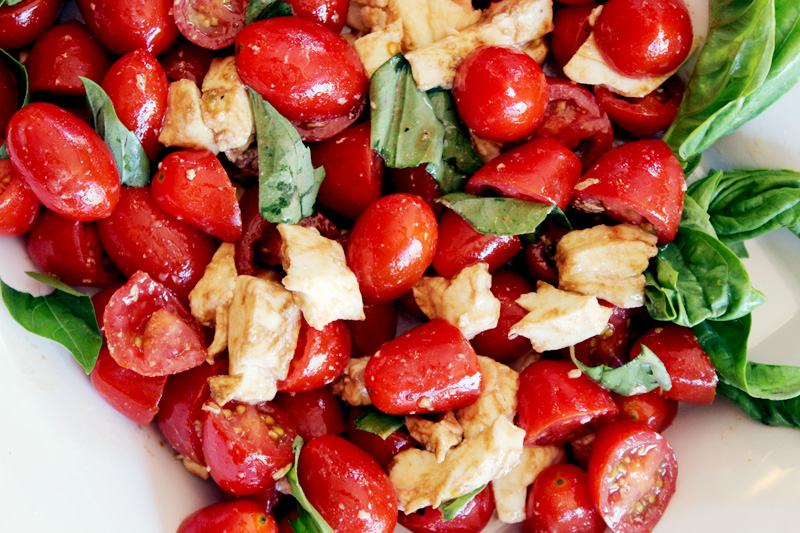 A more complicated tomato recipe (but oh so good) is this tomato & cream cheese tart from last summer.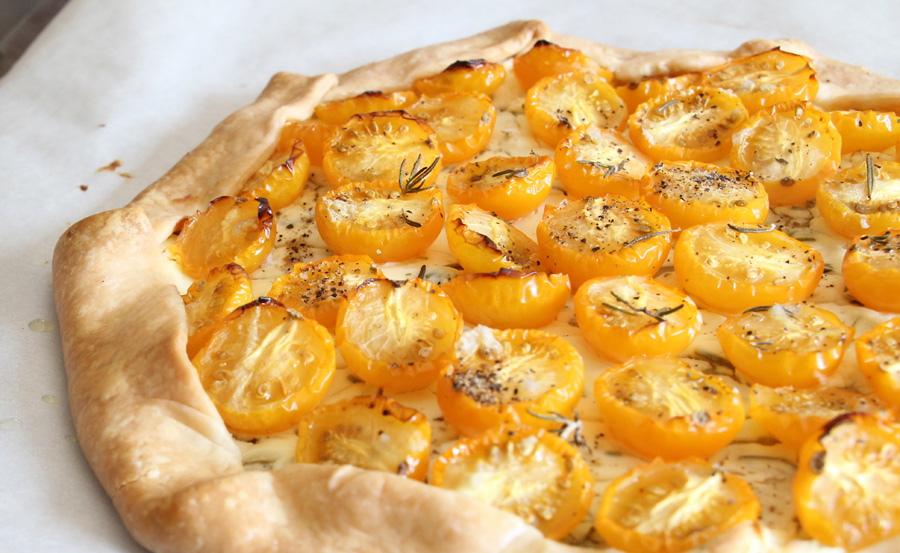 Finally, a good bread/cupcake recipe is a great go-to with extra vegetable anything. I love zucchini, carrot or squash breads – or a combination! – and I think that this recipe does a decent job of cleaning out the veggie drawer. It seems so much fancier (and special) as mini cupcakes/muffins but works either way.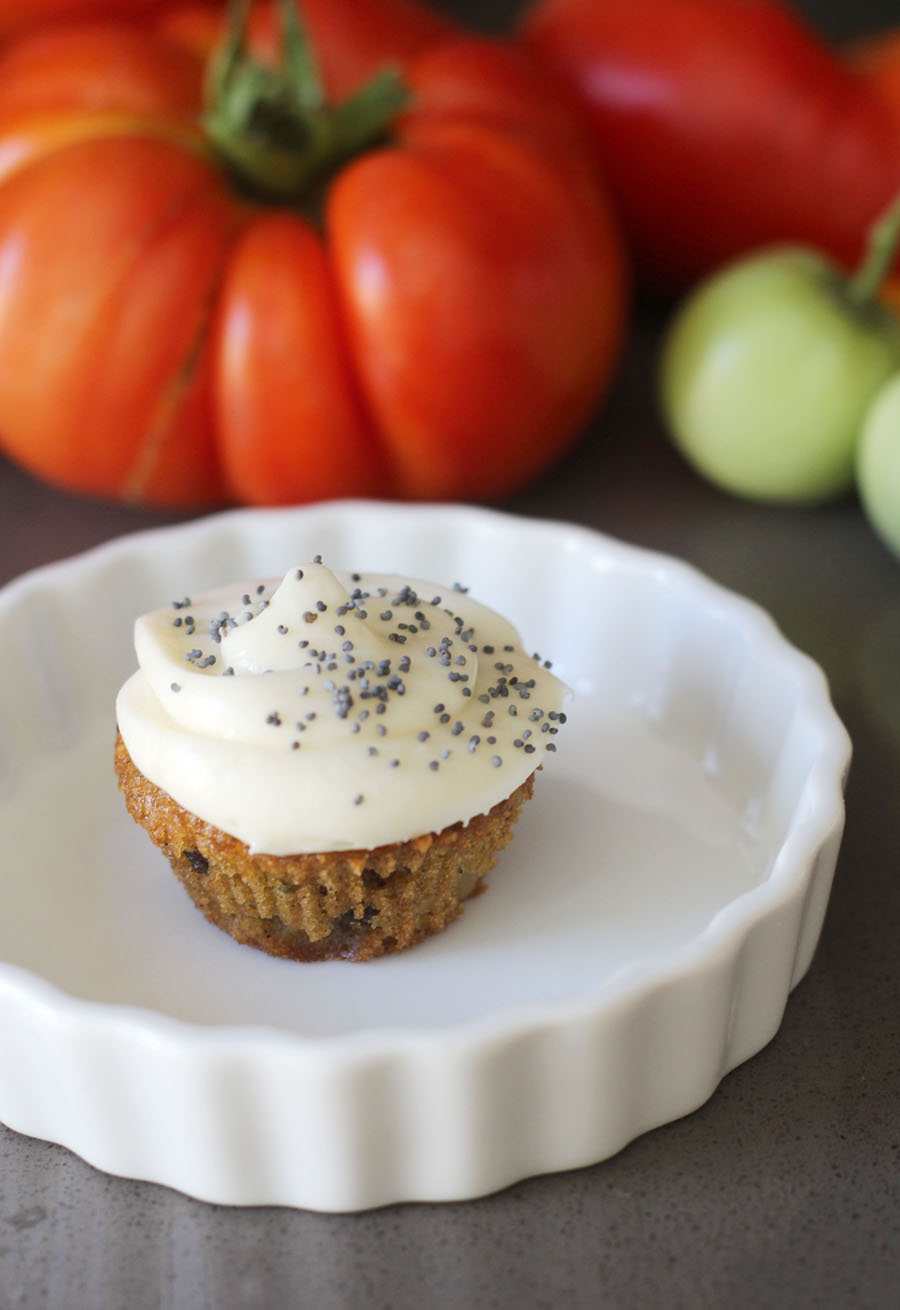 That wraps up this series on summer veggies! Though admittedly they're vegetables we'll all enjoy well into fall so I hope that these little meal ideas bring some inspiration to your hurried dinner creations. Between the three posts, that's a dozen or so easy ways to enjoy peak fruits and veggies in season and at their finest. I am a procrastinator and a mom, and I promise that they are all fool proof.
One of these days I'll put together a quick cheat sheet of all of these links, but for now I hope you enjoy :-).
All recipes are chronicled right over here. Hope you are enjoying this beautiful transition into fall!